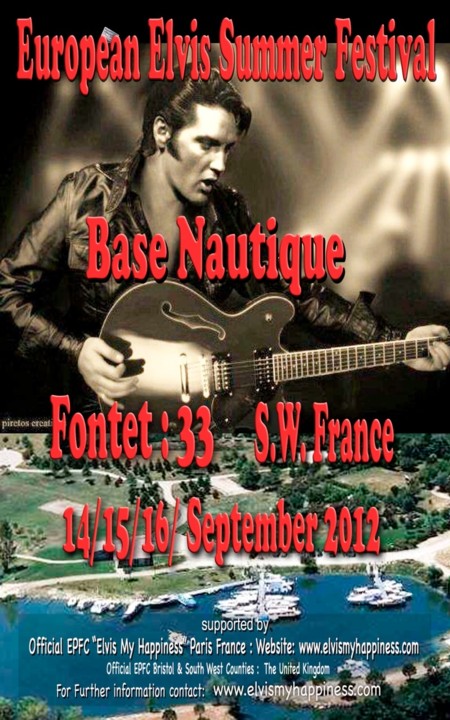 Friday, 14 th September 16hrs – Sunday 16th September 18hrs
The Venue: At the 'Base Nautique' Park in the pretty and quaint village of FONTET situated along the picturesque canal of the famous Garonne River, approximately 45mins. east of Bordeaux in South West France. The venue includes a swimming lake, toilets, showers plus a clubhouse with covered area.
FONTET is accessible
BYAIR: Bordeaux & Bergerac Airports (45mins).
BY RAIL: Marmande Station, Libourne (station before Bordeaux, easier access) &Bordeaux Station.
BY ROAD:Paris – Chartres – Tours - Angouleme –Bordeaux -La Reole – Fontet. (Base Nautique de Fontet 33190)
NOTE: Due to the situation of the canal, basin and swimming lake the venue is not suitable for children.
A fantastic fun week-end of LIVE ELVIS MUSIC is on offer to all Elvis Presley Fans throughout Europe, Ireland, UK and any other Country that wishes to take part, with fabulous groups playing favourite Elvis Presley numbers from Country & Western to Rock & Roll, R & B, to Gospel and direct from his performance in August, at 'Graceland', personally asked by the EPE during Elvis Week in Memphis for this year's very special 35 th Anniversary, will be Ricky Norton presenting his fantastic 'Like Elvis in Las Vegas' show.
Not only have we organised live music, but a Disco with Elvis Music and a selection of Videos which will run throughout the week-end, plus a favourite Elvis Movie that will be shown at midnight. There will also be some special guests who knew Elvis well and will give some inside information into his short, but fascinating life. These special guests will also be available to spend time with the fans accepting questions and answers
American Classic Cars 50's & 60's We are also inviting owners to take part in exhibiting their fabulous Classic Cars of the Elvis era at our Exhibition
Further details can be found on-line. www.elvismyhappiness.com
To Wine & Dine all you fabulous Elvis Fans there will be available Continental Breakfast, Hog Roasts, BBQ's & Pizza's, Crepes, Ice Creams and possibly Elvis favourite bar-b-q (not fried) 'Peanut Butter & Banana Sandwiches Plus Mississippi Mud Pies and Carrot Cakes
Special Packs are available for this fantastic week-end which includes Special T-Shirt, Key-ring, Fridge Magnet, Postcard, wrist-band for entry and a list of Accommodation in the area available. These packs need to be pre-ordered before 31 st May, 2012 as there is a limited number that can be accommodated in the Park. These packs can only be purchase on line. www.elvismyhappiness.com Special Packs will notbe available to purchase at the event
Traders are invited to buy and sell Elvis Merchandise or Swap/Exchange Elvis Memorabilia. Traders need to pre- reserved on- line before the 31 st May, 2012, as there is a limited amount of space available. Further details on. www.elvismyhappiness.co m
Camping & Camping Vans Fans need to reserve on-line if they wish to be on site. There is limited space of 25 Camping Cars with electricity & water, plus 100 spaces independent. Further detail on. www.elvismyhappiness.com
Supported by the Official 'Elvis My Happiness' Paris Fan Club . www.elvismyhappiness.com
Supported by the Official Elvis Presley Fan Club Bristol & South West Counties
Copyright the Elvis Information Network.
Elvis Presley, Elvis and Graceland are trademarks of Elvis Presley Enterprises.
The Elvis Information Network has been running since 1986 and is an EPE officially recognised Elvis fan club.