On Stage-February 1970
When Elvis returned to live performances in 1969 at the International Hotel in Las Vegas and broke all existing attendance records, it was only a logical step for him to return to the desert city.
Rebooked at the International Hotel for a month long engagement from January 26, 1970 to February 23,1970, RCA was on hand to record his performances for a second live album eventually released as ,On Stage – February 1970".
This CD features these multitrack -recordings including the unreleased leftovers made by RCA. These are the original rough mixes made by Felton Jarvis in early 1970 in preparation for the upcoming second Las Vegas live album. No repairs or overdubs whatsoever. This release brings back the original feeling and atmosphere that Elvis passed on to his audience.
This is Elvis at his peak as a Live performer!
---
See Below for details regarding the disc being a CDR and now being replaced.
Along with 'Young Man With The Big Beat' and the book 'Elvis Files Vol.4', the deluxe 4-CD/Book combo 'Rebooked at the International' was without doubt one of Elvis collector's highlights of the year so far.

Unfortunately it seems that collector's demands for the original box-set exceeded the supply.
While the Opening & Closing shows were an essential part of the complete package, what keen fans really wanted were the unreleased RCA live performance multitracks, as well as the 'On Stage' original rough-mix without the repairs and overdubs.

No doubt to beat other copy-cat labels and to satisfy fans who couldn't afford the complete box-set (or never got to find a copy)Backdraft have now released a very nice single CD featuring the "best of" - and called 'On Stage - The Ultimate Edition'.

It comes as a regular digi-pack plus 12-page booklet (as shown below) featuring 16 great photographs of Elvis in action along with some informative liner notes by a Miles Pergallon.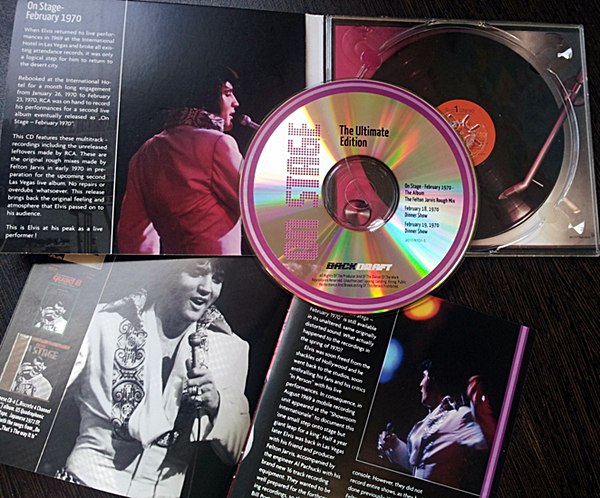 You can read a complete review of the music within our full review of 'Rebooked at the International' - however the highlights here are worth mentioning.

The CD features 29 tracks and runs 75 minutes

"On Stage" The Felton Jarvis rough mix.
The mixes here are without overdubs and so present the show as genuinely recorded 'On Stage.' Elvis' vocal is more upfront and the overdubbed orchestral sweetenings absent.

The overdubbed fake audience is missing BUT the real audience screams of the front row girls are much more present, adding more of the "genuine" live feel.

On all the tracks the orchestra is more in the background giving a real punch to the rockers like 'C. C. Rider' and the audience screaming 'Polk Salad Annie.'

Of course we also get the full on stage banter with the crowd, plus the "Forgive us if we goof it up" that Elvis notes before astonishing 'The Wonder Of You'

It's fascinating to listen to these so well-known songs as they were originally recorded, like the classic "The Wonder Of You' without the sweetenings or 'Release Me' with the band and Elvis genuinely "Playing it hard"!

'Let It Be Me' a song that I adore from 'On Stage' sounds very different here without the overdubbed strings and background fills and it leaves Elvis sounding much more intimate with his pleading vocal.
This version sounds raw and personal, whereas the Master version instead surrounds you with lush orchestration still pulling at your emotional heart. Both move me a lot

The overall sound quality is excellent and although this a previous version of this rough mix was released a while ago on a bootleg called 'Good Times Never Seemed So Good' taken from an acetate this sounds very different and has a different tracklist.

FEB 18 Dinner Show
The sound quality of both shows is excellent being ex a multitrack professional recording.

The Dinner Show from February 18 is fascinating since it was only that afternoon that Elvis and the band rehearsed the three new songs they needed to complete the new LIVE album. It is somewhat unbelievable that this was a last minute decision for new content added three absolute classics to Elvis' concert repertoire and here you have them as first performed live on stage.

The five tracks commence with a hilarious false start to a rocking 'Long Tall Sally' "Wait a minute man, I ain't ready to tell Aunt Mary nothing yet" Elvis laughs as he halts the band. In fact Elvis seems in a very humourous mood this night giggling with the audience and telling Charlie to a suggestion for "Are You Lonesome Tonight" that "I forgot that song man!".

The single version of 'The Wonder Of You' came from this concert, Elvis' very first live performance of the song. Interestingly I have always thought the tempo changes mid-song as drummer Bob Lanning slows it down slightly before the second verse!

Strangely after only two attempts Elvis would not bother performing 'The Wonder Of You' again until the famous TTWII 'Red Ladder' jumpsuit August 13th 1970 version and the song being a smash hit.

'Release Me' in listed on the sleeve (and would be the fabulous first version) but unfortunately is missed with 'Walk A Mile In My Shoes' being in its place. Still a very fine early version with different phrasing from elvis albeit not showing the focus of the Master version from the following day.

'Polk Salad Annie' – Elvis' flu gets to him and he coughs a few times mid song but it is a very tight version with some excellent Glen D Hardin piano in the mix and tight rhythm section. A sort of fine "dress rehearsal" as the following Midnight Show would also produce the Album's classic version. Everything was in place as long as Elvis didn't cough or laugh! Felton Jarvis must have been on tenterhooks!

FEB 19 Dinner Show
None of the RCA recordings from this performance made the 'On Stage' release and right at the start Elvis points out that there is electric background buzzing coming from his microphone "A bunch of bees man! That is probably going to drive me totally insane". In 'Don't Cry Daddy' the buzz returns and Elvis even suggests "We'll let the bees do a chorus!"
It certainly is an issue that would stop these tracks from being chosen but does not distract from one's enjoyment of the recording.

'Proud Mary' A cracker version – one of the very best - which has a false start due to technical problems, "We just lost all the electricity!" but doesn't stop Elvis enthusiasm for the song singing his soul out.

While this song was also released on FTD's fine 'Polk Salad Annie' compilation here the sound is much brighter (lots of cracking percussion making it sound better) and the false start was also edited out of the FTD version.

'C. C. Rider' also gets a full-on funky work-out, another one of the most intense versions. These mid-concert rocking versions are intriguing to compare with Elvis' later intro versions.

Of course being early 1970 all the songs are performed with the intensity of Elvis on full-power, despite his struggle with his cold and cough. Great versions of 'Kentucky Rain', 'Walk A Mile In My Shoes', 'Release Me', a rocking 'I Can't Stop Loving You'.

Another beautiful 'Let It Be Me' has Elvis commenting mid-song "Don't hold back Charlie, play!" as well as demanding a "Spotlight!" on James Burton for his solo!

One of the strangest comments is Elvis telling the audience he had only recently woken up "I get up at six o'clock in the evening" and after a fast number his mouth tastes of bacon! I'm not sure I want to know that.

During his onstage chats Elvis is in fine form joking "Anyone know what we're doing? Cos I don't, I lost control hours ago?" and explaining that its ridiculous to say "Hang Loose" to a woman!

Elvis also throws in two lines of 'Funny How Times Slips Away' saying "That's all I know". Elvis wouldn't record the song until June 1970, finally adding it to his concert setlist in September 1970.


Overall Verdict: If you missed out or couldn't afford the original deluxe 4-CD set then this "best of" 'On Stage - The Ultimate Edition' is for you. Twenty-nine officially unreleased tracks of Elvis at his finest live-on-stage, this is a great compilation.

Search around on EBay, your local Elvis dealers and suchlike and you should be able to find it for around US$35 or £23 GB Pounds.
Review by Piers Beagley.
-Copyright EIN October 2011
EIN Website content © Copyright the Elvis Information Network.
Note - EIN does not support bootleggers since they do deprive songwriters & musicians of their well-deserved earnings. Nor does EIN ever sell bootleg material. There is however no doubt that FTD/BMG need to check on these superior upgrades for possible future collector's releases.