EIN E-Alert #167.........Friday 15 April 2005
Hi everyone
Another busy week in the Elvis world and as you'll read in our news items several interesting announcements were made.
Nigel (& Piers)
---
Some of the items added to www.elvisinfonet.com this week:
Sonny West "Aussie" tour dates announced
Web site for CBS "Elvis" mini-series
The last guitar Elvis played on stage is for sale
President Carter talked to Elvis 2 days before he died
Now What debuts on Billboard album chart at #9
Lamar Fike in hospital
Tragedy hits "Vegas Elvis" reality show
New CD, book & DVD releases
Articles
ICE magazine article on Elvis
"Orion" gunned down and killed
Reviews
Greg Page, Mick Gerace & the TCB Band
Interview
Bud Glass talks to EIN (Part 1)
---
Last chance - competition closes today!
Win an Elvis 8 DVD set!
---
Breaking News
Sillerman And George Klein On Elvis Projects
If rock 'n' roll legend Elvis Presley shows up in any future digital projects it will not likely be in a commercial, The Los Angeles Times reports. Robert F.X. Sillerman - who recently gained control of Presley's name, image and likeness - said he doubted Presley would appear in a car commercial, the way the late Steve McQueen recently did. Sillerman also said he didn't think it would be a good idea to do with Presley what was done with the late Conway Twitty recently -- when bits of Twitty's old records were manipulated through a computer program to make it sound like he was singing a new song. "I'm not sure you're going to see Elvis in a commercial," Sillerman said. "With Elvis, less is more." George Klein, a pallbearer at Presley's funeral who currently operates an Elvis station on Sirius satellite radio, said he would welcome a new Elvis record. "I think it's strictly business and this is 2005," Klein said. "He's been dead 27 years, and you have to move on. Market what you got. A duet with Britney Spears or something like that would be great." (Source: Los Angeles Times)
---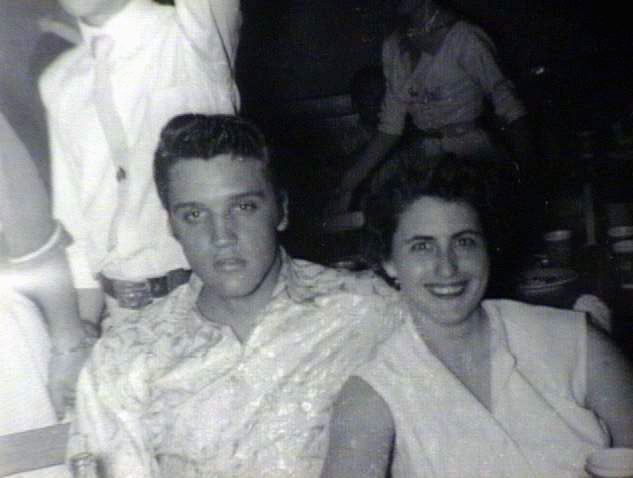 ---
"Elvis a genius"
MICHAEL SCHENKER GROUP (MSG) singer Chris Logan spent time in the studio in February laying down his vocals for the soundtrack to the movie "Crazy". "It is the Hank Garland story," Logan writes on his web site. "For those unfamiliar with the name, Hank Garland was a prolific guitar player of the '50s and '60s," the singer continues. "A major portion of his work was done with with Elvis Presley, so I did a couple Elvis songs for the movie. Quite an interesting singer, Elvis was. I had always goofed around singing like him as a kid, but I'd never taken a serious approach to it until recording these tunes. The man was quite simply a genius — an amazing vocalist who was far ahead of his time." (Source: Roadrunner Records)
---
Billboard Weekly chart update
(courtesy of www.ElvisCharts.com)
April 23, 2005
(sg - sales gainer, gg - greatest sales gainer, ne - new entry, re - re-entry)
Top Christian Albums - Ultimate Gospel down 1 to #34
Top Country Albums - Ultimate Gospel up 2 to #57
Top Pop Catalog Albums - Elvis 30 #1's down 4 to #43
Top Country Catalog Albums - Elvis 30 #1's up 3 to #4
Top Music Video Sales - He Touched Me Vol 1 & 2 reenters at #39 (re)
Top Comp Music Video Sales - He Touched Me Vol 1 & 2 reenters at #39 (re)
---
---
Did you know?
When Elvis performed his "bump & grind" version of Hound Dog on The Milton Berle Show, future music legend Quincy Jones saw 'an emotional revolution' in his performance
On its USA release Clambake grossed US$1.6 million and made a small profit
Like Elvis, superstar David Bowie (real name David Jones) was born on January 8
Old Macdonald (from Double Trouble) was voted the worst movie song of all-time by the Raspberry Roasters Roundup club in the US
Former Russian leader, Boris Yeltsin, revealed on CNN in 1991 that after facing down tanks outside the Russian Parliament he returned to his official residence and sang Are You Lonesome Tonight?, his favorite Elvis song
---
EIN looks back at:
Elvis' USS Arizona benefit at Hawaii's Bloch Arena 1961
On Sunday March 25 1961 Elvis performed a benefit show for the USS Arizona Memorial building fund.
The USS Arizona was the battleship lost in the 1941 Pearl Harbour attack with 1,117 men on board. With seating for 4000, the sold-out performance managed to raise nearly $65,000. Tickets in the special ringside section cost $100 each, an immense price in those days. Half of these were paid for by Elvis and donated to patients from the local Honolulu Tripler Hospital. Elvis performed in his famous gold-lame jacket and black pants.
This would be the last time Elvis would wear the gold-lame jacket on stage. Backing Elvis were his regular band, which now also included both Boots Randolph on sax and Floyd Cramer on piano. The ever-wonderful Jordanaires provided backing vocals.
Ron Jacobs, a local DJ, described it as "One of the most exciting experiences of my life. I was amazed at how much music such a small group of performers could generate. Elvis' onstage moves, which have since been widely copied, captured visually what his music sounded like. To me, the most exciting moment was when Elvis ended his smash-hit song 'Hound Dog' by landing on both his knees and skidding at least 6 feet across the stage!"
Elvis performed an astounding selection of songs including the rare 'A Fool Such As I', 'Swing Down, Sweet Chariot' plus, new "Elvis Is Back" album tracks, 'Such A Night' and 'Reconsider Baby'.
March 25th set-list:
1. Heartbreak Hotel
2. All Shook Up
3. A Fool Such As I
4. I Got A Woman
5. Love Me
6. Such A Night
7. Reconsider Baby
8. I Need Your Love Tonight
9. That's All Right
10. Don't Be Cruel
11. One Night
12. Are You Lonesome Tonight?
13. It's Now Or Never
14. Swing Down, Sweet Chariot
15. Hound Dog
A recording of this sensational show, in unfortunately fairly poor quality, is available on the silver box-set "Elvis Aron Presley".
Two days later Elvis would report for filming on his new movie "Blue Hawaii".
The Bloch Arena concert would be Elvis' last performance on stage until more than 8 years later in Las Vegas, July 31st 1969.
---
Elvis Trivia Question
What was the title of Elvis' 1961 gospel album?
(Last week's answer:Libertyland was the name of Elvis' favorite amusement park in Memphis)
---
Contact EIN
The EIN E-Alert is a free information service from the Elvis Information Network (EIN) for Elvis fans. If you do not wish to receive future editions of the EIN E-Alert simply reply to this message with REMOVE in the subject line