Quote:
"Elvis Presley is the greatest cultural force in the 20th century."
(Leonard Bernstein)
---
Quote:
"If you're an Elvis fan, no explanation is necessary; If you're not an Elvis fan, no explanation is possible."
(George Klein)
---
Quote:
"For a dead man, Elvis Presley is awfully noisy."
(Professor Gilbert B. Rodman)
---
Quote:
"History has him as this good old country boy, Elvis is about as country as Bono!"
(Jerry Schilling)
---
Quote:
"Absolute id crashed into absolute superego...as the uptightset man in America shook hands with just about the loosest."
(Mark Feeney on the 'Elvis meets Nixon' meeting)
---
Quote:
"Elvis is everywhere"
(Mojo Nixon & Skid Roper)
---
Quote:
"...especially in the South, they talk about Elvis and Jesus in the same breath"
(Michael Ventura, LA Weekly)
---
Quote:
"The image is one thing and the human being is another...it's very hard to live up to an image"
(Elvis Presley, Madison Square Garden press conference, 1972)
---
Quote:
"Elvis was a major hero of mine. I was actually stupid enough to believe that having the same birthday as him actually meant something"
(David Bowie)
---
Quote:
"No-one, but no-one, is his equal, or ever will be. He was, and is supreme"
(Mick Jagger)
---
Quote:
"I wasn't just a fan, I was his brother...there'll never be another like that soul brother"
(Soul legend, James Brown)
---
Quote:
"Before Elvis there was nothing!"
(John Lennon)
EIN E-Alert #189......Sunday 17 September 2005
Hi everyone
Congratulations to Ben Phillips who was the first person to tell us we'd made a mistake with last week's E-Alert. Ben correectly realised we'd published the same story by Lynda Hollenbeck in issues #187 and 188. Ben wins a copy of the BMG CD, Elvis By The Presleys.
Keep an eye out for our next "deliberate" error in a future E-Alert. There is a great Elvis prize for the first person to correctly identify it.
Nigel & Piers
---
Some of the items added to www.elvisinfonet.com this week:
News
"Not Too Sweet" import CD released
"18 #1's" German release
"My Christmas Number Ones" CD release
Artwork & track listing for another edition of Elvis On Tour Outtakes
Rare demo laser disc sold on eBay
Dee Presley "unpublished" book manuscript fails to sell at auction
"Memphis Recording Service" book, DVD & 7" vinyl details
"Elvis & the Memphis Mafia" by Alanna Nash book release
Elvis Religion: Exploring the Cult of The King by Gregory L. Reece (new book)
The Elvis Impersonation Kit new book release
E Is for Elvis: The Elvis Presley Alphabet by Jennie Ivey and Lisa W. Rand (new book)
All Shook Up, the latest sheet music release from Hal Leonard Publishing
Elvis & Hitchcock - unusual DVD double
"All Shook Up" Broadway musical failing - producer blamed
Artwork & track listing for next FTD - "Summer Festival"
Elvis fails to make top 10 of Rolling Stone most valuable LP list
Author says "Elvis is within us all"
"Heartbreak Hote"l CD release in Hong Kong
"Elvis Has Left The Building" DVD to be released in Australia
How Elvis helped terror hostage, Douglas Wood
"When The Beatles Met Elvis" audiobook
Robbie Williams could be the next Elvis
Reviews
"A Tribute To The King" (photobook)
"Lilo & Stitch 2: Stitch Has A Glitch" (DVD)
"Elvis Today" (FTD)
---
Very rare signed Elvis document for sale
Houle Rare Books in Los Angeles California has the following interesting item for sale:
PRESLEY, Elvis: Price: US$ 20000.00 - Book Description: New York, William Morris Agency, January 31, 1956. Document Signed ("Elvis Presley"), New York, January 31, 1956, on William Morris Agency letterhead. Also signed by a Morris Agency representative. 4to. 1 page. William Morris Agency letter of understanding between Elvis Presley, William Morris Agency and Colonel Tom Parker, giving Parker final approval of all contracts to be entered in to for Elvis Presley during the term of the respective exclusive agency agreement. Parker did no officially become Elvis full time manager until March 15, 1956, whereupon he received 25% of his earnings. This was later increased to 50% on January 2, 1967. The agencies specified include: American Federation of Musicians, American Federation of Television & Radio Artist, American Guild of Variety Artist (Television), Screen Actors Guild (Theatrical Motion Pictures), General Services, General Material & Packages. This may be the most important contract ever signed by Elvis Presley; Presley signed this contract with the William Morris Agency just as his career was beginning to accelerate. Parker had arranged for some of Elvis' appearances as early as August, 1955. He had already made his television debut on the "Louisiana Hayride" (March 5, 1955). However, he wouldn't make his major television appearance on the Ed Sullivan show until September 9, 1956 (following the signing of this major career contract). Bookseller Inventory #195081
---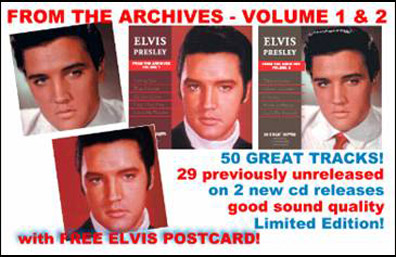 ---
Elvis' "Viva Las Vegas" to feature in Las Vegas Marathon: The New Las Vegas Marathon is promising the bright lights of the Las Vegas Strip, a fireworks display, Elvis Presley's song "Viva Las Vegas" and big cash prizes for runners in a revamped race this year. At a news conference, officials said they'll offer $400,000 in cash prizes and appearance fees to elite runners, plus a $2.5 million bonus to split between a man and woman if they set a world marathon record. The marathon takes place on December 4 and will be televised by Eyewitness 8 in the Vegas area.
---
Joe Esposito has a new website:
---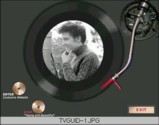 ---
BLUE HAWAI'I LIVES ON
By Taren Fujimoto — The Garden Island, KAUAI
The vision of a dashing, young Elvis Presley serenading his love afloat a beautifully-adorned, double-haul canoe down a long-winding lagoon in the 1961 film "Blue Hawaii" propagated the world's perception of the traditional Hawaiian wedding, and forever immortalized Kaua'i's regarded resort, Coco Palms, establishing it as the prime destination for marital bliss.

As a testament to its timeliness, the legendary enchantment of "Blue Hawaii" lives on. To this day, nearly 50 years after the movie was shot here, a constant barrage of Elvis fans and fanatics the world over flock to the famous site in hopes of recreating their own "Blue Hawaii" fantasy wedding, such as David Stoddard and Toni Jenary, who hail from Woodbridge, Va.
"The groom has some kind of connection to Elvis, and is a big fan," noted Keala Huffman, the couple's wedding planner, owner and founder of Kalaheo-based Tropical Dream Wedding. "He's so sweet, he's saving everything from their wedding in a keepsake box to treasure forever. The couple wanted every aspect of their wedding day to be perfect, similar to the movie, and did not want a cheesy type of wedding package. They wanted the real thing."

Huffman, who's been in business on Kaua'i since 1997, has received inquires on a statewide, national and international basis, drawing couples from the United Kingdom, Australia, Japan, Canada, and a host of other countries.

"It's overwhelming to think of how many people from all over the globe just love Elvis and 'Blue Hawaii,'" remarked Huffman.

"A lot of people are drawn to this wedding package because of many things, including their love for The King and the appeal of old Hawai'i. I think it's also the idea of the ceremony itself which also romances couples to have a 'Blue Hawaii' wedding," she added.

"Initially, the groom starts out at one end of the lagoon, and is transported across to pick up his bride. Then, the couple travel down to the starting point of the lagoon together, where they are escorted by the kahu (Hawaiian for guardian, caretaker, or priest), maidens, and conch-shell blowers, in a procession to the traditional, thatched-roof chapel, where they exchange their vows and become man and wife," she said.

"All elements of the surrounding grounds, as far as the chapel and canoe, have been maintained by Uncle Larry Rivera," declared Huffman.

"I have been working with him for several years now, to promote and preserve the beauty of the site, especially with clearing the devastation that occurred here in 1992 when Hurricane 'Iniki hit," she added.

"There was glass and debris all over, but, luckily, with uncle's help, we were able to clean it up and make this area look presentable again.

"There's a lot of constructive criticism which flows between us," added Huffman. "It's the constant feedback from both parties which makes the process of preserving the destination of 'Blue Hawaii' that much easier."

Rivera, a local celebrity and musical legend in his own right, who works tirelessly to keep up the prestige and beauty of the site, is not without help.

"I'm lucky to have such a great team," asserted Rivera, in profound appreciation. "My team consists of Coco Palm's only security guard and maintenance man, Wayne Perreira, groundskeeper Charlie Pereira, and, of course, my lovely wife Gloria, who works the hardest, and whom I owe the most thanks to."

Perreira, a Coco Palms employee for the last 36 years, has been an all-around asset, and an integral individual in the manicuring and maintenance of Coco Palms, Rivera said. "Recently, we thatched and made repairs to the roof of the chapel," claimed the former Sea Shell restaurant cook. "I cut down about a hundred palm leaves, set them up, and nailed each one in as Charlie handed me them one by one.

"The thatching only lasts one year, being that the leaves rot and die, so we always make sure to change the thatching just before an end-of-the-year wedding," Perreira said.

"But I must admit, it is scary to go up there on the roof because of all of the termite infestations. You never know when the roof just might collapse.

"I also do all of the repairs on the famous double-hull canoe," beamed Perreira. "So far, I've repaired the canoe, adding new plywood to it, a total of three times, like the roof. However, Larry has confirmed a new double-haul canoe for Coco Palms, so I won't need to fix the old one anymore," he said.

"Larry and Gloria do all of the decorations for the canoe, which take them, mainly Gloria, about four hours each time. They're the ones who bring the canoe and the surrounding grounds of the 'Blue Hawaii' site to life," he added.

"I just repair things and make sure that no one tries to enter private property."

"In fact, we just had someone try to sneak in right now," chimed Rivera. "He had scaled the fence, and claimed that all he wanted was pictures of the grounds, but Wayne and I referred him to the law about trespassing on private property, and eventually he left."

As for the conception of "Blue Hawaii" the business, Rivera has nothing but positive remarks. "After the devastation of 'Iniki began to simmer down, when roads, stores, business began to open and the economy was slowly getting back on its feet, despite the fact that this entire area desperately needed major cleaning, guests still were interested in having 'Blue Hawaii' weddings performed," recalled Rivera.

"The late Tom King, the former manager at Coco Palms, asked me to perform a 'Blue Hawaii' wedding for him and his wife. They loved it so much that he said he wouldn't mind continuing the weddings as a business, and along with the former owner Larry Chang came up with a contract for me to sign and, thus, the family 'Blue Hawaii' business was born," Rivera explained.

"People continued to come to Coco Palms, hearing about the 'Blue Hawaii' weddings through word of mouth and a few ads that I placed with Hawaii Professional Wedding Association and Hawaii Visitors Bureau," continued Rivera.

"There were also a lot of famous people who had 'Blue Hawaii' weddings and, as a result, Dr. Franklin from Memphis, Tenn., who conducts the annual Elvis impersonator contest, offered me the opportunity to go on an all-expenses-paid trip to Memphis to address Elvis fans about the meaning of 'Blue Hawaii' and my experience with Elvis," Rivera continued.

"I told him I would go only if my wife could come along. Needless to say, we had a great time in Memphis."

Rivera's song "I Search for Love," was admired so much by The King himself, that he bought the rights to the song. "It was such an honor," expressed Rivera. "He wanted to buy the rights to it, so I signed a contract, and the rest is history."

In all of his years conducting 'Blue Hawaii' weddings, Rivera is quick to recall the worst one. "The day before a huge wedding between an Australian couple, it was December 31, 2004, there was a huge rain-storm which flooded the entire lagoon.

"The water was filled up, even all the way to the chapel. It was so bad," he said.

"To make matters worse, the canoe was sunk halfway, because someone tied the canoe with short ropes, which were the wrong ones, so there was no way across," he added.

"But the next day, I rented a few of those Clydesdale horses, the kinds you see at Kilohana, and had a carriage bring the bride over to the other side of the lagoon, through the back entrance of the hotel, and then the wedding went on as planned," he said with a smile.

"It was quick thinking, and somehow we made it work. But honestly, I'm glad it did.

In the wake of new owners of the hotel and with construction to begin next year, Rivera sees nothing but good things ahead for the 'Blue Hawaii' wedding business.

"As far as the wedding business, it's going to be big," remarked Rivera, shaking his head. "I tell you, people are going to fight over reservations. Also, everything will be new, the chapel, complete with verandahs, with be bigger, and will be moved to a location further into the grove. In other words, we're going to have an old/new chapel."
(Thanks to Sanja Meegin for this article)
---
---
Do you have a question about Elvis? Each week EIN receives many questions from fans around the world. A selection of questions and our answers will appear regularly in the E-Alert.
Carol (in Ohio): Who is Ellen Foster?
EIN: Ellen Marie Foster is an interesting name in the Elvis world. She came to "widespread" notice in the Epilogue to Elaine Dundy's seminal 1985 book, Elvis & Gladys, although her story first surfaced around 1980-81 (see below).

Apparently Elvis saw Ms Foster outside the Graceland Gates in March 1977 (although several other dates have been claimed). He was attracted by her strong resemblance to his mother Gladys. Elvis started talking to Ms Foster and as the story goes later gave her a ring he had originally bought for Gladys in 1955. Ms Foster claimed to have talked to Elvis in the days
leading up to his death.

Ms Foster's name would probably have sunk into Elvis world obscurity had it not been for the "Elvis Underground". In particular, Steve Chanzes, Gail Brewer-Giorgio and Mary Smiley regularly weaved Ms Foster into their separately published theory that Elvis did not die in August 1977.

Chanzes issued an underground newsletter called "Eternally Elvis" in the early 1980s. Ellen Foster featured prominently in it. And in his 1981 book Elvis: Where Are You? Ms Foster contributed 2 pages - a transcript of her conversations with Elvis before he "died". This is the first time the name Ellen Foster became known, albeit to a very small audience.

The transcript included comments from Elvis that he was not going on tour in mid August 1977 and that Ms Foster should not believe everything she reads after the tour doesn't go ahead.

Ms Foster's claims essentially became the 'central glue' or focus for the Elvis Underground for many years.

Professors Denisoff & Plasketes also talked about Ms Foster in their entertaining book, True Disbelievers: The Elvis Contagion. They were not impressed by her claims as in their opinion there were at least chronological/date inaccuracies in her account.

Additionally, they discovered she was born Ellen Marie Abel and that she never married. So where the surname Foster came from was a mystery in itself.

The Professors also located written correspondence from Ms Foster in which she had done a 180 degree turnaround on at least two matters. She still claimed to have met Elvis but no longer was he alive and no longer was Steve Chanzes (aka Steve Crown; aka Al Jeffries)her good friend.

Ms Foster died in hospital October 1983 aged 64 ensuring any unanswered questions remained unanswered and forever sealing her place in the Elvis Is Alive conspiracy theory.
---
The EIN E-Alert is a free information service from the Elvis Information Network (EIN) for Elvis fans. If you do not wish to receive future editions of the EIN E-Alert simply reply to this message with REMOVE in the subject line
Quote:
"Elvis Presley is the supreme socio-cultural icon in the history of pop culture"
(Dr. Gary Enders)
---
Quote:
" Elvis is the 'glue' which holds our society together....which subconciously gives our world meaning"
(Anonymous)
---
Quote:
"Eventually everybody has to die, except Elvis"
(humorist Dave Barry)
---
Quote:
"He is the "Big Bang", and the universe he detonated is still expanding, the pieces are still flying"
(Greil Marcus, "Dead Elvis")
---
Quote:
"I think Elvis Presley will never be solved"
(Nick Tosches)
---
Quote:
"He was the most popular man that ever walked on this planet since Christ himself was here"
(Carl Perkins)
---
Quote:
"When I first heard Elvis' voice I just knew I wasn't going to work for anybody...hearing him for the first time was like busting out of jail"
(Bob Dylan)
---
Quote:
"When we were kids growing up in Liverpool, all we ever wanted was to be Elvis Presley"
(Sir Paul McCartney)