EIN E-Alert #238...Saturday 18 November 2006
Hi everyone
A lot of very interesting items currently on the site. Piers is back from 6 weeks overseas and has already written a detailed review of the glorious Inside G.I. Blues box set. In addition we review a fascinating and obscure film, Evil Elvis Christmas...would you believe, a slasher Elvis movie! We kid you not.
Plus all the latest CD and DVD release news and the big news this week from EPE - Graceland will be producing the Ultimate Elvis Tribute Contest with regional heats leading up to the finals next August in Memphis.
We are also taking orders for the December FTD releases, Inside Roustabout box set and The Rise of Elvis Presley 2: Memphis Recording Service 1955 box set.
Nigel & Piers
---
Santa Clause is coming to Graceland!
Patch It Up Acetates release
Born 2 Rock - swinging new DVD announced with rare cuts and easter eggs!
EPE announces ETA Contest
2007 FTD releases announced
Elvis' wedding band up for auction - EIN has the full story
Interesting listings on ebay including books owned by Elvis and Elvis Is Alive conspiracy items
New film: Tears of A King
Elvis' piano for sale
Gold for Elvis in Germany
Chart updates
DVD titles deleted in Australia
Ronnie Tutt featured in Classic Drummer magazine
Aussie fans - can you help??
TV Guide to include 4 Elvis CD-Rom's in December
New BMG Elvis Christmas CD
Walmart Elvis CD release
Latest Elvis graphic by Charmaine
Legends of Rock 'n' Roll in Concert review
Artwork for December FTD releases
2007 box sets announced
---
---
Tupelo added as site of national Elvis contest
BY EMILY LE COZ
Daily Journal

To participate: Contest guidelines are incomplete, but to sign up more information about the Ultimate Elvis Tribute Artist Contest visit www.tupelo.net

TUPELO - Break out the sequins and sideburns, in June Tupelo will hold tryouts for Elvis Presley Enterprise's first ever Ultimate Elvis Tribute Artist Contest. The Tupelo Elvis Presley Festival earned one of two slots in the preliminary concert lineup that will lead to a finals competition in Memphis during Elvis week Aug. 11-19.

Collingwood Elvis Festival in Collingwood, Ontario, is the other, and more festivals and fairs could join the lineup.

"This is huge," said Debbie Brangenberg, executive director of the Downtown Tupelo Main Street Association, which organizes the city's annual event, held the first weekend in June.

The association has long sought a way to trump the 2006 festival, which reached record attendance levels thanks to a reenactment of Elvis' 1956 homecoming concert. Brangenberg termed the tribute contest a major coup for the King of Rock n' Roll's hometown. It is expected to draw scores of impersonators to Tupelo for the ninth annual festival. And Brangenberg hopes spectators will flock to the fairgrounds to see the show.

Winners of the preliminary contests will compete at the finals in Memphis, with the best overall performer being named "2007 Elvis Tribute Artist of the Year" by EPE, which owns Presley's likeness and image.

That's a title professional tribute that artists like Las Vegas' Steve Connolly said could get him and others to compete.

"It would appeal to me because it's EPE," said Connolly, who was named Best Elvis of Las Vegas 2006. "You can use it for recognition and for cachet. It gives you credibility."

If it's a contest among the nation's best impersonators, Connolly thinks the event will draw crowds. If it's just a way to get closet Elvis fans on stage to sing off-key, he said it won't work.

However the contest goes, tourism chief Linda Butler Johnson said it's going to be good for Tupelo.

"From a tourism industry perspective, we are Elvis," said the executive director of the Tupelo Convention and Visitors Bureau. "We are the birthplace, and no other competition can offer that."
---
Elvis receives votes in US mid-term elections: The name Elvis Presley received votes in many electorates during the recent US mid-term elections.
---
Budget priced CD releases from Sony BMG:
| | | |
| --- | --- | --- |
| | Now available from your local music store in the Elvis "genre" series | |
| | | |
---
Elvis tribute fundraiser a smash hit
While many may think "the King" is dead, there's no question his spirit is alive and well in Fort Frances.

About 325 music-lovers—both young and of an age who remember Elvis Presley's first appearance on the Ed Sullivan Show—packed the Townshend Theatre last night for the electrifying "Comeback King Show," featuring Elvis tribute artist Daylin James and special guest "Patsy Cline" (Shirley Hanslip).
The concert was fundraiser for the local skate park and while organizers still are adding up the dollars earned, they did say the show was a bonafide winner.

"I think there was good support. There was a great crowd," said Rob Tovey, chairman of the skate park committee, adding he's already gotten phone calls this morning from people regarding the "excellent quality" of performers last night.

"It was good. We made money and it was a fun thing to do," Tovey continued. "I thought it was very positive. Hopefully, everybody felt they got their money's worth."

Since the skate park committee still needs to pay back the town for bridge funding provided to them earlier this year, the fundraising will carry on in the months ahead. The next push is to get participants for the Voyageur Lions' "Polar Plunge" coming up on New Year's Day. Tovey said the skate park group raised about $2,800 from this year, but would like to double that in 2007.

"We want to try and get more kids involved," he added, noting anyone interested in taking the "plunge" in the name of the skate park can contact him at 274-6113.

The skate park committee also will continue to promote its "Buy A Brick" campaign throughout the winter. Bricks cost $100 each, which will be installed at the skate park with an individual, family, or company name on it. Anyone wanting to buy a brick can call Tovey at the above number.

And then in April, the popular Thunder Bay Legends will put on a fundraiser concert at the Townshend Theatre for the skate park.

In related news, "Elvis" will be back for a second concert here on Thursday, Dec. 14 as a fundraiser for the Kidney Foundation.

Unlike the straight-ahead rockin' hits and love songs performed last night, Gospel and holiday numbers will be on the play list for this concert. Local Kidney Foundation member Mary Jane Pearson, a self-professed Elvis fan, was at last night's concert and hopes to see that success repeated next month.

"I was so thrilled," she said of the concert. "I think everybody enjoyed it."

Pearson noted she remembers Presley's debut on the Ed Sullivan Show and felt that at times during the evening, James' expressions and gestures were "perfect." Pearson noted she's already sold some tickets for next month's concert with the momentum created last night. Tickets also are being sold at Northwoods Gallery & Gifts, Greensides General Store in Devlin, and Emo Drugs. (Source: Fort Frances Times)
---
"Underground" Elvis remix single
---
Book Review: "The King's Ransom"
The King's Ransom is a gloriously illustrated 20 page booklet showcasing many of the items once owned by The King.

The booklet was originally sold as a 'program' during 'The King's Ransom World Tour'.

Whether you are intrigued by Elvis' elaborate wardrobe, his stunning jewelry, or his fascination with firearms and law enforcement, the visual treats in 'The King's Ransom', and their supporting text, are impressive, to say the least.

Some of the highlights are:

Elvis' Precision Tool Company I.D. badge
Elvis' personal pipe from Graceland
an unusual turquoise and red coral ring
Elvis' WFL Memphis Southmen Championship ring
Leather belt with turquoise buckle
a selection of Elvis' law enforcement badges including U.S. Agent, Bureau of Narcotics & Dangerous Drugs

(see visual below)

a selection of Elvis' hand guns
The booklet displays very good design with the visuals nicely presented to capture your attention, and the interesting text complementing your viewing pleasure. Included are numerous rare photos of Elvis on and off-stage.
The text is particularly informative, telling us about the origination of many items and also revealing little known facts from Elvis' life and relationships. For instance, I suspect few fans know that Elvis briefly dated model Ann Pennington of TV's 'The Price Is Right'. Ann would become Playboy magazine's 'Playmate of the Month' in March 1976.
Verdict: The eclectic range of, and unusualness of items owned by Elvis is suitably presented in The King's Ransom. It is a visually stimulating and narratively enlightening offering.
Visit "The King's Ransom" website
Visit "Elvis: Behind The Image"
---

---
The King is still packing the house
Elvis: The Way It Was, which runs Friday night, is the latest show in the Brockville Arts Centre's fall tribute show series and also the biggest seller so far."We're slightly over 600 right now," arts centre administrator Peter Dunn said yesterday, noting 761 tickets represents a sellout.
After decades of endless idolization, including two summers at Riverfest, and tabloid speculation about his whereabouts, it seems Elvis is not yet being asked to leave the building.It helps, Dunn says, that this particular Elvis impersonator, Stephen Kabakos, has mastered those oft-repeated gyrations."He really nails the Elvis stuff," said Dunn. "He does the young Elvis.
It's a real high-energy show."Many tribute shows feature an older Elvis, which makes Kabakos's younger portrayal fresher and more dynamic, said Dunn. Perhaps to balance things out a little, the show recreates the atmosphere of Elvis's Las Vegas Hilton years, which ran from 1969 to 1976. The 13-piece show includes Kabakos, an award winning tribute artist whose honorifics include the title of Images of the King - 2001 World Champion, a backup band, horn section and five gospel singers.
Brockville's most recent bout of Elvis-mania perhaps reached its high point in the summer 2003, when a celebrity Elvis contest drew the likes of Councillor Larry Journal, Mayor Ben TeKamp and former Liberal MP Joe Jordan, the eventual winner with his rendition of In the Ghetto. Since then, Jordan was toppled by Tory Gord Brown, who stated categorically he wouldn't be doing Elvis impersonations, while TeKamp is retiring at the end of the month.
Mayor-elect Dave Henderson has not yet stated his position on white jumpsuits and blue suede shoes. But that celebrity contest, while all in good fun, underscored again how the Elvis mythos is just as much about the visuals as it is about the music - if not more. It's a fact Kabakos seems to understand. Though the King seemed to have lost his lustre somewhat in the intervening years, prompting Riverfest to change its format, it now seems Brockvillians have spent enough time outside the Heartbreak Hotel. And as of this writing, there were still some bookings left. (Source: Brookville Recorder & Times)
---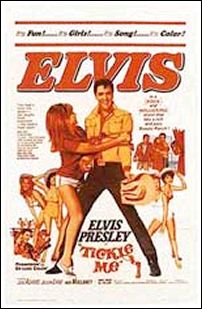 ---
Contact EIN
The EIN E-Alert is a free information service from the Elvis Information Network (EIN) for Elvis fans. If you do not wish to receive future editions of the EIN E-Alert simply reply to this message with REMOVE in the subject line