Film: "Evil Elvis Christmas"
"Evil Elvis Christmas" was a low budget, underground slasher movie about a maniac in an Elvis mask who stalks and kills young girls before setting them on fire.
He strikes annually at Christmas time and targets only petite girls who have large feet and wear white panties (get it?).

A thundering rock and roll soundtrack bolsters an otherwise hackneyed plot, although there are some nice touches, and having an evil Elvis as the villain is interesting.

As is customary for a film of this genre, there is ample blood and gore.

There are also liberal doses of humor throughout the film, including the killer's car number plate being "Kill-Col" and his slobbering pit-bull terrier being named "Priscilla Too".

Film artwork designed by EIN
Other clever Elvis links appear in many scenes, eg. the Tupelo Thugs (a play on the Memphis Mafia), the gangster run night club "Sunset and Arc", and the characters "Grace Landis" and "Vernon Parchman" (a reference to Vernon and his incarceration at Parchman Farm State Pentientiary).
After each killing (and there are many), when the girl is set on fire, a non-Elvis version of "Burning Love" is played.
Interesting twist at the end as the unmasked face of the killer is almost revealed when he meets his nemesis - a buxom, blonde karate instructor named G.L. Addis, who has large feet and a killer (literally!) left kick.
Running Time: 72 minutes. Filmed in Elvismorguevision.
Made by Scatter Splatter Productions and released in 2001 (actually a few years earlier but it says 2001 at the end of the film)
The final film credit says:
Evil Elvis Christmas 2 - Insurrection.....The King's Bloody Revenge! (a body count to equal his golden red records)
Evil Elvis Christmas is yet to be officially released on DVD or video. The sequel does not appear to have yet been released. (A list of other Elvis related films appears below)
Trivia: A copy of the script for "Evil Elvis Christmas" sold at auction a few years ago for more than US$100.00.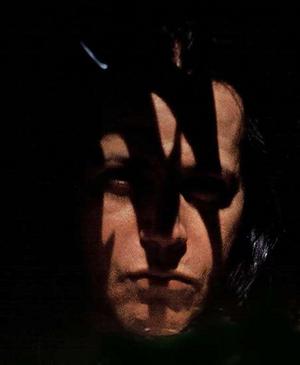 Evil Elvis (tribute artist)
---
---
Other Elvis related films:
The Elvis Killers
Elvis Has Left The Building*
Honeymoon In Vegas*
Heartbreak Hotel*
Finding Graceland*
3000 Miles to Graceland*
Elvis Meets Nixon*
Eddie Presley*
Touched By Love (aka To Elvis, With Love)***
Bubba Nosferatu and the Curse of the She-Vampires (coming in 2008)
Elvis and the Colonel ***
It's Only Make Believe***
The Woman Who Loved Elvis *
Elvis The Movie (Kurt Russell)***
The Headhunter (coming in 2007)
Tears of A King (coming in 2007)
* released on DVD
** Director's only video release known
*** released on video