Interview:
Anne E. Nixon
author (with Richard Harvey) of:
King of the Hilton
Interview conducted January 2015 and based on questions from EIN readers.......
People wonder why I don't want to miss a show, I love it out here. I know people come from everywhere, we know people come from all over, they fly and they drive here, and there's not anyone on this stage, I mean anybody – that would rather be here than anywhere else in the world right now". Elvis Presley, Midnight show, 30th August 1974
---
About Anne E. Nixon
Anne E. Nixon is aame many long time fans know well. Anne's many articles for the British fan club (particularly in Elvis Monthly) were enjoyed by tens of thousands of fans worldwide.
Anne is also well credentialed to write about Elvis' triumphant shows in Las Vegas. For those of us who never saw Elvis live in concert to read that Anne attended 40 live performances in Vegas between 1972 and 1976 is salivating and green eyed-monster inducing stuff!
What has made Anne E. Nixon such a wonderful author over many decades is her ability to bring vividly to life the feeling and experience of being at an Elvis concert. She does this through a mix of strong writing skills, extensive knowledge of Elvis' career and a narrative which impresses due to the inclusion of minutiae (Anne's diaries must be chock-full of information) which on the surface you might think are inconsequential, but which actually are the power source that drives the story.
Following on from her mini-interview with EIN in December 2014 (reproduced below) Anne kindly took time out of her busy schedule to answer questions from EIN readers.......
---
Interview
Lon Roberts:
Q.1: Did Elvis have an aura or presence that you could "feel."
AEN: Hi, Lon. Yes, Elvis certainly had a commanding presence on stage; it was hard to take your eyes off him.
Q.2: From an audience member perspective, did Elvis seem bored in Vegas (as is the common perception) or did he seem to be enjoying himself on stage?
AEN: In all the shows I saw, I never sensed any boredom. At times, he was annoyed by the on-stage sound system, or the Hilton itself, but usually he seemed to be pretty happy, enjoying his singing and the interaction of fans.
Q.3: Out of 40 shows, do you have a favorite one or one that stands out the most?
AEN: Out of several standout shows, I'd choose as my favourite the 'Desert Storm' closing show from 1974, which I've covered in-depth in King of the Hilton. It was unique, unusual, and totally memorable.
Q.4: Were the crowd responses all similar or were some wilder than others?
AEN: The crowds at the midnight shows were often wilder than those at the dinner shows, especially on Saturday nights.
Q.5: Was 1976 a pretty good Vegas stand at that point in time (with no hindsight knowing it was his last)?
AEN: I wasn't at all disappointed in the December '76 shows, even though it was obvious that Elvis had some health problems. He was still committed to his singing and did his best to entertain us.
Q.6: For those of us who never saw him live, how much justice does watching him on video and listening to CDs provide or was the actual experience so much greater? For instance, some performers you watch on TV and then go see in person and they are basically the same. Was an Elvis show radically different in person compared to, say, watching That's The Way It Is or Elvis On Tour?
AEN: Without exception, watching Elvis live beat hands down watching him now on DVD and listening to CDs. Nothing can compare to hearing him in person. Live shows were atmospheric; there was the anticipation of what he'd do or say or sing. It was exciting, edge-of-your-seat stuff. Mind you, the first I saw That's The Way It Is on the big screen, I was blown away, and footage from those shows is still thrilling to watch, and a good representation of his Vegas shows.
Q.7: What is your favorite CD that gives the best representation of hearing Elvis in Vegas?
AEN: FTD's Nevada Nights CD with two Vegas shows from 1974 is a great favourite of mine, with Elvis in good form.
Q.8: Did you ever see Elvis on the road and how did that show (or shows) compared to Elvis in Vegas? Which do you prefer? Which seemed like a better "fit" for Elvis?
AEN: I never saw any of Elvis' shows on tour; it must have been great to experience being in a crowd of, say, 20,000, though.
Q.9: I always stay at the (used to be) Hilton when I go to Vegas out of respect to Elvis' heritage there, but today there are much bigger hotels in Vegas. How nice or fancy or "big" did the Hilton seem back in Elvis' day? Was it "big time?"
AEN: Back in the 70's, the only Vegas Hotel to rival the Hilton was Caesars Palace.
---
Julie Simpson: Elvis 1972 or Elvis 1976. Which was better?
AEN: This is a hard one to answer, Julie, but simply because I saw more shows in 1976, and they were longer, I'd probably have to choose '76. Having said that, though, 1972 was exiting because it was the first time I ever saw Elvis, and he was in better health then. So, a difficult choice.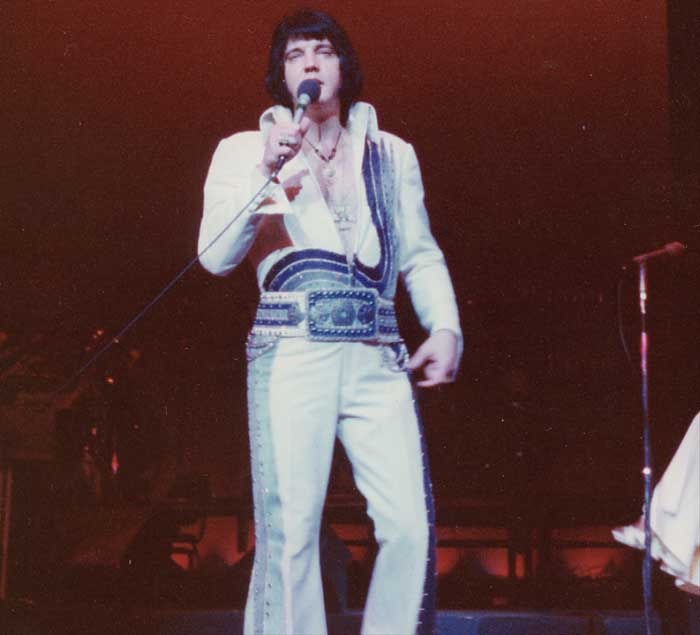 Neil Colombari:
Thank you for the opportunity of asking Anne E. Nixon a question in your upcoming interview with her. As someone who used to read Elvis Monthly cover to cover through much of the 1980s, I remember her articles well, and I also had the book that she and Todd Slaughter wrote in 1986, Elvis: 10 Years After. Unfortunately, I cleared out much of my Elvis collection in the late 1990s, and no longer have the book or the Elvis Monthlies (I know - a crazy decision!!). My questions are:
Q.1: Anne, thank you for sharing your many stories about Elvis over the years. For those of us who never had the chance to see him perform live, your recollections (especially in Elvis Monthly) gave the rest of us the chance to feel as if we were there with you in the audience. In hindsight, there was clearly a marked decline in Elvis' appearance and performances from when you first saw him live in 1972 to the last in 1976. Was this very obvious at the time, or more so with the passing of the years?
AEN: Thanks for your kind words about my articles Neil. There was certainly a marked decline in Elvis' appearance in 1976 compared to 1972. The 1976 chapter details some of the changes – his sometimes bloated stomach and his eyes. Each year there were some differences, but nothing worried me until that final Vegas season. His vocal performances throughout the years were of a high standard.
Q.2:
On the King Of The Hilton website (www.kingofthehilton.com), you mention that not getting to meet Elvis was your greatest regret. Did you have the opportunity to meet any of his band, The Sweet Inspirations, The Stamps, Kathy Westmoreland, members of the entourage, etc.?
AEN: After the midnight shows, we'd go and wait near the elevators. The band and singers would change backstage, and then come walking by to get the elevators upstairs. Over the years, I met most of the TCB guys, Kathy Westmoreland, the Sweets and the Stamps, these meetings are detailed in the book. They were a friendly bunch, and obliged with autographs and sometimes stopped to chat briefly. The entourage would also get the elevators, and sometimes stopped to chat a moment. I never spoke to certain of the entourage, such as Red West, because I thought they looked quite intimidating.
Authors Anne E. Nixon and Richard Harvey
Patricia Ramsey:
What was it, in your experience of Elvis, that made him so special. How would you define him?
AEN: How to define Elvis? That's a question and a half! He was just so different from any other entertainers I'd ever seen. He was at once one of the most famous people in the world and yet someone you felt very close to, very approachable. You felt like you knew him, and that he was glad you were there to share time with him.
---
Stella Boehmer, Germany: Were there particular songs you felt worked better for Elvis in Vegas than others?
AEN: Dramatic songs like What Now My Love, You Gave Me A Mountain and How Great Thou Art worked well and highlighted Elvis' vocal power. Lovely ballads like I'll Remember You and The First Time Ever I Saw Your Face showed the tender side of Elvis. An American Trilogy was an exceptional performance every time. Elvis was emotionally involved in all these songs, much more so than the classic hits, which he included in his shows because the crowds expected him to sing them. That was impression I got, anyway.
---
Jamie McAlister:
Q.1: The closing show to the 1973 season is notable for several reasons including Elvis arriving on stage on Lamar Fike's back with a toy monkey around his neck and his critical comments on how the Hilton had treated one of its employees. What did you think of this at the time?
AEN: I was thrilled to watch the closing show of 1973, Jamie. It was thoroughly entertaining with some totally unexpected moments, like Elvis with the toy monkey on his back and the bed on stage. As far as his comments re Mario, the employee the hotel was planning to fire once Elvis' shows ended, I felt he was standing up for this guy who, for whatever reason, needed to keep his job.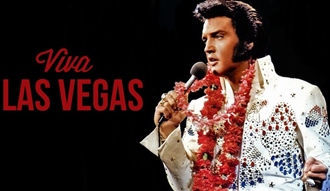 Q.2: How were you affected by Elvis' infamous drugs rant during the 1974 season?
AEN: There'd been numerous stories and rumours at this stage of Elvis' career. So I was 100% pleased when he decided to hit back during several shows in 1974.
Q.3: What was the reaction of others in the audience to the drugs rant?
AEN: Judging by the crowd's reaction, they were on his side too.
---
Aleksandra Kozlowska: Are there all Elvis concerts from period 1972-1976 described by you or you made a choice? All these concerts are listed in the "Archives" chapter in your book?
AEN: Yes, I've written about all 40 shows I saw between 1972 and 1976, with some special shows having lengthy descriptions. And the complete song listings for each show are in the archives section at the back of the book.
---
Pontus Jönsson, Kalmar, Sweden: First of all, many thanks for all the articles and the latest book King Of The Hilton about your experiences with The King! I have two questions regarding the many Las Vegas-shows that you witnessed……
Q.1: How were the sound and acoustics in the showroom?
AEN: Glad you've enjoyed my articles and the book, Pontus. I found the acoustics in the Hilton showroom pretty good. For me, the sound wasn't overloud, wherever I was sitting. One or two of my friends, though, thought it was a bit too loud.
Q.2: Did you ever see the sound booth and if so did you ever see any tapes rolling?
AEN: I was seated near to the sound booth downstairs once or twice, but I never noticed any taping going on. Anyway, once the shows began I was engrossed in watching Elvis!
---
John Merriman, England:
Q1: Elvis seemed to interact a lot with his audience. Is that true?
AEN: Yes, there was a lot of interaction between Elvis and his audiences. Especially those seated near to the stage, and people from further back who attracted his attention by calling out. Often humorous, this interaction was an integral part of his shows.
Q.2: Was he talkative at all shows?
AEN: Elvis wasn't very talkative in 1972, but from 1973 on, and notably in 1974 with the karate monologues, he talked a lot more at most shows.
Q.3: If he did interact a lot, would you have rather he sang more songs?
AEN: It didn't bother me that Elvis talked a lot; he still sang his quota of songs, and the shows often lasted longer.
---
Bazza99: What are your favourite memories of the things you did in America besides watching Elvis in Vegas?
AEN: Besides watching Elvis, I had some wonderful experiences in the USA. I've briefly mentioned our time in Tupelo and Memphis in '72 and '73, but I also enjoyed visiting all the famous Vegas casinos like Caesars Palace, flying to the Grand Canyon or up to San Francisco, and going to theme parks like Disneyland, Knott's Berry Farm and Universal Studios.
I would just like to say thanks to everyone for your questions, and thanks to our friends at the Elvis Information Network for arranging the interview. More details and ordering info about King of the Hilton can be found at Kingofthehilton.com.
EIN Note: We also thank both Anne and all of those who provided questions for the interview. It is appreciated!
Read EIN's review of King of the Hilton
King of the Hilton is available direct from the publishers:
---
Anne E. Nixon talks to EIN - mini interview
December 2014.......questions from Nigel Patterson
Mini Interview with Anne E. Nixon: The latest book from noted Elvis author Anne E. Nixon, King of the Hilton has been released.

Many fans will fondly remember Anne's many articles for the iconic magazine, Elvis Monthly, and her books for the British Elvis fan club Elvis 10 Years After and The Elvis Archives.

Anne was lucky enough to see 40 of Elvis' shows between 1972 and 1976 and her ability to bring the excitement of those performances to life in her writing is legendary.

In this mini-interview with EIN, Anne discusses what readers can expect in her new book and some of her experiences seeing Elvis live in concert, including the infamous "Desert Storm" show.

Opposite: Anne E. Nixon and her co-conspirator on King of the Hilton, Richard Harvey
EIN: Anne, what is the strength of King of the Hilton compared to other books on Elvis' Las Vegas shows?
AN: My aim is to give readers a real sense of "being there". These are first-hand accounts, eye witness accounts of. I was in the audience and observed - often at close range – what was happening on stage and the effect Elvis had on his audiences. Elvis quotes are taken directly from tapes of the shows and in many instances highlight his great sense of humour or reflect his mood.
EIN: What are some of your greatest memories of your time visiting the US to see Elvis 'live on stage'?
AN: Just being in Las Vegas and knowing that Elvis was in the same building was exciting enough, and then to get a stage-side seat at my second show, and to get a close-up look at Elvis (and my first kiss!), was ample reward for travelling so far. Seeing Elvis' birthplace in Tupelo and being able to go up to the front porch of Graceland, plus meeting Uncle Vester, were very special memories too.
EIN: Elvis' ability to hold his audience. Please tell us about that.
AN: It was hard to take your eyes off Elvis. He had so many facial expressions I'd never seen in photos or movies. His reaction to clamouring fans at stage-front and those further back couldn't be anticipated. He was such a dynamic stage performer, holding the crowd's attention, whether singing Rock & Roll, power ballads, or simply interacting with the audience or his musicians.
EIN: Elvis' physical and emotional/psychological decline in his last years is well documented. Having attended shows between 1972 and 1976 what was your perception on how his personal life was affecting his performances?
AN: In 1972 I felt that at times he was perhaps holding back a little, unsure of his audiences' feeling following the recent announcement of his divorce. He was looser and happier in 1973, although there were indications that there was something amiss. This became more obvious in 1974 and 1976.
EIN: You attended the 1974 season including the infamous "Desert Storm" show. What was your reaction to Elvis' on stage tirade?

AN: With hindsight, we know more now of what was going on in Elvis' personal life and the reasons behind the tirade.

At the time, though, it was great to see Elvis answering back at his critics and the rumours being spread about him, and most of the audience seemed to agree, judging by their reaction to his outburst.

The closing night speech wasn't the only tirade he'd given that season by the way, he'd said similar things in other shows prior to the closing show, and they're all transcribed in the book.
EIN: Was 1974 the turning point in Elvis' performances becoming erratic?
AN: Probably, although, as mentioned, something had been troubling Elvis in 1973. However, I was never disappointed by any of the 40 shows I saw, whatever Elvis said or did. Most were very good, and some were outstanding.
EIN: The cancelled 1975 season. How did that impact you at the time – did it surprise you?
AN: It was a complete surprise and a huge shock. It was frustrating because I'd saved hard and looked forward to seeing about 20 shows. It was worrying because it was clear that Elvis was having serious health problems. But at least I was able to return to Vegas in 1976 to see him again.
EIN Website content © Copyright the Elvis Information Network.
Elvis Presley, Elvis and Graceland are trademarks of Elvis Presley Enterprises.
The Elvis Information Network has been running since 1986 and is an EPE officially recognised Elvis fan club.