---
Dominic Joseph Fontana - D.J Fontana - was Elvis' drummer from 1955 to 1969. Elvis first met Fontana when he first appeared at the 'Louisiana Hayride' on October 16, 1954.

Fontana, the staff drummer, became the first person to play drums on the 'Louisiana Hayride' doing so behind a curtain since percussion accompaniment to real Country Music was still frowned upon.

Fontana played drums on around fifty Elvis recording sessions between 1956 and 1968. After 1969 Fontana became a session musician in Nashville. Fontana appeared in Elvis' 1957 movies Loving You and Jailhouse Rock.

(Right;Elvis and D.J Fontana live in Tupelo)
---
Dominic Joseph Fontana - D.J Fontana - was Elvis' drummer from 1955 to 1969. Elvis first met Fontana when he first appeared at the 'Louisiana Hayride' on October 16, 1954. D.J. Fontana started playing drums and touring with Elvis around early 1955, although he didn't become a fully-fledged band member until later in the year.
Fontana, the staff drummer, became the first person to play drums on the 'Louisiana Hayride' doing so behind a curtain since percussion accompaniment to real Country Music was still frowned upon. Previously he had played drums with the local radio station KWKH.
Fontana played drums on around fifty Elvis recording sessions between 1956 and 1968. After 1969 Fontana became a session musician in Nashville.
He played drums on Ringo Starr's Beaucoups of Blues album which also featured The Jordanaires.
Fontana appeared in Elvis' 1957 movies Loving You and Jailhouse Rock as well as King Creole and G.I Blues.
EIN thanks Arjan Deelen for his interview in this two-part special.
---
Earlier this year Elvis' original drummer D.J. Fontana, now 79, performed on stage in Crowley, Louisiana. D.J. Fontana believes he (probably) played there back in 1955 when Elvis and his band zig-zagged across the Southern States. In 1955 they played over 300 tour dates in the single year.
---
D.J. Fontana back in 2010 in Crowley, Louisiana: If you talk about the proverbial "big bang" of rock 'n' roll in the mid-1950s, drummer D.J. Fontana was at its explosive epicentre. Think "Hound Dog" and "Jailhouse Rock" - that was Fontana up front and centre on the skins.
The Shreveport native was Elvis Presley's first drummer on the radio staple "Louisiana Hayride," broadcast from that north Louisiana city. No one knew the madness, the genre-bending blues-country-rockabilly swell that was to follow.

"No, no - I don't care who you are," Fontana, 79, said from a hotel room a couple of days before a recent Crowley gig backing Elvis impersonator Donny Edwards. "You never know what's going to happen. You have no idea. You just gotta be there first with the most."

Fontana, his Shreveport twang still evident, said he stayed with Presley up until the famous Elvis 1968 Special that resurrected Presley's career.

(Right;D.J Fontana still performing in 2010)
Fontana did not play on those early Sun Studio sessions in Memphis that brought one of the key songs of Rock'n'Roll "That's All Right" to living rooms and bedrooms across the U.S. and England. In that little room, it was only Presley, guitarist Scotty Moore and upright-bassist Bill Black - no drummer.
Then they added Fontana, just after Presley switched to RCA Records.
Fontana said he hadn't been to Crowley "in about 50 years, probably." "We (Presley, Moore, Black and Fontana) worked Crowley, Baton Rouge, Texas. A couple of years we worked Texas. We went all through north Texas, all over the place," he said.

"I had joined Elvis for 'Hound Dog,' 'Don't Be Cruel' and 'All Shook Up,' and somewhere along in there before that, the 'Louisiana Hayride.' That was basically a country show, a live radio show," he said. "It was a 60,000-watt station, but the antenna was aimed toward Texas, so that's why we got all those calls from Texas."
"Hound Dog" - backed on 45 rpm with "Don't Be Cruel" - topped the US charts for 11 weeks, a streak that would reign for 36 years. Presley's voice was a mix of smouldering, close-miked allure that shocked the world.
But in the trenches, that is, the stages and long rides to get to each show, the boys were just trying to play this new music dubbed rock 'n' roll.

"We had one car!" Fontana said, chuckling. "It was me, Scotty, Billy and Elvis. It was a Cadillac, not a big stretch job, as I recall, but it got us to where we had to go. I remember we might go to sleep in the back of our car and he'd turn the radio back on when we were trying to sleep," Fontana said of Presley's sly humour, "and he'd laugh, because Elvis didn't want to sleep sometimes after a show."
Local Elvis historian and KTDY radio personality C.J. Clements, the "number one Elvis fan west of the Mississippi, but only because Elvis' mom is buried east of there," often mentions Presley on his morning show with Debbie Ray.
"You know that famous beginning lick in 'Jailhouse Rock'? That's him (Fontana). That dum-dum, dah-dah. He came up with that. It jump-starts that song," Clements, 46, said Friday.
Fontana uses a "conventional" grip with his left hand - lilting perpendicular to his right hand across the toms and snare - as opposed to the "match" grip used by most drummers today. Buddy Rich played the same way, but Fontana's influences are more Big Band.
"I used to listen to the Woody Herman Band, and Louis Belson," Fontana said. "I met Louis in New York. We did the Tommy Dorsey show. My style is, I just stole a little bit from all those guys. If you're gonna steal you might as well do it from the guys who know what they're doing."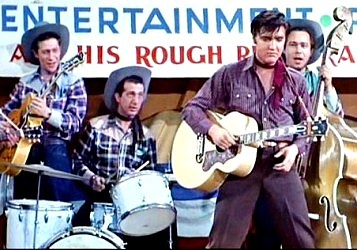 Fontana appeared or played in the Presley movies "Loving You" (above) "Jailhouse Rock," "G.I. Blues" and "King Creole."
Presley's legendary "Jailhouse Rock" pole-dancing scene was the King's brainchild. "You know," Fontana said, "that started out where somebody was supposed to teach him how to dance. He said, 'No, let me do what I'm doing. You turn those cameras off and we'll do it until we get it right.' It was his baby. It was his idea."
The 1968 special, with Presley in black, slim and in his early 30s, is a fond memory for Fontana and all fans.
"That son-of-a-gun played on the back of guitar cases," Clements said of Fontana. "They were in the round at one point, and that's what he used."
"That was probably the best thing he'd done in years," Fontana said. "He'd come out of the Army (in 1960) and started doing the pictures and he was actually wanting to go back on the road. But that stage was about the size of a boxing ring. There wasn't no room up there."
Fontana was playing a session in Memphis, coincidentally, when he heard Presley died. That was August 16, 1977.
"It was about 4 o'clock when a friend called us and said he'd heard Elvis died. I told him, 'Na-ahh, you can't believe all that stuff. They've been trying to kill him off.' You just can't believe it when it happens," Fontana said.
Overall, Elvis "was just a nice guy, even though he was so young," Fontana said. "He always treated people like he wanted to be treated. You know, we worked hard. We just tried to cut good records. But we knew that if it wasn't for Elvis, we wouldn't have done anything."


(Above 2010 story & interview by Advocate/EIN)
---
---
D.J. Fontana - Interviewed By Arjan Deelen.

I interviewed D.J. Fontana directly after my interview with Scotty Moore, and it was fun doing the interview. D.J. is a sweet, open and very down-to-earth guy, and he's a very popular guest at Elvis Conventions. In March 1998 he appeared at the Blue & White Christmas event, and afterwards we were seriously considering booking him again for a future booking!
Arjan Deelen: Do you remember the first time you saw Elvis at the Hayride?
Fontana: Not really. I knew Scotty Moore and Bill Black, and I knew that they were coming. The people running the Hayride said: "If they need a drummer, would you play?". And I said: "Yeah, that's why I'm here". Scotty and Bill asked me, and I said: "Yeah, I'd be glad to. Let's go back to the dressingroom and see what you're playing". That's how it started: I just happened to be there.
Q: The first recording session you did with them was in Nashville in January 1956. Do you have any memories of that session?

Fontana: We did that but it was not at RCA, it was a little church. Tho only thing I remember is that they were trying to get that echo sound. They'd run some mikes down the hallways. They wanted to have the same sound that he had with Sam, but they never did get it. But it was a good sound.

(D.J Fontana, Bill Black, Scotty Moore & Elvis)
Q:During concerts in '56 "Blue Suede Shoes" was performed with a long drum solo. Was that your idea?
Fontana: Yeah, it's on a tape somewhere. But I don't know, we never did play solos for drums. I think Elvis must've turned around and said: "Play!". Whenever he'd point at you, you'd play.
Q: But I heard that tape and it seems to me like it was done in Vegas, wasn't it?
Scotty Moore: It was. We didn't know it was recorded. That's another thing we're trying to sue them for.
Q: Oh, is this a sensitive subject?
Fontana: No, no. They're working on it.
(Scotty:) It's definitely us playing, but we don't remember doing it.
Q: Getting back to the drumsolo, do you mean that it was not a regular part of the act?
Fontana: It was just a one-off. When he'd point at you, you'd do something! (laughs) He was good at that!
Q: Where did you get the idea for those machinegun-like drumfills in "Hound Dog"?
Fontana: We took that from a band we saw in Vegas, Freddie Bell and the Bellboys. They were doing the song kinda like that. We went out there every night to watch them. He'd say: "Let's go watch that band. It's a good band"! That's where he heard "Hound Dog", and shortly thereafter he said: "Let's try that song". He was always trying things.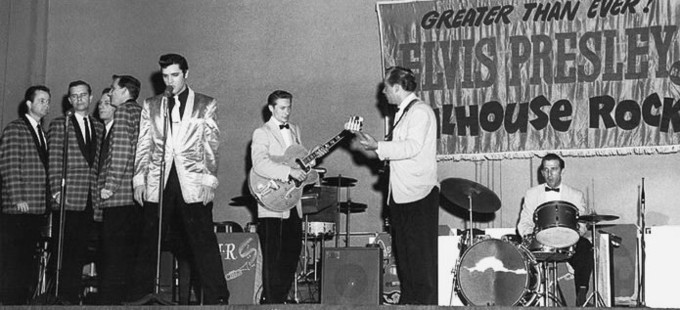 The Jordanaires, Elvis, Scotty Moore, Bill Black & D.J Fontana
Q: On early live-versions he sang: "You ain't nothing but a Hound Dog, Hound Dog"
Fontana: Yeah, I remember that. He'd change tunes, words.
Q: I've read that the concerts in Canada in '57 were pretty wild.
Fontana: Canadian football stadiums are a lot bigger and longer than ours. Ours are 100 yards, and theirs are 125 B 150 yards. The fans couldn't see or hear us. They came closer to the stage to hear us. There was a fence, where they'd sit down. The people who owned the stadium got nervous and scared: "Oh God, they're gonna ruin the floor!". But what about those big football players ruining the grass? They told everybody to get off the grass.
But what are you going to do with 20.000 people? Kill them all? You can't do that. So Elvis came on, did a few songs, and said: "We'd like for you to get back in your seats". Which they did, very orderly. Until the last song, and here they come again, but yeah, they came! Elvis left the stage, and here we were with 20.000 people! (laughs)
The stage turned over, but we finally got all the equipment in the car, which was right behind the stage. The car was surrounded by kids, and they were shaking the car. George Klein, who sat behind the steering wheel, said: "I'm gonna run over them!"
I said, "George, you can't run over these kids!" (laughs). "But they're gonna kill us". "No, they won't. Turn those lights on, then they'll see he's not here, and they'll go their way". Which they did. They weren't out to hurt anybody.
Q: It's been said that Elvis announced 'Fool's Hall Of Fame' as his new single. Does that ring a bell?

Fontana: We tried that tune, I guess half a dozen times. I don't remember if we ever got a good cut. We tried it. On stage it was great. I think he finally cut it.

Q: You tried it in the studio?

Fontana: Yeah, but there was something about it, It was just one of those songs that you can't get a feel on. I think they finally cut it, but it was a throwaway song, and that's why it was never released. It'll probably come up, somebody will find it and release it. RCA or somebody and then we'll sue them again! (laughs)
Q: You have toured with Gene Vincent and the Blue Caps. What was that like?
Fontana: Yeah, that was fun. Gene was really a good artist. He was a little crazy sometimes, and also his band, but it was fun working with him. Gene was the wildest one of the bunch. He wasn't exactly calm. He'd get mad at people out in the audience. One time in the Northwest, the audience was filled with lumberjacks, guys with big arms and big necks from cuttin' trees down, - and Gene would go: "Hey you, guys, meet me behind this thing, and me and my band will whoop ya!" (laughs). And I'd go: "No, no, don't tell them that, Gene!". He'd always wanna fight the biggest guy in the place.
Q: Was he suicidal or something?
Fontana: I think so. No, I think he knew they wouldn't hit him, because he had a cast. He was cripple. Nobody's gonna hit a cripple, but they would hit us!
Q: Back to Elvis. On many sessions in the 60's Elvis used two drummers, mostly you and Buddy Harman or Hal Blaine. Why was that?
Fontana: One guy couldn't play all the garbage they wanted you to play. On the Hawaiian tunes they had bongos, congos, you had this, you had that. That's why they hired all these guys.
Q: In photos of the Memphis '61 concerts it seems like there are two drummers
Fontana: No, he was with another band. I saw that picture. They'd have a show with jogglers, dog-acts and all kinds of variety that the Colonel hired. They had this band to back all these acts up, and that explains the drummer in the photo.
Q: Jumping a few years ahead to the '68 NBC special, did Elvis call you personally?

Fontana: No, he never called anybody. I talked to him once on the telephone! They always had somebody calling, but then you'd know it was coming from him.

Q: Was that the last time you saw him?

Fontana: I saw him a couple of times after that, went down to the house to talk to him

Q: How do you look back on your years with Elvis?
Fontana: Oh, it was fun. We really had a good time. But when you think about it, I worked with a guy forty years ago, and I'm still working today doing the same.
The 68 Comeback Special - Elvis with Scotty Moore and D.J. Fontana far right
Q: Does that surprise you, twenty years after his death?
Fontana: Yeah, sure does! Still making a pretty good living doing this. After forty years, you can't hold a day-job that long. They fire you after about twenty years.
Scotty: It sure beats picking cotton!
Fontana: Yeah, sure does! (laughs)
Interview by Arjan Deelen - EIN presentation by Piers Beagley.
--Copyright EIN August 2010
EIN Website content © Copyright the Elvis Information Network.
Click to comment on this interview.
---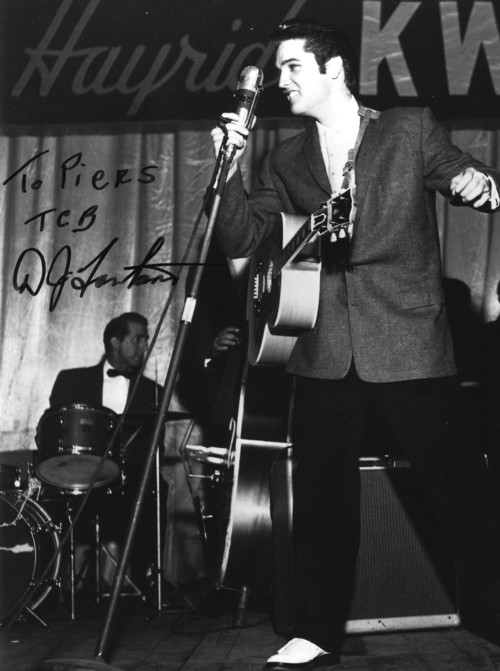 Jaihouse Rock - Elvis with Bill Black, DJ Fontana, Scooty Moore and Mike Stoller on piano
---
---
EIN Website content © Copyright the Elvis Information Network.
Elvis Presley, Elvis and Graceland are trademarks of Elvis Presley Enterprises.
The Elvis Information Network has been running since 1986 and is an EPE officially recognised Elvis fan club.