"Elvis Often Wondered Whether His Fans Would Remember Him After He Was Gone…"
Elvis' Head Of Security Dick Grob Interviewed

Starting May 1st, Dick Grob will be in Europe to celebrate the legacy of Elvis as part of the "An Evening with Elvis' Friends and Original Musicians" tour. The date is interesting, because it's on that day that he first met Elvis, back in 1967.

In anticipation of that tour, we conducted an e-mail interview with Mr. Grob. In a way it's interesting how we all think we "know" the main players from Elvis' life.
Some fans have very strong opinions about these people, and names like Priscilla, Charlie Hodge and indeed Dick Grob often seem to trigger a certain reaction. One can ask the question whether it is fair to judge these people like we sometimes do, since in reality we were not there – and yet they were.
Elvis' life was pretty extraordinary, with many highs and lows, and one wonders how any of us would have coped with the stress of dealing with it all, especially if you were responsible for the man's safety.
Dick Grob answered all our questions in detail, and there's even some information and insights in the interview that we haven't seen elsewhere. He talks about that first meeting, Elvis as a friend and as a human being, life on the road, Aloha, Elvis' fondness for the police, Ginger Alden, Elvis' decline and his death.

Did you ever read about…
-Elvis' reaction to a fan who said he should smoke marijuana to improve his music?
-Elvis' final assessment of Ginger Alden?
-Where the helicopter that you see during the Aloha opening sequence actually took off from?
-Elvis' plans in '77 for shows in London, Paris, Berlin, Moscow and Tokyo?
-The reason why Elvis was almost assaulted on stage in early '73?
-Elvis' great interest in Nostradamus?
-Dick's final conversation with Elvis in the very early morning of August 16, 1977?

No? Well, read on then!
---
2014 - May 1st, tonight the "ELVIS Concert 2014 - An Evening With Elvis' Original Musicians" kicks off in Europe.
Below, Elvis' old friends Dick Grob, Duke Bardwell and Stump Monroe are reunited together with Tour manager Arjan Deelen. This is the first time that they have all got together since 1975. The vibes were great as they hit it off right away, talking about their Elvis recollections and stories, "You remember Sheila Ryan… etc, and talking about the different people on the tours back then.
As Arjan Deelen told EIN, … It's SO COOL!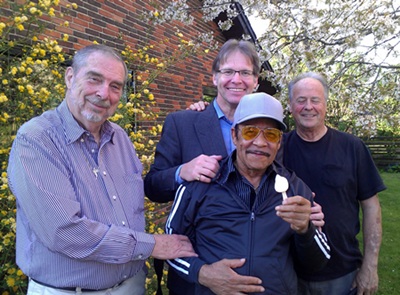 Can you tell us a bit about your life before you met Elvis?

Dick Grob: I was born in the small town of Sandusky Ohio. I went to school in Sandusky until the 2nd grade, then I moved to Europe where I lived in Germany for about 3 years with my father and mother. This was after the war. We moved back to the United States and my father, who was in the Army, was stationed in several places. I lived in several locations in the United States as a result of his army career. He was sent to Korea during the start of the Korean War. My mother and I moved back to Toledo Ohio where I finished high school and took some college. My father never returned from Korea alive. His death is a story in and of itself. I entered the United States Air Force and attended the United States Air Force Academy in Colorado Springs. After leaving the Air Force I took the exam and passed it for the Toledo Police Department. Next I moved to the Palm Springs Police Department and was there for more than 10 years.
When you first met Elvis, you were still working for the police. It's been said that he was genuinely interested in the police and perhaps even dreamed of being one.
DG: Elvis was always interested in the police department in any city that we played in. He would often talk to the policemen that were on duty in providing security. If Elvis had not been a musician, he might have become a policeman. He was very favorable of the comradeship that existed between policemen, regardless of the city they came from or where they were at. He thought this was the best and biggest fraternity of any kind. He really liked their loyalty to one another and their ability to communicate regardless of where they were from.

Do you remember the first time you met him?

DG: On May 1, 1967, I met Elvis in Palm Springs California. He was just married in Las Vegas to Priscilla and they came to Palm Springs for their honeymoon. I was a policeman off duty at the time working special events. I was assigned to watch the house that Elvis was leasing and keep the crowds away. Elvis came out of the house, walked over to the police car where I was sitting, he introduced himself and asked if he could sit in the car. We listened to the police radio for about an hour and a half before he went back inside. As he left, he told me if I wanted any more lemonade in the glass he had brought out for me, I should come into the house to get some.
A little later I walked to the back door to get some more lemonade, Elvis saw me walking there, ran over and locked the door and told me to come around to the front door. I walked to the front door, he opened the door, invited me inside, and said "any friend of mine comes through the front door." He introduced me to everyone in the house and showed me in the kitchen where the lemonade was. I filled my glass and went back out to the police car. When I met Elvis, I was not a particular fan, I was acquainted with very many stars that had homes or vacationed in Palm Springs.

Initially your contact with him was basically friendship?

DG: From the first time I met Elvis we were friends. During this time he was doing movies and was not doing concert tours. Whatever he came to Palm Springs, which was often, he would always call me or have somebody call me and I would go up to the house. I would talk with him as two friends would along with everyone else that was there. When he started performing on stage again, he asked me to join his group and become a member of the Memphis Mafia.

Did you ever come to the film sets when he was working in Hollywood? And if you did, did you do any security for him there?
DG: Elvis and I were just friends until he started back on stage. I was not on the film sets and did not have anything to do with security on the film sets. When Elvis came to Palm Springs we often went to the pistol range to shoot or took the Jeep and rode around the desert hunting rabbits.
What was life in Las Vegas and on the road like?

DG: When Elvis came back to Las Vegas on stage, we started out with about four weeks of shows. Elvis generally did two shows a night, seven days a week for the entire time we were in Las Vegas. Once in a while he would put in a 3rd show so that the people who worked in the casinos during the time he was on stage normally, could come and see an early morning show.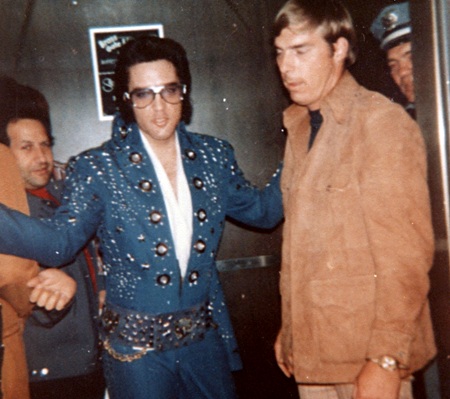 During the time he was in Las Vegas Elvis rarely left the hotel or his suite. He went down to his dressing room by way of back elevators and secured hallways. Fans could not easily get into these areas so they were not generally a problem. Elvis would stop and sign autographs for employees who were normally in these areas or pose for a picture with them. We always had Elvis' security team and members of the hotel security staff with us when we went backstage. After the shows Elvis would return to his suite and members of his staff would meet 10 or 12 young ladies and bring them up to the suite to set talk with Elvis. The suite was guarded at the front door by hotel security people and we always had at least two of our own security people in the suite with Elvis along with other members of his staff. This was generally the same procedure that took place on tours.
In one city there were several girls or young ladies setting around in the suite with Elvis talking. One young lady who had a little bit to drink began to ask Elvis why he didn't smoke marijuana. She said he could be so great if he smoked pot and his music would be much better. Now Elvis really didn't smoke at all and I never saw him smoke any kind of pot. This woman was becoming belligerent, loud, and making a fool of herself. She was escorted from the room by myself and another security person along with Elvis. She was put in an elevator, and as the doors were closing and she was still ranting about the benefits of marijuana.
Elvis told her "Honey, I made more than $1,000,000 last year and didn't smoke one bit of pot. How much did you make smoking pot?" The elevator doors closed and she left the floor. All the security people policeman and Elvis laughed.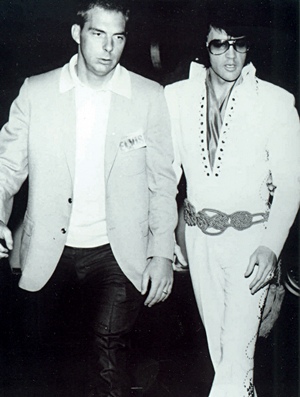 Do you remember the situation where Elvis was reportedly attacked on stage? What happened there?
And where there any other threats to his life?

DG: The incident on stage in Las Vegas was the result of a group of people, men and women, having a little too much to drink. The women who were either wives or girlfriends of the men had been talking about how beautiful a person Elvis was and how they would like to have sex with him or something of that nature. This apparently went on for some time over the afternoon and evening. They were all drinking and the men were drinking a little more than they probably should have. The men got sick and tired of hearing their wives talk about Elvis and drank even more. They all went to the show that night and the women kept talking about Elvis. By now the men were thoroughly drunk and decided they were going to do something about it. Jealousy just does not go far, and the men thought it would take them further than it did. They rushed the stage. The Vegas stage was relatively low. They got up on stage and were immediately taken into custody by our, Elvis', security people, and Elvis karate kicked one. They were all taken off stage and escorted by Hilton security people and turned over to the police.
There was always mail received at Graceland, addressed to Elvis, that contained letters threatening Elvis. These letters were mostly from boyfriends or husbands whose wives had left them thinking that they would hook up with Elvis. Elvis never saw these letters unless there was something especially funny about the letter. He also never signed for mail or received it. Someone else always took the mail.
Any memories of the Aloha concert?

DG: The Aloha from Hawaii concert was a big event in Elvis' life. Elvis was really up for this show. He rehearsed the numbers and did a full dress rehearsal the night before the main show. Elvis was a little upset over the fact that the show had to run on a very definite timetable and he could not do some of the things on stage he usually did. After the 1st full night rehearsal, Elvis stayed until the early morning hours singing the other songs that were put into the show after it was taped. One of these was Early Morning Rain. There were a number of small problems that occurred in setting up the show, but no major security problems.
One of the minor problems occurred after Elvis exited the helicopter. He was supposed to get in the Jeep and drive away. However, Elvis saw the crowd and walked over to the fence to shake hands and talk to all the people that were standing by. This was not supposed to take place. The helicopter that brought Elvis to the landing area actually only came from in front of the hotel. It did not bring Elvis from the airport or anyplace else. Elvis was already at the hotel, went out the front door, got in the helicopter, took off, and landed for the video footage.

You knew Elvis for 10 years. During those years, his appearance changed considerably, and his health and general well-being were a constant issue in those final years. Some of the concert reviews from that period are terrible. What are your thoughts on this?

DG: The last time that I saw Elvis he was 10 years older than when I first met him. During those 10 years Elvis's health was up-and-down. Mentally Elvis was very sound, very solid. However, there were a number of issues that affected his health. Elvis ate a very poor diet. Basically, consumed southern type food which is usually fried and heavy. He ate a lot of sweets lot of mashed potatoes and gravy and other fried foods. Today we know that this is not good for your health, but back in the 70s little was known about cholesterol and the effects that it had on a person's heart. Elvis also worried a lot which put unnecessary stress on himself.
The day that Elvis died, I had spent from about 10 o'clock the previous evening till about five in the morning talking with him. He was particularly concerned that this tour that was coming would be the 1st time he was in public since the other bodyguards had written their book. Elvis wasn't sure how the fans would accept him. I told him it didn't matter, they would still accept him and he should not worry about it. He also was upset because of an ongoing argument and disagreement with Ginger, his girlfriend at the time. She was not going on the tour and once we left Graceland, Vernon Elvis's dad was going to come over and tell her she should get her stuff and leave. There was another young lady who was going to go on the tour with Elvis and replace Ginger in his life. I had made arrangements for her to fly out of Memphis to Portland, Maine that evening.
Also, Elvis did not work out much and this led to some other physical problems that he had. Elvis was still the fun-loving person that he always had been and really enjoyed singing on stage. Most of the shows during his last tour were well received and had excellent reviews. One or two shows particularly the CBS special was not as good as it could have been. Elvis was not feeling well for that show and the performance was not as good as previously. The bad reviews that Elvis received, and there were some on every tour, were generally unfair reviews.

Often those people who were going to review the show wanted special consideration. They wanted free tickets or tickets with seats very close and wanted to meet Elvis to get an interview with Elvis and so forth. This was never done and therefore the people tended to give Elvis a bad review in the newspaper. This really was funny because there would be 8000 screaming yelling fans in the audience and one person who didn't get his way saying the show was terrible.
What kind of person was Elvis behind closed doors?

DG: Elvis was a unique individual. He had the ability to deal with everyone in the group differently. He would deal with each person in the manner or fashion that he knew would make that person feel good. He was also very intelligent and could discuss almost anything you might want to talk about in a knowledgeable fashion. I had a conversation with Elvis once about the prophecies of Nostradamus which he had read thoroughly and when we were done, we changed to a discussion of the plate movement of the earth and a cause of earthquakes. Elvis was widely read and remembered what he read with almost photographic memory.
At Christmas time Elvis would go out to personally buy gifts for all the members of the group and their wives. He would match the gifts to that person's personality and style. He tried to know everything he could about a person's family and how things were going. Once on a tour he found out that my young son was sick. I had never said anything to Elvis about him being ill. Elvis asked me if my son needed anything, any special doctors or special medicine, or if he needed to be flown to some special hospital.

This was Elvis taking care of each person on his staff. If he didn't see somebody for a while, like a wife, he would ask about her. Elvis was a friend, a very close friend to everybody that worked for him. There was never anything in anyone's life that Elvis wasn't concerned about. Elvis often wondered how he would be remembered or if the fans would remember him after he was gone. Elvis never knew how great he was. He never knew how he was loved all around the world and the effect that he had on people all over the world.. Elvis never forgot where he came from and he never forgot the fans who kept him on top of the mountain.
| | |
| --- | --- |
| | |
What's the story behind those great wedding pics from December 1970?

DG: To answer your questions on the wedding photos.  This was the wedding to my second wife in December 11th , 1970 if I recall correctly.  I invited Elvis to the wedding on the last day of a tour, I think it was in Denver.  Told him it would start at 7:30 PM and we would not wait for him.  He said he would be there.  He and the group showed up about 7:15 PM and took seats in the church.  It was a small crowd there and no one bothered Elvis.  During the ceremony, when the Preacher asked if anyone objected to the marriage or knew why it should not be allowed, Elvis waved his cane in the air and made some quiet mummers.  The minister was already briefed to ignore Elvis if he pulled something, which the minister did. 
After the wedding, Elvis had to ask if we wanted pictures with him in the church.  That led to the photos with him and my wife.  Outside he gave us a car for a present, telling my wife that it was for our "Honeymoon."   She thought it was just for us to use and asked him when we had to return it.  He laughed, gave her a hug and told her it was ours to keep, not to just use.  She jumped up on him, giving him a big hug and a kiss.  Later at the reception he had a small glass of bubbly and talked to everyone.  Not one person bothered him and he was left alone to move about and talk to who ever he wanted.  Years later he remembered that wedding and told me he wished that his had been like that where no one bothered him and he could just be himself.  I guess he liked just being himself, a friend of mine and not the famous Elvis Presley. 
It's been said that he had a great sense of humor.

DG: Elvis loved to play jokes on everybody. Not only would he play jokes on people but he had jokes played on himself which he loved. Once he and Linda Thompson got off the plane to talk to Col. Parker as we were about to take off. When he and Linda came back on the plane, and everybody was seated on the plane, he started throwing what looked like pieces of stone at everybody. They were not stones, but pieces of foam rubber colored to look like stones. For a few minutes everybody on the plane in the front compartment was ducking to stay away from the stones. When everyone realized that they were just pieces of foam rubber Elvis couldn't stop laughing.

Another time as we were taking off Elvis and Linda had been in the back part of the plane and they came to the front and started talking to everybody. Both of them had taken black colored makeup and colored a couple of their teeth to make it look like they didn't have any teeth there. It took a few minutes for some people to say something about their teeth. Elvis and Linda both cracked up.
Elvis was very fond of Peter Sellers in his movies. Often Elvis would start talking in Peter Sellers fashion just to see how you would react to it. If something went wrong or not according to schedule exactly, Elvis would turn it into something funny instead of getting mad or upset.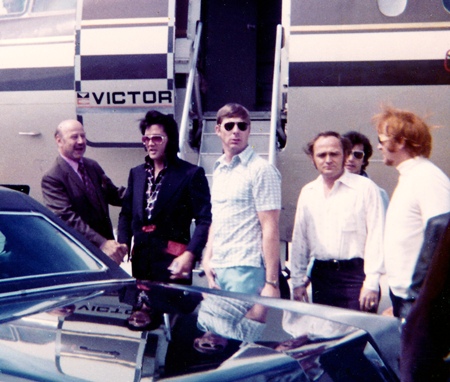 In two weeks, you will be in Europe together with your old pals Jerome Monroe and Duke Bardwell as part of the 'Elvis friends & musicians' show. It's still a point of discussion amongst Elvis fans that Elvis never toured Europe. Why, in your opinion, did a European tour never materialize?

DG: Elvis wanted to come to Europe and do a tour of several cities. The main reason that it had not been accomplished before was that there were no large indoor buildings or arenas available. Most of the venues were of a smaller nature at that time. With the huge cost of having the show on the road it was necessary to have larger crowds or charge higher prices. Elvis was against the higher price and in fact the tour that never was, was the 1st time that Elvis had finally agreed to raises prices for tickets to about $17. Other stars were already selling their tickets at $30. Elvis didn't think it was fair to charge more money for tickets than the average person could afford and with smaller capacity arenas, ticket prices would have to be large.
Along with this went the fact that Elvis really liked the Aloha from Hawaii type venue in concert. Right after the tour that never was, three or four of us were leaving for Europe to check out different venues, security arrangements, and accommodations. On the schedule was a stop in London for a show, Paris for a show, Berlin for show, Moscow for a show and finally Tokyo.
Unfortunately because of Elvis' death the shows never came to be. While there were many outdoor arenas, that could hold huge crowds, the concern was always the weather. When you're booking shows a year in advance, it's a little difficult to determine what the weather is going to be on the night of the show. We were trying to work around that problem in setting up this European tour. There really was no other reason than what I've said for us to not travel to Europe.
Some say Col. Parker could not go to Europe and therefore Elvis never went. This is totally false! The colonel could go to Europe on a US passport. The tour also could go to Europe without the Col. and everything could be done by telephone just as we did in the United States on a tour. Sometimes the Col. would be a day ahead of us and we communicated by telephone. A tour in Europe presented no other problems for Elvis, the Col. and our communications would accomplish everything just like a tour in the United States.

Your thoughts on Colonel Parker?

DG: I think Col. Parker does not receive due credit that he deserves. Many blame the Col. for Elvis doing so many concerts and Tours. However I was present, when Elvis told the Col. to book more tours or he would get a new manager. The Col. booked more tours. Elvis and the Col. had a working relationship that they both felt very comfortable with. While many think the Col. took too much money from Elvis in a 50% agreement, but this is not true. Many stars will pay a manager 30%, and then they'll pay 10% to somebody to handle publicity, another 10% for somebody to handle merchandise, and another 10% for other miscellaneous things. While the Col. handled all these things for Elvis and they shared in all the profits equally, other stars paid out 50 to 60% to have the same things done.
The Col. was always a man of his word, if he said he was going to do something, it got done. A handshake with the Col. was a contract, and he lived by it. The Col. never wrote about Elvis, he never gave interviews about Elvis and he never took another star to manage even after Elvis died. Would Elvis have made the climatic difference in music with out the Col.? He probably would have made a difference. Would the Col. have been as big a success he was without Elvis? He probably would as he had several big stars that he managed before he took over Elvis, and he gave up those stars when he started to manage Elvis.
August 16, 1977….

DG: August 16, 1977 was not a day I ever expected to happen. I had spent six or seven hours with Elvis the night before just sitting around and talking. I briefed Elvis on the upcoming tour, the cities we would be playing, the arenas we would be in and any peculiarities of the arena, such as stage height, crowd size, and entrances and exits. We talked about how the fans would receive Elvis after the book that was written and his concerns. We talked about the new girl that Elvis had been seeing and how he was not ever going to marry Ginger Alden and that he was glad to be out of that relationship. We discussed a little bit the possibilities of European tour and how he wanted to put four new songs into his concert line up. He wanted me to be sure that Charlie Hodge had the words and music for those songs.
He said he was going to go play some racquetball and called his cousin Billy to come over to play. I told him I had my racquetball stuff in my car and would be happy to play with him. He told me no, "go on home, get some sleep, because it's going to be a big day with the start of the tour." I left, went home and went to bed.
Shortly after I got up, I received a call from Graceland saying that Elvis was on his way to the hospital. I asked, " is it bad," and was told it was. I immediately got dressed, jumped in my car and drove to the hospital. I went into the emergency room and was there while the Harvey team was working on Elvis trying to revive him. After some time they pronounced Elvis dead.
I saw that his body was taken to the morgue and security was placed on the door. I made arrangements for Memphis Police Department to provide security on the morgue and at the funeral home. I took a request to do an autopsy to Graceland and had Vernon, Elvis his father, sign it. This meant that with Elvis: estate paying for the autopsy, that it was private and not available to anybody but the family. I was not going to have Elvis' autopsy pictures and information made public like it happened to Pres. John Kennedy. I witnessed the autopsy signature by Vernon and took it back to the hospital, giving it to the proper authorities there.
To this day this is why this autopsy is private and many news people don't like me because I did this. We immediately had to put together plans for Elvis' funeral and those had to be made instantly as no plans had been made previously. Decisions had to be made on an hourly basis and constant changes made based on problems that came forth. It was several weeks after the funeral that I finally had time to stop and think about the loss of my very dear and close friend Elvis Presley.
It's now almost 37 years ago that Elvis died. Why, in your opinion, is he still so popular?

DG: I think one reason we still remember Elvis and haven't forgotten him is simply because of who he was. He was a person who came from nothing to the top of the heap or mountain but never forgot where he came from. He was always willing to help out others less fortunate than him even some who he didn't know. Every toy or stuffed animal that he was given on stage was always taken back to Graceland and placed in a trophy room for a period of time. At Christmas time or other special events all of these were taken down to the hospitals and given to the children in those hospitals. If someone was hurt at a concert, Elvis always wanted to know the nature of the injuries and how the person was doing. Often, if the person was in the hospital Elvis would see that the bill was paid.
Elvis never forgot his fans. During a concert if one of the musicians hit a bad note, Elvis would stop the show. The audience never knew that someone hit a bad note, but Elvis did. He would say, "hey let's get it right," and do the song over again because he wanted it to be the best it could possibly be for the audience. Elvis was always thinking of his fans, that's why he didn't have high ticket prices. Whenever he came offstage the 1st thing out of his mouth were always something like, "how was the show," "was the show good," "was the sound good." He always questioned about how the audience was able to see and hear his show. He wanted to be best for those who paid to see him.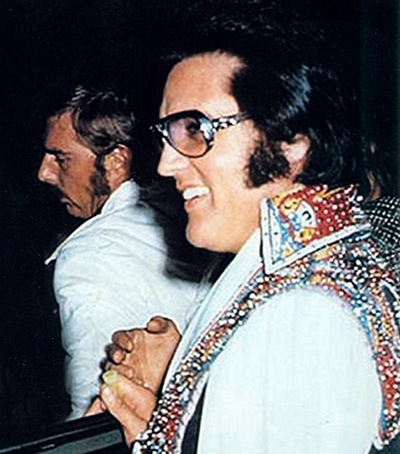 Elvis was always a very humble person and never realized how great he truly was. The legacy of Elvis Presley was really not created by Elvis, but by his fans. No other star has ever continued this long after his death. Right after Elvis' death the people on the stock markets said that this Elvis stuff would last for another year two. How wrong they were.
It was what Elvis gave of himself that every person from wherever could feel, hold and enjoy. I have been fortunate enough to witness this phenomenon of Elvis Presley at work. Fans from all over the world gather in Memphis or in different locales for festivals and meet new people from different parts of the world or areas that they would never know if it had not been for Elvis and his music. One has only to look at an audience at one of these events to see the different people get together to pay tribute to Elvis and gain new friendships that they would never have known if it had not been for Elvis. One can almost say that through Elvis Presley all things are possible.
© 2014, EIN / Mariusz Ogieglo / Arjan Deelen
Interview by Arjan Deelen & Mariusz Ogieglo.
© 2014 Mariusz Ogieglo / Arjan Deelen / EIN. All rights reserved - DO NOT COPY.
EIN Website content © Copyright the Elvis Information Network.

Click here to comment on this Interview

EIN thanks Arjan Deelen for all his help in securing this interview for the EIN website.
---
The ELVIS Concert 2014 - An Evening With Elvis' Original Musicians: Next month one of the best concerts in Europe, the Special anniversary show featuring the people who knew and worked with The King.
This year it's 60 years ago that Elvis' rise to fame began with his first single "That's All Right", which was released on SUN Records in the summer of 1954. To celebrate this fact, we are presenting this very special Elvis show, which is widely viewed as one of the best Elvis shows worldwide. This show is unique because it features Elvis' friends and original musicians.
If you want to meet DICK GROB (see interview above) and hear a great band featuring former Elvis band members – bassplayer Duke Bardwell, drummer Jerome 'Stump' Monroe, this is THE CONCERT FOR YOU. The MC for the proceedings is Elvis' former head of security, Dick Grob. Grob will be telling stories from his years with the King, and there will also be plenty of opportunity to talk to him and ask him questions.
The musical part of the show will include Elvis' bandmates plus the leadsinger, the phenomenal Dwight Icenhower, who is regarded by many as one of the best Elvis tribute artists worldwide. Icenhower has won many awards, including "The World's Best Elvis" in Memphis. They will be backed by a full band.
These are the people that stood next to The King when he rocked the world, and this is a one-of-a-kind opportunity to get upclose to an important part of music history.
Europe Spring Tour - 2014 Show Dates
Thursday May 1, 2014 - Klockargården, Tällberg, Sweden
Friday May 2, 2014 - Klockargården, Tällberg, Sweden
Saturday May 3, 2014 - Vara Konserthus, Vara, Sweden.
Sunday May 4, 2014 - Vershuset, Grønnegade Kaserne 10 Næstved, Denmark
Tuesday, May 6, 2014 - Kerava-Sali, Kerava, Finland
Wednesday, May 7, 2014 - Turku - Konserttitalo, Finland
Thursday, May 8, 2014 - Tampere - Musiikkiteatteri Palatsi, Finland
Saturday May 10, 2014 - Melkweg, Amsterdam, Holland
Sunday May 11, 2014 - Effenaar, Eindhoven, Holland
For Holland bookings please CLICK HERE to Elvis Memories fan club.
For more details and other venue bookings >> Go HERE for all booking details
(News, Source;Elvisnews.dk/ElvisInfoNet)
---
For more regular postings for Polish & European Elvis fans ..

why not check out Mariusz Ogieglo's Elvis blog - Please - Click HERE.