The First Cut is the Deepest
- Elvis on the creative edge -
Part 2 - The CD
This paper was originally published in 2003 by EIN's Piers Beagley as part of The First Online Symposium on Elvis Aron Presley.

"When I was called to make my first record, I went into the studio and they told me what they wanted me to sing and how they wanted me to sing it. Well, I tried it their way, but it didn't work out so good. So while most of 'em were sitting around resting, a couple of us just started playing around with 'That's All Right', a great beat number. We were supposed to be resting for ten minutes or so, so we just did it natural. It came off pretty good.."

– Elvis, August 1956.
Having embarked on a long & thorough exploration, examining that "cutting edge" of Elvis' studio recordings (see EIN Spotlight 'Elvis On The Creative Edge' Part One) , the final satisfaction was in choosing a suitable selection of Elvis' first takes to make up an imaginary & exciting CD.
False starts are obviously not counted and my selection encompasses all periods of Elvis' work capturing that extra something that was missed on the final released Master.
There is no doubt that the ultimate goal would be to discover the 1956 RCA tapes that contain the first recorded versions of 'Hound Dog' and 'Don't Be Cruel' (both of which Elvis pushed to over 25 takes to achieve perfection, in his eyes). However, faced with the reality of what has already been discovered, I believe that the following compile captures that special something that made Elvis' music so exciting, innovative and unique.
If BMG had been looking for a new & innovative idea to follow on from the 'Elvis- 2nd To None" CD release then I believe the following compile could have been the perfect suggestion to help the general public understand what was important about Elvis' music than just his 'greatest hits'!
Note - The hidden delights to be found in the songs not mentioned in my previous exploration are included here, as well as where all these versions might be found. For detailed information on songs from the earlier article click here.
The First Cut is the Deepest
- Elvis' 30 best from the creative edge. The CD.
1. 'That's All Right'
- July 1954. Tk.1,2 & 3 on 'Sunrise'. (Master take unknown)
2. 'Shake Rattle and Roll'
- February 1956. Tk.1 & 2 on 'Today, Tomorrow & Forever'. Master, Tk 12.
3. 'Baby I Don't Care'
– August 1957. Tk.1 on 'Close Up'. Master, Tk 6.
- Elvis overdubbed his vocal (since he actually played electric bass on the original track) however the complete Tk.1 is an exciting revelation with a fabulous, new, sound quality and at last without the distortion of the Master. The sound is exceptional and being binaural you can hear every nuance of Elvis' vocal overdub and even hear his chair squeaking as the rhythm grabs him. At the start Elvis exclaims, "You've got me wasting tape. It's too late in the day for all this sh**!" while at the end he explodes with true excitement. Note - The first 3 discs of 'Close Up' were mastered at Sony Studios, New York, who are acknowledged for their excellent work using analogue tape originals.

4. 'Ain't That Loving You Baby'
- June 1958. Tk.1 on 'Essential Elvis, Vol.3'. Master, Tk 4.
Elvis took a break from the army for this recording session hoping to provide RCA with some much needed new material. This was the first time Elvis recorded at Nashville's Studio B with Chet Atkins & also added Hank Garland on guitar. The results from the night's work were exceptional and the loose blues and graunch of 'Ain't that Loving You Baby' was a standout. Elvis however was dissatisfied with the tempo and the track never got released until 1964, and then as a single! This version is delightfully loose with a laugh in Elvis' voice and the dynamic new sound of Elvis using two drummers.
5. '(Now and Then There's) A Fool Such As I'
- June 1958. Tk.3 on 'Essential Elvis, Vol.3'. Master, Tk 9.
Takes 1 & 2 were false starts (available on Bootleg). This first complete attempt has a very smooth laid-back shuffle compared to the Master. Chet Atkins' and Hank Garland's guitars blend delightfully while The Jordanaires are much more low key. At the start of the next take Elvis changes the sound by asking producer Steve Sholes, "Can you put me on a little more echo?"
6. 'A Mess of Blues'
- March 1960. Tk.1 on 'Platinum'. Master, Tk 5.
Elvis' first post army recording session which proved that Elvis had lost none of his creative edge. This track, recorded at 4.am in the morning, demonstrates Elvis joy at recording once again and his voice is sublime. Bob Moore's bass is mixed up nice and high and there is total delight as Elvis growls and breaks into laughter at 2.00. However this still doesn't stop him finishing the track. "Oh yeah" sighs Elvis at the end. A brilliant song. No wonder they released it as a single in Europe. In England it reached #2 on the charts.

7. 'Reconsider Baby'
April 1960. Tk.2 on FTD 'Elvis is Back'. Master, Tk 2!
From Elvis' second post-army studio session this 'one take' masterpiece, recorded at the end of a very long and successful night, brilliantly demonstrates the dynamic versatility of Elvis' new band. Long and loose the track shows off new member Boots Randolph playing the sax solo of his life as Elvis laughs along in the background "Yeah, yeah. One more time" he encourages.
This was Elvis & the band playing the blues with fabulous feeling, at their coolest and best. With no other version available, this one & only take, more than any other song, deserves a remastering from the original tape (at the Sony Studios?) to give it the shine that it truly deserves.

8. 'Joshua Fit the Battle'
October 1960. Tk.1 on FTD 'Easter Special'. Master, Tk 4.
Elvis often warmed up to Studio sessions with some spiritual sing-a-longs and this track shows off that special feel of a spontaneous Gospel jam. Here you can easily imagine being with Elvis at a Church Session. Elvis grabs the microphone and is ready to let loose - he announces "Here we go…hell, I need someone else to count" and they're away! Scotty is fumbling for his guitar licks, The Jordanaires are still working out the backing vocals - This is rough and ready and I'll take this over the final Master any day!
9. 'Give Me The Right'
March 1961. Tk.1 on 'Collector's Gold'. Master, Tk 4.
10. 'Judy'
March 1961. Tk.1 on FTD 'Fame and Fortune'. Master, Tk 8.
Hank Garland's guitar would dominate the final mix but here we get the chance to hear Elvis play. In a similar feel to the 'Shoppin' Around' session from 'G.I. Blues' Elvis strums away on rhythm guitar. "It's twice in D," he says before they launch into the song. His playing is very rough & ready and is high in the mix – a lovely 'unplugged' feel. Preferable over the smoother Master, if you haven't heard this take, it is a real treat.
11. 'Rock-A-Hula Baby'
March 1961. Tk.3 on 'Blue Hawaii' '97 CD. Master, Tk 5.
12. 'That's Someone You Never Forget'
- June 1961. Tk.1 on 'The Essential 60's Masters'. Master, Tk 8.
13. 'Little Sister'
June 1961. Tk.1,2 & 3 on FTD 'Studio B – Nashville outtakes'. Master, Tk 4.
It was 4.am in the morning and straight after the magic of recording 'His Latest Flame' the band were onto another creative groove. As Engineer Bill Porter says from the very start "We've got a classic in here". From Take 1 the band are really rockin', with Scotty Moore on acoustic & Hank Garland creating a great sound with his Fender Jazz guitar. Interestingly Take 4 became the Master, however Elvis was enjoying himself so much that they kept going until the sun came up. Check out Take 9 (five after the chosen Master!) on 'Such A Night'.
14. 'Memphis Tennessee'
May 1963. Tk.1 on 'The Essential 60's Masters'. Master, Tk 6 ('64 remake)
The infamous 'jungle' version of another Chuck Berry favourite with Elvis and the band really cooking. This version has a tremendous slower rhythm with Elvis' dual drummers creating a fabulous swampy beat. For some reason Elvis decided to re-record the song seven months later by which time Johnny Rivers had stolen Elvis' idea and had already charted with the hit single! A sadly missed opportunity.
15. 'It Hurts Me'
January 1964. Tk.1 on 'Essential Elvis Vol.6'. Master, Tk 5.
This beautiful ballad never sounded so delicious, full of passion and openness.
"He never loved you, he never will" Elvis pleads. On of Elvis' own favourites that he would re-record for his 1968 Comeback Special. Right at the end Elvis adds an extra sigh - "If you ever tell him you're through, Uh, I'll be waiting for you…"

16. 'Stand By Me'
May 1966. Tk.2 on FTD 'So High'. Master, Tk11.
The story is that Elvis had the lights of the Studio turned down just to set the right mood - and it obviously worked. Elvis sounds so totally alone as he prays for guidance & support and the special ambience of Studio B helps show off the vocals to perfection. Elvis sings an exquisite version of the song and with the slight echo of the Master (Tk11) missing here, this version is pure magic. Enough to make you cry.
17.'Down In the Alley'
- May 1966. Tk.1 on 'The Essential 60's Masters'. Master, Tk 9.
18. 'Big Boss Man'
September 1967. Tk.2 on 'The Essential 60's Masters'. Master, Tk 11.
19. 'Saved'
June 1968. Tk.1 on FTD 'Easter Special'. Master, Tk 5/6 spliced.
A fabulous Leiber/Stoller song that, on this first version, runs a full & fantastic 4.16mins. The final Master was cruelly edited to less than 3 minutes but here this powerful & passionate spiritual brilliantly shows off Elvis' connection with Gospel music. From his 1968 Comeback Special this take highlights Elvis' rough, throaty and soulful voice to its very best.
20. 'In The Ghetto'
January 1969. Tk.3 on 'Platinum'. Master, Tk 23.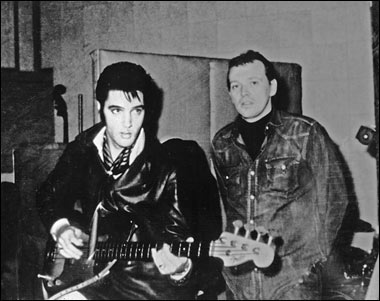 (Elvis & producer Chips Moman at The Memphis Sessions, 1969)
21. 'Suspicious Minds'
January 1969. Tk.1&3, + Reh & Tk6 on FTD 'Memphis Sessions'. Master, Tk 8.
No song would be more important to Elvis' future career than this fabulous Mark James composition. The initial rehearsal gives an amazing insight into how the band worked together to create the perfect rhythm section for the song, while Elvis tries out the lyrics clapping & laughing along with the group. The following first take then demonstrates Elvis' brilliant & passionate vocal but breaks down as he gets to the lyric "Would I still see suspicion in your eyes". Elvis' commitment shows in his own anger at himself as he stutters over the lyric singing, "Would I still see, see, see see, fuc* you Rider!" Take 3, at a slightly slower tempo, finds Elvis stumbling yet again at the same point, "God damn it!" he says to himself. While the single of 'Suspicious Minds' always seemed such a flawless and impassioned song these extra takes help reveal the fact that creating a masterpiece isn't always as easy as it seems. While the final single is sublime the first complete version, take 6, without the overdubs, yet again lets you truly appreciate the depth of Elvis' perfect and passionate vocal.
(Note – The earlier takes are still only available on bootleg)
22. 'Stranger in my Own Hometown'
February 1969. Tk.1 on FTD 'Memphis Sessions'. Master, Tk 1 overdubbed.
Raw blues and a one take masterpiece! Listening to the original you can hear how the overdubs pushed Elvis' vocal badly down into the mix. The Memphis Horns sounded fine but what was a String-section overdub doing on a dirty, low-down blues song? On the Master you could just hear Elvis say to the band "Blow your brains out" which never made sense buried amongst the violins. Here it sounds perfect as Elvis pushes the band for more. You also hear Elvis say "Play it again, play it again" urging the band on just as they are getting to the end of the track. This version also goes another half a minute past the original fade out - Fabulous.

23. 'Do You Know Who I Am?'
February 1969. Tk.1 on FTD 'Memphis Sessions'. Master, Tk 7 overdubbed.
The Master was a great ballad but here, without the overdubs, Elvis is alone with a very sparse arrangement. He sings almost a-cappella backed only by Bobby Emmons' organ. When he sings "Have you forgotten about me?" (at 1.20) it is just heart breaking.

24. 'Bridge Over Troubled Water'
- June 1970. Tk.1 on FTD 'Nashville Marathon'. Master, Tk 8 overdubbed.
25. 'Always On My Mind'
March 1972. Tk.1 (Pure Diamonds Bootleg). Master, Tk 1 but overdubbed.
Another song that deserves a re-release of the unadulterated Master. Elvis finally chose the first take as the single version but again his vocal deserves to be freed from the unnecessary overdubs. The fascinating Take 3 on '6363 Sunset' demonstrates just how good Elvis' pure vocal sounds, along with James Burton's delightful guitar picking, making this undubbed first take an essential future release.
26. 'I Got A Feeling in My Body'
- December 1973. Tk.1 on 'Essential Elvis Vol.5'. Master Tk 3.
27. 'T.R.O.U.B.L.E'
March 1975. Tk.1 on FTD expanded 'Elvis Today'. Master Tk 4 overdubbed.
This is pure fun as Elvis has some initial trouble of his own with the spelling and the lyrics! While Elvis was more confident by the final take unfortunately that Master version, with the extra overdubbed backing vocals, had his vocal pushed further down into the mix yet again.
28. 'And I Love You So'
- March 1975. Tk.1 on expanded deluxe 'Elvis Today'. Master, Tk 5 overdubbed.
29. 'For The Heart'
February 1976. Tk.1 on 'Platinum'. Master unknown, overdubbed.
Elvis is on great form here with his voice blending wonderfully with the backing vocals while Jerry Scheff plays an excellent funky bass. Elvis is obviously in a good mood and J.D. Sumner's vocal fits in perfectly. Elvis slides in an extra "Yeahh" (@ 2.05) and laughs delightfully as the songs ends.
30. 'It's Easy For You'
- October 1976. Tk.1 on FTD 'Jungle Room Sessions'. Master, Tk 4 overdubbed.


"Yes, I've been lucky. And you know something? I just feel sometimes like it's all a dream, like I'll rub my eyes and wake up and it'll all be over. I hope not. I hope it never happens. I hope it never ends" - Elvis.
---
Go here for "First Cut Is The Deepest - Part One The Exploration"
Go here for recent FECC Message Board further discussion.
Acknowledgments:
To enrich your journey through Elvis' musical legacy I can wholeheartedly recommend the following books.
Elvis Presley: A life in Music. The Complete Recording Sessions – Ernst Jorgensen
The Rough Guide To Elvis – Paul Simpson
Elvis - Word for Word – Jerry Osborne
Last Train to Memphis – Peter Guralnick
Careless Love – Peter Guralnick
Mystery Train - Greil Marcus
Elvis, The Concert Years – Stein Erik Skar
& these invaluable Websites
Elvis in Norway -
http://home.online.no/~ov-egela/indexep.html
For CD Collectors Only -
http://www.elvis-collectors.com/
Masters & Session –
http://www.elvisrecordings.com/
As well as our own
Elvis Information Network, Australia
http://www.elvisinfonet.com
which features some essential articles on Elvis' music & influences.
---
Click here for more insights into essential Elvis releases-
Elvis - The Jungle Room Sessions
---
Click to comment on this paper