Book Review:
ELVIS in VEGAS
Paul Lichter
, Overland Duckworth, New York/London, 2011, Hardback (with dj), 286 pages, Illustrated, ISBN: 978-159201879 (USA)/978-0715641729 (UK)
Reviewed by Nigel Patterson, December 2011
Images courtesy of Paul Lichter
"The poor boy from Tupelo via Memphis had put the red-hot spotlight on Las Vegas. With a single performance he transformed your mother's and father's Sinatra Rat Pack town into a hip and rocking place, home of the King."
Paul Lichter's latest 'coffee table' release Elvis in Vegas is the result of more than four year's effort.

Recently published by Overland Duckworth in the USA, the first edition of 40,000 has already "sold out", a clear indication of the high level of public interest in the release.

The second printing of 30,000 is currently on sale in the US, with the UK printing (a further 30,000) due for release in May 2012.

While Elvis in Vegas is targeted at the general Elvis fan it also offers plenty for the hardcore Elvis fan!
While Lichter is best known for his massive archives of Elvis photographs, many of his books have featured a strong narrative component. Elvis in Vegas is no exception with the author's text uniformly solid, evocative and
engrossing:
In 1829 Rafael Rivera, a young man of European ancestry, discovered a beautiful American valley where shimmering grass grew wildly. He gave the valley a name, Las Vegas - in Spanish, "The Meadows."

..........................................

He is wearing a black jumpsuit with bright red satin vents on the legs. A red scarf drapes his bare chest and tassels hang from the red belt. His appearance is anything you choose to call it - gaudy, vulgar, magnificent. He looks like a king from another dimension with glaring eyes and sexy mouth.
Lichter details all of Elvis' appearances in the desert city, from his first performance as the Nation's Only Atomic Powered Singer in 1956, to the filming of Viva Las Vegas, his marriage to Priscilla and each of his Vegas seasons from July 1969 to December 1976. The final two chapters of Elvis in Vegas cover Elvis' final months before his death on August 16, 1977.
On Elvis' January-February 1970 season, Lichter notes:
He replaced "Blue Suede Shoes" with "All Shook Up", and sang "That's All Right", a song he had recorded sixteen years earlier at Sun Studios in Memphis. He mixed his own hits, both old and new, with songs made popular by other artists. He rocked Creedence Clearwater Revival's "Proud Mary", for example, and Elvis' version would have made John Fogerty jealous. He ran through "Walk A Mile In My Shoes" and Neil Diamond's "Sweet Caroline". By the time he finished, these songs belonged to him.
Apart from the author's fine writing skills, another narrative strength of Elvis in Vegas is the range of eclectic and interesting information on offer to the reader.
Covering Elvis' return to performing in Vegas in 1969 at the newly built and largest hotel in Sin City, the International, Lichter writes:
The hotel chose to open the showroom with Barbra Streisand, wqho had just won an Academy Award and was considered the hottest star in the world at that moment. Elvis hadn't been onstage before a live audience in nine years. The hotel thought he would be a draw - he'd be big - but not Streisand big. Barbra Streisand's engagement began on July 2, 1969. She played to empty seats on weekdays and managed to sell out the main showroom on weekends; however, the balcony remained closed for her entire run. The hotel was surprised that the phone lines were ringing off the hook for Elvis' show and reservation requests for the Streisand show were a mere trickle. Barbra Streisand may have been a big star, but Las Vegas would have to add a new word to their vocabulary - superstar - to define Elvis Presley.
On Elvis' power to sell tickets without widespread promotion:
The UNITED STATES BICENTENNIAL was celebrated on Sunday, 4 July, 1976, the two hundredth anniversary of the signing of the Declaration of Independence.

In Tulsa, Oklahoma, fans celebrated America's two hundredth birthday by seeing the King perform. Oral Roberts University's Maybee Center had sold out without a single advertisement.
The author deftly presents a mosaic of Elvis' life touching on the well known and not so well known. At the height of Elvis' success in Vegas, Lichter observes:
Elvis' career was on fire and with that came all of the temptations afforded to a rock-and-roll king. Priscilla was by this time only allowed to come for opening and closing nights. She spent the rest of the engagement at home with their daughter and was not oblivious to Elvis' after-hours activities.
Elvis in Vegas could stand on its narrative merits alone (the images displayed with this review do not do justice to what is in the book!).
However, Elvis in Vegas is essentially a PHOTO-journal and is filled with hundreds of quality visuals of Elvis on and off stage. Many are rare and most are in glorious full color.
They say a picture says a thousand words and this is strikingly true of the many 'action' shots of Elvis in full flight; at times serious, at other times laughing and joking with his audience.
Portraying the freshness, excitement and coolness of the caped crusader in the desert city (his symbolic kingdom post 1969)......aka the King of Rock 'n' Roll, the images provide a great balance (some would say dominance) to Elvis in Vegas. They will undoubtedly satisfy most fans!
Visual highlights include:
a series of images from Elvis' triumphant return to Las Vegas, Showroom Internationale, 1969 (pp. 68-79)
Elvis resplendent in the Cisco Kid suit, Hilton Showroom, 1971 (p. 117)
Two different but similarly posed photos of Elvis in a Hilton elevator (Cisco Kid Suit) and Imperial Suite hallway (Elvis Now Suit) (pp. 122-123)
Onstage in Light Blue Flower Suit, Hilton Showroom, 1973 (p. 158)
Private photo of Nancy Anderson with Elvis who is holding his Photoplay Magazine Entertainer of the Year Award, Hilton Hotel, 1974 (p. 168)
Atmospheric image of the King (opening an envelope on stage) in his White, Silver and blue-studded Tear Drop Suit, Hilton Showroom, 1975 (p. 202)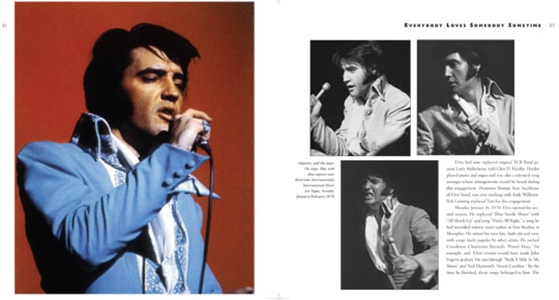 Several visuals appear to be misdated/mislabelled and there are a few factual errors in the narrative (e.g. that Elvis won 2nd prize at the Tupelo-Mississippi Fair in 1945 was a myth exposed in 1994 by investigative journalist, the late Bill E. Burk - a bespectacled Elvis actually placed 5th; Nubin Payne won 2nd prize). These errors are certainly unfortunate and many hardcore Elvis fans will be disappointed. Paul Lichter acknowledged to EIN that a few errors had slipped by him and said that he takes full responsibility for them. For the general fan (the target audience) it will not be an issue.
There are also a number of non-Vegas 'on tour' visuals in the book and as EIN found out, this was deliberate. Paul Lichter told EIN:
"Chapter 21 The Day The Rains Came Down begins with a beautiful photograph of Elvis looking young and beautiful with the whole world ahead of him. This photograph was autographed by Elvis for Caroline Ballard who was Elvis' friend and neighbor in Tupelo when Elvis was a child and won the prize at the Tupelo Mississippi/Alabama State Fair for singing Old Shep. The prize was free rides on the amusements and he shared that prize with Caroline.

I wanted the photos in this chapter to show the Hillbilly Cat, the 50's Rocker, the '68 TV Special, Madison Square Garden and Aloha From Hawaii in an attempt to show the readers important milestones in Elvis' career and hopefully leave them with a positive and emotional connection to Elvis and all he accomplished and stands for today. I believe that these photos lift some of the sadness of the obviously tragic story that the accompanying text so vividly tells."
Elvis in Vegas is rounded out by a comprehensive Appendix detailing Elvis' set lists (where available) while in Vegas, his jumpsuits for each show and show members. There is also a Select Bibliography.
The book design is excellent with the photographic images nicely shown with sufficient white space around them. The font size is good and the use of greater than single spacing between the narrative lines aids readability.
| | |
| --- | --- |
| Verdict: Elvis in Vegas may well be Paul Lichter's best publication to date. A labour of love, this release is ideally suited to please both the more serious Elvis fan and the casual buyer. An eye-pleasing book rich in word and picture, Elvis in Vegas evokes the excitement and glamour of Elvis live in the city known worldwide for its bright lights, awe inspiring hotels and incredible entertainment. | |
Visit Paul Lichter's Elvis Unique website
---
Go here for other relevant articles:

Paul Lichter talks exclusively to EIN: Noted publisher of numerous deluxe, limited edition coffee table books on Elvis, Paul Lichter, opens up to EIN about his involvement with Joe Tunzi on the Viva Las Vegas! release and also Paul's own release, Elvis in Vegas.
EIN Website content © Copyright the Elvis Information Network.
Elvis Presley, Elvis and Graceland are trademarks of Elvis Presley Enterprises.
The Elvis Information Network has been running since 1986 and is an EPE officially recognised Elvis fan club.