The 20 months that Elvis spent in the US Army, overseas and out of the public's eyes are often called 'The Missing Years.' The period is fascinating not only for the fact that Colonel Parker managed to keep his boy high in the charts but also for it being such a complete change for Elvis, away from recording studios, Hollywood and the limelight.
While The Colonel obviously hoped that Elvis might record some semi-official material for RCA release – he even suggested an LP titled "Elvis While Off Duty" – in the end the only material Elvis taped was some basic home-recordings for his own pleasure.
During this period the charts hits of the time, as well as the vinyl sent to Elvis by friends in Memphis, would influence Elvis' own developing taste in music and also be reflected in his own recordings once he returned to RCA's studios in 1960.
This new MRS release makes good use of the EU Public Domain laws, unlike the plethora of other labels pumping out the same old fifties tracks again & again. The CD features Elvis' hits from the final 1958 session plus rare home recordings giving fans a taste of what Elvis was listening to at the time.

The Book
With text written by Andreas Schroer, design by Kevin Reape and production by Joseph Pirzada the book is a very stylish production.
Andreas Schroer is an Elvis super-collector and an expert in Elvis' army period. He wrote one of the best-ever books about Elvis called 'A Date With Elvis.' Released in 2004 this has always been a sought-after book of over 240 pages, partly written in German and hard to find.
In 'Off Duty' Schroer provides a very succinct text explaining each period of these Army years and placing all the photos in context. Schroer also provides some of his own fascinating memorabilia such as Elvis' personal records and even his stunning guitar.

The book features over 150 photos of Elvis with everything from official Publicity shots and Army photos to very rare candid images. It is a stunning collection of images of the period with several pages of totally unreleased photos purchased solely for this project.

(Right: Some images from the Elvis with the fans)
To independently quote EIN's favourite photo collector Sanja Meegin (who seems to already own every Elvis photo) "Holy hell - its FANTASTIC!!!!"
The quality of the print is top-rate and similar in design to the MRS Tupelo CD/Book (a little larger than a regular CD) but this time with over twice as many pages. 'Off Duty' again features the same hard-back high quality cover with "canvas" feel (see scan above) and a special insert for the CD itself.
The 100-page book is divided into chapters capturing each period. 'Off Duty in Nashville', 'In Waco Texas' etc with a few pages devoted to each theme.
The sections on Elvis in the Spearhead division (just HOW COOL does he look relaxing lying on a tank!), with his BMW 507 and 'Off Duty with The Fans' are stunners.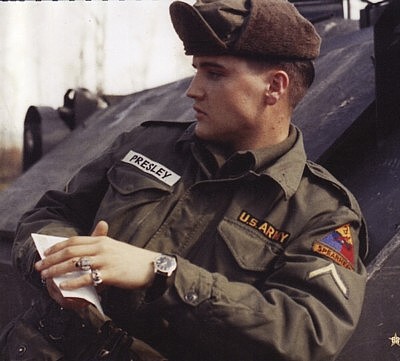 There is also a great section showing his various Publicity Shots taken for the German TELDEC Record Company. Several of these photos would end up being used on sleeves of his new 1960 RCA releases. One has to wonder why The Colonel didn't arrange an 'Elvis Is Back' publicity photo shoot nearer to Elvis' army discharge to capture Elvis' new sixties look.
While the book of course does feature many photos included in Schroer's mammoth earlier volume, this book does represent a stunning collection of images of the period and at a very affordable price.
The Music
Elvis' final June 1958 recording session Masters begins the CD, four classic chart- topping sides. 'A Big Hunk O' Love', 'I Need Your Love Tonight', 'A Fool Such As I' and 'I Got Stung'.
Sadly the final track 'Ain't That Loving You Baby' was not released until the sixties as Elvis was not happy with the final version and so it is disappointingly missing from the tracklist.
Thirty personal recordings follow. To be honest a lot of these "Home Recordings" are in poor audio quality and so are unlikely to ever be released by BMG. In that respect this compilation suits the interested Elvis collector extremely well.
Overall the feeling of these recordings is similar to dropping into a friend's party and finding ELVIS in the corner playing piano as well as singing along to 45s playing on the jukebox!
With Elvis not performing for an audience this is the sound of him truly enjoying himself. He sings the bass-lines on some of the songs, harmonises with Anita Wood on others, tries backing vocals on others, as well as bashing out a few of his favourites at the time. If you happened to be at this party it's a fascinating nostalgic recording of the event.

Unfortunately, like any non-professional recording the quality is very varied, and at times the distortion can be most annoying. Having said that, most of these home-recordings have only been lightly touched upon by bootleggers and most Elvis fans will never have heard them before.

(Right: Great shots of Elvis playing guitar in Germany)
And amongst the general party fun to be found on the first Home Recordings at Eddie Fadal's house May 1958 there are some real highlights. Imagine Elvis harmonising with you as he allows you to sing the lead on Connie Francis' 'Who's Sorry Now'!
Several of Elvis' own official recordings also appear here and are intriguing for his input at the time.
Elvis wouldn't perform Maurice Williams' 1957 classic 'Little Darlin' in concert until March 1975 but here he is having a fine time, singing all the backups and bass lines in 1958. Elvis provides the "My darling, I need you" soliloquay as he would all those years later. It's a hoot. (#1)
Back in 1954 Elvis had recorded Lonnie Johnson's 'Tomorrow Night' at SUN although it wouldn't be released until RCA were combing the vaults a decade later.
On this night in 1958 Elvis plays the vinyl single and sings along with some sliding bass-lines. You can really understand how Elvis always wanted to provide his own JD Sumner's bass-fills.
The Tune Weavers 'Happy, Happy Birthday Baby' gets several versions with Anita Wood and friend Eddie Fadal joining in. Elvis really enjoys the song and keeps going back to it. It's a surprise that this hasn't appeared on an official release in some form - even if edited.
Elvis suggests that girlfriend and singer Anita Wood should be careful in the way she is marketed to the pop audience. Elvis suggests a Connie Francis type song and plays piano for her to sing 'Who's Sorry Now' (an April 1958 top ten hit). Another highlight is Elvis' great harmony and backing vocals as Anita Wood takes the lead.
Elvis also sings a version of the gospel 'Just A Closer Walk with Thee.' Did someone tell the Colonel of this, or is it just coincidence that Parker mentions it as a suggested track for Elvis to record?
Note - A 1992 bootleg release called 'Home Made Recordings' featured this Eddie Fadal recording but in poor quality and was taken from the original vinyl bootleg, including the vinyl pops & clicks!
The second session features some Bad Nauheim Elvis home recordings from Summer 1959. Part of this session has already released by FTD on 'In A Private Moment' - but here the tape is complete and the tracks are different versions straight from the original tape.
As described in the text..
"During November 1958 and May 1959, Elvis purchased an Isana acoustic guitar and one Hofner acoustic guitar, one bass guitar, and a GRUNDIG TK 32 tape recorder. With the rented piano he had his own little recording studio, so-called Studio "G" for Goethestrasse. All these home recordings Elvis made were very basic, accompanied from time to time by his father Vernon and his friends Charlie Hodge, Red West, Cliff Gleaves and Rex Mansfield."
With the tape recorded running Elvis tackles a fast and slow version of Slim Whitman's 'I'll Take You Home Again Kathleen' - another classic that he would stun everyone with when he records it solo 13 years later in May 1971.
The 'Fast Version' here is taken at an even faster tempo than the one released on the FTD 'In A Private Moment.' The 'I'll Take You Home Again Kathleen (Slow Version)' is another highlight and very different to the officially released version. (This is not the FTD version which also had some poor tape hum on it).

You can tell Elvis' enjoyable mood and enthuiasm for all kinds of music as he kicks off the tape with the piano riffs of Danny and The Juniors 'At the Hop'. Another lovely segue and highlight is when Elvis suggests doing a medley of Doris Day's 'Que Sera Sera' in concert as the intro to 'Hound Dog'!

Elvis was a friend of composer Charles Underwood and with his rolling piano the home recording of Underwood's 'The Titles Will Tell' is another highlight. It was pretty unusual for Sam Philips to record female vocalists but Barbara Pittman would cut this record at SUN although it wouldn't be released at the time. (#2)

(Right:One of the unreleased photos from the book - as is the front cover above)
The CD ends with the classic and unreleased Elvis version of Little Richards 1957 hit 'Send Me Some Lovin' and what a shame this isn't in better quality as it would have been a sure-fire Elvis hit!
As a combined CD and book there is plenty to enjoy and there are nice touches throughout the book. This includes the final page which shows Elvis' rented piano being finally returned to the local Bad Nauheim music shop and makes a charming ending.
As Schroer nicely concludes the story...
The concerns Elvis had when he entered the army over his popularity and career proved him wrong. In 1960 he returned to the States triumphantly! As with many young men whose first experience of living in unfamiliar surroundings or on foreign soil comes through military service, Elvis had grown and matured. Even though the record industry had changed, his millions of fans welcomed him with open arms. In an interview held at Graceland, March 8th 1960 Elvis stated:

"I've got quite a few songs to choose from over two years. I don't know what type or what instruments are used, would it be faster or orchestra — I don't know yet. It was the hardest part of the entire military service, being away from the fans and from the showtusiness. That was the hardest part of all. It isn't the Army, it wasn't the other men, it was that. It sat on my mind, I kept thinking about the past all the time, trying to figure the future, that was the hardest part."

His fabulous career began right where it left off and even reached new and greater heights in the years to come.
Elvis was back!
Overall Verdict: This 100 page booklet and CD nicely captures this interesting period when Elvis was out of the public's eye. Although Elvis was potentially at the peak of his career this considerable amount of time is often overlooked in the regular photo books. So the large number of candid photographs of Elvis 'Off Duty' and at work in Germany plus the new unreleased photos will be a delight for Elvis collectors. While the distortion of the Home Recording can be annoying at times, overall there are enough rare treats to make it a fascinating listen. Once again with sales through HMV in the UK this package is aimed at the General Public but still offers a lot for Elvis collectors. Selling for less than US $18 it's a great bargain.
Review by Piers Beagley
-Copyright EIN, February 2010
Click to comment on this review
To buy via HMV (click here)
To buy via Play.com (click here)
It seems that even the pernickety
DrJohnCarpenter
of the
FECC messageboard
has added his approval of the finer details of this great MRS package.
#1
-
On the '
Off Duty' CD
Elvis is listening to
'Little Darlin'
by
'The Diamonds'
although the song was originally
recorded by The Gladiolas, a group formed by composer Maurice Williams. This is correctly described in the 'Off Duty' book but not clarified in my review. The new song was taken by Maurice Williams to Nashville's Excello studios in December 1956. The single by The Gladiolas was released in January 1957 as Excello single #2101.
#2 - MRS are finally crediting the song 'The Titles Will Tell' under the correct name. Previously called 'Number Eight' with an unknown author on other releases, the real name of the song (as recorded by Barbara Pittman at SUN) was recently uncovered by DrJohnCarpenter of the FECC message board. MRS have raised the honesty bar by at last crediting the correct composer and Elvis' friend Charles Underwood.
---
---
---
Tracklist
Master Recordings – RCA Studio B, Nashville - June 1958
01- A Big Hunk O' Love
02- I Need Your Love Tonight
03- (Now & Then There's) A Fool Such As I
04- I Got Stung
Private Home Recordings - Eddie Fadal Residence, - May 1958
05- Sail Along Silvery Moon / I Understand Just How I Feel
06- Happy, Happy Birthday Baby
07- Dialogue
08- I Can't Help It
09- Dialogue
10- Who's Sorry Now
11- Who's Sorry Now Reprise#2
12- Happy, Happy Birthday Baby Reprise#2
13- Happy, Happy Birthday Baby Reprise#3
14- Happy, Happy Birthday Baby Reprise#4
15- Happy, Happy Birthday Baby Reprise#5
16- Happy, Happy Birthday Baby Reprise#6
17- Dialogue
18- Tumblin' Tumbleweeds/Blue Moon/Don't You Know I Love You
19- Tomorrow Night
20- Tomorrow Night Reprise#2
21- Little Darlin'
22- Monologue
23- Just A Closer Walk With Thee

24 – Elvis Arrival in Germany - Ray Barracks, 2nd October 1958
Private Home Recordings - Bad Nauheim, Germany - Summer 1959
25- At The Hop
26- I'll Take You Home Again Kathleen
27- Que Sera Sera / Hound Dog
28- I Asked The Lord
29- I'll Take You Home Again Kathleen (Fast Unedited Version)
30- Apron Strings (Unedited version)
31- The Titles Will Tell
32- At The Hop / Give Me Oil In My Lamp
33- Que Sera Sera/Hound Dog (Reprise#2)
34- Piano Solo
35- Send Me Some Lovin'