Book Review:
ELVIS By SPECIAL REQUEST '71 AT 40
Joseph A. Tunzi & Paul Lichter
, JAT Productions, 2011
Reviewed by Nigel Patterson, September 2011
.......EIN's Review.......
Elvis By Special Request '71 at 40 is the latest hardcover release from Joseph Tunzi, again partnered by Paul Lichter who provides both text and photos. As a hardcover release (128 pages) it offers the fan a more durable format than Tunzi's earlier softcover releases (which very quickly become dog eared and creased).
The title (like several other JAT titles before it) is clever – the 40 representing 40 years since the 1971 tour.
The book showcases more than 250 color and black & white visuals based around Elvis' not well documented tour in November 1971. For this reason the Tunzi/Lichter collaboration is a most welcome release.
The November 1971 tour ran from Friday 5 November to Tuesday 16 November and comprised concerts in Minneapolis, Cleveland, Louisville, Philadelphia, Baltimore, Boston, Cincinnati, Houston, Dallas, Tuscaloosa, Kansas City and Salt Lake City. Elvis By Special Request 71 At 40 features a section devoted to each of the stadium stops during the tour.
From its stunning front cover image to While some of the visuals are fuzzy or out of focus the majority of images will delight concert enthusiasts.
Visual highlights include:
a young crippled fan helped on stage in Minneapolis by the Colonel to meet Elvis
Elvis on bended knee in Cleveland (evening show on Nov 6 - see image below)
several great full page photos of the King in Boston
Elvis with microphone in hand lieing resplendently on his back during one of his concerts in Dallas
Elvis doing a splits type karate stretch in Tuscon
EIN Note: Our scans are unfortunately of significantly lower quality than the actual image in the book
A large number of the visuals appear to have been previously unpublished or are at least particularly rare. Certainly some have appeared over the years in other publications.
And with Elvis wearing several spectacular jumpsuits throughout the November engagement there is a pictorial feast.
The King's jumpsuits for the tour were:
White Fireworks Suit

Black Fireworks Suit
Red Lion Suit (which was actually white but got its name because Elvis wore it with a belt with a red lion's head)
Black Matador Suit (ole!)
White Now Suit (named after the cover of the Elvis Now LP)
Spectrum Suit
Blue Leaf Suit
Black Cisco Kid Suit
White Cisco Kid Suit
Paul Lichter's introductory essays (Elvis '71 At 40: The Lost Tour and Reflections) are solid and provide a nice overview of what was happening in Elvis's life at the time, highlights from the tour and moments in Elvis history (including excerpts from Jon Landau's wonderful article, In Praise of Elvis Presley, published by Rolling Stone magazine and information on Al Dvorin's legendary "Ladies and Gentlemen, Elvis has left the building. Thank you and goodnight."
The inclusion of press reviews from the tour adds real value to the book as it provides another important element in the bigger picture of what an Elvis show meant.
The book design is good and the visuals are presented on semi-gloss paper stock.
As has been pointed out by other reviewers, it is difficult to directly compare Elvis By Special Request '71 at 40 with the other recent book release on the 1971 tour, Elvis on Tour November 1971 by Kieran Davis. The latter book is weighted towards being an information release packed with text and memorabilia, while the Tunzi/Lichter book is predominately visual. Each adds value to the Elvis legacy in its own way.
Verdict: Elvis By Special Request at '71 at 40 is another quality release from JAT Productions. It is a book which will not be out of place in your Elvis library.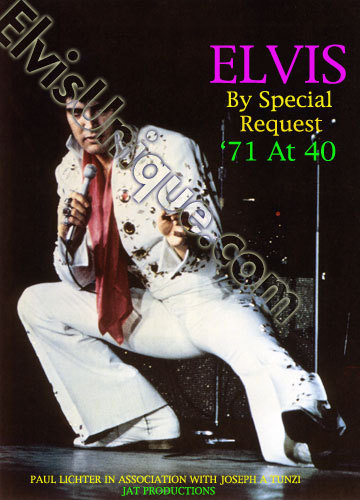 Early alternative cover
(courtesy of Paul Lichter)
Visit Paul Lichter's Elvis Unique website