Quote:
"Elvis Presley is the greatest cultural force in the 20th century."
(Leonard Bernstein)
---
Quote:
"If you're an Elvis fan, no explanation is necessary; If you're not an Elvis fan, no explanation is possible."
(George Klein)
---
Quote:
"For a dead man, Elvis Presley is awfully noisy."
(Professor Gilbert B. Rodman)
---
Quote:
"Absolute id crashed into absolute superego...as the uptightset man in America shook hands with just about the loosest."
(Mark Feeney on the 'Elvis meets Nixon' meeting)
---
Quote:
"Elvis is everywhere"
(Mojo Nixon & Skid Roper)
---
Quote:
"...especially in the South, they talk about Elvis and Jesus in the same breath"
(Michael Ventura, LA Weekly)
---
Quote:
"The image is one thing and the human being is another...it's very hard to live up to an image"
(Elvis Presley, Madison Square Garden press conference, 1972)
---
Quote:
"Elvis was a major hero of mine. I was actually stupid enough to believe that having the same birthday as him actually meant something"
(David Bowie)
---
Quote:
"No-one, but no-one, is his equal, or ever will be. He was, and is supreme"
(Mick Jagger)
---
Quote:
"I wasn't just a fan, I was his brother...there'll never be another like that soul brother"
(Soul legend, James Brown)
---
Quote:
"Before Elvis there was nothing!"
(John Lennon)
---
Quote:
"There were rock 'n' roll records before Heartbreak Hotel, but this was the one that didn't just open the door…it literally blasted the door off its rusted, rotten, anachronistic hinges...producing, no propelling, a fundamental, primordial and unstoppable shift in not only musical, but social, political and cultural history"
(JNP, BBC website)
---
Quote:
"Elvis, the musician, is largely a relic belonging to the baby boomer generation...Elvis, the icon, is arguably one of the most potent symbols of popular culture"
( Dr. John Walker)
---
Quote:
"It [rock & roll] was always about Elvis; not just because he was Elvis, but because he was the big star"
(Bono from U2)
---
Quote:
"If they had let me on white radio stations back then, there never would have been an Elvis"
(Little Richard)
---
Quote:
"Elvis loved opera, and he especially liked Mario Lanza. He would watch The Student Prince which was set in Heidelberg, over and over again. He loved the power of the big voices. And he loved big orchestras. He liked real dramatic things"
(Marty Lacker in 'Elvis and the Memphis Mafia')
---
Quote:
"If life was fair, Elvis would be alive and all the impersonators would be dead"
(Johnny Carson)
---
Elvis' #1 Pop Singles on Cashbox, USA:
Heartbreak Hotel (1956)
Don't Be Cruel (1956)
Hound Dog (1956)
Love Me Tender (1956)
Too Much (1957)
All Shook Up (1957)
Teddy Bear (1957)
Jailhouse Rock (1957)
Don't (1958)
Stuck On You (1960)
It's Now Or Never (1960)
Are You Lonesome Tonight? (1960)
Surrender (1961)
Good Luck Charm (1962)
Return To Sender (1962)
In The Ghetto (1969)
Suspicious Minds (1969)
Burning Love (1972)
(The Cashbox chart is now defunct)
---
Elvis Facts:
Elvis was 5' 11" tall
Elvis' natural hair color was dark blond
Elvis' blood type was O Positive
Elvis' shoe size was 11D
One of Elvis'( maternal) ancestors, Morning White Dove (born 1800, died 1835), was a full-blooded Cherokee Indian
Elvis' uncle, Noah Presley, became Mayor of East Tupelo on January 7, 1936
The Presley family moved to Memphis on November 6, 1948
Elvis was issued a Social Security card in September 1950 with the # 409-52-2002
In 1954 some of the shows played by Elvis & The Blue Moon Boys were at the Overton Park Shell; the Bel-Air Club; Sleepy-Eyed John's Eagle's Nest Club and the Louisiana Hayride
Elvis' first manager was Scotty Moore, then Bob Neal, before signing with Colonel Tom Parker
The first DJ to play an Elvis record was Fred Cook (WREC), not Dewey Phillips (WHBQ). However, Dewey had the distinction of being the first DJ to play an Elvis record in its entirety
Elvis once dated famous stripper, Tempest Storm
Elvis was filmed from the waist up only during his 3rd and final appearance on The Ed Sullivan Show
In the 50s Elvis was friendly with rising stars, Natalie Wood, Robert Wagner and Ty (Bronco Lane) Hardin
Gladys Presley was 46 years old when she died, not 42, as many books suggest
The Roustabout album sold 450,000 copies on its initial release, 150,000 copies more than any of the preceding three soundtrack LPs. It was Elvis' last "soundtrack" album to reach #1 on the major album charts in the US
Elvis received $1m for filming Harum Scarum (aka Harum Holiday). The film grossed around $2m in the US
Elvis and Priscilla married on May 1, 1967
They were officially divorced on October 9, 1973
Elvis earns nearly $3.5m in 1968 and pays just over $1.4m in income tax
Elvis' return to live performing in Las Vegas on July 31, 1969 was in front of an "by invitation only" audience. Stars in attendance included Wayne Newton, Petula Clark, Shirley Bassey, Burt Bacharach and Angie Dickinson
On January 9, 1971, the national Junior Chamber of Commerce (Jaycees) announced Elvis as one of "The Top Ten Young Men of the Year". Elvis spoke at the official awards ceremony on January 16
"Elvis: Aloha From Hawai" made entertainment history on January 14, 1973, when it was beamed around the world by satellite. In the Philippines it drew 91% of the audience, in Hong Kong 70%. The viewing audience was estimated at more than 1 billion
For his 4 week Hilton Vegas season in August 1973 Elvis received $610,000
Sales of Elvis' 1973 album, Raised On Rock, were less than 200,000 units on its initial release
Elvis paid $2,959,000 in income tax in 1973
In December 1976 Elvis was sworn in as a special deputy sheriff of Shelby County (Memphis) by Sheriff Gene Barksdale
Elvis' final live concert was in Indianapolis on June 26, 1977
When Elvis died, he and his father Vernon, were embroiled in an FBI investigation called Operation Fountain Pen
More than 1,500 books have been published about The King in more than 30 languages
At Dec 2005 Elvis' biggest selling album in the US is the budget priced, Elvis' Christmas Album, with accredited sales of 9 million units (fingers crossed it reaches 10 million to give Elvis his first "Diamond" award)
By early2006, Sony BMG's "collectors label", Follow That Dream, had released more than 50 Elvis CDs
During the 1980s, tour guides at Graceland stated that Elvis' biggest selling album (globally) was Moody Blue, with sales exceeding 14 million
While Sony BMG estimates Elvis' global sales exceed 1 billion, the company is unable to substantiate this figure. Accredited sales worldwide are estimated to be less than 400 million
The Sales Dilemma:
Elvis vs. The Beatles....Elvis vs. Garth Brooks
Over the years EIN has published a series of controversial articles on Elvis' record/CD sales and comparing the impact of Elvis and The Beatles.
Here we present links to all articles.
Read EIN's set of articles on "Elvis' record sales" and "Elvis vs. The Beatles":
John Lennon And Elvis: It was "Thirty Years Ago Today" - On December 8th 1980 John Lennon was shot dead outside his New York apartment. In commemoration, LA Times music critic Robert Hilburn remembers discussions with John Lennon about life and Elvis...

John Lennon And Elvis - 2010 - On December 8th 1980 John Lennon was shot dead outside his New York apartment. Robert Hilburn remembers discussions with John Lennon about life and Elvis...
'Elvis Meets The Beatles' 2010
Larry Geller talks about Elvis and The Beatles meet-up in 1965
Elvis artefact on display in Liverpool Beatles Exhibition 2010:
Breaking down Presley and Beatlemania (2007)
Why can't Elvis compete...against the Beatles and Garth Brooks? (2007)
Ernst & Roger's persuasive argument for Elvis
Controversial university study incenses Elvis fans (published 2006)
Elvis vs. The Beatles - The Matrix Argument (2006)
Paul McCartney talks about Heartbreak Hotel (2005)
Was there anything before Elvis? (2005)
Elvis vs. The Beatles - Nigel eats humble pie (2004)
Elvis vs The Beatles (Part 1) (2004)
World Title Fight - Elvis vs. The Beatles (2002)
read more news items below:
| | |
| --- | --- |
| | |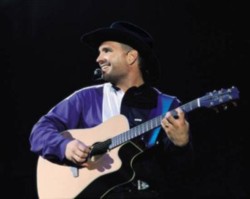 Garth Brooks overtakes Elvis as best-selling solo artist (album sales) in the USA: Country star Garth Brooks has overtaken Elvis Presley to become the bestselling solo artist in history, according to new record industry figures. The singer has sold an amazing 123 million units in his career, the Recording Industry Association of America (RIAA) confirmed yesterday, while awarding Brooks Diamond Awards for his albums Sevens and Garth Brooks.

Four of the country crooner's albums have received Diamond Awards, for sales of more than ten million copies each (Elvis is yet to receive a Diamond Award, although he holds the record for the most Platinum & Gold Awards).

In 1999, the RIAA declared Brooks the 20th century's most successful male recording artist, and indeed, its biggest selling solo artist. At the time, Brooks clocked in at 89 million albums sold. Presley, who was lauded for releasing the most gold- and platinum-selling albums, came in behind Brooks, and ahead of Barbra Streisand (the top-selling female artist), with 77 million. (All figures reflect only United States sales.)
But then Brooks, who made it big with the help of "Friends in Low Places," retired. And in 2004, the dead but still-working-it Presley was named the RIAA's top solo act, with 117.5 million albums sold. That announcement was made, as such announcements are wont to be made, on the occasion of what would have been Presley's 69th birthday. It followed a new count of Presley's old albums.
Meanwhile, Brooks took time away from Leisure World in 2005 to seal a deal with Wal-Mart to exclusively peddle all of his recorded wares, including his then-new collection, Garth Brooks: The Limited Series. With the about-to-be released Ultimate Hits, Brooks has released five albums since vowing to enjoy his golden years.
The Standing Outside the Fire singer accepted the latest accolade for his work at a ceremony held at his star on the Hollywood Walk of Fame, outside the Capitol Records tower.

"This award reflects the magnitude of the country audience and what they can accomplish when they act together," Brooks said at the presentation.

RIAA figures place Elvis' sales at 118.5 million units, with only the Beatles ahead of Brooks with 170 million units sold.

"He has always been true to country music as a format," observed Ed Benson , chief strategic officer of the Country Music Association.

"He's never decided to cross over and be anything else, and so it's great that the number one selling solo artist of all time is a country music artist."

The RIAA tracks albums shipped plus digital downloads sold. (News, Source: inthenews.co.uk/EOnline!)
EIN Comment: With Brooks' "Ultimate Hits" compile soon for release the country singer will increase his lead over Elvis. Brooks' affiliation with Wal-Mart is important - it highlights the importance and potential of effective, strategic marketing.
It is likely that over time Elvis will peg back and overtake Brooks through a combination of ongoing sales, reissues and new album titles (of recycled material). EIN does not see consumer demand for Garth Brooks albums rivalling Elvis in the long term, although we note demand for Elvis albums is currently generally in decline.
It also needs to be noted that Elvis' "lost" album sales (due to poor record keeping by RCA in the 1950s and 1960s and the 1977-78 year) would arguably place him ahead of Garth Brooks. The real issue is whether or not the quantum of "lost" sales would put Elvis on a par with the Beatles in the US. Traditionally, sales of Elvis albums have not compared to sales of albums by the Beatles.
Another important point is that the RIAA figures relate only to album sales, not sales of singles and EPs. In the 1950s and 1960s sales of (particularly) singles were the dominant product. This was of course the period when Elvis ruled supreme on the sales charts. (7 Nov 2007)
More on the Elvis' sales dilemma
---
Top selling album artists in the US: The RIAA top 10 list as of 7 November 2007 is:
| | | | | |
| --- | --- | --- | --- | --- |
| The Beatles | 170m | | Billy Joel | 79.5m |
| Garth Brooks | 123m | | Pink Floyd | 74.5m |
| Elvis Presley | 118.5m | | Barbra Streisand | 71m |
| Led Zeppelin | 109.5m | | Elton John | 69.5m |
| Eagles | 91m | | AC DC | 68m |
---
Rapper star poised to equal Elvis' tally of #1 albums: If all goes Jay-Z's way, the rap mogul will tie rock legend Elvis for the most number one albums in USA history, a feat that depends on the success of the rapper's American Gangster album.
Jay-Z, born Shawn Carter, landed his ninth number one album last year with Kingdom Come, which sold about 680,000 in its first week, the rapper's best to date. The Kingdom Come album put Jay-Z in a tie with another iconic rock act, The Rolling Stones, who have landed number nine number one albums throughout their 40-year career.
If Jay-Z's American Gangster sells well, only The Beatles would have offered the music world more number one albums, with an incredible 19.
American Gangster's main opposition includes Cassidy's highly anticipated album B.A.R.S. and Nas' Greatest Hits package which landed in stores (November 6) as well. (News, Source: allhiphop.com, 7 Nov 2007)
Quote:
"Elvis Presley is the supreme socio-cultural icon in the history of pop culture"
(Dr. Gary Enders)
---
Quote:
"Elvis is the 'glue' which holds our society together....which subconciously gives our world meaning"
(Anonymous)
---
Quote:
"Eventually everybody has to die, except Elvis"
(humorist Dave Barry)
---
Quote:
"He is the "Big Bang", and the universe he detonated is still expanding, the pieces are still flying"
(Greil Marcus, "Dead Elvis")
---
Quote:
"I think Elvis Presley will never be solved"
(Nick Tosches)
---
Quote:
"He was the most popular man that ever walked on this planet since Christ himself was here"
(Carl Perkins)
---
Quote:
"When I first heard Elvis' voice I just knew I wasn't going to work for anybody...hearing him for the first time was like busting out of jail"
(Bob Dylan)
---
Quote:
"When we were kids growing up in Liverpool, all we ever wanted was to be Elvis Presley"
(Sir Paul McCartney)
---
Quote:
"You can't say enough good things about Elvis. He was one of a kind"
(Johnny Cash)
---
Quote:
"And don't think for one moment he's just a passing fancy....he's got enough of it to keep him on top for a long time"
(R. Fred Arnold, Fury magazine, Aug 1957)
---
Quote:
"It isn't enough to say that Elvis is kind to his parents, sends money home, and is the same unspoiled kid he was before all the commotion began. That still isn't a free ticket to behave like a sex maniac in public"
(Eddie Condon, Cosmopolitan)
---
Elvis records reaching #2 & #3 on the Cashbox Pop Singles chart:
#2: A Fool Such As I (1959)
#2: A Big Hunk Of Love (1959)
#3: Hard Headed Woman (1958)
#3: One Night (1958)
#3: (You're The Devil) In Disguise (1963)
---
Elvis Facts:
Tickets for Elvis' show on March 29, 1957 in St. Louis cost $2.00 to $2.50
While in Germany Elvis was hospitalised with tonsillitis in October 1959
Despite being an illegal immigrant, photographic evidence shows Colonel Tom Parker traveled to Canada with Elvis in 1957
Elvis strongly believed there weren't enough good songs in King Creole to justify releasing a soundtrack album. RCA initially agreed, releasing two very successful EPs from the movie. A soundtrack LP eventually followed
During the 1960s Elvis had his own football team, Elvis Presley Enterprises, which played in the Memphis touch football league. In the 1962 final, EPE narrowly lost to Delta Automatic Transmission, 6-13
In Clambake, (Elvis) Scott Hayward's driving licence shows February 23, 1940...taking 5 years off Elvis' real age
In the 1970s Elvis was offered $5m to stage a concert in front of the Pyramids in Egypt. When the Colonel declined the offer, Saudi billionaires raised the offer to $10m