CD Review:
"Edge Of Reality/If I Can Dream"
...She Is The King...
Who is this woman in black leather and sunglasses?

The person in question is a performer rapidly building a cult following not only in Australia but also in the US, where she appeared live on stage at Graceland Crossing in Memphis during Elvis Week 2007.

The lady in question is SHE IS THE KING, also the only woman selected to compete in the FIRST EVER worldwide Elvis Presley Enterprises sponsored Ultimate Elvis Tribute Artist Competition in his birthplace Tupelo, Mississippi.

She Is The King currently resides in Australia's picturesque harbour city, Sydney. Born in Perth, Western Australia she grew up listening to her fathers' music collection which consisted of legends like Nat King-Cole, Roger Whittaker & Elvis Presley. It was Elvis who made an ever-lasting impression on her.
She Is The King's latest single is a cover of what was one of Elvis' 1968-69 smash hits, Edge Of Reality/If I Can Dream*. It is the follow up single to her critically acclaimed debut single, Viva Las Vegas.
She Is The King has a deep throaty vocal and it is well suited to both tracks on her new release. Hearing a female vocal tackle both songs in the Elvis vein with obvious conviction is an aural delight. Visually and musically she is imbued with a number of iconic Elvis qualities.
On Edge Of Reality (3' 37") the artist takes the listener right to the edge as she projects an air of deep relationship angst. This track, originally featured in the 1968 MGM sex farce Live A Little, Love A Little, is one of the King's most underrated recordings.
And as did Elvis, She Is The King exudes that plaintive vocal quality as she scales the heights of a plea for greater understanding and a better world throughout the powerfully potent lyrics of If I Can Dream (3' 17").
The recordings stay faithful to Elvis' original arrangement and will please many fans. There are strong backing vocals reminiscent of Elvis' 1968 release. Similarly, the backing instrumentation is excellent and both tracks exude a rich, resonant sound. The recordings were mastered at the Sterling Sound studios in Los Angeles.
Somewhat surprisingly, much of She Is The King's fan base appears to be female, arguably suggesting the artist combines an Elvis musical manifestation with political (feminist) undertones.
Verdict: Edge Of Reality/If I Can Dream is a formidable single release from one of Australia's most well known Elvis tribute artists. On the basis of her two single releases to date, She Is The King's debut album will be a strong one.
She Is The King will release her first album in October 2007.
*In Australia, Edge of Reality was a #2 hit record nationally (#1 in Melbourne); while in most other countries If I Can Dream was the charting side, peaking at #12 in the US and # 11 in the UK.
Buy Edge Of Reality/If I Can Dream CD single
Download from iTunes
Visit the She Is The King website...
...and listen to samples of Edge Of Reality and the first She Is The King single Viva Las Vegas
Visit the She Is The King MySpace site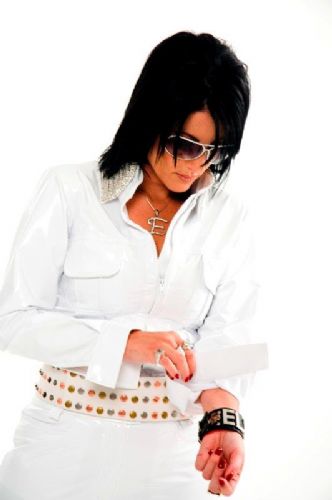 ---
Feedback
Dana Harrell: "SHE IS THE KING" really does stand out in the crowd.The First Woman to perform in the first Ultimate Elvis Tribute Artist Competition - the First Woman to have her jumpsuit made by Gene Doucette and Bill Belew and the First Woman to perform at Graceland Crossing. Jacqueline's deep compassion and sincere dedication comes forth in a stunning tribute to her lifelong obsession with Elvis Presley."
SHE IS THE KING" has the charisma of Elvis himself and when meeting her- you feel like a old friend and are caught up in her genuine caring and abrupt humor. Jacqueline has a uncanny resemblance to Elvis and this only adds to her incredible persona.My wish for Jacqueline is to have all her dreams come true. In my book - she is the best - and she also sets a good example for many to follow. Her singing which is in the same key as Elvis is just astonishing and I am so looking forward to the release of her album in Oct. "Edge Of Reality" and "If I Can Dream" are simply incredible!
Jason: I saw She Is The King in Tupelo. What an attractive woman...and she can rock too!
Tina Fehlman: She Is The King
Frank M: Just listened to She Is The King's new single on her site. Have to say its pretty good. She yas a husky voice and the Elvis feel.
Mary Bryer: I love She Is The King as do all my friends in Melbourne . We are huge fans of Jacqueline . We cant wait for her Edge Of Reality single . My friends and I are 60 years so we are from the Elvis era . She Is the King has got a deep Elvis voice and we love listening to Viva Las Vegas. …we can hardly wait for a concert from her.
John & Alice Speers: We saw She Is The King in Memphis during Elvis Week and she was teriffic. It's great that there are talented singers like her carrying on the Elvis tradition.
Sally: She Is The King ROCKS!!!
Benny: Wow! What a stunning singer and ETA.
Celia Peters: She Is The King is a fabulous artist. Long live the King.
Dianne K: Can I buy her new single in America? It sounds awesome.
Phil: Caught She Is The King in Tupelo this year. Have to say I'm not much into lady Elvis impersonators but she was sensational.