Interestingly, the "King" was born into poverty to Vernon and Gladys Presley but he moved on to become one of the most influential figures of the 20th century. Proclaimed "King" at 21, Elvis died at age 42.To make the memory of Elvis Presley alive, there are hundreds of Elvis Presley clubs worldwide who see to it that their idol's legacy is kept alive all the time.
In the Philippines, the Elvis Presley Friendship Club Phils. Int'l was founded by Chito Bertol, dubbed the "Original Elvis Presley of the Philippines," who is also the president and general manager of Manila Seedling Bank Foundation, in May of 2000. At that time, Bertol already has a radio program, the "Elvis Presley Sunday Specials," aired on DZSR from 8-10 a.m. Another Elvis Presley radio program which the club supports is "Elvis is Alive" on DWWW, hosted by Vic Morales.
This is aired every Friday from 11 a.m. to 1 p.m.Bertol organized the club with the aim in view of providing opportunity for local Elvis fans to gather together regularly to reminisce or pay tribute to their idol through musical concerts. The club, whose membership has grown to 300, will celebrate its fifth year anniversary on May 29, 2005 and to coincide with this, the club will release a new CD titled "Elvis by the Presleys" which also features new and intimate interviews with his former wife Priscilla Bealieu Presley, and their daughter Liza Marie Presley. The club, which has produced two exclusive CDS entitled "Rare Elvis" and "Rare Elvis Duets," will also present an anniversary party on May 29 at Quattro Music Bar along Timog Ave. Quezon City.
Members and guests will be treated to Elvis music to be sung by impersonators from 11 a.m. to 4 p.m.A new mini-series simply titled "Elvis" will also be presented by CBSUSA TV this month. The TV special will include exclusive and vintage photos and Presley family home movies never before seen. "Elvis by The Presleys" is a double CD album containing 32 tracks plus a rarity disc featuring previously unreleased private recordings of Elvis working in a studio for such tracks as "Jailhouse Rock" and "Too Many Monkey Business."The Elvis Presley Friendship Club Phils. is only known Elvis club in the country. Bertol, whose passion and hobby is playing Elvis music and collecting Elvis memorabilia (he has a music room full of Elvis souvenirs and collectible items) said his club is accredited by Elvis Enterprises Graceland, Memphis USA.
It is also a member of the powerful Elvis Presley Alliance of Asia (EPAA) which comprise of five official Elvis fans club in such countries as Hong Kong, Thailand, Malaysia, Japan and of course the Philippines.Bertol also said EPAA has started its thrust towards introducing Elvismania in China by initially offering an Elvis concert performed by impersonators. And apparently, EPAA has succeeded.
Because when the former president of China, Jiang Ze Ming visited Manila in l996, he sang the Elvis song "Love Me Tender" at a banquet hosted by then President Fidel V. Ramos. Then, at a meeting with then US President Bill Clinton, President Jiang sang another Elvis song, "Are You Lonesome Tonight" with Clinton playing the saxophone. Earlier this year, President Ziang specially ordered "The Elvis Presley Story" to be staged in Beijing for his and close associates' enjoyment The stage show was warmly received by the Chinese audience and for this, Bertol said the Elvismania is ripe in China.
The officers of the Elvis Presley Friendship Club Phils. Int'l are: Chito Bertol, founding chairman; Levi Castillo, adviser; Nita de Guzman, Lely Po, Grace Sanchez, Tita Tirona, Atty. Homer Mendoza, Nina Garcia, Jovita Garcia, Alfred Sanchez, and Walter Perez, directors. Tristan Manlapaz is Goodman Friday.
---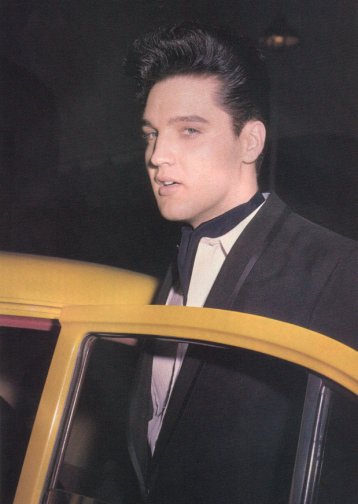 ---
AMERICAN AIRLINES promo: Worldwide Elvis has copies of an ultra-rare 3 track Elvis promo CD ONLY available when you booked a flight on AMERICAN AIRLINES in the US.
---
Ask EIN