EIN E-Alert #174........Monday 6 June 2005
Hi everyone
Switching web servers and HTML packages is never a smooth process! There was a glitch with last week's E-Alert and most of you wouldn't have been able to see the photos. Our sincere apologies for this. To avoid any repetition of the problem, from this edition on we will send each E-Alert as a link to the "HTML" version on the EIN site. Click to view last week's E-Alert (#173)
We appear to have rectified our other problem and all emails are now being received. We have just about cleared the backlog and appreciate your patience.
We're holding over our Elvis by the Presleys competition yet again. The reason for the delay in running it is actually good news. BMG will be providing EIN with 7 prize packages comprising both the DVD and CD. BMG has asked that we run the competition in the week commencing 12 June to coincide with the release of both the DVD and CD in Australia. Check the site next Sunday and enter to win one of the 7 prize packages of the DVD + CD.
We will continue to run our competition aimed at Aussie fans until 11 June. We urge all Aussie fans to let us know what they'd like to see in our 2007 tour to the US for Elvis Week. One lucky person will receive a copy of the BMG 4CD boxset, Live in Las Vegas.
Nigel and Piers
---
Some of the items added to www.elvisinfonet.com this week:
News
Elvis elected to Karate Hall of Fame

"Elvis by the Presleys" fails to win its timeslot "downunder"

A Legendary Performer, Vol. 6 announced

Ridiculous eBay listing has to be seen to be believed

Marty Lacker confirms reprint of "Revelations of the Memphis Mafia" book

Buy Elvis' old home!

Original Graceland blueprints for sale

More suspect Elvis autographs on eBay

Suzi Quatro "Elvis" tribute single update

Hawaiian reunion 2006

Elvis wanted to be a preacher

Blue Owl Elvis type belt for sale

Elvis The Concert officially to be released on DVD - not true!

Marty Lacker "cropped" from wedding photo in "Elvis by the Presleys"

George Klein's "Memories of Elvis" documentary being updated for DVD release

Was Christmas scene in "Elvis by the Presleys" staged?

Tom Jones serenaded by Elvis

Priscilla - The Black Widow

MTV anti-Elvis

Elvis Presley Worldwide Web Virtual Library site re-located
Reviews
Articles
Interview
Competition
---
Breaking News
| | |
| --- | --- |
| EPE forcing "Memories of Elvis" to close: The last remaining "independent" store around Graceland, Memories of Elvis", is to close its doors on 30 November 2005. Here is part of the statement from Memories of Elvis: | |
"To our dear friends and loyal customers:

There is no easy way to be the bearer of bad news. So I will just go ahead and
share with you. Following nearly three decades in business, Elvis Presley
Enterprises has informed us that they no longer wish to lease to us.

They have stated that the last day of our lease will be on November 30, 2005. It
came as a total shock to me, in that I had inquired only recently as to the future of our store. I received the notice in the form of a short note, hand delivered to the store on Tuesday, May 31.

I was also surprised that no personal contact was made.

Among many emotions that we are experiencing are those of deep sadness,
disappointment, sense of loss, and even denial. It does not seem real to me. It's hard to understand how Memories of Elvis could no longer exist after 27 years of dreams, dedication, loyalty of employees, and being here for Elvis fans world-wide.

We were here in the days shortly after the death of Elvis when the house was still a residence and the public could only visit the gravesite.

I wish I could somehow reverse this action taken by EPE. I have spoken with Jack Soden at length and assured him that I would be willing to negotiate a new lease, making the most attractive offer that I can comprise.

I can assure you that I will not let a day pass without continuing my endeavor to
save our store.

This is not just about me and my family. It's about a dream that I had many years ago, when I was my only employee. This store has been my child, of sorts, with many struggles, yet many victories.

Not only that, this issue is also about each one of you, my loyal friends and
customers. You are the best group of people in the world, and I thank you for
visiting us repeatedly; many of you remembering our beginning in the small shop
directly across from the gates. Those were wonderful times and we have
continued those friendships until the present.

And, now, for the good news. It will be "business as usual" here at Memories of
Elvis. We have wonderful new merchandise waiting for your visit this summer. We are very excited about the new designs, most of which are exclusive to our store.

We will soon have them posted on our website at: www.carolsmemoriesofelvis.com but are looking forward to seeing you here in the shop within the next few months."
---
Elvis wins "League of Legends": Radio station 2CA in Canberra, Australia ran its League of Legends competition earlier this week. Involving a knockout "act vs act" format, the final round saw Elvis pitted against Neil Diamond. As he had done all week, Elvis reigned supreme picking up 73% of the votes in the final. Elvis defeated Fleetwood Mac in the semi-final and thrashed The Bee Gees in the quarter final. A surprising early casualty in the competition was The Beatles.
---
Priscilla still loves Elvis: Britain's The Observor newspaper recently published an interview with Priscilla. In it Priscilla is quoted as saying about Elvis: "I loved him. I still love him."

The news story painted an interesting if disturbing picture of the relationship between Elvis and Priscilla. At one point Priscilla claimed that her "transfixed face" is the result of constant criticism" by Elvis. She went on to say that Elvis once caught her frowning and he gave her a slap on the forehead warning her that it was wrinkling.

On the subject of their physical relationship after the birth of Lisa Marie, Priscilla seems to be adopting a revisionist approach. Having earlier claiming Elvis sexually rejected her, she now says: "No, no, of course we were having sex...I mean, he was Elvis after all and I must say he was very creative, very playful."
---
EIN is now taking orders for the three releases from FTD due out on 1 July:
All Shook Up: Elvis' Las Vegas concert on 26 August 1969, this show was originally recorded as a

RCA 8 track Stereo recorded concert

th

is "soundboard"

CD will contain Elvis' including the famous "laughing" version of Are You Lonesome Tonight?

Tickle Me: This release featuring songs from the movie. It is being released in the special 7" deluxe format with a full color booklet featuring pictures and information from the movie.


Elvis Today: This is a 2CD release and will feature

masters and outtakes of all previously released takes PLUS unreleased outtakes.
---
Chart Update
Courtesy of Elvis Charts
U.S. Billboard Elvis Chart listings for the week of:
June 11, 2005
(sg - sales gainer, gg - greatest sales gainer, ne - new entry, re - re-entry)
Top Billboard 200 Albums - Elvis By the Presleys - down 47 to #7
Top Comprehensive Albums - Elvis By the Presleys - down 47 to #70
Top Soundtrack Albums - Elvis By the Presleys - down 3 to #5
Top Internet Albums - Elvis By the Presleys - down 7 to #10
Top Comprehensive Albums - Elvis 30 #1's - down 44 to #179
Top Christian Albums - Ultimate Gospel - down 8 to #24
Top Country Albums - Ultimate Gospel - down 11 to #58
Top Pop Catalog Albums - Elvis 30 #1's - down 10 to #16
Top Country Catalog Albums - Elvis 30 #1's - down 2 to #4
Top Music Video Sales - Elvis by the Presleys - down 1 to #2
Top Music Video Sales - Aloha Deluxe Edition - down 4 to #30
Top Music Video Sales - 68 Comeback Deluxe - up 1 to #32
Comprehensive Music Video Sales - Elvis by the Presleys - down 1 to #2
Comprehensive Music Video Sales - Aloha Deluxe Edition - down 5 to #31
Comprehensive Music Video Sales - 68 Comeback Deluxe - remains at #33
New entries and Re-entries on the charts include:
-none this week.
Dropping off the charts include:
-He Touched Me Vol 1 & 2 drops back off the Top Music Sales and Comprehensive Video Charts.
---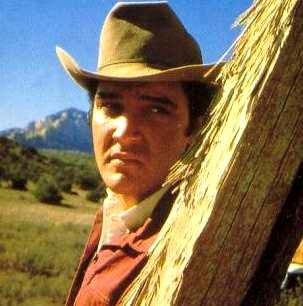 ---
Do you have a question about Elvis?
Each week EIN receives many questions from fans around the world. A selection of questions and our answers will appear regularly in the E-Alert.
Stefan: Hi, my daughter are getting married in May, and a friend are going to sing "Love Me Tender" in the church.I need to know who wrote the song?
Hi Stefan, Love Me Tender was composed by Ken Darby although he credited it to his wife - Vera Matson. It was based on the 1861 ballad "Aura Lee" which was popular with the Union Army during the American Civil war. - I suggest you buy a copy of the Cd "The Roots of Presley" from the 'Catfish' record label in England which has a beautiful version by the Shelton Brothers. of the original Aura Lee. (You could check amazon.com)
---
---
DVD Review
Girls! Girls! Girls! (1962)
DVD5332, Running Time: 95 minutes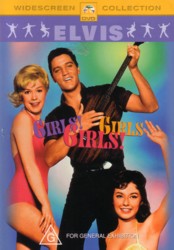 Girls! Girls! Girls! is one of the stronger Elvis travelogues, benefiting from being filmed before the slide in production values in Elvis films became apparent.
The Disc: The straight video-to DVD transfer is acceptable and the colors are generally rich. There is some scratchiness in the opening credits but overall the visuals are clean and crisp.

Plot and Cast: A simple plot bolstered with 14 aurally satisfying musical numbers. In any case the plot is secondary to the location (Hawaii) and its beautiful scenery. Elvis is a poor charter boat pilot by day and at night supplements his income as a night club singer. But will he realize his dream of owning the "Westwind", and who will he choose as his long term partner? Laurel Goodwin doesn't work for me as a love interest for Elvis, while the smoldering sexuality of Stella Stevens could have been used to better effect. Jeremy Slate is effective as Elvis' irritating nemesis and why they didn't give effective character actor, Robert Strauss (Sam), more screen time is beyond me! As in a number of his 1960s films, Elvis's physical movements are very contrived, and seem somewhat unnatural during the 'staged' musical numbers.

Editing: This disc is not as good as the other three. At times the editing leaves a lot to be desired with 'black screen' lingering far too long (at times) between scenes. And as the original theatrical print of Girls! Girls! Girls! originally had a running time of 106 minutes, it is disappointing we only get a 95 minute DVD print!

Audio & Soundtrack: The audio is acceptable. If turned up too high it suffers from reverb, but there again given the limitations of the recording process forty years ago you wouldn't achieve a better sound by pumping up the volume. Some fans will be disappointed that a number of the film's 14 songs are not sung in full but overall the soundtrack is aurally satisfying. Return To Sender is the musical highlight.

Verdict: (girls) An enjoyable (girls) way to spend 95 (girls) minutes!
---
Elvis Trivia Question
The so-called "bodyguard" book, Elvis: What Happened?, was written by Red West, Sonny West, Dave Hebler and what tabloid journalist ?
(
Last week's answer:
Treat Me Nice was the flip side of the original single issue of Jailhouse Rock)
---
Contact EIN
The EIN E-Alert is a free information service from the Elvis Information Network (EIN) for Elvis fans. If you do not wish to receive future editions of the EIN E-Alert simply reply to this message with REMOVE in the subject line