Quote:
"Elvis Presley is the greatest cultural force in the 20th century."
(Leonard Bernstein)
---
Quote:
"If you're an Elvis fan, no explanation is necessary; If you're not an Elvis fan, no explanation is possible."
(George Klein)
---
Quote:
"For a dead man, Elvis Presley is awfully noisy."
(Professor Gilbert B. Rodman)
---
Quote:
"History has him as this good old country boy, Elvis is about as country as Bono!"
(Jerry Schilling)
---
Quote:
"Absolute id crashed into absolute superego...as the uptightset man in America shook hands with just about the loosest."
(Mark Feeney on the 'Elvis meets Nixon' meeting)
---
Quote:
"Elvis is everywhere"
(Mojo Nixon & Skid Roper)
---
Quote:
"...especially in the South, they talk about Elvis and Jesus in the same breath"
(Michael Ventura, LA Weekly)
---
Quote:
"The image is one thing and the human being is another...it's very hard to live up to an image"
(Elvis Presley, Madison Square Garden press conference, 1972)
---
Quote:
"Elvis was a major hero of mine. I was actually stupid enough to believe that having the same birthday as him actually meant something"
(David Bowie)
---
Quote:
"No-one, but no-one, is his equal, or ever will be. He was, and is supreme"
(Mick Jagger)
---
Quote:
"I wasn't just a fan, I was his brother...there'll never be another like that soul brother"
(Soul legend, James Brown)
---
Quote:
"Before Elvis there was nothing!"
(John Lennon)
---
Quote:
"There were rock 'n' roll records before Heartbreak Hotel, but this was the one that didn't just open the door…it literally blasted the door off its rusted, rotten, anachronistic hinges…. producing....no propelling, an unstoppable, fundamental and primordial shift in not only musical, but social, political and cultural history"
(JNP, BBC website)
---
Quote:
"Elvis, the musician, is largely a relic belonging to the baby boomer generation...Elvis, the icon, is arguably one of the most potent symbols of popular culture"
( Dr. John Walker)
---
Quote:
"It [rock & roll] was always about Elvis; not just because he was Elvis, but because he was the big star"
(Bono from U2)
---
Quote:
""If they had let me on white radio stations back then, there never would have been an Elvis"
(Little Richard)
EIN E-Alert #195........Sunday 30 October 2005
The big news stories this week have been Elvis once again heading the annual Forbes list of the top earning dead celebrities, a recording of Elvis singing Rock Around The Clock, and at least some information on the next two FTD releases.
Some of the latest items added to www.elvisinfonet.com:
January 2006 FTD news
Hitstory debuts at a disappointing #33 on Australian album chart
Recording of Elvis singing Rock Around The Clock
Lisa Presley new video clip shocks fans
Elvis tops Forbes list of dead celebrities again!
'Colorised' DVD edition of Love Me Tender
EPE selling Elvis replica jumpsuits - some fans not happy
Ernst Jorgensen responds to discussions about Sun book + CD project
New Elvis licence plate to aid charity
'Heartbreak Hotel' single postponed in EC
Looking for Colonel Parker DVD for November release
Hitstory & Elvis #1 Singles boxset released in Australia
Elvis night on Australian TV next Sunday
Ger Rijff says "no market for 1950s photobooks"
Legends revue to close in Atlantic City
New Elvis Christmas CD releases
Aussie DVD boxset releases update
Sam Phillips Week announced
Articles/Reviews/Interviews
"Summer Festival" new FTD reviewed
A Kick Upwards for Elvis Movies
Influences on a Legend - Mario Lanza
The Year The Music Changed (Book Review)
---
Cliff Richard on Elvis: Sir Cliff Richard, who has apparently sold more records in the UK than Elvis or The Beatles, recently paid a visit to his hometown of Cheshunt. In an interview during the visit Sir Cliff had some very interesting comments to make:
Cliff added: "One of the big disappointments in my younger life was failing my 11-plus exam.
"I was top boy at my primary school and I had desperately wanted to go to the local grammar school - but I failed my 11-plus. That was a big disappointment for me.
"You know, I'm not sure why I failed it even now but then again I believe it was fate.
"I was meant to end up going to Cheshunt County Secondary School because it was there that my interest in performing came about. At the end of the day Cheshunt will always be a very special place to me."
He asked the residents of the accommodation block: "Do you remember a shop called Asplans in Waltham Cross? Is it still there?
"Because this in an example of the fate I am talking about. It was outside that shop that I first heard Elvis Presley singing rock and roll. My life changed forever that day.
"Some friends and I were admiring a car which was parked outside the shop. The driver had left the engine running and the radio was switched on.
"He must have popped inside to buy some cigarettes or something.
"But then we heard Elvis singing Heartbreak Hotel on the radio. It was an amazing moment."
---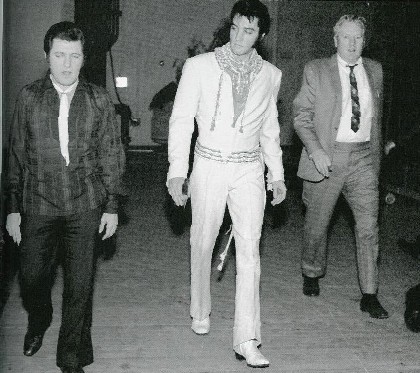 ---
Kate Bush pokes fun at Elvis in new video clip?: Pop recluse Kate Bush pokes fun at the 'Elvis Presley is alive myth' in the video for her comeback single King Of The Mountain by dancing with The King's white jumpsuit.
The famous outfit jumps off a coathanger to jig with the Wuthering Heights hitmaker in the promo, as fantastic newspaper headlines about Presley, including 'I Had Elvis' Alien Baby' and 'Sighting of Elvis in Yeti Colony' float onto the screen.
In the song, Bush sings, 'Elvis, are you hiding somewhere, looking like a happy man.'
---
Now available from www.jatpublishing.com
---
Film Director, Michael Curtiz and Elvis
There was an extra-good reason why King Creole was to be directed by Michael Curtiz.

"You are the man to give Elvis what he wants most in life," producer Hal Wallis told the noted Hollywood director. "That's respect - respect from both Hollywood and the world at large. Elvis knows the trend of his own publicity and he's painfully aware that not everyone is in his corner. Now he wants to do something he can be proud of.

Director Curtiz and actor-singer Presley hit it off right from the start. "At first, Elvis was so respectful that I secretly suspected he was putting on an act." Mr.Cutriz said. "I thought he was trying to sell me a bill of goods that he wasn't the exhibitionist sexpot I might imagine him to be from all I'd read about him.
"But the closer I got to him, the more it struck me that he was a genuine and sincere actor who was the victim of his own publicity snowball," Mr.Curtiz continued. "Elvis was the first one on the set at 7.30 in the morning, with all his lines learned, always within earshot of the camera so he never had to be called twice."

One day Mike Cuttiz told Elvis that he would sing a ballad without one single body movement. "I expected an argument about it, you know! I expected some sort of answer like, "I've made millions out of my style, so why should I change it?" But there was no argument. Elvis merely nodded and said simply, "You're the boss, Mr.Curtis."

After three weeks of shooting, Curtiz suggested that since he and Elvis would be working together so closely (Elvis even spent several week-ends at the Curtiz ranch, soaking up direction and advice from the older man), Elvis should call him by his first name.
Elvis smiled brilliantly, but shook his head. "Oh, no, Mr.Curtiz," he said, "I just couldn't do that."

The story of the filming of King Creole repeats the comments of every other movie crew who ever worked with Elvis. "He's a great guy," says the men. "He's a perfect darling!" says the women.

Says Curtiz: "He's an actor. Yes, he has much to learn, but you can always tell about young people...which ones are going to learn, which ones are going to be tops for a while, then die."

To the man who had directed about every great name in Hollywood, it was Elvis Presley's meticulous behaviour and thoughtfulness that was endearing. After seeing the rushes of the day before, Elvis invariably said to the director,"Are you satisfied,Sir? Can we do better?" Once Elvis said, "Mr.Curtiz, this is the first time I ever realized what direction is. Thank you,Sir."

A major surprise to Mike Curtiz was that Elvis' usual entourage was conspicously lacking on the set. "He came to work, and he wasn't a weakling who needed a crew of yes-men,"Curtiz says. "He didn't want anyone to tell him he was good...unless he was!"

Curtiz noticed, too, that every afternoon at 5.30 Elvis was on the telephone. "One day I remarked, "You must have a lot of friends," and he said to me with the utmost simplicity:"No, I don't, Mr.Curtiz. I talk to my folks back in Tennessee every day."

But director Curtiz found another side to Elvis Presley. He was easily discouraged and frankly confessed there were many a night when he couldn't sleep. He would go to bed with his script and study hard and restudy, always hoping to make the next day's work more perfect.

"The Elvis Presley I got to know and like," Mr.Curtiz said in conclusion,"was an amazingly restless, ever-searching young man - pliable, absorbing, with a bounce like a rubber ball.

"In a way, I found he possessed much the same qualities which Gary Cooper and John Wayne showed when they first started in pictures - with one notable exception. "They capitalized, and still capitalize, on an element of awkwardness, while Elvis is agile and resilient, with a smoothness you'd expect only in a veteran."

What did Mike Curtiz (who discovered such top stars as Doris Day, Errol Flynn, Elenor Parker and Anne Blyth) think of the Elvis Presley who appeared in King Creole. "Audience and critics alike got a big surprise! This boy can act," Curtiz said with deep sartisfaction.

A correspondent for foreign newspapers agreed. "I went to a screening," he says."Frankly, I went to scoff...but I came away to praise! The boy's got something, far beyond a passing fad that intrigues teenagers. "You'll see: he's going to last!" Something else Elvis possesses is a keen sense of humour, coupled with great tact. Always polite to his fans, he sometimes creates such a spirit of genuine friendliness that the question become impertinent.

Source: Movieland and TV Times magazine January 1959
Anthony: I am hoping you can give me a little help. I have a Paramount Souvenir Program of Elvis's movie 'Girls Girls Girls'. It had been in a cupboard at my mothers home for about 40 years, (so she thinks). How much is it worth?
EIN: Elvis film "press books" are quite valuable and sought after. The Jerry Osborne Elvis memorabilia guide lists a mint condition copy of the Girls! Girls! Girls! pressbook at being worth around US$25.00 to $50.00. Recent prices for Elvis film pressbooks on ebay.com have been lower, averaging between $15.00 and $40.00.
---
---
Contact EIN
The EIN E-Alert is a free information service from the Elvis Information Network (EIN) for Elvis fans. If you do not wish to receive future editions of the EIN E-Alert simply reply to this message with REMOVE in the subject line
Quote:
"Elvis Presley is the supreme socio-cultural icon in the history of pop culture"
(Dr. Gary Enders)
---
Quote:
" Elvis is the 'glue' which holds our society together....which subconciously gives our world meaning"
(Anonymous)
---
Quote:
"Eventually everybody has to die, except Elvis"
(humorist Dave Barry)
---
Quote:
"He is the "Big Bang", and the universe he detonated is still expanding, the pieces are still flying"
(Greil Marcus, "Dead Elvis")
---
Quote:
"I think Elvis Presley will never be solved"
(Nick Tosches)
---
Quote:
"He was the most popular man that ever walked on this planet since Christ himself was here"
(Carl Perkins)
---
Quote:
"When I first heard Elvis' voice I just knew I wasn't going to work for anybody...hearing him for the first time was like busting out of jail"
(Bob Dylan)
---
Quote:
"When we were kids growing up in Liverpool, all we ever wanted was to be Elvis Presley"
(Sir Paul McCartney)
---
Quote:
"You can't say enough good things about Elvis. He was one of a kind"
(Johnny Cash)