Welcome to the "Elvis Information Network", home to the best news, reviews, interviews & articles about the King of Rock & Roll, Elvis Aaron Presley...
The latest on www.elvisinfonet.com:
Judge rules on "Red Elvis" Warhol painting (see earlier story & visual 26 June): Elvis left the building with the right owner, the Connecticut Supreme Court ruled in an opinion released Monday. A 1962 Andy Warhol silk screen featuring 36 identical images of Elvis Presley's face was at the center of a court battle in Connecticut.

"Red Elvis," a 6-foot-tall painting worth as much as $12 million.
Brant bought the painting seven years ago from Lindholm's art dealer, who was later convicted of stealing it. The high court ruled unanimously that Brant is the rightful owner of the art work.

Superior Court Judge Chase Rogers, now the state Supreme Court chief justice, ruled in 2005 that Brant made a reasonable effort to confirm that Swedish art dealer Anders Malmberg was authorized to sell the painting. The Supreme Court agreed, noting that Brant hired an attorney to conduct an investigation and insisted on a formal contract.

"We conclude that these steps were sufficient to conform to reasonable commercial standards for the sale of art work under the circumstances."
(News, Source: AP)
---
Breaking News:

Great Seats for EPE's Elvis Week Concerts To Be Released on July 5th (News, Source: EPE)
---
| | |
| --- | --- |
| "Connaissez-vous Elvis Presley?" book release in France: A French book with the title "Connaissez-vous Elvis Presley?" (Do You Know Elvis Presley) was released June 13. Sebastian Banchin (Autor of "Elvis Presley Ou La Revanche Du Sud") created a small biography to answer all short questions about Elvis' life. (News, Source: Elvis Club Berlin/Elvis News) | |
---
---
Elvis International presents 3 major events during Elvis Week 2007: HAVE YOU HEARD THE NEWS? There's Good Rockin' during Elvis Week '07. In celebration of Elvis 30th Anniversary, THREE MAJOR EVENTS will take place in Memphis.

Aug. 14th "Good Rockin' Tonite", Aug. 15th "Last Man Standing", Aug. 16th "Spirit of the King".

The legendary performers and friends who were with Elvis from the very beginning and throughout the years will all be there. It is well known among Elvis fans worldwide that since 1989 the Good Rockin' Tonite concerts have consistently been the most entertaining, most nostalgic and the most fun Elvis concerts in Memphis each year.

For more information about these THREE MAJOR EVENTS call 818 991-3892 or e-mail: elvisint@aol.com. (News, Source: Darwin Lamm)
---
Elvis collectors take note: Soundz Good Records presents the Collecting The King Memorabilia Show 2007 (formally at the Clarion Hotel Airport on Brooks Road) at our NEW LOCATION: The PEABODY HOTEL, 149 Union Avenue, in downtown Memphis, TN. (same location as the Good Rockin' Tonite concerts!). The event will take place in the Tennessee Exhibit Hall. AUGUST 11 through 16 (Saturday – Thursday). Daily Admission: $5.00 – 6 Day Pass: $15.00 (Special Collectors Preview: August 10, Friday Afternoon: 3 pm – 6 pm. Admission $25.00) Hours: Saturday & Sunday: 11 am to 7 pm / Monday – Thursday: 12 Noon to 8 pm.
The longest-running (14 years) collectibles show in Memphis during Elvis Week, the Collecting The King Memorabilia Show features nearly 100 dealer tables with thousands of rare and original, vintage Elvis memorabilia. BUY• SELL • TRADE: Records & CDs • Movie Posters • Vintage RCA Promotional Items • Books • Magazines • 1956 Memorabilia • Las Vegas Souvenirs • Collector Plates • Decanters • DVDs. Special Guests include Sonny West (Former "Memphis Mafia" member and book author "Elvis: Still Taking care Of Business") Sue Pichon (Book author "Elvis On Tour '75") Sue McCasland (Book author) Jeanne LeMay Dumas (Elvis' former secretary, friend and book author "Elvis, Linda & Me") Patrick Lacy (Book author "Elvis Decoded") and Jerry Osborne ("Presleyana VI – Elvis Presley Record and Memorabilia Price guide"). Weekly and daily dealer table rates available. If you're in Memphis for Elvis Week 2007, be sure and check out our new location…BIGGER and better than ever! For general or Dealer space information contact "Collecting The King" columnist Robert Alaniz at sndzgood@aol.com or visit www.collectingtheking.com. (News, Source: Collecting The King)
---
Do You Have An Elvis Week Blog?: Are you planning on letting the world know about your Elvis Week experience on your blog? We know some of you share the planning, the details about the trip to Memphis and then update your readers each night of Elvis Week when you return to your hotel room or after you return home from Elvis Week. If you are one of those faithful bloggers, we want to link to you. Please send the name of your blog and a link to it to elvisinsiders@elvis.com. Don't have a blog yet? Here is a site where you can create a blog for free. (News, Source: EPE)
Sony-BMG Australia releases in August 2007: Sony-BMG Australia has advised EIN it will be releasing three double album Elvis albums on 4 August 2007. They are:
| | | |
| --- | --- | --- |
| Viva Las Vegas (2CD) | The King (2CD, 52 track album) | Early Elvis (2CD, 25 track mid-price issue) |
---
New 30 album Elvis box set expected for release in December: We recently mentioned Sony-BMG was working on a new remastered Elvis box set. Sony BMG advises the set is scheduled to be released for the Christmas 2007 period. It will feature albums from across Elvis' long and varied career. (News, Source: Sony BMG)
---
---
"Tiger Man An Anthology Volume 7": A new volume in the An Alternate Anthology series. Volume 7 contains 26 tracks including alternate recordings from the 50's, 60's and 70's in the best possible sound. As always this compilation contains some hard to find tracks and of course we offer a nice compilation for listening pleasure. You surely enjoy this volume of Tiger Man.

TRACKS: 1. Blueberry Hill (alternate take 1 & 4); 2. Have I Told You Lately That I Love You (alternate take 14); 3. King Of The Whole Wide World (alternate take 7 & 8); 4. Mama (original extended master); 5. She's A Machine (undubbed master); 6. If I Can Dream (vocal overdub, false start take 1 - soundtrack session take 4); 7. Don't Cry Daddy (alternate mix); 8. My Little Friend (original album master for "Almost In Love"); 9. After Loving You (alternate mix); 10. Without Love (alternate mix); 11. Change Of Habit (undubbed alternate master); 12. Let Us Pray (alternate master); 13. What'd I Say (live version); 14. That's All Right (live version); 15. Snowbird (undubbed master); 16. Blue Suede Shoes (live version); 17. I'm Leavin' (unedited undubbed master); 18. He Is My Everything (unedited undubbed master); 19. There Is No God But God (unedited undubbed master); 20. The First Time Ever Is Saw Your Face; 21. What Now My Love (live, original mix); 22. I Got A Thing About You Baby (remixed version for "This Is Elvis"); 23. Promised Land (unedited take 5); 24. Fever (live version / August 30, 1974)*** ; 25. If You Love Me (Let Me Know) (June 2, 1975)***; 26. Portrait Of My Love (informal recording)

***new source/much better sound.

(News, Source: FECC)
---
"New magazine release in France: Released June 15, 2007 by the French Telerama television magazine is a special on Elvis entitled "Elvis - Dans La Pau".

This release is linked to a television special, CD and DVD releases and a rock and roll exhibition. The expo in the French Cartier Foundation (dedicated to modern art) is entitled "Rock n' Roll 1939 -1959". On display is rare memorabilia, photos, letters, original concert posters, jukeboxes, a 1953 caddy, the martin guitar Elvis used to record the sun session, Elvis Jacket from the Ed Sullivan show, and lot more of exceptional and very rare stuff.

The media coverage is heating up as the biggest and most popular French radio station RTL, has begin specials that will go on until the 16th of august. It is Elvis all the way: in the news report, and throughout the day on the RTL antenna. (News, Source: Telerama - Elvis Special 30th Anniversary /Elvis News)
---
| | |
| --- | --- |
| "My Way" vinyl release: Released on green vinyl is the 45 RPM single "My Way". It features a live version of "My Way" on the A side and a studio recording on the B side. Limited availability. (News, Source: Elvis Australia / Elvis News) | |
---
Ray Barracks opening to the public: For years, there have been rumours about plans to tear down the army base Ray Barracks in Germany. Visitors may remember that "filming or pictures" were strictly forbidden. Elvis fans were not welcome – at all. But times do change. For the first time in years, the Barracks will be open to the public… with a 4 week Elvis expo.

There's no charge, and as a bonus on weekends, a few 'small' events are scheduled at the former army base: music nights and get-togethers with Harley and Caddillac clubs, a Jazz and Oldie evening, a Vespa reunion and more.

The tour includes the famous barbershop, the chapel and the NCO Club where the German press conference was held. Open to visitors from the 15th of August until mid September. (News, Source: Elvis Matters)
---
Boots Randolph hospitalised: Not-so-good news from Nashville. Boots Randolph has been taken to the hospital in critical condition. Boots (80) was the first to ever play sax on recordings with Elvis, and the only one to ever play solo with him (you can hear the Master playing the ultimate sax solo on 'Reconsider Baby'), in addition to recording on the soundtracks for 8 of his movies. Boots also played on such diverse recordings as Roy Orbison's "Oh, Pretty Woman", Al Hirt's "Java", REO Speedwagon's "Little Queenie", and Brenda Lee's "Rockin' 'Round The Christmas Tree". In fact, he has a 30-year history of playing on records with her, including "I Want To Be Wanted" and "I'm Sorry". As a solo musician, he had a major hit with "Yakety Sax". An array of other artists who have added the Yakety Sax touch to their recordings include Chet Atkins, Buddy Holly, Floyd Cramer, Alabama, Johnny Cash, Richie Cole, Pete Fountain, Tommy Newsom and Doc Severinsen. His unique style of sax..coupled with tremendous popularity on Music City sessions in the sixties..automatically made Randolph a major player in creating the now-famous "Nashville Sound". (News, Source: Elvis Matters)
---
Leading Australian ETA offering free dowload: SHE IS THE KING has announced a FREE DOWNLOAD for 2 WEEKS ONLY of a new "SURPRISE TRACK" from her forthcoming album.

SHE IS THE KING said: "I wanted to give something back to all the amazing people who have shown their love & support. Their continued support is deeply appreciated."

The "SURPRISE TRACK" will be available to all very soon. Check website www.sheistheking.com & My Space www.myspace.com/sheistheking DAILY for FREE DOWNLOAD.

The 2ND SINGLE from the album - "EDGE OF REALITY" - will now be released in August to coincide with Elvis' 30th Anniversary. Album release date coming soon. (Almost Elvis, Source: She Is The King)

Updated Today: Almost Elvis


---
Congressman Steve Cohen and Sirius Satellite Radio to Celebrate the 3rd Anniversary of Elvis Radio: SIRIUS Satellite Radio (NASDAQ: SIRI) will celebrate the 3rd Anniversary of Elvis Radio with a special broadcast event hosted by Congressman Steve Cohen (TN-9). The channel launched exclusively on SIRIUS in July 2004 as the world's only all Elvis all-the-time radio station.

Congressman Cohen will guest host a special hour of his favorite Elvis records and share his thoughts on the impact of Elvis Presley on popular culture. He will also take a look at the influence the icon's music has had on Memphis, Shelby County, and the Tennessee-Mississippi-Arkansas tri-state communities.

Tune in July 1 beginning at 2 pm Eastern to hear SIRIUS Satellite Elvis Radio Third Anniversary Celebration LIVE From Graceland.

"Elvis was the most visible Memphian in the world. His musical contribution cannot be overstated," said Congressman Cohen. "He drew from his rural Mississippi roots and his experience in urban Memphis mixing together blues, gospel, and rockabilly into something new, something that survives and thrives to this day---Rock 'n' Roll. SIRIUS Elvis Radio ensures his legacy will never die."

At the end of the broadcast the Congressman, joined by Elvis Presley Enterprises CEO Jack Soden, will present a United States Congressional Proclamation declaring July 1st 'Elvis Radio Day' to life-long Elvis friend and SIRIUS Satellite Radio LIVE from Graceland host George Klein.

At 3 pm ET Elvis Radio DJs will host a special anniversary edition of the Elvis Radio Quiz Show broadcast live from Graceland Plaza in front of the SIRIUS studios. At 3:30 pm ET the DJs will also begin handing out the fourth in the series of five Elvis 30th Anniversary collector's buttons, "The '68 Comeback".

For additional programming information visit the Elvis Radio area of Sirius.com. (News, Source: EPE)
---
Elvis Cruise Introduces Limited-Time Special Offer!: Come join us in celebrating the music and life of Elvis Presley this Labor Day weekend aboard Carnival's "Fun Ship" Celebration, sailing out of Jacksonville, Florida. If you purchase your cruise now, you'll be able to take advantage of a special offer. This is the first time that an Elvis-themed cruise is a full-ship charter, and this is a new offer you won't believe! The whole ship will be filled with Elvis fans, friends and Elvis songs.

The Elvis Cruise is designed for the "true" Elvis fan. In honor of you who read these messages from Elvis Presley Enterprises, visit Elvis Web sites and make that sacred journey to Elvis' home, for a limited time, we are proud to offer you, loyal followers, a new "Graceland Special" for the upcoming cruise.

Cabins start with prices as low as $600 per person! To find out about your "Graceland Special" pricing, please call us at the cruise office 1.800.704.3034 or contact your local travel agent*.

The Elvis Cruise is the only EPE-licensed cruise that features special appearances by Elvis' closest friends and those he performed with. Each night will present a spectacular show, highlighting an era of Elvis' life: Memphis (the early years), Aloha (direct from Hawaii), Vegas (songs from the Strip), Gold (the "all hits" show) and a unique Sunday Gospel Hour.

This fun-filled, action-packed, four-night cruise connects Elvis enthusiasts and provides them with exclusive opportunities to interact with fellow fans and revered performers and friends in a festive cruise setting. All performances have been crafted by Elvis' Music Director Joe Guercio and are complete with special appearances by:

• The TCB Band with James Burton, Glen D. Hardin, Jerry Scheff and Ronnie Tutt
• The Jordanaires
• The Imperials along with Ronnie McDowell and Terry Mike Jeffrey & Band
• Ruby Wilson
• The Dempseys

The days and nights are filled with very special cruise activities, including autograph sessions with the musicians and hosts, Q&A seminars with stories from the stage, Elvis movies on the big screen, The Elvis Quiz Show with Sirius Satellite Radio, The Elvis Cruise T-shirt party with complimentary drinks, Elvis bingo hosted by Jerry Schilling and friends, karaoke events and more. If you like, you can even enter the onboard Passenger Elvis Tribute Artist Contest with $10,000 in prize money up for grabs!

The Elvis Cruise departs from Jacksonville, Fla., on Aug. 30, 2007, and returns on Sept. 3, 2007, with stops at the ports-of-call of Freeport and Nassau, The Bahamas.

Prices start at only $600 per person. Please call 1.800.704.3034, or contact your local travel agent and ask for the "Graceland Special." If you have purchased a cabin but would prefer the "Graceland Special" pricing, please call 1.800.704.3034 . (News, Source: EPE)
---
Chart update: In the UK Elvis is listed several times on the Music DVD chart.
18 (14) Elvis Presley - Elvis Lives (16 weeks)
19 (10) Elvis Presley - Legends In Concert (33 weeks)
24 (13) Elvis Presley - Tupelo's Own (2 weeks)

On the French Album Top 200 chart the "ELV1S 30#1 Hits" compilation dropped to #101 from last week's #71. On the Irish Top 75 album chart this release climbs from #71 to #51.

On the Swedish Music DVD Top 20 "Elvis - Love Me Tender" re-enters this week at #13 and has now charted for 20 weeks. (News, Source: Elvis News)
| | | |
| --- | --- | --- |
| Elvis 2007 CD releases update: Are you losing track of all the new Elvis releases in 2007? With over FIFTY new CD releases already announced, this 30th Anniversary year is enough to bankrupt even the richest Elvis fan. And an even larger number of Elvis books and DVDs are also being released before August 16th. It's enough to make one's head-spin. You can follow all the news with EIN's most comprehensive list of every new Elvis release in 2007 - See our Elvis New releases in 2007. (EIN Reference, Source: EIN, June 2007) | | |
---
"Adios Huntsville" CD: The "Audionics" label that released "Across The Country Vol. 2" containing the Huntsville, May 31st, 1975 Evening show earlier this year, will another outstanding new CD soon. It's titled "Adios Huntsville", and it contains the last of Elvis' five legendary Huntsville concerts from the May/June 1975 tour, as recorded from the soundboard on June 1st, 1975, 8:30 P.M. - no edits, the complete tape.

It was one of the the best shows of the tour, and a happy, humorous and good-voiced Elvis delivered excellent versions of songs like "The Wonder Of You", "Polk Salad Annie", "T.R.O.U.B.L.E.", "I Can't Stop Loving You", "I'll Remember You" and "An American Trilogy".
A first generation DAT copy of the original mono soundboard recording was used for this project. As the majority of die-hard fans know, none of the May / June 1975 tour soundboards were recorded in their entirety. This time, only "C. C. Rider" and "I Got A Woman" / "Amen" were not recorded. The producers added these tracks from another concert, as recorded from the soundboard in Dayton, OH, 06.10.'74 8:30 P.M. These two tracks were released previously, but here they appear in superior audio from an alternate source.
As you've come to expect from us, this CD is accompanied with a classy 16-page full color booklet containing liner notes as written by a renowned Elvis expert, who was lucky enough to be in the Huntsville crowd on that day. The majority of the photographs in the booklet were taken during the Huntsville, AL, June 1st, 1975 8:30 P.M. show, where Elvis wore the "Black Eagle" suit. Several additional photographs from the Huntsville, June 1st, 1975 2:30 P.M. concert and from the Dayton, OH, October 6th, 1974 8:30 P.M. show were added to "complete the picture".
As Elvis said: "I'd like to say something, can I raise my hand... we have had a fantastic time here in Huntsville... a little rough getting in and out of my hotel, but that's all right. But you've really been fantastic down here. If you want us back in Huntsville, just let us know, and we shall be back."
Now every fan will have the opportunity to return to Huntsville with the King again & again, for an unforgettable night of Elvis magic.
Tracks: 01. * C. C. Rider - 02. * I Got A Woman / Amen (medley) - 03. Monologue / Love Me - 04. Dialogue - 05. If You Love Me (Let Me Know) - 06. Love Me Tender - 07. All Shook Up - 08. (Let Me Be Your) Teddy Bear / Don't Be Cruel (medley) - 09. The Wonder Of You (with 3 false starts) - 10. Burning Love (2 false starts only) - 11. Polk Salad Annie - 12. Band Introductions - 13. Johnny B. Goode - 14. Drums Solo (by Ronnie Tutt) - 15. Bass Solo (Blues - by Jerry Scheff) - 16. Piano Solo (by Glen D. Hardin) - 17. School Day - 18. I Can't Stop Loving You - 19. T.R.O.U.B.L.E. - 20. I'll Remember You (incl. excerpt of "Alfie") - 21. Let Me Be There - 22. Why Me Lord - 23. An American Trilogy - 24. Funny How Time Slips Away - 25. Little Darlin' - 26. Monologue - 27. Can't Help Falling In Love - 28. Closing Vamp.
Approx. running time: 63:48 * denotes tracks recorded in Dayton, Ohio, October 06, 1974 8:30 P.M. show. (News, Source: FECC)
---
"Remembering Elvis" DVD (Australia): Here is the cover art of the Australian edition "Remembering Elvis" which has been released in Australia on the Force label (785349).

Synopsis: On July 5th, 1954, Elvis Presley stepped into tiny Sun Studios in Memphis, Tennessee and changed the world forever. Remembering Elvis pays tribute to the great man and his extraordinary place in our hearts. Vintage performance footage and archival television appearances are interwoven with never-before-seen photographs and press coverage of Elvis over the years, illustrating and illuminating the life of a legend with vivid detail, honest insight and great warmth. His career ups and downs, his kindness and generosity and his human frailties are all brought to light as well as a reflection on his place in entertainment history and his enduring legacy.

This DVD is formatted for playback on PAL enabled systems (Australian Standard). (News, Source: Ezy DVD/ Elvis News)
---
Artist to rebuild Elvis's Graceland in Tramway hall: Elvis has entered the building. An artist is to rebuild Graceland, the Memphis home of Elvis Presley, in the largest hall of the Tramway arts centre in Glasgow, and stage concerts inside it. Read full story (News, Source: The Herald -UK)
---
Vinnie Jones re-news wedding vows "Elvis" style: Ex-footballer/actor Vinnie Jones renewed his wedding vows to his wife of 13 years Tanya in an Elvis Presley style ceremony. Vinnie, famous for his scary and aggressive style of acting, expressed his love by hiring a white Cadillac to drive his wife to the Little White Chapel in Las Vegas, reports The Sun. The couple, who have been married since June 1994, renewed their vows at the 24-hour drive in chapel in Sin City. The actor, who has starred in films such as Gone In Sixty Seconds and Snatch, wore a purple suit with a big white buttonhole bloom for his Elvis-style ceremony. An Elvis imitator was also around to sing a few classics for the couple. (News, Source: Amber Smith)
---
Got a dog that looks like Elvis?: The Commercial Appeal newspaper is looking worldwide for people - and nonpeople - who look like Elvis. Men, women, children, animals, inanimate objects, even food items, are eligible.
Put on your best lop-sided Elvis smile and send us a photo or a video and we'll include it on our Web site and possibly publish it during Elvis Week. Include your name, if you wish, and where you live. Here are ways to get your photo or video to:
E-mail photo: flickr@commercialappeal.com.
Join the flickr group CA Elvis Lookalikes at http://www.flickr.com/groups/elvislookalikes/
Send us your video on YouTube; e-mail a link to webmaster@commercialappeal.com. For more information, call Peggy McKenzie at (901) 529-2341 or e- mail mckenziep@commercialappeal.com. (Odd Spot, Source: The Commercial Appeal)
"Riding With The King" update: Due to some confusion regarding the release of this DVD, EIN contacted the David Stanley organisation. We have been advised that the DVD will be released internationally on 15 August with the US release in October. The film has a running time of 94 minutes and the DVD includes special features.

Description: Sex, drugs and violence - they're all part of the job when you're working for The King of Rock and Roll. When you're 16: on the job training comes in ways that can't be taught in school. The shocking true story of David Stanley, stepbrother and bodyguard of Elvis Presley. Follow the dizzying highs and lows with unlimited excess, as he experienced it all…and barely survived! (News, Source: Impello Films)
---
"We've long been selling them for $50 each (to EW paid subscribers) and the normal $65 for non-subscribers.

Once these books go back to Norway, expect prices to go back up to a minimum of $65, or higher . . . so again, IF you've been wanting this book, but fiddling around waiting . . . NOW is the time!
---
"Elvis - The King" 2DVD release: Due for release on August 13, 2008 is the DVD set "Elvis The King". This 2 DVD is a slipcase edition of the single DVD versions of the "'68 Comeback" and "Aloha" specials. (News, Source: Elvis UK On-line /Elvis News)
Today in history: Elvis performed his last ever live concert at the Market Square Arena in Indianapolis, Indiana. Coincidentally, the show marked the Colonel's 68th birthday. For what was one of his finest performances in months, Elvis was on stage for 80 minutes before a sold-out crowd of more than 18,000 screaming fans. (News, Source: Elvis Day By Day, Peter Guralnick and Ernst Jorgensen/ All Shook Up Elvis Day-By-Day 1954-1977, Lee Cotten)
---
The Last Farewell: Elvis left Memphis in the afternoon and flew to Indianapolis, Indiana, arriving about 6.00pm. He was filmed by the CBS-TV crew as he left the Lisa Marie... The 8.30pm show at the Market Square Arena was Elvis' best of the tour, even though he was obviously very tired.

The next day's review by Rita Rose in the Indianapolis Star told the story, "And then he appeared, in a gold and white jumpsuit with white boots, bounding on stage with energy that was a relief to everyone. At 42, Elvis still has some excess baggage on his midsection, but it doesn't stop him from giving a performance in true Presley style....Just about everything he did created mass hysteria."

Lee Cotten reflects: During C.C. Rider, flashbulbs popped wildly and by the time he had segued into Amen, he had everyone clapping in unison...Toward the end of the show, he mesmerised the crowd with Hurt. He asked Vernon, who was looking frail, to come on stage to be introduced to the fans....Then, for the final time, he sang Can't Help Falling In Love. Even as the music faded, he wouldn't leave the stage. He walked back and forth, shaking his head in disbelief at the roar as more than 18,000 fans stomped and cheered. (Source: Did Elvis Sing In Your Hometown, Too?, Lee Cotten)
---
"Too Much" was literally too much!: If you enjoyed EIN's review of the excellent FTD book & CD release, Writing For The King, you are likely to also enjoy a little known book release from 2005. "Untold Gold The Stories Behind Elvis's #1 Hits" by Ace Collins was released by Chicago Review Press without a large amount of fanfare. It is one of those nice gems one stumbles across from time to time. The book examines the inside stories of some of Elvis' best-known songs. In the chapter on "Too Much" the author offers:
"Too Much" was not penned with Elvis in mind. In fact, in the early 1950's, when Lee Rosenberg and Bernard Weinman wrote the musical ode to a decidedly one-sided love affair, mainstream audiences were simply not ready for it.......This was a number that oozed a blatant kind of sexuality that mainstream white audiences - the people who watched The Adventures of Ozzie and Harriet - would not accept on their radios, record players, televisions, or in their homes. Remember, this was an era when even married couples still slept in separate twin beds in almost all Hollywood films and televsion series. Before Elvis came into the picture, "Too Much" was just that: too much!
How songwriter Lee Rosenberg managed to get Elvis to notice the little known song, which had been unsuccessfully released by two other singers since 1954, makes for fascinating reading, as do the stories behind another 33 Elvis hits. Buy Untold Gold from Amazon from $2.32! (Source: Untold Gold, Ace Collins)
---
"Faux Elvis" new book release: Published in the US on 20 June was this novel by Pat Cook. The book description reads:
"My brother's name was Jesse Garon." He paused, still afraid to open the Pandora's box of his secret. "My brother's name was Jesse Garon Presley... and my name is Elvis Presley." Kasey Costello, a young reporter fresh from journalism school and eager to prove herself, is sitting on the story any reporter experienced or rookie alike would sell his soul to tell to the world. Elvis Presley, the King of Rock and Roll, was still alive! Yet the affable and enigmatic man she has befriended wants to reveal himself to the world in his own way, in his own time. Will Kasey be able to keep his secret, or will her ambition to succeed drive her to make the scoop of a lifetime, even if it means betraying a man she has come to admire? (News, Source: ElvisBookResearch)
---
Elvis DVD releases in Australia - August 2007:

Elvis - 30th Anniversary DVD Collection (Ltd Edition box set)...This limited edition contains EIGHT classic Elvis titles: Roustabout, Fun in Acapulco, Girls! Girls! Girls!, Easy Come, Easy Go, G.I. Blues, Blue Hawaii, King Creole, and Paradise, Hawaiian Style. Release: 2/08

Also being released is the David Stanley film, Riding With Elvis. Release: mid August

Pre-order from EzyDVD:

Elvis 30th Anniversary DVD Collection $49.83 + p&p

Riding With Elvis $24.83 + p&p
---
TVLAND.COM Tribute: TVLand.com currently features a sneak peek at "Elvis Month" on TV Land, video excerpts from Elvis's Aloha from Hawaii special and a photo gallery of Elvis throughout his life. Users can also watch movie trailers from Presley's movies Speedway, Girl Happy and Live a Little, Love a Little, and clips from his TV specials and concerts. In the coming weeks, log on to play The Elvis Trivia Game. The site will also feature images of the statue, footage from the dedication and a blog from Ben Fong-Torres, a former editor for Rolling Stone magazine, as he shares his comments and special memories about the King of Rock 'n' Roll. TVLand.com will also offer excerpts from a radio interview conducted by former KPOI-FM's former DJ Tom Moffatt after Elvis returned from the Army. Finally, fans can watch interviews from the Academy of Television Arts and Sciences with producers who have worked with Elvis and chat with other Elvis fans on the site's message boards. (News, Source: EPE)
---
| | |
| --- | --- |
| "In de Ban van de King" book release: One of the new Books that have been released recently, is the Dutch biography "In de Ban van de King", written by Jan Geerling. Jan, a full proof Elvisfan, tells his own story: how it's like to be an Elvisfan in this 'modern world', and how he experienced his trip to Elvisland, USA. (News, Source: Elvis Matters) | |
---
"Welcome Home Elvis" 2DVD set: Due out in the UK on 2 July 2007. Exclusive TV performances to celebrate Elvis' return home plus a DVD of Elvis in Germany.

Discs 1: Elvis stars in television's 'The Frank Sinatra Show' in 1957 in which Elvis performs two songs solo and also shares a spot with Frank where they perform each others songs.. Frank with 'Love Me Tender' and Elvis 'Witchcraft'. The programme is filled out with performances from Frank's daughter Nancy, Sammy Davis Jnr, Peter Lawford and Joey Bishop (Rat Packers). This show was Elvis' reintroduction following his two years away in the army.

Disc 2: An intimate and compelling look into the Elvis years that are less well documented. It deals with his draft into the army just weeks after his mother's death and details his life over the two years he spent in Germany and of how he coped along with rare interviews from friends, both from the army and from entertainment, giving their account of how he fared. (News, Source: Play.com)
---
"Elvis The Blue Suede Shoes Collection" DVD box set: This 11 disc set is due for release in the UK on 13 August. Titles comprise:

This is Elvis: Special Edition
That's the Way It Is: Special Edition
Jailhouse Rock: Deluxe Edition
Viva Las Vegas: Deluxe Edition
Charro!
Girl Happy
Kissin' Cousins
Stay Away, Joe
Live a Little, Love a Little (News, Source: Play.com)
---
"Elvis Up Close and Personal" DVD/Book: Available now. This is the true story of the Godfather of Rock 'n' Roll, Elvis Presley himself, as told by the insiders who toured and recorded with the King!

Explode the myths though a combination of sensational performance footage from on stage and behind the camera on the Milton Berle and the Ed Sullivan Show. Intimate interviews with his backing groups the Jordanaires and The Stamps Quartet, tell the story behind the music. The tales from the tours come from confidantes to the King; Joe Esposito, the Road Manager and Sam Thompson, Bodyguard, with Joe Guercio, Elvis' Conductor/Musical Director and even Loanne Parker; Colonel Toms secretary and eventual wife. All augment a tender portrait of this flawed diamond, almost 30 years on from his tragic death.

The deluxe 72-page book features a biography of Elvis, with a track by track analysis of every studio album The King recorded, and is illustrated with many colour photographs from the early days to the Vegas era. (News, Source: Play.com)
---
"Red Elvis": The state Supreme Court has ruled in favor of a Greenwich man in a dispute over ownership of a piece of art known as "Red Elvis." Swedish heiress Kersten Lindholm of Greenwich had appealed a court ruling that declared newsprint magnate Peter Brant the rightful owner of "Red Elvis," a six-foot-tall painting that features 36 identical images of Elvis Presley's face.

Brant bought the painting from Lindholm's art dealer, who was later convicted of stealing it. The 1962 Andy Warhol silk screen is worth as much as $12 million. The high court ruled today that Brant is the rightful owner of the painting. (News, Source: Elvis News)

---
The Force: For what it's worth, this comes from the official Star Wars/The Force website: "We finally have the authorization to release more info on the ElvisTrooper Mini Bust and how you might be able to add it to you collection. This is a one of a kind Mini Bust made by Gentle Giant Ltd that will be exclusively up for a charity raffle at Star Wars Celebration IV.

For more detail on how the raffle works please stop by booth number 901 inside the exhibit hall of the LA convention Center. Proceeds go to help in the fight against cancer. It's a great cause and a great little collectable that someone will take home with them." (News, Source: Elvis Matters)
---
"Destination Vegas" DVD: To be released on August 13th in the UK to mark the 30th anniversary of the death of Elvis Presley, Wienerworld are proud to present a brand new in-house production: Elvis - Destination Vegas.

This unauthorised critical review uses previously unseen private footage of Elvis Presley, and classic original songs, to tell the story of the King of Rock 'n' Roll.

Using previously unseen and unknown private footage, we peel away from the facade of the formal camera to explore a defining, yet controversial chapter in Elvis' life, which not only stifled him, but also defined him as the superstar that he would forever be known.

Bonus features: Private and public conversations Elvis had around the Vegas years ; Elvis photo gallery

Running time is approx 80 minutes (main feature) (News, Source: Play/Elvis Express Radio)
Elvis designed cadillac for sale: Cadillac & Elvis lovers, here's your chance to buy a unique piece of history. Elvis's 1965 Cadillac is now for sale on eBay. According to the saller, this car was designed by Elvis himself. Special feaures are 14 karat gold plated exterior components, hand swirled gold leaf stripping by Bob Bond. Further more: 40 coats gold/pearl of essence lacquer paint, a machined formed gold E. P. hood ornament, interior upholstery concept by Dick Dean, guitar styled rear seat speakers and guitar styled sun visors.

Here's the description: "Finished in over 40 coats of of hand-rubbed Gold Pearlescent paint with specially designed gold interior by Elvis Presley himself.

This unique motorcar was designed and created by both Elvis Presley and the King of Customs himself, George Barris, who happened to be one of Elvis' closest friends. This great piece of motoring history has many unique features and is truly a one of a kind creation. Where there have been many cars that Elvis has owned, this is, in fact, the only car that Elvis Presley ever designed. This was, in its namesake, his Dream Car. It is the only opportunity to aquire what we believe to be one of the most important Elvis Presley memorabilias in history. This car was also licensed to Hot Wheels and the Mattel company, so a Hot Wheels miniature was produced and, in itself, is a collector's item. This motorcar was completed for the Elvis Presley Cosmetics Company by George Barris after Elvis Presley passed away. From there, it went on tour and soon became famous as one of the most well-recognized Elvis Presley cars of all times. With great pride and enthusiasm we offer this unique piece of history to the true collector, enthusiast or investor who appreciates this wonderful creation. This is an opportunity to own one of the world's most famous motorcars at an investment price." The starting bid is 119.000 $US. (News, Source: Elvis Matters)
---
| | |
| --- | --- |
| Essential Elvis 2DVD and Book Set: Here is the 2DVD / book package "Essential Elvis - The Ultimate Critical Review" which is due for release on September 17, 2007 from Edgehill. (News, Source: Play /Elvis News) | |
---
"Elvis Live" DVD:

Here is another Elvis live compilation. This DVD, entitled "Elvis Live", will be released by Stormbird on July23, 2007.

(News, Source:

Play/Elvis News)
---
---
Elton John's Elvis cover for charity: Singer Elton John's performance raised the highest amount of money in a charity karaoke, amounting to 110,000 pounds. Many singers came together at Ronnie Scott`s jazz club, to raise a total of 385,000 pounds for the Hoping Foundation, a charity that supports Palestinian children.

The guests at the event included model turned designer Kate Moss, comedy actor David Walliams and model/actress Elle Macpherson. The guest bid on their favourite singer to hear classics of their choice and the winning bidders had a chance to perform a duet with the singer or have a song dedicated to himself or herself.

Elton John sang Elvis Presley's hit 'Are You Lonesome Tonight?' for birthday girl Liz Hurley.

The Second highest bid of 70,000 pounds was for Australian musician Nick Cave`s version of Destiny`s Child`s 'Bootylicious'. Singer Bryan Adams raised 30,000 pounds for 'Rocking All Over The World' while Mick Jones raised 20,000 pounds for 'Should I Stay Or Should I Go'. (News, Source: zeenews.com)
---
Elvis expo in the Netherlands: The 30th anniversary year doesn't go by unnoticed. In The Netherlands, the famous "Museum RockArt Galerie" & ElvisMatters invite you to visit their own Elvis expo with 101 Elvis related items. As a bonus to the expo, the Dutch painter Marco Goudriaan presents a selection of his best Elvis paintings. The exposition opens on July 1st and closes on September 29th. Tickets are 3.50 euro.

Address: 42, Zekkenstraat, 'Hoek van Holland' (near the Industry Area, port numbers 902-907).

Info: Info: (0031) (0) 6 5151 2885 or info@rockart.nl

Opening hours: Thursday and Friday from 12 pm to 6 pm, and Saturday and each First Sunday of the month, from 1 to 5 pm (News, Source: Elvis Matters)
Marty Lacker responds to "Eminem is new Elvis" (see story yesterday): I read the remarks by Emeinem and Chuck D and it's a shame this rumor started a few years ago mainly by young black artists who have no idea what Elvis was about. The overwhelming majority of them weren't even born when Elvis started out in '54, some were not even born when he died.
Elvis did not use Little Richard, Chuck Berry or any other black artist back then. The fact is he knocked down the barriors for those artists to be accepted by white people, especially in the south.
Was Elvis influenced by black artists---absolutely. Just as he was also influenced by the country artists he listened to as a kid in Mississippi along with the black blues artists that he heard on the radio back then. He had no television. Elvis blended both influences and that's what formed his own singing style.
In an interview Ray Charles gave a year or so before he died, when he was doing a TV special with Travis Tritt. he was asked what he thought about Travis singing his (Ray's) music and singing it like Ray. Ray's answer was profound. he said, "Music has no color."
---
"Vote for online film "The King In Reading": We received this message from Claudette Flint about an interesting and thought provoking film. We hope fans appreciate the filmmaker's intent and support it:
I am a budding film maker. With Nina Hesse, a postgraduate film director we shot a documentary called THE KING IN READING. It is on Internet; please click on the site above. It is about a slightly disabled man saved by his love for Elvis music. He is an icon of Reading now and every one knows him. He does nothing but shows Elvis's records and photos to the passers-by. In this documentary he explains how Elvis music saved him from loneliness,drugs, alcohol and depression. With this documentary we have entered the competition for 3 Min Wonder on Channel 4 (everyday at 8:00pm after the news).

Because of the copyrights we are not allowed to have the music of the film on Internet. Consequently you have to make an effort to play in your head Love me Tender on the violin for the first minute and Shake Rattle and Roll as from the shot in the music shop! If we win, it'll go on TV we will pay for the music to be restaured. I'm going back to work to be able to pay for it! (£85 for every 30")

Please rate it and send it to your friends. We must stay on the first page to have a chance to win. If you like the film please rate it well. Thanks to all of you, Claudette Flint, Reading, England
---
Elvis CD in wooden box: Another very nice CD available in China and Hong Kong. It features 2 picture discs housed in a wooden CD box with a 12 page color booklet. An excellent collector's item.

(News, Source: H.T. Long)
---
Elvis - Inside Scoop: Today marks 30 years to the day since Elvis Presley flew into Madison for the last time, a visit that was less remarkable for the concert he gave at the Dane County Coliseum than for what happened when Elvis was en route to his hotel from the airport. Much has been written about Presley's last Madison stop -- he died just two months later -- but in the three decades since, one close witness has not gone on the record, until now.
Eric Schumacher, 52, today works at the Pyle Center for University of Wisconsin-Extension. Thirty years ago, Schumacher drove the limousine that carried Presley from the Four Lakes Aviation terminal to the Sheraton Hotel near the Coliseum. He also picked up Presley at the Coliseum after the show. Schumacher is a Madison native and a 1972 graduate of Madison Memorial High School. In June 1977 he was working for Checker Cab, which owned one limousine.
"It was a 1964 Cadillac," Schumacher was recalling this week.
Checker Cab was in a sense a forerunner of today's Union Cab. In 1978, many Checker drivers walked off the job in a dispute with management. Checker shut down in January 1979, and a short time later the former drivers formed Union Cab. Schumacher was 22 and a night dispatcher for Checker when he learned the company had been contacted to transport Presley, who would be coming to Madison after a June 23 concert in Des Moines, Iowa. Originally, Schumacher says, the Checker manager assigned himself to drive Presley from the airport and to and from his performance. As it turned out, the manager could handle only one of those duties -- he drove the singer from the Sheraton to the Coliseum. A couple of days before Presley's visit, the manager told Schumacher that he -- Schumacher -- would be picking up Elvis at the airport and also after the concert. Schumacher was excited on receiving the news: "I thought it was really cool."
On the night he was to pick up Presley, Schumacher brought along and put under the seat several Presley singles in hopes the "King" might sign the picture sleeves. With Schumacher in the limousine was Madison police detective Thomas J. McCarthy, who was off duty but had been hired by Madison promoter Herb Frank to provide security for Presley.
Schumacher recalls the plane being late. "I had the limo right out on the tarmac," he said. A large crowd of Elvis fans had gathered behind a fence next to the runway. The plane landed around midnight. Schumacher said he stayed in the limo and watched as several people got out of the plane. Then there was a shriek from the crowd as Presley appeared.
"He was carrying a tumbler and appeared a bit unsteady," Schumacher said.
Schumacher recalled Elvis and several other people getting into the back of the limo. McCarthy sat up front. Schumacher said one of the others in the back of the limo was Elvis' father, Vernon Presley. (In an interview a few years ago, McCarthy told me the same, adding that Elvis' girlfriend, Elvis' father's girlfriend and another security guard also were in the car.)
"Nobody was talking much," Schumacher said. "I was driving along Highway 51, and several cars followed us from the airport. They were trying to get a look inside the limo, which you can't do."
Schumacher stopped for a red light where Highway 51 -- Stoughton Road -- intersects East Washington Avenue. It would become a famous stop, because while people can't see in a limo, the passengers can see out, and Elvis had spotted what he thought was an altercation at the Skylane Standard Station at 1506 N. Stoughton Road.
"It looked like the attendant was trying to get a reading on the meter to close the station," Schumacher said. "Another guy, who I think wanted to buy gas, was arguing with him." (The attendant was La Follette High School junior Keith Lowry, whose father owned the station.)
McCarthy recalled that there were two men arguing with the attendant. "They started shoving," Schumacher said. Suddenly Elvis declared: "I can't let that happen."
"You're not getting out of the car," McCarthy told Elvis.
"That isn't right," Elvis replied.
The stoplight turned green, and McCarthy turned to Schumacher and ordered, "Drive!" Schumacher started off, but he recalls Presley saying, "Hold up there, boy!" What do you do when the King of Rock and Roll gives you an order? Schumacher stopped the limo. Presley hopped out, with his security in pursuit. Schumacher stayed in the car, and recalls the scene as a bit surreal. "I remember wondering why he was getting involved."
As one might guess, Presley's appearance broke up the altercation. The gas station episode passed into legend when a young State Journal reporter named Tom Still got tipped and reported it on the front page. Back in the limousine, Elvis laughed and said, "Did you see the looks on their faces?"
Schumacher dropped off the singer and his entourage at a side entrance to the Sheraton. He never did get his record sleeves signed. Less than 24 hours later, Schumacher and his Checker limo were waiting at the Coliseum when Presley's concert ended. It was a quick ride to the Sheraton.
"He was wiping his face with a white hand towel that he left on the seat," Schumacher said. "I kept it for a few years, but I don't know what happened to it."
Thirty years later, does the driver remember anything else about his brush with a legend? "He didn't tip." (News, Source: Doug Moe, The Capital News)
---
Elvis lookalike saved by trademark quiff...but charged with selling illegal firearms: An Elvis lookalike gun dealer was saved by his trademark quiff when he was shot in the head, a jury heard. Michael Shepherd, aged 56, was hit when a gun went off by accident as he combed his hair, the Old Bailey heard yesterday. The carpenter, who has worked in Greenwich for 35 years, was leaving a Plumstead gun shop when he was hit.
He said: "The owner was showing another customer a gun as I was leaving the shop. "The gunshot went through my hand as I swept over my hair."
Shepherd, who is nicknamed Elvis because of his obsession with The King, is alleged to have sold illegal pistols to two undercover police officers in a sting operation. Prosecutors say Shepherd was caught red-handed after he started advertising on a website. They claim two undercover detectives were sent to call at his house and he agreed to sell them pistols.
Officers seized a cache of around 900 firearms from Shepherd's house in Wentworth Drive, Dartford, on September 13 last year. Of these, only two are now under scrutiny by the prosecution - an 1887 shot pistol and a Montenegran Gasser. Shepherd, a registered gun dealer with Kent police, said the shot pistol was for Tiger shooting in India and the Gasser was given to him by a Kent police sergeant, Mike Spencer, before he moved to Devon.
He blamed a stash of illegal weapons found at his mother's home on his son Clint, who is already behind bars for firearms offences. Shepherd is accused of conspiracy to possess firearms with intent to cause fear of violence, seven counts of selling or transferring a prohibited weapon and five counts of possessing a prohibited weapon. He denies the 13 charges. The trial continues. (Odd Spot, Source: thisishertfordshire.co.uk)
"Elvis Thru The Years" DVD: This DVD in will be issued by Legend on 14 August 2007 in the US. No description of the content has been provided except that it is in full color. The disc has a running time of 76 minutes and the ASIN is BOOOQ7ZKZW. (News, Source: Amazon)
---
"Elvis" DVD: Another new DVD release in the US, also due out in mid August. More details as they become available. From First Look Pictures it has a running time of 171 minutes. (News, Source: Amazon)
---
Rapper says Eminem is the new Elvis: Public Enemy rapper Chuck D has labelled controversial star Eminem as the new Elvis Presley.The outspoken rap star says there are a lot of similarities between the rapper and the King.He explains, "People say the same thing about Eminem that they said 40 years ago about another white kid whose name began with an 'E' and who had a lot of talent and style.""Elvis was legit, and I think Eminem is legit. Eminem is accepted by the black audience."But although Chuck D is impressed with Eminem, he admits his comparison to Elvis doesn't necessarily mean he likes him. He says, "Elvis never meant s**t to me, but still he was legit. He was a talent. He never meant s**t to me because he used a long line of black cats, like Little Richard and Chuck Berry, that, to me, had more talent than he did." (News, Source: dotmusic.com)
---
Chart Update: The U.S. Billboard Elvis Chart listings for the week ending June 30, 2007.

Top Country Catalog Albums - Ultimate Gospel - up 3 to #10
Top Country Catalog Albums - Elvis 30 #1 Hits - up 5 to #11
Hot Singles Sales - Heartbreak Hotel - up 3 to #41
Top Music Video - Elvis Lives - 25th Anniversary Concert - remains at #10
Top Comprehensive Music Video - 25th Anniversary Concert - down 1 to #11
Top Music Video - Elvis: 68 Comeback Special - up 11 to #18
Top Comprehensive Music Video - Elvis: 68 Comeback Special - up 10 to #19
Top Music Video - Elvis: Aloha from Hawaii - up 5 to #21
Top Comprehensive Music Video - Elvis: Aloha from Hawaii - up 4 to #22

No new entries, no re-entries and no releases drop off the charts this week. (News, Source: Elvis International Fan Club /Elvis News)
New Elvis art work unveiled: Entering his tenth year as a licensed Harley-Davidson artist, David Uhl's body of work continues to capture the imagination of art lovers around the globe. His artwork is displayed throughout the world in museums and galleries and has also been sought by serious art collectors and celebrities alike. He has been featured on several television programs and has been referred to as "The Norman Rockwell of Harley-Davidson artists".

David Uhl's latest work "In Tune" represents Elvis Presley kicked back, enjoying a glorious Memphis spring morning. This piece of work captures Elvis outside his new home Graceland, tuning his original Gibson J200,(before it's re-configuration). Behind him stands another embodied passion, the legendary 1957 Harley-Davidson® Panhead. Without a doubt he is experiencing first hand all the the early fruits of his impending mega success.

This is the first depiction combining two of America's most important icons in one painting. Endorsed by both Harley-Davidson, Inc. and Elvis Presley Enterprises, the historical magnitude of this project suggests that a series of limited edition reproductions be created. In order to accommodate the immense potential interest generated by this image, the following edition specifications will be offered. Read more (News, Source: EPE)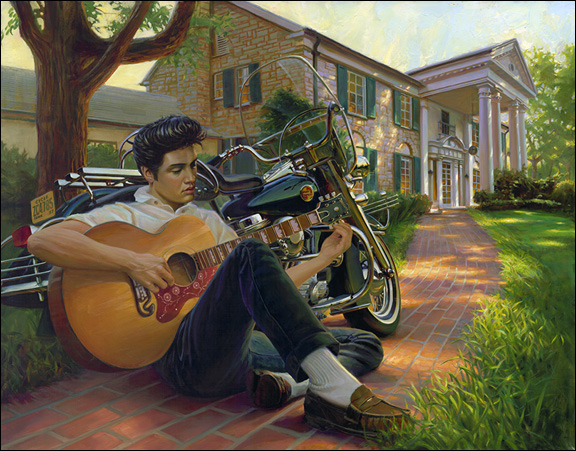 Where have all the Elvis fans gone? - your feedback: The response to our story yesterday has been overwhelming.
---
Elvis statue to be unveiled at Blaisdell Center in Hawai'i: A life-sized bronze statue of Elvis Presley, appearing in his famous beaded and studded costume he wore in a historic 1973 concert from Hawaii, will be installed at the Neal Blaisdell Center at 10 a.m. July 26. The public may attend.
"With a great deal of affection, we're very excited to pay tribute to Elvis and that great event that was seen by 1.5 billion around the world," said Rob Pellizzi, senior vice president of marketing for TV Land, a cable channel devoted to classic and iconic TV programming. The widely-viewed program, "Elvis: Aloha From Hawaii," was the first musical event beamed around the globe by satellite, reaching viewers in 40 countries, with an audience share of 51 in the U.S.
The soundtrack album rocketed to No. 1 on the Billboard charts and earned a five-time platinum award for sales of more than 5 million. Since then, a DVD version also has become a keepsake. "The connection with Elvis always has been remarkable worldwide," Pellizzi said. "In the Philippines, 92 percent of viewers watched; 70 percent in Hong Kong." The statue installation and unveiling are keyed to the 30th anniversary of Presley's death on Aug. 16, 1977, at age 42. The Honolulu concert — a TV "milestone" — is the reason Hawai'i was selected to remember the rock music icon.
Mayor Mufi Hannemann and entrepreneur Tom Moffatt are among Honolulu dignitaries who will participate in the statue unveiling. Larry W. Jones, TV Land president, also will be on hand. (News, Source: Wayne Harada, The Advertiser)
---
MALCO'S ELVIS® FILM FESTIVAL HOSTS WORLD PREMIERE SHOWINGS: The King of Rock 'n' Roll is returning to the silver screen for the 2007 Elvis Film Festival with special world premiere DVD showings of "Girl Happy", "Charro!", "Speedway" and "Live a Little, Love a Little".

The annual festival, in its 4th year, is scheduled for Wednesday, August 15, 2007 during Elvis Week® at Malco's Studio on the Square in Midtown Memphis. The films, including a special showing of the newly re-mastered classic, Jailhouse Rock®, were chosen for the festival as part of the August launch of new Elvis movie DVD releases from Warner Home Entertainment.

The Elvis Film Festival is one of many events officially sanctioned by Elvis Presley Enterprises, Inc. for this year's 30th anniversary edition of Elvis Week in August. For complete Elvis Week event information, visit www.ElvisWeek.com.

Tickets for the event are $5.00 each, with proceeds benefiting the Elvis Presley Endowed Scholarship Fund at the University of Memphis. Advance tickets can be purchased at the theatre box office and online at www.malco.com.

Film Schedule: Jailhouse Rock® 10:00am.........Charro! 12:00pm, 4:20pm.......Girl Happy 10:15am, 2:30pm
Speedway 12:15pm, 4:30pm.......Live a Little, Love a Little 2:15pm (News, Source: EPE)
---
Elvis The Dutch Collection: Last week we already indicated the cover picture for the Dutch compilation CD "Essential Elvis - The Dutch Collection". We had hoped that at least the cover would be somewhat more 'dynamic' instead of this over-and-over recycled Essential picture. Also, many fans find the list of songs to choose from too limited.

Important "fan favorites" such as Loving Arms, Johnny B. Goode, It's midnight, Pieces of my Life, It's easy for You, For Old Time Sake, How the Web was woven, Long Black Limousine, ... are not on the list of titles. Let's wait and see if this Dutch version of another Greatest Hits will be another hit in the stores. (News, Source: Elvis Matters)
---
| | |
| --- | --- |
| Reese's Elvis collector's box: Here is a picture of the new Reese's King Size Big Cup collectors box. (News, Source: Elvis Express Radio) | |
BMG back catalog releases - new 30 album box set: While EIN thought it was supposed to still be under wraps, Amazon has added pre-order listings for around 30 back catalog albums. The titles include: Elvis Presley; Elvis; Loving You; King Creole, Elvis Is Back; G.I. Blues, Blue Hawaii, Something For Everybody, Pot Luck With Elvis; His Hand In Mine; How Great Thou Art; He Touched Me; Elvis' Christmas Album; Wonderful World of Christmas; Elvis That's The Way It Is; Elvis' Gold Records Volume 1,2,3 & 4; '68 Comeback Special; In Person; Back In Memphis; Madison Square Garden; Aloha From Hawaii; Elvis Recorded Live On Stage In Memphis; Raised On Rock; and Moody Blue. Release date is next week!

It appears the listings are part of The Original Elvis Presley Collection, a 30 album box set which has been in the works for the past few months. More details shortly. (News, Source: Amazon/BMG/EIN)
---
"In 1970 Elvis once brought me to see President Nixon. Actually, I was in a whole different room. But I knew if Elvis said I'd meet the man, he'd do it somehow.
"A few seconds later the phone rings. The guard turns and says, 'Come on, you're going to meet the president.'"
---
| | |
| --- | --- |
| | "A New Command Performance" released: The album contains 26 "rare" live performances (all previously released). (News, Source: FECC) |
---
Warner Bros retracts offensive Elvis ad campaign (see original story & visual yesterday): By request of ElvisMatters, Warner Bros Holland has decided to remove the offensive pre-campaign for the Summer DVD releases. In that campaign, Elvis was called only "the third best rock 'n' roll artist" in the world, with only 1.3 million records sold, and a drugs addict ("with traces of 10 different drugs in his blood, at the authopsy"). According to the Product Manager, WB has the highest respect for Elvis and the company supports the releases 100%. Case closed, as far as we're concerned…(News, Source: Elvis Matters)
---
Dale Jr. to host Elvis Week fans: What could be more natural than Junior and the King? That's NASCAR star Dale Earnhardt Jr. hosting a night of Elvis Presley movies at Graceland during this year's Elvis Week.
"Riding With Elvis" DVD release: It appears plans for a theatrical release of David Stanley's film, "The Headhunter", have fallen through.

With a new title, "Riding With Elvis", the film starring Peter Dobson as The King and Matt Barr as David Stanley, is scheduled for release on DVD in the US on 15 August 2007. (News, Source: Evan Mueller, FECC)

"He protected The King from everyone. But no one could protect The King from Himself."

Visit The Headhunter site
---
"Closing Night" released: The latest Madison album has been released. For track details and cover artwork see story dated 16 June 2007
---
"Remembering Elvis 30 Years Later" new book from LIFE: LIFE magazine releases its latest hardcover Elvis book on 24 July 2007 in the US. 144 pages; ISBN-13: 9781933821863/ISBN: 1933821868.

The book is an expanded edition of LIFE's earlier Elvis book with never before seen photos. (News, Source: ElvisBookResearch)

Pre-order from Amazon
---
| | |
| --- | --- |
| Update on UK singles set release: Elvis is set to re-write chart history in Britain. (News, Source: Elvis Express) | |
---
EC fan club irate over DVD advertising: Warner Bros is releasing 7 'remastered' DVDs on August 7th (Kissin' Cousins, Charro, Jailhouse Rock, Stay Away Joe, Live A Little Love A Little, Girl Happy and the 2-DVD THIS IS ELVIS). This week, WB kicked off the Summer campaign, with an extensive mailing. Much to our surprise, we found the campaign to be in very poor taste.

Elvis is introduced to the readers of the campaign as "the third greatest Rock 'n Roll artist of all time" (quoting Rolling Stone Magazine), and there's more: Elvis sold over 1.3 BILLION records, so why does WB limit it to 1.3 MILLION?

And finally, this one is outrageous: "during the autopsy, 10 different drugs were found in his blood." We requested an immediate removal of this untrue and misguiding information. (News, Source: Elvis Matters)


---
Robert Gordon to release "Elvis" CD: Robert Gordon, known from the Rockabilly song 'Red Hot' has recorded with guitar player Chris Spedding (Roxy Music) and Elvis' own Jordanaires a CD with the title 'It's Now Or Never'. The disc contains 15 known and not so well known Elvis songs. The release is set for July 31. (News, Source: Elvis Matters)
---
Elvis CD give away in Netherlands: The Dutch Elvis For Everyone fanclub will give a free Elvis cd to all visitors of the Elvis Presley fanclub day at the DES GEBOUW (Albert Steenbergenstraat 44) in Hoogeveen, The Netherlands, June 23, 2007.

The cd will be limited to 300 copies only and will contain 13 Elvis songs! The tracklisting is the same as the original UK release from 1957, except for the bonus track: an alternate take of Old Shep.

A nice give a way and true collectors item to all visitors.

There will be Elvis stands/shops with cd's/dvd's/vinyl/collectors items/souvenirs/photos and more! Elvis on big screen! Live performances on stage! Performances by Mike Mendel and a new singing sensation Priscilla... And much more! Tickets: 10 Euro (including free beverage and Elvis CD!)

You can pre-order the cd from this website. First come, first serve. Orders will be definitive confirmed after June 23, 2007. For more information or orders: elvisforeveryone@zonnet.nl or http://www.elvismagazine.eu/nieuwsa.htm (News, Source: EP Gold)

No FTD Sun Book/CD in 2007 - other FTD news: Finally, it appears FTD is starting to get more strategic in its information dissemination policy. EIN argue

Andylon Lensen talked personally to Ernst Jorgensen last week Friday and explained why the tracking list for the FTD "Raised On Rock" & "Easy Come, Easy Go" will be announced on the release date July 1, 2007.

We recieved in the past hundreds of e-mails, many times because of rumors were spread or fabricated. We got tired of this, not to mention answering them if I had time - I mean lost time. And in the future it will be our policy to continue this with albums that are known by fans as the concept is crystal clear.

On the regular Ftd " I Sing All Kind" - this is such a "Special" release, this needed detailed information upfront for the fans.
The "Sun Project" well Andylon, I wish I could say; This will be a Christmas release for 2007, but I am afraid this will not happen.

There is so much work I am focused on the last couple of weeks with the 30th Annv and next to that, I also have a lot of time spent now on the in-house for SONY/BMG... many things seems to change in the future for the music industry.

On the Sun... I really need like 8 weeks spending solely writing and being day and night focused without being distracted to finish this project.

But I can say you this; It's people like you and many,many others who helped me with rare/unpublished photo's and other information with this project, when it is finished it will be mind blowing...

Gotta go Andylon, talk to you later...(News, Source: EP Gold)
---
Two editions of "Viva Las Vegas": "Viva Las Vegas" is being released in 2 different formats at the end of July. In the US/ Canada/ Latin America as a 1 CD compilation on July 31st, and a 2CD special edition in the rest of the world on July 30th.

There is going to be a TV documentary made, and once there is confirmation of where and when it will be placed, we will schedule a regular single CD version for the rest of the world to market on the back of that show. It is already slated for broadcast in the US in September, hence the dual strategy.

In the meantime the decision has been made that for most international markets we will release the 2CD deluxe version now, which is more of a fan based release as the concentration for mass market will be on The Essential/ The King 2CD hits set.


Tracks CD 2: 1) Blue Suede Shoes 2) I Got A Woman 3) All Shook Up 4) Love Me Tender 5) Jailhouse Rock/ Don't Be Cruel 6) Heartbreak Hotel 7) Hound Dog 8) Memories 9) Mystery Train/ Tiger Man 10) Monologue/ Lifestory 11) Baby What You Want Me To Do 12) Runaway 13) Are You Lonesome Tonight?
14) Yesterday/ Hey Jude 15) Introductions 16) In The Ghetto 17) Suspicious Minds 18) What'd I Say 19) Can't Help Falling In Love

A previously unreleased Elvis concert-recorded in Las Vegas, August 1969 (date not yet given). (News, Source: www.essentialelvis.com / www.epgold.com)
---
Reprint of "Elvis In Paris": In July-August the wonderful Jean Marie Pouzenc book Elvis à Paris/Elvis In Paris will be reissued.

The reissue will be launched at the Prince De Galles Hotel in Paris.

The book includes a new front cover and recently new discovered beautiful pictures of Elvis in Paris in 1959 have also been added. This book will be in French and in English. For more info contact: boutique@elvismyhappiness.com (News, Source: Elvis My Happiness)
---
Chart update: On the Official UK Music DVD Chart, "Elvis Presley - Legends In Concert - The Early Years" dropped two places to #10 this week. (News, Source: BBC)
---
"The Spirit Of Sin City" CD: Here is the press release on the new Czech Memory Records label release "The Spirit Of Sin City" which contains the August 13, 1972 Dinner Show as recorded from the audience in Las Vegas.

Word from producers: The forthcoming "Memory Records" label CD release is entitled "The Spirit Of Sin City". Over the 8 years that Elvis played stints in Las Vegas, his view of these engagements changed noticeably. His initial enthusiasm, so evident in 1969-70, developed into solid concert routines thru 1971-73.
In August 1974 the boredom began to set. In 1975-76 Elvis had been heard often to say: "I hate Las Vegas". This sentence unfortunately summarizes all the missed artistic opportunity of Elvis' last years. He called Las Vegas "The Sin City". This CD presents Elvis at his very best during that Summer of '72. Taken from a high quality audience recorded tape, this August 13th recording shows the unbelievable versatility and vocal ability of this 37 year old singer. After an energetic opening with three fast songs in row, the pace slows to include ballads like "Until It's Time For You To Go" and "You've Lost That Loving Feeling" which is performed just as well as in the 1970 "That's The Way It Is" movie. "For The Good Times" is one of Elvis' most "personal songs" and he always performs it well, this show is no exception. Another highlight of this concert is "My Way".

Several bonus tracks taken from the August 26, 1972 dinner show was added. None of these tracks were performed in the main concert presented on this CD. We hope that Elvis fans will catch a glimpse of Elvis Presley in August 1972 from this CD not only as the world's biggest star but also in the REAL performing spirit of Las Vegas, with the intensity of the spirit of both the loved and hated Sin City.

All these recordings were taken from early generation copies of the original master tapes recorded by members of the audience. All tracks were digitally restored in June and July 2006 for your best possible listening pleasure. All accompanying photographs were taken during August 1972 Las Vegas engagement.

Tracks: 01. Also Sprach Zarathustra - 02. C.C. Rider - 03. I Got A Woman /Amen (medley) - 04. Proud Mary - 05. Until It's Time For You To Go - 06. You've Lost That Loving Feeling - 07. Polk Salad Annie- 08. Monologue - 09. What Now My Love (with false start) - 10. Fever - 11. Love Me - 12. Blue Suede Shoes - 13. One Night (incomplete) - 14. All Shook Up (with 2 false starts) - 15. Heartbreak Hotel - 16. Teddy Bear / Don't Be Cruel (medley) - 17. Hound Dog (incl. excerpt of "Ave Maria") - 18. For The Good Times - 19. Suspicious Minds - 20. Band Introductions - 21. My Way - 22. An American Trilogy - 23. A Big Hunk Of Love - 24. Can't Help Falling In Love - 25. Closing Vamp.

Bonus tracks (recorded in Las Vegas, August 26, 1972, Dinner show): 26. Johnny B. Goode - 27. I'll Remember You - 28. Little Sister / Get Back (medley) - 29. You Gave Me A Mountain - 30. Mystery Train / Tiger Man (medley). Approx. running time: 73:06 (News, Source: Pavel Cernocky, Memory Records)
The YouTube Elvis Police Clampdown!

'EIN's Best of Elvis on YouTube' Weekly Update: Don't say we didn't warn you! Last week hundreds of Elvis clips were removed from YouTube by Warner, as well as Praytome publishing. As EIN always says "Catch them now before the Internet police take them away!" This week we have added the fabulous Japanese TV pre-concert footage of Aloha, as well as wonderful candid film of Elvis at Graceland. We have the fabulous fun of the 'Born To Rock' remix, a marvellous 'Teddy Bear' plus 1972 Greensboro material, along with Elvis' Atlanta December 1976 concert. With still over 180 clips of Elvis on EIN, what more could you want? ('EIN's Elvis on YouTube', Source: EIN/YouTube)
Elvis At The Forum" CD: Here is the definitive cover art of the import release "Elvis At The Forum" containing the unreleased afternoon concert of Elvis from May 11th, 1974 at Forum Of Inglewood, Los Angeles, CA. The CD comes with a 20 pages booklet and is due for release any day.

Track listing: Also Sprach Zarathustra - See See Rider - I Got A Woman/Amen - Love Me - Trying To Get To You - All Shook Up - Teddy Bear/ Don't Be Cruel - Love Me Tender - You Can Have Her - Steamroller Blues - Hound Dog – Fever - Polk Salad Annie - Why Me, Lord? - Suspicious Minds - Introductions - I can't Stop Loving You - Help Me - An American Trilogy - Let Me Be There (reprise) - Funny How Time Slips Away - Big Boss Man - Can't Help Falling In Love - Closing Vamp – Announcer: Elvis has left the Building - Souvenir Announcement (News, Source: Elvis News)
---
Elvis items sell at auction: Fans of Elvis Presley had their chance to bid on a gold-plated gun the rock icon owned as well as a microphone and a prescription pill bottle that held an antihistamine and decongestant drug at the annual Julien's Summer Auction in Beverly Hills. Elvis still pulls in top dollar at auctions as his firearm sold for US$28,800, the microphone went for $15,000 and his empty prescription pill bottle brought in $2,640.
While Elvis is considered "The King of Rock," Marilyn Monroe enthusiasts proved they were still ready to shell out the bucks for anything touched by the blonde bombshell. An umbrella Monroe used in a 1949 beachside photo shoot sold for $42,000. (News, Source: TransWorld News)
---
Russian DVD releases: Released in Russia on April 30, 2007 is the remastered single disc edition of the "'68 Comeback" Special". Released one month earlier, on March 23, 2007, is the remastered "Aloha From Hawaii" special. The "Elvis Lives" DVD appears to have been bootlegged in Russia. Also available is a 2 DVD set entitled "The Beginning" which comes in a good looking package. (News, Source: Elvis In Russia/Elvis News)
---
"The King The Musical" heading to Belgium: The highly acclaimed English musical "The King – The Musical" is coming to Belgium! This show was procclaimed "The Best Musical of London's West-End". With over 75 (excerpts of) songs, this smashing show with three different lead performers is a must-see for every fan. The musical also tours in France, with a stop in – among others – the prestigious 'Palais du Congrès'. And on October 23rd, 24th, 25th, 26th, this show comes to Belgium! All information will be available in the next ElvisMatters Magazine (September 1st) or keep a close watch on this site! There are no shows planned in The Netherlands.

Tickets are available via www.ticketnet.be:

October 23: Royal Circus Brussels (81, Onderrichtstraat) – 8 pm

October 24: Royal Circus Brussels (81, Onderrichtstraat) – 8 pm

October 25: The Forum Luik – 8 pm

October 26: Palace of beautiful Art – 8 pm

Media sponsoring by La Dernière Heure, RTL, RTl-TVi

External partners: ElvisMatters – Elvis My Happiness
---
---
Elvis returning home for 30th anniversary: (MUSICMAN PRESS) Legendary recording superstar, Elvis Presley was returned back to Earth, last night about 2:46 am . Presley was taken captive, in 1977 AD, by living organisms from another solar system. At the time Elvis was taken, Mrs. Presley was told to stay silent and tell the press that Elvis died- a story mainstream America bought for thirty years.

Sources close to the Presley family say he won't make any pubic appearances for at least a week. Elvis' memory was severely altered while outside of Earth. The family has hired a team of doctors and psychologists to treat the icon and rehabilitate him into the life he would have had, had he not been taken.

Currently Sun, Capital, Swingtime, and Atlantic Recording Company, as well as many other companies are looking to interest Presley in a contract.

In a related story, President Bush wants to find the aliens responsible for Elvis' capture. He told reporters today he believes the aliens are in Iran . "That's where we should go next! Them aliens capteared a really great man. Let's bring justice to them! Freedom for Iran!" (Spoof, Source: THE MUSICMAN; TheSpoof.com)
"Viva Las Vegas" track listing: According to RCA's product sheet, this release will only be a single disc with what appears to be all previously released tracks. The second disc, that was to have contained an unreleased 1969 show from Vegas, is not included. The USA street date is 31 JUL 07. The track listing is: VIVA LAS VEGAS; C C RIDER; THE WONDER OF YOU; POLK SALAD ANNIE; RELEASE ME; LET IT BE ME; I JUST CAN'T HELP BELIEVIN'; WALK A MILE IN MY SHOES; BRIDGE OVER TROUBLED WATER; PATCH IT UP; YOU DON'T HAVE TO SAY YOU LOVE ME; YOU'VE LOST THAT LOVING FEELING; AN AMERICAN TRILOGY; NEVER BEEN TO SPAIN; YOU GAVE ME A MOUNTAIN; THE IMPOSSIBLE DREAM (News, Source: Taylor Scott, Strictly Elvis Fan Club, Tennessee)
| | |
| --- | --- |
| Russia CD releases: With the Elvis Summer ahead, it's obvious that Elvis sales will be at an all time high again. Even Russia is ready for the Elvis hype. Several stores in Moscow offer a variety of re-released CD's. But, as is usually the case in Russia, it's hard to tell the official releases apart from the bootlegged copies. A hologram-like BMG sticker used to tell the difference, but these stickers too have been copied. Among the special re-releases we picked up, are "Love, Elvis" (with an alternative take for 'For The Good Times') and this one: "Elvis Presley – Special Russian Version". This CD contains the original 12 tracks, plus 6 bonus tracks, but no alternate takes. (News, Source: Elvis Matters) | |
---
Ed Enoch working to keep Elvis memory alive: To Ed Enoch, the death of Elvis Presley seems like it was only a few days ago, not 30 years.

"It's a time to remember," said Enoch, a member of Elvis' backup band J.D. Sumner and the Stamps. "Elvis was an employer, a friend and like a brother. It was all of those emotions put together. Elvis was a great entertainer and gave a great gift to society."

Enoch, 64, of Nashville, Tenn., continues to tour the country with The Stamps, a gospel quartet. Sumner died in 1998, and Enoch took over the ownership and management of the Stamps' name in 2003. Enoch and the Stamps will perform a concert with Reidland native Terry Mike Jeffrey at 7 p.m. July 14 at the Kenneth Shadowen Performing Arts Center at Marshall County High School. The annual concert featuring gospel music and Elvis tunes draws nearly 1,000 people, said Jeff Waters of WCBL-FM radio in Benton.
The concert normally is in August, but Waters said the date was moved up this year because of Jeffrey's and the Stamps' commitments to perform during the 30th anniversary celebration of Presley's death. Elvis died on Aug. 16, 1977. The concert also traditionally fell on the same weekend as the Fancy Farm Picnic and the Benton Watermelon Bust.
"These guys are such great entertainers for one thing," Waters said. "Then there's the Elvis connection."
Jeffrey performs at Elvis tribute concerts throughout the country and traditionally performs during the celebration in Memphis of Presley's death.
"It's a great show," Waters said. "The first year we had Terry Mike Jeffrey, we were blown away at how good the show was. The last two years, we have booked them for a return on the day of the show. They truly enjoy performing with each other. It's something that we have a lot of fun with."
The show is a benefit for the Marshall County Arts Commission. Tickets are $10 and available at WCBL and WCCK radio stations, all branches of the Bank of Benton in Marshall County, and at the Paducah branch on Park Avenue. (News, Source: Paducah Sun/Charmaine Voisine)
Aussie Elvis radio special on 2UE tonight: Sydney, Australia listeners should tune in to the popular Paul Makin program tonight. Paul relives the news, music and personalities that helped shape our lives. Tonight after 8pm he is presenting an Elvis special (including an interview with EIN). Radio 2UE can be found at 954 on the AM dial. (News, Source: Paul Makin)
---
Next Madison release announced: The next release from Madison label will be "Closing Night - February 1970". For the first time ever, this show will be available from start to finish, with the best-ever audio source, direct, reel-to-reel transfers to DAT. The sound quality is excellent, given the limitations of early '70s soundboard recordings, and definitely superior to all previous, incomplete releases of this concert.

 

The 16-page booklet contains relevant notes, while the cover art of "Closing Night - February 1970" is a beautiful homage to Presley's 1970 RCA LP "On Stage - February 1970". Several bonus tracks are included, though previously released, as they are the perfect compliment to this project.

If you enjoyed "One Night Only!" there is no doubt you will love "Closing Night - February 1970". This is Elvis at his BEST as he ROCKS the house!
Tracks : 01 - All Shook Up 1:59; 02 - I Got A Woman 2:20; 03 - Long Tall Sally 2:43 ; 04 - Don't Cry Daddy 3:58 ; 05 - Hound Dog 1:57 ; 06 - Love Me Tender 2:35 ; 07 - Kentucky Rain 3:12 ; 08 - Let It Be Me 3:12; 09 - I Can't Stop Loving You 2:24 ; 10 - C.C. Rider 2:43 ; 11 - Sweet Caroline 2:23; 12 - Polk Salad Annie 4:30; 13 - Instrumental Intermezzo 2:01; 14 - Introduction of vocalists, band, orchestra 2:30; 15 - Blueberry Hill / Lawdy Miss Clawdy (Elvis plays piano) 2:08; 16 - Heartbreak Hotel 2:21; 17 - One Night (Elvis plays electric guitar) 2:39; 18 - It's Now Or Never 2:17; 19 - Suspicious Minds 4:27; 20 - Introduction of crew, management 1:3; 21 - Can't Help Falling In Love / announcement 2:06
---
| | |
| --- | --- |
| "Wild Weekend In Huntsville" delayed: The surprise '' Closing Night- February 1970 '' outing from Madison was originally coming in-between the two previously announced Huntsville 1975 shows, however due to a source problem with the May 31, 1975 AS this is being released first. It will be fixed and is next in line. The cover art of "A Wild Weekend in Huntsville! - Volume 1" is included here, for your enjoyment. (News, Source: FECC) | |
---
More on closure of "Memories of Elvis": cdh72469 posted this message on the FECC board:
I had read a rumor that EPE was pressuring the folks who used to run Memories of Elvis. They had opened a new shop just last April outside Memphis in Bartlett, TN. EPE pretty much forced them to close last month. I inquired because they offered some "unique" Elvis items on their website and I had planned to visit their new location. Here's the reply I got back from the owner:

We did close our store. Our success has always depended on the unique and beautiful line that we carried exclusively in our store. With the pressure from EPE to discontinue these products, we are unable to continue as we once did. We still have some items available and will continue to offer a less extensive line on the website.

Thank you for checking.

Apparently they're still doing business online...for now. (Sale of EPE, Source: FECC board)
---
Elvis in the building...psychics reveal: Psychics have told Daytona Beach resident Jeffery Golden he is the reincarnation of Elvis Presley's twin brother, who died at birth. Saturday, judges will tell Golden and 19 other Elvis impersonators whether they have the right stuff to win the "Ultimate Elvis Tribute Artist Contest." Read full story (Almost Elvis/Odd Spot , Source: Daytona Beach News Online)
---
---
Sony To Shutter Historic Studios:
Citing difficult times in the recording industry, Sony BMG is closing its historic Hell's Kitchen studios, where artists such as J. Lo have recorded and movies such as "Shaft" were filmed.

The five-story red-brick building on West 54th Street and 10th Avenue will no longer house Sony Music Studios, according to an internal memo obtained by amNewYork. The June 8 memo said that employees will be terminated when the studios close in mid-to late-August.

Some employees possibly will be allowed to transfer to different parts of the company. It is unclear how many employees will be affected and what the future holds for the studio building that once housed Fox Movietone studios, where one of the first technologies to combine sound and film in the 1920s was used.

The music-industry giant is being hush-hush on the deal, only saying that Sony BMG, the studios' parent company, signed a purchase and sale agreement with a New York developer called HSAC Corp. Efforts to contact the developer were unsuccessful. It was unclear what will happen to the building.

Movies such as "Miracle on 34th Street" and television shows like the original "Who Wants to be a Millionaire" were filmed there. The studios also hosted the New York filming of "America: A Tribute to Heroes," a bi-coastal telethon that raised money for the families of Sept. 11 victims just days after the attacks.

Before Sony bought the warehouse-sized building in 1993, Camera Mart, an equipment rental company, called it home. After renovating the building, Sony Music Studios soon became a popular and high-tech recording spot.

In a 2001 article in the on-line recording industry publication Mix, Andy Kadison, the studios' senior vice president said" "We're like the millennium's version of an old-time Hollywood studio. We can do virtually every aspect of an entertainment project under one roof, ranging from audio recording, mixing, mastering, archive restoration and plant production, to television production and satellite broadcasts, to audio and video post-production."

When reached Wednesday on his cell phone, Kadison declined to comment on the sale or the future of the building. Sony/BMG will retain a small crew and relocate facilities to handle archives and master distribution.
Note: Bad news for Elvis fans: the Sony Studios, New York, where SonyBMG mastered a lot of Elvis back catalog material in DSD (starting in 2002) will be closing their doors on Aug 31, 2007. What these studios produced in these five years were simply some of the best sounding digital Elvis releases we have ever seen (the highlight for me being the "Close Up" box set), so this definitely can't be good news for us, and perhaps the end for DSD or any Elvis reissue program for that matter! (News, Source: Marlene Naanes - New York Staff writer /Note: thenexte / www.epgold.com)

Tupelo's Own Elvis Presley hits #1 in UK: Joseph Pirzada tells us: After a few days , pleased to say that Tupelo is the #1 best selling HMV Music DVD in the country. It is also #1 in the UK Woolworths chart and is expected to go #1 tomorrow on Play. And this Sunday in the official charts it is expected to be very high indeed if not #1. Thanks to all, this is the first time a #1 for Elvis by and independent label. (News, Source: Joseph Pirzada, Memphis Recording Service)
---
---
| | |
| --- | --- |
| Colorised DVD edition of "Jailhouse Rock": Released in the import-circuit (unofficial) is the colourized edition of "Jailhouse Rock". This DVD, probably lifted from the laser disc, contains some bonus material like outtakes, interviews with Leiber and Stoller and more. (News, Source: Elvis News Denmark /Elvis News) | |
---
Correction: Yesterday we published a news item about the winners of the Aussie round of EPE's Ultimate Elvis Tribute Artist Contest. The photo we published of winner Mark Anthony was incorrect. The correct photo now appears with yesterday's story. Thanks to (another Mark) Mark Andrew, one of Australia's premier ETA's, for drawing the error to our attention and providing the right image. Visit the Mark Andrew website
---
"Elvis Bicentennial Vol. 3" DVD: Memory Records in Czechoslovakia is releasing a new DVD called "ELVIS - BICENTENNIAL VOL. 3". It is a follow-up to their previous successful DVD releases "ELVIS - BICENTENNIAL" and containing overdubbed Elvis 1976 shows. "ELVIS BICETENNIAL VOL. 2". This third volume will bring you to two Elvis concerts in Georgia in 1976. You will see professionally restored video footage from Macon, August 31, 1976 and Atlanta, December 30, 1976 shows. Macon show was overdubbed and lip-synchronized with soundboard recording, Atlanta concert was overdubbed with best possible audience recorded source as no soundboard from this show is available. Approx. running time: 82 minutes.

Tracks (Macon 31.08.1976): Love Me - If You Love Me (Let Me Know) - You Gave Me A Mountain - And I Love You So - Jailhouse Rock - Fever - America (The Beautiful) - Band Introductions - What'd I Say - Love Letters - Hurt - Hound Dog - That's All Right, Mama - Blue Christmas - Mystery Train/Tiger Man (medley) - Can't Help Falling In Love.

Tracks (Atlanta 30.12.1976): Also Sprach Zarathustra - C. C. Rider - I Got A Woman/Amen) (medley) - Big Boss Man - Love Me - Fairytale - Happy Birthday (to Elvis) - It's Now Or Never - Jailhouse - Such A Night) - Early Morning Rain - Are You Lonesome Tonight - That's All Right - Reconsider Baby - My Way - Hound Dog - Can't Help Falling In Love - Closing Vamp/Announcements. (News, Source: Pavel Cernocky, Memory Records)
---
Sam Phillips Stamp Petition: Elvis Insider Liz Scott is coordinating and promoting the Sam Phillips U.S. Commemorative Stamp campaign. She is presently working closely with the Florence Post Office, and Sam Phillips' family.

In November 2006, the U.S. Postal Service Headquarters in Washington D.C., announced that their Board of Governors have revised and changed the guidelines for issuing stamps honoring deceased, notable and famous Americans. The wait time for issuing stamps has been changed from 10 years to 5 years.

Sam is credited for discovering the talents of Elvis Presley, Johnny Cash, B.B. King, Jerry Lee Lewis, Roy Orbison, Conway Twitty, Ike Turner, Carl Perkins, Charlie Rich, Rosco Gordon, Rufus Thomas and a host of others, at SUN Studio.

Please support this venture by logging on to www.gopetition.com and then typing in "Sam Phillips" to access the online petition. Petition books have been placed at SUN Studio in Memphis and at the Elvis Presley Birthplace in Tupelo. If you need more information about Sam's stamp campaign, you may email her at tcb4sam@aim.com (News, Source: Charmaine Voisine)
---
Elvis' pill bottle popular at celebrity memorabilia auction in U.S.: A prescription drug bottle once owned by Elvis Presley is getting a lot of attention in advance of a celebrity memorabilia auction in California. The bottle, which until recently contained about a dozen assorted pills, is among 15 objects connected to Presley that will be part of Julien's Auctions Entertainment Sale in Beverly Hills, Calif., on Saturday.
There is also the late entertainer's gold-plated pistol and his inscribed 1953 Humes High School yearbook. But the pill bottle is the biggest draw for its macabre connotations, said auction house president Darren Julien. Years of heavy prescription drug use contributed to Presley's untimely death at the age of 42 in 1977.
"We'd planned to sell the bottle with the pills but the Los Angeles Police Department told us it would be a federal crime to do it, so sad to say we had to remove the pills," Julien said.
The undated bottle was for the antihistamine and decongestant drug Naldecon, prescribed by George Nichopoulos, who was Presley's personal physician from 1970 until his death. "Dr. Nick," as he was known, wrote 199 prescriptions for the singer in the eight months leading up to his death. Nichopoulos had his medical license permanently suspended by the Tennessee Board of Medical Examiners in 1995 for overprescription.
The pill bottle is expected to sell for US$2,000 to $4,000. On the upper end is the gold-plated .360-calibre Walther P.P.K. semi-automatic pistol, with simulated ivory grips that Presley gave to actor Jack Lord of the television series "Hawaii Five-0" in 1973. It has a $10,000-$20,000 estimated sales price, The Commercial Appeal reported Thursday. The auction, which also will be held live on EBay, comes as Graceland in Memphis prepares to mark the 30th anniversary of Elvis' death on Aug. 16. (News, Source: Canadian Press)
---
New magazine releases: Volume 99 of the Danish Elvis News magazine is out. This edition contains news, reviews and articles on the venues where Elvis performed, Elvis' Gold Lame suit and interviews with Kathy Westmoreland and B.J. Thomas.


The second volume for 2007 of the Finnish The King magazine is out. This volume contains news, reviews and a lot of articles. To name a few: an interview with Jerry Scheff, the connection between Elvis and Carl perkins, 1960 in the life of Elvis, the background of the "Wifferspoon Song" and Elvis in concert August 28, 1973. (News, Source: Elvis News)
---
"Legends In Concert" show drops Elvis as headline act: Is EPE heading in the wrong direction with its Elvis stratefy? As EPE gears up on a steady diet of ETA competitions, the times are a changing elsewhere.
There's a different wrinkle to the latest edition of "Legends in Concert," which runs through June 28 at Resorts Atlantic City. For the first time in memory -- maybe the first time ever -- the popular musical mimic-fest is not anchored by an Elvis Presley impersonator. While there are sure to be some "Legends" devotees for whom this will be a major disappointment, it certainly doesn't detract from what is, overall, a typically strong program. In Elvis' stead is Cookie Watkins, whose turn as Tina Turner is filled with appropriate amounts of sass, sizzle and sex appeal.
Sporting a nest of blond hair and long legs accentuated by dangerously spiked heels, Watkins looks amazingly similar to the rhythm 'n' blues legend. She, likewise, delivers an excellent approximation of the pop 'n' soul diva's guttural vocal style on such songs as "What's Love Got To Do with It" and her late-'60s signature take on "Proud Mary." Two other acts, Steve McCoy and John Anthony, give Watkins a run for her money. (Almost Elvis/Sale of EPE, Source: Courier Post Online)
---
Chart update: The U.S. Billboard chart listings for the week ending June 23, 2007:

Top Country Catalog Albums - Ultimate Gospel - up 4 to #13
Top Country Catalog Albums - Elvis 30 #1 Hits - down 1 to #16
Hot Singles Sales - Heartbreak Hotel - up 3 to #43
Top Music Video - Elvis Lives - 25th Anniversary Concert - down 3 to #10
Top Comprehensive Music Video - 25th Anniversary Concert - down 3 to #10
Top Music Video - Elvis: 68 Comeback Special - down 2 to #29
Top Comprehensive Music Video - Elvis: 68 Comeback Special - down 2 to #29
Top Music Video - Elvis: Aloha from Hawaii - up 2 to #26
Top Comprehensive Music Video - Elvis: Aloha from Hawaii - up 2 to #26

No new or re-entries on the charts this week and no release drops off the chart. (News, Source: Elvis International Fan Club /Elvis News)
Upstairs at Graceland revealed: On August 16 the Danish newspaper Ekstra Bladet will publish a feature-story on what happened on August 16 at Graceland. The story features a large cut-away-graphic of Elvis' bedroom and bathroom, so you will be able to see what it looks like in there.

This is the first time you will be able to see a vizualisation of both rooms, and it was done from half a year of research. The graphic is NOT based on fake floorplans and fake pictures. It was done from intense research and from rare videoclips of Graceland. The grahic is in danish, but you will be able to achive a translation.

You can see a preview of the graphic here, but if you want to see the rooms inside, you will have to wait for the graphic to be published on Ekstra Bladets website on august 16. You will be able to pay on demand. Visit: www.eb.dk (News, Source: Martin Kirchgässner)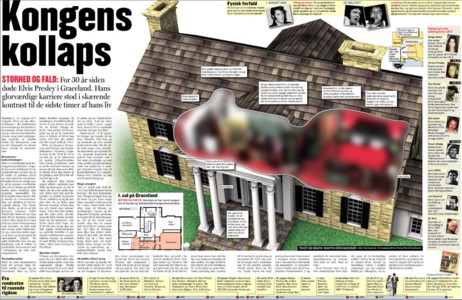 ---
"Elvis Presley Transmissions" book & CD: Here is the cover art and content of the upcoming release CD and book "Elvis Presley - Transmissions" which is due for release from the Storming label on July 23, 2007.

Synopsis: A unique collection of Elvis' early recordings from the 1954/55 Sun years that ultimately brought the legend to the millions of adoring fans via his worldwide record deal. The album also features a host of bonus live TV recordings from various U.S 1956 performances, including many of his well-known hits. As an additional bonus there are video enhanced tracks taken from two popular American TV programmes of the time, which have now become historical moments in Rock 'n' Roll.


Tracklisting – Sun Studio: 1. That's Alright 2. Baby Lets Play House 3. Blue Moon Of Kentucky 4. I Don't Care If The Sun Don't Shine 5. Good Rockin' Tonight 6. Milkcow Blues Boogie 7. You're A Heartbreaker 8. I'm Left, You're Right, She's Gone 9. Mystery Train 10. I Forgot The Remember To Forget.

Bonus Tracks: 11. Don't Be Cruel 12. Hound Dog 13. Love Me Tender 14. ReadyTeddy 15. Heartbreak Hotel 16. Blue Suede Shoes 17. I Want You, I Need You 18. Love Me

Enhanced Video Tracks (PC with Quicktime time required): 1. Too Much 2. When My Blue Moon Turns Gold Again 3. Peace In The Valley 4. Money Honey 5. Shake, Rattle & Roll 6. Tutti Frutti
(News, Source:
ElvisMatters /Elvis News)
---
"Elvis At The Movies" reviewed: We came across this review on Simon Barrett's blog spot.

I'll cut to the chase here, if you are an Elvis fan here is the link, you need read no more, just click on it and buy it. For the rest of you, I will try to present a review. Elvis played in a huge number of movies in his career, I believe the total was 31! Elvis was larger than life, in life, and maybe is even larger posthumously. He died in 1977 yet the CD's keep coming out. This is a two CD collection of 40 of his most famous movie songs. Sony – BMG have done a great job of cleaning up the audio, the quality of the audio makes it sound as if it was recorded yesterday. I am sure the National Enquirer will pick up on this aspect, and will be publishing some stories about how this CD was actually recorded last summer, in some small town in Nebraska, using the very best modern equipment.
Love Me Tender from 1956 is the earliest, and 39 songs later we have Rubberneckin from 1969 which appeared in The Change Of Habit. Using my High School math, this means that Elvis pumped out 2 or more movies a year. Very few stars can make that claim. I can offer no review of his acting ability, I will leave that to more qualified people. I can offer my personal thoughts about his music. Without doubt he was the most prolific and successful performer for an entire generation.
Many performers have tried to 'cross over' into the world of movies, and most have failed. The Beatles, The Who, and even David Bowie, they all tried this track and maybe they did not exactly fail, but they certainly did not succeed. Elvis on the other hand, not only succeeded, but grew from the experience. His 1961 Blue Hawaii was not only a hit movie, but the title track (album) was Number 1 on the Billboard charts for 20 weeks! There are not many artists that can claim this sort of success.
During this period of singing and acting, Elvis managed to accumulate 14, Gold and Platinum awards for his soundtracks alone. Again using my basic High School math, and Baseball parlance, that is batting at pretty close to 500. You may not be an Elvis fan, but you certainly cannot ignore his influence on a three decade era. You can get this double CD from Amazon. (CD Review, Source: Simon Barrett)
---
Three Elvis Documentaries On BBC Radio: As part of the BBC Radio 2 '60s Season, three Elvis shows are planned for August.

ELVIS AND ME - Saturday 11 August 2007: 2000 - 2100. To mark the 30th anniversary of the death of Elvis Presley, Elvis and Me features both famous and 'ordinary' fans - talking about what Elvis means to them. Through their reflections of 'The King' and his music the programme explores the emotional connection Elvis's fans felt and the adoration he still commands 30 years after his death.

The programme includes interviews with famous fans Alan Bleasdale, Bono, Paul McCartney, Robert Plant, Tim Rice, Cliff Richard and Jimmy Webb and memories from those that worked closely with Elvis – his backing group, The Jordanaires, guitarist James Burton and songwriters Jerry Leiber and Mike Stoller who penned some of his most successful hits.
ELVIS - 68 COMEBACK - Tuesday 14 August 2007: 2230 - 2330. This one hour documentary explores the amazing impact and legacy of a TV special filmed for NBC called 'Elvis', now better know as Elvis's '68 Comeback special'.

Elvis' stands as one of the great television moments in rock music history and a stunningly brilliant milestone in Elvis Presley's career. Elvis rocked the world in the 1950s, a leader among musicians who brought about a revolution in music and pop culture. Through most of the 1960s he concentrated mainly on his movie career, which was very successful, but had become a grind and had not given him many opportunities to prove himself as a serious actor.

By 1968, it had been more than seven years since Elvis had appeared on stage in front of a live audience. In this television special, Elvis played his greatest role - simply being himself.
DON'T START ME TALKING ABOUT ELVIS - Wednesday 15 August 2007: 2300 - 2330. Making its Radio 2 return, the groundbreaking oral history programme 'Don't Start Me Talking About Elvis' gets the public talking about their love of 'The King'. (News, Source: www.bbc.com / www.epgold.com)
---
Elvis A Legendary Performer Volume 9: One of the highlights in the XL series of new imports is, undoubtably, A Legendary Performer Vol. 9. Not only because it's another release in the popular and former RCA collection, but also because of the top notch sound quality (except for the awful track 2). One example is "Reconsider Baby" with Elvis's original 1960 voice (April 4), but with a different sax solo. The actual track on the CD is a remake of an incomplete take. Although these mixes are not brand new, they're still a joy to listen to, because of the fresh sound approach.

Full tracklisting: 01) Almost Always True (extended remix); 02) An American Trilogy (rare rehearsal); 03) Blueberry Hill (alternate take unknown); 04) Dixieland Rock (extended remix); 05) How Great Thou Art (live 1976); 06) If You Talk in Your Sleep (alternate take 5); 07) It's a Long Lonely Highway (complete master); 08) Let Me Be There (June 1975 Memphis); 09) Make Believe (unedited uncut recording); 10) Never Been to Spain (rehearsal - March 1972); 11) One Night Of Sin (extended remix);
12) Reconsider Baby (remake incomplete); 13) She Thinks I Still Care (take 2a); 14) She's Not You (extended remix); 15) Stop Where You Are (extended remix); 16) The First Time Ever I Saw Your Face (duet version); 17) Too Much Monkey Business (alternate take 9); 18) Yesterday (remix unreleased); 19) You Can Have Her (AR recording may 11,974) Los Angeles. (News, Source: Elvis Matters)
---
Winners of Australian round of Ultimate Elvis Tribute Artist Contest: Mark Anthony (pictured below), aged 28, and Kobe, aged 8, won the adult and junior divisions of EPE's ETA competition round in Australia.

Also present during the contest, held as part of Queensland's annual Wintersun Festival, was Kathleen DeNike (pictured right), President of the Collingwood Elvis Club in Canada. (Almost Elvis, Source: Christine Bamford)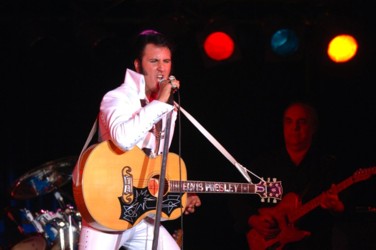 ---
"Viva Las Vegas" and "The Essential" CDs: Several websites (CD Universe, Amazon, …) already mention the release of "Viva Las Vegas" on July 31st. That information is indeed correct, although at this stage it's still uncertain weather it'll be a 2CD set or – as expected – "just" a 1 CD release. More information will be available soon, together with the official announcement of the European "Essential Elvis" release for July. The way things look now and according to several Elvis related sites, all previous mentioned Sony/BMG titles will, indeed, be released this Summer, including "Essential Elvis – The Dutch Collection" in The Netherlands.

Note: the cover of "Essential Elvis" is not the confirmed design.

(News, Source: Elvis Matters)
---
"Forever Elvis" CD: Here is the cover of the budget release "Forever Elvis" which was released on the Remember (Cargo Records) label on June 1, 2007.

Track listing: 1. That's All Right 2. Blue Moon Of Kentucky 3. Blue Moon 4. Good Rockin' Tonight 5. I Don't Care If The Sun Don't Shine 6. Baby Let's Play House 7. I Forgot To Remember To Forget
8. Mystery Train 9. Trying To Get To You 10. I Got A Woman 11. Heartbreak Hotel 12. Money Honey 13. I Was The One 14. Blue Suede Shoes 15. My Baby Left Me 16. I Want You, I Need You, I Love You 17. Don't Be Cruel 18. Hound Dog 19. Anyway You Want Me (That's How I Will Be) 20. Love Me Tender 21. Poor Boy 22. Love Me 23. Paralyzed 24. When My Blue Moon Turns To Gold Again 25. Old Shep (News, Source: Amazon.de/Elvis News)
---
Candlelight Vigil in Europe: The German Elvis expert and former teenager fan while Elvis was stationed in Germant, Klaus Kirt Ilge, is putting together a European candle light vigil in memory of Elvis. The group will walk from EP Square in Kaiserstreet Friedberg to the Memorial Stone called "Stele" on EP Square Bad Nauheim to pay their respect to the artist of the century. All European fans who feel like paying their respect to Elvis this way are sincerely invited on August 16. Torches are available. (News, Source: Elvis Matters)
---
| | |
| --- | --- |
| New Elvis chocolate bar: Out next month in a limited edition! To mark the release of the Peanut Butter and Banana limited edition candy cup from Reese's, a collectors tin is available containing 16 bars. | |
---
---
Ben Weisman memorial service details: EPE advises the following details for Ben's memorial service:

5:30 PM, Tuesday, June 26, 2007

Wilshire Boulevard Temple
11661 W. Olympic Boulevard
Los Angeles, CA
Phone: (310) 445-1280

Family and close friends are invited. Anyone who wishes to send flowers, please tell the delivery service that the entrance is on Barrington.

Original EPE Posting - May 24, 2007: Ben Weisman, composer/co-writer of more than 50 songs for Elvis Presley, died on May 20th at the age of 85 after a long illness. Among those Elvis songs are:
As Long As I Have You
Change Of Habit
Cindy, Cindy
Don't Leave Me Now
Fame And Fortune
Follow That Dream
Frankie and Johnny
Got A Lot O' Livin' To Do
I Got Lucky
I'll Never Know, I Slipped, I Stumbled, I Fell
It Feels So Right, Let Us Pray
Rock-a-Hula Baby
Rubberneckin'
Twenty Days And Twenty Nights
We Call On Him
Wooden Heart

Click here to see Ben's obituary in the Los Angeles Times.

The EPE management team got to know Ben Weisman starting in the early 1980s. He was a talented, kind, humble and gracious man with a great passion for his work, for his friends and loved ones, and for living. He always spoke of Elvis with great respect and affection. We will miss him. He was a good friend.

We are in touch with Ben's family. They are making plans for a memorial sometime in the near future. We will share those details as soon as the famly provides them. (News, Source: EPE)
---
---
Sirius Elvis Radio updates:
Elvis Live in Concert Sat 6/16 8:00 pm ET
-
Elvis Radio host Doc Walker takes us back to Amarillo, Texas for the King's June 18, 1974 concert. Rebroadcast: Sun., June 17th @ 12 am & 10 pm ET.
Soundtrack Saturday Night: Jailhouse Rock Sat 6/16 10:00 pm ET - Elvis Radio host Bill Rock shines his Soundtrack Saturday Night spotlight on Elvis's 3rd movie from 1957, Jailhouse Rock for his Elvis Movie of the Week. (News, Source: EPE)
New Chinese Double-CD set "Elvis In The 50s":

This new 2 CD set is very nice and is available all over Hong Kong and China but is on the Universal label. Looks more like a bootleg to me. Disc One has the same tracks as Elvis 2nd To None. Disc Two features all non-Elvis songs. A strange release but very interesting for the Elvis collector.

(News, Source: HT Long)
---
---
"Faiytale In Vegas" CD: A new audience recorded live CD has been released. The disc contains the live recording of Elvis' show in Las Vegas on December 6, 1975 (8 P.M.) and the title is "Fairytale In Vegas".

Tracklist: 2001 Theme; See See Rider; I Got A Woman/ Amen ; Happy Birthday Lisa; Happy Birthday David; Love Me; Fairytale; And I Love You So; Tryin' To Get To You; All Shook Up; Teddy Bear/ Don't Be Cruel; Hound Dog; Sweet Caroline; Polk Salad Annie ; Introductions; Johnny B. Goode ; Band Solos; Hail Hail Rock'n'Roll; Elvis Introduces Mrs. Parker, Lisa Marie & Vernon Presley; Just Pretend; How Great Thou Art; Burning Love; Softly, As I Leave You ; America The Beautiful ; Can't Help Falling In Love; Closing Vamp (News, Source: Elvis News)
---
| | |
| --- | --- |
| Elvis on Danish airline magazine cover: Elvis is featured on the cover of the latest issue of the Danish airline company Cimber Air's inflight magazine "Flyaway". Inside the magazine will you find an article about Elvis and the Elvis Unlimited Museum in Randers, Denmark by Kennth Kristensen who visited the museum a few months ago. There is also an Elvis quiz in the magazine. You can win Elvis products by answering a simple question about Elvis. (News, Source: Elvis Unlimited/Elvis News) | |
---
Party like the King!: If you're the winning bidder for Lot 284 at a Beverly Hills, California, auction on Saturday, you could spend the rest of the weekend partying like the King. The item up for auction during Julien's Summer Sale at the Beverly Hilton hotel is an undated bottle for the antihistamine drug Naldecon, prescribed to singer Elvis Presley. It's estimated to go for $2,000 to $4,000. And the winner of the item gets a bonus: Remaining in the bottle are 12 assorted pills.

"The pills are very old," said Darren Julien, president of Julien's, the West Hollywood, California-based auction house running the sale. "You can tell. They're heavily discolored. You can take them to a lab, obviously, and figure out what they are."

The bottle of pills is one of more than a dozen Presley items on the block, along with movie posters, Marilyn Monroe photographs and other entertainment memorabilia. Presley died in 1977 at the age of 42, following years of heavy prescription-drug use. The Naldecon was prescribed by George Nichopoulos, known as Dr. Nick, who began treating the King of Rock 'n' Roll in 1967 and was Presley's personal physician from 1970 until his death. Nichopoulos, who wrote 199 prescriptions for Presley in the eight months before the rock star died, had his medical license suspended in 1980 and lost it permanently in 1995. A 1980 criminal trial in which he was accused of abusing his license to prescribe drugs ended with an acquittal.

The pill bottle is one of the four Presley items in the June 16 auction from the collection of George Klein, who was the singer's friend starting in high school in Memphis, Tennessee, and served as a pallbearer at his funeral. Also being sold from Klein's collection is his 1953 Humes High School yearbook with the inscription, "Best of luck to a swell pal, Elvis."

Jack Lord's Pistol: Other items being auctioned include a gold-plated Walther PPK semiautomatic pistol that Presley gave to his friend Jack Lord, star of the television series "Hawaii Five-0." It's estimated to sell for $10,000 to $20,000. The costliest item is a 2002 Bentley Arnage, expected to sell for $135,000 to $150,000. The car belongs to Yoko Ono Lennon, and proceeds from the sale will benefit the John Lennon Education Bus Tour, a music-education program named for her late husband.

Ono Lennon, 73, said in an interview that her husband likely would have enjoyed sharing an auction with Presley memorabilia because he "always had incredible feelings for Elvis Presley." As for the pill bottle, "somebody would love to buy it," she said. "Elvis is major -- whatever is Elvis."

Empty Bottle: There's still a chance the buyer of the pill bottle may find himself in a situation that would have had Presley calling for Dr. Nick: It could end up empty.

Julien said he plans to consult his attorney about whether it's legal to sell the pills inside the bottle. The label on the container itself, from a pharmacy in Memphis, notes that "Federal law prohibits the transfer of this drug to any person other than the patient for whom it was prescribed."

"Chances are we'll probably sell them on Saturday with the prescription bottle," Julien said, adding that he's selling the pills as memorabilia, not medication. "I'd say it's probably an 80, 90 percent chance. I don't think anyone would take those pills."

Such a sale wouldn't be unprecedented. At an auction in New York a year ago, Julien's sold a bottle of Marilyn Monroe's vaginal cream, with some contents remaining, for $6,000. The house also sold a Presley prescription bottle last year, though that container was empty.

"Very Dangerous': While it's unlikely that any medication more than 30 years old would still be effective, some drugs become toxic as they degrade, said Jennifer Athay, a staff pharmacist with the American Pharmacists Association, a Washington-based trade group. And if any of the pills are Naldecon, that medication, which no longer is sold, contains phenylpropanolamine, a decongestant that was taken off the market in 2005 because it was found to increase the risk of hemorrhagic stroke, she said.

"It would be very dangerous to take pills like that, that have been in a bottle for 30 years, especially if you don't know what they are," Athay said.

Whatever the dangers, it's probably a violation of state law to sell the pills from Presley's bottle, said Virginia Herold, executive officer of the California Board of Pharmacy, the state's regulatory and licensing agency for pharmacists.

"That's what drug dealers do -- you take drugs that have been prescribed for someone and sell them to someone else," she said. "I appreciate the possible historical value in it. I'm just not sure it's entirely legal." (News, Source: Daniel Taub - Bloomberg News/Sanja Meegin)
---
| | |
| --- | --- |
| German DVD boxset: Here is the cover for the German version of the Paramount box set. The set contains the movies with the beautiful titles Kaffee Europa (G.I. Blues), Seemann Ahoi! (Easy Come, Easy Go), Acapulco (Fun in ...), Südseeparadies (Paradise Hawaiian Style), Blaues Hawaii (Blue Hawaii), Mein Leben ist der Rhythmus (King Creole), König der heißen Rhythmen (Roustabout) and not so original... Girls! Girls! Girls! (News, Source: Elvis Club Berlin/Elvis News) | |
---
"It's A Matter Of Time" CD: Out now is a new audience recorded live CD "It's A Matter Of Time", which contains Elvis' Midnight Show from August 25, 1973. During this show Elvis did the only known live recording of the title song, which appeared on an earlier bootleg with the same title.

Tracklist: Opening; See See Rider; I Got A Woman/ Amen; Love Me; Steamroller Blues; You Gave Me A Mountain; Blue Suede Shoes; Long Tall Sally/ Whole Lotta Shakin' Goin' On/ Mama Don't Dance/ Flip, Flop And Fly/ Jailhouse Rock/ Hound Dog; Love Me Tender; Fever; What Now My Love; Elvis Leaves The Stage; Suspicious Minds (Incomplete); Introductions By Elvis; My Boy; I Can't Stop Loving You; An American Trilogy; Release Me; It's A Matter Of Time; Elvis Dedicates The Next Song To Dee and Vernon Presley; The First Time Ever I Saw Your Face; Bridge Over Troubled Water; Can't Help Falling In Love; Closing (News, Source: Elvis News)
New theater play "The Elvis Test": Julian Stone's "The Elvis Test" is a clever if cautious imagining of the only time, apparently, that Elvis Presley took LSD. The play is a story of people crippled by insecurities and codependencies, and Stone sketches these vividly. Elvis, egged on by Steve, has come to realize that his deference to manager Colonel Tom Parker has led his career away from music to making schlock movies aimed at family markets. Read full review

(Review, Source: Steven Mikulan, LA Weekly)
---
---
Elvis excites visiting Russian judges: Seeing the Elvis Presley display at the Fort Smith Museum of History and learning about the history of Miss Laura's Visitor Center were the highlights Sunday for five judges visiting from Russia. While the judges have enjoyed learning about the history of the United States and Fort Smith, they have also enjoyed a lighter entertaining part of the town's history.

They loved Miss Laura's," said Ann Dawson, laughing. "The guide who was there said they (the Russian judges) asked more questions than any group had ever asked."

U.S. District Judge Robert Dawson smiled and said that when the Russian judges saw the Elvis Presley display at the Museum, one of them said, "The king of Rock-n-Roll." (News, Source: Times Record, Arkansas)
Initial run of Tupelo's Own Elvis Presley "SOLD OUT":
Memphis Recording Service expects to have a new batch in 3 weeks time (Source: Joseph Pirzada)
'Tupelo's Own Elvis Presley' Book/DVD In-depth Review: The DVD contains recently discovered unreleased film of Elvis performing 6 songs, including 'Heartbreak Hotel' and 'Don't Be Cruel', live in Tupelo Mississippi 1956. It is fascinating to see Elvis performing to hometown crowd of 10,000 instead of a TV studio audience and we get to see the only filmed performance of 'Long Tall Sally' live in the fifties.

The limited edition book written by Tupelo historian Roy Turner contains over 200 photographs of Elvis in Tupelo many previously unknown. EIN's Piers Beagley investigates this historically important record of "Elvismania" near its peak. (Review, Source: EIN)
---
| | |
| --- | --- |
| A New Chinese Elvis Promo: BMG China has issued a Promotional Sampler CD specially for the Radio and Music Stores to campaign for the new 30th Anniversary Special ELVIS AT THE MOVIES 2 CD-Set which tie in with the massive Warner Bros / Paramount new DVDs releases. Tracks include: Jailhouse Rock, Little Egypt, King Of The Whole Wide World, I'll Be Back, and more. Front and back covers appear below. (News, Source: HT Long) | |
| | |
| --- | --- |
| | |
---
More Elvis material DSD remastered: On the FECC forum a posting was made which will please audiophiles. It appears Sony / BMG has recently DSD remastered some 100+ Elvis tracks from their archives, which have now turned up on several physical and some online-only releases. Below is the ISRC range information the poster has been able to gather:

Retail releases:
Elvis' Golden Records, Vol. 3: USA820700001 - USA820700012
Elvis' Gold Records, Vol. 4: USA820700014 - USA820700025
Elvis at the Movies: USA820700026 - USA820700046

Online releases (digital downloads on iTunes and others):
G.I. Blues: USA820700047 - USA820700055
Girls! Girls! Girls!: USA820700056 - USA820700068
Kissin' Cousins: USA820700069 - USA820700080
Frankie and Johnny: USA820700081 - USA820700092
Spinout: USA820700093 - USA820700102 (News, Source: For Elvis CD Collectors Forum /Elvis News)
---
"Early Morning Rain" CD: Here is the press release on the 3rd Audiophile release entitled "Las Vegas Years Vol. 2 - Early Morning Rain" which is due for release Late June 2007.

Press-release: Here's Audiophile's 3rd release "The Las Vegas Years Volume 2" subtitled "Early Morning Rain". This CD is planned for late June release.

When Elvis' August Las Vegas engagement in 1975 was cut short by illness - Elvis returned in December to Las Vegas after a 3 month break from performing, being energetic and vocally in very good form. This show contains something unique - Sweet Inspirations' drummer, Jerome Monroe was on the drums as Ronnie Tutt was unavailable due to the birth of one of his children. Elvis was in great spirits this night and gave it all to his audience, especially with some newer material "And I Love You So", "Softly As I Leave You", "America The Beautiful" and a complete rare version of "Early Morning Rain". Also Elvis had a little boy from the audience come on stage to dance while Elvis sings "Hound Dog".


This CD also contains four bonus tracks and one of them is the last full live version of "My Boy" that Elvis ever performed live on stage. This new CD will come with an 8-page booklet, containing photos from December 1975 Las Vegas Engagement. The audio was cleaned and fully restored using professional equipment to achieve best possible result.

Tracks: 01. Also Sprach Zarathustra - 02. C. C. Rider - 03. I Got A Woman / Amen (medley) - 04. Monologue, introduction of Jerome "Stump" Monroe - 05. Love Me - 06. Hound Dog - 07. Fairytale - 08. And I Love You So - 09. Trying To Get To You - 10. All Shook Up - 11. Teddy Bear / Don't Be Cruel (medley) - 12. One Night - 13. Polk Salad Annie - 14. Band Introductions - 15. Johnny B. Goode - 16. Drums Solo (Jerome "Stump" Monroe) - 17. Bass Solo (Jerry Scheff) - 18. Piano Solo (Glen D. Hardin) - 19. School Day #1 - 20. School Day #2 - 21. I'll Remember You (by request) - 22. How Great Thou Art (with reprise) - 23. Early Morning' Rain - 24. It's Now Or Never - 25. Softly As I Leave You (duet with Sherrill Nielsen) - 26. America (The Beautiful) - 27. Can't Help Falling In Love - 28. Closing Vamp

Special bonus tracks: 29. Blue Christmas (Las Vegas 12/03/1975) - 30. My Boy (Las Vegas 12/03/1975) - 31. Just Pretend (Las Vegas 12/04/1975) - 32. Bridge Over Troubled Water (Las Vegas 12/04/1975) Approximate running time: 79:42 (News, Source: Elvis News)
---
"40 Greatest Hits" CD release in LP sleeve: Due for release on June 18, 2007 on the Greatest Hits label is the compilation "40 Greatest Hits" CD. This Spanish compilation comes in an LP sleeve. (News, Source: CD Universe /Elvis News)
---
Dirk Vellenga dies: Dutch author and journalist Dirk Vellinga died this weekend, he was 59. In 1988 Dirk Vellenga wrote the book "Elvis And The Colonel" about Elvis' Dutch manager.

Apart from that book, he worked as a journalist for the Dutch Breda based news paper De Stem. Vellenga's book was soon translated in English, and it was this very book that inspired TV makers for the DVD-documentary with the same title. In her book on Parker, Alanna Nash refers to Vellenga as well. (News, Source: www.elvisnederland.com / www.epgold.com)
See trailers for "Fit for a King" DVD: "Fit for a King: The Story of B&K Enterprises" is the first DVD - Release in August 2007 & broadcast on televison 2008, to document the extraordinary story of B&K Enterprises one of the most unique costume shops of its kind in the world. Butch & Kim Polston have a passion for detail that lead to a working relationship with the original fabulous designers, Bill Belew and Gene Doucette.

Together they pay homage to the King with their faithful recreations. Belew, the designer who created the head-to-toe black-leather look for the 1968 TV special that became known as Presley's "comeback," became a collaborator whom Presley trusted to execute his more and more outrageous style ideas in the 1970s.

In 1972 Gene Doucette, started doing the designing on Elvis costumes for Hollywood costume legend Bill Belew. Gene designed more than 50 elaborate outfits worn by the king of rock & Roll. He has also designed wardrobes for Cher, Bette Midler, Dolly Parton Diana Ross, Carol Burnette, Tina Turner and Muhammad Ali.



Featuring rare video footage, archival photographs of Elvis wearing his amazing outfits, as well as sketches and other original documentation. "Fit for a King" showcases the risk-taking style that was part of Presley's power as a rock 'n' roll icon and the heartfelt friendships that have evolved from mutual admiration and respect. Out in August 2007.
(News, Source: EP Gold / Elvis Matters)
First of all, why did you back away from Sonny West when he confronted you in Vegas two weeks ago? He was face to face with you and told you to your face you're a liar and you're trying to scam the fans with your cock n' bull claims as to your relationship with Elvis.
I know who the people you speak of that can supposedly back up your story and those people are well known to the fans to be scam artists too.
As for your documents, we await them but be forewarned we have two documents in our possession that will show how phony you are with your claims about Elvis. You never worked for Elvis, you were never a private investigator for him or anything else.
New EPE licensee: DUVETS-to-curtains company Character World is all shook up after clinching two major agreements which will help propel sales towards £13m this year.

The family-owned company, based at Stanley Green near Cheadle Hulme, has secured licences to design and manufacture bedding products featuring Elvis Presley and award-winning animal portrait photographer Rachael Hale.
Its deal with Elvis Presley Enterprises will see Character World design and manufacture duvet covers, sleeping bags, blinds, ponchos and bean bags featuring the rock and roll legend. The goods will be in the shops in time for Christmas.

Managing director Danny Schweiger said: "This brand will have global appeal for adults as well as teens. Properties featuring music and film legends are experiencing resurgence as people look to the past for inspiration.

"Icons such as Elvis Presley have inspired generations for many decades and will become increasingly popular as the demand for 'retro' brands continues to grow.

"We're extremely excited about the possibilities for the brand."

The licence for Rachael Hale products will see Character World supply duvets, curtains, towels, fleece blankets and sleeping bags featuring dogs and cats to stores and catalogue firms including John Lewis, Woolworths, Debenhams, Argos and Littlewoods.

Danny said: "The Rachael Hale brand has wide appeal and an extremely high profile across the globe.

"It's a change in direction for us, as this brand will appeal to teens as well as children."

He runs the business with brother Mark, who is sales director, and their dad Tommy, the chairman. Established in 1998, the company posted sales of £8m for 2006. It employs 34 staff. Turnover this year will be boosted by licensing agreements for Disney favourites in addition to the Elvis and Rachael Hale ranges.

Character World's other licences include The Simpsons, Spiderman, Barbie and Thomas the Tank Engine.
Meanwhile, Character World has expanded its sourcing operations in Pakistan through a joint venture. It also buys from China, Turkey, Bangladesh and Portugal. (News, Source: Charmaine Voisine)
---
Elvis Week events: Look for the following events:
"Elvis People," a new play by Doug Grissom, examines Presley's impact on American culture through the eyes of the people he affected throughout and beyond his life. Performances begin Wednesday at New World Stages Stage 1, 340 W. 50th St., between Eighth and Ninth avenues, New York City. Opening night is June 21. Go to www.elvispeople.com.
Elvis Day, Aug. 12 at Jenkinson's, Point Pleasant Beach, New Jersey featuring the E Team Skydivers, skydiving team of Elvis Presley impersonators. Go to www.jenkinsons.com. (News, Source: Charmaine Voisine)
---
---
Elvis scooters in Europe: Elvis Matters has kicked-off the official Summer campaign for 'Elvis 2007'. Even though the ticket sales are an unexpected success, they still intend to put the spotlight on 'Elvis' in the next few months. Scooters like these, with a 6 feet high poster behind them, will show up in several cities in Belgium and Holland.

For the show in Antwerp (September 30th), Elvis Matters recommends the balcony seats, and for Eindhoven (September 20th), they are down to the very last 'seat-tickets'. (News, Source: Elvis Matters)

---
DVD re-issue of "Elvis The Early Years" mini-series: Starz Home Entertainment (formerly Anchor Bay) has announced it is releasing the Jonathan Rhys-Meyers "Elvis" mini-series in the US on 14 August. The release will include bonus deleted scenes. It can be pre-ordered from Amazon.

(News, Source: TV on DVD)
---
Chart Update: The "Elvis Lives" DVD dropped off the Belgium and Swedish Music DVD charts this week. "Elvis - Love Me Tender" re-entered the Swedish Music DVD chart at #12, it has already charted for 19 weeks.

The "Elvis Lives" DVD dropped to #15 from last week's #13 after being in the UK Music DVD chart for 13 weeks.

The "ELV1S 30#1 Hits" dropped to #66 from last week's #65 in the French Album Top 200 chart while in Ireland it dropped to #76 from #64 on the Irish Album chart. (News, Source: Elvis News)
Saturday 9 June 2007

...................................15 items added today!!
Tupelo's Own Elvis Presley - BBC 2 radio giveaway today!!: Today on BBC Radio 2, Jonathan Ross will be giving away copies of 2007's #1 Elvis release between 10am and 1pm. (News, Source: Joseph Pirzada)

Next week EIN will also commence a new competition:

Win a copy of "Tupelo's Own Elvis Presley"
---
Elvis Straight Up! Update: EIN received the following press release:
ELVIS- STRAIGHT UP By Joe Esposito and Joe Russo - Three decades ago this summer, Elvis Presley, the undisputed "king of rock n' roll" passed away at his home in Memphis, Tennessee. Present on that fateful day was Joe Esposito, Presley's "right hand man", road manager and foreman of the fabled "Memphis Mafia" for seventeen dedicated years.

On July 4, ELVIS STRAIGHT UP, co-authored with Joe Russo, will become the flagship book release from Esposito's new publishing firm, Steamroller Publishing.

ELVIS STRAIGHT UP, volume one in a series, dares to explore and explain in frank, "straight up" terms, many of the unanswered questions and half-truths that have dogged the legend of the most well-known and influential entertainer of all time.

In ELVIS STRAIGHT UP, Joe Esposito unveils the backstage truth on such topics as:

The "bodyguard book", ELVIS: WHAT HAPPENED?

Elvis's marriage and divorce with Priscilla

Elvis's ill-fated franchise venture, "Presley Center Courts"

The reason why Elvis never toured overseas

His enigmatic manager, Colonel Tom Parker

Elvis's last night alive...and the following day

What made Elvis tick in the recording studio and onstage

The controversial relationship between Elvis and his physician "Dr. Nick"

Esposito's retrospective "open letter" statement to the "Memphis Mafia"

and much more

Joe Esposito has finally come to terms with the past and has assembled it in volume one of the amazing new series every Elvis fan will need to experience; ELVIS-STRAIGHT UP!

Elvis Straight Up! Is available for purchase today at http://www.elvisstraightup.com
(NOT SOLD IN STORES) Contact: Steamroller Publishing / Daniel Lombardy (702) 953-7930 (News, Source: Elvis Straight Up)
---
Elvis An American Icon: Due for release from Foreign Media is the 2DVD / 2 CD set "An American Idol" containing the two budget DVDs "Long Live The King ('68 Comeback) and "Elvis In Concert" and a 2 CD compilation CD.

(News, Source:

MovieZoo/Elvis News)
---
"A Hot Night In Vegas" CD: A new import label called "Delta Blues" will reissue some older soundboard , now considered to be stale and in need of updating. The first release should be "A Night In Vegas", a reissue of Fort Baxter title "Opening Night 1969". (News, Source: Essential Elvis/Elvis News)
---
Elvis Bolero jacket for sale: Velvet bolero style jacket owned by Elvis and given to his personal hairdresser, Homer M. Gilleland, known as Mr. Gill. The wine colored, four-buttoned short jacket bears a "Mr./Ray's/Palm Springs" label.

Accompanied by a Typewritten Statement signed: "Homer M Gilleland/8-14-91". In full: "To whom this may concern. My name is Homer M. Gilleland. For over 20 years preceding his death, I Was the personal hairdresser of Elvis Aaron Presley. During my employment as Elvis' hairdresser, he gave me as gifts numerous Items of clothing and personal property. This wine colored velvet bolero jacket was owned by Elvis. The jacket has the Label, Mr. Rays Palm Springs. This was a favorite men's store that Elvis frequently Shopped at in the 1960's while he stayed in Palm Springs. This jacket is authentic as given to me by Elvis Aaron Presley during my employment as his personal hairdresser."
Homer M. Gilleland, known as "Mr. Gill", cut Gladys Presley's hair in the 1950's at Goldsmiths Department Store in Memphis, Tennessee. When Elvis became famous he asked his mother's hairdresser to cut his hair. Mr. Gilleland cut Elvis' hair until Presley's death in 1977. In April, 2004, a home in Palm Springs, California, bought in 1970 for $85,000 by Elvis and Priscilla Presley was sold for $1.25 million. They had honeymooned in Palm Springs in 1967. Elvis still owned this home at the time of his death. A RARE CHANCE TO OWN AN AUTHENTIC ELVIS JACKET WITH UNQUESTIONABLE PROVENANCE! In fine condition, with one button a bit loose. Two items. (News, Source: It's Elvis Time)
---
Billy Miller responds to Marty Lacker: See our news stories dated 5 and 6 June 2007.
Elvis owned hand gun for sale: A gold-plated gun once owned by ELVIS PRESLEY is expected to fetch more than $20,000 (GBP10,000) when it is auctioned in California this month (16Jun07). Presley gave the Walther PPK as a gift to Hawaii-Five-O star Jack Lord in 1973. The gun is being sold with a licence for it. Also going under the hammer at the Julien's sale in Beverly Hills is a bottle of prescription pills belonging to the late King of Rock. A microphone used for Elvis' 1954 radio debut and a Bentley owned by Yoko Ono will also go up for sale, among a total of 300 entertainment memorabilia items.
Also included in the auction are prescription pills (Naldecon), also Elvis'. The items are to be auctioned at Julien's Auctions summer sale on June 16 at the Beverly Hilton in California. (News, Source: Contact Music/ The Sun Online/It's Elvis Time)
---
"Elvis - One Night" DVD: Due for release from Essential Elvis is the DVD "Elvis - One Night" which contains a filmed registration of the fan club's May 5, 2007 event with the Sweet Inspirations".

(News, Source:

Essential Elvis /Elvis News)
---
For our fan club members, every dollar saved this August means extra money for them to enjoy some where else. Weather it's an event or another must have Elvis item they've had their eyes on. Extra money for anything they need is a plus!
I wanted to advise you of a cost saving possibility your members may want to know about. It's concerning a book I've personally written, entitled Eternal Flame, due out near the end of June. It's about a fan who's in need of alittle heavenly guidance. A certain adventurous, hard to handle, fun loving angel comes down to earth to give her that much needed support. I'm sure i don't need to tell you exactly who that fun loving angel might be? :)
If you feel this is information important enough to share with your members, i encourage you to do so. I hope to see everyone there having a great time and celebrating the greatest entertainer in history!
Should you have further questions regarding this book's contents feel free to email me back. I'm very excited and love to chat about it!
| | |
| --- | --- |
| Scandinavian 30th Anniversary DVD Box: Here is a scandinavian edition of the "30th Anniversary Box" set containing the movies "G.I. Blues", "Blue Hawaii", "Roustabout"', "Paradise Hawaiian Style", "Fun In Acapulco", "King Creole", "Girls! Girls! Girls!" and "Easy Come, Easy Go". This set is due for release August 7, 2007 in Scandinavia. (News, Source: MovieZoo /Elvis News) | |
---
| | |
| --- | --- |
| Chinese Elvis sampler: BMG China will release the first promotional CD for Elvis' 30th Anniversary. It is released to tie in with Warner Brothers and Paramount's marketing effort supporting their massive Elvis movie DVD reissue campaigns this summer. This sixteen track "not for sale" sampler has severall tracks and is very limited. (News, Source: World Wide Elvis /EP Gold) | |
---
'Elvis looks like a million bucks': Elvis Presley was already a big star, but he hadn't tested his drawing power in arenas yet. Concert promoter Jerry Weintraub enjoyed modest success but he needed someone like Elvis to help lift him to the next level - arenas. So, Weintraub started calling Elvis' manager Col. Tom Parker. He called Parker every day for a year. And every day for a year, Parker told him to get lost. One day, Parker couldn't stand it any longer.

"You've called me every morning for a year," Weintraub recalled Parker saying. "Why don't you stop calling me? It's not ever going to happen. I can't stop calling you," Weintraub told Parker. "I had a dream that I was going to promote Elvis' arena tour."

Parker, realizing that he was never going to discourage Weintraub by ignoring him, told the promoter that he would meet with him the next day at the International hotel in Las Vegas. But there was a catch. Parker wouldn't talk to Weintraub unless the promoter showed up with a check for $1 million made out to Elvis.

"I had some money but not that kind of money," said Weintraub, who now produces movies, including the new "Ocean's Thirteen" caper film with George Clooney and Brad Pitt.

Weintraub had less than 24 hours to come up with the money, and he was getting no response from any of his contacts in the entertainment industry. Then, he got the call that changed his life. The owner of a chain of radio stations in the Northwest offered the $1 million, in exchange for 50 percent of Weintraub's future concert promoting business.

Weintraub said he was in no position to turn down the offer. He gave the check to Parker, and Weintraub became a major player in the music business, later promoting concerts for the likes of Frank Sinatra and Neil Diamond. Years later, Weintraub was at the home of Danny Kaye, who liked to cook Chinese food on a wok for his friends. While making dinner, Kaye turned to Weintraub and said: "I want to thank you. I've made a lot of money on you."

Weintraub was mystified, until he learned that Kaye was the silent partner of that radio station owner. It was Kaye who agreed to back Weintraub's Elvis adventure. Kaye and his partner eventually returned their 50 percent share to Weintraub. "They returned it after each making about 50 million dollars from the deal," Weintraub said with a smile. "But it was worth every penny to me." (News, Source: Orange County Register)
---
Elvis The Fantasy Concert DVD: THE ONLY ESSENTIAL 30TH ANNIVERSARY DVD IS OUT NOW!!! Every now and then we get something completly different, which blows you away and has never been done before... this is one of those days!!

Star brings us this very unusual dvd, which features all songs from Elvis1974 live performance in Memphis, also know as RECORDED LIVE IN MEMPHIS. We hear and see Elvis perform ALL songs from this historical concert, footage is from 1969 – 1976 and is combined in a way, only STAR can deliver.

Fans from all countries are getting ready for their trip to Memphis, what better way, to get in the right mood, with this Memphis performance by Elvis!


Highlights:
- Help Me – a very nice close up version!
- How Great Thou Art, done like the way it is in the Elvis The Concert series (footage from 72, combined with audio from 74!)
- My Baby Left Me, A rockin clip, very unusual, Elvis "lipsynches" the song, and it works!
- Why Me Lord, Elvis and JD, reunited again, very touching clip.
- Steamroller Blues, great moves by Elvis!
- The Rock and Roll Medley, AMAZING!! one you will want to watch over and over!
- Take these highlights, add a short "pre-show" performance done by The Imperials (A Thing Called Love) and The Sweets (Sweet Inspiration).
Throw in a very funny commercial with Elvis and Dolly Parton and IF I CAN DREAM, the duet with Celine Dion as a bonus, and without a doubt this might be one of the best STAR releases since the Ill Be There series...

(News, Source: EP Gold)
---
Chart update: U.S. Billboard Elvis Chart listings for the week ending June 16, 2007:

Top Country Catalog Albums - Ultimate Gospel - remains at #17
Top Country Catalog Albums - Elvis 30 #1 Hits - down 2 to #15
Hot Singles Sales - Heartbreak Hotel - re-enters at #47 (sg)
Top Music Video - Elvis Lives - 25th Anniversary Concert - up 6 to #7
Top Comprehensive Music Video - 25th Anniversary Concert - up 6 to #7
Top Music Video - Elvis: 68 Comeback Special - up 5 to #27
Top Comprehensive Music Video - Elvis: 68 Comeback Special - up 5 to #27
Top Music Video - Elvis: Aloha from Hawaii - up 6 to #28
Top Comprehensive Music Video - Elvis: Aloha from Hawaii - up 6 to #28

The single "Heartbreak Hotel" re-enters the Hot Singles Sales chart for its 71st week on this chart, no releases drop off the chart this week. (News, Source: Elvis International Fan Club /Elvis News)
---
UK CD Release: Woolworths UK for £2.00 Only - yes £2.00 Only!!!

It's on the Exceed label part of the Pickwick group. (News, Source: EP Gold)
"Elvis, Linda and Me" (Book Review): While millions of Elvis fans fantasized what it would be like to know "The King", Jeanne LeMay Dumas lived that dream. As Miss Rhode Island, Dumas met Miss Tennessee - Linda Thompson - at the end of the 1972 Miss USA Pageant. The two formed an instant and lasting friendship...one which saw Jeanne become a regular part of Elvis' inner sanctum as she experienced an unforgettable four and a half year odyssey!

Step inside Ms Dumas's book as Mandy Squair discovers a visual and narrative treat which will delight many fans. (Book Review, Source: EIN)
---
| | |
| --- | --- |
| New Shakin' Stevens album features "Fire Down Below": The British rock star Shakin' Stevens has just released his new CD, "Now Listen". It's his first release in almost 10 years. One of the most interesting tracks on the CD, is the song "Fire Down Below", which Jerry Scheff wrote for Elvis. It is really too bad that Elvis never put his vocals to the instrumental track, but if Shakin' Stevens's version makes up for that, is for you to judge. (News, Source: Elvis Matters) | |
---
Biggest selling artist - Elvis, Beatles or A.R. Rahman?: A.R. Rahman's loyal contingent of ethnic Japanese fans live in hope that he will one day give a concert in their country. The groupies follow him everywhere. A dozen of them, waving placards besieging "Please come to Japan," were camped outside hotels where he was staying in San Francisco and Vancouver.
They will doubtless be in Toronto when Rahman lands, along with a troupe of 70 singers and dancers, for a nearly sold-out concert at the Air Canada Centre on Sunday. His huge fan base is a testament to his status, by some estimates, as the bestselling recording artist in history. With more than 200 million album sales, he's arguably bigger than Elvis or the Beatles.
But in his characteristically humble way, Rahman, who has a degree in Western classical music from Oxford University, explains it this way over the phone from Vancouver: "I'm not a pop artist. Most of my albums are film soundtracks and when the movies become a big hit, so do my songs.
"It used to be before all the downloading started, you could easily sell 20 to 30 million albums in India. I've had about 10 films that went on to become big cult hits, so it's a calculation of that," says the soft-spoken Rahman, 41, adding with a chuckle, "We don't get paid royalties like (in) the U.S. If that were the case, I would be a very rich man." (News, Source: TheStar.com)
---
Lansky Bros. Launches New Collection: Even at the age of 80, legendary clothier Bernard J. Lansky is still creating one-of-a-king clothing. His collection, Lansky Bros. Clothier to the King has launched a new collection of clothing featuring Elvis-inspired designs in various colors. Their collections, featured online or in their shop located in the lobby of The Peabody Hotel, offer Elvis fans and fashionistas alike the opportunity choose from a selection of quality apparel such as the Jailhouse Rock Sweater, Love Me Tender Velvet Shirt, bowling style Silk shirts like the Speedway and Basic 101, the Legendary Roll Collar, Blue Suede Shoes, Black/White Combo Shoes and Belts, and even some sequined shirts. Read more (News, Source: EPE)
| | |
| --- | --- |
| ELVIS - The Greatest Singer of All-Time: Britain's Q magazine (The Essential music guide) recently selected the finest voices in music history. Presented as a list of the 100 Greatest singers of all-time, their 10 greatest songs were also nominated. Johnny Cash made #14, Roy Orbison #23, Ray Charles #24, Tom Jones #71 and Smokey Robinson #95. Here are the top five with you-know-who at Number One! John Lennon #5; Otis Redding #4; Frank Sinatra #3; Aretha Franklin #2; Elvis Presley #1. EIN presents Q magazine's article about Elvis, as well as their Top Ten key Elvis Songs. (Spotlight, Source: EIN/Q) | |
---
| | |
| --- | --- |
| Madison Square Garden - 35 Years Ago: Tomorrow, exactly 35 years ago, marks the arrival of Elvis and his crew in New York for a series of 4 sold out shows in the huge Madison Square Garden concert hall. According to the book "Elvis Day By Day" by Ernst Jorgenson and Peter Guralnick, Elvis travelled with a group op 70 to 80 people, including stagehands and concessionaires. To transport all the equipment, Col. Parker leased 3 airplanes. Today, 35 years ago, Elvis checked in at the Hilton Hotel, in order to be ready for tomorrow's press conference and first MSG show. On the occasion of the anniversary, ElvisMatters presented its members a free deluxe two CD set, including the Evening show of June 10th. Available only as a free bonus to the ElvisMatters News Magazine. Go to MEMBERSHIP (button on the left) to subscribe to the club. (News, Source: Elvis Matters) | |
---
Elvis was gay update: A very strong reaction to our news item yesterday on this subject. More than 20 readers told us in no uncertain terms that we should not be publishing this type of news. While we understand the sensitivity of the story and the angst it causes, EIN stands by its longstanding position of publishing the widest range of news and information about Elvis. We included a warning with yesterday's story and suggest that readers offended by it were forewarned. EIN will continue to publish without fear or favor...it is not our intent to only offer what some consider to be politically correct. (News, Source: EIN)
---
Peter Guralnick interviewed: The French TV guide magazine "Telerama" will come with a special 100 pages illustrated Elvis edition which is due June 6, 2007. It includes an interview with Peter Guralnick on the French translations of "Last Train to Memphis" (Le Temps De L'innocence, 1935-1958), and "Careless Love" (Au royaume de Graceland, 1958-1977) which are due September 2007. (News, Source: Elvis News)
---
| | |
| --- | --- |
| Family member auctions Graceland organ: A great-granddaughter of Minnie Mae Presley offers a Hammond organ on Ebay that once stood in the bedroom of her great-grandmother at Graceland. The person who offers the instrument for sale, who does not mention her own name, is supposed to be a second niece of Elvis, because her grandmother was Elvis' aunt. It is because of those family connections that she owns the organ. Her father is almost retired and is planning to secure his financial state for the future, that's why she sells the item. She also stated that there is NO certificate of authenticity, but that her father can 'make one'. This seems to be another weird story...(News, Source: Elvis Matters) | |
---
Elvis Decoded blog: EIN received this message from author Patrick Lacy: Hello Elvis Decoded Newsletter Subscribers...Just a short note to let you know that instead of sending out periodic newsletters and updates as I get back to work on some of the topics from Elvis Decoded (as well as address some current topics that have popped up recently), I have opted to start a blog. There, I can post updates, further analysis, and commentary, and not have to fill up everyone's inbox as I return to my research.

I will be posting the blog link on the Elvis Decoded webpage as soon as I get the first couple of topics under way, which should happen in the next couple of days. The Elvis Decoded webpage is at:
If you have any questions or comments about Elvis Decoded or the Elvis Decoded blog, or you would like to suggest a topic or two you'd like to read more about, please let me know. You are also welcome to contact me about any of the topics I address on the blog.

Thanks for your support and interest. Patrick Lacy....Elvis Decoded (News, Source: Patrick Lacy)
Read EIN's interview with Patrick Lacy
---
TV Land's Summer Sizzles With Month-Long Tribute to Elvis: TV Land Myths and Legends: Elvis (special), Thursday, August 16 at 10 p.m. ET/PT - Based on the popularity of season one of TV Land Myths & Legends, this half-hour special coincides with TV Land's month-long salute to Elvis Presley. Thirty years after his death, TV Land takes an in-depth look at some of the most popularly held mysteries about the "King of Rock and Roll" and dissects them to separate fact from fiction.
ELVIS MONTH - August 1-August 31, 2007: It was thirty years ago this August that the world said goodbye to one of the greatest entertainers and cultural icons of all time -- Elvis Presley. In a monumental tribute, TV Land will showcase a number of Presley's treasured work by airing films, concerts, documentaries and interstitial programming starring and about the "King of Rock 'n' Roll" every day throughout the month.
---
| | |
| --- | --- |
| Gwen Stefani acknowledges Elvis: Popstar Gwen Stefani opened her new tour in the USA this week. The opening act 'The Sweet Escape' is a modern link to Elvis' Jailhouse Rock says the singer. Dressed in a black and white costume, she escapes from a cel on stage to kick-off the concert. (News, Source: Elvis Matters) | |
| | |
| --- | --- |
| | |
| 'EIN's Best of Elvis on YouTube' Weekly Update: This week see the great 'I Need Your Love Tonight', and some fabulous Elvis 1972 Summer Festival action. We also feature a touching photo-montage to Elvis & Lisa Marie, as well as a very moving tribute by Vince Gill. With some candid Elvis airport footage, as well as a very emotional 1977 'My Way' there's always more to discover. Note that the Internet Elvis police are back in action, removing a lot of clips that we have recently selected. So catch them all before the Internet police take them away ('EIN's Elvis on YouTube', Source: EIN/YouTube) | |
---
UK singles boxset: Here is the upcoming U.K. Singles box set, the follow up to the succesful U.K. #1 Hits box set. Commencing August 13, 2007 Sony-BMG will start a weekly string of single releases. This set contains classic singles that did not make it to #1 in the U.K. The first single, "Heartbreak Hotel" comes with a collector's box and is thereby not eligible to chart.

The release schedule:

1. Heartbreak Hotel
2. Suspicous Minds
3. Blue Suede Shoes
4 Hound Dog
5. (Let Me Be Your) Teddy Bear
6. Party
7. Don't
8. Hard Headed Woman
9. King Creole
10. A Big Hunk Of Love
11. A Mess Of Blues
12. (Marie's The Name) His Latest Flame
13. Viva Las Vegas
14. In The Ghetto
15. You Don't Have To Say You Love Me
16. Always On My Mind
17. An American Trilogy
18. Burning Love (News, Source: OEPFC Magazine/Elvis News)
---
Tupelo's Own Elvis Presley: Today we add your feedback to our review of the fantastic new dvd/book release from Memphis Recording Service.

Can it be surpassed as the #1 Elvis release of 2007?

We have also added a posting by Keith Flynn on technical aspects of the DVD. Keith's knowledge and understanding of how the footage was obtained and filmed will be appreciated by many fans. (News, Source: EIN/FECC)
---
Lisa Johansen suing Swedish newspaper for breach of contract: Lisa Johansen, who claims to be the real Lisa Marie Presley, has launched legal action with her husband against a Swedish newspaper. Read full story (Conspiracy, Source: Bill Beeny)
---
FTD announcement: Ernst Jorgensen has informed a number of European Elvis groups that FTD will be ceasing production of regular quarterly 5" releases in the future. It appears the future of FTD is 7" releases.
---
---
Elvis was gay: The latest ridiculous claim about Elvis is that he was gay. While not a new claim, it is one which has not been heard of for some time. EIN warns readers that you may find some of the content in this link offensive. (News, Source: FECC board)
---
Your response to Billy Miller news: There was a strong response to our two news items yesterday regarding Billy Miller. Memphis Mafia member, Marty Lacker, re-confirmed that Billy never worked for Elvis and fans should save their money and buy something legitimate, while others claimed Billy's "Scrapbook" venture was either a "scam" or he was just another misguided guy trying to have his ten minutes of fame.
---
Latest celebrity visitor to Graceland: Musician Tommy Thayer of the band Kiss came out to Graceland for a tour on Monday. (News, Source: EPE).


"Tupelo's Own Elvis Presley" (Book/DVD Review): EIN has received the latest release by Joseph Pirzada. Does it live up to expectations?

The answer is a resounding YES!

The set is an historically important record of "Elvismania"near its peak. And the incredible "live" concert with both sound and vision will blow most fans away.

Read EIN's capsule review (Review, Source: EIN)
---
CKX agrees to Sillerman/Fuller buyout deal - future is real estate & location based attractions: The parent company of 19 Entertainment, CKX, has agreed to a $1.3 billion takeover deal from US tycoon Robert Sillerman and Pop Idol creator Simon Fuller.

CKX shareholders will get $13.75 per share in cash as well as shares in FX Luxury Realty, an affiliate of Sillerman that has real estate interests in Las Vegas.

The sale, through a merger with 19X, a private firm owned by Sillerman and Fuller, will be financed through a combination of equity and debt financing, with cash also coming from Sillerman and Fuller's own pockets.

As well as owning 19 Entertainment, CKX has exclusive talent deals with David and Victoria Beckham, Rachel Stevens, Will Young, Claudia Schiffer, Annie Lennox and Emma Bunton. The firm also owns a controlling interest in Elvis Presley Enterprises and owns certain rights to the names and images of Elvis Presley and Muhammad Ali.
Commenting on the series of transactions, Mr. Sillerman said, "After two successful years of developing and exploiting the assets we have acquired, during which time we have seen tremendous year over year growth, we have come to realize that there is a substantial opportunity to capitalize on the Elvis Presley and Muhammad Ali assets in real estate and location-based attractions. However, the pursuit of these opportunities would require a significant investment of capital, which could hinder our ability to grow the core area of our business and which is not consistent with the business plan that we have always described to our stockholders.
As a result, we thought it best to provide our stockholders a capital realization opportunity as well as the opportunity to participate in a new public company that will develop real estate and location-based projects that exploit CKX's iconic intellectual property content. We believe that the transactions that we announced today accomplish that goal."

Mr. Fuller added, "I am extremely proud of what we have accomplished and am looking forward so much to continuing to work with Bob building the amazing assets that we have in Idol, Elvis Presley, Muhammad Ali and the Beckhams. I believe this transaction provides the best way to maximize the value we have created."

Also on June 1, 2007, CKX acquired 50 percent of FX Luxury Realty LLC for cash consideration of $100 million. The distribution by CKX to its stockholders of half of CKX's interests in FX Luxury Realty is a condition to the closing of the merger transaction.

Under the deal, FX Luxury Realty has signed licences to use certain intellectual property rights of CKX associated with Presley and Ali in the development of real estate and attraction-based projects. (Sale of EPE, Source: Digital Spy/Elites TV)
Visit EIN's comprehensive Sale of EPE Archives
---
---
New Elvis vinyl pic disc release: Here is s new vinyl picture disc from the Collector Vinyl label.

Track listing: Rip It Up/Love Me/When My Blue Moon Turns To Gold Again/Long Tall Sally/First In Line/Paralyzed/I'm Left You're Right She's Gone
Mystery Train/Shake Rattle & Roll/Heartbreak Hotel/Hound Dog/Blue Suede Shoes/So Glad You're Mine/Old Shep/Ready Teddy/Anyplace Is Paradise/How's The World Treating You/How Do You Think I Feel/Blue Moon/ Love Me Tender (News, Source: Elvis News)
---
Jack White to play Elvis: Rock star Jack White has finally confirmed that he will be portraying music legend Elvis Presley in upcoming comedy 'Walk Hard'. The 'White Stripes' frontman's confirmation came at a time, when the media had been speculating about his portrayal as the 'King of Rock n Roll' in the movie.

"It's my favourite era of Elvis, around '56, and when John sent me the script I laughed out loud the whole way through," Contactmusic quoted him as saying.

Actress Jenna Fischer, and Oscar nominee John C. Reilly will also star in the movie, which is scheduled for release next year. (News, Source: ZeeNews.com)
---
Graceland kingdom expansion hinges on public funds - proposal dovetails with city plans to rejuvenate Whitehaven area: Elvis Presley's Graceland kingdom would be totally transformed -- the king's mansion aside -- in a $250 million improvement plan led by CKX Inc. chief executive Robert F.X. Sillerman.

There would be a new boutique convention hotel, a potential second hotel, a new visitors center, new attractions and new shops within five years -- provided local and state governments commit to an unidentified amount of funding, as Sillerman hopes will happen within the month.
"I think they recognize that we're blessed with an attraction like Graceland. There's really nothing like it in the world," Sillerman said Friday, after it was announced that publicly traded CKX is being taken private in a buyout he's leading. "With the kind of investment we're prepared to make, in partnership with the jurisdictions, we really could have a significant impact on the entire region. They recognize it and we're thrilled about it."
Shelby County Mayor A C Wharton also expressed optimism about the project, without specifically addressing the funding issue.
"This significant private investment will have a positive impact on the community as a whole, but it also dovetails into our existing efforts to further enhance the vitality of the Whitehaven community," Wharton said in a statement. "The company's commitment will facilitate our efforts to attract additional businesses and biomedical companies to the corridor and assist in the development of our aerotropolis strategy. We look forward to working with the company, other local officials and the people of the Whitehaven community to bring this plan to fruition."
On the city side, chief financial officer Robert Lipscomb referred questions about public funding to Mayor Willie Herenton. Attempts to reach him were unsuccessful. There have been ongoing talks between EPE and public officials, including a March meeting attended by Sillerman, Wharton, Herenton, Lipscomb, members of the Memphis Regional Chamber and Priscilla Presley.
Also, the City Council asked the Herenton administration to develop a plan for a Center City Commission-like board to oversee the redevelopment of the area, which includes Memphis International Airport and Brooks Road. Although plagued by decay, the area also is home to three of the city's key industries -- distribution and logistics, medical device manufacturing and tourism and entertainment.
"We need a lot of help from the community," said Jack Soden, Elvis Presley Enterprises CEO. "It wouldn't work to think in terms of this 100-acre campus and pouring a tremendous investment in here and just hoping things work out OK for Elvis Presley Boulevard and Whitehaven. It all has to be integrated -- the Brooks Road initiative, Elvis Presley Boulevard, the whole community. We want to be the catalyst for just a huge rebirth, redevelopment of the whole Whitehaven area."
Sillerman, asked if government funding is essential to his plan, said, "That's exactly right."
Sillerman paid $100 million for an 85-percent stake in EPE in a deal announced in December 2004. He vowed to transform what had been run as a "family business," using a "risk-oriented and expansive approach." During a February 2006 visit to Memphis, Sillerman talked of doubling Graceland's total of 600,000 annual visitors and said the late King of Rock and Roll's home should "take its logical place as one of the great attractions in America, like Disneyland or Universal theme parks."
Toward that goal, EPE and affiliated companies have been gobbling up real estate, and now own or control more than 100 acres around the mansion. The companies have spent more than $13 million on property since January 2006, including a 182-unit apartment complex and former car dealership. Friday's announcement that CKX -- which also owns rights to the Muhammad Ali name and the "American Idol" TV show -- is going private could speed up the Memphis project. That's because while CKX goes private, an affiliated company, FX Luxury Realty LLC, would pursue the Elvis-related real estate projects around Graceland -- as well a hotel and casino development in Las Vegas.
"It was frankly too big a project for a company like CKX," said Sillerman, who built billion-dollar entertainment empires with radio stations and concert promotions. "What we have created is an opportunity for the real estate development company to do that. Assuming we have appropriate cooperation from the city, county and state, this actually should speed up the regeneration, if you will, of the area surrounding Graceland." (Sale of EPE; Source www.commercialappeal.com/ It's Elvis Time)
Visit EIN's comprehensive Sale of EPE Archives
---
Paying Tribute to the King 30 Years After His Death: August marks the 30th anniversary of the death of Elvis Presley, an event that will be anything but ignored by the King's fans. Elvis Week, an annual August event in Memphis organized by Elvis Presley Enterprises, will include an Elvis tribute artist contest for the first time. Winners will be chosen during the eight-day festival (Aug. 11 to 19), which will also include an "Elvis: Midnight in Vegas" concert, a Graceland Scavenger Hunt and an Elvis Presley International Art Show.
Other highlights will include the Elvis Expo — 35,000 square feet of convention space in Memphis devoted to Elvis memorabilia — and the yearly Candlelight Vigil, which always begins the night before the anniversary of Elvis' death, Aug. 16. "We had 50,000 on the 25th anniversary and expect many more this year," said Kevin Kern, a spokesperson for Elvis Presley Enterprises. Information: www.Elvis.com.
Royal Caribbean International, with Mahwey Productions, is organizing Elvis tribute cruises starting June 17 to Mexico, Bermuda and the Caribbean, departing from Los Angeles, Fort Lauderdale, Tampa and Cape Liberty Cruise Port in New Jersey. The four-night "Remembering the King" Baja Mexico cruise leaves Los Angeles on Aug. 6 and starts at $459 a person, double occupancy. Each cruise has at least two Elvis tribute singers on board. One even has a father-and-son Elvis team. Information: www.mahwey.com. (News, Source www.nytimes.com/ It's Elvis Time)
---
Elvis and Janis 3" CD: The Dutch "Elvis Corner" shop celebrates it's second anniversary on June 9, 2007. Part of the celebration is a 3 inch (8 CM) CD in a jewel case reissue of the "Janis and Elvis" EP, only available June 9th. All customers who buy over 10 Euro receive a free copy. (News, Source: Elvis Corner /Elvis News)
---
'Tupelo's Own Elvis Presley' bonus CD: One dealer added an additional 5 track CD to the "Tupelo's Own Elvis Presley" box set. This CD contains the unreleased interview from 1957. (News, Source: Elvis Corner /Elvis News)
| | |
| --- | --- |
| Ernst Jorgensen confirms July FTD will be "Raised On Rock" not "Pot Luck": Following confusion over one of the 3 July FTD releases, EP Gold contracted Ernst Jorgensen and he confirmed it will in fact be Raised On Rock. For earlier story see 31 May 2007 (News, Source: EP Gold) | |
---
Henrickx book delayed:

The 'Elvis Bible' "Mens Muziek Mythe" by Marc Hendrickx (written in Dutch) is postponed. The book was scheduled for release later this month, but the publishing company put the plans on hold until July. Marc was ready to present the book in a few days time, but that plan is cancelled. According to our information, the Belgian release is set for mid July, while the Dutch version comes with a box and 3 to 5 DVD's.

(News, Source: Elvis Matters)
---
Win a trip to Memphis: Through the Memphis Convention & Visitors Bureau you could win a quick getaway trip to Memphis, including a tour of Graceland and a two-night stay at Heartbreak Hotel. Click here to go directly to the entry form. (News, Source: EPE)
---
EPE organisation may again be privately owned: CKX, Inc. (NASDAQ: CKXE), announced today that it entered into a series of transactions that will result in the sale of the Company at a price of $13.75 per share in cash and the distribution to CKX stockholders of shares in FX Luxury Realty, LLC, an affiliate of Robert F.X. Sillerman that has significant real estate interests in Las Vegas and has entered into licenses to use certain intellectual property rights of CKX associated with Elvis Presley and Muhammad Ali in the development of real estate and attraction based projects. Read full article (Sale of EPE, Source: EPE)
Visit EIN's comprehensive Sale of EPE Archives
---
Going to Suzanna Leigh Garden Party during Elvis Week 2007 - can you help?: EIN received the following message from D.H.J. van de Pas in the Netherlands:
I have read about the wonderful garden party that will be organised by Suzanne Leigh in August. As a real Elvis fan, I would love to attend this special gathering. However, as I live in the Netherlands, with a fulltime job, I will regretfully not be there.
---
Chart Update: The U.S. Billboard chart listings for the week ending June 9, 2007:

Top Country Catalog Albums - Ultimate Gospel - down 4 to #17
Top Country Catalog Albums - Elvis 30 #1 Hits - up 6 to #13
Top Music Video - Elvis Lives - 25th Anniversary Concert - down 1 to #13
Top Comprehensive Music Video - 25th Anniversary Concert - down 1 to #13
Top Music Video - Elvis: 68 Comeback Special - down 4 to #32
Top Comprehensive Music Video - Elvis: 68 Comeback Special - down 4 to #32
Top Music Video - Elvis: Aloha from Hawaii - remains at #34
Top Comprehensive Music Video - Elvis: Aloha from Hawaii - remains at #34

No new entries, re-entries or rleases dropping off the chart. (News, Source: Elvis International Fan Club/Elvis News)
---
Claude Thompson dies: Steve Binder, producer/director of Elvis's 1968 TV special, has informed EPE that Claude Thompson, who was the show's makeup artist and one of its choreographers, has died. Thompson was also in front of the camera, dancing solo in the opening of the gospel production number. Says Binder, "Claude was one of the most gentle souls I knew." (News, Source: EPE)
---
ETA Contest comes to Indianapolis: In the city where Elvis Presley last performed live, Indianapolis will host a preliminary competition for the "Ultimate Elvis Tribute Artist Contest" and a performance from Bigger Than Elvis following the contest. This competition is part of the first Elvis tribute artist contest officially endorsed by Elvis Presley Enterprises, Inc. and is in conjunction with the 30th anniversary of Elvis' death. The preliminary competition and concert will be held at Conseco Fieldhouse on Friday, July 13, 2007 at 7:00 p.m.

The winner of the Indianapolis "Ultimate Elvis Tribute Artist Contest" will receive $500 cash, entry into the qualifying rounds of the contest on August DATE in Memphis, Tenn., during Elvis Week and an opportunity to perform at a future Indiana Pacers or Indiana Fever game.

The grand prize winner of the "Ultimate Elvis Tribute Artist Contest" held in Memphis will receive $5,000 cash, $5,000 shopping spree at Graceland, $3,000 gift certificate from B&K Enterprises to use towards the purchase of a jumpsuit, a one-of-a-kind "Ultimate Elvis Tribute Artist Contest" champion belt, a recording session and a contract to perform on the first-ever Elvis Cruise. Second place will receive $2,000 cash and third place will receive $1,500 cash, respectively.

Elvis Tribute Artists (ETAs) will be judged on vocals, appearance, performance, stage presence and their overall tribute to Elvis. The preliminary contest at Conseco Fieldhouse will be judged by Indianapolis area personalities and/or celebrities.

The ETAs can register at the Conseco Fieldhouse Box Office or by mailing completed registration forms to Conseco Fieldhouse Box Office, 125 S. Pennsylvania St., Indianapolis, Ind., 46204. Registration ends July 10 at 5:00 p.m. The entry fee is $125 through July 2, 2007 and $150 after. Registration includes one ticket to the "Ultimate Elvis Tribute Contest" held at Conseco Fieldhouse, a commemorative group photo on stage and a chance to perform for the $500 local cash prize.

The "Ultimate Elvis Tribute Artist Contest" is officially endorsed by Elvis Presley Enterprises, Inc. Tickets, priced at $37 and $27, go on sale Friday, May 25 at 10:00 a.m. and can be purchased at the Conseco Fieldhouse Box Office, all Ticketmaster locations, by phone at (317) 239-5151 or online at Ticketmaster.com or www.ConsecoFieldhouse.com. For additional information, contact Pacers Sports & Entertainment's Public Information department at (317) 917-2500. (Almost Elvis, Source: EPE)
---
New releases: Due for release on June 12 on the H'ART label is the 2 CD compilation "Very Best of - 40 Greatest Hits". Eights days later the book + CD set entitled "Transmissions" will be released on the Soulfood Music label. (News, Source: Amazon.com/Elvis News)

Friday 1 June 2007

..........................15 news items added today!!
"Home for the Holidays" details: Here are the details for the "Home For The Holidays" Christmas release which is due for release in the Fall of 2007. This 10 track set comes in a commemorative tin, handpainted keepsake "Elvis guitar" candle, 32 page booklet, Elvis inspired door hanger and six postcards.

Certainly attractively packaged, the album itself offers nothing new.

Track listing:

Blue Christmas
Silent Night
White Christmas
Santa Claus Is Back In Town
I'll Be Home For Christmas
If Every Day Was Like Christmas
Here Comes Santa Claus
Oh Little Town of Bethlehem
Santa Bring My Baby Back To Me
Mama Liked The Roses (News, Source: Shop Elvis)
---
"Elvis Is Back" boxset near completion:

If all goes as planned, the box set "Elvis Is Back" by Elvis Unlimited will be available in three weeks time. The book has more pages than the 112 "Inside" books by our Danish friends. Other items of interest are a COA, a vinyl single with a radio commercial for 'Flaming Star', and a 25 minute DVD, with backstage (silent) footage of Elvis and Bobby Darren, the "GI Hope You Like My New Album" trailer and pictures.

(News, Source: Elvis Matters)
---
"Rock and Blues" unofficial CD release: Here is the press release on the new SR import release "Rock And Blues" which contains an audience recording of Elvis' midnight show performance from February 06, 1972 with additional bonus material. This import release is due for release mid June 2007.

Press release: Recorded live in Las Vegas on February 06, 1972, Midnight show. As Bonus part of February 21 Midnight Show and February 22 Dinner Show. This is the first audience show ever released of the 1972 season. The forthcoming release from the "SR" label is titled "Rock and Blues" and will feature the unreleased show from Las Vegas February 06, 1972 Midnight + two parts of a show preformed February 21 and 22, 1972.


As everybody knows SR concentrates it's work on early 70's live period of Elvis' activity, trying to produce always unreleased shows with Elvis at the top of his possibilities. This our seventh release, we are proud to present three very rare shows, one complete and part of two others so as to give you a more complete view of the season. The complete show from February 6th midnight performance is the first audience released recording from this season and in addition we combine the best of the February 21st midnight show and the 22nd dinner show to give you the opportunity to listen to a larger picture of the man and his music during this season. Elvis' love of singing is clear in these tapes and we are glad to give you the opportunity to listen to them.

The midnight show from February 06th, as presented on this CD, represents just one of the best shows of the season, If we look closely at the first Vegas act of 1972 we can see that Elvis concentrates on the music to produce great shows. The in-between song chat and banter have gone and each number is delivered promptly without even a pause for applause. The 'NEW' songs introduced do reflect the mood of the man and for sure the rocking days are over but the rendition of the early seventies repertoire is solid and sung with great ability.

Talking of these new additions we see some great songs, representative of his life from this stage on. Naturally we are referring to songs such as 'You Gave Me A Mountain' which has an autobiographical theme and 'An American Trilogy' which demonstrates his personal beliefs and patriotic views. Elvis also worked hard to promote his new single 'Until It's Time For You To Go.' Here are also included rare performances of Help Me Make It Through The Night and Hawaiian Wedding Song.

These recordings come from an early generation copy of the master tape, the sound quality is very good considering the season. The sound was restored in a studio to achieve best possible results. We have spent hours in the studio over the digital restoration of the sound, to achieve the best possible results and to give you the chance to hear it with pleasure. So enjoy our work and realize: this is the best possible audience recording(AR) of this season you can find all around! Until now we had only the opening night and a live compilation from BGM from the period 14-17 February. Here is the first chance to listen to a different Elvis in a complete show far away from nervousness of an opening night or a professional recording.

For the first time from this label, this new CD will come in a deluxe package with a 16-page booklet, containing a collection of live and candid photographs from February - 1972 and informative liner notes. Not a simple collection of pictures but a booklet professionally edited in line with the tradition of SR's previous one. We spent time to research good shots in a way to give shape to something different and an artistic layout hard to do overall because extended throughout a 16 page booklet.

Tracks: 01. 2001 Theme 02. C.C. Rider 03. Proud Mary 04. Never Been To Spain 05. You Gave Me A Mountain
06. Until It's Time For You To Go 07. Polk Salad Annie 08. Love Me 09. Little Sister/Get Back 10. All Shook Up 11. Teddy Bear/Don't Be Cruel 12. One Night 13. Hound Dog 14. A Big Hunk O'Love 15. Bridge Over Troubled Water 16. Suspicious Minds 17. Introductions 18. American Trilogy 19. Can't Help Falling In Love Time 49.00 min.

Bonus tracks: 20. Proud Mary 21. Never Been In Spain 22. You Gave Me a Mountain 23. Until It's Time For You To Go 24. Help Me Make It Through The Night - Time 16.23, from February 21, Midnight Show

25. Polk Salad Annie 26.A Big Hunk O'Love 27.Hawaiin Wedding Song 28.Bridge Over Troubled Water 29. American Trilogy - Time 14.33 from February 22 Dinner Show. Approximate total running time: 79.50 (News, Source: Elvis News)
---
Elvis People: A New Play:

"Elvis People: A New Play" tells the story of Elvis Presley's impact on American culture through the eyes of people he affected throughout and beyond his life.

With the iconic mythology of Presley's life as the backdrop, "Elvis People-A New Play" is a funny and touching journey through the decades.

84% of Americans claim Elvis Presley has affected their lives in some way: "Elvis People-A New Play" introduces you to some of those people. The play officially opens in New York on June 21. Preview shows happen from June 6. Book tickets (News, Source: Olivier Penachon)
---
New tribute album - "Elvis Goes To Country Heaven": During a country-fair in Nuernberg, Germany, last year, the idea of the album "Elvis Goes To Country Heaven" emerged. Several artists and bands sat down at a hotelbar and talked about music.

The chat came up to Elvis Presley and the 30th anniversary of his death this year. Quickly the idea took shape, that everyone should record their favourite song and add their own personal touch to it. Thusly an album with typical Elvis Presley songs was created, interpreted by European artists of various styles. "Elvis Goes To Country Heaven" should be understood as a bow from country-music to the King of Rock'n'Roll.

From today on an advance order of the album, that will be released on 09.July 2007, is already possible. Now here's our special offer to you: Everyone who orders their copy of "Elvis Goes To Country Heaven" prior to 09.July 2007, gets this for the special price of €16,99 incl. package & handling, instead of the regular price of €19,99. The shipping will take place on 09 July 2007.

This offer is provided exclusively by www.songload24.de. More information about the album can be found at www.countryshow.eu. For financial reasons shipping outside Germany will be including booklet and inlay-card, but excluding jewel-case. (News, Source: Taccrecords)
---
Japanese CD and DVD releases: BMG Japan will release the CDs "Viva Las Vegas" (2CD), Elvis At The Movies" (2CD) and "Elvis - Ultimate Gospel" (single CD) with two bonus tracks on August 16, 2007. An additional release on the same date is "Elvis: Best Hits In Japan" .

Warner Japan will release their new and reissue DVD titles on August 10, 2007 in Japan. The titles:

Elvis: The Hollywood Collection (5-DVD Box Set)
(Charro, Kissin' Cousins, Girl Happy, Stay Away, Joe, Live A Little, Love A Little)

This is Elvis, 2-Disc Special Edition (2-DVD)
Elvis: That's the Way It Is, 2-Disc Special Edition (2-DVD)
Viva Las Vegas, Deluxe Edition
Jailhouse Rock, Deluxe Edition
It Happened At The World's Fair (Re-release)
Harum Scarum (Re-release)
Spinout (Re-release)
Double Trouble (Re-release)
Speedway (Re-release)
The Trouble With Girls (Re-release) (News, Source: Elvis World Japan /Elvis News)
---
Vernon Presley's home open to public: There used to be a time when fans and visitors were chased away from 1266 Dolan Drive, the former house of Vernon Presley, where he lived with his fiancée Sandi, and earlier on, with his wife Dee. The new owners didn't care too much for fans, and made that clear with signs such as "Stay away" and "No pictures". But times, they are a-changing. On August 15th, initiated by the Britsih fanclub Essential Elvis, the Dolan House opens up the gates for fans who wish to take a look inside.

On www.elvispresleynews.com we discovered some interesting history about the house, which was actually a wedding gift from Elvis in 1962, built at a cost of $25,000 and situated behind the barn at the north end of the Graceland property. The Dolan House was original part of Graceland property.
Elvis had the Tudor style house built so a back entrance could connect the two properties. Before Elvis died, it was possible to roll the fence to one side allowing Vernon or Elvis to drive between the two houses.

It has been said that Vernon built the house the way he wanted it, then Dee remodeled it to her liking. Some of the changes she made included, enclosing the back patio, turning the garage into living space, constructing a separate carport, and knocking out walls to enlarge the size of the kitchen and dining room. The Jacuzzi (see picture above) in the master bedroom was also Dee's idea.

The first bedroom at the top of the stairs is where Priscilla called home when she first moved to Memphis to be close to Elvis. Other than new paint and carpeting, the house is exactly the way Vernon left it when Elvis passed away. Later Vernon moved into Graceland , and sold the house to the couple that owned the Hickory Log restaurant across from Graceland .

Dee was awarded the Dolan House when she divorced Vernon. Some time later, Vernon bought it back from her and lived in it with his fiancée, Sandy Miller. To the left of the fireplace are steps leading to the upstairs bedrooms that were once occupied by the Stanley brothers. (News, Source: Elvis Matters)
---
Elvis: Viva Las Vegas: Airing on Wednesday, September 12 at 9:00 p.m., ET. For the 30th anniversary of Elvis Presley's death, ABC News is producing a two-hour TV event in High Definition that will examine how the King of Rock-and-Roll re-invented Las Vegas, and how it re-invented him. Top recording stars of 2007 perform Elvis' Vegas classics, woven in with previously unreleased music and documentary footage -- never-before-seen-film of Elvis' Vegas years. (News, Source: It's Elvis Time)
---
---
Chart update: The "Elvis Lives" DVD fell from the Dutch Music DVD chart this week while but is still at #19 on the Swedish Music DVD chart after 8 weeks on the chart.

"Elvis The Early Years - Legends In Concert" drops one spot to #5 from last week's #4 in the UK Music DVD chart while "Elvis Lives" remains steady at #13 in its 12th week on the chart.

The "ELV1S 30#1 Hits" compilation is back in the French Top 200 Album chart and it climbs from #105 to #65 in its second week. The album is sold midprice for around seven euros. (News, Source: Elvis News)
---
Elvis Week 2007: Elvis After Dark Museum: The Elvis After Dark Museum at the Graceland Crossing shopping complex. The display, featuring images and artifacts from Elvis' visit with Richard Nixon, is officially open through Labor Day., Thirty years after the death of Elvis Presley, visitors continue to flock from around the world to visit Graceland. Officials expect a record turnout for this year's Elvis tribute week in August., This Elvis Week - remembering the King 30 years after his death - may be the biggest yet. (News, Source: It's Elvis Time)
---
---
New Elvis cookbook: The King of Rock n' Roll created music, but thousands of others have created other items in his image. There are Elvis T-shirts, Elvis dolls, Elvis purses, Elvis plates and Elvis tapestries. But for fans who want to eat like the King, there are plenty of Elvis-themed cookbooks out there.

The Tupelo Elvis Presley Fan Club has been hard at work creating its cookbook. The book will feature more than 400 recipes of all types and will also include never-before-seen photos of the King, said club president Barbara Mallory.

On the divider pages, there will be history and fun facts about Elvis' life, she said. The club hopes to have the book ready for this weekend's festival, but if it's not, folks can pre-order the book at the festival. The Tupelo Elvis Presley Fan Club book will sell for $20. (News, Source: Northeast Mississippi Daily Journal)
---
ETA wins through to next round of 'The X Factor' in UK: WIDNES Elvis impersonator Johnny Rocco is through to the second round of The X Factor after wowing the judges with his renditions of Always On My Mind and So Deep The Night. (Almost Elvis, Source: Amber Smith)
---
"Elvis" town councillor wants 'nude' pool: Council meetings in Reus could take a turn for the bizarre after the northern Spanish town voted in a councillor who promised to turn up dressed as Elvis Presley and wants to turn the square into a nudist pool. Ariel Santamaria, a former postman, stood for a small independent party dressed in full Elvis regalia complete with sideburns and won enough votes last weekend to take a council seat.
It remains to be seen how other parties will take his proposals for Reus, a town of 100,000 people near Barcelona. His platform included plans to paint the town hall pink, plant marijuana in the parks and give the town police global positioning systems to find people who might need a light while rolling a joint. (Odd Spot, Source: Reuters)