All images in this article are © Copyright Alfred Wertheimer and come from his excellent book "Elvis At 21" - and are displayed here low-resolution. See details of how to buy this fabulous book below.
"Elvis at 21," as the Wertheimer exhibition is called is touring the USA for the next few years. According to a 2002 Harris Poll, 84 percent of Americans "have had their lives touched by Elvis Presley in some way." Graceland, his home at 3764 Elvis Presley Boulevard, in Memphis, attracts 600,000 visitors annually and has been made a National Historic Landmark, a designation it shares with Mount Vernon, the Alamo, and Pearl Harbor Naval Base.
Elvis has sold more than one billion record units worldwide and has headed Forbes's list of Top-Earning Dead Celebrities every year but two since its inception, in 2001 through to 2009. The Elvis Presley Trust earned $52 million in 2008, beating the estate of its closest competitor, "Peanuts" creator Charles Schulz, by almost $20 million; indeed, the deceased King even out-earned the living Madonna by some $12 million.

Andy Warhol's 1963 Elvis (Eight Times), a 12-foot-long, black-and-silver, full-figure portrait of the star flashing a pistol, was reportedly offered for sale privately for $150 million at the height of the pre-recession art boom. In his eerily prophetic way, Warhol, who never met Presley but did dozens of paintings of him in the early 60s, based on that same publicity still from the movie Flaming Star, may have been the first to intuit that Elvis, like Marilyn, Liz, and Jackie, would become an icon in the true sense of that overused word, an object of worship, a holy saint for a secular culture.
Back in 1956 "Elvis who?" was Al Wertheimer's reaction when RCA publicist Anne Fulchino asked him to photograph a fast-rising singer from Memphis who would be making his fifth appearance on Tommy and Jimmy Dorsey's Stage Show, a half-hour variety program produced by Jackie Gleason and broadcast live from the CBS studio in New York every Saturday night, preceding The Honeymooners. "Anne Fulchino was my friend," Wertheimer says. "And besides, I worked cheap, and she had a limited budget. She said, 'Al, can you go down to the Dorsey brothers' show this Saturday and photograph for me?' So I said, 'Tommy Dorsey is one of my heroes! Benny Goodman. Big band. Terrific!' She said, 'No, I want you to photograph Elvis Presley.' Thirty seconds of silence. I'd never heard of an Elvis, let alone an Elvis Presley. I said, 'Yeah, Anne, sure, if that's what you want. You know, I'm willing to work under any condition.' I needed the rent money."
Wertheimer, a German émigré, had begun his career only a year before, having graduated from Cooper Union School of the Arts in 1951 and served two years in the U.S. Army. He had recently bought two black Nikon S2 split rangefinders, the updated version of the camera that his idol, the photojournalist David Douglas Duncan, had used for his Korean War coverage in Life magazine. "All the lenses were black," Wertheimer explained. "I said to myself, If I get the same type of camera, not only will I become invisible, I may become as good as Duncan." These were the cameras, equipped with 35-mm. and 105-mm. lenses, that Wertheimer used to shoot 3,800 photographs over the course of seven days spent in close proximity to Presley in March, June, and July of 1956—the year "the Memphis Flash" became "Elvis the Pelvis," going from regional sensation to national phenomenon and, through a combination of shock and seduction, shaking up America's long-standing inhibitions about race, gender, and sex.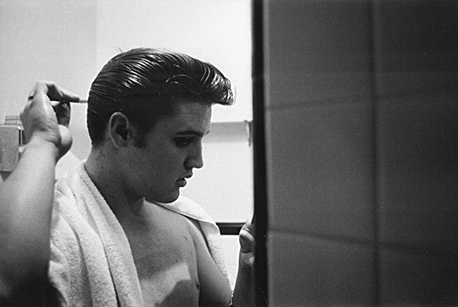 By that August, a month after Wertheimer photographed Elvis recording "Don't Be Cruel" and "Hound Dog" for RCA in New York, the 45-r.p.m. record of the songs had become the first to top all three Billboard charts: Pop, Country, and Rhythm & Blues.
Sitting in the office of his Upper West Side town house, Wertheimer, relives his first fateful encounter with Elvis. "On March 17, 1956, I meet Anne backstage at CBS Studio 50, which is where the Dorsey show was telecast from—it's now the David Letterman theater. She takes me to this dressing room, and I see this young man with a middle-aged man. Anne says, 'Elvis, I want you to meet Al Wertheimer. He's going to be taking some pictures.'
And Elvis says, 'Yeah, sure, fine.' He's preoccupied with something. It turns out the other man was a ring salesman. One or two weeks earlier, Elvis had ordered a good-luck ring. It was a horseshoe ring, diamond-encrusted around the horseshoe, with a horse's head going across the center. Early bling. So he had just taken delivery, and the salesman was now trying to sell him another ring. I became a fly on the wall. I was happy to do that, because I had trained myself along the lines of available-light photography.

Later on, I coined a phrase, because I got beyond available-light photography to available-darkness photography. I was always trying to understand what motivates people through body language and the way they relate to each other physically. In those days, I wasn't that intellectual about it. I just did it instinctively. My feeling was that the darker you can get a decent photograph—I mean in a dark enough place—the closer you'll get to the real personality. In Elvis's case, I didn't know what it was, but I felt he was charismatic."


Wertheimer shot some 400 pictures that day, during the rehearsal, the broadcast, and Elvis's downtime. "He went back to the Warwick hotel," recalls the photographer. "And I'm now his shadow. We go to his suite, and he flops out on a sofa. They brought an envelope full of fan mail, and he starts reading six-page letters without saying anything. Elvis never explained anything. There was no 'Excuse me' in Elvis's life. I said to myself, What am I supposed to be doing here? Photograph him. Cover him, whatever he's doing. So I start covering him. He's paying me no attention at all. I'm very close to him, but he's acting perfectly natural. Then he gets tired and falls asleep on top of the fan mail. So I fall asleep in a chair.
The next thing I know, I hear a buzzing. It turns out to be a Norelco electric shaver. He's in the bathroom, shaving. He's got his pants on, but he's got his top bare. I say, 'Elvis, can I come in? I'd like to continue my photographs.' He says, 'Sure, c'mon in.' I think in the back of his mind he felt, One of these days I'm going to get famous. And if there's no one here to record me, how is anybody going to know what I did? He starts getting involved with his hair. He's got this ladies' mirror and he's getting into the fine art of hair combing."
The pictures Wertheimer took during the show capture the kineticism and sensuality of Elvis's performances, both of his new single, "Blue Suede Shoes," and "Heartbreak Hotel," which RCA had released that January and which would in April become his first gold record. "He dared to move," says Wertheimer. "Singers just did not move onstage in those days. You stood there like Frank Sinatra or Perry Como, and you sang from the waist up. Elvis broke all the rules. He moved his hips. He charged the microphone. He was introducing something that was just not acceptable to grown-ups and the more conservative groups.

I have the William Morris guys getting him into a corner, and they're giving him advice: 'Now, Elvis, look, you get up there, you sing your song, but don't move too much.' Elvis dutifully listened. He wouldn't argue with them. But once he got onstage he did what he wanted. And it created such a sensation. Not because you could hear him sing—there was too much screaming going on. The kids loved it. And the kids were the ones who bought the 45s."
RCA had signed Elvis in November 1955, buying out his contract with Sun Records, the small Memphis label founded by Sam Phillips, now generally regarded as the birthplace of rock 'n' roll. In a deal engineered by Elvis' crafty new manager, Colonel Tom Parker, Phillips was paid the then unheard-of sum of $35,000, which he used to develop the fledgling careers of Johnny Cash, Carl Perkins, Jerry Lee Lewis, and Roy Orbison. Elvis had already come a long way from the two-room shack with no electricity or indoor plumbing in East Tupelo, Mississippi, where he had been born to Vernon Elvis Presley and Gladys Smith Presley in 1935.
Three days after Wertheimer photographed him on the Dorseys' show, Elvis moved his parents into a $40,000 ranch-style house on Memphis's upscale Audubon Drive. There were three bedrooms—including one for Elvis's growing collection of stuffed animals—and a double carport, not nearly large enough for his expanding fleet of Cadillacs, most of them pink or yellow, his favorite colors. The Presleys lived there a mere 13 months before moving into Graceland, an 18-room mansion on 14 acres, purchased for $102,500 from a local socialite.
The explosive success of Elvis Presley—"the Horatio Alger tale of the atomic age," art historian E. Warren Perry Jr. calls it in - was fueled by, and reflected, the growing power of television over America's mass popular culture. Elvis would make 11 television appearances during 1956, including 2 on The Ed Sullivan Show that fall—the first of which was watched by more than 60 million people out of a population of 169 million. But no single TV performance spurred his escalating notoriety more than his early-June rendition of "Hound Dog" on The Milton Berle Show, during which he employed the same sexually charged moves that had caused near riots by pantie-shedding teenage girls on his tours across the South with the Louisiana Hayride and Hank Snow's All Star Jamboree in 1955 and early 1956. "Unspeakably untalented and vulgar," declared critic John Crosby in the New York Herald Tribune. The Parent-Teacher Association accused Elvis of encouraging juvenile delinquency, and Baptist ministers ordered their congregants to break his records. National Jesuit Magazine warned, beware elvis presley. Milton Berle, however, telephoned Colonel Parker 10 days later and told the manager that, based on the hundreds of thousands of "pan letters" he had received following the show, "You have a star on your hands."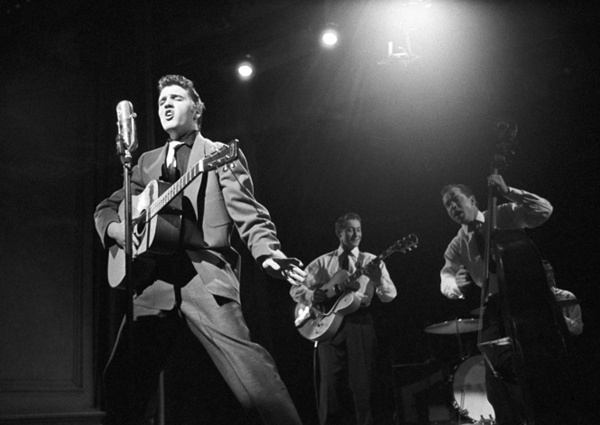 Meanwhile, Wertheimer, who between occasional assignments from Life and Paris Match had been documenting the dismantling of Manhattan's Third Avenue El, called Anne Fulchino. "I'd like to stay with Elvis," he told her. "What's the schedule?" Fulchino informed him that Elvis would be returning to New York on June 29, to rehearse for a Steve Allen Show appearance two nights later. Wertheimer says he was drawn back to Elvis not only because he "allowed closeness" but also because "he made girls cry—simple as that. Anybody who makes girls cry is getting below the level of the obvious—he's getting to their hearts."
Wertheimer quickly realized, he says, that Steve Allen was determined that Elvis not do another "bump-and-grind act to a microphone stand. He had to contain this guy. So he introduced Elvis as 'the new Elvis Presley.'

He had this scroll with 18,000 signatures, and he said, 'See, people forgive him for what he did on The Milton Berle Show, which was unforgivable.' Berle came out as a walk-on, with sideburns like Elvis had. And Steve decided to put Elvis in a skit with Imogene Coca and Andy Griffith. That was Elvis's first acting role on television. Elvis had lines like 'Don't step on my blue suede boots' and 'Yup,' 'Nope,' 'Yep.' Steve had all the big lines.

Then Elvis, dressed in a tuxedo, sang two songs with his musicians behind him outlined by wooden Greek pillars in silhouette: 'I Want You, I Need You, I Love You'—a ballad, which he couldn't gyrate to—and 'Hound Dog,' which he sang to a hound dog on a pedestal.

If he moved too much, the dog would jump on him. So they had him boxed in every which way. And he knew it. Anne Fulchino was trying to soothe him, because he felt he was being had."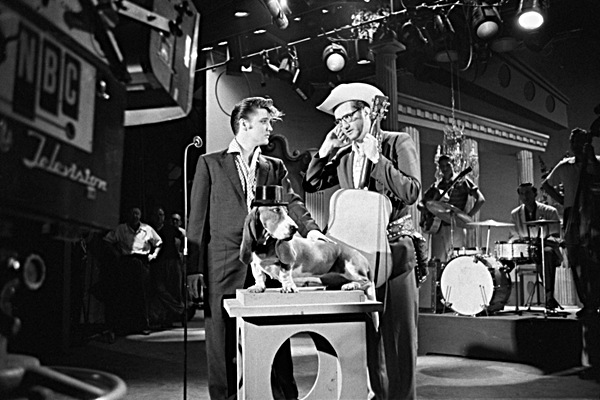 After they finished rehearsing for The Steve Allen Show, on June 29, Elvis and his musicians—guitarist Scotty Moore, bass player Bill Black, drummer D. J. Fontana, backup vocalists the Jordanaires—accompanied by Colonel Parker's right hand, Tom Diskin, boarded an overnight train to Richmond. They were booked to put on two shows the following night at the Mosque, an old Shriners hall that had been converted into a theater. It was there that Wertheimer would take his most famous photograph.
"They got down there in the morning and went to the Hotel Jefferson," Wertheimer recalls. "There's a whole thing in the dining room, where Elvis is just another civilian with his cousin Junior Smith, a skinny, scowly-looking guy who came back from Korea and was his bodyguard and gofer. There's a couple of pictures of mine where the waitress comes to them and says, 'Gentlemen, what would you like?' Now, Elvis has to make a decision. He says, 'Well, what do you have?' He decides on bacon and eggs with fries, and cantaloupe with ice cream for dessert. And then, before you know it, he's got his hand around the waitress's waist. She's happy as can be. He just liked the idea of women, whether they were 6 years old or 60. They seemed to calm him down."There were about 10 different acts that night, and Elvis would close the show," Wertheimer continues. "At the Mosque they didn't have dressing rooms. They had a toilet. The Jordanaires and all the other acts had to go up to the men's room to change their clothes. So did Elvis.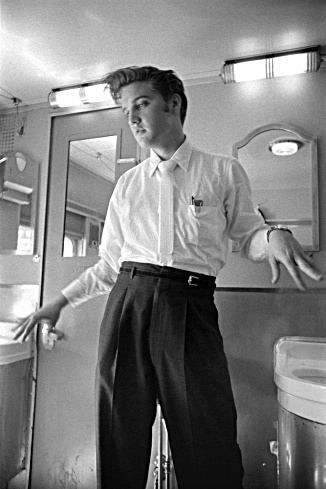 I followed him up to the men's room and took some pictures. Then I got sidetracked by the Jordanaires, and Elvis disappeared on me. I'm saying to myself, What's the matter with you? Why'd you let him disappear? So I take my little camera bag, I go down the fire stairs, I get to the landing at stage level, and at the end of this long, narrow hallway, with a 50-watt lightbulb overhead and a little window in the background, there are two figures in silhouette. One is a girl, on her tiptoes, and one is Elvis. Now, I'm questioning whether or not it's ethical [to photograph them]. But I said, What the hell—you're a journalist with a camera. If he doesn't like it, he'll throw you out. I start shooting, and I get into this whole idea of available-darkness photography. Instead of shooting at a 25th or 30th of a second, I'm squeezing things off at a half a second. I figure, Film is cheap. If I get one out of three, I'll be happy. I was trying to think like a motion-picture photographer, in sequences. Once I had that shot, I said, Wouldn't it be better if I got up on the railing here and shot over her shoulder? But Elvis will see me. So what? He's focused on the girl, not on me. So I get up there and I'm now this far away from the two of them. And he's into this hold-me-tight thing, and she's captured by his goings-on. Now it's not a good enough angle. I look at the landing on the other side of where they are, but they're blocking my way. So I assume the pose of a maintenance man and say, 'Excuse me, coming through.'
"They're just getting into the preliminaries of negotiating the kiss. He's been wanting to kiss the girl all afternoon. He met her at the hotel. He tried to kiss her earlier, in the cab. He put his arms around her neck and squeezed—in a loving way. Then he tried to relax her by messing up her hair.

Finally he gets her in a private space, but now this photographer is getting in there to mess things up. I'm on the landing, and she finally gets around to saying, 'And I bet you can't kiss me, Elvis.' And she sticks out her tongue, and he says, 'I bet you I can.'

He approaches, overshoots the mark, and bends her nose. O.K., so now I've got a picture of him bending her nose. He backs up, and then he very gently comes in and sticks out his tongue. They touch for about a tenth of a second. And he finall y consummates the kiss.

While all of this was going on, the other acts were onstage, and I started hearing, 'We want Elvis! We want Elvis!' So he comes out from that back area, and he's waiting in the wings to go onstage."

(See below for the Vanity Fair 2011 story about Barbara Gray, Elvis' "Mystery Kisser"!)
Wertheimer concludes, "That kiss has been explained to me—who was there, who took the shot—as the hottest kiss ever recorded."
Wertheimer followed Elvis back to New York. On July 2, the day after the Steve Allen telecast, he photographed what in Elvis hagiographies is always referred to as "the seminal recording session," which took place at an RCA studio on East 24th Street. "They knew they wanted to record 'Hound Dog,'"
Wertheimer remembers, "but they weren't quite sure what they wanted to put on the other side. So Elvis flips through a whole bunch of demo records, and it's decided to do 'Don't Be Cruel.'

He had a difficult time with 'Hound Dog'—he did 20 to 30 takes. The problem wasn't that he couldn't sing it, but he would go off microphone—he would move.

He wasn't used to standing still in front of a microphone. At the end of each playback, the Jordanaires and all of the musicians would look at Elvis—if he smiled, they'd know it was a success. Elvis was in charge.

(Wertheimer's images of Elvis in the studio capture the concentration and frustration of working through 31 takes to perfect the classic 'Hound Dog' single)
It wasn't [RCA producer] Steve Sholes, it wasn't the Colonel, it wasn't Tom Diskin, it was Elvis. Sometimes Elvis would ask advice from his cousin Junior Smith. He trusted Junior. He didn't particularly trust anybody else."
The following day, Elvis returned home to Memphis by train, and Wertheimer decided to tag along at his own expense. "I knew that in order to have a successful story about a southern music star, you can't just shoot stuff in New York," he says. "You have to go and find out where his roots are."

The trip took 27 hours, including changing trains in Chattanooga.

"Elvis was still preoccupied with what happened the day before at the recording session," says Wertheimer, who photographed him listening to acetate discs of that day's work on "a $25 portable record player that he carried with him."

But he was soon behaving like the clownish 21-year-old that part of him still was—posing with a four-foot stuffed panda on his lap, putting on the Colonel's Tyrolean hat for laughs, trying to impress a couple of teenage girls with a photo spread of himself in a celebrity magazine.
An informal Fourth of July party was going on at the house on Audubon Drive when Wertheimer arrived. He found Elvis in the living room with his high-school sweetheart, Barbara Hearn, and his grandmother Minnie Mae Presley. "He's playing back the recording, the quick acetate cuts, for his girlfriend. He's sitting there with his shirt off. He's got a boil on his back, and he doesn't care.
She's prim and proper in her white dress with polka dots. He asks her to dance to see if the music is danceable. He's sweaty, and she's kind of backing off. She says, 'If you want to do the Lindy, I'll do the Lindy with you.' So they're doing a Lindy in the living room with Grandma sitting there."
That evening Elvis gave a benefit concert for the Memphis Press-Scimitar's milk fund at Russwood Baseball Park.

"There were 14,000 people there," says Wertheimer. "Elvis gets on the stage and tells the audience, 'Tonight you're going to see what the real Elvis Presley's all about. What you saw the other day'—meaning The Steve Allen Show—'that's not me.'

What he meant by that was that he was going to gyrate all over the stage, move his hips, do anything he damn well pleased. And they all screamed and hollered and were happy.

The next thing I knew, I was on a train going back north. Elvis was taken by the police back to his home. I never said good-bye to him.

Looking back on the whole experience, Wertheimer says, "If I had shot this stuff a few years later, I would've messed it up, because by then I thought I was a director. But I was humble enough in 1956 to be just an observer."

(Right; The real Elvis at Russwood Baseball Park)
Wertheimer saw Elvis only once more, on September 22, 1958, when the drafted superstar was shipping out from the Brooklyn Army Terminal on his way to a U.S. Army base in Germany. Wertheimer was now just one of 125 photographers and reporters crowding around him, and they barely made eye contact. Wertheimer, on assignment from a fan magazine, had to shoot him from a distance.
From 1964 to 1966, Wertheimer worked as a cinematographer for Britain's Granada Television, and in 1969 he was one of the five cameramen who filmed the Woodstock festival for Michael Wadleigh's documentary. He then got "totally sidetracked" and spent the next 20 years renting out Steenbeck film-editing machines, until the advent of digital editing put him out of business.
Meanwhile, his Elvis photos languished. "After shooting him on the U.S.S. Randolph, I didn't get another phone call for an Elvis Presley photograph for 19 years," Wertheimer says. The day Elvis died, August 16, 1977, Wertheimer was contacted by Time magazine, which paid him $3,000 for the exclusive rights to his Elvis work but ran only one picture, the one of Elvis singing to the hound dog on The Steve Allen Show.
Above: The sensational 'Elvis at 21' Wertheimer book, demonstrating the size of the images against a standard CD.
In 1994, one of Wertheimer's photos appeared on the cover of the best-selling Last Train to Memphis, attracting the attention of Christopher Murray, who contacted the photographer and gave him his first one-man show, in 1997. Today, Wertheimer says, the largest part of his income comes from Elvis Presley Enterprises (E.P.E.), which uses his images on everything from calendars to T-shirts. Each year he photographs the candlelight vigil held at Graceland on the eve of the anniversary of Elvis's death, which has drawn as many as 50,000 of the King's worshippers. Today, prints of Wertheimer's Elvis photographs from the 1956 shoots fetch as much as $9,000.
In October 2009 a Chicago auction house sold a clump of Elvis's hair, shorn when he was inducted into the army, for $18,300, and a sweatshirt monogrammed with his initials for $62,800. The young man Wertheimer photographed more than half a century ago— at what would prove to be the midpoint of his tragically short life—continues his ascent toward divinity.

Bob Colacello is a Vanity Fair special correspondent.