"Elvis"
...the 1990 TV series
"Quality production fails to ignite audience"
In this Spotlight article we look at the shortlived but fondly remembered 1990 prime time television series, Elvis. Find out all you need to know about the series - cast and production details; episode list; reviews; photos etc. We also offer a mini-biography of Michael St. Gerard who starred as Elvis in two feature films as well as the TV series.

With first rate scripts, production design and actors, Elvis was a critically acclaimed and atmospherically faithful dramatic re-creation of Elvis' time just before becoming a major star. Focusing on Elvis in 1954-55 as he was beginning to taste regional success, it offered a realism often missing from more ratings driven, formulaic TV series.

"Elvis" has variously been described as "ambitious" (IMDB) and a "loving recreation" (Complete Directory to Prime Time TV Shows)

Arguably, its slow plotting and lack of Presleymania elements, were the reason for its poor showing in the ratings.
Status: Premiered on prime time TV in the US: February 6, 1990 Last Aired: May 19, 1990
Broadcast History (on prime time):
Feb 1990 - ABC Tue 9.30-10:00pm
Feb-Mar 1990 - ABC Sun 8:30-9:00pm
May 1990 - ABC Sat 8:00-8:30pm
Show Categories: Drama, Movie/Mini-Series
Filming locations: Tipton-Rosemark Academy - 8696 Rosemark Road, Millington, Tennessee, USA
Writers: Susan B. Chick; Gary Markowitz
Executive Producer: Gary Markowitz
Executive Producer: James D. Parriott
Co-Producer: Priscilla Presley
Original Music: Paul Buckmaster; Guy Moon; Steve Tyrell
Camera: Daryn Okada
Theme Song: All Shook Up sung by Ronnie McDowell
Kelli Williams (Mattie Walker)

Jordan Williams (Sam Phillips)
Kelli Williams - Mattie Walker (Elvis' girlfriend)
Blake Gibbons - Bill Black
Jesse Dabson - Scotty Moore
Millie Perkins* - Gladys Presley
Michael St. Gerard** - Elvis Presley
Jordan Williams - Sam Phillips
Billy Green Bush - Vernon Presley
* appeared with Elvis in Wild In The Country
** also portrayed Elvis in the films Great Balls Of Fire (the Jerry Lee Lewis story) and Heart Of Dixie (see below)
| | |
| --- | --- |
| Millie Perkins with the real Elvis in "Wild In The Country" | |
Original Telecast - why the show failed
The original prime time run on the ABC network in the USA lasted only 10 episodes. The remaining 3 episodes were subsequently shown during re-screenings of the show on stations including TNT.
The series faired very poorly in the ratings during its initial run prompting the ABC network to reschedule it twice (see above).
The series was initially put up against the ratings winner In The Heat of the Night and subsequently against the mega hit show Murder She Wrote. It was finally placed in a Saturday night timeslot against more routine opposition but this did little to improve its ratings performance. While 13 episodes had been filmed, the series was pulled from the schedule after 10 episodes. The unscreened 3 episodes were subsequently aired during re-runs on cable TV channels.
"Elvis" arguably lacked sufficient of the elements which attracted audiences to the King in the first place. The musical performances were sparse and the narrative, while authentic to the time, lacked the pace and spark usually inherent in prime time dramas. At times the plotting was almost painfully slow.
Despite its failure to capture an audience, "Elvis" remains an important part of the historical record surrounding the King.
TV.com Review: An interesting look at the early years of the king of rock and roll, Elvis Presley (Michael St. Gerard). St. Gerard lip-syncs to country singer Ronnie McDowell. Despite overwhelmingly good criticism, the series was cancelled due to poor ratings.

Michael St. Gerard as Elvis
IMDB Review (posted by Michael O'Keefe): ABC-TV is commended for their top notch attitude and efforts in this mini-series. So many projects have turned out to be just a mockery; but this presentation gives a interesting look at the life and legend of one of the world's most beloved entertainers. The series was canceled a few episodes before its scheduled conclusion; but this had nothing to do with the quality of the project in toto.

A lot of myth is not dispelled, but it gives even the non Elvis fan a look at the raw beginnings of a major superstar's career. As for true blue Elvis fans, only minor complaints. Namely some of the characters names and places and events are not totally accurate. This is probably due to legal reasons.
Michael St. Gerard is second only to Kurt Russell in physically presenting the essence of Elvis. The uncanny resemblance, mannerisms and total look is terrific. Kudos to St. Gerard for his achievement and successful role as Elvis.

Veteran actor Billy Green Bush plays a more animated Vernon Presley. Millie Perkins, who co-starred with Elvis in WILD IN THE COUNTRY(61), plays Gladys Presley. Jordan Williams is the most often arrogant record producer Sam Phillips. Jesse Dabson plays Scotty Moore, one of the major contributors to Elvis' early sound. Blake Gibbons plays the hot tempered and easily disgruntled stand-up base player Bill Black.

St. Gerard lip synchs to the voice of country singer Ronnie McDowell, who has been used several times as the singing voice of Elvis. Your time will not be wasted watching this look at the meager beginnings of the dynamic, unequaled career of the more than legendary Elvis Presley.
The Complete Directory to Prime Time Network and Cable TV Shows Review: One of the most ballyhooed series of the 1989-90 season was this loving re-creation of Elvis Presley's early years. Though not a ratings success, it was a TV first. Never before had the true story of a real-life superstar been dramatized in a weekly series; and never before had the birth of rock 'n' roll been treated with such reverence and authenticity. It was as if the innocent, vital young Elvis, almost forgotten in his later years of dissipation and decline, had come back to life….It was all terribly authentic – perhaps too authentic – from the period cars, to the Memphis backdrop, to the slow, natural pace.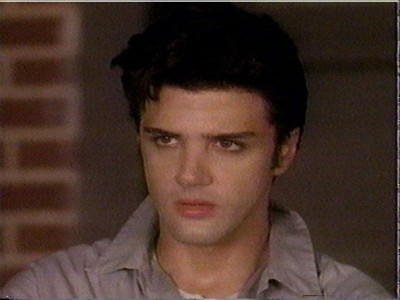 Episode List & Synopses (where available)
1. Money, Honey
First aired: 2/6/1990 Production Code: B89201
Elvis must decide between driving a truck to help out his family and playing music with two seasoned musicians. His father, Vernon , thinks music is a waste of time.
2. The Storm
First aired: 2/11/1990 Production Code: B89202
3. The Locket
First aired: 2/18/1990 Production Code: B89204
4. Bel Air Breakdown
First aired: 3/4/1990 Production Code: B89206
5. Hole in the Pocket
First aired: 3/11/1990 Production Code: B89205
6. Roots
First aired: 3/18/1990 Production Code: B89070
7. Grand Ole Opry
First aired: 5/5/1990 Production Code: B89208
Elvis is about to have his dream come true--a performance at the Grand Ole Opry. However, performance night isn't everything he thought it would be. Also, he has uneasy feelings in the studio.
8. Sun Sessions
First aired: 5/5/1990 Production Code: B89209
Still haunted by his Opry performance, Elvis has more difficulty in the studio trying to get his style onto a record.
9. Bodyguards
First aired: 5/12/1990 Production Code: B89210
The girls love Elvis and give him lots of attention. Unfortunately, his bodyguards also mind him closely.
10. Let It Burn
First aired: 5/19/1990 Production Code: B89214
11. Moody's Blues
Production Code: B89203
12. Old Man
Production Code: B89211
13. Four Miles
Production Code: B89213
The series has been re-run on cable TV stations periodically since its original network TV broadcast.
Video Release: At least 2 volumes were released in the 1990s in Canada by Malofilm Video. Each volume contained 2 episodes.
DVD Release: None to date (DVDR copies of varying audiovisual quality ocassionally appear for sale on eBay)
Several years ago EIN approached EPE regarding possible release of the series on DVD. EPE's reply indicated it was unclear which company owned the rights to the series. To date an official DVD release has not been announced.
This moody, baby-faced hunk had the slick, sullen, magnetic good looks and rebel attitude of an Elvis Presley, not to mention a startling resemblance. Sure enough, the timing would prove right for Michael St. Gerard, making a killer impression on teenage girls first on film, then TV -- as greaser types and even Elvis himself -- in the early 90s.
Born in New York Mills, New York, he developed an early interest in acting and first found work in Japanese commercials and the off-Broadway stage. He made a strong impression in an otherwise mediocre teen film Senior Week (1987), then really set the wheels in motion with his second film, the John Waters' retro classic Hairspray (1988), in which Ricki Lake pines for the St. Gerard amid an American Bandstand type setting circa 1962. The amiable and tuneful satire worked perfectly and St. Gerard managed to stand out among the cult figures who appeared, including Divine, Sonny Bono and Deborah Harry.
He got to play Presley twice in films with Heart of Dixie (1989) and Great Balls of Fire! (1989), the latter film a biopic on Jerry Lee Lewis, played all-out by Dennis Quaid.

So much attention was placed on St. Gerard's Elvis imitation that the producers of a new TV series looking to recapture Elvis' early years had to look no further.

The highly ambitious "Elvis" (1990) ran for 10 episodes and St. Gerard was magnificent in the role, with Millie Perkins and Billy Green Bush equally terrific as his parents, Gladys and Vernon Presley. The show, however, was canceled despite the critical praise heaped upon it.

Michael moved ahead to the popular teen show "Beverly Hills, 90210" (1990), playing an acting teacher in it second season, but this time Luke Perry and Jason Priestley grabbed the sexy attention. From there a few insignificant direct-to-video exports materialized, such as Into the Sun (1992), Live Wire (1992) and Replikator (1994), but his career had simmered.
In 1994, St. Gerard had a spiritual awakening after leading a Sunday School class, and, with it, decided to retire and focus his energies on religious instruction. He subsequently became a pastor in the Harlem area of New York City, extending himself and his church in particular to inner-city youths, and spends little time reflecting on his past stardom.
Visit the Michael St. Gerard fansite
The Complete Directory to Prime Time and Cable TV Shows
TV Guide