Kata Billups
....Contemporary Elvis Artist Extraordinaire...
There have been a number of artists renowned for their Elvis artwork. Names like Ger Rijff, Nate Giorgio and Betty Harper spring immediately to mind. Another less well known (at least in the Elvis world), but highly successful artist on the world scene, is Kata Billups.
Kata's works are fascinating contemporary depictions of Elvis and other cultural icons. With a strong conceptual basis, they stimulate one's senses through their broad mix of eclectic contemporary visual depiction, rich colors, shape, and use of thematic elements. A number of Kata's artworks also offer an incisive social commentary through their visual representation, and many reflect a strong 'folk art' element.

A wide range of justified adjectives have been used to describe Kata's art, including: "inventive"; visually resplendent"; "exciting" and "sublime". They are simply incredibly stunning.
Kata's works are appreciated worldwide and her original pieces of artwork now sell for between ten thousand and hundreds of thousands of dollars.
In addition to her "originals" Kata also makes available what she calls "replica originals" (Note: these are originals in their own right!) at a more affordable price. Less than two years ago, Kata' "replica originals" were selling for hundreds of dollars. As Kata's name and sublime contemporary art pieces have become widely recognised, today her "replica artworks" are often selling for thousands of dollars.
About the Artist: Kata obtained her Master of Fine Arts in Painting from the Winthrop University in South Carolina and has been a working artist now for over thirty years. She has sold her work in venues across the USA and Europe for many years during which time she has gained thousands of collectors. Many celebrities also collect Kata's art work. The list of celebrities includes Susan Sarandon, Tim Burton, Randy Quaid, Trisha Yearwood and Julia Roberts.
Kata's website and eBay store are called Rock and Roll Icon Art and apart from Elvis you will find the artist's works based around The Beatles, Rolling Stones, Bob Dylan, Jesus and other cultural icons.
EIN hopes you enjoy our visual look at some of Kata Billups' unique, intriguing and colorful Elvis artwork. They offer a stimulating visual feast with many subtle nuances and elements, and often come with quite humorous titles.
Visit the Kata Billups eBay store
Visit the Kata Billups website
..........................................................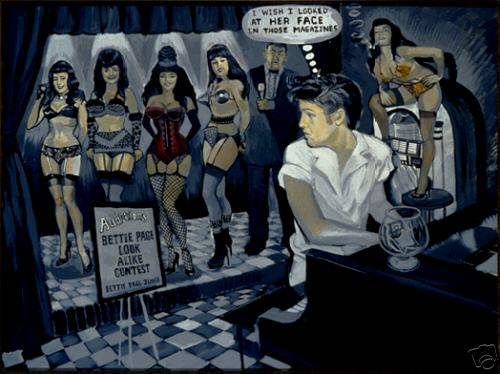 Elvis Meets Bettie Page
ARTISTS'S DESCRIPTION OF PAINTING: This black and white painting is intended to be sexy, funny, and lighthearted. It shows Elvis at a grand piano providing musical accompaniment for a BETTIE PAGE LOOK-ALIKE CONTEST. He is turning his head all the way around (trying to spot the voluptuous sex symbol of the 1960's). Elvis thinks to himself (represented in a bubble above his head)...."I WISH I looked at her FACE in those magazines." Elvis has a dilemma; he can not FIND the real Bettie Page (perched on top of the jukebox directly behind him) because he never looked at her FACE in the girlie magazines. This painting is a (shamefully obvious) light and fluffy commentary on our culture's obsession with female body parts. All the LOOK-ALIKES have on outfits similar to the ones which Bettie Page designed and wore in the famous pin-up photographs. They emphasize all the curvaceous and erotic parts of a woman's body. The LOOK ALIKES are stuffed in to bustiers which make their breast spill out. Ridiculous bullet bras which look like torpedoes. Their extremely high - high heels make it hard for them to retain their balance. Their hair is teased and tumbled, braided and poofed . The only thing they are missing is the distinctive and individual FACE of Bettie Page. One woman has slightly bucked teeth, another woman is black, but Elvis can not recognize which one is the REAL Bettie Page.
---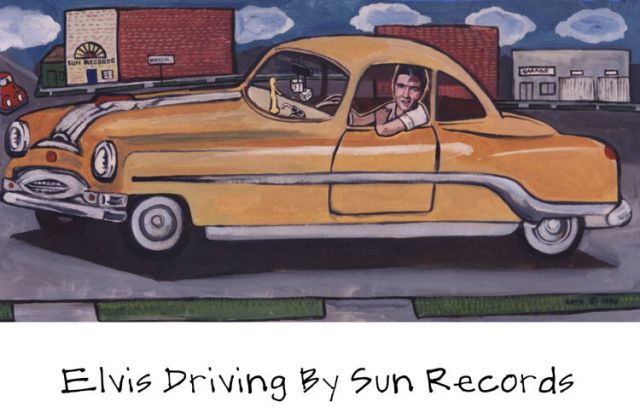 ---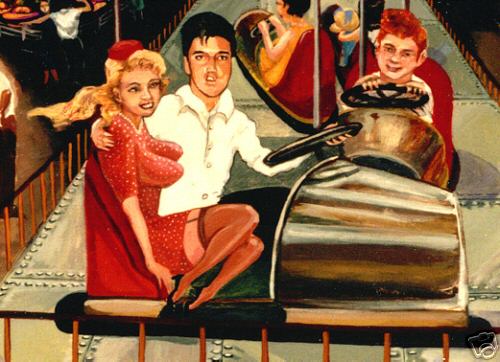 "I Saw Elvis On The Bumper Car Rides At The County Fair"
ARTIST'S DESCRIPTION OF PAINTING: In this scenario from my imagination, I envisioned Elvis on a date at the county fair. It is before his catapult to fame, but he still is dressed like a star in his neatly pressed white shirt, and with his hair slicked back and dyed jet black. He has a chivalrous arm around a buxom blond who accompanies him in the red bumper car. The sun is setting, and the lights from the rides twinkle in the distance. Behind the bumper car platform a family pf acrobats performs with their trained dogs. (This detail is from my own memory of a county fair in Tennessee, when I was married to a Nashville songwriter). This painting could fit in to several categories, Americana, Folk Art, Mixed Media, etc. I think it would be a nice addition to a collection of vintage carnival or fair toys. It also has a naive levity which makes it an entertaining piece. NOTE: I have just finished painting two black children holding balloons (on the left hand side of the painting) so it would also qualify as Black Folk Art.
---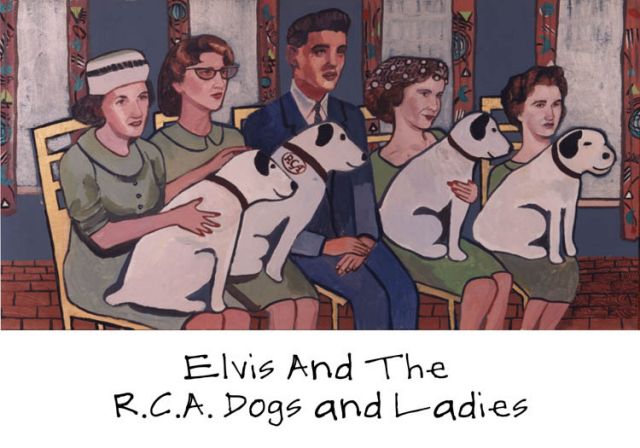 ---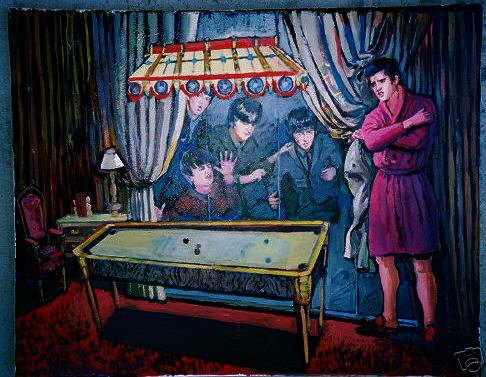 The Beatles Spying On Elvis At Graceland
---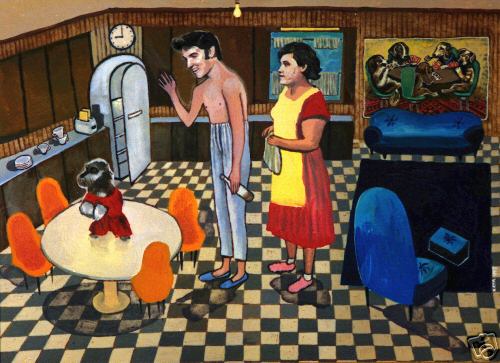 "Elvis And His Mama Teach The Dog A Trick"
ARTIST'S DESCRIPTION OF PAINTING: This painting shows Elvis and His Mama sharing a precious moment together. Elvis is standing in his pajamas in the kitchen, holding a bottle of Pepsi and his mother stands behind him in her fuzzy slippers and apron. They are watching the family dog in a handmade red coat---dance on the table. They are teaching their dog a new trick. In the living room over the blue couch hangs a velvet weaving of The Dogs Playing Poker. This folk-art inspired painting is intentionally naive in character. It is inspired by my belief that the simplest warm memories are more important to both the famous and infamous than all the lights and glitter of fame. It also comes from my love of the innocence and personal nature of much great folk art. In the end of the 1990's I had the honor of showing with The Reverend Howard Finster (shortly before he died).
---
"I Saw Elvis Watching The Elvis Impersonators"
---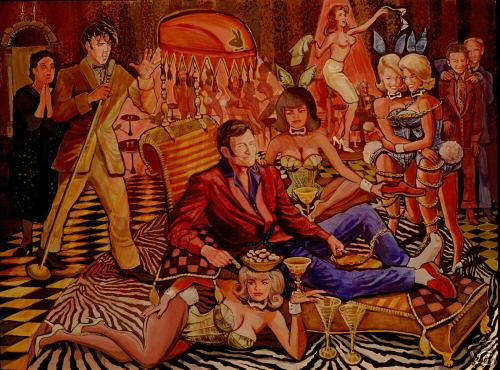 "Elvis And His Mama Rushed In To Free The Bunnies From The Playboy Mansion"
ARTIST'S DESCRIPTION OF IMAGERY IN PAINTING: The colorful scenario from my imagination captures ELVIS as the HERO figure (busting in to the Mansion to emancipate the sex slaves of Hugh Hefner.) Hef is lounging nonchalantly on an Egyptian fainting couch contraption, as some of his Playmates tend to his every imaginable need. One of the Bunnies offers her head as a serving tray for Hef's peanuts. Another Bunny serves Hef champagne out of her high heel shoe. Two Barbie Twin type Bunnies are chained together, and Ann Margaret dances TOPLESS on the table in the background. In this montage from my imagination, Elvis and His Mama hear about the wild party and they rush in to rescue the Bunnies. Elvis is armed with his microphone, and the back up prayers of his Mama. This painting is (obviously) intended as a satire about our cultural obsession with sex and the "ideal" female form. This painting is intentionally naive and folk art in appearance. I have great respect for the great folk artists such as the late Reverend Howard Finster (who I had the privilege of showing with in 1990's.)
---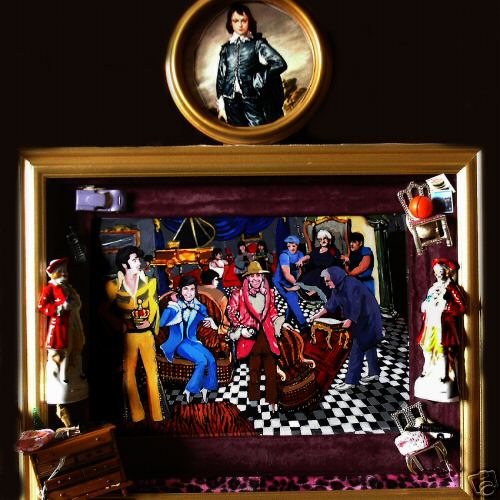 "Elvis Convinced Liberace To Give His Stuff To The Poor"
---
---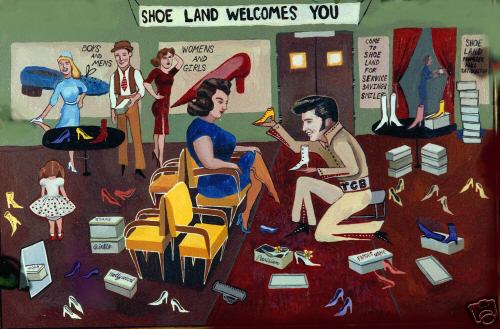 "I Saw Elvis Working In Shoeland"
ARTIST'S DESCRIPTION OF PAINTING: THIS IS A PAINTING WHICH WAS CREATED EARLY IN MY ROCK AND ROLL ICON ART CAREER. THE MAIN body of my work at that time consisted of "I SAW ELVIS" SCENARIOS (created within the perspective of a Grandma Moses/ Howard Finster folk style.) LATER ON, MY WORK BRANCHED OUT TO INCLUDE OTHER ROCK AND ROLL ICONS OF THE 1960'S AND 70'S. IN THIS VIGNETTE FROM MY IMAGINATION, ELVIS HAS ESCAPED THE HUSTLE AND BUSTLE OF FAME BY FAKING HIS DEATH. IN ORDER TO SLIDE IN TO ANONYMITY AND SUPPORT HIMSELF, HE HAS TAKEN A JOB IN A DEPARTMENT STORE SELLING SHOES. HERE HE IS ENACTING THE CINDERELLA FABLE. HE IS SLIDING A LOVELY SHOE ON TO A MAIDEN'S FOOT. HE PROUDLY WEARS AN OLD GOLD JUMPSUIT AND HIS "T.C.B" BELT WHICH STANDS FOR "TAKING CARE OF BUSINESS." ONE THING I TRULY ADMIRE ABOUT ELVIS IS THAT HE NEVER GOT ABOVE HIS "RAISINS". HE SEEMED TO RETAIN HIS SIMPLE COUNTRY ROOTS, AND RESPECT FOR PEOPLE IN EVERY CLASS AND AVENUE OF SOCIETY.
---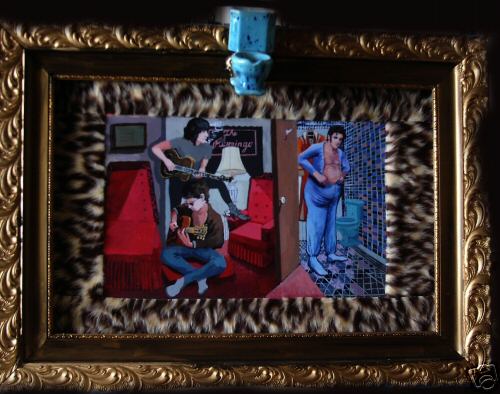 "Elvis In His Blue Velvet Pajamas"
---
"Elvis And His Mama Go In To A Strip Club By Accident"
ARTIST'S DESCRIPTION OF PAINTING: This painting reflects Elvis' image as a naive country boy. I imagined him spending the day with his beloved Mama, and wandering in to a place which they thought was a restaurant or a store, but it happened to be a strip joint instead. Elvis reaches back, as if to protect his mother from what she is about to see. On the wall, beyond Elvis' Mama's head hangs a classical nude. This painting represented the "ideal" woman in time in which it was painted. She is voluptuous, sexy and alluring. This painting within my painting is a metaphor for love. There are different types of love, and the love that Elvis has for his mother is deeper than the superficial type of love which is called Eros (Greek for erotic love). My metaphoric painting also shows the corruption of erotic love - (in that the stripper women are flaunting and selling themselves for the almighty dollar). Conversely, Elvis' Mother gave him a type of love which did not cost anything. "Popular culture is the new Babylon, into which so much art and intellect now flow. It is our imperial sex theater, supreme temple of the western eye. We live in the age of idols. The pagan past, never dead, flames again in our mystic hierarchies of stardom." (copied from artlex.com) Camille Paglia (1947-), American author, critic, educator. Sexual Personae, chapter 4 (1990).
---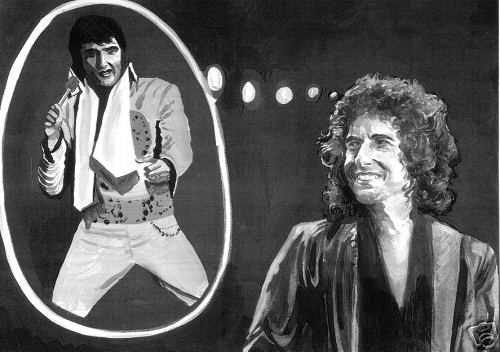 "Bob Dylan Thinking Of Elvis Over Sixty"
---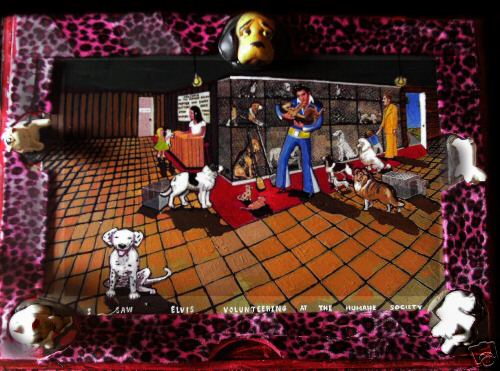 "I Saw Elvis Volunteering At The Humane Society"
ARTIST'S DESCRIPTION OF PAINTING: This painting on a box shows Elvis taking time off from his sweeping duties at the Humane society to hold a young German Shepherd dog. Most of the other animals look adoringly at Elvis except for a couple cats, and a Dalmatian in the foreground which is preoccupied with the viewer.
---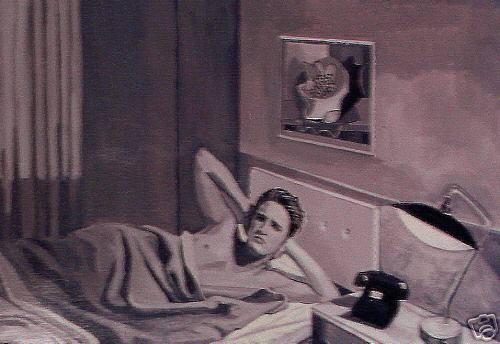 "Elvis Slept Alone"
---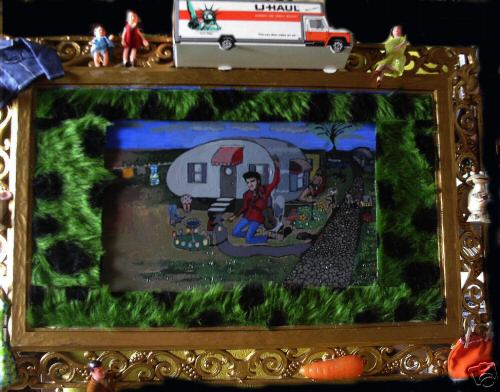 "I Saw Elvis At The Trailer Park"
ARTIST'S DESCRIPTION OF IMAGERY IN PAINTING: note: not actually a painting on velvet, but close enough! This painting was made while I was living in Nashville, and reflecting of the amorphous nature of fame. Unlike the days of Bill Monroe, and Loretta Lynn, the stars seem to be farther and farther from true country roots, and the factors which make them famous are their lawyers, makeup artists, and press agents. I related this vaporous thing called fame to Elvis and imagined that he had indeed faked his death as the legend says. I pictured him hiding out in a trailer park. He is older and fatter but happy as a lark, performing to a black yard art statue. In the background, a stray dog wanders up the path and a fellow trailer park resident pops open a beer. Beside Elvis' trailer a woman bends over in a red polka dot skirt (but is really just a wooden yard art creation.) Elvis has returned to his simple country roots. This painting is intentionally naive and folk art in appearance. I have great respect for the great folk artists such as the late Reverend Howard Finster (who I had the privilege of showing with in 1990's.)
---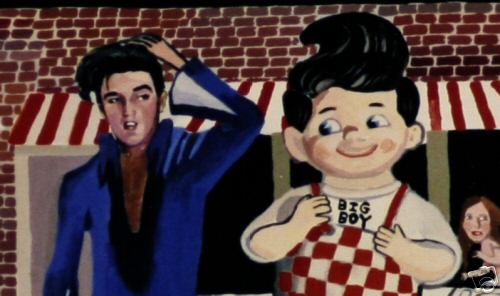 "I Saw Elvis Outside The Big Boy"
---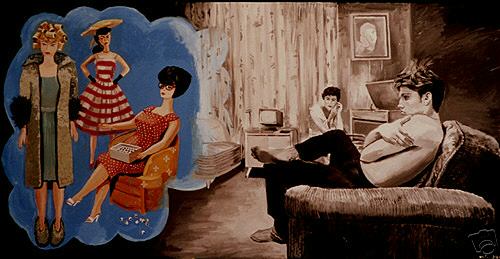 "Elvis Had A Barbie Nightmare. He Dreamt That She Got Fat, Angry, And Frumpy"
ARTIST'S DESCRIPTION OF PAINTING: This scene from my imagination pictures Elvis (painted in black and white) having a color day dream of Barbie. The dream turns into a nightmare. BARBIE is eating a box of chocolates (FAT BARBIE.) She is standing with her hands on her hips scowling (MAD BARBIE.) And she is wearing an unattractive bathrobe (FRUMPY BARBIE.) This painting was inspired while contemplating our American culture's ideal woman. Like most of my ROCK and ROLL ICON art, this piece is part social commentary, and part mythical investigation into the private lives of the ROCK STARS of the 1960's and 70's.
---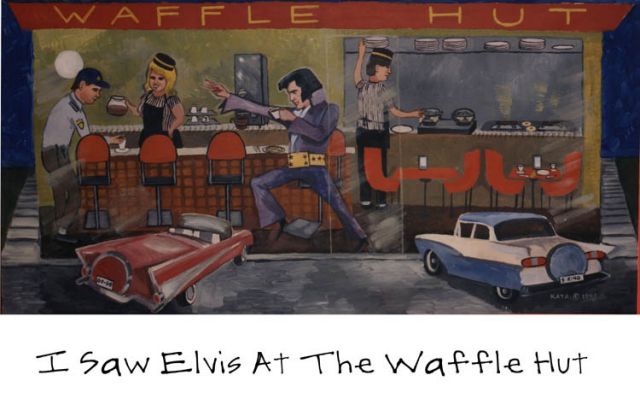 .........................................................................
Visit the Kata Billups website
Visit the Kata Billups eBay store
---
What buyers have said about Kata's work
Jen: Kata is unbelievable!!! I am overwhelmed!
Dunedins: PAINTING IS FANTASTIC. KATA, YOU ARE THE GREATEST BUT I WON'T TELL RINGO!
Nunzilla: THIS IS THE BEST THING I'VE BOUGHT IN A LONG TIME. THANKS TO KATA!!!!
thedinnerout: Unbelievable value, magnificient artist. Usable now, more valuable in future.
J Lea: Love,love,love this painting, thanks.
Nicole: Great experience, loved the art piece, can't wait to buy more pieces from Kata.
Jennean: Beautiful piece of art.
M. Z. Williams: Thanks for our wonderful painting, it looks great in our house, nice work!
Millicent: AN ABSOLUTE PLEASURE. INCREDIBLE ART WORK.
Roy: LOVE< LOVE< LOVE it!
J. Pitt: Absolutely beautiful!!
---
Your Feedback
Jean (Lancs): What glorious art pieces by Ms Billups. I had never heard of her before but now I'm saving. She is a special artist.
Barbara: Thank you EIN again. You continue to bring us the most interesting articles and news. Kata Billups truly is a talented woman. Her Elvis artworks are superb.
Brendan Chalmers: I paint in my spare time. As my hobby it gives me a way to express myself to the world. I dont have one tenth the talent of Kata Billups, her ability to present so many parts of Elvis' story is incredible.
Margaret Stillman: Kata Billups is an amazing artist. The way she captures Elvis' place in the world and his relationship with Gladys Presley is extraordinary. I spent hours looking at her paintings taking in their subtleties and richness.
Judy Parks: Fantastic artworks!
Boots: I must be a philistine. Cannot see anything "artistic" in any of the lady's paintings.
Francine: Wow...I'm not into Elvis artists but Kata Billups work is impressive. Love the way she uses shape and colour.
Patricia Walker: After seeing Kata Billups Elvis art I went straight out and bought a pools ticket. She is the best Elvis artist I've seen.
Ann Kent: Kata Billups has real talent. I cannot believe we have never heard of her before. Does she do any showings?