EIN Betty Harper Interview
World famous Elvis sketch artist, Betty Harper, talks with EIN
Interview by Nigel Patterson - 2006
"The most expressive and human faces put down on canvas since the legendary Post Magazine cover classics by Rockwell "
(Screen legend, Joan Crawford)
About Betty Harper: As the daughter of a career military man, Betty's surroundings changed often. Seventeen moves in twelve years offered the aspiring young artist ample stimulation for an innately perceptive eye.

By the time she graduated from Dreux American High School in France, Betty had already won countless awards and ribbons, and the open admiration of her teachers. Encouraged, she went on to study at the American Academy in Paris.

What has emerged from Betty's formal training, and from her God-given talent, is a style distinctly her own, a style distinguished by its eloquent simplicity. She is a remarkable versatile artist, skilled in many medium, comfortable with many subjects. But her first love is drawing faces-exquisite, intimate, searching portraits.

Betty's subjects include statesman and heroes, recording artist and movie stars. Her work graces the homes of several governors and scores of entertainment world celebrities. One of her greatest admirers was the late Joan Crawford, who changed the décor of her Hollywood mansion each season but insisted that her Harper gallery remain year-round.
Although Betty is challenged by her commissioned work for the wealthy and the famous, she finds equal inspiration in a farmer's weathered face. "Every face has a story to tell,' she says. "The lines around the eyes, the set of the lips - each detail means something."

Nowhere is Betty's careful attention to detail, or her uncanny ability to probe the character of her subject, more apparent than in her world renowned Elvis portraits. Numbering more than 10,000, these works document every period of the entertainer's life, capturing subtle moods and unconscious gestures. She is "The" Elvis illustrator.

"Every time I draw him I see another side, almost another person," Betty says. "Just when I think I've exhausted all the possibilities, have sketched every angle, every expression - I begin to draw and discover another."

As she grew older, her interest in Elvis intensified rather than diminished. "He has such a wonderful face," she says, "so varied. From one angle it's soft, baby-like, from another, it's hard, almost cruel. I think that as I matured, my perceptions of him - and my sketches - matured too."

Ironically, Betty never met Elvis. "one time my father bundled up about 400 of my drawing and sent them to Graceland." She recalls. "from then on I received Christmas cards. But I only saw him once - from way back at a concert."

If the two had met, Elvis would have liked Betty Harper, writes James Ritz in the forward of Betty's Bantam collection of Elvis drawings. "he liked sincere people…he liked creative people…he liked inspired people."

Len Leone says Elvis "owes something to the art and energy of Betty Harper - immortality."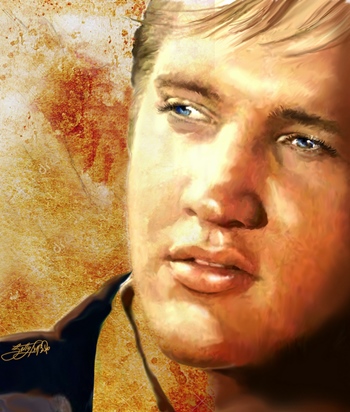 Betty doesn't see it quite that way. "I owe so much to Elvis," she says. "There was something incredibly inspiring about him. He pushed right tot the limit of his potential, always himself, always trying to be the best he could be. When I had doubts, he made me feel like trying a little harder."

Betty also points out that her sketches of Elvis are intended, not so much to immortalize or glorify the entertainer as to convey a mood, a feeling. "I want my drawings to have so much emotional impact that the subject becomes secondary," she says. "I don't want my audience just to 'see' Elvis, I want them to experience him - his grief, his joy, his self-confidence. If my work accomplishes that, it's good, it has value."
Professional Highlights:

Poster design, 2008, Tupelo Elvis Festival

Poster design, 2007, Tupelo Elvis Festival

Official artist for Elvis Presley Enterprises

Designs for the Elvis Presley Clothing Company, 2005

100th Anniversary celebration of the Tulsa State Fair, Tulsa , OK , September 2003

38th Annual Central South Art Exhibit, Leu Gallery, Nashville , TN "United We Stand, Divided We Fall,: Frances Miller Memorial Award, 2003

Logo design & drawing for Graceland "Internationally Tribute Week," 1982-86

A composite of 52 personalities for RCA

A commissioned portrait of Elvis for Felton Jarvis, Elvis' record producer 1977

A limited edition series, "Faces of America," eight individual drawings of working class people.

Twelve pencil drawing of "Old Timers" commissioned by Jack Daniels, Lynchburg , Tennessee

"American Trilogy" billboard for the City of Memphis , erected on the first anniversary of Elvis' death. Depicts Elvis in three stages of his career.
Limited Edition Prints:

American Glory: Elvis
Elvis In Concert
Sinatra At The Sands
The Entertainer: Elvis
The Dean: Dean Martin
Elvis, The Man
King of the Cowboys: Roy Rogers
American Trilogy

Faces of America

Book Covers:

Elvis Aaron Presley: A Candle In The Wind

Elvis: The Humes Years

(Bill Burk)

Elvis: The Sun Years

(Bill Burk)

Elvis: The Tupelo Years

(Bill Burk)

Elvis Through My Eyes

(Bill Burk)

Soldier Boy Elvis

(Bill Burk)

New Logo Design Layout for Elvis World Magazine

Presleyana IV, by Jerry Osborne

Dispelling The Myths, by Todd Rheingold

Illustrated Books:

Exhibits:

Customs House Museum, Art Exhibition,
Clarksville, TN 2006
7th Annual Renaissance Regional Art Exhibit, TN, 2005
Tulsa State Fair, Tulsa, OK, 2003
American Pop Culture Gallery, Georgetown,
California State Fair, 1997
Local Color Gallery, Nashville, TN
Memphis Music & Heritage Festival
Gestine's Gallery, Memphis, TN
1st Tennessee Bank, Memphis, TN
Tokyo, Japan
---
The Interview

EIN: Betty, please tell us about yourself.

BH: My Dad had been in the Army-Air Force during WWII and was out briefly after the war before reenlisting in the Air Force. During that interim Dad and Mom married and moved to Bartow, Florida where I was born on October 4, 1946. With Dad's enlistment I saw a lot of the world. For me school started in the village of Limey, France until our base schools were established, then we met each day in tents to begin our education. So the first two and one half years of my education was in France and proceeded to take me through seventeen schools in twelve years, where I completed high school doing my last two years in, first Verdon, France then my senior year at Dreux American High School, Dreux, France. Between my 11th and 12th grades while Dad was stationed at Laon, AFB I spend six weeks attending a summer art course in Paris where I was housed at the Cité Universitaire. It was a summer course for college students to study abroad.
Of all my experiences through out my growing years those spent in Europe had perhaps the strongest influence on me as an individual as well as artist. It certainly molded me as a person. I returned to the US earlier than my family to attend college at Abilene University, Abilene, Texas were I spent one year. There I met my future husband, moved to Kentucky, married, had two children before moving to Nashville to pursue my art and had three more children.
In Nashville I started by doing album covers for artist like Jimmy Dean, Jim Reeves, Jerry Reed and well as others and personal commissions from artist like Loretta Lynn, Brenda Lee and Marty Robbins, as well as organizations as Jack Daniels and the State of Tennessee Parks Department.
My first book was published by Bantam in 1979, "Newly Discovered Drawings of Elvis", and was followed by two more collections of my Elvis art and am always ready to do a fourth at some point. I love living in Nashville, it is a wonderful town.

EIN: How & when did you become an Elvis fan?

BH: I first saw Elvis on the Tommy and Jimmy Dorsey show and have been mesmerized ever since. At 10 years old I saw that he was unusual, unique, one of a kind and have not changed my mind.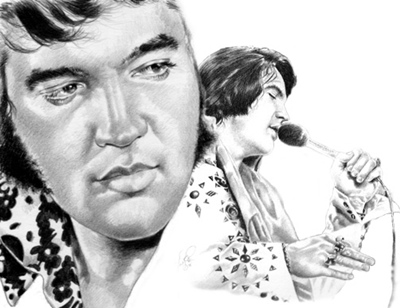 EIN: You are known around the world for your great Elvis pencil sketches. When did you first discover you had a natural gift for drawing?

BH: My Dad tells me I always drew. My first remembrance of having an interest was in the fifth grade when we lived in Colorado, Springs, Colorado. There was a boy, Tom, who sat in front of me during class and he was always sketching Indians, cowboys, Pikes' Peak, etc. One day I asked him to teach me how to do that and he said he couldn't teach me but I could just watch him, so I did and started drawing the Sunday comic strips from there went on to drawing everything, literally everything around me. I could not draw enough. Had my share of getting in trouble during class because I would be drawing instead of listening.
My first recollection of drawing a person was after a comment one of my class mates made asking me" if I ever drew any people?" that changed my direction and I made my first attempt by drawing Roy Rogers who was on the cover of my writing paper I used for school. I did a lot of drawings of Roy; the western things really interested me. Then when Elvis appeared on the scene I did him, of course. Although during that time I drew most of the popular singers, Ricky, Frankie Avalon, Fabian, Pat Boone, Bobby Vee, etc, etc. It was always Elvis that I continued to repeat. Through the last 48 years I have drawn more than 10,000 plus pictures of him and never tire of the subject.
EIN: Was it always pencil sketches you were interested in, or did you start out doing other forms of artwork?

BH: I have used all types of medium but pencil remains my favorite. Once I did a picture of Dick Clark using rice. I have used acrylic, oil, gouache, cutout paper, rice, watercolor, charcoal, pastel, colored pencil, tempera, ink. Ray Walker, base singer for the Jordainaires owns a pastel I did of Elvis some 38 years ago. It has amazingly survived two fires. When I watched an interview with Ray that was used in a recent video of Elvis' religious music, Ray is sitting in front of the drawing. If you every have the opportunity to speak with Ray ask him about the fire, it is quite an amazing story of how the picture survived.

My preference remains pencil, and color pencil. In the past couple of years I have ventured into the world of technology by using Photo Shop, and I love it!! It has become a completely new and different direction to take my art.For the artist there are no boundaries but our own imagination. The artist has always used those things at hand to express visually that which could not be expressed verbally, and to preserve for all time the beauty and reality of the world around us.
Through the history of art we have seen an evolution of drawing that has taken us on a creative journey from cave sketches, painting, lithography, etchings and silk screening as well as other venues of creation. With these came an endless variation of creativity injected by the imaginable minds of individual artist.
As we evolve through time and the inventions of man continue to explode we as artist can expand our ever ending creative talents through this new world of technology, by continuing to embrace those things around us that push our minds in new and different directions. So I now have taken Elvis into the world of computers and as he has everywhere else I have taken him he stands as the best. I am enjoying this new frontier.


EIN: What is it about pencil sketches that motivates you?

BH: With all the tools which I have experimented the pencil is my right hand. Where most artist would look at an object and see red, blue, green and every other color of the rainbow I look at something and see, H, HB, 2B, F, 3H, 5H. the pencils I prefer.


EIN: How many sketches do you estimate you have drawn of Elvis over the years?
BH: More than 10,000 plus. In the early years I put numbers on each one but it has been quite a few years since last doing that.


EIN: How long does it take you, on average, to complete an Elvis sketch? Do you have a favorite one or two Elvis sketches? In your sketches there appear to be several aspects of Elvis that stand out. In particular his eyes, lips and hair. For instance, many fans have commented that they are often drawn in by Elvis' eyes when viewing a Betty Harper sketch. Are these particular features you stress in your sketches?
One quality you are renowned for is the ability to bring out Elvis' feelings in your sketches. Is this something you deliberately set out to do?


BH: I will answer these four questions together: When it comes to the amount of time it takes that depends on a lot of factors. Size, available time, and how involved the piece may be. I have done large pictures 20" x 30" of Elvis that I started and completed in one day but that was early morning, going all day, no stopping and finishing late in the evening. Those are the ones that just roll all by themselves. There have been some that would be done over a period of months when I was not definite of my direction or how I wanted to finish. When I was growing up time was on my side when it came to drawing because the only interference was school, and that did not stop me a lot, and there were MANY nights I would stay up into the wee hours of the morning and draw then go to school. Once I grew up with many more responsibilities time became very limited. Also much more thought goes into a piece work.
When I did "American Trilogy" it was started at about 4:00 am and by about 2:00pm I had two images completed. Tired, and wondering if I was done, or what if anything I should still do, I placed the board on a chair in the living room, stretched out on the couch to rest a few minutes and step back to look at what I had done. The television was on, Gomer Pyle showing when the breaking new was flashed. I instantly turned my attention to the television to hear "Elvis Presley has died". A feeling inside told me what they were going to say before the words came, immediately I glanced at the art, saw another image, got off the couch and in a matter of minutes completed "American Trilogy". One year later that picture was erected as a billboard across the street from Graceland in honor of the first anniversary of Elvis' death.
"American Trilogy" Newspaper clipping about billboard






Favorites: I have several favorite sketches, but a couple "warm my memory". That would be:
"Birth of a Rock 'n Roll Generation"

A colored pencil
called "Elvis56"

BH: And of course "American Glory" which I completed about a week before 9/11: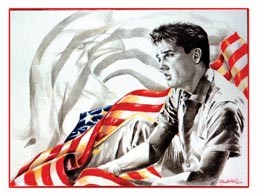 EIN: Fans often comment on the "expressiveness" of Elvis in your sketches. What, if anything, influences you when you are doing an Elvis sketch? Do you look to obtain a particular look or quality with each of your sketches?

BH: This question in quite involved so I will try and break it down as much as possible. The pictures of Elvis I draw are familiar to us all but it is not the picture I draw but rather the feeling I have at the time and use a particular image to convey my thought or feeling. My art is about how I feel, what I think and what I need to say. It has been my good fortune to have had such an incredible subject matter in which to express my thoughts. I want my drawings to have so much emotion impact on the viewer that the subject becomes secondary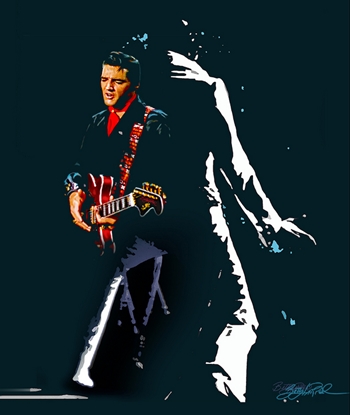 EIN: Do you have a favorite period in Elvis' life you like to draw?. How many books have you had published of your Elvis sketches? Of your Elvis books do you have a favorite? If yes, what is it that makes it your favorite? Do you have any plans for another Elvis book?

BH: Really do not have a favorite time when it comes to the art, but personally the 50's were an exciting time because a new birth had begun and we were the fortunate generation to have been able to experience that. Ever phase of Elvis life is artistically intriguing.
There have been three books published of my Elvis art: "Newly Discovered Drawings of Elvis, by Betty Harper", "The Magic of Elvis", and "Suddenly and Gently, Visions of Elvis". "Color My World"(children's coloring book).
| | |
| --- | --- |
| Opposite: Toast to the bride and groom | |
In the first book I like the material aspects, size, paper, fold-out of Elvis' lips. Also it was the first so special in that respect. It was published by Bantam Books in 1979.
I am always ready to do another book and since moving into a new chapter in my art am anxious to pursue another when the right time presents itself. I had a great deal of fun creating the children's coloring book a couple years ago.
EIN: Your books are now out of print. What is the best way for fans to obtain them?

BH: Quite often I see the books on e-bay and have bought several there myself. Have also seen them in antique shops. The coloring book "Color My World" is sold at Graceland and I also have a few copies on my website: www.bettyharper.com

EIN: Apart from Elvis, you are well known for your other celebrity sketches. Please tell us about the other stars you have sketched and reaction to your work.

BH: I love doing portraits. My first important commission when I moved to Nashville was to do a family portrait of Brenda Lee and her family. That was a highlight for me being able, first to meet her, and specifically be asked to draw her family. She was and still is one of my favorite singers along with Elvis and Connie Francis. Brenda is such a charming and caring individual.

I had first seen Brenda in person at the Officer's Club in Metz, France in the early 60's. Before going to the show I drew a picture of her that she autographed so when I went to her home to discuss what she wanted I brought along that drawing, she could not believe I still had it. Which is amazing because as much as we traveled many things were lost.
I have drawn many famous individuals from Joan Crawford, Alabama Governor George Wallace, Johnny Cash, Mary Robbins, Vince Gill, Roy Rogers, whom I had the please to meet during a specially arranged time in Tuscan, Arizona. This was the most emotion meeting I have every experienced as an artist, it actually made me speechless. I had been commissioned to do a portrait of Roy, and Dale which had to be approved by Roy before it could be and official print.
Roy said it was "the best picture he had seen of himself" (it became a print called "King of the Cowboys") therefore the meeting. When I entered the room I was seated beside Roy, I turned to look at him when he spoke to me and said how much he liked the artwork. His eyes looked like stars and tears formed in my eyes, and words just would not come. The moment was emotion in that I felt as though I had come, as an artist and person, full circle. He was the first person I had every drawn and her I was decades later sitting beside me telling me how much he enjoyed my work. WOW!
Another individual I have done art for and really love and admire is Loretta Lynn. I have done several portraits of here along with one of her father and also designed a Christmas card for her. Wonderful lady.
EIN: Betty, you have had a very long association with Bill Burk in Memphis, providing artwork for both his books about Elvis and his long running quarterly magazine, Elvis World. How and when did your asssociation with Bill start and what can you tell us about Bill?

BH: First met Bill Burk at the Quality Inn, Brooks Road in 1981 where I had been invited to exhibit my Elvis art. Originally I was to exhibit the first week of August. This was decided because the hotel manager, Amy McDaniels, said she would love to do an exhibit but the second week of August they were swamped with Elvis fans and there was a lot of commotion in the lobby and something might get damaged. She said that after Elvis died a fan club from England had been coming every year to be there on the 16th. That was fine with me. Amy was familiar with my work because of the billboard the city had done a few years before.

I wanted to exhibit my Elvis art which I had not done since 1979 when the Convention and Visitor's Bureau along with Neagle Sign Company joined hands to do the billboard and the First Tennessee Bank had a special showing of my Elvis art in the lobby of their downtown branch., so this was exciting to be able to be in Memphis again.

I had only been set up at the Quality Inn one day when approached by Ms McDaniels, who insisted that the fans needed to see my work and could I possible stay for the next week when the fans arrived. No problem except I needed to return to Nashville in order to make arrangements with my five children to be gone another week. With that done I returned.
Pulled up to the hotel and out walks a very tall gentleman, we speak, introduce ourselves and in that moment we formed somewhat of a "mutual admiration society", he liked my art and I was impressed with him. It wasn't until later that I came to realize that many of the articles he had written for the newspaper I had read and had in scrapbooks at home. Through the years he has more than impressed me with his reporting and his skill as a story teller. Bill is a unique individual! I was honored to do his first book cover and all the others that followed. He gives me so much freedom as an artist to create; he understands and appreciates the process being an artist himself.
Bill is honest, straight forward, true to his craft and is not afraid to call "a rose, a rose". If you are looking for "side stepping" or "politically correct" fancy shadow statements then that is not Bill Burk. He is a TRUE newspaper man with all the honor and integrity that goes with it. When you ask Bill a question you had better be ready for a truthful answer, those are the only kind he knows how to convey. I respect that, and love the way he tells a story. I am pleased that I can call Bill a real friend one I truly trust. With his Elvis World he has continued a fine tradition of reporting and for that we are all fortunate. Hopefully this will continue for many years to come.


EIN: Are you still a regular visitor at Elvis Week? If yes, where can fans catch up with you?

BH: This year unfortunately I was not able to attend Elvis Week but I have been going yearly since 1981 and always love it. I have made some remarkable friends through the years and that is invaluable.


EIN: Can fans obtain a personalised Elvis sketch from you? If yes, what is the best way for them to contact you?

BH: I have done many personal drawing of Elvis for fans, especially ones where they want to be in there with Elvis. Those are really fun to do. They choose what era is their favorite, 50's, 60's, 70's, concert, then I create a piece especially for them. They may contact me at betjam911@aol.com or through my website www.bettyharper.com The website contains a variety of my artwork.
EIN: Betty, thank you so much for taking time to talk to us today.
Some other examples of Betty Harper's fantastic artwork:

| | |
| --- | --- |
| | |
| Anna and the King | Backstage Friends |
Visit the Betty Harper website
Click to comment on this interview
EIN Website content © Copyright the Elvis Information Network.
Elvis Presley, Elvis and Graceland are trademarks of Elvis Presley Enterprises.
The Elvis Information Network has been running since 1986 and is an EPE officially recognised Elvis fan club.