'Elvis was not a racist'
EIN sets the record straight
Spotlight by Piers Beagley - - (updated 2022)
Please see the 2012 letter from EIN's good friend Bernard Tanner, Jr. below
"I wasn't just a fan, I was his brother. Last time I saw Elvis alive was at Graceland. We sang 'Old Blind Barnabus' together, a gospel song. I love him and hope to see him in heaven. There'll never be another like that soul brother." – James Brown.
"Elvis was an integrator. Elvis was a blessing. They wouldn't let Black music through. He opened the door for Black music." – Little Richard.
"On a scale of one to ten, I would rate Elvis eleven." – Sammy Davis Jnr.
Introduction - Elvis was not a racist.
Let's get two things straight from the start.
Firstly Elvis' supposed 1957 "racist comment", that is often bandied about, has never been verified and seems highly unlikely considering the timing, as well as Elvis' deep involvement with the black music of the era. This was just an early tabloid smear of the type that would sadly continue way past his death. In fact the rumour should have stopped then & there since, on the set of Jailhouse Rock, Elvis was directly challenged about the statement by reporter Louie Robinson from the prominent black newspaper 'Jet'. Elvis honestly replied, "I never said anything like that, and people who know me know that I wouldn't have said it."
Secondly the Chuck D quote (from Public Enemy's 'Fight The Power') is again regularly used to denigrate Elvis but is never fully explained. What Chuck D actually says - should anyone bother to ask him or check the facts – is that what he actually disliked was Elvis' "culture-blurring genius". This is because it happened to play into the hands of a racist music industry that, at the time, was hungry for a white artist who could play black music. Chuck D in fact agrees & says that, "Elvis was a door, a gateway through to the roots. In the beginning of his career Elvis admitted where the roots came from, but did anybody care?"
(Left, Elvis with Brook Benton who co-wrote the song, 'Doncha' Think It's Time')

(Elvis with, to his right, Bobby Bland & also Junior Parker who wrote 'Mystery Train')

While Elvis never recorded any of Bobby Bland's songs he was a very influential Beale Street Blues artist who logged over 60 hits on the R&B charts and was a longtime friend of B.B King.
The Southern States - some background.
Actually it should be more of a surprise that Elvis did grow up with so little prejudice, after all the Southern US States were still colour segregated into the sixties. How easy to forget that it wasn't until the mid-sixties that The Civil Rights March and Martin Luther King's "I Have a Dream" speech occurred. It is a sad historical fact that even after The Beatles and the new 'freedom of the sixties' President Lyndon Johnson still had to force the Civil Rights Act of 1964 through Congress over fierce opposition from Southern legislators. We have to remember that this was the political atmosphere that Elvis was living in.
Like all of us, Elvis would have been brought up surrounded by family prejudices (Vernon was known to be very anti-Semitic) but even these, according to Memphis Mafia members, did not affect Elvis. Lamar Fike says, "Elvis had a good heart and fortunately was nowhere near his family in his beliefs. He recognised that he met many people in those ethnic groups that he liked and he was always respectful and courteous to all people who were the same to him".
Another fact is that in 1960, even in the supposed egalitarian atmousphere of a southern Democratic Convention, Sammy Davis Jnr was booed not only because he was black but also that he had dared become engaged to a white woman (actress May Britt). Sammy Davis was even asked by the Democrats to postpone his marriage until after the election, which he did. But even then he was snubbed & asked not to attend Kennedy's inauguration! Sammy Davis Jnr was a long-term friend of Elvis' and details like these help one understand the political & racist pressure of the era even on well-known celebrities – and this was from The Democrats. Heaven forbid you consider the racist ideals of any other political party!
"Early on somebody told me that Elvis was black. And I said 'No, he's white but he's down-home'. And that is what it's all about. Not being black or white it's being 'down-home' and which part of down-home you come from." – Sammy Davis Jnr.

(Right, Elvis with Sammy Davis Jnr)
The early days, Beale Street & Sun Studios.
However, more than anything, Elvis' opinions and beliefs would had to have been influenced by growing up in a poor Southern community spending his early years absorbing the music of local impoverished black communities like Shake Rag in Tupelo and, later on, the Beale Street area of Memphis. Unlike most white teenagers Elvis would delight in attending the coloured East Trigg Baptist Church where he would hear Reverend Brewster's stirring sermons along with the local black gospel music. Elvis would even slip away from his own First Assembly church meetings to be one of the few whites attending the East Trigg services.
"Elvis loved gospel music. He was raised on it. And he really did know what he was talking about. He was singing Gospel all the time – almost anything he did had that flavour. You can't get away from what your roots are." – Cissy Houston.
Elvis would later spend time in Beale Street, the cultural capital of Memphis' large black community, absorbing the local blues and their styles. It was there in 1954 that Elvis saw Lowell Fulson at Club Handy performing his brand new composition 'Reconsider Baby', a song that Elvis would continue to perform throughout his career. Walking down Beale Street Elvis would spend what money he had on the exciting local fashions he saw in Lansky's shop front window. Wearing his favourite colours of pink & black Elvis would even challenge his white neighbours by dressing in the outlandish Beale Street styles. In fact the key to Elvis' attraction was that he was such a musical & cultural mixing pot that he had to appeal to any innovative teenager.
"I knew Elvis before he was popular. He used to come around and be around us a lot. I can remember once or twice when we met down at Club Handy on Beale Street. Elvis at heart was very religious and I think that throughout his career he couldn't help but let it come out & you can hear it." – B.B King.

(Right, Elvis with Claudia Ivy & B.B King)
Early in Elvis' recording career it was of course his respect & understanding of local black music & culture that made him & Sam Phillips such kindred spirits. Although obviously rare for that era & the Southern States region, both had beliefs in black culture & the equality of man. Sam Phillips said, "The lack of prejudice on the part of Elvis Presley had to be one of the biggest things that could have happened to us."
Throughout the years Elvis always showed his appreciation for his black musical roots. In his 1954 Sun Studio's 'Million Dollar' jam Elvis spoke about his admiration of singer Jackie Wilson who Elvis believed had outdone him with a better version of 'Don't Be Cruel'. Elvis latter acknowledged Wilson's style & footwork when he filmed 'Return To Sender' for the film 'Girls, Girls, Girls'.

When Jackie Wilson had a stroke in 1975 leaving him unable to perform and hospitalised, Elvis covered a large proportion of Wilson's medical bills.

(Right, Elvis with Jackie Wilson)
A lot of people have accused Elvis of stealing the black man's music, when in fact, almost every black solo entertainer copied his stage mannerisms from Elvis." - Jackie Wilson.
Memphis Mafia member Sonny West noted, "Elvis loved Billy Ward, Billy Daniels, Billy Eckstine, The Inkspots. Elvis loved all of them. He took something from all of them and it all came together in his voice at different times. Jackie Wilson was rhythm and blues. Elvis would tell you that the influence of gospel singing and rhythm and blues helped form his style of singing."
In 1956 Elvis appeared on the WDIA black radio station's annual fund-raiser for "needy Negro children" at Memphis' Ellis Auditorium. Elvis performed alongside some of his own heroes, Ray Charles, B.B King & Rufus Thomas. There was no doubt that Elvis was seen as a champion in the black Memphis community & his concert audiences were certainly not all white as is often believed. The Pittsburgh Courier described the reaction that night as, "A thousand black, brown and beige teen-age girls in the audience blended their alto & soprano voices in one wild crescendo of sound that rent the rafters... and took off like scalded cats in the direction of Elvis Presley."*



"I remember Elvis as a young man hanging around the Sun studios. Even then, I knew this kid had a tremendous talent. He was a dynamic young boy. His phraseology, his way of looking at a song, was as unique as Sinatra's. I was a tremendous fan, and had Elvis lived, there would have been no end to his inventiveness." - B.B. King
*Of note is the full Pittsburgh Courier report, 'A thousand black, brown and beige teen-age girls in the audience blended their alto and soprano voices in one wild crescendo of sound that rent the rafters ... and took off like scalded cats in the direction of Elvis.
It took some time and several white cops to quell the melee and protect Elvis. The teenage charge left Beale streeters wondering, "How come coloured girls would take on so over a Memphis white boy?"
But others wonder if these teenage girls' demonstration over Presley doesn't reflect a basic integration in attitude and aspiration which has been festering in the minds of most of these womenfolks all along'.

The later years, 'I Have Dream / If I Can Dream'
Elvis always expressed his respect to other performers, for instance Chuck Berry, Fats Domino, Little Richard, Mahalia Jackson & Junior Parker, who had influenced his own music. Singer Roy Hamilton was another of Elvis' idols. During the 1969 Memphis sessions Elvis was delighted to meet Roy and they talked for a while. As a show of appreciation Elvis presented Hamilton with a beautiful new song 'Angelica' that he was going to record himself.
"Describe Elvis Presley? He was the greatest who ever was, is, or will ever be." - Chuck Berry.
(Left, Elvis with Roy Hamilton at the 1969 memphis session)

(Right, Mahalia Jackson on the film set of 'Change of Habit')
Another of Elvis' friends James Brown is re-known for having an incredibly strong personality, supporting the struggle for Black Rights, and someone who wouldn't take any racist bullshit off anyone he met.
Coincidentally James Brown was charting with 'Say it Loud, I'm Black & I'm Proud' at the same time Elvis was recording 'In The Ghetto'. There would be no chance of James Brown spending anytime with Elvis had he shown any racist tendencies and they stayed friendly acquaintances throughout the years. James Brown was so moved by Elvis' death that he requested, and was allowed, time alone with Elvis as he lay in his coffin at Graceland. James Brown was also the first entertainer to arrive at Elvis' funeral.
"We were friends for a long time, for twenty years. And he told me, he'd ride around Memphis around the streets he'd come up in, all alone at night. Ride around on his motorcycle when he was sure the rest of the world was asleep, just kind of hauntin' them places he hung around in as a kid. He was a country boy." – James Brown.
After Elvis' death James Brown released a heartfelt tribute to his friend Elvis, his version of 'Love Me Tender'. It was originally released as the A-side of 'Have A Happy Day' in March 1978 and also as B-side of subsequent single, "The Spank" in July 1978.
In the emotional spoken intro James Brown notes, "I want to talk about a good friend I had for a long time and a man I still love - Brother Elvis Presley. You know if he was here right now, I am sure he would say the same thing for me. I loved the man and he was truly the King of Rock and Roll. We've always had kind of a toss-up between Elvis and I - "The King of Rock And Roll" and "The King of Soul". So I want to say this to the people - for Elvis, and myself'.. Love Me Tender..".

Click to listen on YouTube
Fats Domino and Elvis, Mutual Admiration - In the 2022 Baz Luhrmann 'ELVIS' drama - in the scene about the 1969 Las Vegas Press Conference Elvis says, "I'm not the King of Rock'n'roll.. here's Fats Domino, he's the real King of Rock'n'roll".
While Elvis loved Fats Domino some fans have commented that Elvis did not actually state that exact line. However EIN would like to note that Elvis' words, when asked about Fats Domino, were in fact "I love him, he's the greatest!"
From a dramatic point-of-view, along with Elvis' previous comments to Jet magazine, a similar point is made.
As reported by super-fan Maria Columbus "Elvis was asked what he thought of Fats Domino. Elvis beamed and said, "I love him, he's the greatest!""
Recently, making a similar splash, is Fats Domino singing 'Blueberry Hill' at Austin City.
On stage the great Fats Domino says..
"Right now I'm going to do a number - and I play it for such a wonderful man I loved so well.
I just can't help it but I say this when I play this number every night. I've played this number so many times and I think of this man every time I come to my bandstand. I play this for the great Elvis Presley"
In today's rap dominated popular culture it is too easy to forget how much Elvis did to help with the cultural integration of popular music. At the time Elvis started there was a real rejection of black culture from post-war White middle-America and from all sides of the white community. Even the radio stations were segregated and Elvis had to take a lot of criticism just for singing the music he loved & grew up with.
"Elvis had an influence on everybody with his musical approach. He broke the ice for all of us." – Al Green.
In the seventies Elvis' personal choice of insisting that The Sweet Inspirations became his backup group once he went back to touring also says a lot.

(Photo right, Myrna Smith & Elvis)
In 2003 EIN interviewed Myrna Smith and asked her about the tabloid slurs and comments about Elvis' supposed racism.
EIN - Some people like to make out that Elvis was racist in some ways. Is the story true that on a Texan Tour the promoters didn't want Elvis working with black backing singers and Elvis made the stand saying, "No Sweets, No Elvis"?
Myrna Smith -"That's what we heard. And the promoter's daughter was made to drive us in an open convertible to the stage! So that promoter never defied Elvis again! In fact I don't think that we never worked with him again anyway. I know that no matter what colour I was Elvis would have loved me the same. As far as he treated me, there was not racial bone in his body. I mean in the early days he even sneaked into those black gospel churches in Memphis which would have taken a lot of nerve. White boys just wouldn't go there, it was a brave thing to do but he was just determined."
Considering this it is not surprising that Martin Luther King's 'I Have A Dream' was a favourite rhetorical speech that Elvis had memorised and would often repeat over the years. Elvis was extremely shocked when on April 4th 1968 Martin Luther King was assassinated in his own hometown. The compassion Elvis felt would lead to the inspired performance that Elvis used in his own 'If I Can Dream' as the closing number of his 'Comeback Special.' The Colonel unwisely would have preferred a Christmas song!
The black struggles following Martin Luther King's assassination created strong racial boundaries especially in Memphis and the South. Politically and racially 1969 was a very sensitive period. However Elvis had always felt strongly about social injustice (as shown by his private donations to charities) and there is no doubt that his recording of 'In The Ghetto' was Elvis' way of saying which side he sympathised for.
"I have a respect for Elvis and my friendship. It ain't my business what he did in private. The only thing I want to know is, 'Was he my friend?', 'Did I enjoy him as a performer?', 'Did he give the world of entertainment something?' - and the answer is YES on all accounts. The other jazz just don't matter." – Sammy Davis Jnr.
Even to the very end Elvis would record songs reflecting his black roots for isntance 'Hurt' by Roy Hamilton, 'Shake A Hand' by Faye Adams & 'Pledging My Love' by Johnny Ace.
(Left, Elvis with Muhammad Ali 1973)

(Right, Fats Domino with Elvis, 1969)
"Elvis was my close personal friend. He came to my Deer Lake training camp about two years before he died. He told us he didn't want nobody to bother us. He wanted peace and quiet and I gave him a cabin in my camp and nobody even knew it. When the cameras started watching me train, he was up on the hill sleeping in the cabin. Elvis had a robe made for me. I don't admire nobody, but Elvis Presley was the sweetest, most humble and nicest man you'd want to know." - Muhammad Ali.
I strongly believe that if Elvis Presley was alive today a contemporary album which looked back and acknowledged his Gospel and Blues roots would be one of his best & most impassioned releases in years - But one can only dream.
| | |
| --- | --- |
| Finally, if a picture is worth a thousand words …. | |
---
Postscript:
On Christmas Day 2006, James Brown, The 'Godfather of Soul' died aged 73:
James Brown died following hospitalisation for pneumonia. The charismatic and colorful entertainer was a good friend of Elvis', attending his funeral in Memphis in 1977. Brown's frenetic singing style and bold rhythms brought funk into the mainstream and influenced a new generation of black music.
"Elvis and I are the only true American originals. I love him and hope to see him in heaven. There'll never be another like that soul brother." - James Brown. (1933 -2006) R.I.P.
---
Click to comment on this article
This spotlight resarched & compiled by Piers Beagley.
-Copyright EIN October 2005 & now updated 2012.
EIN Website content © Copyright the Elvis Information Network.
Please DO NOT copy & paste EIN articles to other sites
---
Recently EIN's good friend Bernard Tanner, Jr. from Altanta Georgia sent us this wonderful article.
To my good friends and fellow musical travelers, I am now on the record and happy to be.

Last weekend, at the graduating house party of my niece, the subject of Elvis came up, with most of the 'blacks' in the room decrying Elvis as some kind of musical Klu Klux Klansman or a gifted but singing George Wallace or David Duke. My defense of Presley was, because I was armed with 'the Atom Bomb' of truth, defended Elvis' reputation with the fire and finesse of a Clarence Darrow or a F. Lee Bailey, against all the black racist and lying slander against Presley and his supposed racist views and comments against 'blacks' and the ridiculous belief that he uttered that evil comment that "All 'Negroes' can do for him is buy his records and shine his shoes" UTTER NONSENSE! My refusal to back down against their impassioned but wrong-headed and false accusations of Presley's race bigotry shocked them.

Finally when Elvis' distractors resorted to the internet in their certain glee of proving me wrong, were stunned as all the overwhelming evidence came in that he was not only NOT racist but loved 'blacks' and 'black culture', not only 'black music'. And that he could, and often did, recite Dr Martin Luther King's 'I Have A Dream' by memory, or rather, by 'heart' to family and friends. And was permanently grieved and scarred by Dr King's murder, but worse, that he was murdered in his beloved adopted hometown of Memphis, Tennessee.
In fact it was Dr. King's magnificent 'Dream' speech which served as the underlining philosophic and sociopolitical structure of Elvis' magnificent song 'If I Can DREAM' which he sang so wonderfully at the conclusion of his '68 Comeback Television Special. Watch the performance and anyone could see that Elvis' powerful performance, one of his very best, was fired by his commitment to the great human truth of those wonderfully powerful lyrics that all men are and should be brothers.

'In the Ghetto' was just another continuation of this belief that Elvis, and many other performers of and before his time such as: Sinatra, Bobby Darin, Tony Bennett, Dean Martin, Mel Torme, and others held. Can anyone, in their right and logical minds, after closely listening to the lyrics of and Elvis' performance of 'In The Ghetto' imagine that they are listening to such a powerful and moving performance of a 'white racist' or a 'Race bigot'? Such a belief quickly becomes 'Theater of the Absurd' or of 'The Ridiculous.'

When I was then asked, "How could so many 'blacks' be wrong about Presley then, if he wasn't a racist?!" My rebuttal was two-fold. First 'that millions of people believing something wrong does not make it right by overwhelming consensus. That would be like saying that George W Bush was a great US President because Tens of millions voted for him (twice) or we should all "Eat 'Shit' because 50 billion flies can't all be wrong!"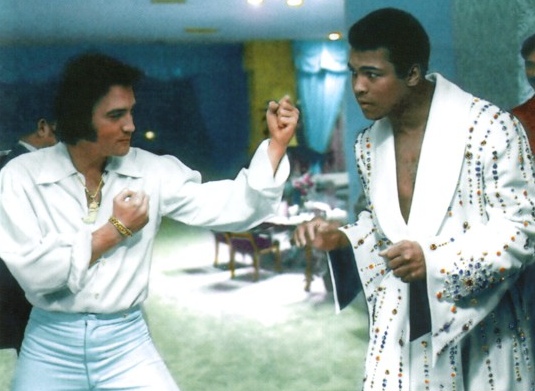 Can anyone maintain, with a straight face, that Presley could have made and kept friendships with proud 'blacks' such as Jim Brown, Muhammad Ali, and James 'Say-It-Loud-I'm-Black-I'm-Proud' Brown - all who have all confirmed their close relationship and admiration for him? And Second. That much of it has to do with the history (and current presence) of racism in America and the lack of credit 'blacks' get for our genuine contributions to the country, and the world beyond, simply because we are 'black.'

And that Elvis, like Al Jolson, Johnny Mercer (who won two year end polls by 'blacks' - '36 and '38 - as 'their' favorite 'colored' singer; not knowing that he was 'white') Bing Crosby [who was strongly influenced by Louis Armstrong - then again - who wasn't?!], Fred Astaire [Who was vocally influenced by Bill 'Bojangos' Robinson's rhythmic dancing], Dean Martin [Whose favorite performer and strongest influence was of Harold Mills of the 'Mills Brothers'], Bobby Darin [every 'black' performer who crossed his path], Mel Torme [Ella Fitzgerald], The Rolling Stones [Muddy Waters], Tom Jones [Chuck Jackson], Rod Stewart [Sam Cooke], Donny Osmond and the Osmonds [Michael Jackson and The Jackson Five], etc. owed so much to African-American culture and performers who never, or rarely, got their just credit and the financial benefits thereof.
Elvis and Sammy Davis, Jr. had a friendship that lasted nearly 20 years. They first met on the set of 'Loving You' in 1957 and were apparently considered as co-stars in 'The Defiant Ones'.

Sammy Davis noted in his autobiography that missing out on the chance of acting with Elvis in 'The Defiant Ones' was one of the great disappointments in his career and has discussed his friendship with Elvis with real affection.

'The Defiant Ones' was an Oscar winning 1958 move where the roles eventually went to Tony Curtis and Sidney Poitier.



And that now Elvis Presley, a clear and provable non-bigot (by the testimony of all the 'blacks' famous and unknown who knew him confirm this), has become the poster child for this 'black' bitterness. He is too often viewed, I believe, as The 'White Prometheus'. The 'white' boy who stole the 'black' man's musical fire and was not, not only NOT punished for his 'theft', but reaped untold wealth and immoral fame for something that did not originally belong to him or to his culture. So many 'blacks', many who either have been themselves victims of America's special form of racism or the children and grandchildren of persons who were victimized by such terrible racism, have culturally [but still unfairly] forced Elvis to bare this cross of shame. And have unjustly forced this thorny crown of injustice upon his poor head.

Presley's passion for the underdog was undeniable and legendary. When Elvis called Nancy Sinatra (at 3 AM) who wanted to congratulate him on the night that his daughter, Lisa Marie, was born she was surprised to hear him so glum after receiving such great news. When she Said to him, "You seem so sad." and asked him, "What could possibly make You so 'blue' on such an occasion as this?", Elvis said, "I AM sad. I was just thinking of all the other babies and poor children in the world who have been born tonight. especially the BLACK ONES, who have nothing to start with, who won't have the chances that my daughter will, and I'm wondering what their future will be - ESPECIALLY THE BLACK ONES" [pg. 148 'Frank Sinatra: My Father' by Nancy Sinatra]

And lost in these arguments is the fact that Elvis was supernally gifted as a performer and as a vocalist. And that he marshaled those rare gifts to the African-American cultural and musical construct and helped to give those musical idioms, not only a much wider acceptability, respect and legitimacy - but supernally so!
This was NOT done as an act of racial profiteering but simply because he [like his two most important composers: Lieber and Stoller and Johnny Otis] all "dug the music and the race that produced it". And that if it is true that all 'imitation' is indeed always the sincerest form of flattery then 'We' should then be flattered by Elvis' sincere devotion to wanting to blend and blending into 'our' musical identity.

John F Kennedy once said that the "real enemy of the truth is not the outright lie. It is the myth."

That Elvis was a Racist and felt, thought, believed, supported and expressed such evil nonsense as 'white' racial superiority is an evil MYTH. And It is time to call it out for what it is 'A Lie! And an enemy of a quite beautiful TRUTH!' And I, for one, like Eddie Murphy and many, many others, remain 'A Fan of The Man from [Memphis,] Tennessee.'

~ Respectfully, Bernard Tanner Jr.
---
| | |
| --- | --- |
| | |
Left, Elvis with Jim Brown "Pro-football star previously with the Cleveland Browns now actor and one of the still too few black men to be Hollywood heroes."
Right, Elvis with Billy Ward. Elvis talked about the group 'Billy Ward And The Dominoes' he had seen in Las Vegas in summer 1956 performing 'Don't Be Cruel', during the 'Million Dollar Quartet' session in December 1956. The lead singer at the time was Jackie Wilson who would later become a good friend of Elvis'.
Elvis says, "I heard this guy in Las Vegas - Billy Ward and his Dominoes. There's a guy out there who is doing a take off of me with 'Don't Be Cruel'. Man, he tried so hard, untill he got much better, boy! Much better than that record of mine!"
---
An earlier pertinent comment from EIN reader Bernard Tanner
Subject: On Elvis: A Real 'Soul' Brother!
His wife, Prisilla, went so far as to say [on the record] that culturely and pychologically Elvis was "a black man". It wasn't just his voice or vocal stylings. I am a unashamed blackman and I love Elvis. I don't consider him as great a singer as Sam Cooke, Little Willie John, Marvin Gaye, Nat 'King' Cole, or his idol Roy Hamilton but make no mistake Presley could sing and he possessed a wonderful and remarkably powerfull voice. And as an entertainer - He had few equals, much less, superiors! -
Now go fourth and spread the truth!
- Bernard Tanner, Jr.
[Who remains an unabashed 'fan of the man from Memphis,Tennessee']
---
Go here to another very fine article by journalist Rob Rabiee.
Elvis was a racist? (#1): - supporting Elvis & published in The Village Broadsheet
---
Click here to go to EIN's archives of news stories & articles, good & bad, debating one of the most emotionally charged issues in the Elvis world.
---
| | |
| --- | --- |
| James Brown and Elvis, soul-brothers and spiritual kin: Elvis was "The King of Rock and Roll", James Brown was "The Godfather of Soul" and both changed our musical world forever. But while many Elvis fans know only a little about James Brown, in many ways Brown was a spiritual kin to Elvis and understanding their careers is essential to comprehending the era they lived in, the music that they made and the lives they changed. In this fascinating article EIN's Harley Payette & Piers Beagley check out their connections and the power of their music. (Source EIN, Jan 2007) | |
---
EIN Website content © Copyright the Elvis Information Network.
Elvis Presley, Elvis and Graceland are trademarks of Elvis Presley Enterprises.
The Elvis Information Network has been running since 1986 and is an EPE officially recognised Elvis fan club.
---