John Wilkinson Interview /Tribute
Original 1972 interview conducted by Tony Prince
EIN Tribute/Interview by Piers Beagley
Rhythm guitar player John Wilkinson, who performed with Elvis Presley more than a thousand times, died on Jan 11, 2013 at his home in southwest Missouri. He was 67.

John performed at ALL of Elvis' concerts from July 31 1969 - June 26 1977, the only other TCB Band musician to do this is James Burton.

Interviews with Elvis' band members from the 1970's are very rare and so it is with great pleasure that EIN can feature this interview with John Wilkinson from September 1972. This nicely ties in with the recent 'August 1972 Las Vegas Season' FTD release but also as a tribute to John Wilkinson who sadly passed away last month.

John Wilkinson was an all-round nice guy who unlike some always told positive stories about his friend Elvis.
---
-- Now Updated with some interesting input from Marty Lacker --
Rhythm guitar player John Wilkinson, who performed with Elvis Presley more than a thousand times, died Jan 11, 2013 at his home in southwest Missouri. He was 67.
John performed at ALL of Elvis' concerts from July 31 1969 - June 26 1977, the only other TCB Band musician to do this is James Burton.
Wilkinson passed away at his home in Springfield after a fight with cancer. Priscilla and Lisa Marie Presley offered their "deepest sympathy" to his family, saying in a statement that "John and the beautiful music he made with Elvis will live forever in our hearts."
Wilkinson first met Elvis Presley when he was 10 years old after sneaking into his dressing room before a show at the Shrine Mosque in Springfield. He amused Presley when he told him, "You can't play guitar worth a damn."
After the chance meeting, Wilkinson developed a name for himself as a singer and guitarist, performing with such groups as The New Christy Minstrels.
He was 23 when Presley saw him perform on a television show in Los Angeles in 1968, and asked him to join the TCB Band - not knowing he was the youngster who insulted his playing a decade earlier, Ellison recalled.
Wilkinson went on to play 1,200 shows as Presley's rhythm guitar player until the legendary singer's death in 1977.
"John considered Elvis more as a friend than as a boss," Family friend Gary Ellison said.

Even after suffering a stroke in 1989 that left him unable to play the guitar, Wilkinson continued singing with fellow musicians, including the old TCB Band.
"He was honestly one of the best acoustic guitar players I'd ever heard," Ellison recalled, adding that Wilkinson kept in touch with many of the performers from the folk music era in the late 1960s and early `70s.
A statement from the family said that John Wilkinson also was proud of the fact that he never turned down a request for an autograph.
"It didn't matter if he was meeting adoring fans, joking with Chuck Berry about keeping his B-string in tune, or if he was talking to a neighbor about her dog, people were people to him," the statement said.
"Folks were folks. John would look you square in the eye and accept you, just as you were. There was nothing phony about him." He is survived by his wife, Terry.

Elvis' friend Larry Geller noted, "Like everyone else in the Elvis world, I was deeply saddened to learn of John Wilkinson's passing. He contributed greatly to Elvis' life. A master musician, a warrior and a true friend to everyone who knew him. Elvis needed you, man, so you had to go."

Kathy Westmoreland posted, "Johnny, You were the very first person in my "new family" that came up to me the first night and offered to assist me in any way. And you were there when I had questions. You made sure I met your friends, ("good people" as you put it) fans, and ensured I felt at home. It was just good to know I had someone to call on then. You were a 'legend' in our industry long before I met you that night. I remember you being mentioned and interviewed often with "Charlie Tuna" on the radio, playing acoustic guitar and singing beautifully with the Kingston Trio, the New Christy Minstrels. So talented, so professional, and most of all...a down-to-earth, good human being ...and friend. I am so thankful for being blessed with the gift of knowing you."
---
---
Interviews with Elvis' band members from the 1970's are very rare and so it is with great pleasure that EIN can feature this interview with John Wilkinson from September 1972. This nicely ties in with the recent 'August 1972 Las Vegas Season' FTD release but also as a tribute to John Wilkinson who sadly passed away last month.
The interview was conducted in September 1972 just after the Las Vegas 1972 Summer season had concluded.
Radio Luxembourg's DJ Tony Prince was asking the questions for assembled fans from the British Elvis Fan club.

Tony Prince: We liked to welcome on stage Elvis' rhythm guitarist John Wilkinson. John actually lived in England once, when was that?.
John Wilkinson: Oh, about the time I hijacked my first Rolls-Royce! (laughs). No no, it was when I was nine years old and had the pleasure of seeing your country. I also went there in 1960 and met some of the people and to this day I still have affection - you're some of the nicest fans I know.
TP: We are all so envious since you have the ultimate job - firstly we can't play guitar and if we could wouldn't we all want to play for Elvis? So how did you manage to get that job as rhythm guitarist with Elvis?

John W: Well Elvis called me in 1968, I had a record out at that time called 'July, You're a Woman' and Elvis liked the kinda' guitar playing I was doing on it. So he called me and he said "I'd like to hear you play some more." I said okay but of course I was shocked, right? Shocked is not really the word - I had to go change my shorts!!. Anyway, I went ahead and did it and I went to see him. And he said, "Well, that's not bad, boy!"

So anyway, James Burton was already there and Jerry Scheff was there, Glen Hardin so Elvis started singing his songs and we were at ABC at the time. Elvis started singing his songs and we just started picking… and we started rocking, you know, just like the old times. Then we tried a few new songs. What happened after that was it led to the 1969 gig in Las Vegas when we all got together. The fact was that it wasn't so much a musical gig, more the fact that we liked the man. Elvis is a fantastic guy and he just decided that we could help him, and he could help us.
I've got to tell you this, Elvis is the most fantastic guy I've ever met in my life. I've worked for a lot of bosses in my life -but never anybody like him. Elvis always thinks of the other guys first rather than himself. It's all here, ladies and gentlemen, it is in his heart. (massive applause)
TP: That's a very nice thing to say about a great guy. It's so rare to find someone like that in this business.
John W. I tell you something else that you should know. My mother was in a hospital, nothing very serious, but in hospital nonetheless. I had mentioned it to Elvis about two weeks beforehand. Nothing happened but the very day she went into hospital there was a bouquet of flowers for her signed by him in the hospital. Plus the hospital bill was taken care of by Elvis Presley himself.
I should make it very, very clear that my family is perfectly capable of taking care of any and all bills - but this is a way that Elvis takes care of his own, his people - and his fans too. And that's the truth. He loves you.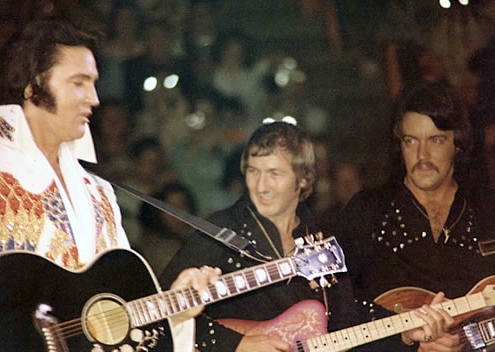 TP: Let me ask you about Elvis going into a studio and listening to demos for the first time. We've heard that Elvis hears it once, maybe twice, but then Elvis gets in front of the microphone with his guitar and he's got it off-pat. Is that true?
John W: Not with his guitar, no! (laughing). I'll give you an example, like with 'Burning Love', which I think you've heard? You like it? (cheers).
'Burning Love' we did at like two o'clock in the morning in Los Angeles as a matter of fact, and there was a dub played and we listened to it. What we do at a session is that we listen to the dub over and over and then we start playing to the dub as it is playing to us in the studio. Then all of a sudden the dub is cut off okay, so we start to rock. The guitars are going, the drums are going, most like what this band does here on stage tonight. Ladies and gentlemen this band is good tonight, they are good, they are rocking!
So when that song comes through the booth and then is it is cut off and we start playing in that key. Okay, Elvis starts singing and we have the lyrics but we don't have any musical charts. We just do it the way we feel, we listen and we hear it. Now the rest of the band was playing in D but I was playing in C (laughing) but I didn't know!! Ronnie Tutt told me I was wrong, so I learnt (laughing).
'Burning Love' came out to be like the old time Elvis' and the old-time Elvis is a ROCKIN' Elvis - it has to be. That's the old-time Elvis we all remember, right, and it can't be bad!
EIN note - Although 'Burning Love' was recorded in March 1972, it was only released as a single in August, three weeks before this interview and wouldn't get to the top of the charts until October 1972. So Elvis never performed it at this Las Vegas summer season that these fans had attended. At the time it was still a relatively unknown Elvis song!
TP: John, talking about the old-time Elvis, the question I asked him was, 'Was there any chance of having any blues or rock 'n' roll in the future?' And Elvis exclaimed that it was a big coincidence I was asking that question as, at that very moment, they were looking for songs and are recording a new album in America of blues and rock. Which will be the greatest thing that is happening in the 1970s, right? (big applause).
So I'd just like to ask you, John, do you know anything about that session, are you in on that session?

John W: If I have anything to say about that session, I will be will!

EIN Note: At the time Elvis would have been considering 'Steamroller Blues' as a good song to add to his setlist – and then for Aloha – however the next recording session would be the rather lacklustre first STAX session (that led to 'Raised On Rock') featuring very little blues and rock'n'roll. I wonder what Elvis was really considering and was it his personal troubles that caused a change of plan.
With regard to the
"blues and rock" recordings - s
ee Marty Lacker discussion below
TP: Have you ever known Elvis to write a song himself.
John W: The only thing that I can tell you about that is – and I can't really answer you fully here but some of the Christmas songs, from last Christmas album. There are a couple of songs that he had his input into. You remember of course about how his mother passed away, well some of those Christmas songs rang really close to home. And Christmas means a lot to Elvis, so when those songs were coming down he was putting his feelings into them..
TP: You're talking about Elvis singing a song like he meant it. Perhaps I can ask you but maybe you don't want to answer. However every Elvis fan here feels very deeply about his relation with Priscilla. We don't want to ask any complicated questions, we just want to know has Elvis been a changed guy off stage, since the problems began?
John W: Uh, Uh …uh.. I can't tell any difference with him.
TP: Because when Elvis stood on stage and sang one really beautiful slow song, one of his old ones, 'I'll Remember You'. And, you know, I had a few tears in my eyes because I thought he was singing about Priscilla. We might be all wrong, you know…
John W: First of all, that is not an old song, that was a song done by Don Ho and it has a meaning for a lot of people. I'm sure that anybody who has a child would cry if a sentimental song was sung. I'm not married but children are the most beautiful thing in the world today ….
TP: Can you tell me about the chain around your neck that says TCB?

John W: For those who can't see, this is the TCB chain that Elvis gave all of us that work with him. And the TCB means 'Taking Care of Business' and the lightning bolt means RIGHT NOW! It is all in gold, and probably about $500 worth of the gold… but the main thing is it means that we work with the man and that's what really counts.

TP: Does everybody who works with Elvis get one of these TCB chains?

John W: Everybody who counts does, yeah!

TP: John counts, right everyone?!
(big appause)
John W: We have a new tour coming up in November and I think part of it is going to be in Hawaii, so if any of you can get to Hawaii….
TP: (laughing) I've got news for you John, we will all be paying back this $500 trip for the next five years!
John W: well, maybe we'll come to you who knows?
TP: Let me tell you about coming to England. The first thing that Elvis said when he came into the room when we went down to see him was, "Thank you for coming all this way, I have always wanted to go there to Britain but I've never got the chance - but I'll get there one day". And I got it on tape that's exactly what Elvis said "I'll get there one day" which is nice to know isn't it?
... Someone wants to know how many jumpsuits Elvis has got?
John W: There is like 15 jumpsuits of different colours. In total there about 25 and as far as the older-style uniforms, the pants with shirts and jackets there is like 15 of those. There is a reason for that. As you know in 'Polk Salad Annie' you know, you've all seen how that goes. The way Elvis goes down there, that's bound to split a knee … and also sometimes those pants! I don't know who makes them but sometime this fall Elvis bust his britches and he'll turn around and all of a sudden you'll see everything you're not supposed to see… (laughing).
So the idea is that there's 15 of those, and like 25 of the jumpsuits. And those jumpsuits are quite nice, anyway you want it cut they're good.
I'm not sure how much they cost, I only have a vague idea but I think the best ones he has possibly cost at least a thousand dollars.
TP: Will the new TV spectacular be shown in Britain?

John W: I can tell you this much about the TV Special. It was supposed to be done in November as you probably were informed but because of the Presidential elections such as they are, it is postponed as the satellite is being used for that time. I have been told we are going back to Hawaii in January - I don't know the exact dates - and we will do the closed-circuit worldwide television broadcast, worldwide ladies and gentlemen, and Elvis will be seen all over the world.

TP: Col Parker sure knows he's stuff. After all that I think John needs a drink I sure do! Please give a nice round of applause for John Wilkinson.
John W: Ladies and gentlemen just for a moment… I haven't met a lot of you at all but I must say that I think I speak for all of us here in the entire Elvis organisation that you are fantastic people and thank you the caring.
TP: John Wilkinson thank you, thank you very much.
Please visit this John Wilkinson tribute on YouTube - created by 1015elvis.
Features two versions of 'Early Morning Rain' the song John always did as his solo spot from 1974-1977. First is from 'Aloha From Hawaii' with pictures of Elvis and John through the years. The second is Elvis's last tour with the mixture of June 19 video and June 26 audio.

Interview transcribed by Piers Beagley.
-Copyright EIN February 2013 - DO NOT COPY to other websites -
EIN Website content © Copyright the Elvis Information Network.
Click here to comment on this interview
EIN would like to thank Geoff-The-Chef for the inspiration.
Please also visit Elvis Express Radio and their very special tribute to John Wilkinson - GO HERE -
| | |
| --- | --- |
| And also please visit the The John Wilkinson Appreciation Group and leave a message of support about this great man and to his family. Click here. | |
---
With regard to the comment above from Elvis about recording and looking for some blues or rock songs in August 1972 EIN asked Marty Lacker a few relevant questions...

A) Was Elvis really looking for some good blues songs at the time?
Marty.. I never heard Elvis say he was looking for good blues songs and he never asked me to get him some which would have been easy for me to do because of being one of the leaders of the Memphis Music Industry and working with all the studios and music people there. In addition I was always, much to Parker's chagrin, looking for good songs for Elvis to do because all he was getting was the crappy demo songs from Parker and Freddy Bienstock of Hill & Range. Personally I disliked Burning Love because I thought it was a bad attempt to recapture his hits from the 50's and early 60's.

By that time mainly because of the crappy songs he was getting from those two he looked at recording as a drudgery. What he should have done is put his foot down with Parker and said that he was going to get songs from wherever he could but alas he didn't do that. When he asked me to get him a studio to record because he wouldn't go back to American Studios because Parker poisoned his minds about Chips Moman based on a lie, he told me get to get him a studio and that the session meant nothing to him but he just wanted to stop Parker nagging at him to record. I chose Stax because it was secured with a guarded gate and I was close friends with the owners and most of the musicians,artists and writers there. Personally I would have loved for him to do a blues/R&B album but I would really would have liked him to do it at American with Chips and the studio rhythm session because those guys were highly successful with big hits in that genre.

B) How come Elvis never clicked with the STAX boys Al Jackson, Steve Cropper & Duck Dunn?
Elvis could have recorded some great stax material IF he had been in the right mood.
He did after all have some classic STAX songs on his jukebox.

Marty: Duck was on the second Stax session and Duck voiced his opinion to me one of those nights that he was disappointed in how the session was being done and that Elvis seemed to not be serious about it. Unfortunately Steve was not there. Felton Jarvis was the one who picked the musicians for those two sessions. I had no part in that.

C) Did you ever try to nudge Elvis towards recording any STAX material?

Marty: One of the reasons I brought Steamroller Blues to him was to get him to think about going back to that kind of music that he did so well in the early years. I brought him the record that Chips had produced on his black group The Masqueraders that was a great record for the time. However Elvis didn't bring up doing more of that kind of music.

Also a question from EIN reader Steve P..
- Thanks for the John Wilkinson tribute. In an another interview John Wilkinson said that he met Elvis at a gig at the LA 'Whisky-A-Go Go'. Elvis was in the audience. There are other stories of Elvis going to see Johnny Rivers perform in a club (I presume in 1964 before they fell out over Memphis Tennessee).
Can you ask Marty Lacker how much did Elvis like going out to clubs to see other musicians and how often?

Marty: To my recollection Elvis never went to the Whiskey in the 60's. Some of us guys did as we were friends with the owner Elmer Valentine and back then is when the club was really popular. However we did get Elvis to go to another club, The Red Velvet, which was further into Hollywood near Sunset and Vine. It was owned by one of Elvis' girlfriends Sandy Ferra's father Tony Ferra. Monday night was talent night and he went with us a couple of times including one Monday night when the Righteous Brothers were performing at a time when they were new.

EIN thanks Marty Lacker as always for his insights and help.
'3000 South Paradise Road' FTD CD Review: A two-CD release with 16-page booklet this FTD takes a close look at Elvis' engagement at the Las Vegas Hilton in August of 1972.
The main disc is the Dinner Show from August 12, 1972 and the second disc is culled from the rehearsals on August 4th, the date of the opening of the engagement.
'3000 South Paradise Road' provides a unique experience of Elvis rehearsing, 6 hours before the opening night at the Las Vegas Hilton. August 1972 was a great period with Elvis out of those typical jumpsuits and looking cool in his two-piece suits. Created by true Elvis fans for Elvis collectors - and with the fabulous audio remaster of the fine August 12 Dinner Show - this is what the FTD label is all about.
Click here to EIN's in-depth review of this new FTD release..

(FTD Reviews, Source;ElvisInformationNetwork)

EIN Website content © Copyright the Elvis Information Network.
Elvis Presley, Elvis and Graceland are trademarks of Elvis Presley Enterprises.
The Elvis Information Network has been running since 1986 and is an EPE officially recognised Elvis fan club.