ClubsNSW Parkes Elvis Festival 2007
When: Friday, January 12, 2007 -- Sunday, January 14, 2007
Visit the ClubsNSW Parkes Elvis Festival website
Contact the Parkes Elvis Revival Inc. Committee:
Telephone: (02) 6863 8860
Fax: (02) 6862 1023
By post:
Elvis Revival Inc
P.O. Box 611
PARKES NSW 2870
***Full ClubsNSW Parkes Elvis Festival 2007 Program due out early December 2006***
---
Fully escorted 17 day tour from Australia in August 2007:

all tour participants receive a special 30th Anniversary Tour pack with Elvis goodies - get to meet some very special guests in Memphis!!! - and a lot, lot more
---
Elvis lives on downunder: What do you get when a small town some six hours from Sydney decides it wants to make itself famous? You get an Elvis Festival in a place that has absolutely no link to the guy at all.

But if you're an Elvis fan that shouldn't stop you time-warping right this instant to Parkes in inland New South Wales, where as we speak the Parkes Elvis Festival is up and swinging. With Elvis impersonators on every corner, special Elvis movie screenings, even Elvis in the Park Markets, the four-day festival brings in a million dollars a year directly to the 10,000 member town (and generates eight times that indirectly), and that ain't peanuts!

It all culminates this weekend with the Elvis Sportsmans Dinner; dress is optionally smart casual, or rock 'n' roll. But is it a case of true Elvis devotion or a way to strip tourists of their bucks? You decide. (Source: Jaunted, 12 Jan 2007)
---
SBS TV documentary "Elvis Lives in Parkes" splits fans: Last night's TV documentary on the rise and rise of the Parkes Elvis Festival has divided fans. The SBS web chat after the show was predominately full of positive comments but there was a mninority who thougfht it showed Elvis in a opoor light. The feedback EIN has received has also been split, from comments that the show was "wonderful" to "an absolute disgrace to Elvis' memory". EIN felt the show was a good one, showing how a determined group of people overcame town politics, bushfires and flood to produce one of Australia's most successful annual festivals. (News, Source: EIN/SBS, 11 Jan 2007)
---
Parkes "all shook up" over Elvis: More than 6,000 visitors are expected to converge on Parkes in central west New South Wales for the annual Elvis Festival that starts today. Organisers expect this year's festival will be the biggest yet, and the number of tourists attending its more than 60 events will increase by 20 per cent. The first Elvis Festival attracted just 200 people who attended a concert.
Accommodation in Parkes has been booked out since last year's festival and hotels are also fully booked in neighbouring Peak Hill. The president of the Elvis Revival Committee, Robert Steel, says the success of the festival is a tribute to Elvis.
"I think there's more Elvis fans now days than there used to be. I think they reckon Elvis is probably the most known person on the planet," he said.
Mr Steel says he started the festival to boost tourism and says he cannot believe how popular it has become.
"I thought maybe it would level out somewhere along the line but it just keeps on growing," he said.
A study by the University of Wollongong estimates last year's festival injected almost $8 million into the local economy. (News, Source: ABC News Online, 10 Jan 2007)
---
Legendary "El Gamble" to perform at Parkes Elvis Festival: Australia's legendary Elvis tribute artist, El Gamble, has dusted off his blue suede shoes for performances at the 2007 ClubsNSW Parkes Elvis Festival. El Gamble will perform tomorrow night at the Parkes Leagues Club (8pm start) and at 1.15pm on Sunday 14 January at the Cooke Park Main Stage. (Source: Parkes Elvis Festival, 8 Jan 2007)
---
INSIDE Australia - ELVIS LIVES IN PARKES: For three days each year, Parkes, in central NSW is taken over by the Elvis Festival. Elvis devotees, Bob and Anne Steel intended the festival to help the struggling town's economy through the slow summer months. However, over the next ten years the Elvis Festival would have to contend with bushfires, floods, financial loss, dwindling numbers, exhaustion, and continuing community indifference to their efforts. At the last minute help came from the local newspaper – whose editor was a huge Elvis fan. With his campaign the local council came on board and the Tourism Officer embraced the Elvis Festival – bringing in record numbers of people. Combining energetic storytelling with the playful narration of Elvis (or at least someone who looks a lot like him!) this film tells the story of the most unlikely community festival in Australia and the loveable, sometimes eccentric, people that made it possible. (Commissioned by SBS Independent, in English) PG CC WS. Screens Wed 10 January at 8pm. (Source: Inside Australia, 6 Jan 2006)
---
"Elvis is Alive - Bringing Booming Business to Rural Australian Town: Elvis lives on – albeit in the rural township of Parkes, a small town west of Sydney Australia – and it is his legendary stardom that keeps the rural community in business, putting it on the national map as Australia's 'Elvis capital'.

Published by Blackwell Publishing for the Institute of Australian Geographers in the March 2007 issue of Geographical Research, this paper examines the extent and impact of rural festivals on inland townships and their contributing role in the survival of rural communities.

Using the annual Elvis Revival Festival in the small town of Parkes - 350 km to the west of Sydney, Australia - as a case study, lead author Dr. Chris Gibson from the School of Earth and Environmental Sciences at the University of Wollongong analyzes the manner in which a remote place with little economic prospects managed to successfully create a tourism product, and subsequently captured national publicity. He also calculates the economic significance of this popular festival.

Dr. Gibson said, "Rural festivals can make an important contribution to the struggling economies of inland towns, and are increasingly part of their shift from traditional agricultural bases towards tourism, lifestyle and service industries."

The Parkes phenomenon is evidence of this – the annual festival based around the commemoration of Elvis Presley's birthday every January brings over $1 million in direct income to Parkes – a town with few visitor attractions other than the nationally-famous radio telescope, 'The Dish'.

The festival demonstrates how places (even small towns) can successfully construct 'tradition' and new identities and eventually develop thriving economic activities through such festivals. Parkes has done just that: by 'inventing' an association between the town and a performer who never visited Australia – let alone Parkes – the township reinvented itself from a struggling rural community of only 8,000 residents to being recognized as the "Elvis capital" of Australia.

Dr. Gibson added, "This is a 'good news story' from a region otherwise plagued by drought, facing on-going problems of an ageing community, declining population and poor prospects for agricultural growth. The Festival has grown in size since its initial conception in the 1990s – with notable impact – and the town now partly trades on its association with Elvis, constituting an "invented" tradition and place identity".

This paper is published in the March 2007 issue of Geographical Research (Vol. 45, Issue 1, 71- 84). Media wishing to receive a PDF or further information should contact Alina Boey, Public Relations Asia. ( Source: Newswire, 7 Jan 2006)
---
| | |
| --- | --- |
| Elvis alive and well in Viva Las Parkes: In early January, the 10,000 residents of Parkes will add to their town's population by 50 per cent. The occasion? The Parkes Annual Elvis Festival. Now in its 15th year the celebration sees hip-swiveling Elvis impersonators and more than a few Priscilla wannabes arrive from all over the world. Elvis look-alikes play golf, sing gospel, get married in true Las Vegas style with Elvis celebrants and eat lots of fried chicken. | |
The Elvis festival has had a chequered history, says Parkes Champion Post editor Roel ten Cate, but after a campaign by their paper and support from the local council, it now continues to go from strength to strength. The Elvis Express from Sydney to Parkes is already booked out, but Elvis desperados need not fear, there is space in the Tent City at North Parkes Oval (about $30 per person a night) and many homes are offering to host extra visitors. Parkes is in the central east of NSW, about five hours drive from Sydney (375kms). If you are not up for the drive, there's always the train in 2008.
Watch the tribute to the NSW country town of Parkes and their ongoing love affair with American crooner Elvis Presley. The ClubsNSW Parkes Elvis Festival runs from January 10-14. The interview is with Parkes Champion Post editor Roel ten Cate, interviewer is Brenda Cunningham-Lewis with multi-media by Jay Lowe. (News, Source: Amber Smith)
View video of "Parkes Elvis Festival"
---
The award winning ClubsNSW Parkes Elvis Festival has grown to be one of the largest and most successful annual festivals in Australia. In 2006 it attracted bigger crowds than Australia's legendary Tamworth Country Music Festival (also run in January each year).

In January 2007 it will be back bigger and better than ever with a wide variety of events and tributes to satisfy Elvis fans, tantalise non-fans, and amaze visitors from 1 to 101.

Parkes, NSW is also home to the huge radio-telescope affectionately known as "The Dish" ( as featured in the major motion picture of the same name starring Sam Neill).
Among the 2007 celebrations will be:
| | |
| --- | --- |
| Countrylink Elvis Express from Sydney to Parkes | |
| | Elvis at the Trots Harness Racing |
| Gracelands on the Green (accommodation) | Priscilla & Big Hair Dinner |
| Elvis Gospel Church Service | |
| Elvis Lennox Private Collection | |
| Dean Vegas Feature Concert | |
| Hunka Hunka Pancake Breakfast | |
| Back to the Altar with Dean Vegas | Elvis Birthday Tribute Show |
| Elvis in the Park Markets | |
| Elvis Central Open (merchandise & collectables) | Norm Bakker Elvis Show |
| | |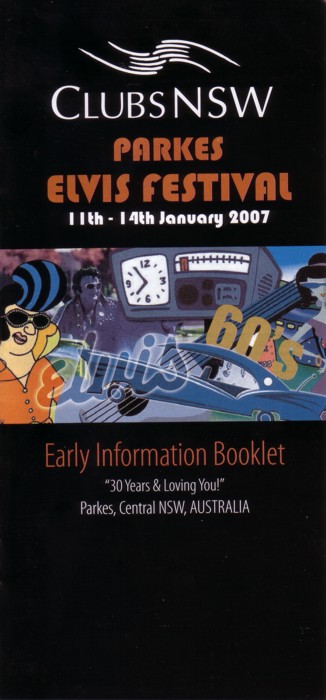 Ticket office open for bookings
Read EIN's review of the inspirational Return of the legendary El Gamble in Parkes, August 2006
---
Parkes Elvis Festival Lives On!
(Source: News.com.au, 22 Oct 2006)
THE memory of Elvis will be celebrated at the 15th Parkes Elvis Festival in January, despite widely reported fears the festivities would be shut down.
Elvis Presley Enterprises owner, Robert Sillerman, was reported to have issued a worldwide threat to organisations or unauthorised Elvis impersonators holding events to commemorate the
30th anniversary of the King's death.

Following the reports of the April edict, the Parkes community feared it could lose its Elvis festival, which draws about 5000 visitors and contributes up to $4 million to the local economy.

But today, Elvis Presley Enterprises (EPE) media and creative development director Todd Morgan sought to allay the community's concerns.

"There is no crackdown,'' Mr Sillerman said.

The report, he said, had been an out-of-context quote from a hypothetical question in an interview with Mr Sillerman in The New York Times.

The Parkes festival's marketing and media manager, Monique Cronk, said the reports led organisers to review all licensing issues surrounding the festival.

She said EPE was happy about licensing the Parkes festival.

"There are aspects of our festival which are in breach of the commercial rights of the company but we're confident that there is no threat to the festival,'' she said.

Festival organisers contacted Elvis Presley Enterprises to negotiate a full licensing agreement for the five day festival, which includes an Elvis Gospel Church Service and an Elvis Street Parade.

"The licensing is quite complicated, there's a lot more red tape,'' Ms Cronk said.

"The early indications are that we are looking at an amount of about $5000, but that's money well-spent.

"They are dead keen for us to get licensing for the festival; they are all for it.''

Mr Morgan said licensing offered great opportunities for the festival.

"We cooperate with around a dozen Elvis festivals each year and are continually looking to work with others,'' he said.

"A good festival is good promotion for all things Elvis and the festivals benefit very nicely from an official EPE sanction.

"Elvis festivals that seek and receive EPE sanction can enjoy the benefit of online marketing support that we can offer, the special cachet of identifying their festival as 'official', some creative input from us, and access to EPE trademarks used for promotion and merchandising activity that are beyond the limits of a non-sanctioned festival's freedom of expression rights,'' he said.

The benefits of becoming a licensed festival were enormous, Ms Cronk said.

"If licensed, we can use Elvis pictures and have our brochures in Gracelands,'' she said.

Ms Cronk was not concerned about the lack of a licence at this stage, saying: "We're sure we'd still go ahead if not licensed.''

"When we contacted them they were delighted to hear we were doing so well.

"The festival is growing at an incredible rate - Elvis fans transcend generations.

"After all, what's not to like?''