'Elvis Is Back!' - Legacy Edition
RCA Sony Legacy release
- Review by Piers Beagley -
'Elvis Is Back!' the album that Elvis Presley recorded in Nashville in March and April 1960 is widely regarded as one of the best and most important albums he ever made.

A half-century later, "Elvis Is Back" is now coupled with 1961's "Something For Everybody," an album he recorded back in Nashville one year later. Along with one dozen hit single sides also recorded in Nashville's famous Studio B and which charted over roughly the same period of time.

The deluxe "ELVIS IS BACK: LEGACY EDITION" combining these two great albums was released on March 8, 2011.

EIN's Piers Beagley checks out this new RCA Legacy release.
---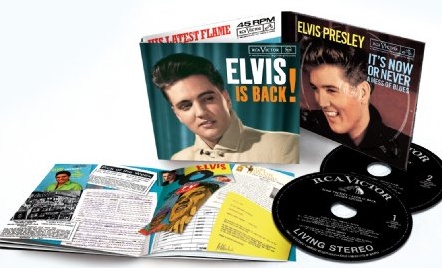 In the mold of recent 2-CD Legacy Editions of the classic albums 'From Elvis In Memphis' and 'On Stage', Elvis Is Back (Legacy Edition) is the definitive version of one of Elvis most essential albums, expanded to include another historically significant album from the period as well as the hit singles associated with both albums.

What a dynamite pairing - two crucial Elvis albums that everyone should own paired with the Classic Singles from the same time.
Best of all these two albums are presented in the audio quality as Mastered by Vic Anesini for the sensational deluxe 'Complete Masters' set. They have never sounded better.
Elvis recorded several crucially important albums that define both his incredible career and the growth of popular music itself.
In the past it was always disappointing that key Elvis albums such as 'From Elvis In Memphis', the live recordings 'Elvis In Person/On Stage' along with his first two RCA albums - plus 'Elvis Is Back' were not readily available to buy in CD stores.
Luckily for us Ernst Jorgensen has been fixing this with a series of these important Legacy releases. (Surely Elvis' first two albums must be next?).
Amazingly you can find this Legacy release for only $15!
---
The pairing of these two studio albums recorded only one year apart may make you forget that another two albums 'G.I. Blues' and the gospel 'His Hand in Mine' were issued between these releases.
Not to forget the recording sessions for 'Flaming Star' and 'Wild In The Country' as well. Elvis was a busy, busy man straight out of the army.

"What I'll record, I don't know yet. I've got quite a few songs to choose from, I've collected over two years. I don't know exactly what type or what instruments I'll use …"

"I'm gonna sing and I'll let the shaking come naturally. If I had to stand still and sing I'd be lost, I can't get any feeling that way."

– Elvis, March 1960.
The Design
The foldout Legacy packaging is as well designed as ever showing the various album and single covers and including a 24-page booklet with interesting liner notes by well known writer/musician Stuart Colman.
It also includes some great photos from the time.
The Stuart Colman essay includes …
"When Elvis Presley entered the U.S. Army in March 1958, there were two trains of thought as to how he would be treated. Whilst many were certain that the patriotic youngster would give 110 percent, others were inclined to think he'd enjoy the spoils of office because he was a celebrated performer. Following a gig that this writer played with the Flying Machine in 1971 on a military base just outside of Wiesbaden, Germany, the former viewpoint rings truest. Upon arrival we were advised to take good care of the stage, not so much because it was made out of glass blocks, but because it had been constructed by none other than the purposeful Private Presley."

... The countdown began with an all-night session at the RCA Studio in Nashville on the third Sunday in March. Right up until the point where cars were being parked and instruments unpacked, the assembled musicians were under the impression they'd been booked to record with Jim Reeves. This was a half-hearted attempt to thwart the fans gathered outside who knew full well who was coming in. Otis Blackwell's propulsive "Make Me Know It" was earmarked as the curtain-opener on the comeback trail, and right from the get-go it was obvious that Elvis had never sounded better. Credit for the sonic standard was due to Bill Porter, and his rigging of a Telefunken U-47 vocal mic. As he'd only been with the company for six months, this was the first time that Elvis had encountered the meticulous engineer."

The Audio
Audio engineer Sebastian Jeansson was very important in the mastering and audio-work on the "Complete Masters" set working with Vic Anesini, and he was the audio engineer who mastered both of the previous FTD releases of these albums.
His work for both the releases means that the difference between the audio-quality on these Legacy CDs and the previous FTD 'Classic Album' versions is fairly minimal - basically because both of them sound great!
Fans should not expect the dramatic difference in audio-quality as there was on the previous Legacy upgrades of 'FEIM' or 'On Stage'.
However, there is no doubt that these are the best-sounding versions that have yet been released, sounding so clear and crisp yet with a delicious warm deep-end bass.
Listen on quality headphones to hear the amazing ambience of Elvis working in Nashville's Studio B, or crank the Hi-FI up loud to rock the room with the sensational bass and guitar work of 'Little Sister' or 'Such A Night'.

Elvis Is Back
Elvis returned to Nashville's Studio B on March 20th 1960, just 15 days after coming home from his army stint for Uncle Sam.
Elvis had been away from the music scene for nearly 2 years and the charts were no longer full of the excitement of fifties Rock 'n' Roll but had given way to a smoother sixties-sound. Elvis knew only too well that just one year out of the music business can kill your career and, although he had made some home recordings while in Germany, Elvis hadn't recorded in a Studio since June 1958!

While 1968 is named as Elvis' 'Comeback' year, nothing could have been more important than his first 1960 recording session. After 18 months away, could the most famous Rock'n'Roller come back and reclaim his musical King's crown in this new smooth-pop era?

As we all know Elvis always rose to a challenge and tended to produce his best work under pressure. And when the first session finished there could be no doubt that, from his explosive first recording 'Make Me Know It' to the very last moment of 'Reconsider Baby' (recorded as the dawn was breaking), this might be the greatest music that Elvis would ever produce.

By now Elvis' band included crack Nashville musicians Hank Garland on guitar, Boots Randolph on saxophone and Buddy Harman adding some brilliant extra percussion.

From the exciting blasting of Otis Blackwell's 'Make Me Know It', to the cool doo-wop of 'Soldier Boy', the gospel tinged 'Thrill Of Your Love' and through to the brilliance of 'Fame & Fortune' and the blues of 'A Mess Of Blues' and 'It Feels So Right' Elvis proved his creative musical-genius as well as letting his newly-matured voice shine out.
The second session provided even more classics including 'Fever', 'It's Now Or Never' and 'Are You Lonesome Tonight' not to forget my all-time favourite 'Such A Night' . In these amazing sessions Elvis laid-down eighteen classic tracks including seven Gold records!
The first disc of this sensational Legacy set features all the Masters from that session.

Something For Everybody
It would be one year later on March 12th 1961 that Elvis would return to Nashville to record his next major album release of non-soundtrack secular recordings - 'Something For Everybody.'
Working extremely fast Elvis would record the 12 tracks for this new studio album 'Something For Everybody' in under twelve hours.

Sadly the importance of these recordings must have been diluted by the commercial success of 'G.I Blues' and it placing higher in the charts than 'Elvis Is Back!' A sadly no one could have ignored the overly purile 'Wooden Heart' making #1 all over Europe.

It is also no wonder the rock'n'roll edge was dimmed by the time Elvis laid down 'Something For Everybody' since the early sixties era of 'Smooth Pop' had Pat Boone and Cliff Richard as his chart challengers before The Beatles shook up the whole tree.

So somewhat sadly for many fans, including me, the excitement of that first 1960 session had now been replaced by the new smoother, cooler pop-sound well-matched to the pop charts of the day.
Side One of the Album was even called "The Ballad Side". Not that it isn't a great album, but the original album and its chart success would definitely have benefited from having a kick-ass single included. Especially if it had replaced the lame out-of-place soundtrack 'I Slipped, I Stumbled, I Fell'.
'I Feel So Bad' should never have been pulled off to be only a single. And what a mistake not to use the sensational Number 1 'Surrender' as a bonus track on the album.
Didn't Col Parker learn from the relative failure of the fantastic 'Elvis Is Back' not reaching #1 due to the lack of it featuring one of the Hit Singles like 'It's Now Or Never' or 'Are You Lonesome Tonight'?
Having said that, these factors don't matter for this terrific re-release as all the Singles are included here. Elvis' voice is magnificent showing even more maturity and richness following the previous 'His Hand In Mine' gospel sessions.
While I always found 'There's Always Me' a poorly chosen first-track-on-the-album, the sublime 'Give Me The Right' and the vocal challenge of 'It's A Sin' soon create a very fine flow to the music.
The delightful ballad 'Gently' and the fun of the second side's more up-tempo treats including 'I'm Coming Home', the doo-wop of 'In Your Arms', the rasp of 'Put the Blame On Me' plus the cool-pop of 'Judy' are all great album tracks.
Sadly the soundtrack all-too-slight 'I Slipped, I Stumbled, I Fell' should have been left off in favour of the raw blues of 'I Feel So Bad.'
It is of course the later single and the 'His Latest Flame'/'Little Sister' killer chart-topping coupling (recorded just too late to be on the album) that showed one and all that Elvis could still really mean business.
Of course these are all present as Bonus tracks, along with the October 1961 coupling of 'Good Luck Charm'/'Anything That's Part Of You' helping the second CD ending up as a collection 16 brilliant early sixties pop songs.
If you don't own the FTD Classic Album versions of these two great albums then this Legacy release is an essential purchase for your collection.
Similarly if you couldn't afford 'The Complete Masters' and want to hear these all-important Elvis studio sessions in brilliant audio quality then this pairing is also a great idea.
Overall Verdict: These RCA/SONY Legacy releases at last put the proper focus on the key sessions of Elvis' amazing recording career. Over twenty years ago Ernst Jorgensen and Roger Semon started a campaign to put Elvis' RCA back-catalogue in proper perspective and these Legacy releases are the perfect setting for Elvis' most important albums. With some fine sleeve notes, nice packaging and featuring the best audio available - and selling for around $15 - this has got to be great value for money for any fan. 'Elvis Is Back!' has always been one of my all-time favourite Elvis albums, I only wish this release had been in the Record stores 20 years ago!
Now selling via Amazon for only $15 – what a deal. .
File it along side the excellent 'From Elvis In Memphis' and 'On Stage' legacy releases.
Review by Piers Beagley.
-Copyright EIN April 2011 - DO NOT COPY.
EIN Website content © Copyright the Elvis Information Network.
Click here to comment on this review
| | |
| --- | --- |
| | |
---
Tracklist

Elvis Is Back - Original Album
1. Make Me Know It
2. Fever
3. The Girl Of My Best Friend
4. I Will Be Home Again
5. Dirty, Dirty Feeling
6. Thrill Of Your Love
7. Soldier Boy
8. Such A Night
9. It Feels So Right
10. Girl Next Door Went A'Walking
11. Like A Baby
12. Reconsider Baby
The Hit Singles
13. Stuck On You
14. Fame And Fortune
15. It's Now Or Never
16. A Mess Of Blues
17. Are You Lonesome Tonight?
18. I Gotta Know
19. Surrender


Something For Everybody - Original Album
1. There's Always Me
2. Give Me The Right
3. It's A Sin
4. Sentimental Me
5. Starting Today
6. Gently
7. I'm Comin' Home
8. In Your Arms
9. Put The Blame On Me
10. Judy
11. I Want You With Me
12. I Slipped, I Stumbled, I Fell
The Hit Singles
13. I Feel So Bad
14. (Marie's The Name) His Latest Flame
15. Little Sister
16. Good Luck Charm
17. Anything That's Part Of You

CD Credits: Produced for reissue by Ernst Jorgensen.

Mastered by Vic Anesini.
---
EIN Website content © Copyright the Elvis Information Network.
Elvis Presley, Elvis and Graceland are trademarks of Elvis Presley Enterprises.
The Elvis Information Network has been running since 1986 and is an EPE officially recognised Elvis fan club.