Alanna was interviewed by EIN's Nigel Patterson (December 2009)©
Read EIN's review of Baby, Let's Play House Elvis Presley and the Women Who Loved Him
..........................................................
Introduction: Alanna Nash needs no introduction to Elvis fans!
Already with three critically acclaimed books about Elvis published and her fourth to be released next month, Alanna's name is one of the most recognisable in the increasingly crowded library of Elvis authors.
Alanna was the winner of the 2004 CMA Media Achievement Award and the 2009 Charlie Lamb Award for Excellence in Country Music Journalism, she has written about music for such publications as "Vanity Fair," "People," "USA Weekend," "TV Guide," "Playboy," "Entertainment Weekly," "Ladies Home Journal," "The New York Times," and "Reader's Digest," where she was a contributing editor from 2004-2008. Nash, whom "Esquire" magazine named one of the "Heavy 100 of Country Music," co-edited Will the Circle Be Unbroken: Country Music in America, published in 2006 by the Country Music Foundation and Dorling Kindersley. (That book brought her second Belmont Award.)
Alanna's fourth book about Elvis, Baby, Let's Play House The Women Who Loved Elvis, will be released in the USA in early January 2010 (and UK release in March 2010). The women interviewed represent some of those who were romantically involved with Elvis and others who enjoyed a platonic relationship with him. Offering a unique and comprehensive female perspective on Elvis, Baby, Let's Play House adds immeasurably to our understanding of who Elvis was by offering a unique window to his soul.
The Alanna Nash Library includes:
Dolly: The Biography
Behind Closed Doors: Talking With The Legends of Country Music
Elvis: From Memphis To Hollywood Memories of My Twelve Years with Elvis Presley (by Alan Fortas, with Alanna Nash as "ghost writer")
Elvis Aaron Presley: Revelations of the Memphis Mafia (reissued as Elvis and the Memphis Mafia)
The Colonel: The Extraordinary Story of Colonel Tom Parker and Elvis Presley
Golden Girl: The Story of Jessica Savitch (which suggested Disney's feature film "Up Close and Personal," starring Robert Redford and Michelle Pfeiffer)
In the first part of her absorbing interview with EIN, among other things Alanna talks about:
her family life
how she became a writer
the importance of both Gladys Presley and Jesse Garon Presley in Elvis' life
Elvis' early relationships with women
how 'complicated grief' affected Elvis
the 'psycho-sexual' Elvis
the beginning of Elvis' demise and how it affected his relationships with the opposite sex
---
In June 1956 at an Elvis concert in Richmond, Virginia, Alfred Wertheimer snapped some iconic photographs. One photograph in particular has become quite famous.. the "MYSTERY KISS" - a photo of Elvis apparently attempting to kiss a young lady. The woman's identity was finally revealed in the August 8, 2011 issue of Vanity Fair magazine in an article by Elvis author Alanna Nash. SEE BELOW FOR DETAILS and FULL article.
---
The 2009 Interview
.................................................................................
From "Baby, Let's Play House The Women Who Loved Elvis"
Regis had a crush on Elvis, who she considered "a gentle soul, but all boy - he kind of had this swagger to him." She used to see him playing football in the Triangle, the grassy open field at the complex. But she'd never spoken to him, and never thought he'd paid any attention to her - he seemed too interested in Betty or Billie.
EIN: Hi Alanna, it's great to be talking with you again! You must be excited (and exhausted from all the last minute editing) with your new Elvis book only weeks away from release?

AN: Nigel, thank you so much for this wonderful forum to talk about the book. It really was a mammoth undertaking—far bigger than I realized when I started. I rather feel as if I have crossed the ocean in a rowboat!

EIN: Before we talk about Baby, Let's Play House, I would like to find out a little more about the Alanna Nash story. Where did you grow up?

AN: I grew up in Louisville, Kentucky, to Tennessee parents. My mother is from East Tennessee—Dolly Parton country—and my father is from west Tennessee, from the town of Paris, which is not all that far from Memphis, actually. So I am a deep-dish southerner. Music was a constant in my life. My parents started me on classical violin lessons when I was five, which, coincidentally, was the same year my older cousin, Richard Nash, began playing pop, rock, and race records for me. I was completely enchanted with Little Richard, but the white kid, Elvis Presley, just sent me to the moon.

It was 1955. I was five years old. When I heard "Baby, Let's Play House," my destiny was set. And when I sat in front of the black and white television and watched Elvis on the "Ed Sullivan Show," there was no question in my mind that he was going to be a big part of my life. I convinced my parents to get me a guitar, and I carved his name on the top of it with a straight pin. (I got in a little bit of trouble for that!)
And like
Nancy Kozikowski
in the book, I began to impersonate him. I felt as if I
were
him when I performed. I did the whole thing. I curled my lip and slurred my words, which I still do, actually. I remember going to see my sister at college when I was nine, and doing my impersonation for everyone. It defined me. When the
Beatles
came along, Elvis took a back seat for awhile. But then the '68 Special woke me up again. And when Elvis died, I happened to be the pop music writer for the Louisville Courier-Journal, which sent me to Memphis along with
John Filiatreau
, an important columnist there, to cover the funeral.
Bill E. Burk
from the Memphis
Press-Scimitar
took me under his wing, because I didn't know anyone in town. He introduced me an awful lot of people, including
Alan Fortas
. I ended up spending lots of time in Memphis for the paper, writing a series of articles about Elvis's life. And that led to ghosting Alan's book for him. I felt as if everything in my life had led me to that moment.
EIN: Do you come from a large family?
AN: No, I am the younger of my parents' two daughters. But I was often in the way…my sister is nine years older than I, so she was already a young adult when I was growing up. And so I was often told to "go somewhere and play." For me, that meant going to the basement and listening to Elvis music and mailing off photographs of him for his signature. I got one back. No telling who actually signed it—maybe Barbara Hearn! It was from the 1956 tour booklet. He came to Louisville, to the Armory. My sister got to go, but I was deemed too young. I cried all night. Interestingly, my parents were hip to Elvis, too. My mother was a fan from day one. She said, "When he gets older, his voice will mature, and he'll be a great singer." And when he died, my father came home, stood in the door, looked me straight in the eye and said, "Now you have something to write about."
EIN: How did you get into writing?
AN: I always wrote little stories at school, starting in the third grade. And in 1965, I had my first journalistic piece published in a national magazine. It was a profile of a folksinging trio from my high school. I had a crush on one of the boys, Allen Raeuchle, who later changed his last name to Martin and had something of a career in Texas music. So again, music and writing was the path I was meant to take. I spent my teen years writing magazine stories about musicians, and interviewing famous musicians when they came to my town. I also won a "Win a Date with Davy Jones" contest by writing in 25 words or less why I wanted to meet him. That got me my first trip to Los Angeles. I was 16, I think, and just eaten up with music.
EIN: This is probably an unfair question, but of all the books you have written do you have a favourite?
AN: No, it's really like asking someone which child is his favorite. They're all a different part of me. THE COLONEL was the hardest one to research, and in some ways, the one of which I am proudest.
EIN: You have now released a number of books, both Elvis and non-Elvis related, based on interviews. What is it about the interview basis that interests you?

AN: I love the story telling process, and getting at the truth that is often not easy to find. And I have always been fascinated by why people do what they do, and how they see themselves. You get at that mostly by asking questions. Very often, the answer is not what you expected, which leads to more questions. It's just the most fascinating work. Much of the time, people are desperate to have someone to listen to them, and to be truly understood. It is a gift sometimes—a gift to be able to talk and have someone listen, and certainly a gift to have someone share his thoughts and emotions with you. It's a wonderful give and take. I enjoy the process very much, but it's exhausting at times. And it's a lot of responsibility to get it right.

EIN: This brings us to your latest book, Baby, Let's Play House Elvis Presley and the Women Who Loved Him, which will be released in the US on 5 January 2010. What gave you the idea for writing the book?

AN: It began as a magazine story for "Ladies Home Journal." An editor there called me because she wanted a story for the 30th anniversary of Elvis's death. Since it was a women's magazine, I suggested simply doing an oral history with a number of females who had some kind of relationship with Elvis, whether they were a family member (Jo Smith), an actress or co-star (Raquel Welch, Mary Ann Mobley, Barbara Eden), a sweetheart (Wanda Jackson), a serious girlfriend (June Juanico, Linda Thompson), or a member of the touring musicians (Kathy Westmoreland).
Someone said, "Well, I guess that's your next book," and I said, "Oh, no, I've already done three Elvis projects," counting the
Alan Fortas
book. And then I thought, "Wait a minute. No one has ever done a book about Elvis purely from the female perspective. Individual women had done memoirs:
Priscilla Presley
,
Joyce Bova
,
Marian Cocke
, for example, and there had been
The Girls' Guide to Elvis.
But no one had brought it all together to look at him platonically and romantically through only the female eye. I thought that was significant, particularly as Elvis was very much in touch with his female side, and loved the company of women.
Then I was staying at the Heartbreak Hotel doing a story on Graceland for "American Profile" magazine, and I saw all those pictures on the wall of Elvis holding his leading ladies in scenes from the movies. That got me thinking about all the women he had known in this life, and wondering why he had not been able to sustain a happy, long-time relationship with one individual. That's when it really jelled for me. I realized it had to be more of a psycho-sexual study of him. Once I got into it,interviewing Peter O. Whitmer, Ph.D, and the author of The Inner Elvis, I really got scared, because I saw what a complex story it was. And I knew I could not just write something fairly quickly, devoting a chapter to each significant woman. I had to write a full narrative—a very daunting task—laying out his entire story and how both his life and his stage performance was to a huge degree shaped by women.
EIN: How many "women in Elvis's life" did you speak to in preparing Baby, Let's Play House?
AN: That's a little tricky to answer, because I already had a number of interviews from other Elvis projects. For example, I interviewed Linda Thompson (see picture below right) in 1977 when her recollections were very clear. And then after I sent out the first request to interview her again, Peter Whitmer gave me his transcript of an interview he did with her in the '90s. He asked her everything I would have asked her, so I simply used that in conjunction with my own original interview, and quit trying to get her on the phone again. That way, I had time to pursue someone who had not been interviewed, either ever or rarely. But to put a little finer point on it, I'd say I did 40 new interviews with women to bolster what I already had in my archive with people who had passed on, such as June Carter Cash. I interviewed several women, such as Barbara Hearn, Sheila Ryan, and Shirley Dieu, on an on-going basis. And I used a great many other interviews that either Peter had done himself, or people I trusted had done.
| | |
| --- | --- |
| | |
EIN: Did any women decline to be interviewed and if yes, are you able to indicate who? For instance, Priscilla (see picture above left) and Ginger Alden?
AN: Yes, I never heard back from any of my requests to interview Priscilla, so I relied on a number of published sources. I did have a few emails with Ginger Alden, but she wanted to put too many restrictions on how her material would be used. That's fine if you are writing a memoir, but not if you are writing a biography where many voices are heard. So the interview didn't happen, and out of a desire to protect her privacy, I did not use material from the email exchange. It didn't seem fair to her to do that, as I had not asked her permission to do it. And I was never able to get past Cybill Shepherd's publicist, but I already had a number of published interviews in which she talked about Elvis, so that was fine.
EIN: Did any of those you interviewed put caveats on what they would and would not discuss?
AN: Cynthia Pepper talked to me on the phone, and was quite forthcoming about her interaction with Elvis on the set, but would not discuss her private life with him. Of course, I respected that, and was grateful for what she did give me.
EIN: Obviously, unlike Revelations of the Memphis Mafia, you could not get all women in the same room at the same time. How did this factor affect how you have constructed the book?
AN: Well, with the Memphia Mafia book, we did only one long joint session, and then I interviewed everybody separately a number of tines, and constructed the book either by topic, or chronologically, going back and forth between the transcripts with each of the guys. It was a tremendous amount of work. So was this book, but I simply used each woman's voice where she figured into the story, or additionally when she had some insight about another part of Elvis's life. I have a few of the women interweaving through the narrative, like characters in a novel, except everything is true, of course. It's journalism, non-fiction.
EIN: Was it always your intention to present the narrative in chronological order?
AN: When I first got the contract, I wasn't sure how I was going to structure the book. I thought about doing it as Bill Burk had done his invaluable Early Elvis series, in which people just tell their stories, and are given separate chapters in which to do so. But then two things stopped me from doing that. One, once Peter Whitmer helped me see how Elvis had been traumatized by the death of his twin and the lethal enmeshment with his mother, I realized that I had to tell the story chronologically, and with a real narrative, so you could see what else was going on in Elvis's life at the time, and how each of these women fit the psychological pattern that had already been mapped on his psyche. Had I not placed them against the background and events of all the rest of his life, I would have lost the dramatic impact. And it wouldn't have been fair either to them or to Elvis. I think they help you see how he suffered, and how they suffered, too. And I don't think you would have understood how adrift he was at certain times if I had not placed them in context.
EIN: Without giving too much away, what were some of the highlights for you in writing the book?
AN: I really loved finding the Louisiana Hayride women, i.e. Ginny Wright, Betty Amos, Carolyn Bradshaw, and Nita Zahn. They were just delightful, and I came to be really, really fond of them personally. They also hadn't been interviewed to death, so I got a lot of fresh material from them. And they were particularly able to spotlight a period of his life and career that gets short shrift in his biographies, when fame was starting to turn him. Carolyn Bradshaw was someone I searched for high and wide, and couldn't find. Joey Kent spoke with her for me and she agreed to do the interview. She doesn't like publicity, and I considered it a supreme compliment that she opened up to me. I can't really tell you how special she is, and what a thrill it was to learn of their relationship. I'm still in touch with her, and with a number of these women.
I often wonder how Elvis's life might have turned out had he ended up with someone like Carolyn, or Barbara Hearn, or Anita Wood, or Kay Wheeler. These are solid, grounded women, and women of wisdom. There were other kinds of highlights for me—of being given copies of the letters that Gladys wrote, and Orville Bean wrote, for example, that were in Vernon's prison file. That's a thrill that's hard to put into words—it beats Christmas, that's for sure. (More about that later in your question about that specifically.) I was also really fascinated by Jackie Rowland's story. Barbara Hearn told me about her and arranged for us to talk. Jackie's story is largely unknown. She also has amazing photographs from her visits with him, and the dimension that she brings to the understanding of Elvis's own fascination with moulding young girls into fine young women is extremely important, I think.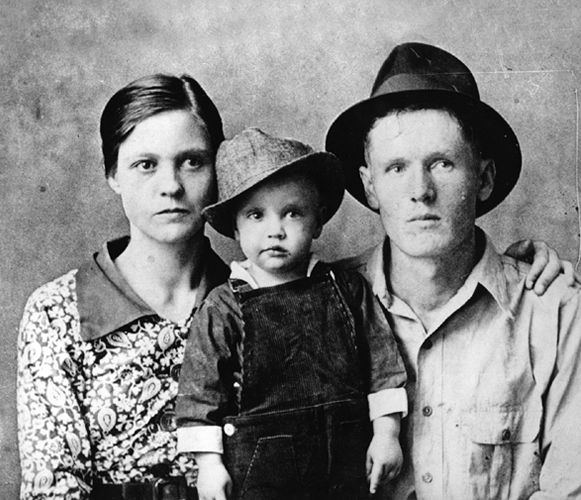 EIN: How important is the legacy or influence of Gladys Presley to Baby, Let's Play House?
AN: There is no more important influence. She's everything, ground zero. Nearly every woman Elvis woos is a stand-in for her. He could not separate himself from her, even after her death, and near the end of his life, he held a séance of sorts to try to reach her in the afterlife. The book focuses a great deal about the fact that Elvis probably suffered from complicated grief or prolonged grief disorder, in that his twin died at birth, and that when he lost Gladys in a sense he lost Jessie Garon all over again. It was a "double death." He never got over it. It's "stuck grief," and accounts for many of his problems.
Interestingly, during the entire writing of the book, I felt very close to Gladys, and had a tremendous amount of sympathy for her. When Butterfield & Butterfield held their first big Elvis auction, I went to Las Vegas and came home with two lamps that George Golden picked out for the Graceland living room in 1957. I have them in my office, and wrote the book by the light from them. Each night, when I quit work, I turned them off and said, "Goodnight, Gladys." It was an odd, but somehow also comforting feeling to write about the decorating of Graceland and to have those lamps right here beside me.
EIN: Throughout Baby, Let's Play House there are many moments of great compassion, understanding and insight. There must have been special moments for you showing Elvis's tender side. Please tell us about these.
AN: The chapter detailing Gladys's death was very hard to write, but so important. I cried a number of times for him as I wrote it, and also when I read it over and over. There's another spot in the book that just rips my heart out. It's that conversation that Elvis and Anita Wood had in Las Vegas. Very, very poignant. I also love that story that Larry Geller tells of Paul McCartney discovering the young fan in Elvis's house during their visit, and Elvis crying out, "Don't hurt her!" And I'll tell you what surprised me—the depth, passion, and beauty of the letters that Elvis wrote to Anita from Germany. He may not have been levelling with her about everything that was going on with him, but he certainly understood how important she was in his life, and how much he needed her to be there. He was a far more complex man than most people would imagine.
EIN: The promotion for Baby, Let's Play House mentions Elvis as a charming but wounded Lothario who bedded scores of women but seemed unable to maintain a lasting romantic and sexual relationship. Your book explores a number of motifs around the reason for this. What are the essential issues around this?
AN: Because of his closeness with his mother, and the trauma that bonded them together, Elvis could not totally pledge himself to another woman. In the book, Yvonne Lime is quoted as saying that if he held her hand and his mother was around, he held both their hands at the same time. He didn't want to slight his mother. You'll notice that in lots of pictures of Elvis and Gladys, they are touching—either he's holding her hand, or kissing her, or he has his arm on or around her in some way. It was an extraordinary relationship. But there was really not room for another person in the circle of love he had with Jessie Garon and his mother. Not for very long.
Because of his complicated grief, he had an exaggerated need for human contact, human touch—certainly more than most people. He couldn't be alone, and he really wanted the company of women more than men. But he couldn't let ONE woman take his mother's place of dominance in his life. When you add in the fact that he had women making themselves available to him all the time, there was also no huge incentive for him to settle down, even as Priscilla was terribly important to him on a number of levels. There are other factors that come into play here, but I'd have to write an awfully long answer!
EIN: Did you find any differences in how Elvis was perceived between those who had a romantic or sexual relationship with him compared to those who had a platonic relationship with him?
AN: You'd almost have to look at each individual experience to answer that question fully. But in the early days of the Hayride, he had a brother-sister relationship with Betty Amos (see picture below left), a performer on the Hayride. Her memories are really quite interesting, as at this stage of his life, he was still rough-housing with women who didn't neatly fit into one of two categories: lady or girlfriend. He initially flirted with her, but there just weren't romantic feelings there, probably on either side when they got down to it. There was, however, genuine affection, so they just had a good time together and played, and by that I mean they actually wrestled. He had to burn off some of that energy, and he was quite playful then, as most young men of that age group are. But he was still trying out various roles with women.
Later on, of course, we see how he was with Patti Parry—a protective and respectful kind of brother figure. But I think in most of his platonic relationships, there was an undercurrent going on, even if neither side acknowledged it. You see that in the memories of Marion Keisker from Sun Records. She admitted that she had a mix of emotions toward him—motherly, and then something quite different. She was really cute in talking about how she got out there in the audience and screamed just like all the adolescent girls, even though she was a divorced woman with a child at home.
One of the things that fascinated me about the research is that women in general had a very strong reaction to him. Whether they liked him or not, they were passionate about it. He never left anyone in the gray zone.
EIN: On reading Baby, Let's Play House, I was struck by the complex, multi-layered mosaic it paints of Elvis in his relationships with women. There were many different dimensions to how he related to women and often an evolution in how he related to the same woman over time; for example a progression through friend, lover to eventually companion. What did you discern about Elvis from these different dimensions?
AN: Gosh, what a really good question, Nigel! You are so right. Tura Satana (see picture above right), who taught him some of his dance moves, is a good example of that. He met her in his early touring days in Biloxi, and while there was a sexual attraction there, they started out as friends, later became lovers, and then returned to friendship status, with Tura being one of his advisers about the women in his life. I interviewed her for the book, and just recently, when she heard about some of the other women I talked to, she emailed me to say that she remembered all of them from when he called her during a relationship. Like many women, she was also a sort of a surrogate mother figure for him once the romance dimmed. You've also read, I'm sure, that after he and Priscilla were divorced, he still discussed his love life with her, and perhaps asked for advice, if he didn't couch it in precisely those terms.
Now, the really interesting part of your question is the last part: What did I discern about Elvis from these different dimensions? I think that deep down he wanted to be mothered more than anything, no matter what age the woman was. Linda Thompson talked about how much nurturing he needed—maybe more than anybody else in the world, because of the circumstances in his early life. Certainly the ideal girlfriend for him—and Linda fit the bill about as well as anyone could—had to be a combination of mother, lover, and best friend. But as you point out in your question, he did go through a certain kind of evolution with his important women, and in that way, he's not so much different from many of us. Where he differs is that he couldn't be satisfied with that richness of progression, and had to keep moving on.
EIN: How much would you say Elvis saw himself as a protector of the women in his life – those he really cared for?
AN: He was always outwardly chivalrous and polite. Those good southern manners didn't fail him, even as he would get terribly angry if one of his girlfriends gave anyone else the slightest bit of attention. And, of course, he considered himself to be raising some of the younger girls, including, but not limited to Priscilla. However, as he became more and more dependent on prescription medication and more careless about his own well being, he also subjected the women in his life to that carelessness. I don't believe for a minute that he meant to endanger them, but that was the result as he invited women such as Joyce Bova and Page Peterson to share his drug protocol. He also made life quite harrowing for them, as they were expected to protect him from himself. In the '70s, certainly, women such as Linda Thompson, Sheila Ryan, Mindi Miller, Ginger Alden, and Alicia Kerwin took over some of the duties of the guys around Elvis, in that they had to watch him all the time to make sure he didn't choke or stop breathing. Some of these women were better at it than others, or had their heart in it more than others. But definitely, part of the job description of being Elvis Presley's girlfriend in the '70s was to be his nurse.
EIN: Linda Thompson is one of the women you interviewed. After Gladys Presley and Priscilla, Linda is usually considered to be the next most important woman in Elvis' life. Given Linda's more than four years with Elvis, did you find her perspective was much different to the other women interviewed?
AN: I found Linda to be extremely intelligent and well-spoken, both in the 1977 interview I conducted with her and in Peter Whitmer's interview with her in 1995. She's done a lot of soul-searching, a lot of deep thinking about Elvis as a person and about the two of them as a dynamic. She had the best psychological handle on him of all the women I quote in the book, though Mindi Miller had the best overall view of his physical and emotional decline. These are smart women who found themselves in extraordinary circumstances and have been through a lot. Mindi spent far, far less time with Elvis than Linda, but they both struck me as unusual in that as much as they care about him, they are able to step outside of the relationship and look back at it with a detached intellectualism. Many of the women are still so emotionally entwined with Elvis, even after all these years, that they cannot do that.
GO HERE FOR Part 2 of Alanna's fascinating interview published early January 2010,
coinciding with the release of Baby, Let's Play House in the USA
---
AUGUST 2011 article Update
The Elvis Kiss Mystery-Revealed!: Vanity Fair in the US has finally identified the mystery woman seen kissing singer Elvis Presley in a backstage theater stairwell in an iconic 1956 photograph. The article by author Alanna Nash describes in detail how Barbara Gray, now 75 and living in Charleston, S.C. didn't reveal her identity for the money or fame.
"I just wanted to get my name on the damn picture," she said.
Gray admitted that she become fed up with being known only as the "unknown woman in the wings" with a young Elvis in a stairwell at the Mosque Theater in Richmond, Virginia.
Photographer Alfred Wertheimer said he never asked for the woman's name when he took the photograph and she never told it to him.
After newspaper coverage of Wertheimer's photography exhibit at the Smithsonian in Washington, D.C. in early 2010 showed him standing in front of the photograph called "The Kiss," Gray tracked Wertheimer on Facebook and sent him a message.
"I'm the girl. 'The Kiss.' Have a good story for you," she said.
But Wertheimer, who had heard from many women who claimed to be the woman in the photo, didn't respond at first. Gray's claim was aired on local radio station WTMA.

One listener, however, had his doubts. Broadcast veteran Ron Brandon had recorded Presley's homecoming concert in Tupelo, Mississippi, when Brandon was a 17-year-old engineer at WTUP radio. He got suspicious when the caller mispronounced the name of the Mosque Theatre. But after they finally connected in person, she won him over, and Brandon, in turn, got in touch with Alanna Nash. He thought Nash might be able to authenticate her story since she'd just published a book the month before on Presley's love life, Baby, Let's Play House.
While Gray's recollections of the time and place were accurate, the clincher was her height. She is only four feet, 11 inches, the same height as the woman in the picture.
"God he's beautiful," Gray recalled thinking when she met Presley, then 21, at his hotel in Richmond. But she also found him "kind of insecure" with an accent that made him sound like "a goofy guy from the sticks."
On meeting her, Elvis motioned for Bobbi to sit on the vinyl chair next to him, and then gave her a hug before angling closer.
"Would you like something to drink, a beer maybe?" Elvis ventured.
The question threw her. A coffee shop serving beer? Maybe this was just a test. "No," Bobbi declined.
"That's good," Elvis said, "'cause I don't let my women drink."
"I'm not your woman," Bobbi snipped.
"Do you smoke?" Elvis pushed.
"No," she fibbed.


"Good. I don't like my women to smoke, either."


"I told you I'm not your woman.. . . If I want to smoke and have a beer, I'll do it."

---
Copyright the Elvis Information Network.
Elvis Presley, Elvis and Graceland are trademarks of Elvis Presley Enterprises.
The Elvis Information Network has been running since 1986 and is an EPE officially recognised Elvis fan club.