Marty's Musings
Memphis Mafia member, and co-best man at Elvis and Priscilla's wedding, Marty Lacker, is a frequent contributor to EIN. On this page we catalog Marty's valuable contribution and discussions about recent Elvis news stories.
| | | |
| --- | --- | --- |
| 2008 | ...The Marty Lacker "EIN" Interviews... | |
....................Marty's Musings in 2015......................
DON'T MISS - ASK Marty: Marty Lacker answers your questions about....

-

What recollections do you have of Elvis sitting down and listening to a pile of sub-standard songs demos.

- Did Dr. Nick truly have Elvis' best interests at heart

- What was it like being up all night doing stuff with Elvis wasn't it always cold

- What do you really think of Jerry Schilling, then and now

- Could Elvis handle him self in a fight

- What about the nasty stories that Elvis would get various MM members to inject him and that parts of his body looked "like a pin cushion"
---
Marty Pasetta "Aloha" Producer Dead at 82: Marty Pasetta, best known for directing Elvis' 'Aloha From Hawaii' spectacular and his works with the Academy Awards telecast annually from 1972 to 1988, died Thursday night. He was 82.
Pasetta was accidentily struck by a car he had just exited in La Quinta, Calif. He died at the scene, police said.
The driver stopped his vehicle to drop off Pasetta and another passenger. Stewart then went to exit his vehicle, but accidentally left the car's transmission engaged, causing him to crash into his passengers. (Right:Elvis, Waterson & Pasetta)
Pasetta helmed "Elvis: Aloha From Hawaii," which aired on Jan. 14, 1973, in more than 40 countries. The concert special, featuring Elvis Presley at the Honolulu International Center, remains one of the most watched TV programs in history.
When Pasetta was chosen to take reins of the 60th Annual Academy Awards in 1988, he set an all-time 17-year record for

directing the event. He also produced and directed eight live Grammy Awards and Emmy telecasts.
Pasetta's other notable credits include "AFI Life Achievement Award: A Tribute to Fred Astaire" (1981), "The Smother Brothers Comedy Hour" (1967) and TV inaugural galas for presidents Jimmy Carter and Ronald Reagan.
Go HERE for more on Marty Pasetta - "One of The Best Elvis ever worked with"- Marty Lacker
(News, Source;ElvisInfoNet)
---
"Elvis & Christianity" - Marty Lacker Comments: EIN received some strong reactions from readers about the "Christianity in Crisis? Blame Elvis" Huffington Post article

(see below)

. Elvis' good friend Marty Lacker was just one person who reacted strongly against the story.
Marty Lacker commented ... "I just read that ridiculous story quoting the Emory University Professor Laderman and the ridiculous rantings of Bill O'Reilly that Elvis was the cause of the decline of Christianity, what a crock of shit.
Elvis' hips movement were no different and they were inspired by a popular GOSPEL singer, Big Chief of The Statemen Quartet. Yet nobody finds fault with Big Chief. He used to shake his legs while singing to thrill what was known as the Gospel Groupies, the women in the audience. As a young guy Elvis used to watch Chief and others and he noticed that. PLUS the music he sang made him move because that's what he felt at the time.

Laderman and lying O'Reilly the Fox News joke, must think anything sexual started with Elvis - AND THAT IN ITSELF IS A JOKE. The number of people today who are religious has declined according to recent polls in the media and maybe that has to do with the fact that more and more people are realizing that the so-called religious leaders are not what they are supposed to be and quite frankly neither is organized religion.
The leaders and Churches are more interested in having influence in other matters as well as power and money.
People shouldn't have to pay to pray.
Last but not least Thaderman and O'Reilly's crap is an insult to Elvis' religious beliefs.
How many people did, and still are, inspired by Elvis' 'How Great Thou Art' album and other Gospel albums.
- Marty
Another pointed response we received was from Allen Nies...
"Hi there EIN, I am a Christian. I also believe Elvis would not have liked being on the same scale as Jesus Christ. The article stated he was more popular then Jesus Christ or at least on the

same footing. Elvis would not have liked this statement. I agree with you. He made many statements who he thought the King was to him. Jesus Christ of course.
I remember hearing a live recording in 1974. Two girls pulled out a sign that said "Elvis Is The King". Elvis said, "Thank you very much". Then he said, "I cannot get caught up in this kingsman ship. There's only one King to me and that is Jesus Christ".
Way to go Elvis. I did not like the article and I know Elvis wouldn't gave liked it either. - Allen Nies.
(News, Source;ElvisInfoNet)
---
"Christianity in Crisis? Blame Elvis"!:

EIN saw the headline and knowing Elvis' serious religious convictions we thought the article to be a joke. Written by Gary Laderman, (Chair of the Department of Religion, Emory University) it seems that he is in fact being serious!


"Christianity in Crisis? Blame Elvis"
...

Bill O'Reilly is wrong. Rap is not to blame for the current crisis in American Christianity. Blame Elvis, that's what I say. He is the main culprit in the current cultural transformation shaking the foundations of religion in America.

Elvis Presley's appearance on television in the late 1950s signaled the beginning of the end of Christianity in America, and birthed a religious rival to the Christian churches that is now, finally, winning the hearts and minds and souls of more and more Americans.
... And of course to get to the real story here and now, we've got to go back and look in the past for the seeds that explain our present. Which brings me back to Elvis, the progenitor of the religious changes we are seeing today. Many have written about his cultural influence in twentieth century America, and even about his religious background and his status as a cultural American icon after his death. But what I propose here is that Elvis's shaking hips and curled lips unleashed two conflicting religious cultures that pitted Christian cultural authority, charisma, and institutions against sacred
popular cultures with multiple sources of authority, potent forms of charisma, and a preference for experience and insight over dogma and institutions.
... America is different after Elvis. The combination of sexual energy in the performance and its reception by his young audience; sheer pleasure in listening to this particular form of music; and rebellious effervescence liberating fans from conventional cultures in place at the time was a game changer. That young entertainer who magically blended different musical cultures together, including Southern forms of African American and white blues and country, Christian gospel and Pentecostal expression, helped to initiate the rock and roll cultural awakening that transformed the second half of the twentieth century. Many Christians at the time perceived in his lascivious gyrations and obscene gestures a clear and present danger to American society, something so vile, so repulsive, so harmful, his appearances and growing popularity motivated them to publicly decry and attack the young man.
... What made this moment, the Elvis moment, different from previous Christian interventions in times of perceived moral crisis, was of course mass media. Radios, phonographs, and television, along with printed materials and concert venues,
accelerated and diversified the imprint and influence of Elvis in American lives. The Christian attacks and condemnations directed at Elvis generated a conservative Christian religious culture explicitly obsessed with the new (now old) media's power to corrupt the youth and blow the lid off of youthful, and especially young female, sexuality.
... Elvis made it clear that Religion stands no chance against the gods of popular culture. Yes there were other popular singers and screen idols before Elvis, but after Elvis the viability and legitimacy sacred popular cultures is secured and implanted in the youth cultural sensibilities of the Baby Boomers. Elvis was more popular than Jesus -- or at least on equal footing -- and the moral teachings he preached in songs, performances, conversations, and lifestyle choices, guided the flocks clamoring to see him, hear him, touch him. The ascendance of Elvis in the late 1950s signaled a cultural awakening, a transitional period from an old and outdated social order to a new and different one that makes more sense.
.... With Elvis Presley, America's search for a new social order began.
With each swing of his hips, Elvis rattled the Christian stranglehold on America values and appealed to a very different spiritual sensibility in Americans, one that is not aroused by church music or sermons, but by rock concerts and fan magazines. The hip shakes of course were only the beginning. It took a few decades to come to pass -- the protracted and increasingly political culture wars only delayed the inevitable outcome of a brand new religious playing field.
Go HERE to the full article at Huffington Post Blog
EIN is somewhat saddened as there is no doubt that Elvis would have been upset by this article and statements such as "Elvis made it clear that Religion stands no chance against the gods of popular culture." - And which other rock'n'roller won Grammys for religious albums? Elvis always made it very clear, "I am not the King. Jesus Christ is the King. I'm just an entertainer".
Go HERE for EIN's spotlight 'The Gospel According To Elvis"
(News, Source;Huff/ElvisInfoNet)
---
"Elvis didn't invent rock and roll!" Marty Lacker comments: Our previous 'From the Archives' article (below) certainly stirred up plenty of fan reactions - including one from Marty Lacker.
...

"I read that story in today's EIN about Elvis starting not starting rock and roll and I'm wondering whether the author was alive or of an intelligent age in the early 50's because I was and I also had the advantage of growing up in NY with the music that came before that and then moving to Memphis at 15 and I can tell you that Elvis started the rock explosion and if it wasn't for him there's a possibility that none of it would have gone the way it has.


The music back then, before Elvis, recorded or played by Black artists was not called "rock" back then - it was R&B, a phrase by the way that was coined by Atlantic Records great Jerry Wexler later in the 50's.
However it was then that Elvis came along and broke down the barriers for those artists and that genre of music that exposed it greatly to white America and in white homes because the kids picked it up and started buying the records like they never did before.
Those black artists named in that story that came before Elvis didn't consider themselves "rock artists" or their music as "rock", it was blues to them not rock.
Then Wexler coined the R&B phrase for what was called blues music.
Elvis exploded the record and music business when he emerged on the scene. I can also tell you that Sam Phillips who produced records on those black artists named never called it "rock n roll". Fact is that "Rock N' Roll" was coined by
Alan Freed in Cleveland on his radio show when he simply asked his audience "Are you ready to rock and roll" and he was referring to their dance movements while listening to the records he was playing.
If they're gonna write about history, get it right!
I speak from experiencing the start of it all as a teenager.

- Marty Lacker.
(News, Source;ML/ElvisInfoNet)
---
(From the Archives) Getting Elvis's Legacy Right......he didn't invent rock and roll. He didn't steal it from black people, either. What did he do?

:

(July 2014) was the 60th anniversary of Elvis Presley's most famous early recordings in Memphis, including the Arthur Crudup cover "That's All Right."

July 5, 1954 was an important moment in American musical history—and it's also one of the most consistently overhyped dates in rock.

The latest example: Variety's article that went up with a headline declaring that Elvis "invented rock n' roll."

That headline was eventually changed, and the text is a bit more sober, but still claims that "That's All Right" touched off "the explosion of rock 'n' roll as a cultural force."
Elvis was innovative, popular, influential, and a great performer. But he didn't invent anything. By the time Elvis showed up at Sun Records, numerous other performers like

Ike Turner

,

Ruth Brown

,

Ray Charles

,

Big Mama Thornton

, and

Fats Domino

had already released early rock songs.
Nor did Elvis make the music popular. While rock initially was black music, with a limited profile among white audiences, by the early 1950s it was achieving widespread success. The vocal group the Dominoes, led by the prodigiously talented Clyde McPhatter, scored a major pop crossover hit when "Sixty Minute Man" went #1 in R&B and #17 pop in 1951. The song used the phrase "rock and roll", which was often used in R&B and jump blues to describe sex, dancing, music, and/or some combination of all three. "Sixty Minute Man" probably inspired DJ Alan Freed to call his popular radio show Moondog's Rock 'n' Roll Party, where he played songs by black artists for a large mixed audience. The show began in 1951; by 1954 it was a smash success. Elvis and Sam Phillips didn't have to guess that rock and roll by black artists had crossover potential. They just needed to look at what the kids, of every race, were already listening to. So Presley wasn't an innovator, he was simply chasing a trend.
Elvis was not actually a white man playing black music. But the belief that he was is part of his appeal.
In reaction to the transparently false claim that Elvis invented rock and roll, an equal and opposite meme holds that Elvis stole rock from its original black performers—that he put a white face on black music and then unjustly profited from white America's clueless and racist marketing preferences. But, again, looking at the actual landscape of '50s rock and roll, this narrative doesn't really work. In the first place, Elvis was not the first white rock and roll star. Bill Haley had already recorded the original song "Crazy, Man, Crazy" in 1953; his version of "Rock Around the Clock" was recorded a couple of months before Elvis's famous Sun session. Moreover, white performers in the hillbilly boogie tradition like Moon Mullican and the Maddox Brothers and Rose had long been making music strongly influenced by the beat and spirit of R&B.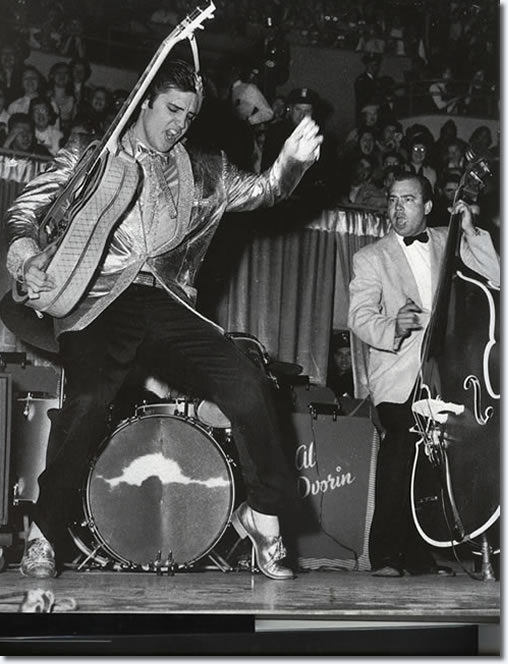 Nor was this influence one way. Rock-and-roll performers like Ray Charles and Chuck Berry were fans of and strongly influenced by country music. Black performers regularly performed songs by white songwriters like Jerry Leiber and Mike Stoller. Some even covered country hits—especially at King records, where African-American producer Henry Glover oversaw both R&B and country divisions. Rock and roll wasn't black music, and it wasn't white music; it was an integrated form drawing from other integrated forms including country, country blues, R&B, boogie woogie, jump blues, Western swing, and more. America's pop-music marketing categories are often shamefully segregated, but the music itself has never been.
So, what's so special about Elvis then? He wasn't the first person to play rock and roll; he wasn't the first white person to play rock and roll; he didn't make rock and roll popular. He invented nothing and popularized nothing. It's true he was an extremely talented performer whose early records especially are original, exciting, and hugely influential. But you could say the same for the work of contemporary performers like Etta James, Jackie Wilson, LaVern Baker, Sam Cooke, Ray Charles, Chuck Berry, Bo Diddley, Rosetta Tharpe, and Howlin' Wolf. Elvis was great, but he wasn't greater than a host of other rock and roll greats. Why do we call him the King, exactly?
Though I love Elvis, I wish pop culture could find a way to make some other session our big, iconic rock-and-roll moment.
There seem to be a couple of answers. First, Elvis is the King because he's the King. It's tautological. A combination of talent, being the right color, physical attractiveness, and being in the right place at the right time meant he achieved massive, ridiculous popularity. Pop enthusiasms are by their nature unpredictable and a bit random. If things had been a little different, it could have been Buddy Holly or Bill Haley who captured the national imagination, and Variety would be posting headlines about how one or the other of them invented rock and roll.
But while it could have been others, I think it's also the case that Elvis retains his iconic appeal in part because of the racial dynamics of American music. Elvis was not actually a white man playing black music, as Sam Phillips suggested he was; again, rock and roll, like all American music, has no color. But the image of a white man playing black music, the idea that a white person could shuck off the bonds of race and become black, has long had a transgressive, sexy, exciting pop appeal. Elvis certainly capitalized on this through his choice of material and performance style—his sexualized scandalousness was linked in large part to the fact that he was imitating, or referencing, black performers, who (because of racism) were seen as innately sexual and scandalous.
"To put on the cultural forms of blackness was to engage in a complex affair of manly mimicry," Eric Lott argued in his famous book Love and Theft—or as Stefan L. Brandt writes "Elvis absorbed as much 'blackness' as possible to embark on the popular trends of musical hipness and as much 'whiteness' as necessary to cater to the consciousness of the majority." These comments echo Sam Phillips himself, who, before Elvis arrived on his door, was supposed to have remarked wistfully, "If I could find a white boy who could sing like a nigger, I'd make a million dollars." Criticisms of Elvis often were shot through with racism; the New York Daily News said his dancing was "tinged with the kind of animalism that should be confined to dives and bordellos," while the New York Journal-American actually compared Presley's performance to "an aborigne's mating dance." Such a shocked reception only made Elvis more exciting to a younger audience
.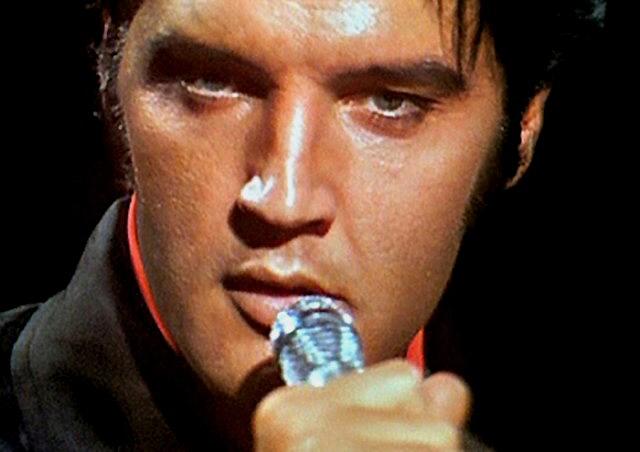 Elvis was not necessarily a pioneer here either; performers like Bing Crosby or Jimmie Rodgers or, for that matter, Jack Keruoac, had long used black performance and musical styles as a way to signal cool counter-culture cred. But Presley was certainly an iconic precedent for many, many after him, from the Rolling Stones to Madonna to Miley Cyrus.
Presley by all accounts was quick to acknowledge his debt to African-American performers, and scholars have even argued that, by playing multi-racial music for multi-racial audiences, he helped to point the path away from segregation. "That's All Right," drawn from both blues and country sources, can certainly be celebrated as one, hugely popular, superbly realized, moment of pop integration, like Chuck Berry's fusion of blues and country in "Maybellene," or the collaboration between Big Mama Thornton, Leiber, and Stoller on "Hound Dog," or Howlin' Wolf's repurposing of Jimmie Rodgers's yodel, or any number of others.
But the eagerness to see Elvis as scandalous inventor or scandalous thief feeds a narrative about how white people are always in the process of heroically discovering black people, always mining that mysterious, authentic source for earthy sensuality and innovative awesomeness. It's a poisonous story to keep telling. Which is why, though I love Elvis, I wish pop culture could find a way to make some other session our big, iconic rock-and-roll moment—Ray Charles's "What'd I Say," or Ike Turner's "Rocket 88," or even Moon Mullican's integrated country/R&B performance with some of the original Tiny Bradshaw Orchestra musicians on "Well Oh Well." And if celebrating some of these other lesser-known gems means we miss the next go-round for Presley's anniversary—that would be all right.
(Article, Source: The Atlantic)
---
---
---
---
....................Marty's Musings in 2014......................
Todd Slaughter and Elvis - Marty Lacker Comments: I read Todd Slaughter's article (see below) and it is easy for me to tell that he was conned by Parker and he probably allowed himself to be to get access to Elvis. However, he doesn't reveal that he had a strong entree to Parker because of the guy who started the fan club, Albert Hand, who made friends with Parker and who visited Elvis a number of times on the sets in Hollywood. All arranged by Parker because, whether Albert knew it or not, Parker was using him for publicity in England. The same with Slaughter, Parker didn't do anything for anyone unless he benefited from it.
Todd should have mentioned Albert who also once gave Elvis a bicycle built for two that he rode around the movie studio a few times. If it wasn't for Albert Hand, Todd would have never gotten near Elvis.

As for Parker's crap about Elvis being the one who did not want to play England - that's bullshit! It was all Parker because he was an illegal alien and he was afraid if he left the U.S. he would be found out. More than one promoter, including Lloyd Greenfield who was

Tom Jones' road manager, offered deals for Elvis to play England. The first time Jones met Elvis on the set of Paradise Hawaiian, Lloyd was with him and I was standing next to Elvis when Lloyd offered Elvis $1 Million for one show at Wembley. I told him to take it to Parker which he did - and then Parker
turned him down. - Marty

EIN Adds - Albert Hand was the first President of the Elvis Fan Club of Great Britain and in the early sixties visited the US to meet Elvis. He was also founder and editor of 'Elvis Monthly' magazine as well as producing the "Elvis Special" year-books. He later handed over the reins to the younger Todd Slaughter. Albert Hand died in 1972.
Todd Slaughter does honestly describe himself as "a kind of a sycophant". Parker would have loved that, perfect for manipulation!
(News, Source;ML/ElvisInfoNet)
---
Todd Slaughter Talks Elvis!: One of the last to meet The King before he died, and friend of legendary manager Colonel Parker, Todd Slaughter has run the Elvis Presley Fan Club of Great Britain for almost 50 years."I was utterly consumed by him."
"My dream, was to meet Elvis, and I did it." In fact, the 68-year-old is being rather lenient with the facts.
He actually met Elvis three times, the last time in June 1977. In six weeks, the biggest star rock 'n' roll has ever seen would be dead.
"I'd noticed a decline in his health. The first two times I met him, 1972 / 73, he looked the same, maybe put a little bit more weight on. When I met him six weeks before he died, there was a producer who said to me, take a look at him up close, our make-up lady says it looks as if he's got six months to live – it turned out he'd got six weeks."
That last encounter was at Indianapolis Airport, where Elvis presented Todd with an award for being president of the Elvis Presley Fan Club of Great Britain for ten years, and the footage of it, filmed by a news crew Todd had slipped $100, is thought to be the last ever recorded of the megastar.
"He came out of the plane, he looked very shaky, he did not look well. I then went to see what was his last show and he sang his heart out and did a set that lasted an hour-and-a-half instead of the usual hour. But I came back thinking things didn't look good – and when it was announced on the radio that he'd died, I really wasn't that surprised."
A mechanical engineer by trade, Todd soon found himself sidetracked by the music industry.
"I met a lot of stars, from The Beatles to the Stones, Ike and Tina Turner, anybody who was anybody. And I was kind of a sycophant anyway! I thought it was great if you could meet these people.
"But it didn't prepare me for meeting Elvis." That encounter came about after Todd forged a relationship with Colonel Parker, Elvis Presley's somewhat imposing manager.
"Colonel Parker was absolutely fantastic (EIN says, see below!), a phenomenal character. He very kindly said 'you can meet Elvis'," Todd reveals. "'I'll arrange for the whole group, at the Las Vegas Hilton."
While people travelling en masse to the States is a matter of absolute routine now, back in the Seventies it was a big deal, underlining the clamour for Elvis to perform in Britain, something which, famously, he never did.
"Colonel Parker said to me at one point, 'look, if you want Elvis to come to Britain, you get me an offer'.
"And I did, from a promoter. But it didn't happen. By then it was 1975 and obviously Elvis wasn't that well."
Two years later and he'd be gone, ravaged, it's commonly thought, by rampant abuse of prescription drugs.
"Back then everything was changing – it was a phenomenal time to be around. All we do now, I think, is duplicate what's happened before. Music is not as important as it used to be. There's no excitement about what's number one.

---
Priscilla compares Miley Cyrus to Elvis - Marty Lacker comments: Not surprisingly Marty Lacker sent EIN his view of Priscilla's comments when she recently compared Miley Cyrus to a young Elvis. (see story below)
... "I read those quotes by Priscilla and what a crock of crap that is..... Elvis didn't take his clothes off nor make the suggestive and sometimes vulgar acts that Miley Cyrus has done.
In addition Elvis' fame and popularity was because of his singing talents with his great voice not because of his gimmicks and clownish behavior like Miley and a few other of today's so-called stars have done. When Elvis moved his legs it was because that's what he felt in the music.
Many of the comments from Elvis' detractors in the beginning were because some who had never seen him thought he was black and their negative comments were race based. Many of the others were basically the same even though they saw he was white but they didn't like it because they felt he was corrupting their kids bringing that black influenced music into their lilly-white homes. I know it hurt Elvis personally because it made him feel that people didn't like him when all he was doing was singing and performing innocently in his own way with his clothes on and devoid of any clownish behavior.
This is just another example of the lack of understanding of Priscilla of her EX husband and the music industry. Just because she was married to him for a short time doesn't mean she really knew all about him." - Marty Lacker.
However as EIN noted back in October 2013 Priscilla basically agreed with Marty Lacker, then saying the opposite that,

"Elvis' dance moves were never

"planned

or contrived." These were natural movements that Elvis
felt compelled to express as he was performing. Priscilla stressed that Elvis' performance was authentic and "not calculated" like so many performances are today in the music industry, specifically the Miley Cyrus twerking performance. Priscilla further voiced her opinion describing Elvis as extremely "talented and authentic" which is just what today's music business is lacking."
EIN guesses that it is STILL all about publicity and what the media frenzy wants to feed on.
(News, Source;MartyLacker/ElvisInfoNet)
---
Priscilla Presley compares Miley Cyrus to a young Elvis Presley: This week Priscilla remembers the backlash the young Elvis often faced, caused by his gyrating hips and flashy stage costumes.
When asked what she thought of the pop stars of today, such as Miley, Priscilla laughed that Elvis' antics were tame in comparison,
"I think she's very talented and maybe Miley feels she has to express herself and this is what she needs right now. I can't criticise, I really don't want to criticise because Elvis went through the same thing. Elvis had sex appeal, but one of things that bothered him was the fact that when he moved he got reprimanded by not only the public, but by a lot of people from high places who said, 'Oh my god what is this, it's vulgar.' But Elvis was brought up on gospel music and watching them sing and feeling it. It's soulful."
Previously, back in October 2013. Priscilla said "Don't compare Miley Cyrus to Elvis", declaring that the Miley Cyrus "twerking" controversy had no business being compared to the early days of Elvis' career.


Although EIN rightly noted at the at time that it DID cause the same Media reaction, which is surely what both wanted.



In the 1950s, Elvis Presley's shaking and grinding of his hips and legs were considered vulgar by some, earning him the nickname "Elvis the Pelvis." Elvis' June 5, 1956 appearance on The Milton Berle Show (above) provoked a public outcry against the singer protesting his "shocking" dance moves. This led to a toned-down performance by Elvis subsequently on The Steve Allen Show and a censored above-the-waist view on The Ed Sullivan Show.
Priscilla stressed that Elvis' performance was authentic and "not calculated" like so many performances are today in the music industry.
(News, Source;ElvisInfoNet)
---
James Burton on Red West- Marty Lacker comments: EIN has received multiple reader's messages in support of Red West.
Marty Lacker also sent EIN this message.
.. .. The fact that James deleted my two comments on his Facebook page in opposition to what he has said and done shows what a weak character he has. It's OK for him to diss Red, Sonny and Hebler but he can't handle when someone truthfully fires back at him. His hypocritical so-called "Good Christian" values are a joke. He chastises Red and people who have made money off of Elvis and others yet he has made tons of money touring with the TCB Band because of Elvis since Elvis has died. He sure as hell hasn't done those gigs for free.
People who commented on James' Facebook page kissing James' behind are pitiful. Red, Sonny and Dave were willing to take a bullet for Elvis, James can't say the same.
What they wrote was needed for Elvis' benefit for more ways than one because when we talked to Elvis about what he was doing to himself he wouldn't listen. Fact is Elvis pulled a gun on Red when Red talked to him about it.

James Burton acts like he was this close person to Elvis when all he did was play his guitar on stage with him and then after the show went on his merry way. Red, Sonny, Dave and the rest of us were with Elvis almost 24/7 for many years and we loved him just as he loved us. James has a right to perform and think whatever and wherever he wants but it's shame he doesn't have enough class not to put his reason out in public and disrespect those guys that way, shows what a little man her is. In terms of the guys that wrote books including me, let me repeat something Elvis' used to quote and paraphrase from that popular song, "Don't criticize until you've walked a mile in my effin' shoes"!!!!!!!!!!!!!!!!!!!!!!!!!!!!!!!!!!!!!!!!!!!
- Marty
PS: Red, Sonny and Dave did not know what kind of sleazebag writer Steve Dunleavy was. Dunleavy obviously twisted Red & Sonny stories to create a more sensationalistic book and he was assigned to
write the book by tabloid News Corp' owner Rupert Murdoch who we know will manipulate and print anything for a buck.
Similarly Lamar felt double-crossed by author Albert Goldman. Lamar hated that Goldman did what he did, that was not Lamar's intentions for Goldman to put in his hateful personal comments about Elvis.
(EIN Notes – Please see Lamar Fike's exclusive EIN interview here)
(News, Source;ML/ElvisInfoNet)
---
James Burton and the 2014 TCB Cruise: The upcoming Dennis Jale TCB European Cruise was to have featured the TCB Band - as well as Red West as a special guest.
Two days ago James Burton (surely one of most important performers on the cruise) announced that he would not be on the cruise if Red West was also going to be on the ship.
James Burton wrote..
....

I will NOT be on the Dennis Jale & TCB Cruise September 2014 with Red West.


I have always enjoyed performing with Dennis and all the guys. No one could ask for a better person to work with.
I would like to say that as a Christian, I forgave Red West for writing his book years ago. This has nothing to do with forgiveness.
I also respected him for going ahead with his life and becoming a great actor and was excited to see him in movies and TV.
I wish him ALL OF GOD's BLESSINGS.
I do think anyone who wrote a terrible book about another person
should not be making money off of that person.
Please note that Ronnie, Glen and I have NEVER written a "TELL ALL" book about the hundreds of artists that we have worked for.
We still could and would make thousands of dollars from this type of book. I would NEVER become this low of a person.
This would NOT be pleasing to GOD.
I do NOT work with people that do anything negative against Elvis. Please understand that Elvis was my FRIEND, not just another artist
that I have worked with. I know how EXTREMELY STRESSED Elvis was before this book came out.
At the funeral, the people I spoke to were blaming this book for Elvis' death and said his high stress level added to his fatal heart attack.
I am sure if someone did something negative to you, your family or your friends you would feel the same way, especially if death was the end result.
---
'Bieber and Elvis' Marty Lacker comments: Marty sent us these comments on yesterday's EIN story (see below).. "I read that story from the writer Asquith, who by the way I never heard nor remember coming on any set at of Elvis' movies at MGM or anywhere else. I for one am tired of people trying to tie or compare any of these artists of today, or even yesterday, to Elvis.
First of all Bieber is not in the same league as Elvis, for one thing Elvis could really sing and he never needed help from technology in the studio to sound fantastic no matter what he sang. The same can't be said for the little punk Bieber who really can't sing all that well - what has got him popular is because he's cute and his voice and singing ability is greatly enhanced in the studio. He's just another media created so-called star of today
and there is a number of them, for instance Kardashian, Lady Gaga or Miley.. Will any of these be remembered or celebrated 40 years from now?
As for Asquith's claim that Elvis fed him well, maybe Parker took him to lunch if and when he visited but Elvis had nothing to do with that. In addition Elvis didn't do the borderline criminal things Bieber has done that is getting him in trouble, any negative crap said about Elvis in the early years came from idiotic phony goody two shoes and hypocritical so-called "Good Christians" who commented about Elvis' movements on stage and some of them were racists who thought Elvis was black when they first heard his records.
It's nice that they use Elvis as a measuring stick for today's talents but they should stop because nobody will measure up. - Marty
(News, Source;Marty/ElvisInfoNet)
---
Elvis Presley and Bad Boy Bieber: Roger Asquith spent years reporting on some of the most iconic Hollywood stars in movie history interviewing stars including Elvis Presley

(see pic below)

and Lucille Ball. In his latest blog he looks at the newest pop teen idol turned wildchild.
"There's no such thing as bad publicity, just spell the name right and include the title of their latest movie or music video." With millions of dollars worth of free world-wide publicity, and his pictures splashed all over the world's press, what more could Justin Bieber's agents ask for?
It's obvious what their Golden Boy is asking for, some time off from work. At 19 Justin should be in college getting an education, or at least given a couple months away from his demanding fans and money hungry agents. He should be vacationing incognito at
some sunny resort and relaxing with his trusted friends.
Elvis Presley was also bad boy with a money-hungry agent. Fortunately for him, any scurrilous reports about his penchant for San Quentin quail and shooting up his TV screen if he didn't like the program were successfully kept out of the press by the omnipresent and repressive Colonel Tom Parker who vigorously censored any press release on his golden boy.
I was invited to have lunch with Elvis many times when he was shooting his musicals at MGM. He was the perfect host making sure his guests were well fed and always handed out a signed copy of his latest LP. plus an invitation to the premiere of his movie... but all this would have ended if I had let a few cats out of the bag about his private life. My motto in Hollywood was simple, why bite the hand that feeds you, furthermore I thought everyone was entitled to a private life.
Back in the day other journalists and authority figures did pursue Presley. Both the Catholic Church and a Jacksonville priest

weighed in that Elvis was a sexual degenerate. Other falsely planted stories such as Elvis being racist and the later ban in Mexico followed.
But now 76,000 Americans writing to the President demanding Justin Bieber hand in his American Green Card working permit and be deported back to Canada. Just like previous hellraisers Richard Harris or actor Russell Crowe, Bieber has done nothing worse than his fellow foreigners who have an American Green Card...
Well I suppose That's Hollywood!
Go here for full original story
(News, Source:RogerAsquith/ElvisInfoNet)
---
Marty on Elvis, Tom Jones and Sinatra: Marty Lacker is always suspicious of Tom Jones using his friendship with Elvis as a marketing tool. Marty commented to EIN on this weekend's story (see below)
... I read that Elvis/Sinatra crap from Tom Jones, what's next Jones gonna claim he taught Elvis how to sing. He already said he showed Elvis how to move on stage, that Elvis came to see his Vegas shows to learn how to move.
Looks like he'll stoop to anything to get attention even make up bullshit about him and Elvis.
He was around Elvis a few times and now they were "close friends". I'm sure he wouldn't like to know what Elvis really thought of him. I remember the day in '65 Jones met Elvis for the first time at Paramount Studios and he was like a little boy in awe of a superstar. I'm not taking anything away from Tom as far as being a singer but that's what he should live off of and not use Elvis for publicity now that Elvis is gone. He forgets that some of us are still around who know the truth.
Unbelievable what some will do and say. - Marty
(News, Source;Marty/ElvisInfoNet)

---
Elvis Warned Tom Jones not to record 'My Way': Welsh superstar Tom Jones is talking Elvis again, this time telling the story that he was warned by Elvis not to cover Frank Sinatra's songs.
The Delilah hitmaker was friends with both singers back in his music heyday, and he covered a number of songs previously made famous by Sinatra, including My Way and Fly Me To The Moon, with the blessing of the Rat Pack star.
However, Presley was less enthusiastic about the Welshman's takes on the classic tracks and warned Jones to stay away from the iconic singer's music.
Jones told UK Magic radio station, "I knew Frank Sinatra and Elvis Presley very well. I did an album of Frank Sinatra type things and Elvis listened and he said, 'Tom I heard that thing. We leave that to Frank Sinatra, we don't go there'".
However, Jones insists Sinatra enjoyed his crooner style and was concerned when he started releasing more rock-orientated music. Jones continued "When I do something a little more rocky, Frank would say 'Tom, when I go and my management ask me who could replace me, I say you! So don't go making records like that!'.''
(News, Source;UKTabloids/ElvisInfoNet)

---
The Power of Elvis in the Media!: It is amazing that Elvis' legacy is so important and such a powerful "media brand" that any connection with Elvis is inevitably used as the key hook-line. (Think of Tom Jones, Petula Clark etc on-going "new album" publicity and the inevitable use of the Elvis friendship in their publicity, etc).
Well, well, well, isn't it amazing that the only news-worthy item about a 2 1/2 hour Christmas special on the BBC hosted by members of UK band The Clash, is a David Bowie 40 second phone-call where he vaguely attempts an Elvis impersonation!

We thought it pretty lame (see story below), here is what Marty Lacker had to say.. ..... If anyone actually thinks Bowie sounds like Elvis in his stupid Christmas message I have some of that proverbial Florida swamp land I'd like to sell them!! It comes complete with a checkup by a noted Memphis ear doctor that will correct their obviously bad hearing. - Marty!
(News, Source;ML/ElvisInfoNet)
---
David Bowie's BBC "Elvis" Christmas Message: It must be that time of the year but David Bowie is also channelling Elvis this Christmas.
In fact Elvis and David Bowie share the same birthday January 8 and in the past Bowie has stated that he offered his 1975 song 'Golden Years' to Presley to record, but that it was declined. (EIN presumes by the music publishers such as Freddy Bienstock and not by Elvis himself). But now David Bowie has delivered a Christmas message via BBC Radio 6 in which he does an impression of Presley.
The 30 second clip was broadcast Boxing Day during the BBC 'This Is Radio Clash' show. EIN thinks it is a very average impression, but I guess he means well.
Bowie's message is as follows: "Hello everybody, this is David Bowie making a telephone call from the US of A. At this time of the year I can't help but remember my British-ness and all the jolly British folk, so here's to you and have yourselves a Merry little Christmas and a Happy New Year. Thank you very much."
Click here to NME to listen

(News, Source;ElvisInfoNet)

---
---
---
....................Marty's Musings in 2013......................
Breaking News From Marty Lacker at the Elvis Wedding Chapel!: "I just got word that former President George W. Bush and his wife Laura have decided after many years of marriage to renew their vows at the Elvis Graceland Chapel in Las Vegas on their anniversary November 18th. It has been stated that their two daughters, Barbara and Jenna will be in attendance as well as his parents George Sr. and Barbara. Rumor has it that former Presidents Clinton and Carter may attend along with their wives as well as Mr. & Mrs. Obama. They specifically said they wanted the Vegas Elvis to remarry them."
---- This is about as true as that bullshit Kanye West and Kim Kardashian will wed there. (see EIN news story below)
I wonder where the hell the media keep getting this crap that connects West, Kardashian and Elvis. First they were going to buy Graceland and live there and now over the top publicity loving Kardashian will forfeit another garish
and luxurious wedding to simply go to the Vegas Chapel???
- Marty Lacker.
EIN sure appreciates Marty's sense of humour and acknowledges that the "West/Kardashian/Elvis" connection is very odd and contrived. However we do find it interesting that a) It appears the super-famous rapper Kayne West is an Elvis fan. b) Kim Kardashian's stepdad was married to Linda Thompson. In 2013 it is still a small world with some odd Elvis connections!
Marty notes even more Kardashian/ Elvis connections..
... There is another connection as Priscilla (after splitting with Mike Stone) dated Kim's father, lawyer Robert Kardashian. I met him in Atlanta when they attended a record convention together we sat at the same table during the awards presentation
Also there was Joan Esposito with Kardashian's brother Tom who she is now married to. - Marty
(News, Source;MartyLacker/ElvisInfoNet)
---
Kanye West and Kim Kardashian to marry in Elvis Chapel?: Kim Kardashian and Kanye West may only be celebrating their engagement but they have already checked Elvis Presley's Graceland Chapel in Vegas as a potential venue for their wedding.
Speculation over where the couple's nuptials will take place has already started, and it looks like they could be saying "I do" in Las Vegas.
According to sources, rapper Kayne West is a big Elvis Presley fan and would love to get married at a chapel in Sin City.
Media has noted that, "Kanye is a big Elvis fan and he thinks it would be fun to get married in a chapel. It was his suggestion and he was surprised when Kim said it was a great idea. Before he proposed, the couple checked out the Graceland Wedding Chapel, where Jon Bon Jovi got wed, as well as Miley Cyrus' parents."
Kardashian's stepdad is Bruce Jenner who was originally married to Linda Thompson will walk her down the aisle!


Don't say ELVIS connections aren't everywhere even in 2013!!


(News, Source;SMeegin/ElvisInfoNet)
---
Marty Lacker on 'Elvis The Seeker': Marty Lacker wrote to EIN to present his thoughts on the new book

(see news story below)

'Elvis The Seeker'.
Marty Lacker writes.... "I read the article about the new Elvis Seeker book, are you sure the author isn't Larry Geller using an alias! This has all of his California Cult Crap that he espouses all over it.
Don't misunderstand, Elvis was a spiritual person but as a Christian not as a disciple of Geller's Far Eastern Spiritual nonsense.
First of all, what a HUGE exaggeration in saying Elvis read thousands of books on spirituality when at the most it was ten and that's stretching it. They were books fed to him by Geller, who both Elvis, I and a few others suspected he had ulterior motives in getting Elvis hooked on that crap and in fact Geller revealed part of what he was up to while we were on the bus travelling to Hollywood in the 60's. For which I had to set Geller straight on because Elvis was put in an embarrassing position when Geller said what he did. That's not just my opinion, Elvis stated that later when we all stopped at a motel to get some sleep. Elvis' head got so screwed up by all that junk that Parker finally talked Elvis into getting rid of Geller and burn the books in 1967. As for Elvis' so-called epiphany in Arizona, all it was was a cloud formations that looked like famous people including himself which means a total of ZERO importance. I hate to say this but I do from personal experience in taking them, pills make you see things and interpret them in the way you want them to.

For whatever reason, Elvis took Geller back full-time in late '76, not '72 as Geller likes to tell people. Having said all this, I have always thought Geller was a nice guy and I wish him no ill-will, I just don't like what he did to Elvis. I nicknamed him The Swami.

As for this book, it seems to me this guy Tillery read some of Geller's stuff and sat down at a computer and embellished and exaggerated much of it.

Elvis believed in God very deeply even though he didn't go to church. He didn't go for two reasons, one he didn't want the attention put on him by the church goers and taken away from the services as it would have been. Secondly, he was upset and disheartened by the preachers because he said every time he saw them they had their hand out wanting money and like a few of us, he didn't believe religion was about money.
Elvis gave to charity and he did it the right way, anonymously.
- Thousands of spiritual books--MY ASS!!!!!!!!!!!!!!!!!!!!!!!!!!!"
(News, Source;ML/ElvisInfoNet)
---
'The Seeker King' New Book: In his new book 'The Seeker King: A Spiritual Biography of Elvis Presley' - published this month - author Gary Tillery explores the an alternative side of the King, as a seeker eager to grasp life's secret meanings and to explore a whole range of spiritual paths.
Gary Tillery presents a coherent view of Elvis' thoughts through such anecdotes and other recorded facts. We learn, for instance, that Elvis read thousands of books on religion; that his crisis over making bimbo movies like Girl Happy led him to writers such as Gurdjieff, Krishnamurti, and Helena Blavatsky; and that, while driving in Arizona, an epiphany he had inspired him to learn Hindu practice. Elvis came to believe that the Christ shines in everyone and that God wanted him to use his light to uplift people. And so he did. Elvis' excesses were as legendary as his generosity, yet, despite his lethal reliance on drugs, he remained ever spiritually curious. At one concert a woman in the audience once handed Elvis a crown saying, "You're the King." "No, honey," Elvis replied. "There is only one king — Jesus Christ. I'm just a singer."
The author notes that when he started researching the spiritual life of Elvis he had no idea that Elvis had explored such unfamiliar terrain investigating hundreds of figures associated with the "New Age" movement that began in the Sixties. Elvis' exploration led to a dramatic revelation along an Arizona highway in 1965, and he continued his search, in spite of the ups and downs of his enthralling life, until the very moment of his death in 1977.
This intimate, objective portrait inspires new admiration for the flawed but exceptional man who said, "All I want is to know and experience God. I'm a searcher, that's what I'm all about."
Go HERE to Amazon

to order

>> The Seeker King: A Spiritual Biography of Elvis Presley
and for more information.
(News, Source;ElvisInfoNet)
---
Marty Lacker comments on Elvis and Posthumous Earnings: Marty Lacker has written to EIN wanting to clarify....
.. I agree with you for the most part about the desecration of Elvis' iconic music. I can tell you that Priscilla, who Elvis really didn't want to have anything to do with his estate will do anything for a buck.

(see EIN's Subo/Elvis story below - and Home Bedding story above!)


However I write this to clarify the last part of your story in regard to the comparison of what Elvis makes each year and what Michael Jackson does. Elvis' earnings are derived solely on what Elvis performed himself, where as the reason Jackson earns so much money is because of the music publishing of other songwriters and artists that his manager and present executor of his estate, John Branca, shrewdly did back then. John Branc, Jackson's Attorney / Manager
made a deal for Michael to buy 50% of a major Music Publishing company of all the Beatles Songs which pissed Paul McCartney off because he bid against Branca to buy it and now the catalogue also includes Elvis' music and that of other big names. Michael really didn't do anything in regards to that it was all Branca and his partner, that song catalogue is worth close to a BILLION Dollars and that is what is counted as Michael's earnings in death. If you took that out of the picture Elvis would probably still be number one in death as he was in life.
Thanks - Marty
(News, Source;ML/ElvisInfoNet)
---
Elvis and Subo duet is like defacing an old Master!: Susan Boyle is using the voice of dead singer Elvis Presley for a Christmas duet on 'O Come All Ye Faithful' – and journalist Neil McCormick objects.
Elvis was the King of Rock 'n' Roll who changed popular music forever. She once came second in a televised talent contest. Now Elvis Presley and Susan Boyle are to be united across time and space, defying all mortal bonds as their voices join together in song, a living dead duet of O Come All You Faithful. It is a musical match made in … well, I don't know where. Not heaven, anyway. A digital editing suite on a computer hard drive, I suppose. Or the boardroom of a record company marketing department.
News of a forthcoming release by Elvis and Subo should bring a dreary chill to the soul of any music lover. They will call it a duet

but that is like defacing an old master with graffiti and calling it a collaboration. You can hear the Presley version, recorded in 1971, performed as he intended in an arrangement he was presumably happy with. And now you will be able to hear it with another voice wrapped around, and perhaps some new strings and bits and pieces added by a producer who probably wasn't even born when Elvis died. "Isn't technology brilliant?" in the words of Boyle herself.
The Boyle camp are stressing the legitimacy of the exercise by underlining that permission was personally granted not just by the anonymous Presley estate but by his ex-wife, Priscilla, who still carries the Presley name despite divorcing him in 1972. But the one person who has no say in the matter is, of course, the very person whose name and image is being used to sell the recording.
Now, I wouldn't go so far as to suggest that Elvis himself would have actually objected to this money spinning exercise. But I object, as a fan and a music lover. In fact, I object to this whole posthumous exploitation industry.
Death is big business in entertainment. Forbes prints lists of the highest earning dead celebrities, many of whom earn vastly greater sums than even the highest earning living stars. Elvis is always up there, turning over $55 million last year, although that is dwarfed by Michael Jackson, a man who was close to bankruptcy when he died. Some artists are worth more dead than alive, perhaps because the dead can never say no.


Poor Elvis!

- Go here for full telegraph article
(News, Source;ElvisInfoNet)
---
'David Lynch Understood Elvis': Marty Lacker has written to us about our EIN article (below) on movie director and music fan, David Lynch's comments on Elvis.
Marty... I read with interest the comments by David Lynch and for the first time in as long as I can remember someone who didn't know Elvis understood one of the main and important aspects of Elvis' singing, in particular when it comes to singing blues and R&B. Many times I have stated and tried to get people to understand, especially those young black artists and even Stevie Wonder, who accused Elvis of "stealing the black man's music." He did no such thing, Elvis sang those songs because he felt that music from the top of his head to his toes. It was inside him and he sang what he felt which is why he did it so well.
It was Elvis who in the 50's broke down the barriers in white homes for Black music and Black artists and many of them who were struggling back then to get their music heard, have always thanked him for that. It's the young black artists, most who were not even born when he started that make those accusations towards him because they're uninformed.
Was he influenced by the old Blues singers that came before him? Absolutely and he was the first to admit that and pay homage to them. Elvis was very informed and knowledgeable about most of them because as he used to explain to us, that as a young boy growing up in East Tupelo as a poor young boy he used to lay in bed and listen to an old beat up radio he had he used to listen to the old Mississippi Blues stations as well as the country stations. He felt that music in his soul.

This is a subject that has really stuck in my craw every time I hear someone accuse him of stealing the music. I understand Stevie's constant crusade for Black folk but he should have paid attention when his idol Ray Charles answered the interviewer on a show he did with white country singer Travis Tritt. The interviewer asked Ray what he thought about Travis a white man singing his, Ray's music, meaning the blues and R&B, Ray quickly answered, "That's fine, MUSIC HAS NO COLOR"!!!!!!!!!!!!!!!
I'm gratified to hear David Lynch's informed comments.....
- Thanks, Marty Lacker
(News, Source;ElvisInfoNet)

---
David Lynch and Elvis: Director David Lynch (Mulholland Drive, Twin Peaks, Blue Velvet) is the reigning master of the uneasy dream, the enigmatic detail in movies, he has also released a CD 'Crazy Clown Time'. David Lynch is also a big Elvis fan.

He recently chose Elvis Presley in the Comeback Special as his Number One performance that reached the deepest level, specifically Elvis singing 'Baby,What You Want Me To Do'.

Lynch noted, "Elvis did the Comeback Special in '68. He was falling in the ratings and it brought him right back onto the throne and, when you watch it - and this song in particular, which is a cover of a Jimmy Reed song, Elvis makes it his own - you see how come he is the King of rock'n'roll. This music is him, he's got every inflection, every feeling 100 per cent out there for all to see, it's so thrilling to watch, it's infectious. With singers and musicians, there's the surface of something and then real deep levels of being it, and nobody gets close to Elvis because he gets that thing at the deepest level and it comes alive with him and everybody feels it and it's like magic, and this brought him back like gangbusters. He looks so great in his black leather, but even if he looked weird he'd still probably be king. Elvis is the total package, he was born for it."

In the past David Lynch has also talked about early Elvis.

Lynch:

When I first heard rockabilly.. it was like being hit with a truck filled with happiness [laughs].

It was a thrilling truck, and you know, I sort of wish everybody could experience that feeling. You've heard these stories. So many musicians when they saw Elvis for the first time, they just slammed their head with their first and just sad, "Damn! This is it!" And it was just suddenly so obvious. It wasn't there, and then it was there. And it had this unbelievable power, and it just screamed out, and everybody and his little brother lit up like a Christmas tree. It was unbelievably beautiful. I just, inside, felt this thrill, this love of the sound. It was like grabbing onto an electric wire.

With my film Blue Velvet, you know, that '50s music held a happiness for sure, but you know Elvis also sings "Heartbreak Hotel," and there's a kind of sweet sadness, and that dream thing that could go either way. The '50s dream, like the Fleetwoods "Come Softly to Me," was real popular. And all the great ones there, they caught this thing. In every decade the music paints the mood. So if you listen to what was popular in the '50s, from '56 on, maybe, and it's a summer night and you're listening to this or you're slowdancing in a basement with a girl, you can go back to that time."


EIN Note: David Lynch's critically acclaimed 1990 film, Wild At Heart (starring Nicolas Cage and Laura Dern) has a strong Elvis sub-theme, with Nic Cage modelling his character (Sailor Ripley) on the King. In it Cage (quite capably) also sings 'Love Me' and 'Love Me Tender'. Lisa Marie later married Nic Cage in 2002, its a crazy Elvis world!

(News, Source;ElvisInfoNet)
---
Marty Lacker comments on 'Aussie' Joe Bugner: In our story below Joe Bugner stated that "I said ``Excuse me, Elvis that's a beautiful robe you gave Ali. I'd love one like that because, as you know I'm also a champion.'' But Elvis turns around and says ``You're no champion'' just like that. I told Elvis to get stuffed and I walked out."...


Marty Lacker kindly reported back to EIN...

... I read Joe Bugner's comments and in plain English he's full of sh*t.
Elvis not only didn't say that, he was not an impolite person especially to people he just met.
Before that night, like most people in the world, he never heard of Joe Bugner.
The only reason Elvis would ever say something like that to somebody is if they were rude to him and disrespected him or someone who was close to him. Just as some of the fans who are negative about some of us in the Memphis Mafia wouldn't like what he had to say to them if he was here to hear that uninformed crap about friends he liked having around.
Sounds like another case of someone looking to get publicity off of Elvis with made up crap. It also shows how crass Bugner was if he actually asked Elvis for a robe.

Elvis knew Ali and thought a great deal of him which is why he gave Ali that robe, Elvis had Sonny West have it made. -
- Marty Lacker.
(News, Source;ElvisInfoNet)
---
---
'Aussie' Joe Bugner recalls telling Elvis to 'get stuffed': Joe Bugner who fought Muhammad Ali for the title crown recently talked about meeting Ali and Elvis -
- Before your first fight with Muhammad Ali in Las Vegas, Elvis Presley gave him a magnificent bejewelled robe. Did you ask Elvis if he had one for you?
Joe Bugner - The robe Elvis gave Ali had the words `Peoples Choice'' spelt out in gemstones on the back. It was February 1973 and Elvis was performing at the Las Vegas Hilton. Before the fight Elvis invited about 50 or so people to his hotel suite for a party. I thought I'd be very complimentary to him. I said ``Excuse me, Elvis that's a beautiful robe you gave Ali. I'd love one like that because, as you know I'm also a champion.'' But Elvis turns around and says ``You're no champion'' just like that. I told Elvis to get stuffed and I walked out.
- Did Elvis say: ``ladies and gentlemen, Joe Bugner has left the building?''


Joe Bugner - No but his bodyguard, a guy they called Big Red comes over and says "Hey man whatya doin ... no one speaks to the King like that.'' I said `Mate, you tell Elvis he's a dickhead.''


- Your first fight with Ali - you're 22, going in against one of the greatest boxers of all time. Did you really think you had a chance?
Joe Bugner - I was very confident. I felt I knew Ali inside out. I first met him in New York in 1969 and I must have sparred 200 rounds with him over the years. My left jab was my best punch and I knew it gave Ali trouble. But he beat me on points over 12 rounds in a non-title fight. Sammy Davis Jr jumped into the ring to hug Ali straight after the fight. Frank Sinatra told me later he thought I won.
Muhammad Ali beat 'Aussie' Joe Bugner twice, maybe for behaving like such an idiot with his friend Elvis!
(News, Source;SM/ElvisInfoNet)
---
Friday 16 August 2013 .... ELVIS WEEK
Marty Lacker On STAX: Marty Lacker was present at the Stax sessions in 1973 and makes an interesting point:
... I read the story below quoting Ernst Jorgenson at the Stax listening party and it irks me when people who were not present when those things actually happened run off at the mouth with false information.
Elvis' songwriter deal with the Hill & Range publishing was really not over at the time of the Stax sessions because Freddy Bienstock was at the sessions with Tom Diskin and as usual Freddy brought along his usual shitty songs that he and Hill and Range as well as Parker had the publishing on.
That is of course why Elvis did some crummy songs within the two sessions and why he didn't do any Stax music that could have been supplied (why no Isaac Hayes/ Dave Porter compositions?) - because Parker and Freddy couldn't get a piece of the publishing on it.
The fact is that I got in an argument with Freddy because I brought "Lovin' Arms" "Raised On Rock" and "We Had It All" for Elvis and they didn't have the pubishing on them.

They didn't care how their actions effected Elvis personally or career-wise as long as they got their money.
- Marty.
Go HERE for the STAX interview and extensive articles.
EIN notes that we will be publishing an extensive article on the STAX sessions in the future.
(News, Source;ElvisInfoNet)
---
Roger Semon & Ernst Jorgensen Talk about Stax: Roger Semon knows the music business and Elvis Presley's sound like few others do. And he knows where RCA, Presley's record label, went wrong in marketing what should have been a historic intersection of Presley with Stax Records.
Roger Semon told the standing-room-only crowd at the Stax Museum, the problem wasn't the music. It was in the images that were wrapped around the albums and singles over the course of three albums that featured the tunes recorded at Stax by Elvis in July and December of 1973.

Semon explained, "All of Elvis' records from 1970 to around '73 – every single album – came with Elvis wearing a wonderful white jump suit. I think in a way as great as he was, it actually confused Elvis' output. Whether it was a live

recording or whether it was Elvis' phenomenal Stax sessions, there was no discrimination with regard to the packaging. There was always Elvis in the white jump suit." It didn't help that the US music charts were based on radio airplay and album sales were also in a different place in terms of what was popular. "Genesis, David Bowie, contemporary music had really taken over in a massive way."
Ernst Jorgensen said the music Presley selected was a high point because the earlier publishing deal with Hill & Range music - that had dictated in large part the material he normally recorded - had lapsed.
"By 1973, Elvis gets more courageous because his publishing deal had fallen apart. But in some ways he was let down. I think he had been very much let down by radio in '73 and '74."
Muscle Shoals bass player Norbert Putnam earlier told Wayne Jackson (Memphis Horns), "It didn't look this good when you played here," Putnam remembered getting to the Stax sessions early before anyone else except an engineer.
"I tried to imagine the scene that was Otis Redding and the Memphis Horns. I thought, 'I bet the king of rock 'n' roll can light this place up.'"
(News, Source;SanjaM/ElvisInfoNet)
---
Director Marty Pasetta Talks about 'Aloha': Forty years ago last month, NBC aired the 90-minute special 'Elvis: Aloha From Hawaii via Satellite' after a shorter version was seen around the globe LIVE on Jan. 14, 1973.

(Right:Elvis, Waterson & Pasetta)


It was the first time satellite technology was used to transmit a live concert around the world and the project gave Presley one last magnificent credit to add to his legend.
The idea for a satellite broadcast was conceived by Presley's manager, Col Parker, while they both lived part-time in Palm Springs in 1972. Parker sold the idea to RCA, which owned NBC, and NBC's vice president of nighttime programming, part-time Palm Springs resident John Hamlin, assigned it to Marty Pasetta.
Pasetta, 81, who now lives in La Quinta, Calif., says he's not sure how many people saw the broadcast.
"What I was told by NBC and others is that every third person on Earth saw that first show when it went out," Pasetta said in his memorabilia-laden home office. "In Africa and places like that, it played in theaters. They didn't have television."
By the accounts of those closest to him, the Aloha concert was the last time Presley suspended his prescription drug abuse and performed at his optimum 175-pound weight.
Biographer Peter Guralnick and Sonny West credit Pasetta for inspiring the singer to clean up his act. After meeting Pasetta, West said that Elvis insisted that he and two other bodyguards join him on a diet to burn up the fat in his system. Pasetta said he told Presley at their first sit-down meeting, attended by two bodyguards, he had to lose weight before the concert.
"He sat straight and the guys on either side of him took out their guns and laid them down on the table, and if you don't think I was scared, you're crazy.
"I said, 'I want you skinny because I'm going to use close-ups,' which wasn't very popular in television in those days. I said, 'I'm going to go from your neck to the top of your head. That's going to be your sex appeal on the tube, along with your voice, and it's going to make a landmark.'
"He jumped out his chair. He grabbed me, put his arms around me and said, 'You're the first person who was ever honest to me.' He said, 'I will lose the weight for you,' and he lost 20 pounds in two months."
Working with Elvis
Pasetta was just coming off his Academy Awards broadcast directorial debut when Hamlin offered him the opportunity to work with Presley. Pasetta wasn't sure he wanted to do it at first. Hamlin told him to watch Presley at the Long Beach Arena that November and Presley gave an uninspiring performance.

"He stood there like a lump," said Pasetta. "He didn't do anything. I went back to NBC and said, 'Hey, guys, what am I going to do with this guy? How long is the show? 90 minutes? I can't tap dance that much. It doesn't look like he's going to move.' They said, 'That's your problem.' "
The concert film would feature Presley giving a one-hour benefit concert at the HIC Center. Pasetta tried to provide an international reach by putting Elvis' name on the set in various international alphabets and fonts. He also tried to convey Presley's romantic appeal, much to Parker's consternation.
"I wanted to put a runway in, 8 foot wide, so he could walk down the center," said Pasetta. "I wanted to put girls around there and I wanted the stage 6 feet off of the floor. The Colonel always had the stage 10 feet above the floor and he had guards across the front. He didn't want to have anybody touch his boy.
"When I told this to the Colonel, he had a fit. He said, 'I'm not lowering the stage. I'm going to have my guards there and he can stand there and sing.' I said, 'That's not going to work on the tube for an hour and a half show.' He said, 'No. I won't do it. You can't do the show.' "
But Pasetta says Presley loved his ideas and, in one of the few instances in his career, he overruled his manager.

"Elvis said to me, 'The Colonel controls my business. I control my creativity and my music and my show. He has nothing to say about it. That's your rule. You will deal with Joe Esposito'," said Pasetta. "I talked to Joe, the Colonel — everybody. But I tried not to deal too much with the Colonel. I had enough problems getting the show on."
The production however was fraught with technical problems. A day before the broadcast, it was discovered someone had cut the power lines going into the auditorium. Pasetta called Don Ho and, "He got people out of bed and they came back and fixed it just in time."
The day of the show, it was discovered the backstage equipment was creating a humming sound. Pasetta called Ho again and, "Don said, 'Call the Navy yard.' We had a truckload lead sheets that were brought over two hours before the show and we lined them up and got our sound back."
Then, at the start of the show, knowing they had to shoot the entire concert continuously, "My technical director froze on me," Pasetta said. "I had to cut the first part of the show. He was nervous."
The soundtrack entered the Billboard charts on Feb. 24, bolstered by Presley's best reviews in years. It would be his last No. 1 album. The next week, Parker signed a seven-year deal for Presley to remain with RCA.
Aloha From Hawaii also temporarily quieted demands for Presley to tour overseas, something Parker was reticent to do.
(News, Source;USAToday/ElvisInfoNet)
---
Marty Pasetta - One of The Best Elvis ever worked with: Marty Lacker wrote to EIN about our Marty Pasetta article.

(see above)


...

It was nice to hear that Marty Pasetta is still going strong as he was one of the nicest people we ever worked with.


It was surprising yet refreshing to hear what he was thinking back then as his actions and words were always praising and encouraging to Elvis and some of us. I got to know him fairly well although I have not spoken to him since a few years after Aloha when he Directed and produced The Grammys Award Show from Nashville and I got him to add The Staple Singers and Al Green as performers so Memphis would be represented on the show. He was very accommodating to me by doing that.
It was typical of Parker and his bullshit about the runway height, whenever he got involved in the production side of anything Elvis did, he always messed it up which hurt Elvis' career.
(Photo right is of Elvis thanking Marty Pasetta after the Aloha Rehearsal - From the new Deluxe Boxcar book see here for more previously unpublished photos)
Marty almost got it right in his comments about Parker and touring outside the U.S. He came up with the idea of the satellite show for his own selfish reasons. Not just because of the money he made but this was his way of not having Elvis tour outside the U.S. because Parker did not want Elvis to do that without Parker travelling with him but we now know that Parker was an illegal alien and he was afraid he would be discovered and deported or jailed because of it and if he managed to go he was afraid he wouldn't be allowed back in to the U.S. because of it plus he might not have been able to get a passport without a valid birth certificate proving he was an American citizen.
I found it humorous too that Elvis told Marty to deal with Esposito instead of Parker because they were basically one and the same. Joe probably told Parker everything Marty wanted because Joe was his boy.
However because he knew better I'm sure he also told Elvis what Marty Pasetta said.
- Marty Lacker.
---
'Elvis At Stax: 40th Anniversary' Legacy Tracklisting: Celebrating the 40th Anniversary of Elvis' STAX studios recording sessions SONY is releasing a 3 CD 'Elvis At Stax: 40th Anniversary' complete set plus a "Elvis At Stax: 40th Anniv: Best Of" 1CD version. Both out on August 16, 2013.
Amazon has released their details of the tracklisting of the three disc set, although it looks in a rather odd order. The outtakes on the second disc before the glorious Masters of 'For Ol' Time Sake' plus 'Raised On Rock', 'I've Got A Thing About You Baby' etc just don't make sense. However it does give an idea of planned content even if the track order is incorrect.
Ernst Jorgensen has supposedly noted that "The Masters will all be in their original mixes, but transferred at a higher resolution to further improve the sound. All the outtakes have been remixed." Presumably by Vic Anesini who has worked on these tapes already.
3CD set - Price:$37.55 -

Pre Order Here >>>

Elvis At Stax: 40th Anniversary (3 CD) .
Best of - Price:$13.07 Pre Order here >> > Elvis At Stax: 40th Anniversary (1 CD) Best Of .
More info soon. (Mock cover thanks to Nathan Bell)
(News, Source;Amazon/ElvisInfoNet)

MAIN Disc.
1. Promised Land
2. It's Midnight
3. If You Talk In Your Sleep
4. Help Me
5. My Boy
6. Thinking About You
7. Mr. Songman
8. I Got A Feelin' In My Body
9. Loving Arms
10. Good Time Charlie's Got The Blues
11. You Asked Me To
12. There's A Honky Tonk Angel (Who Will Take Me Back In)
13. Talk About The Good Times
14. She Wears My Ring
15. Your Love's Been A Long Time Coming
16. Love Song Of The Year
17. Spanish Eyes
18. If That Isn't Love
Disc: 2
1. Mr. Songman - take 2
2. Your Love's Been A Long time Coming tk4
3. Spanish Eyes - take 2
4. Take Good Care Of Her - takes 1,2,3
5. It's Diff'rent Now (unfinished recording)
6. Thinking About You - take 4
7. My Boy - take 1
8. Girl Of Mine - take 9
9. Love Song Of The Year - take 1
10. If That Isn't Love - take 1
11. Raised On Rock
12. For Ol' Time Sake
13. I've Got A Thing About You Baby
14. Take Good Care Of Her
15. If You Don't Come Back
16. Three Corn Patches
17. Girl Of Mine
18. Just A Little Bit
19. Find Out What's Happening
20. Sweet Angeline
Disc: 3
1. I Got A Feelin' In My Body - take 1
2. Find Out What's Happening - tks 8-7
3. Promised Land - take 4 (I)
4. For Ol' Times Sake - take 4
5. I've Got A Thing About You, Babe - take 14
6. It's Midnight - take 7
7. If You Talk In Your Sleep - take 5
8. Loving Arms - take 2
9. You Asked Me To - take 3A
10. Good Time Charlie's Got The Blues - take 8
11. Talk About The Good Times - take 3
12. There's A Honky Tonk Angel - tk 1
13. She Wears My Ring - take 8
14. Three Corn Patches - take 14
15. I Got A Feelin' In My Body - take 4
16. If You Don't Come Back - take 3
17. Promised Land - take 5
---
Stax Story - Why Elvis ended up recording at Stax:

Marty Lacker gives us the low-down

on why Elvis ended up at the STAX studios.
... The reason I chose Stax Studios when Elvis asked me to get him a studio to record was because it was secure with a fence and gate guards. Elvis didn't care what studio it was as long as it wasn't American Studios that Parker and Felton poisoned his mind against. When he asked me to get it for him he added that the session didn't mean anything to him and that the only reason he was doing it was because Parker and RCA were nagging him to record.
The songs that Parker and Freddy Bienstock sent him to record were the usual horrible songs they had a piece of the publishing on. I brought him "Raised On Rock" which in my opinion he would have had a hit on if it had been cut at American with Chips Moman and his rhythm section, also "Lovin' Arms" that I think he did a good job on which was published by David Briggs and Norbert Putnam and "We Had It All" which would have been perfect for him but after rehearsing it about 20 times he told me he loved the song but he couldn't do it because he didn't want people to think he was singing it about him and Priscilla. Which to me was ridiculous. My discovery, Rita Coolidge, went on to cut it and she had a big hit with it.

As for the rumors of Elvis trying out some other Chuck Berry songs apart from "Promised Land", yes Elvis had sometimes sung Chuck Berry songs in Graceland - but for whatever reason decided not to record any more of them at this session. Elvis also used to sing Aretha's "Chain Of Fools" a lot.
While Elvis was in the studio working on the songs I was in the office we were using for Elvis to rest in between songs and Bienstock, in front of Tom Diskin and Vernon Presley tried to intimate that I was making money off of Elvis and that wouldn't Elvis be interested in knowing that. I looked him in the eye and said, "You should go in there (the studio), and tell Elvis that but let me save you the trouble, he already knows because I don't do anything like that without telling him."
"All I try to do Freddy is bring Elvis good songs,maybe you should try to do it sometime and your accusation towards me is like the pot calling the kettle black!" He then shut up. I'm sure though that eitherhe or Diskin later told Parker about it, I think that plus me getting Elvis to record at American, was the reason Parker tried to keep future sessions secret from me so I wouldn't bring him songs they didn't have the publishing on. They didn't care how that effected Elvis both career wise and mentally.
- Marty Lacker
(News, Source;MartyLacker/ElvisInfoNet)
---
Marie Osmond Talks about Elvis: Recently on the US Katie Couric show Marie Osmond was a guest. In her interview (she is often featured on 'The Insider') she talked about her highs and lows of her life. She also spoke briefly about Elvis. Marie claims that Elvis became good friends with Olive Osmond (Marie's mother) and they talked extensively on the phone. She said that Elvis often asked her for advice, although Marie didn't say what kind of advice. Olive Osmond never allowed anyone to be present when she spoke with Elvis.
Katie asked why Elvis would ask Olive Osmond for advice. Marie revealed that her mother and Elvis' mother looked a lot alike and Elvis felt comfortable talking about his life to a relative stranger.

(Right; The Osmonds, Elvis Style!)


EIN notes that Elvis would have met the Osmonds in Vegas - but would he really have phoned their Mother for advice?
EIN asked Marty Lacker if he, or Billy Smith who was around at the time, knew anything of this story or whether it was the usual celebrity beat-up

(see Tom Jones stories, Paul Anka story above ..etc)


Marty Lacker replies..
... That is the one of the wildest bunch of BS I've ever heard.
First of all, Elvis really didn't like talking on the phone, especially at length to anyone. In addition, as we always kidded him about, he couldn't keep a secret

about anything if it killed him and I strongly believe he would have mentioned it to one of us and usually to more than one and if that had happened one of us who have written books about our lives with Elvis (EIN notes see 'Elvis and the Memphis Mafia' story below) would have already said that.
I have never heard Elvis mention Olive Osmond or her kids. I have always found this to be true, that if something was true concerning any kind of relationship anyone had with Elvis they would have talked about it in interviews or another media almost from the time he died. It's also amazing but not surprising, how many so-called celebrities have told stories about their supposed relationship or encounter with Elvis and 98% of them have been pure BS. Most of them think because Elvis has gone their lies can't be exposed, however they forget some of us who were very close are still here to dispute it. Most are not aware that Elvis talked to some of us about almost everything and we were with him all the time.
- Marty Lacker.
(News, Source;FECC/MartyLacker/ElvisInfoNet)
---
Ricin Suspect Paul Kevin Curtis, Conspiracy Theorist & Impersonator: US prosecutors have filed criminal charges against a Mississippi man, who worked as an Elvis impersonator, for threatening to harm President Barack Obama by sending him a letter that initially tested positive for the deadly poison ricin.
The letters were mailed on April 8 from Memphis, TN, and they were signed, "I am KC and I approve this message."
While the investigation is still ongoing, new clues are emerging about the 45-year-old Elvis impersonator who was arrested by federal agents at his home in Corinth, MS. A cousin, Ricky Curtis, in an interview claimed that the accused ricin poisoner had experienced problems with his cleaning business. He also claimed that Kevin Curtis is a conspiracy theorist who wrote a collection of articles called Missing Pieces about a conspiracy to trade in body parts that he thought he uncovered while working for a hospital from 1998 to about 2000.
Apparently, Paul Kevin Curtis has a long-time local reputation for being a little whackadoo. One rumour is that Kevin Curtis had talked about going undercover to blow the lid off the corrupt world of…wait for it… Elvis impersonator contests!

Laugh if you like, but performing as an Elvis impersonator in the Mississippi delta region near the Tunica area casinos, Tupelo and top Memphis tourist attraction, Graceland, can be a lucrative business for some area men. Kevin Curtis also billed himself as a master impressionist who could "do" other stars like Buddy Holly.
Corinth is a small town of about 14,000, the police had blocked off part of his neighborhood. However, there didn't seem to be any hazardous materials crews, and residents weren't evacuated.
-- POOR ELVIS.
(News, Source;AP/ElvisInfoNet)
---
With regard to the comment above from Elvis about recording and looking for some blues or rock songs in August 1972 EIN asked Marty Lacker a few relevant questions...

A) Was Elvis really looking for some good blues songs at the time?
Marty.. I never heard Elvis say he was looking for good blues songs and he never asked me to get him some which would have been easy for me to do because of being one of the leaders of the Memphis Music Industry and working with all the studios and music people there. In addition I was always, much to Parker's chagrin, looking for good songs for Elvis to do because all he was getting was the crappy demo songs from Parker and Freddy Bienstock of Hill & Range. Personally I disliked Burning Love because I thought it was a bad attempt to recapture his hits from the 50's and early 60's.

By that time mainly because of the crappy songs he was getting from those two he looked at recording as a drudgery. What he should have done is put his foot down with Parker and said that he was going to get songs from wherever he could but alas he didn't do that. When he asked me to get him a studio to record because he wouldn't go back to American Studios because Parker poisoned his minds about Chips Moman based on a lie, he told me get to get him a studio and that the session meant nothing to him but he just wanted to stop Parker nagging at him to record. I chose Stax because it was secured with a guarded gate and I was close friends with the owners and most of the musicians,artists and writers there. Personally I would have loved for him to do a blues/R&B album but I would really would have liked him to do it at American with Chips and the studio rhythm session because those guys were highly successful with big hits in that genre.

B) How come Elvis never clicked with the STAX boys Al Jackson, Steve Cropper & Duck Dunn?
Elvis could have recorded some great stax material IF he had been in the right mood.
He did after all have some classic STAX songs on his jukebox.

Marty: Duck was on the second Stax session and Duck voiced his opinion to me one of those nights that he was disappointed in how the session was being done and that Elvis seemed to not be serious about it. Unfortunately Steve was not there. Felton Jarvis was the one who picked the musicians for those two sessions. I had no part in that.

C) Did you ever try to nudge Elvis towards recording any STAX material?

Marty: One of the reasons I brought Steamroller Blues to him was to get him to think about going back to that kind of music that he did so well in the early years. I brought him the record that Chips had produced on his black group The Masqueraders that was a great record for the time. However Elvis didn't bring up doing more of that kind of music.

Also a question from EIN reader Steve P..
- Thanks for the John Wilkinson tribute. In an another interview John Wilkinson said that he met Elvis at a gig at the LA 'Whisky-A-Go Go'. Elvis was in the audience. There are other stories of Elvis going to see Johnny Rivers perform in a club (I presume in 1964 before they fell out over Memphis Tennessee).
Can you ask Marty Lacker how much did Elvis like going out to clubs to see other musicians and how often?

Marty: To my recollection Elvis never went to the Whiskey in the 60's. Some of us guys did as we were friends with the owner Elmer Valentine and back then is when the club was really popular. However we did get Elvis to go to another club, The Red Velvet, which was further into Hollywood near Sunset and Vine. It was owned by one of Elvis' girlfriends Sandy Ferra's father Tony Ferra. Monday night was talent night and he went with us a couple of times including one Monday night when the Righteous Brothers were performing at a time when they were new.

EIN thanks Marty Lacker as always for his insights and help. SEE BELOW for Original Interview..
UPDATED John Wilkinson 1972 Interview: Interviews with Elvis' band members from the 1970's are very rare and so it is with great pleasure that EIN can feature this interview with John Wilkinson from September 1972. This nicely ties in with the recent 'August 1972 Las Vegas Season' FTD release but also as a tribute to John Wilkinson who sadly passed away last month.
John Wilkinson was an all-round nice guy who unlike some always told positive stories about his friend Elvis.
In this interview John talks about working with Elvis and the TCB Band in 1972 as well as recording 'Burning Love' that had only just been released.
Go HERE for this insight into Elvis, John Wilkinson and 1972.
Interview now UPDATED with Marty Lacker discussing Elvis at STAX & more...
(Interviews, Source;ElvisInfoNet)
---
Correction from Marty Lacker.
.. That White Furry Bed that is being touted as Elvis' was in fact Lisa Marie's bed that was in her room at Graceland. It was not Elvis' bed although he did lay on it a couple of times when Lisa was not there. - Marty.
EIN has seen the bed previously at Graceland and realises that the story was misleading - Now updated - see below. Our thanks to Marty.
Elvis' Furry Bed to be Auctioned for Charity: To celebrate the opening of the Second Annual Winter Designer Fine Furniture Sale in New York, the auctioning of LISA MARIE's white fur bed from Graceland will take place benefiting Alpha Workshops.; the nation's only non-profit organization providing creative HIV-positive individuals with training and employment in the decorative arts. Located at The Altman Building at 135 West 18th Street in New York.
The centerpiece of the event is the auctioning of Elvis Presley's white fur bed from Graceland. "Showcasing furniture from an iconic legend of American culture like Elvis Presley is the perfect balance of playful and nostalgia to kick off the sale" notes Neil Deutsch of White Glove Transportation. "Couple that with a great cause and never before access and pricing from top designers and this is an exciting opportunity". Elvis Presley's bed will be on display throughout the sale - March 9 & 10.
2nd Annual Winter Designer Fine Furniture Sale- The Altman Building, 135 West 18th Street, New York
Go HERE for more info
(News, Source;ElvisInfoNet)

---
"Elvis - A rip-off artist and, for a very brief period of time, a genius" Marty Lacker Comments on this greatly mistaken story:
.... On reading the story below written by Jeff Miers, I have to shake my head in amazement how someone comes 60 years later and pontificates about the importance of Elvis and black music in the 50's. I don't know how old Miers is but I want to bet he wasn't even born in the 50's and experienced how Elvis changed the culture of the world and broke down the barriers for black music and black artists like those he named.
I don't like it when these so-called intellectuals try to put their spin on history when they weren't there to experience it as I and many others my age were. Most of those early black artists have praised Elvis for what he did for them including Little Richard who was trying to be in the forefront of that music but many white parents didn't allow it in their homes. Then along came Elvis and he liberated teenagers and black artists, why do you think James brown was so enamored of him that he wanted to be his close friend and attended his funeral.

Yes, Elvis was greatly influenced by the old Mississippi Blues artists and music as well as Country music back then. His style came naturally to him because of it because it's what he felt inside. He was always the first to say that and pay homage to those old artists. There's a reason black folk of the 50's loved his music because they felt his sincerity and realism of it. That's why when he released his records back then and through the very early 60's he was #1 across the Billboard

charts. R&B, Pop and Country. Even Jesse Jackson while on the Larry King Show a few years ago schooled a so-called young black cultural expert music reporter for Rolling Stone named Toure about the impact of Elvis and what he did for black music and artists.

While Toure ignorantly said Michael Jackson brought black music to white people Jesse scolded him and said Elvis did it 15 years before anyone knew who Michael was. Me thinks he thinketh too much of himself to be self titled a cultural expert. Be schooled in true history before you make such a claim.
As for Chuck D's comments, talk about reverse racism, he is noted for it but he too wasn't born when Elvis started in '54 and if he was he was in diapers. However he was here in Memphis a few years ago at a Stax Music celebration and he praised Elvis. So maybe it depends on who he's talking to.
(EIN notes, the reporter Jeff Miers obviously did not follow up on his brief research of song-lyrics - See EIN Article, 'Elvis Was NOT a Racist')
It bothers me greatly to read this uninformed crap by some in the media all these years later, they don't have a clue.
Millions of people of all races, creeds, religions from all over the world have visited Graceland because of what Elvis' music gave them, that to me speaks volumes more then all these so-called know it alls.
- Marty Lacker.
EIN agrees with Marty since the article below was as always not evenly balanced in its presentation. The comment "Elvis doesn't come close to James Brown" is laughable in that they both were friends and equals and acknowledged each other's amazing musical power and influence. EIN has also contacted the newspaper and journalist asking for a proper response to why they published such a negative and badly researched article. As yet they have not replied. See EIN's "James Brown & Elvis were Soul Brothers" article.
Most importantly see EIN Article, '

Elvis Was NOT a Racist

'
(News, Source;MartyLacker/ElvisInfoNetwork)
---
The Elvis World is part of Cuckoo-Land!: Yesterday EIN posted two strange stories, one from actor Susannah Leigh suggesting Elvis was killed by the mob (surely only to promote her new book!) and also "What if Elvis didn't die in 1977?" (Go here for original stories)

Both stores we didn't believe and only posted for "those interested". In some ways, these crazy stories DO show how Elvis' Legacy is THAT BIG that even 34 years after his death people go to any length and madness creating media interest using his name.
One of the last people EIN imagined would check out these wild stories is our friend and Elvis' co-best man Marty Lacker.

Marty sent us this lengthy comment.
From Marty: "Between two recent stories, that documentary you had on your site today which I watched, most of which turned my stomach and today's lunatic story about what Susannah Leigh says in her books, I'm coming to the conclusion that the Elvis World is now part of Cuckoo Land.

That documentary was the most ludicrous piece of s##t I have ever seen and anyone who spends any money buying it or even wasting time watching it has my sympathies.

As for Susannah's claims... first of all it makes me laugh that the three so-called honest experts she goes to are Dick Grob, Klein and the imprisoned Beecher Smith, who by the way she lived near when she moved to Memphis and I heard she was either dating or living with his brother. However I don't know if that's true. Susannah Leigh was close to someone in the MM and

spent many a night with him but it wasn't Elvis. I know that for a first hand fact. She had no close, intimate relationship with Elvis.
Dick Grob told some of the most ludicrous untruths in his 'Conspiracy' book including that he was a "fighter pilot" and "graduated" from the Air Force Academy. As for being hired to investigate Elvis' death, BULLSH#T.
First of all he was hired at the end of 1969 after working on the Palm Springs Police department and he was not Elvis' head of security until after Sonny West left and that was just for the last few months of Elvis' life. As for Elvis being allergic to codeine, BULLS##T, he and I used to take "Emperin Codeine" for years with no bad effects.
Now we come to Honest George Klein, who has fabricated more stories about Elvis and his involvement with him than Bayer has aspirins. ….
George didn't know anything first hand during Elvis' last year because I was told that during that last year when Elvis pushed almost everyone away with the exception of Billy Smith, George was not allowed up to the house either.
He might have seen him the few times Elvis went to the Memphian Theater and I doubt Elvis talked about any plans to take a year off during that time to him in the theater.
According to Billy, Billy did talk to Elvis a month before he died about taking time off but Elvis said nothing definite about it. If at 1:PM in the day time George told me these days that it was daytime, I'd have to check my watch just to be sure.
I think it's time for the Elvis fans to stop buying into all this nonsense. While there are a few things that none of us who were close to him will ever reveal, I think everything that needs to be said by us or anyone else has been revealed in the last 35 years.
As for Elvis being killed by the mob, It was done by Al Capone who died 30 years earlier than Elvis but came back to do the dirty deed. Al Capone whacked Elvis.
(News, Source;MartyLacker/ElvisInfoNet)
---
---
Thoughts on songwriter Jerry Leiber -

Great story in the interview with Jerry Lieber (see below), I haven't heard that before. I thought I was the only one who didn't take any sh** off of Parker.

Unfortunately I never met Jerry and Mike because they stopped working with Elvis just before I started on the payroll.
Even though I was close to Elvis for a few before then I never had the occasion to meet them.

They're just two of a few that Parker cut Elvis off from even though it was detrimental to his career in music. Chips Moman was another one.
After hearing that story I think even more highly of them.
- Marty
---
Rock'n'roll songwriter Jerry Leiber dead at 78: Jerry Leiber, one of the most important songwriters in the history of rock & roll – whose 60-year partnership with Mike Stoller produced "Hound Dog," "Jailhouse Rock," "Loving You", "On Broadway," "Yakety-Yak", "Stand By Me"and countless other classics – has died of cardiopulmonary failure. He was 78.
Jerry Leiber Interview for EIN:

Jerry Leiber along with partner Mike Stoller composed hit songs for many artists, beginning in 1952. After Elvis recorded their Big Mama Thornton hit

"Hound Dog"

their lives changed. dramatically. The key Leiber / Stoller compositions that Elvis recorded are "Hound Dog", "Jailhouse Rock", "Baby, I Don't Care", "Don't", "Loving You", "Santa Claus Is Back in Town", "King Creole", "Love Me", "Treat Me Nice" and "Trouble".

Mike Stoller appeared with Elvis in the 1957 movie Jailhouse Rock, playing piano for Vince Everett's (Elvis') band. This was due to a strange twist of fate since it was actually Jerry Leiber who had been chosen for the part.

In 2006 Ken Sharp interviewed Jerry Leiber (right with Elvis) and Mike Stoller as part of his impressive FTD book about Elvis' composers, 'Writing For the King.'

(Interviews, Source;KenSharpforElvisInfoNetwork)
---
Sunday 14 AUGUST 2011 .... Elvis Week 2011
"We were booked to fly home the next day," says original member Barry Whitwam. "But that night after the last show we got a telephone call from Colonel Tom Parker – and he said that Elvis Presley would like to meet Herman's Hermits

*

on his film set the next day. Elvis was filming

Paradise Hawaiian Style. (

* see Marty Lacker update below

)

"We could see about 13 motor bikes side by side coming towards us," says Barry.

"We could see that Elvis was in the centre of the riders as they roared onto the film set. What an entrance. As Elvis approached us I was spellbound, it was as if God had come down from heaven.

We had about two hours with Elvis and talked about our tour of America. He knew we had millions of fans there but I don't think he really understood why!"

Peter Noone was lead singer of Herman's Hermits and interviewed Elvis on the set of Paradise Hawaiian Style.

(Interviews, Source;ElvisInfoNetwork)
Marty Lacker - who was there sent EIN these relevant points about the meeting and the quotes above...
... Let's set the record straight. They called Colonel wanting to meet Elvis, not the other way 'round.
Secondly, we did not ride motorcycles in Hawaii we used cars, we were already on the set when Herman and The Hermits showed up.
I might add they made a fool of themselves especially when Peter tried to get Elvis to say they were his favorite group.
- Marty
---
Changes coming to Cirque du Soleil's 'Viva Elvis': Cirque du Soleil announced Wednesday that "Viva Elvis" will get a makeover to "make it less of a biographical representation of Elvis Presley and more of an acrobatic Cirque du Soleil spectacular production," according to a statement from the company's senior publicist, Renee-Claude Menard.
The Aria production will take an extended break in January. Cirque and its landlord already had "common agreement" that "the bio expression of Elvis is not necessarily appealing to our demographic, the type of demographics we'd like to have, so let's look at it a different way. Make it a Cirque du Soleil spectacular featuring Elvis as a singer," Menard said.
As such, the character of Elvis' manager, Tom Parker, as narrator likely will be eliminated, though "I think we have to wait until the changes are all done," Menard said. The size of the company will remain "at least the same, if not bigger," Menard said. The show will remain as is until the end of the year.
Failure is not an option for Cirque in Las Vegas, which has seven shows on the Strip and hasn't closed one since "Mystere" debuted in 1993. But

"Viva Elvis" is the second consecutive production to undergo dramatic revision after underwhelming public and critical reception.
"The really big changes are taking time to come because they're expensive and needed approval," artistic director Gene Lubas said in January. "I want to use more Cirque trickery and magic to bring the show closer to the public."
Marty Lacker commented today to EIN...
If they're deemphasizing Elvis, what's the point in calling it "Viva Elvis"? Plus this may indicate that the show may have not been sold out most of the time.
Quit frankly I predicted this when it first started when I found out what kind of show it was. Elvis is not "Broadway" nor a "Circus" and with Priscilla's input as technical consultant on this Elvis show I knew it wouldn't be all that good.
- Marty
(News, Source:VegasReview/ElvisInfoNetwork)
---
Good News Sonny West Heading Home:Both Marty Lacker and Sandi Pichon report that Sonny West's health is greatly improved and he is heading home at last.
- .. I am happy to report that Sonny West has greatly recovered from his long illness and he is getting stronger every day and he is slated to go home from the hospital this weekend after 47 days in the hospital. His Staph infection is gone and he no longer is losing blood.
He will continue his physical strengthening at a local gym and we are all happy for his return to civilization.
- Marty Lacker
- .. I am so pleased to tell you that Sonny is doing MUCH better! He sounded so strong, and like his old self tonight! He has lost a lot of weight, and has a lot of therapy to do, but he is on the road to recovery at last. Thank you all for your thoughts and prayers during this very difficult time for Sonny and Judy.
- Sandi
(News, Source;ElvisInfoNet)
---
Elvis & 'Follow That Dream' mystery man: Reported across various new outlets is this strange story of Lake of the Woods resident Al Fleming.
The rare photo is a cracker, but EIN suspects the story is another example of total exageration.
As Marty Lacker confirmed to EIN...
.. I wasn't on Follow That Dream but when they came home nobody ever mentioned this guy.
Al Fleming didn't work for Elvis ever and I never heard of him before this story. I laughed at the part that he was told he looked like Elvis. If that's him in that picture shaking Elvis' hand then he looks as much like Elvis as I do a young Tony Curtis!
The reported story is ....
The filming of Elvis Presley's Follow That Dream in Citrus and Levy counties 50 years ago this summer led Al Fleming to follow his own dream—and the King—to California, where they became lifelong friends. (EIN - As if!!)
Fleming was a 17-year-old Crystal River High School senior who was renting boats at Port Paradise Motel when he first spotted Elvis across the canal from his docks.
Fleming had heard the King was coming to town. He was a big fan and even looked like Elvis, with the long sideburns and slicked-back hairstyle.
One day, Elvis yelled hello across the canal as Fleming was bailing out some boats.
"I was trying to be cool," Fleming recalled this week, "but all I could do was stutter and stammer."
They ended up becoming friends and when filming stopped each day, Elvis and some of his entourage rented boats from Fleming, now 69 and living in the mountains of California.
One day, Fleming's mom asked him to invite Elvis and some of the guys over for some homemade fried chicken.
Fleming did, and to his surprise Elvis – one of the biggest stars in the world at that time – accepted.
They ate fried chicken, Fleming said, and played music on the family piano and organ late into the night.
"Those are some of my fondest memories," Fleming said, "To me it was real exciting. I had always been an Elvis fan and here he was, sitting in my house, eating chicken, playing the organ and singing gospel songs."
The friendship blossomed and when the filming was over, Elvis asked Fleming to come with him to California to hang out as part of his entourage. He looked enough like the King to be a stand-in and do stunts.
"I said 'Heck, yes,'" Fleming recalled. "I went home and told my mom I was going to Hollywood with Elvis and she said, 'Like hell you are.'"
He worked with Elvis for more than two years, performing as a stand-in and stunt double in several movies.
(EIN - See Marty Lacker comment)
He soon tired of the work, though, and quit in the mid 1960s. He didn't want to be among the many who always had their hands out.
"I got sick of being a flunky," he said.
Still, he and Elvis remained friends and kept in touch over the next decade and longer until Elvis died. -
Click here to the full yarn - if you need to.
(News, Source;MountainEnterprise/EIN)
---
Marty Lacker Comments to the story 'Will Elvis Presley See Revenge Against Media Mogul Rupert Murdoch?': Posted 2 days ago was the suggestion that the media-rot and the biased tabloid tell-alls of Media Mogul Rupert Murdoch started with the serialisation of 'Elvis: What Happened?' ... Even suggesting "The kind of institutionalized anti-rock company policy may well have been what led to the book that may have helped to kill Elvis Presley".

Marty Lacker has sent EIN this detailed and emotional response.
... I take exception to the Flippo article and his remark that Elvis What Happened helped kill Elvis. That's a crock of shit that was started by a couple of other members of the 'Memphis Mafia' who were sycophants and ass kissers and always trying to make others look bad in Elvis' eyes for their own benefit. If anyone helped cause Elvis' demise it was Colonel Parker who ran him into the ground with those damn tours going to the same cities every month and to Vegas just to satisfy his gambling habit and debts.

In addition Elvis partly was at fault for two reasons, he tolerated and didn't confront Parker and didn't get rid of him when he should have years before and his over dependency on his prescribed drugs. He took too many,too often as an escape from the boredom of his life that Parker had created.
Some people,mainly the uninformed media and uninformed fans are quick to pin Elvis' death on the guys around him and neither ever spent one damn minute with Elvis or us. They think it makes them sound good when they mouth off as if they're in the know and protective of Elvis.

Truth is they do more harm then good. They need to get real and understand that Elvis was not G-d, he was a human being just like the rest of us and had human faults and frailties as we all do. The media, especially the tabloids sensationalize stories to make more money.

But it is finally coming to light what kind of greedy, low life scumbag Rupert Murdoch is as the English authorities have discovered his long underhanded and what I consider criminal dealings in furthering his power and influence through his media entities. He saw an opportunity to try to tear down a historical cultural icon in Elvis with no regard to what it did to Elvis, his family or hundreds of millions of fans or for that fact Red & Sonny, however he did see that the disgusting things he allowed Dunleavy to write would bring him millions in sales of the Star and Elvis What happened.

So he assigned someone as nasty as he is to write the book with Red, Sonny and Dave. As I said the guys wrote the book mainly to try to get Elvis to see what he was doing to himself and they did that out of love for him. The other reason they did it is because of the way Vernon Presley let them go. Elvis had told his father to give them each $5,000 as severance pay and let them know they'd be hired back later. Instead Mr. Presley gave them two weeks pay and said nothing about hiring them back. This after Red had been close to Elvis for over 20 years and Sonny for 18 years as his protectors. They had families who now were left with no income to live on.

They were inexperienced about book publishing and certainly about what kind of people Murdoch and Dunleavy were and so they went for the deal that provided them with the most money,as most authors do, so that their families could be taken care of while they searched for employment. Because of their publishing inexperience their deal with Murdoch and Dunleavy did not allow them to change the way Dunleavy wrote the book and they did not know what he wrote until it was finished. And as usual the fans always zero in on the negative things people write about Elvis even if they are a small part of the book. They wrote many good things in EWH but the fans choose to gloss over them.

Murdoch and Dunleavy are the villains in Elvis What Happened and the world is finally finding out what kind of human beings they really are. Murdoch operates the same way here in the US with his Fox News TV Channel, he has the rotten Republicans in his pocket so he allows the Channel to make up lies about everyone else in the other party in US Politics. The British authorities are arresting his executives but what they need to do is put him in prison for the rest of his life along with his minions who did his dirty work. His tentacles, they have revealed, reaches all the way into Scotland Yard and England's government. Put him in prison for what he did to people like Elvis and all the other lives of people he besmirched, all for money.

I have always whole heartedly believed that Red and Sonny tried to help Elvis see what he was doing to himself and they did it because they loved him and still do.

People need to get real and get a life, Marty
(News, Source;MartyLacker/ElvisInfoNetwork)
---
Elvis & The Platters - Marty Lacker comments: Marty Lacker comments on the Valcom Inc finance story, which EIN only sees as manipulative and false marketing spin.
>>> I was with Elvis in '64 and at no time did he do a recording session with the Platters or anyone else. The only way they could have his voice is if they lifted it from one of his own recordings of those songs and I don't remember him recording any if not most of those songs. They would have had to make one helluva a deal with Parker and RCA to use his voice that way.
I think this is another case of someone trying to capitalize on Elvis since he died. It's funny they have waited 34 years to make that claim. If Elvis had done that someone from The Platters or Buck Ram's assistants would have known it was done and they would have spoke up sooner. It's just some more bullshit in regards to Elvis. This is just a ploy to sell that album. - Marty.
(News Source;MartyLacker/ElvisInfoNetwork)
---
Elvis & Priscilla's Honeymoon 1967: Elvis' co-best man at the wedding Marty Lacker amusingly commented to EIN about the YouTube wedding video we featured (see HERE)..


. "After watching the youtube wedding memory you have on your site today, I am reminded what a good actor Elvis was!" - Marty
Billy Smith in the Memphis Mafia Revelations book also noted about their honeymoon.

'For a honeymoon, Elvis figured him and Priscilla would go to Palm Springs and spend a few days. He thought it would be enough for them to be together. But Vernon and Dee were there, and Priscilla's family, too.
Now, Priscilla wanted the whole place to themselves. But Elvis didn't. And rather than either one of 'em giving in, they had big arguments about it. He wanted one of the guys with him at all times because he was used to people getting him whatever he wanted. He thought, "I'm wealthy, let other people do it." I think he figured he had the loyalty of these guys, and he didn't know if a woman was going to give him that or not.'

(News, Source;Marty/ElvisInfoNetwork)
---
Colonel Parker's Elvis hoard - Marty Lacker comments:
>> Reading your story (see below) and watching the short video pertaining to all the things Parker had in his Madison office squirreled away unbeknownst to Elvis, made me even detest the carny con man even more. In my opinion, all of those things pertaining to Elvis should have been in Elvis' possession at Graceland or at least a copy of them for his enjoyment and memories. Those are things that Elvis generated not Parker and truth be told, Parker probably charged those things to Elvis as expenses through the years Elvis was alive. EPE should never have had to pay for them after Elvis died and the courts got rid of Parker. Lisa Marie really owes Blanchard Tual, the Memphis court appointed attorney who became her Guardian Ad Litem for uncovering all of Parker's terrible actions in all those years with his side deals and other actions.

I wholeheartedly agree with Dave Marsh and could add much more to it. More and more I think things should be exposed that this con man got away with. - Marty Lacker
See EIN's special spotlight on 'The Dark Side Of Colonel Parker'
(News, Source;MartyLacker)
---
Colonel Tom Parker, his collection in Madison: Like him or not, Colonel Tom Parker kept very well organized files on everything Elvis. Back in 1983 Parker was forced to sell his assets to EPE and to drop any claims he had to Elvis' estate after Lisa Marie's representatives filed allegations in court against The Colonel for mismanagement. It is quite unbelievable how Parker kept so much stuff during Elvis' life and which finally helped him make that special deal with EPE.
CLICK HERE to see in this rare video Parkers store of movie reels, promos, documents etc. Why Graceland keep fans from seeing so much of this unreleased material is beyond belief. Enjoy this amazing video and hear for yourself how hard Tom Parker worked for Elvis as a manager!.
Critic Dave Marsh delivered one of the most damning assessments of Colonel Parker when he said, "Parker was the most overrated person in the history of show-business. The Colonel went to his grave believing he had pulled off some carny trick, when what he had actually done was sell genius short for 23 years."
See EIN's special spotlight on 'The Dark Side Of Colonel Parker'
(News, Source;MikeWindgren/EpGold/EIN)
---
Marty Lacker also Comments on the Glee chart story:
Marty Lacker... "The comparison of Glee and Elvis on Billboard's Hot 100 is ridiculous and it is like comparing apples to oranges.
Elvis is a recording artist,Glee is a TV Show. Technology back then is nothing what it is today where not only can they download the music from the internet, many kids do it directly to their cell phones.
They also don't mention the fact of Elvis' number one records and many of them in the early years were at #1 across the board, pop, Black Music and Country charts. Not to mention that Elvis changed the culture of the world in the 50's as well as being a cultural historical icon.
In another few years,if not sooner, Glee will be forgotten as just another TV show that faded out and was cancelled.
All this hoopla was to get publicity for Billboard and Glee."
(News, Source;MartyLacker)
---
Has Glee really Beaten Elvis Presley's Chart record?: Media stories abound this week that Elvis' US Chart record may be no more as the TV series "Glee" has taken over the record for the 'Most charted songs' in the Billboard lists 52 year archives. Glee has six debuts on the Hot 100 to be released today on Billboard.com. The Glee cast has placed 113 songs on the chart, besting the King of Rock and Roll Elvis Presley who has 108 chart entries logged since the survey's inception in 1958 and 2003. A remake of Kary Perry's recent Hot 100 No.1 hit 'Firework' represents the Glee casts highest debuting title this week.
EIN contributor Brian Quinn however points out how ludicrous this story is.
While "Glee" passes the King this week for most Hot 100 appearances, it's certainly not too early to consider how much more history the cast can write.

It does seem like a safe bet that the "Glee" cast will hold the record for most Hot 100 hits for a very long time. It's hard to imagine another type of act that could boast the cache/marketing push/multi-media platform to release multiple songs week after week and enjoy enough consumer support to send them onto the Hot 100.
By spring 2012 it is possible that the "Glee" cast, if it maintains its release schedule and popularity, could count approximately 250 Hot 100 chart hits.
With Presley at 108 and no other artist in triple digits, no artist we now know of seems in the running to top the troupe's Hot 100 record.
BUT just as the digital era has revolutionized the way consumers can purchase music so cheaply and instantaneously, we don't know what future means of music delivery could affect chart performance many years from now.
It's also worth placing the cast's latest achievement in a broader historical chart context.
While the ensemble's feat is unquestionably impressive, a few facts in Presley's favor:
The King's career predates the Hot 100's Aug. 4, 1958, launch. Joel Whitburn's "Top Pop Singles" book counts 31 Presley songs that reached various Hot 100 predecessor charts beginning in 1956.
So, in terms of overall Billboard chart hits, Presley's total could stand at an unofficial 139 when combining multiple song surveys.
Further breaking down the "Glee" cast's Hot 100 resume, of its 113 Hot 100 entries, just two have hit the top 10: "Don't Stop Believin' " (No. 4) and "Teenage Dream" (No. 8). 36 of the 113 have reached the top 40.
Conversely, with 80 top 40 Hot 100 hits - 25 of which reached the top 10 - Presley is far and away the leader. Elton John ranks second with 57 top 40 titles, followed by the Beatles (50). 36 top 40 entries places the "Glee" cast in a tie with R. Kelly for 15th place.
And, of course, Presley introduced a bounty of classics to mainstream audiences, while the "Glee" cast has so far charted solely remakes (a streak that could end in upcoming weeks with the show's rumored promise of original songs).
Ultimately, the "Glee" cast's passing of Presley in one of the Hot 100 100's most sacred categories is laudable.
It's only one statistic, however, when examining the artists who have made some of the most memorable impacts in Hot 100 history.
Further more the US population is now double what it was in 1955 and the media focussed on the massed spending power of TV watching children.
In the end, there is no comparison....Elvis is The King for a reason....
(News, Source;Billboard/ChartBeat-Gary Trust/BrianQuinn/ElvisInfoNet)
---
Lamar Fike has Died: A sad, sad day as EIN has been officially notified that one of Elvis' very best friends Lamar Fike has passed away peacefully, Friday January 21. Lamar Fike was 75.

Lamar Fike first met Elvis in 1954 and began working for him in 1957. Lamar stayed a close friend of Elvis throughout the years, often providing the humour that helped Elvis and the gang get through the toughest days. Lamar Fike also worked for Hill and Range music publishers and brought several major songs to Elvis' sessions including 'Kentucky Rain' and 'Indescribably Blue'.
Lamar travelled with Elvis after he went back on tour, working as the lighting director. He was with Elvis until he died.

Lamar was well-known for his sense of humour and his outspoken honesty. See Marty Lacker's message below
Click here to EIN's exclusive interview to read more about Lamar Fike and appreciate what a very fine and funny man he was.

Rest In Peace Lamar. We will truly miss you.

(News, Source;ElvisInfoNetwork)

---
From Marty Lacker - Lamar Fike Passed Away:
I have the unfortunate task of officially sadly announcing the passing of Lamar Fike as authorized by his cousin Tommy McDonald who was very close to Lamar and was with him daily in his hospital room in Arlington,Texas. Lamar passed away very peacefully last night, Friday, January 21.

Lamar had been hospitalized since last October 14th and then transferred to the physical therapy wing of the hospital. Unfortunately he did not improve and was sent back to the hospital about a month ago.


Outside of Red West, Lamar was with Elvis the longest and he remained close to him until Elvis' passing. Lamar was also very close to Elvis' mother.

Lamar's wishes to be cremated will be carried out and the Brown, Owen, Brumley Funeral Home, Ft. Worth are handling his funeral. A memorial service will be held in Mart, Texas, one of Lamar's boyhood homes at a date to be announced. He was born in Cleveland,Mississippi on November 11,1935.


Those of us in the Memphis Mafia who remained his friend are greatly saddened by the loss of yet another member of our close group.

May G-d Bless his Soul and may he Rest In Peace.
Marty

PS: This is the official announcement, his family has asked that it you hear anything else from anyone else do not believe it.
---
---
"Humperstink" says Marty Lacker: After our recent Engelbert Humperdink new item (see below) Elvis close friend Marty Lacker sent EIN this note.
>> Once again, we get an over the hill artist like Humperdink using Elvis to make false claims to make himself look good and get some publicity, albeit false and stupid publicity. Just as Tom Jones has been doing recently they have used Elvis to get what they haven't been able to do on their own for years, make the media pay attention to them.
For Humperstink's information, Elvis was wearing high collars on his shirts years before '72 and before anyone paid attention to Humper. I know this for a fact because I designed some of his wardrobe for two pictures he did on '64. As for sideburns, Elvis had them in the 40's and 50's including at Humes High School which I attended with in him in '53.
Also inform Bertie that Elvis and us were going to see shows in Vegas long before he ever played there and Elvis finally got around to him. If he's insinuating that Elvis came to see him to learn how to perform then he's as full of bull as Jones is who made the same ignorant statement. Maybe he should have gone to see Elvis first so he could learn how to really entertain people.
Let's see which came first, 1954 or '65?
Tell Humperdinky to try to get people to pay attention to him again by cutting a hit record, something he hasn't had in thirty years or more and leave Elvis out of his pursuit of it.
- Marty Lacker.

EIN Notes that these new items only go to show what an astounding Media Legacy and reputation Elvis still has more than 33 years after he "left the building".
Tom Jones and Engelbert Humperdink are still performing, yet the media laps-up every tiny piece of gossip that includes Elvis' name!
(News, Source;Marty/ElvisInfoNetwork)
---
Did Engelbert Humperdinck influence Elvis' look?:

Singer Engelbert Humperdinck has recently told the media that he has the high-collars and sideburns first. "I had them in 1965 and Elvis put his on in 1972! The true story is this, Elvis had a lady sketching him to find an outfit for him to go on his world tour. That's where the white jump suit came in. She designed this white jumpsuit with the high collar and the long black side-burns. She presented it to him and he went (in Elvis voice)

'Hell, that's not me, that's Engelbert Humperdinck'.

So therefore you know who had it first".

Elvis and Engelbert were great friends. 'I loved the man,' he said. 'The first time I met him he had come to meet me. He came to see my show first before I went to see him. Believe me, it took me a good 10 minutes to quieten the audience down once I introduced him. He stood up and he had a cape on and he opened the cape as he stood in the booth in Las Vegas with the cape open like Batman. The audience went absolutely berserk and I said 'shhhh, this is my show'. No, I couldn't quieten them down. So I brought out some of my big gun songs to try - which worked in the end. Elvis came backstage and he said 'thank you very much, what a great show'. This is how humble he was. He said 'thank you for introducing me'. Elvis! I said 'Elvis, I can't thank you enough for being at my show'.

Elvis was such a nice guy, a very nice guy.

"

(News, Source;SanjaM/ElvisInfoNetwork)
---
---
Marty Lacker receives Beale Street Blues Note Honor: On sunday Marty Lacker was honored with a Beale Street Blues Note, the equivalent of a Hollywood Walk Of Fame Star. The pictures of the event were taken by Sandi Pichon, longtime Elvis fan.
Lacker started his entertainment career in radio in 1957 and a few years later his former high schoolmate, Elvis Presley, asked Marty to work for him. Marty was with and close to Elvis for 20 years and served as his right hand man for a number of years as well as being his Co-Best Man at his wedding.
Lacker was solely responsible for Elvis to return to Memphis to record for the first time in 14 years when Lacker convinced Elvis to record with Chips Moman resulting in "Suspicious Minds" and "In The Ghetto' as well as other hits. It was a few months after that Moman asked Lacker to run American Studios for him which he did for a couple of years before opening his own company, Mempro,Inc. serving the entire Music Industry.. While at American, Lacker became one of the leaders of the Memphis Music Industry and produced, directed and wrote three highly successful Memphis Music Awards Shows featuring many of the big named artists who recorded in Memphis at the time as well as attended by most of the executives of the national music industry.

(News, Source;ElvisInfoNetwork)
---
Marty Lacker to get Beale Street Blues Note Honor this Sunday November 7th: It was announced today that Marty Lacker will be honored by receiving a Beale Street Blues Note, the equivalent of a Hollywood Walk Of Fame Star this coming Sunday, Nov 7 at 5pm
Also receiving a Blues Note at the same time will be Chips Moman, the acclaimed record producer who produced Elvis' 1969 sessions at American Studios,Memphis. Moman is also noted for producing over 100 other big hit records by a number of major artists.
Lacker started his entertainment career in radio in 1957 and a few years later his former high schoolmate, Elvis Presley, asked Marty to work for him. Marty was with and close to Elvis for 20 years and served as his right hand man for a number of years as well as being his Co-Best Man at his wedding.
However, it was not really his association with Elvis that has brought this honor to him but his years after leaving Presley's payroll to become a vital part of the Memphis and National Music Industry. In 1967 Lacker started Pepper Records at which time he discovered Rita Coolidge and produced her first couple of hits for her. While at Pepper he also produced some young R&B groups with the help and songs of his close friends Isaac Hayes and David Porter.
Shortly after, Lacker was solely responsible for Elvis to return to Memphis to record for the first time in 14 years when Lacker convinced Elvis to record
with Chips Moman and his American Studios Rhythm section. resulting in "Suspicious Minds" and "In The Ghetto' as well as other hits. It was a few months after that Moman asked Lacker to run American Studios for him which he did for a couple of years before opening his own company, Mempro,Inc. serving the entire Music Industry.. While at American, Lacker became one of the leaders of the Memphis Music Industry and produced, directed and wrote three highly successful Memphis Music Awards Shows featuring many of the big named artists who recorded in Memphis at the time as well as attended by most of the executives of the national music industry.
(News, Source;ElvisInfoNetwork)
---
Demystifying an Elvis myth - Aloha viewing audience figure in question!!: Was Elvis' historic Aloha From Hawaii satellite show witnessed by more than 1 billion people as is often claimed? Elvis author, Alan Hanson, says NO!! (See Marty Lacker follow-up below)

"In January 1973, Elvis gave a benefit performance at the Honolulu International Center Arena in Hawaii … Titled Elvis: Aloha from Hawaii, the program was the first worldwide television broadcast, and more than a billion people eventually watched this one performance—roughly a third of the world's population at the time." — Elvis for Dummies © by Susan Doll, PhD, film and pop culture historian

I hate to single out Ms. Doll, since she is only the latest in a long line of writers and internet bloggers who have perpetuated the above myth surrounding Elvis's 1973 television special. And it hasn't been just star-struck Presley admirers who have peddled these ridiculous assertions. Even TV Guide, a respected publication that should have known better, bought into this Presley fairy tale. In its issue for the first week of January 2000, the magazine asserted, "Number of people who tuned into Presley's 1973 special, Elvis: Aloha From Hawaii, via satellite: 1.5 billion."
To see how this Elvis fable got started, let's first go back to 1973. Shortly after midnight on Sunday, January 14, 1973, Elvis took the stage in Honolulu. His performance was broadcast live by satellite to countries in the Far East and Oceania. Later that day a delayed broadcast of the show was beamed via satellite across Europe. Almost three months later, on April 4, 1973, an expanded version of Elvis: Aloha From Hawaii was broadcast in the U.S. on NBC-TV. Reviews of the show were mostly positive, and the concert soundtrack became Elvis's first #1 LP in eight years.

To track the source of the show's over-hyping, however, we must go back four months before Elvis's performance in Hawaii. On September 4, 1972, Colonel Parker called a press conference in Las Vegas to announce Presley's upcoming satellite special. Elvis was in attendance, as was Rocco Laginestra, president of RCA, which would produce the show using its communications satellite.

Parker issued a laundry list of Elvis "firsts": In an announcement released prior to the news conference, Parker outlined several what he called historic "firsts" for the broadcast: (1) first entertainment special to be broadcast worldwide via satellite, (2) largest audience to ever see a television show, "in excess of one billion people," (3) "the first time in the history of the record industry" than an LP would be released worldwide simultaneously.

Parker's final "historic" claim is legitimate, I suppose, but there seems nothing significant about it. RCA could have used its foreign licensing system to do the same thing years earlier. It didn't because there was no apparent commercial advantage in issuing an album on the same day around the globe. Whether releasing the Aloha From Hawaii LP everywhere simultaneously was a good marketing move or just publicity hype is a debatable question, but one of little import.
The other two supposed "firsts" for Elvis's Hawaii show, however, were clearly misleading and phony claims churned out by the "Colonel Parker Propaganda Machine." It's surprising that the reporters at the 1972 press conference didn't see through the sham immediately, and it's absolutely amazing that Parker's bogus claims have been reported as fact over and over again ever since.

Let's start with the notion that the Presley show would be broadcast "worldwide." According to Peter Guralnick in his Elvis biography, "six rows of Elvis Summer Festival hats festooned with the names of each country in which it was hoped the spectacular would be broadcast" were displayed at the press conference. An article in the Honolulu Advertiser reported that Laginestra "indicated that at least 34 nations will tune in to the Presley show." Even the most gullible of journalists present should have realized that 34 nations don't qualify as a "worldwide" broadcast. (A quick look at the World Almanac reveals that in 1973 there were 140 countries in the world with more than a million in population.)

Mao and Uncle Joe were no Elvis fans: Keep in mind that the satellite feed was available only to those nations who had signed a licensing agreement with RCA to broadcast the show in their countries. At the news conference, Laginestra said RCA was "talking to the Russians and (we've) started negotiations with China" for possible hookups (Billboard, 12/16/72). There has never been any evidence, however, that Aloha From Hawaii was ever broadcast in China, Russia, or any other communist nation. (That didn't stop Susan Doll from speculating that, "Even parts of Communist China supposedly tuned in.")

Various reports indicate Aloha From Hawaii was eventually broadcast in Japan, South Korea, Hong Kong, the Philippines, South Vietnam, Thailand, Australia, New Zealand, Canada, Mexico, the United States, and 28 countries in Europe. That's 38 nations plus the British protectorate of Hong Kong. The special was not broadcast in any country in Africa, South America, the Middle East, or South Asia. In fact, among the world's five most populated countries in 1973, only the U.S. saw Aloha From Hawaii. So at long last, can we please dispense with the assertion that it was a "worldwide" broadcast?

Now, what about the claim that over a billion people actually saw the Elvis special? Remember that Colonel Parker's printed announcement proclaimed that "in excess of one billion people" would actually "see" the Aloha broadcast. How could he determine the actual number of viewers four months before the broadcast? The obvious answer is that he couldn't. Still, Presley pundits through the years have continued to insist that between 1 and 1.5 billion people worldwide saw Aloha From Hawaii back in 1973. (The amount 1.3 billion is the most commonly stated number.)
| | |
| --- | --- |
| The Colonel must have thought infants watched Elvis: First of all, the world's total population in 1973 was 3.973 billion. Does it sound reasonable that fully one-third of the planet's people were glued to the tube when Elvis's special aired in 1973? Hardly. Consider how many Americans tuned in to Aloha From Hawaii when it was broadcast in the U.S. on April 4, 1973. Overnight Nielsen ratings indicated that 33.8 percent of all American televisions were tuned in to Elvis's concert. But that also indicates that two-thirds of U.S. televisions were either turned off or tuned to other programs in that time slot. Now, if every family member in those 33.8 percent of households was sitting around the TV watching Elvis that evening, then the most that could be claimed is that about one-third of Americans watched Aloha From Hawaii. If barely a third of the U.S. population tuned in, does it seem reasonable that an equal amount would have done so in places like South Vietnam, where TV broadcasting only began in 1965? | |
So how was the exaggerated number of 1.3 billion viewers of the Elvis special reached? If you add together the 1973 populations of the 38 countries the actually did broadcast the Aloha show, the total comes to—you guessed it—about 1.3 billion. In what was perhaps the greatest snow job of his career, Colonel Parker convinced four decades of Elvis experts and fans that every single living person in 38 countries tuned in to Elvis: Aloha From Hawaii in 1973. Just in the U.S. alone, the Nielsen ratings make it clear that, at the very least, 140 million Americans were doing something other than watching Elvis that April evening.

Even the idea that Aloha From Hawaii was the first broadcast of its kind is flimsy. "The claim that this was the first worldwide satellite broadcast of an entertainment special was somewhat debatable," noted Peter Guralnick, "in that the broadcast was not actually worldwide and Andy Williams had already done something of similar nature for the European market."

Aloha concert should be allowed to stand on its own: In the end, much of the "historic" framework built around the 1973 Elvis: Aloha From Hawaii broadcast turns out to be nothing more than another example of Elvis enthusiasts trying to artificially embellish Presley's legacy with bogus big numbers and dubious claims of being "first."

The problem with such an approach is that it distracts from Elvis's real legacy—his unparalleled ability as an entertainer. His performance in the early morning of January 14, 1973, speaks for itself. Many say Elvis never looked nor sounded better in his entire career. And all that other stuff—the satellite, the dozens of countries, the millions of viewers—neither added nor detracted from his performance. It should be remembered for what it was —a final remarkable performance in the career of America's greatest entertainer.
(Source: Alan Hanson)
From Marty Lacker.
Here I am once again commenting on an EIN story (above), as written about an important moment in Elvis' great legacy by someone who wasn't present at the time!

Let me start off by saying this guy is nitpicking and who's to say he is factual.

The day after the show we were sitting in the suite in the Hilton Hawaiian Village when the Colonel arrived with a Japanese newspaper that stated that 98% of the Japanese households that had TV watched the show.

When Lagenestra and the Colonel said,"Worldwide" they used that term to denote that it would be viewed in countries in the world other than the U.S.,certainly there were places it wasn't seen, nothing has ever been shown in every single part of the world. As for the "First" in regards to an entertainment show via Satellite,it was in many ways and it was also the first show done on RCA/NBC's satellite.

To try to minimize Elvis' historic outstanding performance 33 years later by someone who might not have even been born then or if he was might have not been aware enough to witness the true worldwide impact, is like some uninformed Elvis fans who spout off about the kind of people Elvis and the Memphis Mafia were/are, yet they never spent one minute with any of us.

Suffice it to say, it was the largest audience in history by any artist especially for its time. I'm proud of what he did and that I had the pleasure of being there with him to see it first hand. I'm also glad that it was something that made him happy and proud.
- Marty Lacker
---
The Night John Lennon Met Elvis: OCTOBER 9th - Following our John Lennon 70th birthday story, Memphis Mafia member, Marty Lacker, sent us these comments:

Jerry Schilling must have had plugs in his ears because you couldn't miss hearing Elvis and the Beatles singing and playing.

We were gathered around the piano and they were trading Chuck Berry songs as well as Elvis singing a couple of Beatles songs. Elvis and Paul alternated at the piano and Lennon was playing a guitar. Ringo was beating on a chair because there were no drums and George took turns joining in and then going out by the pool to smoke a joint. they also sang along with a couple of records. All in all they jammed in that fashion for at least 30 minutes.

It's funny that Ringo has no recollection of it as he stated during an interview and George one time said they did and another time they did not. My ears and the ears of most of the wives and kids that were there listened intently and I have always had a very good memory.
---
Marty on Dee Stanley and her sensationalistic book.
Here I am again to comment on another piece of crap written by one of the most sleaziest people in Elvis' life, Dee "******" Stanley. I prefer to call her Stanley as opposed to "Presley" so I don't denigrate the Presley name in connection with her any further.

This is a woman who Elvis despised, he didn't really like being in the same room with her but did so at times to appease his father.

Sleep with his mother? Not in the way she tries to make it seem. What that was was just as normal for most little kids when they are scared and feel alone they jump in bed with their parents or parent. It occurred when his father was sent to prison in Mississippi when Elvis was a little kid in East Tupelo.

As most know who have visited Elvis' childhood home in Tupelo it consisted of two rooms and one bed. When Vernon was sent to Parchman Prison, Elvis would sleep in the bed with his mother to both feel safe and because he got to sleep IN A BED! This piece of trash Stanley tries to make it into something else. Elvis adored his mother just as any child does. trust me when I say, if the nuts who think Elvis is still alive were right, he'd travel to Nashville and kill this bitch.

As for Elvis and Nick Adams, Elvis liked the actors who were in 'Rebel Without A Cause', Nick,Natalie Wood and he admired James Dean. He got to meet Nick in the 50's as he did Natalie, he dated Natalie but trust me, he did not date or have anything sexual with Nick. We didn't know Nick was bisexual until many years later when Nick was no longer around Elvis and us. Nick was always straight with us and he was a lot of fun because he was crazy. If every male was as heterosexual as Elvis there would be no Gay men in the world.

Thank G-d for friends like Ann Margret who have always told it like it is and remained close in Elvis' heart and it seems he in hers too.

May I make a suggestion to all Elvis fans, don't be inquisitive in what this piece of trash lies about, don't buy the book. Don't contribute to this sleazebag who will say anything for money. This is the same woman, who among other false claims, endorsed the phony Billy Miller in his quest to milk all you fans out of your money with lies and false claims that he worked for and was associated with Elvis. He wasn't, at no time and no place. She was behind his attempt to con you.

Marty

---
VILE STANLEY BOOK PULLED: Elvis Express Radio reports that.....the vile book of disgusting lies about Elvis Presley and his mother written by Dee Stanley has now been pulled from the Barnes & Noble site. Stanley told E.E.R that she had no idea the book was published and had taken no money for the piece of trash called 'The Intimate Life & Death of Elvis Presley'.

However, Billy Stanley has made a statement that he tried to stop the book being published? Whatever the truth is we hope to find out as we have contacted Barnes & Noble to get their comment on this story.

While I am pleased that the book has now been pulled, one thing has to be remembered and that is Dee wrote the book in the first place, tried desperately to get it published in the 1990's, had excerpts...including the whole incest story....published in the tabloid paper, the National Enquirer and went on national TV in America to try to sell her stories. Remember that!
STANLEY'S COMMENT ON BOOK - As we all know, since the early 90's Dee Stanley has claimed Elvis and his mother slept together in the biblical sense. Her book was never published except for excerpts in the sensationalist paper, the National Enquirer. Now though, her book is available for download as an E-book and here are comments from Dee's sons and also from Dee herself.

Billy Stanley: "I tried to STOP it, and I had NOTHING TO DO WITH IT... This is the last time I will comment on this... Lies about Elvis will not be tolerated, by me and I am ashamed by this book...."

David Stanley: "It looks like a book written by my mother ( The Intimate Life and Death of Elvis) has been made available at Barns and Nobles via e-book. Let me make this clear - while I love my Mother my official comment on her book is that it is a pack of lies... I knew Elvis and knew him well. I am truly ashamed that my mother woul...d print such untruths. I am in no way connected to this trash."

Rick Stanley: "I have just heard of a terrible book written by my mother. It is filled with unspeakable LIES. I cannot believe I am just now hearing about this. Do not waste your time on it. This is the first we have heard of a book being done by our Mother. We are just now hearing these terrible LIES. Again we were not aware of any of this until about an hour ago."

So, Billy tries to stop it...David calls it a pack of lies and Rick says the book is lies and tells fans not to waist their money on it. Bravo to the Stanley boys on making these statements.

Dee Stanley trashes her own book: Inb a surprising development Dee Presley has also made a statement which says: "Dee Presley has no knowledge of a recently published book. She gave NO permission , NO money has been exchanged , and she looks forward to clearing up any scandalous words she may have said years ago, and who is responsible for releasing this trash."

There sure are questions raised with these comments, if Dee knew nothing about this book being released as an e-book that how could Billy Stanley have tried to STOP IT?
David Stanley

(right, shown with Elvis)

told EIN yesterday: I just came across my mothers new book on the internet, The Intimate Life and Death of Elvis. I wanted to make my position very clear on this published work. It is a pack of lies and I am deeply saddened that she continues to say such horrible untruths about Elvis. While I love my mother – because she is my mother - I am ashamed of her and her actions concerning the publications of such untruths. I speak for all of us, The Stanley brothers, in saying that this book is truly a piece of trash and in no way are we associated with it or her lies.

To the fans I admit that over the years I have said things about my step-brother that I wish I had not had said. This was motivated by a deep sense of hurt and loss. As I recently confided with my fiend Joe Esposito, I was angered by the fact that Elvis left me so soon. For this I am truly sorry. I loved Elvis very much and miss daily.

What my mother has said is disgraceful. I, along my brother's Billy and Ricky, stand by the Elvis we all knew and loved. I thank God more than ever that he was the Parent figure in my life. I will love and defend him for the rest of my life as being the greatest human being I ever knew. Shame on you Dee.
EIN Comment: Dee Presley's condemnation of her own book raises a few questions. Is the released book what she wrote or has she changed her mind on what happened? How did at least two online book outlets obtain the book to offer for "download" sale? And why did Billy Stanley know about its release and not Dee? (See our stories dated Wed 20 and Thursday 21 October 2010)
---
Latest issue of the Memphis Mafia Newsletter now out: The September 2010 issue of the Memphis Mafia Organisation (MMO) newsletter has been released.

In the Sep issue are items about the origin of the MM; info about MM members; little known MMO member, Mike Keeton; Elvis' cousin, Gene Smith; and MMO members questions answered.

For more information on this ONLINE newsletter contact Marty Lackar.
---
Marty Lacker responds to Desiree story on Thursday 22 April: Thanks to Marty for this amusing response to our item, Happy Birthday Desiree, on Thursday:

I read the story about the new Elvis album for his first born daughter, Desiree's, birthday in Vegas. I think it's wonderful for someone to inform you of that in an email because we always enjoyed Elvis Baumgartner, the famous Vegas Street Corner wino's performances and his imitations of Elvis Presley, they were priceless and humorous. It is touching that he always thought of his daughter Desiree as he stood on that corner and tried to croak out the lyric's of EP's songs, even though half the time he was drunk as a skunk. We never knew he had a daughter or a family. I would guess that he is no longer with us and I hope he's resting in peace. His daughter Desiree should be happy to listen to that album.

Now I have to go call EP's first born son, Lamar, I have to continue to try to talk him into changing his name back to Presley instead of the name he chose to use, Fike.

(24 April 2010)
---
Marty Lacker responds to Elvis and the coal mine tax fraud: Thanks to Marty for his comments on our story from last Tuesday:
The coal mine deal was all Vernon Presley's idea but he used Elvis' money. That's what happens when you allow someone unsophisticated and unknowledgeable in financial matters to handle your money.
The funny thing is that both Alan Fortas and I told Elvis that his money should and could be working for him if he would invest with legitimate and proven successful investment brokers. He told us both at different times to speak with his father if we knew of good information. When both of us, again at different times, went to the office to speak with Vernon he told us to mind our own damn business. When Elvis asked us what his father said, he just shrugged as if to say,"That's Daddy", after we told him what Vernon's answer was.
The two times Vernon invested Elvis' money they both failed. The coal mine scam and a used car dealership.
However, unfortunately it makes Elvis look like the person scammed.
(25 March 2010)
---
The Memphis Boys - great new book release!: Thought you might like to let your readers know about a great new book that just became available today that features a very detailed and definitive chapter about Elvis' American Studios '69 sessions.
The book is called The Memphis Boys The Story About American Studios by Roben Jones.
In addition to the detail about the sessions, this book is a complete detail of all the years of hits from American Studios and is full of reminisces of each and every session cut there by Chips Moman,Tommy Cogbill, the American Band as well as songwriters. It also has knowledgeable comments by a number of highly successful people from other studios who are in awe of the accomplishments of the American guys.
I am also proud that it includes the work I did at American and the contributions I made to it as well as many first hand quotes from me. I would still recommend it even if I was not in it. Everyone who had anything to do with that studio from beginning to end has made contributions to the book and you will learn of many inside anecdotes on the recording of some of the biggest records in the history of the world. You'll also learn the reasons why Chips turned down producing The Beatles as well as Bob Dylan after Elvis recorded there.
Anyone who has any interest in music would be remiss in not reading this book.
You can find out more about obtaining the book by going to the publisher, The University of Ole Miss Press at www.upress.state.ms.us (3 March 2010)
---
The spelling of "Aaron": Following our story yesterday (3 Feb 2010) about documents uncovered by Elvis researcher, Patrick Lacy, we received this message from Memphis Mafia member, Marty Lacker:
For those who have not read my book Elvis Aaron Presley: Revelations of the Memphis Mafia (later re-issued as Elvis and the Memphis Mafia), here is the full story of what Patrick Lacy refers to when he mentions my name in his findings about the true spelling of Elvis' middle name Aaron, not Aron.
In December, 1966 in the basement den with Elvis, his father, Richard Davis and Mike Keaton, we were talking about something that had to have his name on it. Out of the blue I said to Elvis,"You know with your knowledge of the bible, how come your middle name is spelled with one "A" as opposed to the biblical spelling, which is normally used, that of Aaron with two "A's?" He answered while glancing at his father then back to me,"Well you know back then some people didn't know how to spell or spell someone's name." He was referring to Vernon giving Elvis his middle named to honor Vernon's best friend in Tupelo, Aaron Kennedy.
So when Vernon went to register his name for the birth certificate he misspelled the name when filling out the form. What's ironic is that the Dr. who delivered Elvis, when filling out the required birth record that he was legally bound to do, he spelled Aaron with two "A's" on the birth record. What makes it even more unusual is the Dr. wrote Elvis' first name as Evis because when he asked Vernon the name, Vernon always,for whatever reason, didn't pronounce the "L" in Elvis and called him Evis. I have a copy of the birth record and it plainly states in the Doctor's handwriting Evis Aaron Presley.
So after Elvis saying that about the spelling, he further turned to his father and said,"Daddy from now on, on any legal document or anything else I want you to spell my middle name with two "A's." And there you have the reason why the spelling was changed from one "A" to two "A's."
Marty
The story that Marty responded to:
Aaron or Aron?: Elvis researcher, Patrick Lacy, uncovers important new evidence: Patrick Lacy, author of the excellent book, Elvis Decoded, debunking many of the myths and erroneous beliefs in the Elvis history has uncovered new evidence on the controversial issue of the spelling of Elvis' middle name.
As many readers will remember, the mystery surrounding the conflicting spellings is a major part of the 'Is Elvis Alive' conspiracy theory.
---
Unfair comments made about the Kings Ranson Exhibit and Sonny West: I read with interest your article on Friday (8th) regarding Elvis Matters Review of the Kings Ransom exhibit in Vegas and I think it was totally unfair and a dis-service to the efforts of two super Elvis fans and genuine nice guys, Russ Howe and Bud Glass.

These two guys have collected good Elvis memorabilia over the years even though they have regular jobs just like everyone else and had very little money to pay the exorbitant prices for memorabilia that some have charged. All they wanted to do is provide fans and the public a regular opportunity to see some of Elvis' stuff but most of all their efforts have really been to help keep Elvis' memory alive.

I would like to recommend that anyone who visits Vegas and has any slight or great interest in Elvis and his life should go see the Exhibit and I'm kind of surprised at Elvis Matters for downing it.
As for their remark that Sonny is a traitor, they need to grow up and get real! Sonny is not a traitor and he's someone who put his life on the line for Elvis for many years and his great love for Elvis has not diminished one iota since then. A traitor for telling the truth in hopes that Elvis would stop doing what he was doing to himself? There should have been more willing to do it.
(10 Jan 2010)
EIN Note: Marty's perspective on the Kings Ransom Exhibit is supported by others who have posted on the message boards.
---
The truth about Elvis at the American Sound Studio: Marty Lacker has told EIN that stories included in George Klein's recently published memoir have more than just stretched the truth. Marty says:

Speaking of books and some of the fiction that has been written in regards to Elvis and his world, I was just sent an excerpt from George Klein's book by a fan in Ireland that was on the Fox News' Fox & friends website and in all my years I have never heard such outright lies.

Basically what George has done has taken part of my description of the night I talked Elvis into recording at American Studios in January, '69 and replaced me with himself plus some unbelievable and totally untrue embellishments. He has even conveniently added a couple of dead people to the scene who cannot contradict him by saying Tom Diskin and Freddy Bienstock was at the Graceland dining room table when he said he told Elvis about Chips Moman and got him to record there. Diskin and Bienstock were not there.

He also said Priscilla and Esposito were at the table and they weren't and he completely leaves out the part that I had talked to Elvis about it in what is known as the Jungle Room before everyone went into the dining room, in which he was silently present along with Sonny,Lamar and Felton Jarvis. He even put himself sitting next to Elvis at the table when it was actually me sitting there after I called Chips at home and talked to him about recording Elvis with Felton standing next to me.

Sadly what Klein forgets that there were witnesses to the whole event who will further make him a liar. If this is a sample of what is in his book, I suggest that if you really want to waste your money on it, look for it in the Fiction section of your favorite bookstore. My complete description of that entire night was written years ago in my two books, Elvis: Portrait Of A Friend and ELVIS AARON PRESLEY: Revelations From the Memphis Mafia and anyone who is familiar with both books will see that my recollection is word for word in both books.

I am fortunate to have what is known as a photographic memory, not only do I remember the words spoken at the same time I am experiencing a pictorial rerun in my mind while I'm telling the story. I remember conversations word for word as well as who is present and where they are standing or sitting.
I have no need to make things up to make myself feel better. I am just happy and proud that I was a close longtime friend of Elvis' and we both shared each others lives with the other original MM. I'm equally as proud to have had the opportunity to do things for him that made his life and career more enjoyable for him and better. I'm also happy that he was aware of things I did and was very verbally appreciative of it.

How sad and miserable George's life must be that he has to constantly lie about things. It's a shame he can't be happy just to have been a good friend of Elvis' instead of coming up with the lies to either make the fans or himself look and feel better about him.
Marty goes on to say: This is exactly how it happened word for word, blow by blow and Sonny and Lamar are my witnesses. Unfortunately Felton is no longer with us or he'd verify it. Chips has publicly stated a number of times that it was me who did it.
The time was the evening of Thursday January 9, 1969 the day after Elvis' birthday. We were sitting in what is now known as the Jungle Room although we called it The Den. Elvis was sitting in the big chair next to the window facing the waterfall stone wall. Felton Jarvis was sitting on an ottoman in front of and facing Elvis. On the couch next to Elvis' chair sat George Klein, Lamar Fike and Sonny West. I was sitting in the chair up against the
wall to the left of them.

Much to my chagrin Felton was discussing with Elvis about his session coming up the next Monday in Nashville and Felton was asking Elvis what musicians he wanted. Because I was tired of Elvis continuing to record with those same old tired Nashville musicians who were primarily country and played the same old licks on almost every record I wanted Elvis to record with Chips Moman and his American Studio rhythm section because after becoming part of the Memphis Music Industry a couple of years before then I had quickly realized how creatively great those guys were which is why by that time they had produced over 100 big hits in that tiny studio using the same six man rhythm section. It's also where I produced Rita Coolidge's,(who I had discovered and signed to my new record label) first couple of hits using those guys. I felt that Elvis and them would be a perfect match because they all came from the same southern background. I just wanted Elvis to once again have big hit records and be back on top of the charts where he belonged.

So while listening to Felton, I unconsciously was shaking my head back and forth as if to say, "Oh NO not again!"
Elvis saw me and looked over and said,"What the hell's wrong with you?" I once again, as I had mention Chips to him before said,"I just wish for once you'd try Chips Moman and his rhythm section, they're great Elvis." he gave me his usual answer, "Maybe someday." Not once did George make a peep. The comment George makes in the book about none of us would speak up to Elvis because he gets mad, is a crock. That was solely George's mentality because he was scared that if he said something Elvis might not like it and cut George off when it was gift giving time. Some of the rest of us original guys had no problem suggesting things to Elvis especially if we thought it would benefit him. Most of all we weren't there for gifts or money.

Just then Lottie the maid came out of the kitchen and said dinner was ready. Everyone got up to go in the dining room but me because I did not want to go in there and listen to them discuss the Nashville session. Elvis said to me,"C'mon, let's go eat." I told him I wasn't hungry and he knew I was lying because he knew I never saw a meal I didn't like, especially steak which was being served that night. So I kept sitting in the chair talking to myself about that session.

It wasn't more than thirty seconds when Felton came out and said, "Elvis wants to see you in the dining room." I told him,"With all due respect Felton I have no desire to sit there and hear any more about your Nashville session." He then said,"No, Elvis wants to cut in Memphis." I asked if he was kidding me and he said no. With that I was out of that chair in a flash and in the dining room. With Felton standing next to me I said to Elvis,"Is he kidding me, you want to cut in Memphis?" he said,"Yes, but I have to start Monday night." He then said,"You and Felton set it up with Chips Moman."

Felton and I went to the front hallway to the phone and I called the studio,they told me Chips was at home so I called him there. I said, "Lincoln,(his real name), do you still want to cut Elvis", he said, "Hell yes." I then said,"Well you got him but you have a problem. He has to start Monday night and you already have Neil Diamond booked." Chips said,"Screw Neil, he'll just have to be postponed." I then told him the session had to be a closed one and nobody who does not have anything to do with it cannot be invited. He said,"No problem, you can handle that." He said that even though I was not working for him at that time I didn't become General Manager of the studio until a few months later when he asked me to. I then handed the phone to Felton who made the financial deal with Chips on behalf of RCA.

When he got through with that we went and sat at the table where I sat next to Elvis on the right. The chair that George now says Elvis told him to sit in. I waited until he finished eating and then I said, "Elvis would you do me a favor?" He asked what. I then said, " With this session you're gonna have a great and talented producer and some of the most creative and talented musicians, the sound of the studio is fantastic and we all know you can sing, would you please get some good songs this time?"He looked at me and said, "Well I was waiting to finish eating and then I wanted you to come upstairs and listen to some new songs by this new songwriter, Scott Davis."that was Mac Davis' real first name. We went upstairs to his room and he played a tape of songs to me and the guys including, "In The Ghetto" and "Don't Cry Daddy." I was happy because they sounded like hits to me. there was also another song I liked called,"Home" but he didn't do that one, I wish he did.

That is the full and complete story of how Elvis got to record at American Studios in 1969. (10 Jan 2010)
---
Marty Lacker talks about Elvis and The Grammys: Elvis' close friend Marty Lacker responded to our story (see yesterday news below) about the Wertheimer exhibition at the Grammy's museum. The lack of respect that Elvis received in his lifetime from this institution still upsets Marty Lacker to this day.

Marty Lacker > "Reading your story about the Elvis Grammys exhibit in a way makes my stomach turn because of the way the Grammys treated Elvis while he was alive and now they're acting like they have been/are his champion.

To begin with other than the Living Legend Award, the only Grammys Elvis ever won was for 2 or 3 of his Gospel Records. None of his records from the 50's or 60's, the ones that changed the world's music was ever awarded a Grammy. Even though they were some of the most important and biggest records in music history and if he hadn't come along there might not be any Grammys or much of today's music.

However the biggest injustice done by the Grammys happened in the early 70's. This story was told to us by Colonel Parker. He received a call from Pierre Cossette the longtime producer of the Annual Grammys Award Shows he told Parker that the
Grammys would like to present to Elvis A Lifetime Legend Award. Parker told them that was nice of them. Pierre then said,"We'd like Elvis to do one song on the show after we present him the award." Parker asked him how much they were paying. Cossette told him the Grammys (NARAS), which stands for The National Academy Of Recording Arts and Sciences, does not pay performers for performing on the Awards Shows. Parker then told him, Elvis does not perform without being paid and he couldn't guarantee that Elvis would be at the show either. Parker said Pierre then coughed and said he'd get back to him.

A week later, Parker got a call, this time from Pierre's assistant telling him that since Elvis wouldn't sing they no longer were going to give him the award. How petty and chickenshit was that?

During the 70's I had made a name for myself in the national music industry and in addition to that I was the co-founder of the Memphis NARAS Chapter, (Grammys) and I was on the National Board Of Governors of NARAS representing Memphis. One of my good friends, Ron Alexburg who at the time was VP of Columbia/Epic Records in NY, came to Memphis for a meeting with me and my partner as our company represented his records in the south. I told him the story and he got mad and he and I went on a tirade to NARAS about the shabby treatment to Elvis and that of all people he should get a Living Legend Award.

Two weeks later, on a Monday, when I received the big music magazine issues for the week, I open Cash Box magazine and lo and behold there's a picture of Bobby Vinton and national promotion man, Pete Bennett presenting Elvis The Living Legend Award on behalf of the Grammys in his Vegas dressing room. They didn't even have the decency to give it to him on the next awards show. I never told Elvis about what I did.
- -- I just wanted to set the record straight with the truth of the matter. (4 Jan 2010) EIN thanks Marty for his ongoing contribution.
....................Marty's Musings in 2009......................
Why Cybill Shepherd dumped Elvis!: Actress Cybill Shepherd has revealed that she dumped her one-time boyfriend Elvis Presley after he tried to make her take prescription drugs. She said in a TV interview: "He once said to me, 'Take these pills' and he had these pills in his hand. I flushed them down the toilet." Moonlighting star Cybill, 59, who dated Elvis in 1973, said after that she returned his emerald and diamond ring.
She also compared Michael Jackson to Elvis, saying: "That level of fame is unsurvivable". (News, Source: mirror.co.uk, 7 Sep 2009)
Marty says:
Cybill is continuously using Elvis for publicity because of the fact that she's basically over the hill in Hollywood and she can't get any on her own. The fact is, she was the dumpee not the dumper.
---
The Colonel and song publishing royalties - a "black mark": Marty Lacker sent us this message:

Here's an interesting tidbit you might want to share with your readers.

In the 70's, mainly because Colonel Parker and Freddy Bienstock didn't want me to bring any good songs to Elvis, as I had been doing, because they didn't have the publishing on them, they told people like Esposito and Felton Jarvis not to tell me when a recording session was coming up. That resulted in Elvis not being the first to hear the demo of a great song that turned out to be a big hit by someone else.

In my Memphis Music business,Mempro Inc., I represented a number of national music publishing companies as well as record labels. Elvis of course knew all about this because I never kept anything from him, including the fact that when I got a song recorded I made money from it as that was part of my business. He also knew that when I played a song for him sometimes but not always, I would earn money from him doing that and he had no problems with it. He also knew I played songs for him that I did not make money from, I just thought they'd be good for him.

The demo I was the first to have as it was given to me by my good friend Alan Ryder of Irving/Almo music, the publishing company owned by A&M Records, was,"I Honestly Love You", written by Peter Allen who sang the demo. As most know, Olivia Newton John had her biggest hit with that beautiful song. Elvis never got to hear it. If he had, Olivia might not have had as big of a career. (24 Aug 2009)
---
Marty Lacker on the American Studio Sessions/RNR Hall of Fame:

"I read with interest the piece by Trevalian you are running today about the release of the American Sessions and I take note of his mentioning that the Rock Hall of Fame will be making their 25th Anniversary selections for the Hall. I would like to suggest that this is the perfect time for Chips Moman and the six American Studio rhythm section musicians be inducted into the Hall this coming year.

I would like to urge all your readers and all Elvis fans to write the RNR Hall Of Fame Selection Committee and nominate Chips and the musicians for induction. Not only should they be in there because of Elvis but also because of the 120 plus hits they have recorded at American using the same six musicians as well as Chips producing 95% of those hits.

Write the selection committee at:

Rock and Roll Hall of Fame Foundation
1290 Avenue of the Americas

Second Floor
New York, NY 10104

The Foundation is the one who makes the selections not the actual Hall which is in Cleveland, Ohio." (23 June 2009)
---
Marty Lacker's strong feedback to The American Spectator: Further to our news item on Sat 14 March, Marty has provided EIN with his letter to The American Spectator about its cover article, Osama bin Elvis:
I have just seen the cover of your latest issue where you compare Osama Bin Laden with Elvis and your drawing of Elvis looking like a clown.
You have a self proclaimed reputation of being a Patriotic American publication primarily because you mainly represent the narrow minded rightwing and this is the way you treat an Amarican Icon like Elvis?
I'm not some Elvis fanatic, I am someone who was with and close to him for twenty years and I and others take your the cover on your rightwing rag as an insult to Elvis' memory and legacy.
I would not be surprised by learning your illustrator and editors had a good laugh when doing that cover, thinking how amusing and clever you are. I hate to break it to you but you all are the clowns and you should all be ashamed of yourself as well as apologize in your next issue to Elvis, his family, friends and fans.
Thank you,
Marty Lacker
Memphis,Tn.
---
"Osama bin Elvis" right wing propaganda: Marty comments on EIN's lead story on 14 March 2009:

"The American Spectator is a staunch rightwing magazine in the US and I think it's disgusting that they use Elvis, an American Icon, in this manner on the cover of their rag publication. The only good use for that magazine is to start a fire in your fireplace.

" (March 14, 2009)
---
Become an Honorary member of the Memphis Mafia!!!:

EIN received this message from Lamar Fike and Marty Lacker:
"For many years since Elvis passed away, we, as original members of the Memphis Mafia, have marveled at the way millions of you worldwide Elvis fans have stayed with him and in many ways have made him into the cultural icon that he deserved to be. We greatly have appreciated the way you have diligently kept his memory alive. Over time we have discussed ways we could show you our appreciation and honor your efforts.
In that light, we have decided to honor your efforts and fandom by offering you the opportunity to become honorary members of the Memphis Mafia organization, you've earned it. We have many exciting things we are planning for the organization in the near future months and years and as a member you will have the exclusitivity of being able to participate in these exciting events and offerings.
This a first, a never before offered opportunity for you the faithful Elvis fan. (6 Mar 2009)
You can learn more by clicking on this link: http://cgi.ebay.com/ws/eBayISAPI.dll?ViewItem&item=260372620850
---
Elvis' Tour Bus and Cadillac coming to Tupelo - not quite what it seems!: Memphis Mafia member, Marty Lacker, contacted EIN after our story on 2 March about our story on the Elvis Tour Bus. Marty says:
"I read your story today about the Kinards supposedly having Elvis' bus and Cadillac.
Elvis did not own a '57 Pink and Black Cadillac, the only pink car he had was the famous '56 Caddy that he bought for his mother and that stayed at Graceland and as far as I know is still there.
Secondly, his bus was not an MCI it was a Flex.
My question to is:WHAT THE HELL WAS ELVIS' SUPPOSED VEHICLES AND MEMORABILIA DOING IN A SPORTS HALL OF FAME? He wasn't an athlete, he was a entertainer.
Just to be sure of my memory, I checked with some of the other guys.
Bill Kinard clarified for us that in fact it is the bus that Elvis bought for JD and The Stamps. It was not the bus Elvis owned that we used back in the 60's. Elvis did not use this bus at any time." (4 March 2009)
---
Memphis Mafia immortalised.......thanks to the (very rich) 'Memphis Mafia, Choc and PB with Choc Sauce Donut': Following an enquiry we received for Memphis Mafia member, Marty Lacker, Marty responded to us with the following interesting item:

"I called the guy the other night after I saw a show here called Man Vs. Food. The hosts travels the country and eats humongous amounts of food at different restaurants and bakeries I to see if he can eat it all. He did a segment from this guy's doughnut shop in Portland, Oregon where the guy makes 70 different kinds of doughnuts and he names them all.

He named one,"The Memphis Mafia" and that surprised and shocked me when I heard it while watching the show, so I decided to call him after the show and say thanks. It always amazes me when I hear people recognize us, especially when it's about unusual things.

Elvis would be laughing his ass off and loving it." (13 Feb 2009)
EIN Note: We managed to track down the above photo of the donut (Source: Kelly H.) which is fully titled:
The Memphis Mafia, Choc and PB with Choc sauce over an apple fritter
....................Marty's Musings in 2008......................
Marty Lacker responds to Kanye West: Marty Lacker responded to our link story yesterday saying:

"Kanye West's mouth is a joke as is his estimation of himself.

Tell him to come back after he's sold over a Billion records and we might take him serious. What Kanye does not understand, primarily because he was not born back when Elvis started, is that Elvis did not just cut hit records and become a sex symbol to millions of girls and women, more importantly, he changed the culture of the world.

If there had been no Elvis there's a possibility that we would not have known or enjoyed the many years of Rock N' Roll and the artists who sing it and there might not be such a thing as hip hop or rap. That's not a hollow statement because I was close to Elvis, it is based on how music evolves and one style leads to another through the influences of those who come before you.

West has a huge ego and one of these days nobody's gonna want to listen to him anymore and he's the kind who will go into a great depression because of it." (30 Nov 2008)
---
Elvis & Vernon - DNA issues - a Memphis Mafia view: Following our recent news items about Eliza Presley and possible illegitimate offspring of Elvis', prominent Memphis Mafia member, Marty Lacker, has told EIN:

"I have read the stories by Eliza What's hername and by the fan wondering about any illegitimate children fathered by Elvis and I felt it was time for us to come clean.

I am writing this for myself and on behalf of Lamar Fike and we'd like to inform you that Elvis was not really just our friend, he was really our birth father. Because he was so special and worked miracles he fathered me when he was two years old and he fathered Lamar when he, Elvis, was only 11 months old.
The chances of that being true are about as good as Eliza being Elvis' half sister or that there are any illegitimate Elvis children out there. I can assure you if there had been any children outside of Lisa Marie, the mother would have immediately come forward for big bucks. Just as Eliza's mother said she would have if it was true that Vernon fathered Eliza or whatever her real name is. Her mother effusively stated Vernon is not her father.
In other words, STOP THIS NONSENSE. Most of you claim to be good Elvis fans but those of you who believe or foster this nonsense don't prove that by your actions. This nonsense besmirches Elvis' memory and those of us who were close to him are tired of reading this crap.
The above is not directed at EIN because they do a wonderful job of keeping his memory alive as many fans do.
As Nigel and Piers have always told me, all they do is try to be fair by printing almost everything about Elvis people send them and let the fans make up their own mind about it."
EIN Comment: Thanks Marty! Marty does not always agree with what EIN publishes, for as he says, we publish a very broad cross-section of what is happening in the Elvis world. Despite assertions (from time to time) to the contrary, EIN does not support, nor endorse, a number of views we publish. For instance....EIN has always maintained Elvis died on 16 August, 1977. We stand by that belief today! (23 Nov 2008)
---
Strong response to the Rabbi's view on an Elvis stamp!: Yesterday we published Rabbi Ben Kamin's opinion on why an Elvis stamp should not have been released in the US.

Your response was overwhelming, as epitomised by the following comments:
"It seems the Rabbi is willing to toss aside all the millions of hours of enjoyment and happiness Elvis brought to hundreds of millions worldwide over his twenty plus years of his career. There have been pronouncements by many individuals that his music pulled them out of depression or that it helped them get well when they were sick.
He overlooks or maybe doesn't know about, all the charitable work Elvis did in all those years to many groups regardless of race, religion or whatever.
He also makes a mistake in including alchohol as one substance of Elvis' over indulging. In the over twenty years I was close to him I probably saw, at the most, Elvis take ten drinks, if that much, of alchohol.
I'm happy that the Rabbi is an ardent Elvis fan and like all fans, he ought to just enjoy the music and leave the uninformed rhetoric out of it.
Elvis was worthy of the stamp. That honor should not be relegated to just self serving politicians." Marty Lacker
(20 Oct 2008)
---
Marty Lacker adds more to 'The story behind the Meditation Garden':

EIN thanks Marty Lacker who tells us some more fascinating facts to add to yesterday's story...
" As many fans know Bernard Grenadier was my brother in law and he and my sister, Anne, designed and built the Meditation Garden when Elvis requested he build something beautiful and peaceful for him to go to, to just think and meditate when he needed to.
That area had originally been a broken down birdbath and the columns that were there were all rotted and peeling. The grass was weed ridden.
My Brother in law got the stain glass from Spain, the curved wall that held them was made of bricks made in Mexico and the small statues that were in the Garden came from Italy. He turned that small bird bath into that huge fountain that featured fourteen different sprays as well as the colored lights and the torch pots placed around the fountain.
The first night Elvis saw it when we had just returned from Hollywood he wanted to see it by himself, when he came back into the house he had tears in his eyes. He hugged my brother in law and sister and told them he had never seen anything as beautiful.

The first night Elvis saw it when we had just returned from Hollywood he wanted to see it by himself, when he came back into the house he had tears in his eyes. He hugged my brother in law and sister and told them he had never seen anything as beautiful.
The following Christmas I had a custom statue made of Jesus to give to Elvis from the MM which also had great meaning to him in his religious beliefs.
After that Elvis asked my brother in law and sister to completely redo his bedroom upstairs.
Thought your readers would like to know the whole inside story.
- Marty.
As noted yesterday: The Meditation Garden was designed and built by Memphian Bernard Grenadier (who also built the waterfall in the Jungle Room) in the mid 1960's. One of the most beautiful and mysterious features of the Garden are the four nineteenth-century stained glass windows in the curved brick wall overlooking the graves. Moorish in nature and religious in their imagery, their meaning has been the source of much speculation over the years.
Go here for images
.
(4 Sep 2008)
---
The story behind the Mediation Garden!!

The Elvis Glass tells EIN:

We would like to invite you to go to www.theelvisglass.com for details on an incredibly interesting discovery concerning the Meditation Garden at Graceland.

Please use the link on the site to view the report on NBC Memphis affiliate, WMC-TV on 8/9/2008. (3 Sep 2008)
---
Marty Lacker offering VHS copies of "All The King's Men" AUTOGRAPHED by five members of the Memphis Mafia: Marty Lacker has been doing some spring cleaning and come across something special he wishes to now part with. Marty tells EIN:

I have been cleaning my closet out this past weekend and found a box containing eight copies of a special volume one of the video series that was signed by all five of us. Only a limited amount of autographed copies were made for a special video signing the company we did it for set up at one of The Movie Gallery Video stores in Nashville. We did it in 1997 shortly after the videos were released to the public. After these are sold there will be no more autographed copies. The autographs are Billy Smith, Red West, Sonny West, Lamar Fike and me.

To be one of the lucky eight who can obtain an AUTOGRAPHED copy of "All The King's Men" email Marty for full information (26 July 2008)
---
Strong 'negative' reaction to claim about secret Elvis diary!: To say there was a strong negative reaction to our story on Friday about a secret Elvis diary being found is an understatement. Here is a cross-section of your our reader's views:
Marty Lacker: Just read the story about the professor and Elvis' secret diaries. They were so secret even Elvis didn't know about them.
What a crock.
The entries are just generalized short comments that anybody would know about. For one thing it has a comment in '65 about blowing out a TV screen. Elvis didn't do that until years later.
This story has to win the Doozy Of The Year Award!
(22 June 2008)
---
Secret Elvis diary found???: Presley kept a private journal for more than 20 years - and never told anyone about it. A college professor claims to have found Elvis Presley's secret diaries in a box of used books that he purchased in Memphis, Tennessee just weeks ago. The volumes allegedly span the years 1956 to 1977, with the last comments having been entered just hours before The King died.

"They're authentic, I guarantee it," the scholar told derekclontz.com in a taped, world-exclusive interview. "There are seven volumes containing entries that begin November 16, 1956 and end August 16, 1977.

"The diaries appear to reveal Mr. Presley's innermost thoughts and feelings about life, friends and his career. To the best of my knowledge nobody, not even the people closest to Elvis, knew these diaries existed. At least they didn't know, until now."

The professor revealed that he was in possession of The King's secret diaries in an e-mail to derekclontz.com editor-in-chief Derek Clontz on Monday, June 16. He refused to identify himself or name the city he was calling from. He did say that he teaches English literature in Mississippi. He also confirmed that he found the diaries at the bottom of a box of old novels he bought on April 15 of this year.

"It isn't clear how to diaries got into the box, and without seeing them there is no way for me to verify their authenticity," says Clontz, who has written over 200 articles on Presley since 1982 and is considered to be an expert on his death or, as fans who believe him to be alive would say, "his faked death."

"But the academic who claims to have them in his possession says two handwriting experts, both from the Mississippi's state university system, studied the diaries and concluded that they were, in fact, written by Elvis Presley's own hand. True - or false? I'm keeping an open mind. Our readers can judge for themselves."

The professor agreed to read portions of the diaries to derekclontz.com so he can gauge public reaction prior to publishing them in their entirety next Christmas.

"I can't put a price on the diaries until I see how the public responds to them," he said, "and that's why I'm giving portions of them to you for publication on the Internet. I invite your readers to respond through you. I want to know what they think."

The professor read 20 entries from The King's alleged diaries over the phone. They were taped and printed below - verbatim, with no corrections or changes - just as we received them.

1950s - November 16, 1956

Met Liberace today and that man is funny. I mean real funny. He's a showman but I don't know what I could learn from him. He's nice but he's prissy. And the woman who like him are old.

March 30, 1957

Graceland is perfect. Thirteen rooms and we're going to make it bigger and better. I knew Mama would find the right place. She loves it and so do I. Look out the windows and it just seems to spread out forever. The whole family is here and there's room for all of us.

We're going to fix it up just like we want. I wish I could see their faces now. They said I was nobody. Now nobody is somebody and they're going to know it.

August 14, 1958

Where are you, Mama? I know you're here. You're not dead. You can't be dead. You can't leave me, Mama. You said you'd never leave me. You promised. I'm not ready. Mama, I'm scared.

June 28, 1959

I slipped and almost killed myself in the shower this morning. Now wouldn't it be hell to die in a bathroom? Ha, Ha.

1960s - February 17, 1960

I wonder what the girls would think if I did marry them, even for a day? What would they think about Elvis Presley. They might not like who I really am. I'm not sure that I do. Elvis knows who he is. So who is Elvis? Mama know, don't you, Mama? Damn it. Damn it. Why did you leave me? Don't you know what I feel like? Don't you? I do and it stinks. One of these days something's going to give. I just wish I knew when.

June 15, 1961

Wild in the Country premiered today and it's worse than I thought. It stinks and I'm embarrassed to say it's my movie. When are they going to let me make a real movie? The Colonel [Editor: Tom Parker, Elvis' manager] and Mr. Wallis [Hal Wallis, producer of numerous Elvis films] must know what they're doing because people pay to see me no matter how bad the movies are.

I'm as good as James Dean. I know I am. Maybe The Colonel and Mr. Wallis will let me make a karate movie. It couldn't be any worse than what I'm doing now. It might be fun. Maybe I could talk them into getting Debra Paget [Elvis' costar in the 1956 movie Love Me Tender] to be in with me. I'd like to work with her again.

May 14, 1962

I miss you, Mama, but we'll be together again. I promise.

August 28, 1965

The Beatles are O.K. I don't know why John [Lennon] was so nervous [when Elvis and the Beatle met]. What did he think I was going to do, bite him? He said I inspired him. We played and sang some but we'd never make it on one stage. I'm a show. The Beatles are just a band.

[The Beatles - John, Paul McCartney, George Harrison and Ringo Starr - considered Elvis to be a pioneer of rock music and finally met him face-to-face at his home in Bel-Air, in California, in 1965. Rumors that they recorded a few songs during the meeting are often heard but have never been confirmed.]

September 3, 1965

I don't care what they say. I like guns. And there ain't nothing like blowing the screen out of a TV.

February 1, 1968

Lisa Marie is so beautiful I'm afraid to touch her. But when I hold her I can't describe it. I feel like a king.

January 21, 1969

In the Ghetto is a beautiful song but I wonder if it will make a difference? There's so much pain and misery in the world. I hope it does.

1970s - December 21, 1970

President Nixon has got to let me help the country. Damn drugs. Damn hippies and traitors. They're killing us. They're killing our country. The President has got to listen. I don't have enemies. Nobody would know what I was doing if he made me a federal agent. I hope he does something before it's too late.

November 15, 1971

I realized I was daydreaming on stage. Daydreaming … I started singing and the next thing I knew I was taking a bow. I must be getting old. I don't know … maybe I'm getting bored.

November 16, 1971

Day after day, city after city, show after show. The fans are all over me. I can't go anywhere or do anything without a screaming mob on my heels. Right now I don't know if I love them or hate them. If I had control it would be easy but I don't and it seems like I'd get used to it. My like isn't mine anymore. It never will be. And it's too late to turn back now.

April 27, 1973

Should I cut my sideburns? I wonder what the girls would say? I wonder what The Colonel would say? I wonder what I'd say after they went down the drain?

March 26, 1973

I wouldn't know what to do with the answers, if I had them. Sometimes I think I'd be a lot better off driving a truck.

August 27, 1974

If I have to kiss one more fat girl I'll puke. Where the hell are my pills?

June 20, 1977

Why do I bother to go on? I'm not a kid anymore. Nothing's the same. What the hell am I supposed to do? I'm tired and I'm fat. I make myself sick. Fat pig Elvis. I know God's testing me. My life is in His hands. I wish you were here, Mama. No, I don't, I wish I was there. I don't want these damn pills, but I've got to have them. I've got to get some sleep.

August 15, 1977

It won't be long now, Mama. I'm coming home.

August 16, 1977

I can't go on. (News, Source: Derek Klontz/ EP Gold, 20 June 2008 )
---
So who was the stranger in the photo with Elvis?: EIN had plenty of suggestions from fans and friends of Elvis as to who was the unknown character in the photo taken at the end of 1957, in Elvis' early days at Graceland. These included from Elvis collector Paul Lichter who believed it was a young Alan Fortas. There is a resemblance, however Fortas' close friends Marty Lacker & Lamar Fike do not agree. They think it was most likely "someone who worked on the house when it was being decorated".
Marty said, "He resembles someone who went to Humes High with us but I don't think it's the same guy. There could be a very simple explanation. He could be someone who worked on the house when it was being decorated when Elvis moved in there in '57. Let me put it this way, that picture is the first and last time we ever saw this guy's face. He had no real importance in Elvis' life. - Marty"
Other interesting suggestions were performer Bob Luman, or even Tommy Devito from 'The Four Seasons'.
EIN also discovered that one of our favourite Elvis publications, the UK magazine 'Essential Elvis' had run this same query in the past and that the strongest lead was from Elvis super-fan Tony Stuchbury. While in Memphis Stuchbury saw the photo on display with the information that the man was in fact a car salesman from downtown Memphis, probably from one of the dealerships on Union Aves. He hopes to re-confirm his facts when he visits Memphis later this year. Coincidentaly EEUK Editor Andrew Hearn also informs us that he has an immaculate colour version of the same photo which will be featured in the forthcoming MRS 'Graceland' book.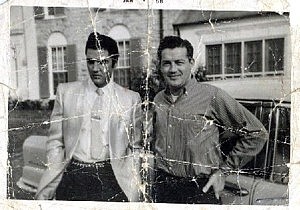 (23 May 2008)
---
EIN says to please note that yesterday's 'President Nixon taped Elvis' story was a joke. As we noted in our article below "this story has been circulated by the website TheSpoof.com!" Other sites however did not run this byline.
Marty Lacker sent out the succinct clarification that . . ."The clue to whether the Nixon & Elvis story on various websites is true or not, lies in the website in comes from--SPOOF.com. Graceland was not bugged by the CIA, Billy Miller, or any other fool that claims so. Marty" (15 May 2008)
---
President Nixon taped Elvis: Former President Richard Nixon secretly had Elvis Presley's Graceland home taped, but not for any criminal reasons.
A former aide to the white house during Nixon's term has just released an autobiography of the Nixon years and tells the story that Nixon had aspirations of becoming a crooner after his time in office.
"He ordered the CIA to tape Presley's home so that he could try and decipher what makes a hit record, but all the tapes came out with were Elvis and his buddy's goofing around. He did manage to get some great recordings of Elvis alone at the piano, in fact he got Elvis on tape going through every hit by the Beatles as Elvis seemed obsessed by their succession to his throne."
The tapes have come to light and are gonna be offered to an auction house next month.
Nixon only ever performed once at a secret gig in a small bar off Times Square under the name of Jimmy the Sneak, there were three people in the audience and no one clapped. EIN says please note this story has been circulated by the website TheSpoof.com!

(14 May 2008)
....................2007......................
Marty Lacker comments on Jimmy Velvet interview: Marty Lacker commented to EIN:
"I listened to Jimmy Velvet's interview with Shelley Powers. During the interview he was asked who made the Tree Of Life design and he said he didn't know.
Just for Powers edification you might want to let her know that it was an idea I had one night at Christmas '64 while sitting up one night at Graceland where my family and I lived for awhile. I designed it and drew it up. Then for Christmas I got the guys to chip in for the beautiful big white bible Jimmy talks about and I had the tree inscribed in gold inside the cover and we gave it to him for Christmas from all the guys.
Then a few weeks later for his birthday I had Harry Levitch, our jeweler, make a medallion necklace with the tree engraved and we gave that to him for his birthday on Jan. 8, '65. He wore it for many years". (28 Dec 2007)
Read Elvis International's Shelly Powers interview with Jimmy Velvet
---
Marty Lacker clarifies the issue of Elvis & Robert Goulet: On 24 October we ran the following story about singer/actor Robert Goulet who sadly died a few days later.
Why Elvis really shot the TV set: The myth persists that Elvis shot the TV set after seeing Goulet because he felt the singer lacked emotional connection with the song. This was discounted when it was revealed Elvis was annoyed (really annoyed) at Goulet who tried to woo Elvis' girlfriend, Anita Wood, when Elvis was in the Army.
Goulet once claimed he and Elvis were friends. We asked Memphis Mafia member Marty Lacker for his view on the friendship. Marty told EIN:
"No, not really. If Goulet came back stage once or twice in Vegas, Elvis was always civil to him as he was with just about everyone who did. He never came back while I was there. Elvis had a dislike for Goulet from the very early years while he was in Germany when Goulet wrote something on the bottom of a letter that Anita Wood had mailed him, as I talk about in the book "Elvis Revelations of the Memphis Mafia" (written with Alanna Nash)." (1 November 2007)
Elvis' footbutler to release shocking tell-all book: Elvis Presley is likely turning over in his grave from the shockwaves that are about to be felt by the release of a new jaw dropping book. On the 30th Anniversary of his death, Elvis' personal footbutler has decided to take the foot out of his mouth and tell the world his story in the book Hunka Hunka Burning Feet: The Footastic Story of Wilsie Butters, the Footbutler of Elvis Presley. Wilsie Butters was hired to be a footbutler by Elvis in the mid 1960's and continued working with the Elvis estate until 2007. The book chronicles his life with Elvis from his hiring to his death and the
subsequent relationship with Priscilla and Lisa Marie. Butters broke his silence to the What The? Morning Show on CFUV 101.9 FM in Victoria, Canada. "I know stories that will make your toes curl." Butters told host Craig Richardson, "I held Elvis' feet when he died. The King valued me so much he put in his Will that I was to stay with the estate forever." When asked if this book was revenge because he was fired for allegedly putting steroids on Lisa Marie's feet, Butter's responded, "Definitely. When I was terminated it voided the confidentiality clause I signed with Elvis. This book will kick Lisa-Marie in the Dutes – if she had any"

Butters was not formally trained as a footbutler as he spent two years as the drummer for Elvis' band. Elvis was known to have foot problems, and one day before a show in Dallas, Butters noticed Elvis was having trouble walking. He offered his assistance as his mother was a foot masseuse. After half an hour of massaging, lancing a boil and some Chinese toe physiotherapy, Elvis got on stage and performed the show of a lifetime. Butters claims that "After the show Elvis came up to me and said, 'You are my footbutler' but I am the drummer, 'Your drumming days are over boy, you are my footbutler' It was at that point I gave up my life to a higher calling – Elvis' Feet. I have not regretted it one bit."
Although he developed a "close" relationship with Priscilla, he originally told Elvis to stop the relationship because her feet stunk. "They were like a pair rotten mustard covered halibut. It took years of diet and therapy before they were acceptable to the King" Butters had numerous encounters with celebrities although he only remembers them by their feet.
"Elvis told me to look him in the feet not the eye because I was paid as a footbutler not an eye butler."
The most frightening experience he had was with O.J. Simpson. "He was jealous that I was looking at his girlfriend's feet and told me to stare at her breasts because 'that's what I paid for'".
While Butters searches for a publisher, he is planning to perform a dramatic reading from the book as part of an Elvis tribute show he is organizing with lounge singer Tommy Carson at Rick's Lounge in Laughlin, Nevada on October 9th, the 34th anniversary of Elvis' divorce from Priscilla. (News, Source: Businessportal24.com/ Charmaine Voisine)
EIN Note: EIN wasn't sure what to make of this story so we decided to ask Marty Lacker for his comments.
Marty's Response: Another bullshit story. I got his "Footbutler" up his ass. Elvis had no need for any such thing nor did he ever hire this guy or anyone else to take care of his feet except a podiatrist whose office was next door to Graceland when he had a foot problem a couple of times. Anybody who believes this guy or buys his book really needs to see a "Headbutler!" Commonly known as a psyhciatrist. (25 Sep 2007)
---
Marty Lacker slams "Britney - The New Elvis?" article: After reading our news report yesterday Memphis Mafia member Marty Lacker had this to say:
"In regards to Tony Sach's article in The Huffington Post ridiculously comparing Brittney Spears to Elvis, what a crock of crap.
The so-called journalists keep trying to compare these manufactured,choreographed artists like Britney and try to intimate that she is in the same league as Elvis as an entertainer,--NOT ON HER BEST DAY!
They did the same thing with Ricky Martin putting the onus on him as "The Next Elvis!" NOT ON HIS BEST DAY EITHER!
It's nice that some use Elvis as a standard but they are dreaming when they mention today's artists.
Most of these writers were not even born when Elvis was alive or at least in his prime and they know not from where they speak. They think Elvis was only the way he was in that G-d awful CBS Special that should have never been shown.
They need to give it a rest. Elvis in his last year was sick and bloated. But in his worst days on stage he was miles above any of these manufactured and choreographed artists today".
(15 Sep 2007)
---
Marty Lacker: I read the article regarding Elvis as a racist and it is my intention to reach Mary J. Blige and give her the real story about Elvis' supposed racism.
This rumor was started years ago by someone and has been picked up mainly by young black artists most of whom were not even born when Elvis started and they believe the crap about him stealing the black man's music and that he was a racist. That's nonsense.
I intend to tell her some things that Elvis did for black people that like everything else he did was done without publicity because he just liked to see the joy on people's faces when he did it for them.
It's getting tiresome reading this false accussation about Elvis who had a great affinity for black people.
As for stealing the black man's music, I quote the great Ray Charles, "MUSIC HAS NO COLOR!' (13 Aug 2007)
Lucille Ball confronted Elvis about his drug use: We found this message on the alt.elvis.king board interesting:
lolajo: Marty, In Sonny West's new book, he says that even Lucille Ball confronted Elvis about his drug use and she was summarily shown the door. Were you there when this happened? If so, how did this go down?
Marty (Lacker): No, I wasn't there but that's the way she was. She was pretty brassy and said what was on her mind, she felt she was around showbiz long enough to allow her to do that.

It doesn't surprise me that she was shown the door but I'm sure it was done in a nice way. The door that is. Elvis didn't care who you were if you confronted him that way, he would be nice to your face but he'd tell one of us to get rid of the person. Sometimes when someone did something like that in a challenging way he would tell them to mind their own business and get the hell out.
That's why it amuses us when some uninformed, unrealistic fan makes a negative comment about us or how we handled things, as in the case of Red and Sonny hitting that guy in Tahoe, you all don't really know everything that went on and what was done to protect Elvis and most time at his bidding. (News, Source: alt.elvis.king) (25 July 2007)
---
Rapper says Eminem is the new Elvis: Public Enemy rapper Chuck D has labelled controversial star Eminem as the new Elvis Presley. The outspoken rap star says there are a lot of similarities between the rapper and the King.He explains, "People say the same thing about Eminem that they said 40 years ago about another white kid whose name began with an 'E' and who had a lot of talent and style.""Elvis was legit, and I think Eminem is legit. Eminem is accepted by the black audience."But although Chuck D is impressed with Eminem, he admits his comparison to Elvis doesn't necessarily mean he likes him. He says, "Elvis never meant s**t to me, but still he was legit. He was a talent. He never meant s**t to me because he used a long line of black cats, like Little Richard and Chuck Berry, that, to me, had more talent than he did." (News, Source: dotmusic.com)
Marty Lacker responds to "Eminem is new Elvis": I read the remarks by Emeinem and Chuck D and it's a shame this rumor started a few years ago mainly by young black artists who have no idea what Elvis was about. The overwhelming majority of them weren't even born when Elvis started out in '54, some were not even born when he died.
Elvis did not use Little Richard, Chuck Berry or any other black artist back then. The fact is he knocked down the barriors for those artists to be accepted by white people, especially in the south.
Was Elvis influenced by black artists---absolutely. Just as he was also influenced by the country artists he listened to as a kid in Mississippi along with the black blues artists that he heard on the radio back then. He had no television. Elvis blended both influences and that's what formed his own singing style.
In an interview Ray Charles gave a year or so before he died, when he was doing a TV special with Travis Tritt. he was asked what he thought about Travis singing his (Ray's) music and singing it like Ray. Ray's answer was profound. he said, "Music has no color."
The people that make those statements about Elvis are uninformed and they think it makes them sound good to the black community. All it does is make them look foolish.
(24 June 2007)
---
Marty Lacker responds to Billy Miller #2 (see stories 5, 6 & 9 June):
A message to Billy Miller. I saw your answer to me on EIN. This will be the last time I answer you because giving you more exposure is exactly what you want and you don't deserve it, neither does Elvis.
First of all, why did you back away from Sonny West when he confronted you in Vegas two weeks ago? He was face to face with you and told you to your face you're a liar and you're trying to scam the fans with your cock n' bull claims as to your relationship with Elvis.
I know who the people you speak of that can supposedly back up your story and those people are well known to the fans to be scam artists too.
As for your documents, we await them but be forewarned we have two documents in our possession that will show how phony you are with your claims about Elvis. You never worked for Elvis, you were never a private investigator for him or anything else.
You also show your ignorance about Elvis and the guys. There isn't a thing he did that at least one or two of us didn't know about. Although some of us come close in knowing it all, at least one or two knows everything about different actions by Elvis.
Be careful Miller, what you're doing might come back to bite you in the ass. Marty (10 June 2007)
---
Elvis Bolero jacket for sale: Velvet bolero style jacket owned by Elvis and given to his personal hairdresser, Homer M. Gilleland, known as Mr. Gill. The wine colored, four-buttoned short jacket bears a "Mr./Ray's/Palm Springs" label.

Accompanied by a Typewritten Statement signed: "Homer M Gilleland/8-14-91". In full: "To whom this may concern. My name is Homer M. Gilleland. For over 20 years preceding his death, I Was the personal hairdresser of Elvis Aaron Presley. During my employment as Elvis' hairdresser, he gave me as gifts numerous Items of clothing and personal property. This wine colored velvet bolero jacket was owned by Elvis. The jacket has the Label, Mr. Rays Palm Springs. This was a favorite men's store that Elvis frequently Shopped at in the 1960's while he stayed in Palm Springs. This jacket is authentic as given to me by Elvis Aaron Presley during my employment as his personal hairdresser."
Homer M. Gilleland, known as "Mr. Gill", cut Gladys Presley's hair in the 1950's at Goldsmiths Department Store in Memphis, Tennessee. When Elvis became famous he asked his mother's hairdresser to cut his hair. Mr. Gilleland cut Elvis' hair until Presley's death in 1977. In April, 2004, a home in Palm Springs, California, bought in 1970 for $85,000 by Elvis and Priscilla Presley was sold for $1.25 million. They had honeymooned in Palm Springs in 1967. Elvis still owned this home at the time of his death. A RARE CHANCE TO OWN AN AUTHENTIC ELVIS JACKET WITH UNQUESTIONABLE PROVENANCE! In fine condition, with one button a bit loose. Two items.
(News, Source: It's Elvis Time)
Bolero shirt update: Following yesterday's news item about a Bolero shirt we asked Marty Lacker about Homer Gilleland. Marty told EIN that Mr Gilleland was indeed Elvis' barber and although he didn't recognise the shirt that wasn't to say it wasn't the real deal. (10 June 2007)
---
| | |
| --- | --- |
| Elvis wanted the Beatles to stay at Graceland: From the limousines the Beatles sent to meet the Stax-Volt Revue at Heathrow Airport in March 1967 to Booker T. & the MGs' McLemore Avenue album, released three years later as a homage to the Fab Four's Abbey Road, there was plenty of mutual appreciation flowing between England's biggest export and Memphis' homegrown heroes. | |
"The Beatles came to the club we were playing in, the Bag O'Nails in London, and bowed to us," MGs bassist Donald "Duck" Dunn remembers with a chuckle. "It made me feel like a million dollars, I guess. To tell you the truth, when the Beatles were on
Ed Sullivan
, the Dave Clark Five appeared the following week, and I turned to my wife and said, 'Now there's a good band.' She was going crazy over the Beatles, and I didn't want to like them."
"Of course, George [Harrison] wasn't there," MGs guitarist Steve Cropper laments. "It was an honor. It was really great. But the guitar player wanted to meet the guitar player. Later on in the '70s, I met him in Beverly Hills, and we got to hang out some, which was a big thrill for me." Yet few classic-rock fans know that exactly a year before the London meeting, the Beatles were slated to cut an album at Stax Records. On March 31, 1966, the Memphis Press-Scimitar newspaper reported that the Beatles were due at 926 East McLemore on April 9th, spending two weeks working a new album before embarking on an extensive U.S. tour. "There was a close relationship between England and what we were doing down here," Cropper explains.
"Otis [Redding] enjoyed playing for English audiences, because he was so respected over there. And the Beatles started out as a cover band, listening to a lot of Sun material like Carl Perkins and Jerry Lee Lewis." "The thing that was interesting to me was the fact that the Beatles' tunes were rhythm-and-blues tunes," says Johnny Keyes, a staff songwriter at Stax in the '60s. "The same thing with the [Rolling] Stones. All of these British artists had more respect for our music, especially the blues, than the people who lived in Memphis."
Brian Epstein, the Beatles' manager, arrived in town in early April to suss out the studio and security situation, and everything seemed ready to go. "All the secretaries were saying, 'You have to promise not to repeat this, but the Beatles are coming!'" Keyes recalls. "We had a songwriters' meeting, because we thought they were looking for rhythm-and-blues material. Ronnie [Gorden, the Bar-Kays' keyboardist] happened to be around, so he and I worked on a tune called 'Out of Control,' which had lyrics like, 'Without you pretty baby, I'm like a dog without a tail/Like a church without a bell.' "In the meantime," says Keyes, "the information leaked out. Girls were coming into the Satellite Record Shop about to cry, saying, 'If you talk to Paul McCartney, please, please let me know.' Word spread, and WHBQ came in and asked [Stax co-owner] Ms. [Estelle] Axton about it, but she played coy with them." "I was so excited about it," says Deanie Parker, the former Stax publicist who went on to serve as the CEO and president of the Stax Museum of American Soul Music.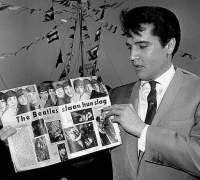 "I was seeing dollar signs. I talked to Jim Stewart and said, 'If the Beatles do come here, will you give me permission to take the carpet up, cut it into squares, and sell it?' Honey, I was gonna make me some money." "Everyone else was worrying about the logistics — how were we gonna get them from the airport," Keyes says. "We were gonna put them up at the Holiday Inn Rivermont, but Elvis Presley said it would be better if they stayed at Graceland. It went back and forth, and Epstein ultimately left town because he didn't want to get in the middle of it. The session never happened." Instead, the Beatles stayed home, cutting Revolver, which featured the Stax-inspired "Got To Get You Into My Life," at Abbey Road, before showing up in Memphis for a one-night concert at the Mid-South Coliseum on August 19th.
"I was very disappointed," Parker admits, "mostly because it blew my little enterprise." "I remember getting the call," Cropper says. "Who knows what might've happened? 'Tax Man' could've been 'Stax Man.'" But in July and December 1973, the Stax studios were taken over by another pop giant: Elvis Presley, who recorded several sides, including "If You Talk in Your Sleep," "I've Got a Thing About You Baby," "My Boy," and a cover of Chuck Berry's "Promised Land" at 926 East McLemore. "The staff was notified that after-hours the building wouldn't be available to us because Elvis' production crew asked for privacy," says Parker.
"It was off-limits to us for a week. I didn't even go into the studio, because I could see Elvis around Memphis. Anytime I'd drive down Bellevue, he might be out on his motorcycle. Having Elvis at Stax was just matter-of-fact, just another session." "By the time Elvis showed up, I had already left to start my own studio, Trans-Maximus," Cropper says. "But I think George Klein influenced him and made him aware of what was going on at Stax. George called me one day when I was still over there and said, 'Elvis would like you to write him a song.' We never really came up with anything, but Elvis had some gospel chops, and he knew his soul."
Dunn, who was present for Presley's sessions, says, "When Otis [Redding] sang, he projected. When Sam and Dave sang, they projected. With Elvis, he didn't bellow it out, but it came out big. To end up so forceful, he was the softest singer I ever heard.
"He'd have an imitator come in and lay down the track with the band," Dunn says, "and then they'd overdub his voice. I was actually a little nervous. He was Elvis: You didn't just walk up and talk to him. As far as being buddy-buddy with him, you didn't do it." (News, Memphis Flyer)
The Beatles at Graceland update: Yesterday (see above) we published a news report from the Memphis Flyer that Elvis invited the Beatles to stay at Graceland. Memphis Mafia member, Marty Lacker subsequently told EIN:
"Just to set the record straight. I read your story about The Beatles and Stax, etc. Elvis never offered for The Beatles to stay at Graceland. He would never turn his house over to anyone like that. I don't know where Johnny Keyes ever got that idea.
As for Steve Cropper, who is a very good friend of mine, he's mistaken about how Elvis came to record at Stax, George Klein was not resposnible for it, he had nothing to do with it. As I have written in my book, I was the one who chose Stax and set the session up after Elvis asked me to find a Memphis Studio for him to record because he didn't want to go back to American Studios. He really didn't want to record , he was just doing it to appease Parker and RCA. When he asked me to find the studio we were out by the pool at Graceland and he said that the session really didn't mean anything to him. It was like a throwaway to him. I chose Stax because of my working relationship with them as one of the leaders of the Memphis Music Industry at the time and because they had good security."
(6 May 2007)
---
Marty Lacker responds to Wanda June Hill book: Yesterday, EIN published Susan MacDougall's review of the revised edition of Wanda June Hill's controversial book, We Remember, Elvis. Marty Lacker has provided EIN with a hard hitting response on the incredible claims made by Ms Hill. Read the review and Marty's response (28 Jan 2007)
---
"Is this really Elvis' last song?" update: On 23 January 2007 we published a story about the rights to a song allegedly co-written by Elvis and songwriter, Paul Terry King. Subsequent to our report we received a variety of correspondence, for and against, Mr King's claim. This included a number of email messages from Mr King, prominent Memehis Mafia member, Marty Lacker, and Patrick Lacy, author of the recently published book debunking various Elvis conpspiracies and myths, Elvis Decoded.
Paul Terry King also alleges that Screen Gems/EMI lost 3 reels of 69 published songs by Elvis and American writers.
While EIN seriously doubts the claims by Mr King we have updated our original story to include several of the responses we have received. We also include EPE's official response regarding an earlier song allegedly written by Elvis and Mr King. View updated story (26 Jan 2007)
....................2006......................
In response to a controversial interview (September 2006) with Billy Miller, EIN received two responses from Marty:
Marty: To AJ, John, & Blue, how sad but not unexpected. The same old rhetoric about the MM. The same false accusations and statements.
Not around after '68,? How long did it take you to think that one up Blue. I said WE were around 24/7, there was always at least one but usually a few of us guys with him every day. Designed his jumpsuits? I'm glad he admired it but I didn't design his jumpsuits. I did design his wardrobe for two movies along with him but that happened when Miller said he was a little kid.
The fact is I have never met nor talked to Billy Miller in my life and neither have any of the guys except one or two of the Stanleys and that was long after Elvis died.
AJ I'm shocked, you don't like the MM, I would have never guessed. Why I was not at his funeral has been answered ad nauseum over the years and there's something about your attitude that compels me not to explain it again to you. It's amusing that you think any of us owe you an explanation about anything pertaining to our lives with Elvis.
As for our proof that he's bogus, that will be shown in due time. Stay tuned.
Well paid servants John? That's hilarious. Interesting how your mind works, that's why it doesn't surprise me that you could never fathom the concept of not being there for the money. How about the ten years after I left the payroll when I was with him every day in Memphis, went on tours with him,The Aloha Special & Vegas, all at his request. How 'bout me talking him into doing the '69 American Studios session in Memphis and the fact that I was also resposnible for HWY 51N being named Elvis Presley Blvd.
How 'bout many other things I did for him while I was on the payroll and made a whopping salary of $45 to $205 per week over the span of years. The year I left I was the highest paid guy in the group along with Joe, that's when I made $205 per week, that was just for the last year and I had three children and a mortgage. The year after I left I made ten times that amount in the music business and Elvis had nothing to do with that. Then again, like I said, you wouldn't understand that within your envious mind.
Sandra you're probably a nice lady and it seems you have common sense. The difference is the truth is the truth and fiction does a dis-service to Elvis. One of Miller's many pieces of fiction is that he had something to do with Elvis meeting Nixon and going to the FBI HQ in Washington. As for Nixon's meeting, not even Bud Krogh, Nixon's assistant made any mention of Miller being there or having anything to do with it but he does mention that it was just Sonny and Jerry.
As for the FBI Tour, that was set up by former Shelby County Sheriff Bill Morris, who later became County Mayor. Bill is a very good friend of ours and he's still around to verify that.
However AJ, Blue and John, be sure you get back to Miller and let him know my message and get your instructions on how to answer. I hope you three buy the book if it ever comes out, you deserve it. I think Marshall Terrell's feedback above hit the nail on the head. "Look for it in the FICTION section of your book store!" Buying it is tantamount to throwing your money down a sewer, you've earned it. I wish you three a good life and that's all you'll get from me. Bye, Bye.
Marty Lacker: I have read some of the feedback on EIN to Billy Miller's story.
First to answer AJ. Like Elvis we do things for charities without publicity. I do realize your comment might have been made because you generally don't care for us in the MM and that's your problem not ours.
I am writing the following comment about Miller's claims in capital letters to emphasize my point. You all have the prerogative to believe what you want but what I am about to write is 100% truth. I have also consulted with the other guys and they say the same thing!
BILLY MILLER HAD ABSOLUTELY NO CONNECTION TO ELVIS. THE MAJORITY OF HIS CLAIMS ARE BOGUS AND NOT TRUE.
JUST AS AN ASIDE, HE CLAIMS AS A KID HE HID BEHIND TREES IN THE BACKYARD WHILE WE PLAYED FOOTBALL. THERE IS ONLY ONE FIG TREE IN THE BACK YARD AND THAT IS AT THE END OF THE CARPORT.
I find it hilarious the comments by Cory Cooper in regards to his conversation with Miller. We beat him up? The guy's got a great imagination and possibly a screw loose, quite frankly none of us would cross the street to talk with the guy.
However someone should beat the hell out of him for trying to scam the fans. I can tell you that while Elvis was alive had he written the bogus claim that Elvis' parents abused him as a child he really would have been hurt bad. What a low life to write something false like that but I shouldn't expect anything different from someone who is in cahoots with that other liar, Dee Stanley.
The unfortunate part about it is that since Elvis has died people who had nothing to do with his life have come out of the woodwork with their phony claims. I realize that many fans who were not with Elvis don't know what to believe. Whether you like the MM or not, be mature and realize that we were with him almost 24/7, some of us for over 20 years, we know what went on and with who it went on with. Most of us have no reason to lie about anything pertaining to those years.
I know there are a couple of guys who exaggerate what they have done and one or two take credit for things they had nothing to do with, that's human nature. It's sad that they do that but they do it because they think that makes them something special to the fans. They should just be happy and content that they were close to Elvis, they don't need to say those things.
As for the remark about Miller having written proof, we have documented proof that what he says is not true and if push comes to shove we will make it public.
I was not going to comment on Miller's bogus claims because I did not want to give him any further exposure but I changed my mind when I read above that some of you are buying into his crap. I also realize that some of you might have been prompted by Miller to write what you did. Thank you.
EIN Comment: Marty (and a number of other members of the Memphis Mafia) contacted EIN shortly after we published the interview putting their position that the Billy Miller story was a fabrication. They asked that we keep their comments confidential, which we respected. EIN thanks Marty for now providing the above comments.
---
Update - So how much for Elvis' THIRD house?: Following our story yesterday about the house Elvis bought on Lehr St, Memphis Mafia mamber, Marty Lacker, sent us this message:
"I might be mistaken because it's been a longtime ago but I believe the house on Lehr is the house that Elvis bought for Linda Thompson's parents. They lived in it and they and Linda thought it was theirs but it seems that Elvis' father kept it in Elvis' name instead, unbeknownst to them, and when Elvis died Vernon made them leave the house and Vester and Clettes presley moved into it. When Elvis bought it he told me that he bought it and gave it to the Thompsons and he was proud of doing so. Linda and her parents sued Vernon to get it back to no avail."
So how much for Elvis' THIRD house?: Psychic/showman Uri Geller recently purchased Elvis Presley's first home, at 1034 Audubon Drive, for more than $900,000. Two years ago, entrepreneur Robert F.X. Sillerman bought the Graceland estate, and a good portion of Elvis Presley Enterprise as well, for $125 million.So, how much would Elvis' third house go for?We recently turned up a 1974 Commercial Appeal article which mentions that Elvis had purchased a home at 1576 Lehr, just behind Graceland. On September 20, 1974, he paid precisely $33,925 for the one-story 1,500-square-foot property, and the newspaper story noted the homeowner had been told that the King of Rock-and-Roll never planned to live there but had purchased it for an investment.

We're not sure how much this investment has paid off over the years, but if the present owner ever considers selling it, may we suggest eBay? (News, Source: The Memphis Flyer/ Sanja Meegin, June 2006)
---
Marty Lacker (Memphis Mafia member and co-best man at Elvis and Priscilla's wedding) #1: I have just read your report on the Beeny Elvis DNA crap.

To begin with, as you know, I have called Beeny either a nutcase or he's a con man. Elvis died on August 16,1977 and for anyone to suggest otherwise or that Elvis would fake his death, they're either that--a nutcase or con man. All those people you mention, Brewer-Girogio,Chances et al: are just that.

Secondly if any doctor showed the sealed autopsy or gave tissues of Elvis to anyone not authorized, their license to practice medicine would be taken away from them. Once again, Beeny is full of crap.

As for the spelling of Aaron, anyone who has read my books Portrait Of A Friend or Elvis & The Memphis Mafia knows I am responsible for it being changed in 1966 from Aron to Aaron.

To make a long story short, after the one and only disagreement Elvis and I ever had, Elvis apologized to me. In a conversation we had that moment with his father, Richard Davis and Mike Keaton in attendance in the Graceland basement den, I asked Elvis how come it was spelled Aron when in the bible, as he had often stated, it was Aaron. He then said while looking at his father, "back then in East Tupelo some family members had trouble spelling." Then he looked at his father and said, " from now on anytime my middle name is used I want it to be Aaron with two A's the way it is supposed to be." That's how and when it became Aaron with two A's. 11 years before he died. No big mystery.

All of those people named in your story claimed to be Elvis fans yet they have done a great dis-service to him with their bullshit story. Although in our memory's and hearts Elvis is alive, he physically died on
August 16,1977 and everyone needs to stop all this Elvis Is Alive nonsense.
EIN Response: Marty, thanks for sharing the story of the spelling of "Aaron/Aron". Many fans will not be faniliar with this.
Marty Lacker #2: I just read some of the comments made in response to Beeny's story and my comments especially about Aaron.

The response of a couple of them is a perfect example of why some of us who were close to Elvis really don't explain how it was all those years and what truthfully transpired. I have no reason to lie about the recounting of that story in 1966, anyone who knows me knows that I am not in need of pats on the back or to make myself look special to anyone.

As for the guy who asked my comments on Operation Fountain Pen and if Elvis was in danger, that too is a myth. Nobody was after Elvis, no mafia, nobody. The crap that he went into hiding and is alive today is not only ludicrous it's a total disservice to Elvis to think that he would do something like that. If he was tired of the spotlight he'd just retire and quit being in it.

However, after saying that someone will probably dispute that in those comments.

Everyone needs to stop buying into all the crap about Elvis is alive from Beeny or anyone else. Unfortunately ELVIS IS DEAD, he physically died on August 16,1977 and anyone who listens to and believes these con artists or nutcases that say differently is pathetic. (May 2006)
---
Marty Lacker selling VHS signed VHS copies of "All The King's Men" - great pre ebay offer: Prominent Memphis Mafia member and co-best man at Elvis' wedding, Marty Lacker sent EIN this message:

"I have been cleaning out my closet and I have come across a box containing copies of the first volume of our video series All The King's men. These copies are special because they are signed by all 5 of us, Billy Smith, Red West, Lamar Fike, Sonny West and me, Marty Lacker. They initally were sold at a premium price by the distribution company but they sent each of us a number of copies.


These are the last signed ones left by all 5 of us. One of the other guys sold his on ebay for over $200 each.
I am about to put mine on ebay but since some of you here and I have enjoyed our conversations over the years I thought I would give you the first opportunity at them before I place them on ebay this evening.
The starting bid on ebay will be $100.00. I am offering to anyone interested on EIN first shot at them for $100 each.
Anyone interested email me at
moon7332@bellsouth.net
(April 2006)
---
Charlie Hodge has died: Following several unconfirmed reports during the day, Charmaine Voisine has sent us this sad message, subsequently confirmed by Marty Lacker: It is with a very sad heart that I have to pass on to all Elvis fans around the world that a very close friend and confidante, Charlie Hodge passed away earlier on this evening as a result of lung cancer that was inoperable. He had a couple of treatments of radiation therapy in between December and January.

Charlie Hodge first met Elvis Presley on a transport ship enroute to Germany from New York back in September 1958 and they served in the Army together and this is where their very close friendship developed and continued until Elvis passed away in 1977.

Charlie Hodge was the guy that sang back up for Elvis, played guitar and also handed Elvis water and scarf's during his shows in the 1970's.
Charlie has been performing nightly at the Memories Theatre for the past few years and he was only diagnosed in December 2005 that he had lung cancer and continued to perform despite that he had cancer, like Elvis, he was a true and dedicated performer for the love of his fans. We have designed a forum where fans of Elvis Presley and Charlie Hodge can come together to post up messages of condolences for the family of Charlie Hodge and also to post up messages they can share with the the Elvis community of friends and fans ~ their own experiences of meeting Charlie Hodge , spending time with him ~ or seeing him perform LIVE ~
This forum is in Memory of a wonderful person and great friend and confidante to our beloved Elvis Presley
We would like to welcome you all to join this forum and post your messages - we will be making sure that his family and friends see this forum
To join:-
http://launch.groups.yahoo.com/group/Charlie-Hodge
or :-
(March 2006)
---
Marty Lacker takes on Paul Terry King: We recently received a message (for Marty Lacker) from songwriter, Paul King. Marty has asked us to publish his response:
Paul Terry King's original message:
Marty , I already heard in Vegas what you said about Roses the song I wrote with Elvis in 73. Face it you don't know everything!!! You go on to say Red wrote Seperate Ways in it's entirety and rightfully is credited as songwriter!!! Bullshit! Richard Mainegra and myself were there too. Red pushed the pencil while You were in donald crews old office taking over/ I could tell more about that day but wont for now as it seems my daughter Leslie Faith King has been abducted from a locked hospital ward in Oklahoma City. She was born in 1977 just months before Elvis died. A beautiful green eyed vivacious red head that loved Elvis music more than most fans! An acct. is set up at Mid First Bank OKC, OKLA. # 2828110986 routing # 303087995 for those who would like to help. Her 11 yr old son is with me and asks every day when is mommy coming home? Lee Dawson with elvis-express.com in England has this sad story and will appeal for help from British fans also.
Marty Lacker's response:
1. King claims he wrote the song with Elvis at American Studios, Elvis was only there in 1969 and I was with him every second while he was at the studio except the couple of times he went to the bathroom and I can assure you that King never wrote any song with Elvis nor did he go to the bathroom with him. The other guys who were at the sessions, that I have talked to, agree with me. The only song Elvis contributed to was one with Johnny Horton the country singer who sang Batlle of New Orleans but he wanted no credit for that. He did change a couple of words in Separate Ways.
2. Secondly, Separate Ways was written mainly by Red West but in conjunction with Richard Mainegra, King had no part in it. I just spoke with Red West and told him what Paul King said and this comes from Red. "This guy needs to halt his phoney claims in particular about Separate Ways or he is going to have a load of trouble come down on his head including a heavy lawsuit. Mainegra and I will come down heavy on him"
3. I asked Chips Moman about King because I don't remember him at American. Chips said King, who he barely remembered his name, and his writing partner who's name escapes me at the moment, were worthless as songwriters. They never brought Chips a song worth a crap. He said he made a mistake when he signed them as writer's.
4. In 1973 I had already left running American and had been running my own company and being one of the leader's of the Memphis Music Industry so King's little tale about me taking over Chip's former partner Don Crew's office is about a nuttier a story as his tale about writing a song with Elvis and writing Separate Ways.
5. If King knows what's good for him, he'll stay clear of being anywhere near Red.
6. As for his sad story about his daughter, I'm sorry for that.
PS. What fools that come out of the woodwork with these phoney stories since Elvis died don't understand is that while he may be gone and can't dispute their stories, there are a number of us who were close to him still here and we were with him virtually everyday. We will set the record straight and refute their bullshit. (Jan 2006)
---
Handwritten lyrics...Marty Lacker comments: Marty Lacker contacted EIN about the handwritten lyrics for a song allegedly written by Elvis. Marty says:
"Never happened. The only time Elvis contributed to a song is when he made a few suggestions to Red West when Red wrote Separate Ways. Red wrote the song in it's entirety and rightfully is credited as songwriter. Elvis just made one or two changes when he recorded it."
EIN's original news items:
Mystery of handwritten lyrics by Elvis solved?: Our report yesterday resulted in numerous messages and discussion on the various Elvis messageboards. On the FECC board, Tits McGhee wrote:
"The full story of this was told way back in issue 37 of Elvis The Man & His Music. Terry Fell wrote and first recorded 'Mississippi River Shuffle' (note the proper title) in the early '50s. Elvis probably had the record with him in Germany and wrote out the lyrics, that's all."
Others saw the presence of words like "Mommy, "Mississippi" and "Mystery Train" as an indication Elvis could have written the lyrics, while yet others viewed them as another example of forged Elvis notes. (News, Source: FECC/Various)
"The Mississippi River" (The Tupelo Song) handwritten lyric by Elvis?: Browsing through the book 'Elvis Presley Words The Complete Lyrics Volume 8 SU-THEV', we noticed the lyrics to this song allegedly written by Elvis and Jerry Fell (a Google search could not find information about Fell). The book states: "Elvis' own handwritten song lyric.....Could this song possibly be a genuine Presley composition? At the bottom of the sheet of paper he writes: Words by Elvis Presley and Jerry Fell. The original title of the song was The Tupelo Song. This title has been stroke out and given way to The Mississippi River." Click to read the song lyrics (News, Source: Elvis Presley Words The Complete Lyrics Volume 8 SU-THEV) (Jan 2006)
....................2005......................
Marty Lacker on the mend: EIN is pleased to report that after a congestive heart condition which required hospitalization, Memphis Mafia member, Marty Lacker, is now home and tells us he is doing fine. (News, Source: Marty Lacker, 19 Dec 2005)
---
Marty Lacker talks to EIN (Part 2): In the second part of our candid interview with Memphis Mafia member, Marty Lacker, Marty talks about the Memphis Mafia, the women in Elvis' life, Lisa Presley and the idea that Elvis faked his death. As usual, Marty is very open about his views and pulls no punches. (late Nov 2005)
---
Marty Lacker slams "Elvis is alive" author: In part 2 of our interview with noted Memphis Mafia member, Marty Lacker, one of the issues discussed is the idea Elvis that faked his death. Marty takes a very strong stance about the idea and one author claiming Marty and Billy Smith admitted Elvis faked his death. From the 2nd part of our interview (to be published tomorrow):
EIN: In his book "Elvis' DNA Proves He Is Alive", Bill Beeny claims (page 62) that in an article in People magazine (September 1996), you and Billy Smith finally "...admitted...that Elvis faked his death by using a donor body". What is your response to Mr Beeny's claim?
Marty: Bill Beeny is a nutcase and I told him that to his face years ago. The story Billy and I wrote was FICTION and it was presented to the London newspaper it appeared in as FICTION. Fools like Beeny like to use that for their own ludicrous agenda. He's really not worth the effort talking about.
EIN: What is your view on the idea that Elvis did not die on August 16, 1977?
Marty: Elvis died on August 16, 1977. It was witnessed and documented and an autopsy was performed on his body by reputable doctors in Memphis. The lead Dr., Dr. Muirhead is beyond reproach and enjoys a great reputation in the medical field. The people who foster the idiocy that Elvis faked his death are idiots or con men.
---
Marty Lacker opens up to EIN: In Part 1 of our two part interview with Memphis Mafia member, Marty Lacker, Marty tells us about the famous celebrities, the pills, marriage and the Memphis Mafia, the $10m concert offer for Elvis to play in front of the Pyramids in Egypt and the real reason Elvis shot out his TV set when Robert Goulet appeared on the screen. Part 2 of our fascinating talk with Marty will be published next week. (Nov 2005)
---
| | |
| --- | --- |
| Influences on a Legend - Mario Lanza: "Elvis loved opera, and he especially liked Mario Lanza. He would watch The Student Prince which was set in Heidelberg, over and over again. He loved the power of the big voices. And he loved big orchestras. He liked real dramatic things." Marty Lacker's observation nicely captures the essence of this article where we look closely at how Mario Lanza influenced Elvis' music style. (Spotlight Article, Oct 2005) | |
---
| | |
| --- | --- |
| Did Memphis Mafia cost Elvis date with Marilyn Monroe?: The issue of whether Elvis and Marilyn Monroe ever met has fascinated many fans for a long time. For this reason the following claim published in the November (USA) edition of Playboy, is being read with great interest: | |
Marilyn Monroe once snubbed a date with
ELVIS PRESLEY
because she didn't like the company he kept. Presley's longtime confidante BYRON RAPHAEL, who was hired to wrangle beautiful one-night stands for the king of rock 'n' roll, reveals his boss met with Monroe on a
film
set at
20th Century Fox
studios in Hollywood.
But, he tells men's magazine Playboy, the encounter never hit the headlines because Presley was keen to play down the fact the actress had turned down his advances. However, Raphael insists Monroe was initially interested - until she spotted Elvis' entourage and quickly learned how dumb they were.
Raphael recalls the actress was particularly put off by Elvis' "dim-witted cousin" GENE SMITH and his pal CLIFF GLEAVES, "a hooligan". Of the brief meeting, he says, "Monroe smiled in a way that said she liked how Elvis filled out his Oxford trousers, but then her face fell as she took in his companions.
"Monroe, forever insecure, had been searching for class in her choices of husband and lover and the sight of Elvis' barely civilised friends launched an unmistakable look of fear and disgust."
Smitten Presley continued to woo Monroe until she became one of the only women ever to turn down a date with the King - when she cried off with a headache excuse. Raphael says, "It was one of the rare times Elvis was refused."
EIN Note: Despite Byron Raphael's claims, his name appears in few Elvis publications, although he features extensively in Alanna Nash's excellent book, The Colonel. Bill Burk informs us that both Lamar Fike and Marty Lacker have come forward to paint Raphael's claims as ridiculous, though Lacker admits he was away in the Army at the time. (News, Source: AP/Sanja Meegin/Bill E. Burk, Oct 2005)
---
Elvis remixes - a good or bad thing?: We found these interesting postings about the relative merits of Elvis remixes on the alt.elvis.king messageboard:
The case against: These so called "remixes" of Elvis's classic songs are bullsh*t. Who wants to hear Heartbreak Hotel with a hip hop beat? Even if people do, these remixes take a great and original piece of art and distort the idea to something Elvis never wanted. Marty, can you help? Remi
Memphis Mafia response: Nothing I can do about it except agree with you. If the fans don't buy it they won't continue to do it. Otherwise BMG is constantly devising ways to get y'all to pay for the same crap in a different package over and over again. Marty (Lacker)
The case for: I understand where you're coming from, because I too love the originals. But I think remixing is a way to keep Elvis' legacy alive with the younger generation. Some of those remixes stirred interest in Elvis among the teens, and that intest lead many of them to his movies and original recordings. And they love Elvis. You have to move along with the times if you want to get radio play. Elvis was always ahead of his time and changed as he grew. As his career moved on, Elvis did too. Maybe if Elvis was alive they wouldn't be remixing his old hits, but I think if he was still recording he would be putting out more modern music, maybe even with a hiphop-type or modern day R&B beat -- but the bottom would always remain rock & roll. He paid respect to the songs that made him famous, but did not spend a whole of time doing it. He was more focused on new music and new sounds, always pushing the music to the limit. He was the ultimate entertainer, and would never have accepted pumping out repeat performances of the same material, performed the same way, year after year. He needed to move forward. Cher is another example of how to keep a career alive for decades -- always changing with the times but never losing her essence. As the greatest entertainer ever, I think Elvis would be able to do just about anything and it would sell, but he would always essentially be Elvis. Yvonne (News, Source: alt.elvis.king, Aug 2005)
---
Marty Lacker critical of Lisa Presley as a singer: On the alt.elvis.king messageboard we found an interesting statement by Marty Lacker about Lisa Presley's singing ability: "What Lisa does attempt is a phony southern accent and pronounciation of words with that accent. Cher does the same thing. Although Lisa was born in Memphis she lived most of her life in California and does not have a southern accent. She thinks it makes her cool to sing that way--it doesn't. It comes off phony." In a separate post Marty said Lisa cannot sing. (News, Source: alt.elvis.king, May 2005)
---
Was Elvis forced to marry Priscilla?: Marty Lacker has taken issue with comments made by Priscilla Presley in Elvis by the Presleys dispelling the rumor that The Colonel and Vernon Presley pressured Elvis into marrying her. Marty Lacker stated on the alt.elvis.king messageboard: "I'm surprised she even addresses that. Let me put it this way and I normally don't do this but if she wants to face me, I will swear on the lives of my children and grandchildren that is exactly what Elvis told me in '66 on the day he apologized for his yelling during the only arguement we ever had and then asked me to be the Best Man at the wedding. Something had made him agitated the day after we came home from LA and the night before he was overjoyed and in a great mood when he saw his newly redecorated bedroom by my brother in law. He said the reason for the argument was that her father pressured and threatened him if he didn't marry her. Therefore either Elvis or Priscilla and her parents are lying. Guess who I believe. It's easy to cover your ass 39 years later. I'm glad she is aware of what I have written and said." (News, Source: Marty Lacker, alt.elvis.king, May 2005)
---
FEEDBACK
Ernie:
Hey Marty, Nice to read more comment's in EIN. The last time I talk to you I used the word hate regarding Sonny West. What I really ment to say is that I think that Priscilla, Lisa, and EPI [ Jack Soden] hate it when you few members are still here to set the story straight, and far as Sonny when I do happen to listen to George Klein's shows any stories he is telling regarding Elvis, and Sonny he seams to hate
to mention Sonny's name. Lisa said all the terrible thing's you and rest of the member's did as far as cheating on your wife's and what not. I don't know what she would remember at 9 years old, if Priscilla had not been feeding her this all these years. There is so many thing's I would like to ask you about, like the Stanley's. I read some place that Priscilla wanted to go skinny dipping in the pool the day of Elvis's funeral, are these people credible?
When I was at Elvis Week in 97 I saw Larry Geller with his wife, and I don't think anybody knew who he was. I introduced myself to him and he ask me if I was going EP's to see Johnny Rivers, and I told him was, and he started to tell me johnny Rivers real name, and that Johnny stole the idea for the song Memphis, TN. from Elvis, I know couple of months later johnny Rivers heard a rumor going around that he stole music from Elvis, and Larry denied it all. I think this guy is really full of BS.and Joe he had poor old Richard Davis working as his secret bodyguard. Boy has the table's sure turned, Jack Soden what's the deal with this guy? is this the guy Priscilla got the money from to open Graceland? When it's nice out I like to go too Graceland and talk with the fans and they say the same thing you do with Elvis face and name all over the garbage they are putting out. Well thanks for talking with me, I' am not to computer smart and my wife of thirty years next month said I have been on the computer long enough. Just kidding. Regard, Ernie
Marty's Musings
Memphis Mafia member, and co-best man at Elvis and Priscilla's wedding, Marty Lacker, is a frequent contributor to EIN. On this page we catalog Marty's valuable contribution.
---
EIN Website content © Copyright the Elvis Information Network.
Elvis Presley, Elvis and Graceland are trademarks of Elvis Presley Enterprises.
The Elvis Information Network has been running since 1986 and is an EPE officially recognised Elvis fan club.