'Aloha From Hawaii' - 2013
- Spotlight by Piers Beagley
When Elvis Presley took the stage 40 years ago in Honolulu, the only thing bigger than "The King" was that his "Elvis: Aloha from Hawaii" concert was beamed live via satellite to 40 countries in Europe and Asia.
The site was the Honolulu International Center, which is now called the Neal S. Blaisdell Center.
They wheeled a KGMB production trailer into the center parking lot and started the show at 12:30 a.m. to hit all the time zones live. It was a high-wire act without a net.
"Because it's live, that adds the element of tension," said Phil Arnone a program director at the time. "Knowing that you only get the one shot, you can't retape a number or change anything. You shoot it as it happens. A mistake, a camera shot that is wrong or a button pushed wrong or Elvis is flat, you live with all of that because it is a live broadcast."
"Everyone gets kind of puckered up in that situation," Arnone said. "Your attention level, your focus, is high. You can feel it inside your body."

Below EIN's Piers Beagley provides a full report and concert photos - plus a local Hawaiian review...
---
See Local Hawaiian newspaper review and new concert images below
- Aloha From Hawaii 2013 - the Enhanced Screening
Aloha From Hawaii - The Concert 2013: January 14th 2013 the recreation of that event was stunning for all who were there. Around 700+ had flown in internationally while over 3,000 tickets had been sold to the actual event. Not bad for a DVD concert replay!
After the exciting build-up of being in the actual Arena, firstly Tom Moffatt (below) introduced the show with Hawaii Governor proclaiming a new Hawaii "Elvis Presley Day" and handing over the official document to EPE CEO Jack Soden.
Following that Priscilla Presley appeared via video to explain the significance, apologise for not being there and to thank all of Elvis' fans for their amazing support.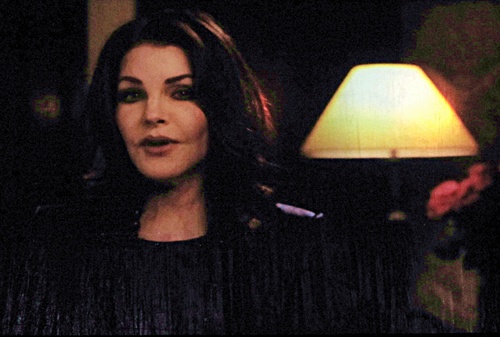 Then the real excitement kicked off with the "In Concert" portion of Elvis leaving Graceland in a helicopter used cleverly to connect to Elvis flying in to Hawaii in the helicopter. (of course his jumpsuit miraculously changed to the White Corduroy jacket)
And then the sound CRANKED UP as the 'Also Sprach' theme announced to everyone that ELVIS WAS IN THE BUILDING.
The video quality was magnificent compared the versions we know (most images here are however only happy-snaps of the screen!) and the immediate surprise that ALTERNATE camera angles and multiple screens were used throughout the show. This not only added to increase the feel of the action on stage – BUT also gave us plenty of camera angles that we have NEVER seen before – nor knew existed.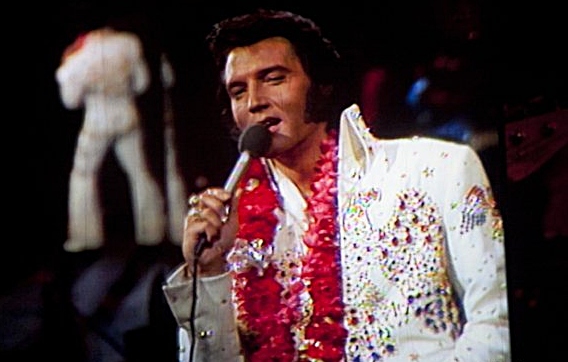 After the Intermission The Stamps and Joe Guercio came on stage to explain their part in the production and to sing 'Sweet Sweet Spirit' which was announced as Elvis' lucky warm-up song and performed that night before the original broadcast in his dressing room. Then Bill Baize, Ed Hill, Larry Strickland and David Dars (who had to replace Donnie Sumner who sadly couldn't make it) sang 'Peace In The Valley' and followed it with a stunning 'How Great Thou Art' which rightly earned them a standing ovation! It was a magnificent personal note to the DVD presentation.

Steamroller, Burning Love, My Way, What Now My Love, Fever, every song felt invigorated and new. There also seemed to be a new energy to Elvis' performance cleverly created by the use of multiple camera angles and clever edits.
Every fan wanted a copy of this new presentation and it is a real shame it is not a part of the Legacy release.
But it does let fans know that there is plenty more ALOHA footage available for future projects.
Even the "non" Elvis who had just come along for the ride said how impressed they were with the whole show and the applause for Elvis' performances echoed throughout the Arena.
It was a SERIOUSLY impressive night with the sound pumping loud you really felt part of the whole experience. EPE put far more into this presentation that mots people expected, it was a real winner.
More tomorrow – the after-party is calling!
- Piers Beagley, EIN roving reporter!
---
The King "live via satellite" a Great Experience in 2013: - The local Hawaiian Review
Any lingering suspicions that the long-anticipated "Elvis 'Aloha from Hawaii' 40th Anniversary Screening" was going to amount to a shared viewing of the familiar television special that's available for free on YouTube were laid to rest as soon as the lights went down on several thousand Elvis fans who'd assembled to celebrate The King's "live via satellite" concert last night in Blaisdell Arena.
First, to state the obvious, there is no way that watching anything on a computer screen — or even a "home entertainment center" — can match the experience of seeing it on a theater-size screen and hearing it on an arena sound system.
Second, the 40-year-old television special was dramatically modernized and upgraded for the anniversary screening. The entire concert was re-imagined as a multi-image experience — at times there were two or three images on the giant screen, at others there were 16 or more in various combinations. There was Elvis, or multiples of Elvis, seen from different angles, as well as the familiar footage of his core musicians — James Burton (lead guitar), John Wilkinson (rhythm guitar), Ronnie Tutt (drums), Jerry Scheff (bass), Glen Hardin (piano/keyboards) and Charlie Hodge (vocals/acoustic guitars) — and the audience.


The 40th anniversary screening also included footage of Elvis singing the songs that he recorded after the satellite broadcast for use several months later in the domestic version of the show.
Another segment not seen on YouTube consisted of snippets from trailers of the three Elvis movies with Hawaii ties. These included two scenes from "Girls! Girls! Girls!" where Ginny Tiu and her younger sister, Elizabeth, performed with Elvis, and shots of Ralph "Hana" Hanalei as one of the beach boy musicians in "Blue Hawaii."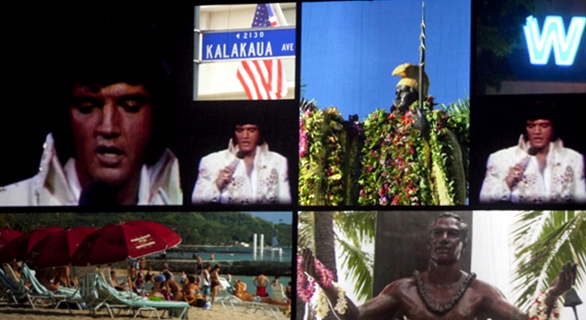 Most memorable of all the additional content were silent film clips of Elvis' previous visits to Hawaii, including a visit to the Arizona Memorial and footage of his 1957 concert at Honolulu Stadium.
The anniversary event was emceed by "Uncle Tom" Moffatt and its significance noted by Hawaii Gov. Neil Abercrombie. Abercrombie sent a shout out to the people who were seated "right up there in the upper deck" where he had been sitting 40 years ago, and asked everyone who had been in the audience for the original "Aloha from Hawaii" concert to stand — and a notable number of people did. He also read a proclamation designating Jan. 14, 2013, as "Elvis 'Aloha from Hawaii' (via) Satellite Day" and encouraged "all the people of the Aloha State to celebrate the music of Elvis Presley."
Jack Soden, CEO of Elvis Presley Enterprises, accepted the proclamation for display at Graceland.
Later in the evening Moffatt introduced Joe Guercio, Elvis' conductor and musical director for many years (who is seen briefly in the broadcast), and Elvis' Stamps, a gospel quartet headed by Bill Baize, who performed in "Aloha from Hawaii" as a member of Elvis' favorite male gospel group, J.D. Sumner & the Stamps Quartet.
Baize and his partners — David Darst, Ed Hill and Larry Strickland — sang two gospel classics that are important titles in Elvis' discography, "(There'll Be) Peace In The Valley (For Me)" and "How Great Thou Art," and earned a standing ovation for their performance. For anyone who's grown up with gospel music it was hard to not sing along.
The bottom line to the evening, and to the week of celebrating Elvis and his ties to Hawaii, was about more than commemorating an entertainment milestone 40 years on. It was remembering or, perhaps, learning that before there were Elvis impersonators mumbling "thankyuverrymuch," and tribute artists and look-alikes and "weekend warrior" karaoke singers, there was a flesh-and-blood entertainer named Elvis Presley who created something fresh and new and revolutionary in American music.
So much that the entertainers of today and their fans take for granted began with Elvis.

- John Berger of Star Advertiser (click here for his original report)
Review and Article by Piers Beagley.
-Copyright EIN January 2013 - DO NOT COPY IMAGES -
EIN Website content © Copyright the Elvis Information Network.
Click to comment on this review
---
---
In search of Oahu Elvis, 2009: It is no secret that Elvis loved Hawaii and its people. He vacationed there on many different occasions and was personally involved in raising money for their charities. On her 2009 visit to the spectacular islands, EIN contributor Sanja Meegin checked out some of the places Elvis vacationed, filmed and performed during his many visits to this beautiful island. On her travels around Oahu, she was pleased to find that Elvis is still fondly remembered by many of the locals and his memory is still very much alive.

Click here for some great photos and insights into Elvis In Hawaii.

(Source;SanjaMeegin)
---
Blue Hawaii - the movie: Blue Hawaii is the movie that some Elvis fans hate to love, although it is one of Elvis' most successful films. After the 1960 dramas of Flaming Star and Wild In The Country, Blue Hawaii was a return to the musical fluff first seen in GI Blues. While Elvis craved dramatic interest and acting challenges the general public thought otherwise. Nearly 50 years on, EIN contributor Harley Payette takes an in-depth look at Blue Hawaii and wonders if this film really was the beginning of the end - or perhaps first class family entertainment. See if you agree. - - Click here for the review plus some great Hawaii photos

(Source;EIN/Harley Payette, March 2009)
---
Elvis was filming Paradise Hawaiian Style.
"We could see about 13 motor bikes side by side coming towards us," says Barry. "We could see that Elvis was in the centre of the riders as they roared onto the film set. What an entrance.
As Elvis approached us I was spellbound, it was as if God had come down from heaven. We had about two hours with Elvis and talked about our tour of America. He knew we had millions of fans there but I don't think he really understood why!"

Peter Noone was lead singer of Herman's Hermits and interviewed Elvis on the set of Paradise Hawaiian Style.

(Interviews, Source;ElvisInfoNetwork)
---