Aloha From Hawaii - 2012 -
- Spotlight by Sanja Meegin
In August this year Sanja Meegin returned to Memphis for an electrifying Elvis Week.

It was her 14th Elvis Week and was ten days of burnin' non-stop fun, meeting up with some of Elvis' best friends and soaking up the fabulous atmousphere.

You can read all her Elvis Week 2012 reports here

So where else to go afterwards for the perfect wind-down but a week in beautiful Hawaii.



Below Sanja brings us her fabulous report and once again searches out some fabulous Elvis destinations.

---
- Aloha From Hawaii!
After an action-packed and somewhat emotional 10 days in Memphis for the 35th Anniversary, I flew to Hawaii to recuperate. Once again I was reminded why Elvis loved to vacation there so often. And of course there were lots of "Elvis places" to be seen. So with 3 fellow Aussie fans - who were also on their way home from Elvis Week in Memphis - we hired a convertible and set out to see the Elvis sights on Oahu.
First stop was Hanauma Bay.

After a lovely scenic drive up the West Coast we had perfect weather and were keen to get some snorkelling in on the beach where Chad and Maile hung out and many of Blue Hawaii's scenes were filmed.

Little did we know that the bay and beach park is closed every Tuesday. And it was Tuesday. Although I had been there before, it was still a disappointment as its a wonderful place to snorkel and spend the day swimming at the beautiful beach.

Oh well, onto our next Elvis stop.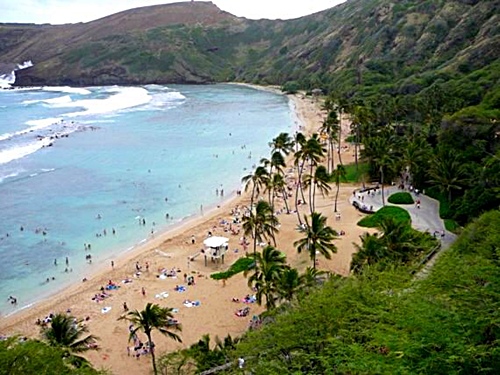 Further up the coast we searched for the famous "Chinaman's Hat" - where Elvis shot a scene from Paradise Hawaiian Style. Of course we wanted to find the exact palm tree that Elvis sat by to shoot the scene in the movie. And after many a U-Turn along the highway and after sizing up LOTS of palm trees, we were certain that we found the same one.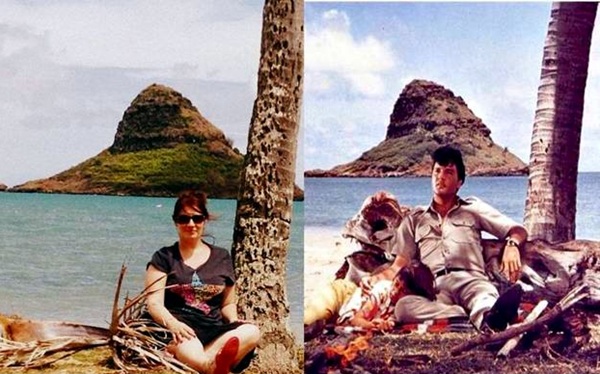 Time to travel a little further up the coast to find what was on the top of Elvis things to see -the house where Elvis spent his very last vacation in March 1977.
Elvis made the trip with Ginger, her sister Rosemary, Dr Nick, Rick Stanley, Larry Geller and other members of his entourage. Originally checking into the Hotel Hilton Hawaiian Village on Waikiki Beach, Elvis soon found that he had very little privacy and moved the entire group to the rental house on Lanikai Beach.

As we drove around the side streets searching for 144 Kaapuni Drive in Kailua, we were most impressed with the multi-million dollar properties all around and it was obvious that this was a much more secluded place where Elvis could enjoy himself without being bothered. We finally arrived at the address to find a vacant block of land - the house had been demolished 2 and half years ago because of pesky squatters.
As we stood there and tried to match trees, walls and neighboring properties to the photos we had of Elvis' March '77 vacation there - we were 90% sure we were in the right place. As luck would have it (or was Elvis looking down on us?) the caretaker arrived to do some work on the vacant land. He was more than friendly and happy to chat with these 4 crazy Elvis fans standing there taking photos of an empty piece of land. Turns out his parents owned the house and the land and it was indeed the house were Elvis vacationed.
The caretaker let us into the lot (as it was fenced and locked) and explained that the lady who still lived next door, was Elvis' neighbour back in '77 and it was her pool that Elvis can be seen playing football around in photos from that vacation. He and the guys would use her pool frequently as the house he rented didn't have one. Out front of the house is the very exclusive Lanikai Beach (President Obama's vacation house is along there somewhere also). The beach is beautiful with the whitest of sand and turquoise water.
Once again we mapped out the landmarks and found the exact spot where Elvis sat with Ginger and her sister - and there we sat, 35 years later, taking in the magnificent view that Elvis enjoyed back then.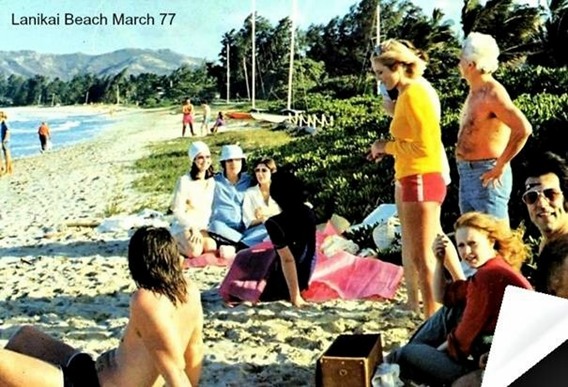 From here we made our way back to Waikiki stopping at the Tantalus lookout where the picnic scenes from Blue Hawaii were filmed. After a mini thunderstorm (yep we got drenched in the convertible!) we followed the steep roads up to the very top of the lookout. This area has changed dramatically since 1962 and there was very little to compare with scenes from the movie. So we only stopped there for a short period of time (long enough to dry off!) and then hit the road again.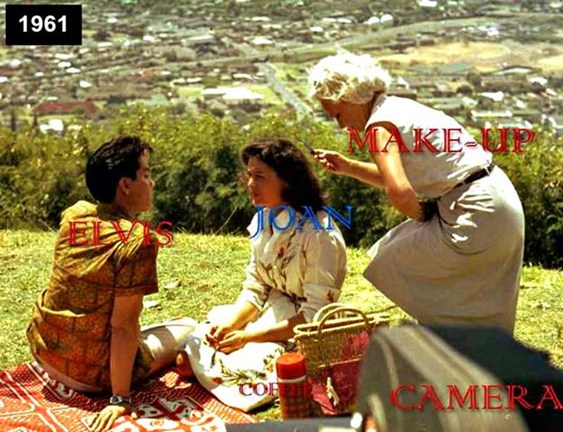 We drove back towards Waikiki to find the spot where Elvis' helicopter landed in the opening scenes of Aloha from Hawaii. Its no longer a helipad, but a large carpark at the Marina, with both the Hilton Hawaiian Village and Ilikai behind it - both hotels where Elvis stayed at often between his first visit in 1957 to his last in 1977. During my stay in Hawaii this time, I chose to stay the Ilikai - it gives you a very nostalgic feeling as a lot of the decor remains the same as it did when Elvis stayed there. As a matter of fact I was able to find out exactly when Elvis stayed at both this hotel and the neighbouring Hilton Hawaiian Village….
1957 - Hilton Hawaiian Village Hotel (Shofield Barracks concert)
1961 - Bloch Arena concert
1962 - Hilton Hawaiian Village Hotel - Filming of Girls Girls Girls
1965 - Ilikai Hotel - Filming of Paradise Hawaiian Style
1968 - Ilikai Hotel- Vacation in May1969 - Ilikai Hotel - Vacation in May
1969 - Hilton Hawaiian Village - vacation in October
1972 - Hilton Hawaiian Village - November Concert/Press Conference
1973 - Hilton Hawaiian Village - Aloha from Hawaii (January arrival/rehearsals)
1977 - Hilton Hawaiian Village - vacation in March (Rainbow Tower) Elvis & selected friends moved to the rented beach house in Kailua soon after 2 days.
From here it seemed only logical to go visit the Neil Blasdell Arena (formerly the Honolulu International Centre) where Elvis performed his history-making Aloha from Hawaii concert almost 40 years ago. The concert was beamed around the world via satellite to an estimated audience of over a billion people. The statue out front is one of my favourites of Elvis - the likeness is fantastic and it is always draped with leis and flowers from fans. We added ours also.
But seeing the statue and the outside of the arena wasn't enough for me this time - I needed more - I wanted to go inside! After walking around almost the entire arena, checking doors, we found one that wasn't locked!! Was Elvis looking down on us again?! Thrilled, we walked inside and found ourselves watching a local basketball team practicing. Once we explained to one of the kid's parents why we were there, they didn't seem to mind if we had a look around. (Although I'm certain they thought we were nuts!).
The arena is MUCH smaller than it appears on the concert footage. I think the mirrors that were set up on stage back in 1973 really added to the effect that the audience was massive. Once again that nostalgic feeling was creeping in as there hasn't been much of a facelift on this place over the years. I felt like it could have quite easily still been 1973 in there. It was a surreal feeling being in there, imaging the electricity that must have filled the air on those 2 magnificent nights in January 40 years ago.
| | |
| --- | --- |
| | |
We took our photos and was ready to leave when I thought to myself….. we got this far, who knows when we will, if ever, have the opportunity again, so I decided to find Elvis' dressing room. There is only one section of the arena with change rooms, dressing rooms and bathrooms, so I headed over there and after a little nosing around in the shadows I found it!! The excitement I felt could only really be appreciated by an avid Elvis fan. I was beside myself! A quick Google on my iPhone for photos of Elvis backstage at the arena confirmed I was in the right place.
I was in Elvis' dressing room and even though it was a dilapidated ugly nothing of a room now, you couldn't wipe the smile from my face. For those of you who haven't seen this footage (albeit in poor quality ex Japan TV) - I suggest you check it out - it was filmed the day Elvis was to perform later that evening on January 14th 1973 - it shows the arena from the outside, and inside, James Burton rehearsing on stage and more importantly - Elvis' dressing room. Click HERE.
The corridor is still the same - as is the little sound room opposite his dressing room.
Elvis sings 'Welcome to My World' at the Aloha rehearsal concert.
After snapping as many photos as my camera could take in a hurry, the caretaker arrived with a "you are?…." which meant it was time to go. Judging by the look on his face at me taking photos of a dirty old bathroom, I could see it was time to leave! Now being in there was an experience. I felt like I was upstairs at Graceland! Definitely the highlight of my Hawaii stopover this year. Its a shame EPE aren't re-enacting the concert in January 2013, that would really be something. However, I'm sure the screening of "Aloha from Hawaii" that they have planned will still be exhilarating. Same place, same date, same time, 40 years to the day.
As I took my cab to the airport on my last day on Oahu, I got to talking to my taxi driver who told me that his wife had 3rd row at the concert back in '73. She ran up to the stage and put a lei on Elvis' neck, had lots of photos at home somewhere…. He was so blasé about it, like everyone had done it at some point in their life. I wish!!
That's what I love about Hawaii, there are Elvis references everywhere, places to visit where he filmed, vacationed and loved to just relax and hang out. The people are lovely, the scenery is magnificent and there is always another little Elvis story right around the corner.

Aloha

Article by Sanja Meegin.
-Copyright EIN October 2012
EIN Website content © Copyright the Elvis Information Network.

Back in February 2009, Sanja Meegin checked out some more famous Elvis Hawaii Oahu sites such as Pearl Harbour, The Ilikai, The Polynesian Cultural Centre and Hilton Hawaiian Village. See below for her previous report.
---
In search of Oahu Elvis, 2009: It is no secret that Elvis loved Hawaii and its people. He vacationed there on many different occasions and was personally involved in raising money for their charities. On her 2009 visit to the spectacular islands, EIN contributor Sanja Meegin checked out some of the places Elvis vacationed, filmed and performed during his many visits to this beautiful island. On her travels around Oahu, she was pleased to find that Elvis is still fondly remembered by many of the locals and his memory is still very much alive.

Click here for some great photos and insights into Elvis In Hawaii.

(Source;SanjaMeegin)
---
Blue Hawaii - the movie: Blue Hawaii is the movie that some Elvis fans hate to love, although it is one of Elvis' most successful films. After the 1960 dramas of Flaming Star and Wild In The Country, Blue Hawaii was a return to the musical fluff first seen in GI Blues. While Elvis craved dramatic interest and acting challenges the general public thought otherwise. Nearly 50 years on, EIN contributor Harley Payette takes an in-depth look at Blue Hawaii and wonders if this film really was the beginning of the end - or perhaps first class family entertainment. See if you agree. - - Click here for the review plus some great Hawaii photos

(Source;EIN/Harley Payette, March 2009)
---
Elvis was filming Paradise Hawaiian Style.
"We could see about 13 motor bikes side by side coming towards us," says Barry. "We could see that Elvis was in the centre of the riders as they roared onto the film set. What an entrance.
As Elvis approached us I was spellbound, it was as if God had come down from heaven. We had about two hours with Elvis and talked about our tour of America. He knew we had millions of fans there but I don't think he really understood why!"

Peter Noone was lead singer of Herman's Hermits and interviewed Elvis on the set of Paradise Hawaiian Style.

(Interviews, Source;ElvisInfoNetwork)
---