ELVIS: THAT'S THE WAY IT IS - THE COMPLETE WORKS
DVD Disc 1
DVD Review by Rex Martin!
(4 March 2009)
TTWII – INTERNATIONAL BOX SET........THE DVD's!!!!
First DVD show (1) REVIEW part "1"
Opening screen is the front box with all the show screens, dated and moving.....(you can pick to dip into any date, dinner or midnight, or just view all. I'm zoom cropping the left and right slightly to make a bigger overall picture. (can pick any percentage to crop – the quality is still very viewable)
I'm not going to talk about every song, everyone must have seen some version of a large percentage of this from a few years ago, or the much improved STAR Version issued recently.
A lot of Elvis walking down International corridors, getting in Lifts and meeting 2 fans, in the Blue Jumpsuit (Suit not ever seen on Stage) a well blended film, from Turner and the 2 official Editions.
Lounge reading telegrams again mixed Turner and Sp. Editions. Much new, a lot of Buddy Chat with Elvis trying to keep him calm. Cuts to in the Fringe suit, then just back of stage, very extended mix from 3 sources.
10th August: Dinner Show (White Fringe, multi coloured beads Jumpsuit)
The on stage, first triple screen footage, main view at the top, with the 2 alternative screen directly under this. Not distracting at all, you're eyes just roll around the screen taking in all the 3 cameras at once.
To add to this extra dimension the Sound is just 100% wonderful. I'm watching it 7.1 Dolby with 2 extra side fill in speakers (Ten in All.) on a 42" screen today. Its just perfect sound, a very pleasing experience..
Mystery Train has 3 Turner Screens shown at once (no Sp.Edition), the picture is a little grainier and not as crisp, but its still very watchable. Especially with the great sound... Unusual to have this as 2 nd song, with Elvis removing Guitar just before Strobe lights in the middle..
LMT start with itty-bitty little guitar, 2 images on 3 screens. All Turner.
WORDS and SOMETHING version this show, is outstanding sound wise from Elvis, very well performed...
Still no full length Hip movement camera shot of You've lost that Loving Feeling. Just single camera close up shown this show .
You don't have to say, is Triple images, starts showing 2 cameras then later 3. Polk Salad the same also..
The way the top screen is – being about 60% of the depth, probably helps this look better than previous versions on the Turner sequences, its still not special edition quality, but they always said not to expect that. Also it is true, its far better than the previous versions .
~ up to CHFILove, lasts 55 minutes.
A lot of backstage after show footage, with Elvis' song OUR DANCE and LIFE playing. (Black jumpsuit) Best I've ever seen this. Much brighter, than in Special Editions and full widescreen not divided screens.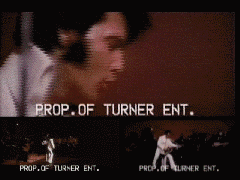 11th August: Dinner show. White Jumpsuit, Silver conchos, long tassle belt.
(starts exactly 60 minutes into this DVD)
MGM and Special edition used a lot of the songs from this show, which has been blended together with the song takes they didn't use.
OVER ALL THIS IS WORTH BUYING ~ If you can still get a copy...... Rex
Read more about "Elvis That's The Way It Is - The Complete Works"