'Elvis Star Track'
- EIN turns the spotlight onto some of Elvis' most intriguing songs -
- Compiled by Piers Beagley -
'Elvis Star Track', our new weekly look where we choose one of Elvis' particular songs that we think is worth turning our EIN spotlight on.

Sometimes we will choose a "classic", more often a relatively obscure song.

It is also another chance to find out which recorded version, outtakes or perhaps LIVE attempt are the favourites of EIN readers.

We will add the most interesting comments to the on-going 'Elvis Star Track' spotlight below.
---
Starting January 2015, EIN begins a new spotlight 'Elvis Star Track' - where every Monday we will choose a particular song that we think is worth looking at and commenting on. Sometimes we will choose a "classic", more often a relatively obscure song.
You can send us your thoughts below or comment via our EIN FB page.
---
---
'Too Much Money Business'
Today we look back at a key late sixties track that, for some reason, was thrown away on a budget compilation.
'Too Much Money Business'
Recorded on January 15, 1968 as a "warm up" to the follow-up 'Stay Away, Joe' session, 'Too Much Monkey Business' was a marvellous continuation of the new country-funk that Elvis has discovered at his earlier 'Guitar Man' session.

Elvis kicked off the session with an old Chuck Berry number. Elvis was in a sensational mood and with Jerry Reed's acoustic guitar and Bob Moore's double-bass up front 'Too Much Monkey Business' had a fabulous vibe. Initially the arrangement was cooler and lighter than the final release and also without the harmonica. Although this was nothing to do with the required 'Stay Away, Joe' soundtrack material Elvis knew this would create a better feeling than at the previous wasted session.

First released by Chuck Berry in 1956 the sixth verse lyrics had been "Been to Yokohama, been fightin' in the war" but in 1968 Elvis changed this to the very topical, "Been to Vietnam".
Elvis' core Nashville band - Scotty Moore, D.J. Fontana, Bob Moore, Buddy Harman, and Floyd Cramer - was booked for the session. It was however a historic date since this would be the very last time this all-important team would play with Elvis on a studio session.

Scotty and DJ had been there for Elvis' earliest successes but now his career was heading towards an astounding musical renaissance and with it he would leave the old group behind (excepting the NBC TV Special jam). At this session the old team was joined by Chip Young, Charlie McCoy plus Jerry Reed on guitar and Pete Drake on steel guitar.

Working through the night single the early hours of January 17, 1968 can be marked as the watershed. This was when Elvis cut the sensational 'U.S. Male', a song which would become his highest placed US single in two years.
The session tapes reveal Elvis totally involved in the music and arrangement even if he played around with the lyrics, "want me to marry, settle down, write a home and eat a book!" causing laughter all around. It is notable that in the past four years of soundtrack recordings there had been nothing as infectious, creative or enjoyable as at the start of this session. This was even more intriguing when you realise they are jamming on an old 1956 number.
Before Take 10 Elvis throws in a few lines of 'When Irish Eyes are Smiling' and makes fun of himself laughing, "Help him somebody. The boy's squirrely!" The simple rhythm session jam of Take 10 is an absolute gem
By Take 14, the master, Charlie McCoy would add extra harmonica and then Jerry Reed would overdub an extra solo guitar.
One of Elvis' most spontaneous recordings it would sadly be thrown away on the Singer 1969 'Elvis Sings Flaming Star' compilation - released October 1968 - which included some very substandard soundtrack album rejects.
Along with the later 'U.S Male', this Chuck Berry re-make was spontaneous, sublime music and in January 1968 the sound of Elvis regaining control of his career.
Musically, whether he realised it or not, Elvis had reached a major turning-point and the near future held some momentous recording sessions that would forever change his musical reputation, his career path and his astounding legacy.

Go HERE to YouTube to listen to Elvis' fabulous 'Too Much Monkey Business'

Go HERE to YouTube for a hilarious selection of silly movie moments set to 'Too Much Monkey Business'
---
Now Updated

with Reader Feedback and Comments below
'So Glad You're Mine'
Today we look back at the fifties and feature a track that, for some reason, was left off Elvis' first album.
'So Glad You're Mine'
Recorded at the RCA session arranged for his first LP, Elvis was enthused about recording another Arthur Crudup composition. That morning he had already polished off 'Blue Suede Shoes' before recording Crudup's 'My Baby Left Me'. The afternoon started with the Steve Sholes supplied 'One Sided Love Affair' but this was Elvis' selection and more his scene.

Elvis recorded 'So Glad You're Mine' on January 30, 1956 but the original was from a decade earlier, a slow Delta Blues recorded by Arthur Crudup for RCA Victor in 1946.

Elvis felt an affinity with Crudup's blues not only were they both from Mississippi but Elvis' first success was his re-working of Crudup's 'That's All Right'.
The lyrics were deliciously playful, "My baby's long and tall, shaped like a cannonball. Say every time she loves me, Lordy you can hear me squall.." Fans all knew why Elvis was "squalling" and she was going "Ooo-wee" and it was exactly what Middle-America so disliked about this new rebellious pop star!
The original was a slow blues but Elvis ramped up the tempo with Shorty Long adding some cool piano licks and Scotty Moore supplying the perfect guitar solo.
On this last number of the afternoon session Elvis' vocal was totally assured and he managed to add some playful sexuality into his voice.
In case fans had missed what the song was about in the first verse, Elvis soon clarified...,
"My baby knows just how, to treat me right. Gives me plenty loving, morning, noon, and night."
and "When my baby does what she does to me, I climb the highest mountain, dive in the deepest sea."
'So Glad You're Mine' was the last song recorded on the first day of the session and would have fitted perfectly on Elvis' first album, especially when compared to his earlier 1954 discarded Sun tracks such as 'I Love You Because' or 'Just Because'. However even back then RCA's Steve Sholes was planning ahead and kept this gem locked away for future release. It would appear on Elvis' second album in October 1956.
Take 10 would be the Master - sadly no session outtakes survive.
(And what was that odd squawk at 1.09? It sounds like a saxophone blast but there was no brass at the session)
Arthur "Big Boy" Crudup was from South Mississippi. There were originally two primary forms (or regions) of blues in America - the electrified (guitar) Chicago blues and the Delta blues of the Mississippi region characterised by the use of harmonicas and acoustic guitars. Growing up in Tupelo, and more importantly Memphis, it is not surprising that the young Elvis Presley quickly appreciated the raw, heartfelt emotion and personal expression emanating from Delta blues music. Crudup would start playing music with the Delta Blues but then moved to Chicago where he would be discovered and eventually signed to RCA Victor.

For more on Elvis and The Blues go here to EIN's article 'Influences on The King - The Blues!'
In June 1956 Elvis ackowledged the great man when talking with the Charlotte Observer. Elvis noted, "Down in Tupelo, Mississippi, I used to hear old Arthur Crudup bang his box the way I do now, and I said if I ever got to the place I could feel (like) all old Arthur felt, I'd be a music man like nobody ever saw."
You can hear Arthur Crudup singing 'So Glad You're Mine' here on YouTube

Listen to Elvis' marvelous version here


Similarly to his first long-player, Elvis' second LP "ELVIS" would also be released as a set of three EPs since teenagers often owned the smaller 45rpm players.
'So Glad You're Mine' would be the first track on the second EP.
The cover photos would be from Elvis' New York photo session with David Hecht in February 1956. (as seen above & below)

However in concert during late 1956 Elvis looked far more alive! As shown here at his Tupelo September 1956 homecoming!
'So Glad You're Mine' is an overlooked Elvis classic.
It is worth adding that Arthur Crudup was sadly exploited by his manager / producer Lester Melrose who kept royalties from Crudup and basically forced him back to farming and out of the music business. Crudup would enjoy later recognition and would tour but sadly never earned the money he so deserved. Crudup died in 1974.

Go here for a in-depth review of FTD's 'Classic Album' "ELVIS".
From Alan F
I just love this version by Elvis, his voice is great and you can almost feel his joy when listening to this.
WHAT a difference between Elvis and the original. Where Arthurs is a good blues song, Elvis makes it full of life and joy, pure Rock'n Roll. If anyone ever say that this is Elvis stealing the black man's music, then they should have their head (and especially their ears) examined.
This is instead an example that shows why Elvis' cover versions of songs often are more loved and known than the originals.
It is like going from black and White TV to HD color TV.
Once I saw an interview with a black mucisian who said this about Elvis "He was a bundle of energy put to music", this song gives meaning to that quote.
Try listening to some other songs that Elvis covered, fx. Steamroller Blues or My Babe and compare it with the originals, it is like night and day.

From Pat O'D
Forgotten classic , your kiddin! This is it, this is the 50's, this is caddies , this is rock , this is freedom, this moves, this is the most, this is cool, this is magic, this is sleaze, this is dark, this is light, this is piano, this is drums, this is guitar, this is bass, this is "hit it ", this is carpet studios, this is Memphis, this is the Mississippi River, this is black music of the south, this is a kid doin' his thing , THIS IS ELVIS.
Whatever Elvis got out of the gospels, the blues, the radio, the sounds of the other side of the rusty rails of Ol' Memphis and whatever sound you can think off, Elvis growled/ throated a CLASSIC.
Ok , not a hit single, true, but oh boy, sing it to me Elvis I know where your at.
One reads from the blues folks, that Elvis did it better and so he did.
The Elvis of SPONTANEITY not the flimsy films music or the over rated ' 69 period with the precision musicians and the controlling producer of the American Sound Studio.
Let Elvis do his thing and leave it at that. Elvis didn't need a producer, why?? He was the greatest producer of all time.
There are mistakes galore in this song , one verse too long , up and down voice, tired Elvis, music not engineered properly, too loud guitar, drums not loud enough and the bass in there somewhere but it works,.
What is it with this as with most Elvis singles, he choose not the perfect HOUND DOG but the DONT BE CRUEL, RETURN to SENDER, Elvis with a cold /hay fever? , snivels on the last verses taken out by engineers, SUCH a NIGHT, "Ooh!!" taken out after drum roll .
These youngsters/engineers, do not understand, this was Elvis Legacy to us, the fans ) and many others , all with its mistakes , cause Elvis went for the sound and if it sounded good to him, cut it, go for it.
This is where its at. I love it, you may or might not but I'm So Glad Your Mine .

From Nigel S
It is my favourite song from Elvis second album. I cannot understand why it was left off his first LP where it would have fitted even better.
Elvis was so enthustatic at his first RCA sessions he could sing any composition that he was given.
I love his second album ELVIS - a real "album" and not just a thrown together compilation.

From Paul F
Elvis sang the blues so well and he gets very souloful here as well as having that dangerous edge to his vocal.
It is so sad that so many fans have never heard this song as they only listen to the Greatest Hits.
RCA should have put this on a RARE complilation or made a BLUES album that would really sell.

From David
This is simple. So Glad Your Mine is my favourite Elvis Presley track of all time.
My only sadness it that he never did it in concert.
How great that would have been he could have tried it as an alternate to MY Baby Left me.

From Sam M
This is a great song.
What a shame that RCA produce all those Greatest Hits compiles yet songs likle this are missed out.
I love this song. Elvis in the fiftys was so fabulous. Unfortunately so many Elvis fans I meet have never heard this song only those common greatest hits.
This record shows that Elvis could sing any style he liked at those first RCA sessions and they still had that fabulous Elvis style. Elviss interpretation fitted the band perfectly and don't forget how well Scotty Mooore and Bill Black also worked together. More fiftys songs please.
---
'City By Night'
'City By Night' was recorded for 'Double Trouble' Elvis' 24th film. It was composed by Bill Giant, Bernie Baum and Florence Kaye who were responsible for some of Elvis' very worst movie songs. On Double Trouble however this was the exception.

Perhaps influenced by some of the more popular relaxed "cool / lounge" music that was topping the pop charts at the time 'City By Night' had a genuine laid-back jazz feel.

'City By Night' was recorded on June 29 1966, and features some cool piano licks from Floyd Cramer as well as some neat trombone from Richard Noel with Elvis providing a smooth laid back vocal that seems to touch on the sleazy side of the City By Night. It even has a touch of James Bond theme tune about it.

The biggest chart hit of 1966 had been Frank Sinatra's 'Strangers in the Night'. Other big hits of the year 'Sunny' by Bobby Hebb, 'Alfie' by Dionne Warwick (Cilla Black in the UK) and the song 'Big Spender' from the musical Sweet Charity, so the charts weren't all "Rolling Stones and Rock'n'Roll"at the time - so in that way 'City By Night' was contemporary.
Unfortunately the song would be hidden away on an album that contained the woeful 'Old MacDonald' and 'I Love Only One Girl'!
Unsurprisingly Elvis was disappointed with the selected Double Trouble material and deliberately turned up late to the first day of the recording session. This meant that 'City By Night' was laid down as a backing track and Elvis would do his vocal overdub the following day. Even then it would stand above anything else on the album.

Elvis' fifth attempt was chosen as the release although he wanted to try and improve his performance. The alternate Take 10, where Elvis pushes his vocal too hard, runs at a much faster speed than the master, yet it was an overdub to the same tape. It seems deliberate that the album version was deliberately slowed down to give it a smoother tempo.
.

Two fabulous Double Trouble images.

Some fans have suggested that Elvis could have recorded an album of more laid-back cool-jazz themed music. Featuring songs with similar feel to 'Relax', 'Do Not Disturb', 'Fever', 'I Need Somebody To Lean On', 'Beginners Luck', 'Love Letters', 'You Don't Know Me' etc. In early 1966 the psychedelic 'Summer of Love' was yet to happen and The Beatles most recent album was the stripped back 'Rubber Soul' so there was a potential for Elvis to have some charts hits (with 'Love Letters') and an album that would have stood head and shoulders over his recent dreadful mid-sixties soundtrack albums.

'City By Night' is a hidden Elvis classic. - Go here to listen to the song as see the film clip on YouTube
From Cesar R
I actually like most of the songs in this film but the sound quality is atrocious.

From Steve P
This is one of the most overlooked songs Elvis ever recorded.
I meet so many Elvis fans who have never even heard of this brilliant song.
I have no idea why they left it off the Essential Sisties collection.
The smoky nightclub scene in the film was perfect for the song but what a shame it was suxch a rotten movie.

From James McG
I hope some fans get to discover this great song.
It sounds like what Bobby Darin and Dean Martin might have been singing at the time and Elvis was friends with both of them.
A real LOUNGE type song and a big departure for Elvis.
Combined with other songs like "I Need Somebody To Lean On" there is a great Elvis album.
From Mike S
I always thought this was the best song by far from the movie "Double Trouble". Soundtrack songs this good could have fit well on any one of Elvis' studio albums. "It Won't Be Long" was a pretty strong recording from this movie as well, but of course, this was cut from the final print of the film. Although Elvis may have recorded some weak numbers for his films, I never really thought they deserved all the criticism they received throughout the years. I have always liked Elvis' soundtrack songs and I thought the majority of them were good, although I will agree that most of them were not very commercial. However, I thought some of Elvis' best songs were recorded for his films. Songs like "I Don't Want To" (from "Girls! Girls! Girls!), "Angel" (from "Follow That Dream") "Tender Feeling" (from "Kissin' Cousins") and many, many more.
From Pat O'D
Two of Elvis' most unusual songs that I recollect is City by Night and SAND CASTLES. City by Night is a great song for whoever else than Elvis. The "most" of this song is the musos. They had a rap day in delivering some great vibes. Sadly even though Elvis tried and seemed to like the song he just might not had carried it off. Elvis got away with it, JUST. Maybe a few more takes would suffice to get it RIGHT?. This song is not Elvis,,,, Sinatra, Como, Davis jnr , Darren but not Elvis .You can sense the foggy pea soup of London and the English Channel in this song with the sorrowful horns and bells of the dark ships that pass in the night , transgressing the deep foreboding seas of the many oceans that abound. The silent, foggy side lane ways of London's Soho and theatre districts during the '50's. The songwriters did well on this one but I don't think they had Elvis in mind.

From Terrie E
City By Night...great song!

From Caroline J
I love this song, so moody and atmospheric.
A real early morning songs.
Although Double Trouble is a very lame movie Elvis still looked super-cool.

From Dean
Very good song BUT it was a real shame that this is an overdub. I always thought that Elvis vocal was way too loud up front of the band.
It could have been so much BETTER if he had recorded it with the musicians in the studio.
I blame Parker for providing such BAD material that Elvis couldn't be bothered to record.
It started with the terrible Kissin Cousins and went downhill from there.

From Mark H
A great song from a terrible movie.
The album was the very worst sounding of his career.
But is there possibly an album worth of "Sultry Songs"
This would be a key track on the collection.
RCA always compile Elvis LOVE SONGS yet there is a bigger range that could be chosen including some more unknown songs.
Tracks like Almost in Love, Let's Be Friends, You Don't Know Me and starting the compilation with I Need Somebody To Lean
---
---
'Pieces Of My Life'
'Pieces Of My Life' was composed by country artist Troy Seals (who also wrote Elvis' 'There's A Honky Tonk Angel') and somewhat fittingly it would be the last song Elvis ever recorded in a studio, March 12, 1975.

Elvis manages to infuse the song with a wonderfully emotional autobiographical sentiment (similarly to 'My Way'). When Elvis sings, "A water-glass full of whiskey" the feeling is so honest, yet we know Elvis didn't drink alcohol!

Having recently turned 40 and with some acknowledged health problems Elvis loads the lyrics with an incredible emotion. "Now I'm holding on to nothing, trying to forget the rest" Elvis sings - and even though we know his life was "a dream come true" it is so believable.
As Gordon Minto notes in Ultimate Elvis, "This song exudes drama - note, not melodrama - and was, without question, one of his finest ballads ever, in a similar league to the likes of `Long Black Limousine', 'Without Love', and `Just Pretend'. The half-spoken part, delivered as the song starts to fade out, is simply wonderful. There's no artifice here - just a genuine expression of feeling."
Personally I never understood why 'Pieces Of My Life' wasn't the final track of the original 'Elvis Today' LP as it seemed such an appropriate finale. While the overdubbed guitars of the Master do add a nice pleading feel, the overdubbed strings were way off the mark. The pure undubbed studio versions have a fabulous emptiness that fits so well on, "Lord, I threw the best parts away."
GO HERE to a GREAT YouTube video for 'Pieces Of My Life'
It was on March 10th 1975 Elvis walked back into RCA Studio C, Hollywood to record his last significant LP. During the whole of 1974 Elvis seemed uninterested in producing new material and never once entered a recording studio. The 'Today' album was released in May 1975.
In Elvis' later concerts it was rare for him to avidly promote his new RCA releases yet he obviously had an attraction to the "Elvis Today" material. From April to August Elvis regularly sang his new, and demanding, single 'T.R.O.U.B.L.E' as well as performing several other songs from the LP in concert. 'And I Love You So' was a regular feature of Elvis' shows right up to his death, but he also performed another 4 tracks from this LP, 'Green, Green Grass of Home', 'Fairytale,' 'Shake A Hand' and even the emotional and semi-biographical 'Pieces of My Life'. There is no other studio album of Elvis' from which he performed this many songs in concert, an amazing 6 tracks! (ok, except TTWII !)
Elvis live July 1975
It was at Asheville's July 24, 1975 closing performance that Elvis introduced his father Vernon to the rapturous crowd explaining that he had been sick and saying that he was going to sing Vernon's favourite song from his last LP. The song was 'Pieces Of My Life'.

It was Elvis' only live performance and it was surprising that he remembered the lyrics so well having recorded it four months previously. Having presented it as his Father's favourite it's a nice touch that to the line 'Women that I never knew too well', Elvis jokingly added the comment "I wonder why this is your favourite song, Daddy!"
It's a touching version and of course feels even more important being the last song that Elvis would record in a professional studio. For such an unknown song the audience is amazingly quiet as they absorb the song's sentiment and the sincere ending..... If only they knew the future.
The little known original version was released by country music artist Johnny Darrell on his 1975 album 'Waterglass Full Of Whiskey'
'Pieces Of My Life' was released on the flip-side of Elvis' US single 'Bringing It Back' which was itself a poor choice for a single and was not even released in the UK.The single never even made the Billboard top fifty.
Read more about Elvis' 1975 'TODAY' album here
From Pat O'D
To me this song is just plain misery. In singing you are told to not sing in your boots, this song went beyond the boots it was as low as Elvis could go, he sang and grounded his sorrow into the dirt.
No wonder he had trouble sleeping as the lyrics must have mulled over and over in his mind as he tried to get to sleep. It always amazes me how this man could put so much passion of misery in a song. I don't know any other singer who could get so much out of the lyrics. Caruso was toooo perfect singing opera but Elvis was tooo perfect singing the BLUES .
Not my favorite songs on a single but there still again I know a lot of the words so it must have had some effect on me . The single didn't chart that well as I remember, worse still didn't hear it on the radio at the time, not up to single standard believed it should have stayed on the LP.
Again if you like it, please don't be too negative and keep playing through the TODAY album and do not dwell to much on POML

From Ton Bruins
I agree...the outtake is even better. Beautiful song. The lyrics fit Elvis very well.
One of my all time favorite Elvis songs indeed.

From Paul T
I am not so certain about Pieces of My Life being a classic as it is too depresssing.
Its also too much like a regular 70s ballad and very maudlin. Elvis feeling sorry for himself when he should have been kicking ass and rocking out.
In 1975 Elvis was still capable of some great rock songs and was still a powerful performer yet this song is so sad it sounds more like it should come from the Jungle Room sessions.
At least the undubbed version sounds OK but the album version is a mess.
But perhaps that is Felton Jarvis fault and not Elvis

From Cesar Reyes
This is one of my all time favorite Elvis performances. I love Take 1 that is featured on the 'Today, Tomorrow & Forever' boxset.

From Jen M
Thanks, I like this song and it is worth listening to again.
It is a song that you can hear Elvis would identify with and maybe at some point most of us have surely let little chances slip away.
So perhaps we can all identify with it after all.
I do love Elvis' singing - much stronger that the later stuff where his voice is a little strained.
Elvis obviously felt every word of the lyric.
In 1975 he still had it and TODAY is one of my favorite albums.
---
---
Now Updated

with Reader Feedback and Comments below
'I Need You So'
'I Need You So' was recorded by Elvis on 23 February 1957 - at his 'Loving You' soundtrack follow-up session.

On the same night Elvis recorded the number one smash 'One Night' as well as 'I Beg Of You', 'Don't Leave Me Now' and Cole Porter's 'True Love'.

The author was Ivory Joe Hunter, a talented pianist and composer who in the 1940s even had his own radio show on Texas KFDM and who also started his own record company 'Ivory and Pacific'. Ivory Joe Hunter was popular as a touring artist, especially after his 'I Almost Lost My Mind' topped the R&B charts in 1950.

Elvis obviously enthused over Ivory Joe Hunter's material since he also recorded his compositions 'My Wish Came True', 'Ain't That Loving You Baby', 'I Will Be True', 'I'll Take You Home Again, Kathleen' and 'It's Still Here'.
Elvis had attempted 'I Need You So' at his earlier "second album" recording session in September 1956 but soon gave up as he couldn't get the sound he wanted. Elvis also sang Hunter's 'Out Of Sight, Out Of Mind' at the 'Million Dollar Quartet' jam in December 1956. (see review here)
Although Ivory Joe Hunter is often thought of as an R&B artist/composer his compositions and recordings were musically far broader.
In fact his original version of 'I Need You So' (a #2 Hit on the R&B charts in 1950) was far less "rhythm and blues" and far more a gentle ballad. (Listen here to his original)

It was Elvis who, once again, re-imagined the song as a far more emotional, pleading song of missed love.

A true gem of Elvis' fifties blues recordings, the song was hidden away as the final track of Elvis' June 1957 album 'Loving You' on the "non-soundtrack" side 2.

It would later be released as one of the four tracks on the EP 'Just For You' in August 1957. (Top image shows the rare Italian sleeve of their RCA EP)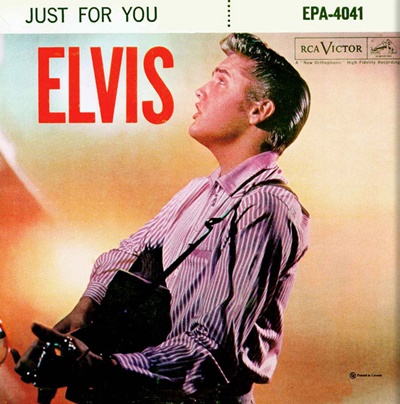 Ivory Joe Hunter would visit Elvis in Graceland on June 30th in the summer of 1957.
Elvis' friend from Biloxi comedian "Brother Dave Gardner" had met Ivory Joe Hunter and suggested to Elvis that he bring him to Graceland so they could meet.
According to Peter Guralnick's 'Last Train To Memphis' ....
"Elvis was thrilled, and they were all sitting on the white couch in the living room swapping stories when (according to George Klein) "Elvis said, 'Ivory Joe, I sure do like your songs. You ain't got any more of them for me, do you?' Now Ivory Joe was a real friendly guy, and he said, 'Well, I just have - I got one just for you'.
So we went in the piano room,and he sang "My Wish Came True" and Elvis said,'Shit, I'm cutting that at my next session!' Which he did even though it didn't come out for a couple of years. They sat there for hours, mostly singing Ivory Joe's songs, a few of Elvis' - man, I just wish I'd had a tape machine'.
Ivory Joe Hunter said of Elvis, "He was very spiritually minded and he showed me every courtesy, and I think he's one of the greatest."
Ivory Joe Hunter also discounted the 1957 tabloid rumours from the time that Elvis was racist.
In the late sixties his career made somewhat of a comeback but sadly, aged only 60, Ivory Joe Hunter died of lung cancer in 1974.

Sadly left off the usual "Greatest Elvis" compilations, 'I Need You So' is also missed from any of RCA's "Blues" or "R&B" collections.

This is yet another marvelous Elvis performance that truly deserves more public recognition than it gets.
Go HERE to listen to Ivory Joe Hunter's 'I Need You So' original
and Go HERE to listen to Elvis' revision.

Go here to WIKI and learn more about Ivory Joe Hunter -
Elvis on the 'Loving You' movie set February 1957
From Barry S
Thanks for reminding everyone about this fifties gem. The Loving You album with non movie songs on side two was very different. They should have used more than five tracks, I remember the playing time being very short.
But I Need You So was one of the very best, a very underrated song.

From Pat O'D
Indeed a rare song and a "blast from the past" (Melbourne 3UZ ?) "I need you so" was a heartfelt want / loss that Elvis sang with conviction. The lyrics are with a story line that Elvis seemed to like.
The most important thing about this song and all his ballads before 1960, that was, that Elvis was not happy with his ballad voice and during his army years he tried to balance out, sing more different ways, listen to more songs of different artists on the box player and was able to establish the ballads that we all know.
During the period 58/60, he seemed to have worked very hard to improve on ballads (his words ) , piano playing etc and after the army was able to pursue these and improve his voice with more bassy sound in his voice.
It took me years before I bought any of the Sun recordings etc when hearing them I was not impressed . If I had bought the early pre-60 ballads "1st", it might have been a different matter. I Know I don't dislike any of Elvis recordings just have other favorites like we all do. Elvis keeps on keeping on.

From Terry F
I I just have to say how fantastic it is to hear Elvis soaring voice on the second chorus of I Need You So, I only wish that a stereo take, or an alternate take existed.
And how strange that it was not included on the ten inch LP, of Loving You in the UK.

From Steve
I think the 5 bonus songs on the Loving You LP were an odd selection.
I am not sure what I thought when I first heard Elvis singing True Love. Where was that Rock And Roll we expected.
But the blues of I NEED YOU SO was brilliant.
An overlooked classic that should have been on an Elvis BLUES album. 'One Sided Love Affair' and 'Is It So Strange' are another two clasics that should have been on more RCA compilations.

From Paul S
What a great track. Always good to hear it again.
Elvis must have really enjoyed spending time with Ivory Joe as he put his all into every Ivorry Joe song he covered.
Imagine if someone had been taping their jam together! It would have been as good as the Million Dollar quartet.
What a missed opportunity.
Something that RCA really missed out on is a GREAT "ELVIS BLUES" compilation.
When Elvis sang the blues he always created something special.
---
---
Anyone (Could Fall In Love With You)
'Anyone (Could Fall In Love With You)'
'Anyone (Could Fall In Love With You)' was recorded for Kissin' Cousins, Elvis' 14th movie release, at a MGM Soundstage vocal overdub session on October 10, 1963.

Although it was the best song recorded at the session unbelievably it was cut from the film!

The song was composed by Benjamin/ Marcus/ DeJesus. Bennie Benjamin as co-wrote Elvis' 'Lonely Man' and, 'I Will Be Home Again'.

'Anyone' with its delightful melody and slide guitar, would have fitted perfectly on the earlier Blue Hawaii. A better song than anything else supplied for the movie it was more of a challenge and pushed Elvis' tender vocal to a high tenor. At the overdub session Elvis had it wrapped on Take 3. Click Here to YOUTUBE to listen to this "rare" Elvis ballad.

At his recording sessions Elvis has always said that he "didn't like 'okay'" but Kissin' Cousins was his first LP where less than okay was deemed acceptable for release. The whole production was a low-mark for Elvis with a low-budget film, substandard songs and a quick dash through the required vocal overdubs.
The soundtrack session was originally planned for September 1963 at Nashville's Studio B. However Elvis had a bad cold and didn't attend. It is of course possible that Elvis had listened to the selected movie songs and decided that they just weren't worth the effort. Nevertheless at the time '(You're The) Devil In Disguise' had been a recent worldwide smash, The Beatles had yet to arrive in America, Viva Las Vegas had been an enjoyable production and so there should have been some hope.
Unfortunately any high expectations were dashed when Elvis' publishers just could not come up with any worthwhile soundtrack material. Perhaps this is not surprising when both the Viva Las Vegas and the 'Lost Album' sessions had taken place in the previous four months.
Sadly without Elvis' presence in the studio there was no driving spark to help lift the songs above mediocre. The musicians played professionally but perfunctorily, having no leader to bounce off.
At his vocal overdub session later on the MGM soundstage, Elvis tried to add some enthusiasm at times but his vocals sound disconnected from the band, often sounding as if he was only reading the lyrics - which he was!
Elvis did not like recording on these cavernous movie soundstages but with such a low budget there was no other option. Listening to the Kissin' Cousins album you can easily imagine Elvis standing there alone reading the lyrics. There is a distinct lack of energy with any potentially winning songs let down by his general disinterest.
The preceding Viva Las Vegas session was held just a few weeks beforehand which proved that under the right circumstances and with some good up-beat compositions to work with, even Elvis' soundtrack sessions could produce some better than average material.
Sadly any hope of maintaining some real quality in his movies was completely dashed by the Colonel who demanded the lowest budget production for Elvis' follow-up. Kissin' Cousins was Elvis' eleventh film in under four years; no wonder they began to have a production line feel and a low quality to almost all the compositions.
Of all the Kissin' Cousins soundtrack songs Elvis gave the ballad 'Anyone (Could Fall In Love With You)' more interest and emotion than the obviously trite other material.
The song however would remain buried on the soundtrack album and also missed off any future compilations.
'Anyone (Could Fall In Love With You)' never even featured on the fabulous compilation 'The Essential 60s Masters II' beaten by the choice of the lame 'One Boy, Two Little Girls'.

Kissin' Cousins LP charted at #6, Elvis' lowest charting soundtrack album to date.

In hindsight the obvious managerial failure here was the timing of Elvis' film and soundtrack releases. Had Viva Las Vegas hit the cinemas in a reasonable time along with a quality soundtrack album it would have beaten The Beatles' chart impact of 1964 and been an even greater success.

However, with the super low-budget Kissin' Cousins coming out first, it only confirmed to Elvis fans and the media that the drop in quality established by It Happened At The World's Fair and Fun In Acapulco was continuing at a fast pace.
EIN thanks Thomas Widener for this suggestion
"I'd like to nominate a much overlooked Elvis song "Anyone Could Fall in Love With You" (1963 from the Kissing Cousins Soundtrack). The reason that I'd like to nominate that song is that it is, in my opinion, just as beautiful as "Can't Help Falling in Love," but it is seldom, if ever, released. I've only found it on the now deleted "Double Features" series, though I know that there is an expensive boxed set with all the soundtracks. Elvis recorded a lot of beautiful ballads during the movie years. Songs such as "Anyone Could Fall in Love With You," "Mine," "Could I Fall In Love," etc, but instead of giving these songs the attention they deserve, RCA/Sony keeps re releasing (with the exception of the great Legacy Editions) greatest hits packages."
More Reader Feedback
From Allen,
I think that 'Tender Feeling' is a better song.
Personally i like the album better than most of the live 70s' Elvis with the horrid big band Neil Diamond type songs
Sadly this is the Elvis where you can quite easy copy his voice - hence most of the impersonators copy this later era.

EIN notes that strangely 'Tender Feeling' was also missed off from the soundtrack compilation 'The Essential 60s Masters II' againg beaten by the choice of the lame 'One Boy, Two Little Girls'.
However Tender Feeling was the last track overdubbed for the session and at times Elvis' vocal wavers a little off-key (check "I love you" at 01:54) and at any other session another take would have been asked for. However being the last song of the uninspiring movie session Elvis had had enough and the very first take was deemed acceptable.
From Pat O'D
At time of the film and single there was never any bad comment about film and songs from Kissin Cousins , it was only after. I was walking down a street (-64 Feb) doing a message for my mum at the local milkbar with transistor radio in hand as we did those days and remember "Stan the Man Rolf " telling us that a pilot friend of his had brought the single KISSIN COUSINS over from the States and he played it.
I loved it, like all songs of Elvis at the time he could do not harm.
Years later we found out that Elvis was not happy with the songs BUT I was , I loved them and still play all albums of the Movie Area and forget the rest . Who cared what Elvis thought I loved and bought them.
ANYONE was a great song, I always coupled this with TENDER FEELING as a VALENTINE'S DAY single sadly not released.
I did like the KISSINS COUSINS album sound , esp KC it has a really loud production as the music begins and follows to the end.
You can tell that Elvis was reading the sheets now but at the time who cared - a great film album.
It's what every individual fans right to like what ever they liked and I liked this album. (EIN totally agrees! Any fan can rightfully adore any Elvis song they want. THAT is what makes Elvis' amazing musical legacy so damn interesting!)
Thanks for the memories
From Charles C B
Good song. I never heard it before
Tender feeling was also great -based on an old Civil War song (Shenandoah). A couple of other movie songs were also Civil War melodies: Forget Me Never (Lorena), and of course, Love Me Tender (Aura Lee).
From Jen M
An interesting coincidence was that "ANYONE" was last year's theme song to the August anniversary Midnight Vigil.
I was there at Graceland and was suprised how many fans said to me that they did not know this song.
I always loved this song and thought it was a very clever choice for the vigil theme.
I was always a fan of Kissin Cousins so maybe that is why I know it.
I agree that it is a lovely song but I am not sure that it would have made a sucessful single.
thanks for letting me comment.
EIN Notes that several other EIN readers also commented that they had never come across this Elvis song before. We think that is a real positive, since the whole point of this Elvis Star Track spotlight is to highlight relatively unknown and unacknowleged Elvis songs.
---
---
It's Midnight
'It's Midnight' was composed by Jerry Chesnut and Billy Wheeler and recorded by Elvis in December 1973 at the second STAX session.
While recorded in 1973 the song would he held back for Elvis' third STAX album Promised Land not released until January 1975 on his 40th birthday.
In the US the single coupling the fabulous 'Promised Land' / 'It's Midnight' was released in October 1974 and charted at a respectful #14.
In the UK with a later release of December 1974 it made the top ten.

When Elvis returned to Stax studios on December 10 1973, four months after the troubled sessions in July, he was in far better humour and this time raring to go.
'It's Midnight' was the second song attempted on the first night and (after kicking off with 'I Got A Feeling in My Body') it provided Elvis with a completely different emotional connection, perhaps resonating with his recent marital break-up and loss.
From the very start Elvis worked hard on the number, trying to get the phrasing perfect. Elvis made an odd comment during an early take of this song, "I've been a millionaire since I was twenty-one. I don't care whether it makes it or not. It's just a hobby to me!" However Elvis' own annoyance - which he showed whenever he messed up a line - actually demonstrated the opposite emotion.
By Take 7, Elvis' performance was close to perfect, "Lord, I miss you" Elvis sang near the end, pouring his heart out in a masterful performance. The song struck a personal chord, however, and Elvis wasn't satisfied until the early hours of the morning and the final nineteenth attempt.

Unfortunately Felton Jarvis added overdubs before the song was released on the single. And while the orchestral overdubs suited the expected "sound of the era" Elvis' and the band's performance sounded so much better without them. Without the extra echo and overdubs, the poignancy and purity of Elvis' feeling shone through.
| | |
| --- | --- |
| | |
Fans would first hear this on the 1979 Joan Deary produced 'Our Memories Of Elvis' album (original cover back-sleeve above right) where RCA released 'It's Midnight' with the studio Backing-Vocals faded out and Felton Jarvis' overdubbed orchestral strings removed. Here "It's midnight and I miss you" sounded even more emotional without the backing vocals repeating his phrase.
Although 'It's Midnight' would not be released until October Elvis would add this key song to his Las Vegas Opening Show August 19, 1974.

Elvis wanted this season to be dramatic and revitalised, possibly due to the presence of new girlfriend Sheila Ryan. Luckily we also have the tapes of his rehearsals at RCA's Hollywood studio. (see EIN article here) The early rehearsals feature some particularly nice harmonies and emotional reading of the lyrics with completing a beautiful and very serious version.

At Opening Night itself Elvis would debut both sides of his future new single. Introducing 'It's Midnight' as "one side of my new record that I have coming out" Elvis sings a beautiful version of this touching ballad. The CD release captures a nice balance of harmonies with Charlie Hodge and Kathy Westmoreland and it was a delicious debut. Elvis adds a heartfelt "Glad you like it" afterwards. Elvis would continue to perform sincere versions in every concert of the season.

Elvis would continue to sometimes sing it on tour but would then perform it regularly in his March 1975 Las Vegas season. However by his June 1975 tour Elvis had basically dropped it from his set-list and only perform this beautiful song a few more times. Elvis' last live performance of 'It's Midnight' would be in May 1976.

Sadly RCA never managed to capture a professional recording of this song
In 1973 at STAX, due to the obvious trouble in finding good material back in July, new avenues had been opened and the session was less reliant on Freddy Bienstock who had failed so badly. Felton Jarvis had brought in several songs via his Nashville connections, Marty Lacker and Lamar Fike were still there, while Elvis also brought in some old favourites of his own.

Composer Jerry Chesnut's biggest hits include 'A Good Year for the Roses' (George Jones, etc) as well as the 1975 smash 'T-R-O-U-B-L-E' for Elvis. Other compositions recorded by Elvis were 'Love Coming Down', 'Woman Without Love' and 'Never Again'. It was through his connection with Lamar Fike that the song was suggested at the Stax session....

In an interview Jerry Chesnut explained, "My songs had previously been recorded by Tom Jones, Brook Benton, George Jones, Johnny Cash, Loretta Lynn, Jerry Lee Lewis, and some of the greatest entertainers on earth, but this was different. Elvis was the Superman of the music world.
I met Elvis through our mutual friend Lamar Fike. We shook hands, and in a humble, quiet voice Elvis asked "How you doing?" Of course I don't remember what I answered. It still amazes me, to this day, how very simple and sincere true greatness can really be!

In the next two or three years, I frequented Graceland, went to the movies and recording sessions, took drives with Vernon, Elvis' father, even put a TCB around my neck. Elvis had it made for me and gave me the last one.
I remember Elvis as nothing amazing, nothing supernatural, never trying to impress anyone, just a simple, wonderful, sweet American Kid that never really had a chance to grow up -- and yet somehow I knew the entertainment world, and my life, would never be the same."

See EIN's 'Our Memories Of Elvis' album examination here
Other FTD releases featuring 'It's Midnight'
'From Sunset To Las Vegas' - The 1974 rehearsal
'Nevada Nights' Opening Night 1974
'It's Midnight' - Las Vegas August 24 1974 Midnight Show
'Southern Nights' - Mid 1975
'Elvis In Florida April 1975'
From Pat ODonnell
Wow !!! I played this more than Promised Land , did Elvis put a lot into it , you betcha .
Elvis had this way of able to put so emotion into love songs and he excelled himself on this single Though I dont think all fans see this as a great single and a favorite ( I havent heard anyone mention this song till now ). I believe the emotion and heartache came from his life in Tupelo and in early schoodays in Memphis .
If you listen to Old Shep to hear the emotion and sadness and remember he was about 20 years of age , how bad must his life been at that time to sing so sorrowful.
I was in Memphis in '72 and even then it was a bit rough but going back to 52 etc well i wasnt there but it could have been worse.
I cant remember Promised Land / Its Midnight chart that well in Melbourne when it was released but I can put Its Midnight into my top 40 songs that I like.
Thanks for asking to comment on this fans song and made so long ago , where have the years gone .

From Belinda D
Thank you EIN for posting this article on one of my favorite Elvis songs of all time.
Whether Elvis was singing it live in concert or his version from stax he always put such emotion in the song. You said it took nineteen attempts so that shows how much Elvis must have wanted to make it a great recording.
What a great song.

From Neil Colombari
It would have been great if Elvis had mixed up his stage wear more often.
These two piece outfits were a breath of fresh air compared to the jumpsuits.
Oh, and It's Midnight is a fantastic song. It certainly deserves to be much better known.
Thanks EIN for introducing the EIN Track of the Week - a great concept.

From Stephen M
That december session was the BEST recording session Elvis did after 1970 and the last one of any real significance.
I was surprised that RCA did not release Its Midnight and Promised Land before the Good Times album. I wonder why they saved them for so long.
Its Midnight and Promised Land was one of Elvis TOP quality singles of his whole career. An AMAZING double side.
No later single was as strong a coupling.
Elvis ROCKED and Elvis ballad EMOTION on one great single.

From Paul P
I am guessing that Elvis really was thinking of Priscilla when he recorded it - and what emotion he put into the song.
Didn't Elvis make a point that it was for Priscilla at the Desert Storm show?
Brilliant.
---
---
Trying To Get To You
Elvis' first version was recorded at SUN studios on 11 July 1955, the same day he laid-down the classic 'Mystery Train'. Elvis however had first attempted the song a few months earlier in February at his 'Baby Let's Play House' session. Sadly no tape of this first attempt has been found.

'Tryin' to Get to You' was composed by Rose Marie McCoy and Charles Singleton. The original version was recorded and released by the US group The Eagles earlier in 1954. Rose Marie McCoy was also a co-writer on Elvis' 'I Beg Of You'.

Sam Phillips believed that 'Trying To Get To You' was a potential A-Side for a future SUN single, but it never happened as by this time Col Parker and RCA were arranging the buy-out of Elvis contract.

'Mystery Train' was released in August 1955 and RCA's 'Heartbreak Hotel' would follow in January 1956 with 'Trying To Get To You' relegated to being "SUN left-over" LP filler track on Elvis' first RCA album in March 1956.
'Trying To Get To You', coupled with 'I Love You Because', would however get a single release when the whole of Elvis' first album was released as six separate singles.
In an interview Rosie McCoy slyly noted, "Elvis did 'Trying To Get To You' exactly like The Eagles original, exactly. Every breath, every sound, everything. Amazing how he did that. ... He wasn't a big star at that point, and we thought he was terrible because we thought he couldn't sing. We didn't understand, but we was grateful. Thank God for Elvis."

While EIN understands her observation, in fact The Eagles original had much more of a old fashioned big-band, doo-wop swing with a rolling Fats Domino style piano. (Check it our on YouTube here). The vocal has none of the underlying begging emotion that Elvis brought to the song, especially noticeable on the final two lines. And when Elvis sings, "Well, there's nothing that could hold me, Or that could keep me away from you" the emotion is threateningly sexual.
Elvis certainly took the song from Doo-Wop to Rock'n'Roll strongly supported by Scotty Moore's marvelously cutting guitar work and the sparse arrangement.
Elvis obviously loved the song as he kept returning to it throughout his career.
It is likely that Elvis performed the song on-stage during his fifties concerts (although sadly no recording exist), but not only did Elvis bring a fabulously re-invigorated version to the 68 'Elvis NBC TV Special' but performed it over 120 times in his seventies performances, all the way through to his June 21, 1977 'Elvis In Concert' CBS TV show.
It would be one of his rare album tracks that Elvis would perform live in all three decades, 'I Got A Woman' would be another.
Rather oddly Elvis' 1968 June 27 first "Sit-Down" show recording of 'Trying To Get To You' would be left off the original 1968 "Elvis NBC TV Special" vinyl album release.
It was no doubt a amazing reinvention with a emotional power that even surpassed the 1955 original.
The 1968 live version would first be officially released on 1974's vinyl 'A Legendary Performer Vol.1' and on the video 'Elvis Presley " One Night With You' special in 1984, and later also feature on BMG's 'Memories' and 'Platinum: A Life In Music' box-set.

Respected author Greil Marcus described the 68 version as, "'Trying To Get To You' - God, the passion in that. The drama. The stuff is so strong and so powerful and there is such a broad feeling of discovery, invention, playfulness and vehemence."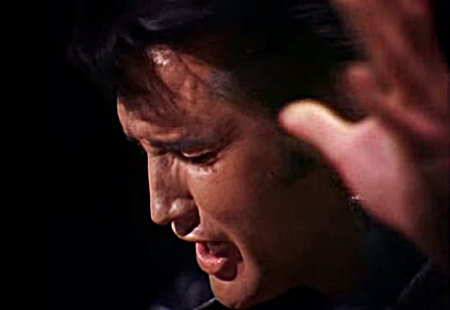 Elvis would also feature the track on his 1974 'Elvis: As Recorded Live on Stage in Memphis' by which time he was performing it with more of the big-band R&B swagger of the original The Eagles version. When released in 1974 it would be the first time that worldwide Elvis fans would know that he was featuring the song at his seventies concerts. It was in January 1974 that 'Trying To Get To You' became a regular on his set-list.
Whether it was because Elvis knew the Memphis concert was being recorded for release, or possibly because he just wanted to show the home-town crowd that The King Was Back, there was a power and pleading in his voice that night that was somewhat reminiscent of the Sun original.
BMG/FTD have released several alternate live versions from soundboards from 1974 onwards.
Elvis was performing it less frequently in 1976 / 1977 but he did return to it for his second CBS TV Rapid City recording on June 21, 1977, it was one of the best tracks from the show.
With Elvis noting, "A song I did about 18 years ago, my Dad likes this" and taken at a slower pace but still featuring those Elvis vocal warbles from back in1955, it was a fitting final goodbye to this classic song.
---
Rose Marie McCoy, Songwriter Dead at 92: Coinciding with our EIN spotlight on 'Trying To Get To You' we missed out on noting that one of R&B musics most inspirational composers died in January of this year.
- For a woman who composed or collaborated on some 850 songs over seven decades, Rose Marie McCoy, who died on Jan 20, 2015 at 92, was largely unheralded, recognized only belatedly in a nationwide radio documentary.
But her songs, spanning rhythm and blues, rock 'n' roll, jazz and gospel, were widely heard, recorded by scores of singers including Big Maybelle, James Brown, Ruth Brown, Nat King Cole, Aretha Franklin, Johnny Mathis, Bette Midler, Elvis Presley, and Ike and Tina Turner.
"When the rock 'n' roll come in, if you say you wrote rock 'n' roll, but we thought it was the blues" Ms. McCoy recalled.
It was in the early 1950s she was signed to Wheeler Records and was a co-writer of "Gabbin' Blues," which reached No. 3 on the Billboard R&B chart. She began collaborating with Charlie Singleton, using a booth at Beefsteak Charlie's, near the Brill Building. They wrote the 1954 ballad "Tryin' to Get to You" for the Eagles, soon picked up by Elvis.
By 1961, when Ms. McCoy collaborated on Ike and Tina Turner's "I Think It's Gonna Work Out Fine," which earned them a Grammy nomination, she had her own office in the Brill Building.
In the 1970s, several songs she helped write were included on Sarah Vaughan's album "Send In the Clowns," and she composed jingles, including one sung by Aretha Franklin and Ray Charles for Coca-Cola.
Go here for more info "Lady Writes The Blues: The Life Of Rose McCoy"
EIN send thanks to Jakob Skjernaa Hansen for the info
Now Updated

with Reader Feedback and Comments below
From Bob P
In my opinion, the greatest version / track comes via the second sit down show from the Singer Special. I originally heard it on the Legendary Performer Vol 1. To hear it out of the blue…It was so incredible in that setting. The King is "all in." I think it is more powerful than the version from the previous day. I also like the version from the CBS Special when introduced by Elvis as "my dad likes this…".
From Mick D
I can not believe that SUN never released this - I had to go back and check! That is what makes these articles about Elvis's music a chance to look back all over again. very hard to beleive it was only a album track in the end.
Elvis's 50s version was such a pure ROCKER that it was the real deal.
AGAIN Elvis rocked it HARD in the 68 special.
and AGAIN Elvis brought IT BACk for his seventies concerts. One of his best from all three decades.
I never saw Elvis live but I would prefer hearing Trying to get to You to any of the other like Hound Dog or a throwaway Dont be Cruel.
ELVIS ROCKED.
Why have RCA or SONY never rel;eased a proper Elvis BLUES album. It is very sad.
From Jen M
I don't think we should ignore Elvis's 1977 CBS TV version. It was a shock when I first saw it. Elvis should have been in hospital not on stage. DAMN that Colonel Parker. However amongst the sadness Elvis could still find the light and his original Sun records inspiration with this wonderful song. It was one of the few highlights of his June concerts for the TV cameras.
However sick Elvis was, he kept on going for his fans.
From Paul D
I am afraid to say not a favourite track of mine and I find both the 50s and 70s versions extremely overrated. I do not necessarily dislike this song but it is my belief that Elvis recorded far superior tracks than this one over both time frames. I would say that Elvis used this song in concerts to show his vocal power but I feel that there were other songs that would have done just as good if not better justice to his amazing voice.
From Michael B
Composer Rose Marie McCoy recently passed at age 90. NPR replayed a wonderful interview with her yesterday. And yes...at the time, she thought Elvis' voice was terrible. But she said that "Trying To Get To You" paid for her house thanks to Elvis!

From Ray F
Trying To Get To You is a fav of mine, I don't know how anyone could think his voice was terrible!! 55, 68 70's never did a bad version IMHO...
---
'King Of The Whole Wide World'
The first Elvis tune we selected was a movie soundtrack song that could have possibly become a single release.
'King Of The Whole Wide World'
Recorded for Elvis' tenth movie 'Kid Galahad' at RCA's Radio Recorders, Hollywood in October 1961.

The song was composed by Ruth Batchelor and Bob Roberts who also went on to write 'Where Do You Come From' (the flip of 'Return To Sender') for Girls! Girls! Girls!.

Elvis realised there was some better soundtrack material here compared to the recent Follow That Dream, and worked hard in the studio.

This would be the last soundtrack session that Elvis seemed to genuinely care about. He often offered advice to the group and even seriously asked, "Fellows, give me one more chance, will you please?" after seventeen takes of 'Home Is Where The Heart Is'. Elvis also worked for two days on the song 'King of The Whole Wide World', recording thirty-five takes before he was truly satisfied.
In fact there were five major reworkings on 'King of The Whole Wide World' during the first day alone. The earlier takes have a poppier, less rocking feel than the later ones and sound very much like rehearsals. Boots Randolph's saxophone rocks throughout. Dual drummers D.J Fontana and Buddy Harman helped drive a a pounding beat, with Elvis adding a satisfied, "Yeah" at the end of a very fine Take 13. Later attempts on the first day even sounded surprisingly like Elvis' original Sun Studio trio, but with very simple added back-up vocals. The first day stopped after an incredible thirty-one attempts.
Coming back to finish the song at the end of the second day of recording, the tempo had been increased to match the optimism of the lyrics. This was the raw rock 'n' roll sound Elvis had been searching for. After four more attempts they had the final release in the can.
Sadly the fabulous long Boots Randolph sax solo plus the rock'n'roll drum ending would be edited out to create the short faded-out original mono EP release.
The original vinyl release ran just over 2 minutes whereas the unedited Master ran 2:45.
Luckily for fans of the Kid Galahad soundtrack all the songs have now been released by FTD in stereo and as their full-length versions.
(Please check out our review of the FTD Kid Galahad extended soundtrack CD for more info)
Elvis sings 'King Of The Whole Wide World' at the very start of Kid Galahad
( I must add that the 'Kid Galahad' EP was the first Elvis 45rpm I ever owned!)

Perhaps 'King Of The Whole Wide World' should have been a single, however we have to remember that in 1961 Elvis was still musically focused on producing quality studio material with the movie soundtracks be ing of lesser creative importance. In fact the Studio B session in Nashville just one week before had resulted in five very different sounding songs, including his last US # 1 for seven years, 'Good Luck Charm'.
Click here and send us your comments and thoughts about 'King Of The Whole Wide World'.
OR Click HERE to EIN's Elvis Information Network FaceBook page and join the discussion
In the film Kid Galahad it was a lovely change to see Elvis still without his hair dyed black.
Spotlight by Piers Beagley.
-Copyright EIN January 2015
EIN Website content © Copyright the Elvis Information Network.
Click here to SEND US YOUR COMMENT on the song or email Piers@elvisinfonet.com
---
Readers Comments
>From Steve P
I agree that KOTWWW is a quality soundtrack song.
Perhaps we have to remember that Elvis was making so many movies in his first two years back from the army that most of the soundtrack material got tarred by the same brush.
Elvis didn't like his GI Blues recordings yet it was his biggest selling album so far.
I also feel that there was a more laid back "soundtrack" feel to this Hollywood recording and that Elvis could have cut an even stronger, harder version if he knew it was going to be a single A side.
If only they had kept providing stronger material for his mid-sixties movies, it only got worse and worse from Kid Galahad onwards

>From purrecs
Possibly the most elusive composer who penned melodies for Elvis songs, Bob Roberts was actually a pseudonym for Robert Silbert.
Under yet-another pseudonym -- Sonny Vale -- he wrote and arranged music for left-wing revues during the '30s and '40s.
With his singing partner Morrie Goodson, he made wry topical recordings during the late '40s for Charter Records, a small Los Angeles label that later introduced The Weavers.
By working under the name 'Bob Roberts', Silbert successfully dodged the McCarthy Era witch-hunters who targeted social activists working in Hollywood.

>From Barry S
Thanks for idea of highlighting some more obscure Elvis songs. I loved this Kid Galahad track when it came out it was one of my favorites from the sixties.
A real toe-tapper. I can still remember hearing the EP with lots of scratches and all.
The volume was very low due to them squeezing six tracks onto the one 45rpm.
I think RCA could have made a quality single from this but perhaps not a top five hit but with Home Is Where The Heart Is on the flip it would have been brilliant.

>From Ian
This is a good soundtrack song but I am not sure it would have been a chart smash success as a single.
But the six tracks on the EP were all real quality material if you compare to other sonudtracks.
Elvis's previous soundtrack EP was Follow That Dream with the dreadful What A Wonderful Life and I'm Not The Marrying Kind.
This EP was a great improvement but fans were probabaly already a little wary of soundtrack material by then.
Bring on Little Sister and His Latest Flame what a double bill
From - Terry F
King of the whole wide world, has always been one my favourite tracks, the outtakes in stereo, with the sax solo and drum ending, are what makes the rediscovery of Elvis music so enjoyable on cd.
Couple this with the sincerity in the message he gets over in the song, as only he can do, which is money isn't everything.
Who better than the King to sing "when he doesn't have a thing", in a similar way to his take on Fame and Fortune.
From - Pat O'D
I did not buy the EP at the time as after seeing the film i just didnt think the film or EP was up to standard The main title song was destined for the EP and not for single play, it overhaul isnt a catchy tune for the masses . Follow that Dream probably would have been a single but the film with few songs was destined for the EP . I cant remember King of the Whole Wide World being played on Melbourne Radio but Follow that Dream was on the radio constantly. Why Elvis did so many takes is beyond me, a few takes would have been suffice. As for Elvis thinking that GI blues was not up to scratch, no way, that album had a massive appeal and also to persons that werent Elvis Fans . I play GI quiet a lot but not King of the Whole Wide World - ps The hairdo on Elvis was all over the place as he had a bad case of dandruff (EM Albert Hand at the Summit Conference with Elvis at the making of this film) - and he was a bit overweight. Hope this not to critical but as we fans know we all have our favorites in some song or another thats what makes up special .Thanks for allowing us to comment .
From Paul Larsen
What you've started is FANTASTIC!! One reason is that it focuses on the MUSIC and not another lame-o element of Elvis' life.
Another reason is that fans might add to what you write with applicable info they might know such as purrecs (above), making things even more interesting.
I was glad to read that "Home Is Where The Heart Is" was thought of so favorably by one commenter. It's always been a powerhouse and explodes with dedication from Elvis. And I agree….it would have been a great flip side to the single-that-never-was.
One thing I always thought would've been a great idea for RCA to have done on a regular basis would have been to issue a single with a ballad on both sides. To my knowledge…and maybe I have reflected enough on it…that was never done. I think "I'm Counting On You" backed with "First In Line" would have been wonderful.
Some great ballads seem to have gotten lost when placed with a rocker, "I'm Counting On You" being an example.

(EIN notes - Paul Larsen wrote the foreword for "Born To Rock" published by Bud Glass)
---
---
---
---
EIN Website content © Copyright the Elvis Information Network.
Elvis Presley, Elvis and Graceland are trademarks of Elvis Presley Enterprises.
The Elvis Information Network has been running since 1986 and is an EPE officially recognised Elvis fan club.