James Burton interview
James Burton, Elvis' favourite guitarist, talks with EIN
Elvis' lead guitarist James Burton & the TCB Band toured Australia in December 2003.

James kindly agreed to talk to EIN about the visit and his extraordinary life.
---
EIN – James it's an honour to get to chat to you on this all important day as I believe it is your Birthday! I'd love to sing you "Happy Birthday" just like Elvis did.
James Burton – Why, that would be lovely! It is very nice to talk to you. It's my day off between recording sessions and you are right, today is still my Birthday!
EIN – I can't wait to see you & the band perform again in Australia. How did it come about and what's the connection with Mick Gerace?
J.B – Mick called me and said that he had an idea of doing some shows and would we be interested in performing with him. I assured him that I would not play with an Elvis impersonator but that I would be glad to play with someone who loved Elvis' music and can actually sing. Someone who don't look like him, dress like him or perform like him because Elvis was the only one!
The impersonators just don't have it. But someone that can just be a normal performer and entertain and sing all those great songs is fine by me. I talked to Joe Esposito plus The Jordanaires & Darwin Lamm (Elvis International) and they all told me that Mick was a wonderful guy, a really nice man and a great singer & performer. They recommended him to me, saying just how much we would enjoy working with him. We'll be playing the music that Elvis would appreciate, the way that only the TCB band can and it will be wonderful.
EIN – This time you won't be constrained by the fixed format of the 'Elvis: The Concert' film – Does this mean that you can let rip, play a few more solos and we can hear more of James Burton's great guitar work for a change?
J.B – I'll be doing that and nowadays, even when we do 'Elvis: The Concert' I like to change the solos around a bit for interest. Of course I get some funny looks sometimes but it's fun!
EIN – It must be hard because in that fixed format you don't get enough space, as you must know that Elvis is about to start singing again?
J.B – That's true, very true.
EIN – I love a quote from you where you said "To be a good guitar player you have to let your playing breathe and that it is often what you don't play that makes a great guitar player."

J.B – That is so correct. You don't want to overproduce, that can be the worst thing. Perfect 'simplicity' is the real key. Don't you hate to hear a great song so covered up with so much stuff and over-production that it just doesn't make sense? It can really ruin something special.
EIN – When you look at footage of Elvis in concert you can see that he spontaneously changes songs around. He comes in early or cuts solos short. Wasn't there a lot of pressure on you to make sure that it all sounded perfect & 'rehearsed'?
J.B – Well, nothing was planned! You never knew what Elvis was going to do next. He might give you a whole solo or he might give you two or possibly cut you short, you never knew. You know the single we did 'Promised Land'? If you listen to that, the first solo was actually supposed to be double–solo but Elvis came back in singing cutting it short. Then the second solo ended up being longer! Just spontaneous rock n' roll!
EIN – What about when Elvis started singing songs too quick for you or sometimes held back at the start. It must have been really tricky?
J.B – Oh my God! When we do the 'Elvis: The Concert' show now, some of those songs are so fast, like 'Hound Dog'. Some of those tunes are so incredibly fast that they just don't make a lot of sense. But when you see it on film, that's when it does make an impression. It's a visual thing. Ronnie Tutt always laughs with me & says "Man, I'd never play any of these songs this fast!" However we do realise that it's, like, 30 years later though! Can you believe it's 26 years since his death already?
EIN – Thinking about that, isn't it truly amazing for you to have the chance to continue Elvis' legacy by still going out and doing these shows. That must be extraordinary.
J.B – That's true, yeah. We were in Graceland last week and performed at Elvis' Memphis club and we just had a wonderful time. Packed out every night!
EIN – Elvis had so many Number Ones but surely "The Wonder of You" must be the only Number 1 chart song where the lead guitarist gets a spoken credit! That perfect moment when Elvis says, "Play something James"!
J.B – I remember Elvis knocking on Glen D Hardin's door one morning. Elvis is standing there & says "I want to do this new song. Glen can you write the arrangement for the band & for the orchestra and we'll do it tomorrow night?" Glen D can't believe it at such short notice. Well he got busy, wrote it out and the next day we really did record the Number 1, 'The Wonder of You'! It's a beautiful song. One of my favourites.
EIN – I think that lot of fans don't realise how hard you were also working in those early 1970s with other important stars like Gram Parsons and Emmylou Harris along with The Hot Band.
| | |
| --- | --- |
| | J.B – You're right because there are a lot of fans who go back to the Ricky Nelson days but a lot of those fans miss out on that part of my history because I was doing just so much studio work. You know I was working with so many greats like Frank Sinatra, Nat King Cole, Dean Martin, Ray Charles, Tom Jones.. the list goes forever! But a lot of fans just remember me mainly with Ricky & Elvis. Gram Parsons was, of course, very influential and also popular in the European market. |
EIN – When I look at what you were doing in the seventies I can't imagine how you managed to find time to do all those recordings you did as well as and touring regularly with Elvis & also his studio recordings. I also think I'm right in saying that you were the only TCB band member who never took a day off and was there for every Elvis show? You must have been "The Hardest Working man in Show business"!
J.B – That is correct, with Elvis I never had one night off! It was no time off and no vacations and just non-stop. For a while I was going from eight o'clock in the morning to about 4am the same night and this went on for months and months. I did 4 or 5 studio sessions every day and 7 days a week.
Then we would also go with Elvis twice a year to The Hilton to play Vegas. We would perform 4 weeks straight and we'd do 2 shows a night non-stop everyday for thirty days! Can you imagine Elvis' voice holding up for that time? I mean most singers who go to Las Vegas get 'Vegas throat' because of the dry air and they can't sing, while Elvis kept going doing 2 shows a night! You can watch those shows and see how hard he worked. It was incredible.
My God, those jumpsuits he wore weighed a ton! I couldn't even pick one up! They gave me one to take to the plane or something one time and I said "You've got to be kidding, I can't even pick this thing up!" How he managed to wear those suits and keep jumping all over the stage like he did, I just don't know!
EIN – Elvis recorded Ricky Nelson's "Fools Rush In." Did you suggest that or other songs for him to record?
J.B – That was my fault! Well that song was one, also 'Susie-Q' and another song, remember 'Early Morning Rain'? Well Chip Young and I were just sitting in Studio B and playing around with the melody and both on acoustic guitars. Elvis came in and said, "What is that?" and then he started humming the melody and started remembering the words. He says "Hey, let's record that! Turn the machines on boys!" It was the same thing with 'Fools Rush In.' Just too bad I didn't write 3 or 4 songs to get him to sing!
EIN – There is a tape of Elvis playing 'Susie-Q' on stage with you. What a shame he didn't record it in the studio.
J.B – I actually remember us messing around with 'Susie-Q' in the studio but I don't know whether they actually got any of it on tape. But I definitely remember playing it with Elvis and I think that we did eventually put it down.
EIN – With the new 'Roustabout' song being found there is always new stuff turning up so you never know and that would be a great find.
J.B – Oh yeah!
EIN – You worked on The Louisiana Hayride and Shreveport is where you grew up. Did you ever end up playing with Elvis on the Hayride?
J.B – I was playing in the Hayride staff band before meeting Bob Luman who I ended up working with. The host & M.C, Horace Logan, was managing Bob and he was of course the person who put Elvis on the Hayride. I don't know if you know this but Elvis did ask Horace Logan if he would manage him at that time. However Horace says, "You know son, I'm into Hillbilly & Country music, I'm not into Rock n' Roll!" What a missed opportunity! But he did love Elvis.
Unfortunately I never did play at the same time that Elvis was there. With the Bob Luman band we had a very similar format, played the same songs and in the same style, with a stand-up bass and me playing lead. So whenever we were on tour, Elvis would play The Hayride & vice-versa. So we never actually ran into each other.
EIN – I loved the story of your early days when you went motor-cycling with Ricky Nelson, Eddie Cochran & Gene Vincent! What an amazing gang!
J.B – Ricky & I used to go motor-cycling all the time and one day we bumped into old Gene Vincent. Well I used to do shows & tours with Gene when I was working with Bob Luman & the Louisiana Hayride. So Ricky & I were riding around and we bumped into Gene and then also Eddie Cochran and they both said, "Hey, can we go riding with you guys?" Well, Eddie got on the bike behind me and Gene was on the bike with Ricky and we went riding all over Hollywood & Sunset Boulevard!
EIN – What a rock n' roll team. That is unbelievable!
J.B – Oh, yeah, we had such a great time! I really miss Ricky too, you know. We were all like family. You know I lived at his Mum & Dad's for the first couple of years? All these great friends are gone, it's so sad.
| | |
| --- | --- |
| EIN – Towards the end with Elvis do you think that because you were working with him all the time that it was hard for you to notice Elvis' health getting worse? | |
J.B – As people, one never looks for the worse. With Elvis, well, we knew a couple of times that he was feeling bad. But he had a terrible thing with gaining weight and then he'd loose it real fast. You know I saw him lose 50 pounds in a week and I know that that is not good for you. He had such terrible food habits. He loved his food and his maid in Graceland would just be cooking all those bad things. For a while there he would eat a dozen eggs and a pound of bacon for breakfast every morning. Now that is not good! One day the doctor just woke up & said "Hey, no more, that's it!"
EIN – So being so close you couldn't really see the fast deterioration?
J.B – No we didn't. The only thing I noticed was the extreme weight gain problems. I just couldn't see how he could gain & lose weight so fast without doing his health some damage. Remember how good he looked when we did The Aloha Special? He looked incredible & tanned & healthy but just a few weeks after that and he was gaining weight again. But we were working so hard and it was non-stop two weeks on, 2 weeks off right to the very end.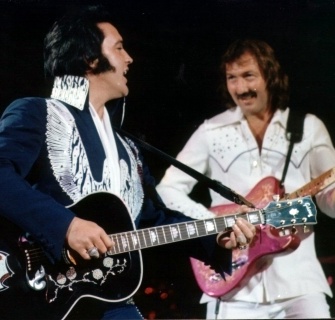 EIN - You have won 7 Country Music Awards for your guitar playing and Emmylou Harris says of you, "James Burton is a true poet". What is the piece of work that you a most proud of?
J.B – Gee, that's a tough one for me! I love it all, I still love playing & playing guitar licks that knock me out. It's so hard to pick one particular thing, although I was very honoured to be Elvis' lead guitar player for nine years and I was very blessed to have played with Elvis. He was such a wonderful guy.
EIN – James, you are a true survivor with such an amazing career and you are still playing which is even better.
J.B – I am just honoured. God has blessed me and my music and I thank him everyday for that and for every day that I'm living.
EIN – Thank you so much for talking with us and make sure that you enjoy the rest of your birthday.
J.B – Thank you & I'm really looking forward to coming over to Australia again playing with the band and spending some time meeting people. Please tell all the fans to come and say "Hello" and we'll try and arrange an autograph session for them all!
James Burton was interviewed by Piers Beagley, August 21st 2003.
*** EIN copyright 2003 ***
Click to comment on this interview
---
---
---
Click here for EIN's interview with Tony Joe White
Click here for EIN's interview with Wayne Jackson
Click here for EIN's interview with Sweet Inspiration Myrna Smith.
Click here for 2006 'Elvis Presley In Concert' information & review.

Go here for Elvis & James Burton Live concerts In Vegas
Elvis sensational 'Live At The International' 1969
Click here for 1974's first Elvis concert ex Soundboard - 'I Found My Thrill'
Plus - click here for 'Live In Memphis 1974'
---
Wayne Jackson has played with all the greats from Aretha Franklin, Otis Redding, Neil Diamond to Elvis Presley. Playing with The Memphis Horns, Wayne's sweet trumpet is one of the most recognised soulful sounds in the last 50 years of pop music.

He has played on over 100 Top Ten records and still is one of the nicest people you could ever meet.
Wayne Jackson knew Elvis from an early age, and not only played on some of Elvis' greatest songs but was also a visitor to Graceland and has some great insights into music and the man.
---
First some essential Memphis musical background.
Born in Memphis and raised across the river Wayne Jackson's love of music began with a guitar. But one night his mother came home with a trumpet for her 11 year-old son. "I opened up the case, and it smelled like oil and brass. I loved that, so I put it together, blew, and out came a pretty noise. My first taste of Sweet Medicine." The rest is music history.
By 12th grade Wayne Jackson found himself playing with a group called The Mar-Keys. They had a number one instrumental smash called, 'Last Night.' It was 1961. What followed was a magical ride making music history with Otis Redding, Sam & Dave, Rufus Thomas, Isaac Hayes, all the soul greats. In 1969, Wayne and sax man, Andrew Love, became "The Memphis Horns" and found themselves working with a host of stars such as Neil Diamond, Aretha Franklin, B.J. Thomas and Elvis Presley.
---
JUNE 21, 2016

- Wayne Jackson, Memphis Horns Legend, Dead at 74: Wayne Jackson, trumpet player and one-half of the legendary horn section the Memphis Horns, who played on Elvis' 1969 key Memphis Sessions died Tuesday night of congestive heart failure at a Memphis hospital. A good friend of EIN's, he was only 74.
His wife Amy Jackson commented, "He was a beautiful soul who touched the world with his trumpet. As we mourn his passing, we also celebrate his incredible musical legacy, which he leaves us with. God gave him a gift, and he used it to the fullest … He loved his family, his friends and his fans the world over."
Born in Memphis and raised across the river Wayne Jackson's love of music began with a guitar. But one night his mother came home with a trumpet for her 11 year-old son. "I opened up the case, and it smelled like oil and brass. I loved that, so I put it together, blew, and out came a pretty noise. My first taste of Sweet Medicine." The rest is music history.
By 12th grade Wayne Jackson found himself playing with a group called The Mar-Keys. They had a number one smash called, 'Last Night.' It was 1961.
What followed was a magical ride making music history with Otis Redding, Sam & Dave, Rufus Thomas, Isaac Hayes, all the soul greats. In 1969, Wayne and sax man, Andrew Love, became "The Memphis Horns" and found themselves working with a host of stars such as Neil Diamond, Aretha Franklin, B.J. Thomas and Elvis Presley.
Jackson noted that, "Back then, we had to do those songs from front to back with no mistakes and with good feelings. That's what made musicians out of us. That's what trained us. Now musicians all around the world judge their performances against those records with us on them, and that's why we're heroes."
Jackson's trumpet features on a wide range of classic LPs and singles from that era, including Otis Redding's Otis Blue and Dictionary of Soul, Dusty Springfield's Dusty in Memphis, Sam & Dave's "Soul Man" and many more soul standards.
Jackson's distinctive trumpet is recognizable on so many classics such as Otis Redding's 'Dock OF The Bay', Eddie Floyd's 'Knock On Wood' and Dusty Springfield's 'Son Of A Preacher Man'.

In 1969, Jackson and Love split from Stax to form their own Memphis Horns, and the duo would quickly find work adding their trademark brass sound to countless albums and singles, including Al Green's Let's Stay Together, Neil Diamond's "Sweet Caroline" and Elvis Presley's "Suspicious Minds."
In the ensuing decades, the Memphis Horns were recruited to record with artists like U2, Peter Gabriel, Neil Young and Billy Joel, and tour with acts ranging from Rod Stewart and Joe Cocker to the Doobie Brothers. Jackson also performed on Jack White and Alicia Keys' Quantum of Solace theme "Another Way to Die."
Wayne Jackson played on 52 Number One songs, 83 gold and platinum-selling albums, 116 Top Ten records and 15 Grammy-winning records. Jackson and Love were given Grammy Lifetime Achievement Awards for their contribution to music in 2012; a few months later, Love died of complications with Alzheimer's disease.
"How fortuitous of God to have put the two of us together,"

Jackson said at the time of Love's death. "The first time I heard Andrew play I knew we would be perfect together. He had a big tone, and I had a big tone. And I knew that they would blend in the most natural, beautiful way. We loved to laugh together. We laughed and travelled all over the world making records and touring with artists of all genres. We got to do what we loved everyday and share our unique gifts."
Wayne Jackson was a good friend of EIN's always up for a chat and discussion. I feel privileged to have known both Wayne Jackson and Andrew Love. -

(photo above with EIN's Piers Beagley)


Wayne Jackson - November 24, 1941 – June 21, 2016 - RIP.
---
EIN's Piers Beagley was fortunate to meet Wayne Jackson and to spend some time with him chatting about soul music, life and Elvis.
EIN – Thanks for sparing some of your valuable time & talking to us.
Wayne Jackson – You know that I've been down there to Australia several times & I love it. If it wasn't for family over here I could get lost down there!
EIN – You've done a lot of touring in your time. I have recently been watching some of those great STAX shows of you in Europe. They are sensational.
W.J – Oh man! We were 25 years old. Otis Redding, me & Andrew Love & Booker T & the MGs. We'd never been to Europe before and me being a country boy from the sleepy, cotton-town of West Memphis (Arkansas), even Memphis was a big deal. I had never been on a jet plane before and we had the biggest time you could imagine. But it was so hard to get any sleep there was always something to do. A lot of times we all felt like The Beatles 'cos people were frantic to see us. To us it was just "family" but we had craziness & screaming fans all along the way. It was sure an eye opener.
EIN – Who were the original Stax horn section when you were the Mar-keys?

W.J – Originally it was actually me & Andrew Love & Floyd Newman but Floyd dropped out 'cos of College obligations. Joe Arnold who is a great saxophone player used to play with us too.

Right: Wayne Jackson, Andrew Love. The sort after 1995 LP, "The Memphis Horns & Special Guests".
EIN – Before you worked with Elvis you worked also on an incredible number of classic Memphis songs both at Stax and Chips Moman's American Studios.
W.J – It's a shame that they tore down both those original studios. American Studios is a parking lot now! We've been going through the RIAA website and we've found 60 platinum rated records that I played on that the record companies haven't awarded me yet!
In the end I'll have over One Hundred platinum records and most of them were done at American Studios. Andrew and I reckon that as The Memphis Horns we have performed on over 300 number One singles!

We were kids and we worked 7 days & 7 nights a week, even Christmas. We did that for about 10 years. We only got paid strictly Union rates. Sometimes we might only make $48! Eventually we were put on a staff salary that made up for it.

(Left: Wayne Jackson in soulful action)
EIN - It seems crazy that your horn sound is so identifiable in all those records yet you got less than $50!
W.J – Luckily Wilson Pickett's 'Land of A Thousand Dances' was General Motors theme song back in summer 2002 and so I made several thousand dollars that year, although I only got paid $65 to record it initially!
EIN – There's a very scary story about how an Otis Redding overdub saved your life?
W.J – I remember that week (December 8th 1967) so well because I had gone out with Otis to Hernando's Hideaway the Thursday night and he was such a nice young man - and just 2 days later he was dead. We had just worked on 'Dock Of The Bay' and Otis was going out on the road with his touring band The Barkays to do a live album. Andrew & I were supposed to go out to beef-up their sound but we had to stay and do the overdubs on 'Dock Of The Bay'. So I was really supposed to be on that plane that killed Otis and the band – but having to stay back for the overdubs on 'Dock Of The Bay' saved my life!
EIN – You had worked with so many of the great soul singers so did the booking for an Elvis session cause you any anxiety?
W.J – To be honest with American Studios and the Elvis sessions, they were just plain recording sessions. The "Gods from Heaven" did not come down & there was no fire & brimstone either. It was just a recording session that just happened to be with Elvis. There was of course a lot more magic in recording Elvis than there was in recording a nobody but American studios had some great talent going through it at the time.
The first time I actually heard Elvis sing 'In the Ghetto' however I was quietly sitting with my horn and looking at the music. I hadn't heard any of it yet and I suddenly realised that this was really special stuff. I just got a chill up my spine hearing that. I knew that it was going to be a landmark record for Elvis because it was about such a current topic. I thought "My God, here we all are genuinely in the ghetto!" There really was a guy with an automatic rifle on the roof in case of something bad happened - especially after Martin Luther King died.
You see American Studios was in the worst part of town. Stax was a little nearer Graceland, but American & Hi studios, all of them were in the worst parts of town. 'Suspicious Minds' was also an emotional subject for Elvis at that time as well and it was a thrill to be involved in those songs, knowing that they would be so important to his future career as they were.
EIN – Interestingly Dusty Springfield's fabulous LP 'Dusty In Memphis' was released on the same day January 13, 1969 that Elvis came in to American Studios to record! Featuring the same line up as Elvis' band wasn't 'Son Of A Preacher Man' a stunner?
W.J – It was one of the best of the era. There was so much music and also a lot of poverty and we all worked to earn something extra and I was one of those people.
EIN – Were you brought in for sessions or did you play for whoever came along.
W.J – Chips Moman produced Stax's big early hit 'Last Night' and I played on that. He liked my horn sound and so anytime they needed horns at American they'd call us up. We also worked Muscle Shoals studios too!
At the time I'd known Elvis for lots of years and recently he had been singing those poor "Movie Songs" which we were not that excited about since we'd recently been recording three number 1 records each a week! But the songwriters really had their day with him, including Mark James and 'Suspicious Minds.' In fact Mark James is a good friend of mine and we wrote some songs together.
EIN – How did Chips Moman's session work out since there were a lot of overdubs. Were you there when Elvis recorded the vocals?
W.J – Next door was a restaurant & upstairs there was kid of a holding area. Because the studio was so small we would often go off with the Backing singers while the rhythm section worked out the backbone of the songs. We would be playing poker upstairs while they were cutting tracks downstairs. Then we would come down and Elvis would be singing and we'd put the horns in with the track. Elvis liked to sing with the horns and hear them together with the background vocals. So although we did overdub the horns on 'In The Ghetto' Elvis actually sang with us while we overdubbed those. You've got to understand that the studio was surprisingly small so that there was not much room for the band plus the horns & back-up voices.
EIN – Like Sun Studios?
W.J – Did you visit Sun Studios? Well it was just like that room - which still has all the magic hanging around in there. Sun Studios is probably the most important place in the world for Rock'n'roll and you can certainly feel that something very important happened in that room. I reckon you might even feel it even if you didn't know what it was because there are such energies left over from all that creativity. But that all happened before I got into the business. I never got to play at Sun until Johnny Rivers did a session, Rufus Thomas too. We also worked with U2 when they recorded there in 1988 to produce their 'Rattle & Hum' album.
(Right: The Memphis Horns at EP's Beale Street, 2002.)

EIN – When, as a musician, did you first become aware of Elvis in Memphis?

W.J – When we were the Mar-Keys and had the first record Elvis would sometimes come out & see us 'cos he loved the horns. He would come to some clubs we worked at and he'd sometimes park out the back behind the Rainbow Room.
On our break we'd go outside and hang around with Elvis or whoever was with him in the parking lot. Elvis had that voice and the looks and he soaked up all kinds of music. He learnt a lot from everybody.
EIN - Did you spend any time with Elvis at Graceland?
W.J - Once in a while we'd go out to Graceland. At times we went to the movies late at night with him where we would have a caravan of cars and we'd all go to the Memphian. And sometimes we'd troop out to the Fairgrounds with him - which was a lot of fun. Elvis would want to ride that roller-coaster Zippin' Pippin and so we'd all go ride the Pippin. Then when he tired of that we would all go to the bumper cars and everybody would ride them for a while. It was real fun, and it allowed everyone to relax much more than they could if we were all at his Graceland house.
I remember one time waiting for Elvis to come down, sitting in an old gnarly Jungle Room chair and the damn thing nearly swallowed me up! We would sit around drinking Cokes, may be 15 or 20 of us, and sometimes he might not come downstairs 'til one O'clock in the morning. So eventually we'd get back around 5 or 6 in the morning but I would have to beg out as I'd have to be back in the recording studio at noon. Of course in retrospect now I wish I hadn't! But we were working really hard making hit records and I needed more than three or four hours sleep!
EIN – How did you get to see so many of Elvis' performances in Las Vegas.
W.J – It just happened that I am a qualified pilot. Elvis' cousin Bobbie Ayers was married to a wealthy real estate developer and I was the co-pilot of his Lear jet. So when Elvis would open in Las Vegas I would fly their Lear jet down there and we'd all go and see Elvis' opening show. We would all sit in the big booth right in the front and we'd end up going back stage after every show for the whole week! We went every time Elvis opened. Since I had played on all the records, and Elvis had known me since I was a kid, we had a natural connection for talking and he'd also like to see Bobbie, so we would just party for the week. That went on once or twice a year for several years - they were the best times.
EIN – Eventually you decided to move to Nashville.
W.J – I moved to this home in 1977 - and I like it in Nashville. I like the hills and the way it feels and almost anywhere you go you run into songwriters. A swirling cauldron of musical people! Sadly it is not that way in Memphis anymore.
In fact I was moving down to Nashville when I learned that Elvis was dead. I was shocked and suddenly thought that I was the last Memphis hold-out. American Studios was gone, Stax was gone, Hi studios was gone. Al Green wasn't making pop records any more and Steve Cropper had left town. All the people from American had left town, Reggie Young, Bobby Wood, Bobby Emmons and Chips Moman. They could have turned the lights out. It seemed to be all over. Otis Redding was dead - and now Elvis was dead. I was the last guy leaving Memphis. It was over, it really was the end of this era.
EIN – Booker T & the MGs along with the Mar-keys was a great mixture of soulful black & white musicians. What do you think the black Memphians thought of Elvis?
W.J - I sincerely believe that the black people respected Elvis' success. Even if they didn't respect all the songs that he sang, especially in those sixties movies, they respected his success. You have to. When you look back at the great songs that he sang, like 'In The Ghetto' and 'If I Can Dream' he was a truly great singer. Elvis was also a great gospel singer because he loved it and truly believed it.
You know even in those movies I admire him for being "Elvis" no matter what his costume or his name was. I only wish that he had gotten a good movie role where he could have proved himself just one time. I honestly think he could have if he had lived long enough. One day someone would have finally let Elvis play a legitimate acting role!
EIN – Sadly Elvis never got the chance.
W.J – Yeah, in later years Elvis fell into bad habits. Those things he fell into will destroy and distort anyone. I don't care how strong you are, drugs are bad.
But deep down Elvis was a great example of what a Southern person was like. Elvis held his family values highly. He loved Mother - a typical Southern boy - He loved his Mother and his Daddy and God and the United States. And why not? Elvis came from Tupelo and turned into the "King of Rock'n'Roll" – It was the American Dream.
EIN – Tell me about your company 'Sweet Medicine Music'?
W.J – I've been a songwriter since I was a kid and I've been playing my trumpet since I was 11. I love writing songs so I formed a publishing company called "Sweet Medicine Music." We had a major success back in 1999 with Amy Grant's version of 'Christmas Can't Be Very Far Away' which I wrote with Roger Cook.
You know, I've come a real long way from when my parent's house used to back up to a cotton patch and I practised my trumpet - since I thought that it was the only way I knew that might get me out of there.
EIN - What have you been up to recently, have you been busy?
W.J – I sure have. Firstly, I have just completed writing book two in my autobiographical series, "In My Wildest Dreams". The first book "Across The River To Memphis" dealt with Memphis in the 1960s, including my first glimpses of Elvis. The second book in the series, "The Memphis Horns" deals with Memphis in the 70's, Stax and even more glimpses of Elvis. Both books are very entertaining and, although not history books, they give lots of information and stories that you won't find anywhere else!
In the recording studio last year I spent time with Neil Young. We made a record called, "Prairie Wind" and a movie by the same name. I had a ball. Then you might have seen us on Saturday Night Live on TV where we performed some of the music from that movie! Wow, if you saw the show you know how much fun we had. And this year I wrote the horns for Tony Joe White's new CD, "Uncovered." I know that you've met Tony - & let me tell you that he is as funky as always and he inspired me to do my very best work! I can't wait for you to hear it!
(EIN Note: Neil Young's 'Prairie Wind' CD on Amazon.com gets the review.. "With Wayne Jackson of the soulful Memphis Horns...Neil Young has previously released a lot of albums in different musical styles, but Prairie Wind feels like a homecoming, and ranks with his very best")
EIN – It's great to know you're still working as hard as ever & with such great performers. What a wonderful history you have.
W.J – I tell you what it has been wonderful, it's been great times - I don't have any complaints! I have some pretty good friends.
Please let me say hello to all the fans of Elvis in Australia & New Zealand and let me say that Elvis was truly a wonderful young man and they would have loved him personally had they met him.

Wayne Jackson was interviewed by Piers Beagley for EIN, September 2002/2006.
---
Right: Wayne Jackson & Andrew Love. The Memphis Horns still funky after all these years.

NOTE: For more information about Wayne Jackson's autobiographical books, discography, historical journey & photos go to his website "Sweet Medicine Music".

There you can also find out about how to purchase Wayne's handwritten sheet music of the legendary horn parts to his classic songs, including 'Dock of the Bay', and 'Suspicious Minds.'
For more info click here to go to Wayne Jackson's 'Sweet Medicine Music'
Click here for EIN's interview with Tony Joe White
Click here for EIN's interview with James Burton
Click here for EIN's interview with Sweet Inspiration Myrna Smith.

---
- Copyright Elvis Information Network 2006.
Interview by Piers Beagley.
-Copyright EIN May 2006 -
EIN Website content © Copyright the Elvis Information Network.
DO NOT COPY ANY OF THIS MATERIAL © Copyright the Elvis Information Network
Click here to comment on this interview
---
---
EIN Website content © Copyright the Elvis Information Network.
Elvis Presley, Elvis and Graceland are trademarks of Elvis Presley Enterprises.
The Elvis Information Network has been running since 1986 and is an EPE officially recognised Elvis fan club.