---
Back in 2005 FTD released their first soundboard from this season (
FTD 'Summer Festival'
) and while an excellent selection and a previously unreleased concert, it was a little disappointing due to the audio distortion on the tape.
Now FTD has combined the (already bootlegged) Dinner Show from August 12 Dinner Show but now with improved fabulous audio quality – along with a newly discovered showroom rehearsal tape.
---
Design
It is obvious that a lot of care and plenty of work have gone into the booklet and cover design.
It's great to see Elvis out of those typical jumpsuits for a change and wearing cool looking two-piece suits. I always loved his selection of paisley shirts!

The cover photo is a coloured B&W photo and unfortunately there are not too many colour close-up shots of Elvis on stage in the booklet.
However this is more than made up for by the stylish design and good selection of photos.

An informative essay by project researchers Robert Frieser and Hans Slebos explains the song selection, rehearsals and the importance of this Summer Festival season. It features some good information and some cool stories…
.. A lot celebrities came to see Elvis. People like Paul Anka, Sammy Davis Jr., Tom Jones, Shirley MacLaine, The Fifth Dimension, Marty Allen, Leon Russell, Gunther Gebel Williams, Shirley Bassey, Three Dog Night (from "Never Been To Spain'), Bill Medley and Bobby Darin among others.
Bill Medley (from the Righteous Brothers) recalls in an interview that they worked together at the Hilton Hotel in August - Elvis in the main showroom and Bill in the Casino Lounge: Elvis at 8:00 p.m., and Bill in the Casino Lounge at 10:00 p.m., Elvis at Midnight and Bill again at 2:00 a.m. On one occasion during his 2:00 a.m. show when Bill Medley performed "You've Lost That Loving Feeling", Elvis walked by with four of his bodyguards, knocked him on his arm and said, "Hi Bill", which left Medley completely stunned. The audience went crazy!

Shirley Bassey visited Elvis after the closing show on September 4th (she would open the next day at the Hilton). "I went to see him in Las Vegas and had one of those jumpsuits on. Elvis unbuttoned it and started doodling on my skin with a pen. I still get goosebumps talking about it. When I looked in the mirror, there were all these crazy drawings on me."
Robert Frieser and Hans Slebos were previously responsible for the excellent 'Forty Eight Hours To Memphis' FTD package.
With Ernst's and Roger's workload it is great to enthusiastic fans like Robert Frieser and Hans Slebos - as well as others such as Joachim Bernecker (aka CiscoKing) (Another Saturday Night) - involved in researching ideas for new FTD releases.
The Music –
The main disc features the August 12 Dinner Show.
The audio quality is definitely improved on from the original bootleg (that many fans will know) and there is a lovely rich feel to the bass-end of the recording. Apparently a lot of extra audio remastering work went into getting the best from this tape – hence the odd 'NTAC' audio credit.
The quality is vastly superior to the earlier 'Summer Festival' FTD that came from similar reel-to-reel recordings. Those sound "tinny" in comparison. This performance you can play LOUD and get those speakers rumbling!

'See See Rider' kicks off the show and immediately one can notice the fabulous audio quality. Unlike most soundboards which come from low-quality cassettes this recording comes from a high-quality Reel-To-Reel. Not only that, but there is also a great audio mix of the band, backing-vocals and orchestra plus the audience is nicely prominent - far more than on the usual soundboards.

A slight negative about being a Dinner Show is that you can feel that Elvis has only woken up fairly recently and doesn't show as much kick-off energy as he does in the Midnight Shows. However it will only take him a few songs to warm up.

'Proud Mary' - A fine rocking performance with some nice James Burton guitar in the mix. The tape is a little overloaded with the bass pushing this sounds to the limits of the reel to reel but it's a great start and at around halfway through the audio is equalised and improved.
Interesting to note that Elvis often left the all-too-common 'I Got A Woman' out of his set-list in 1972.
'Until It's Time For You To Go' - A very tender and nicely paced version with a lovely audio mix plus the excellent audio quality means you can hear the ambience of the Las Vegas showroom.
'You Don't Have To Say You Love Me' and 'You've Lost That Loving Feeling' with its extended intro, are both very fine versions. There is a very cute "Baby, baby, I'll get down on my knees for you… but wouldn't get my pants dirty!" adlib at 2.45. Elvis was of course dressed in his two piece suit with white pants!
'Polk Salad Annie' Elvis has really warmed up now and again this has a nice extended band intro. It's a great 1972 short three-minute version that has great passion and a ripper ending. This is a real Jerry Scheff song and the bass sounds fantastic off this reel-to-reel quality.
Finally Elvis says hello to the audience and shows that he is in good humour. "Good evening and welcome to the Howard Johnson hotel" with Elvis then suggesting that he's going to do "all 520 songs tonight" and also jokes is one of the world's best liars.
But Elvis then tells the crowd .."I'd like to get serious for just one moment, please".
'What Now My Love' is one of the very best versions that Elvis performed. Elvis is obviously trying hard to do a perfect performance, pronouncing the lyrics very carefully. The audio mix is excellent. The previous night (released on the Summer Festival FTD) Elvis slipped up on the lyrics so he is trying hard tonight!
'Fever' was new for this season and these very early live versions have cool finger-snaps and cool drum work from Ronnie Tutt plus of course here there is a great bass sound. It's very cute and comparitively serious in comparison to Elvis' later live versions. The Aloha version sounds positively rushed in comparison, excellent.
'Love Me' is a regular "kiss-the-girls" version. Interesting to note that it would be the following August 1973 Vegas season that Elvis changed his basic set-list to the 'See See Rider/I Got A Woman/Amen and then 'Love Me' format and would keep it this way for the rest of his career.
Elvis follows with a selection of 50s classics to please the audience. Blue Suede Shoes, One Night, All Shook Up, Teddy Bear/Don't Be Cruel, Heartbreak Hotel, Hound Dog -most of them fairly regular versions although some with a bluesy organ higher in the mix than usual making them sound a little different.
The two highlights are the excellent 'One Night' with Elvis biting into the lyrics showing how much he's enjoying it - this is a great audio mix as well.
'Heartbreak Hotel' is a nice slow and bluesy version and again with the organ (not Glen Hardin as he is still on piano) being pushed higher into the mix.
At the start of 'Hound Dog' Elvis tells the audience, "I just got up at eight o'clock tonight. I was in bed reading a cartoon, you know". He then teases "You should have seen the cartoon I was reading!"
'Love Me Tender' is the regular kissing-the-girls version however this one is interesting as Elvis spots Mr and Mrs Tipler his old Crown Electric employers in the audience. Elvis says, "Hello, Mrs Tipler how are you?" and you can hear her say to the crowd, "That's my boy!" It's very cute.
After the song Elvis then introduces Mr & Mrs Tipler to the audience. He explains, "Before I started singing I was driving a truck, I was hauling electrical equipment.." and then tells everyone it's her birthday today and is genuine when he says, "Thanks for the job too".
'Suspicious Minds' follows which is a fairly regular 1972 version but a little different this time as Elvis jokes around about Charlie Hodge during the monologue "he can't help it he's from Alabama". It does however get a powerhouse bass-pounding ending.
'Introductions' - Elvis introduces the band and also the actor Telly Savallas who was in the audience saying, "I've been a fan of this gentleman for a long time, one of the finest actors in the business. My man! Thank you for coming in."
'My Way' which was introduced this season is excellent. Only the second official live release ('Summer Festival' was the night before) and it is a very fine sensitive and serious performance. In fact Elvis delivers it so seriously that afterwards he feels that he has to tell the audience "I wouldn't want it associated with my own personal life.. "and now the end is near and all that jazz".. It's ok for Sinatra but I haven't even ate it up and spit it out yet. I'm still chewing on it!"
By 1976 and 1977 (Elvis sure sounds worn out on 'Amarillo77') the song would certainly take on more of a personal story.
'American Trilogy' features the band repeating the intro with Elvis asking, "How you like it so far?" It's a great version, a real audience pleaser with a beautifully sensitive 'All My Trails' section and has the close feel of being performed in the smaller showroom rather than the hugeness of the Aloha H.I.C arena in Hawaii. A lovely version. "Whoo, very good" Elvis rightly notes at the end.
"You're a very good audience. Thank You Very Much" Elvis tells the audience before a well performed with power-ending 'Can't Help Falling In Love' finishes this very fine show.
 
When FTD originally released the August 11 Dinner Show on the 'Summer Festival' FTD from this season I was a little disappointed with the audio distortion compared to other shows I already knew from bootlegs, like this one.
But now we have this great release in improved, excellent audio quality and also combined with a bonus rehearsal disc - plus a lovely booklet looking at this August 1972 season.
This is yet another excellent FTD collector's release.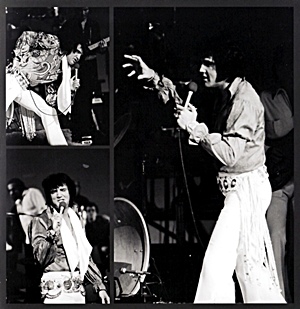 DISC 2: The Rehearsal
This cassette of Elvis' rehearsal show was obviously recorded without permission. The fact that it exists and is even fairly listenable is quite extraordinary.
A couple of tracks from the previous night were included on the FTD 'Stage Rehearsal'.
You can hear the band and the orchestra quite well, while it is Elvis' voice that is predominant. There is unfortunately a lot of background hiss at times (which can be annoying) however it is surprising that there is no extraneous chatter from Elvis' friend or auditorium noises that interrupt the recording.
I see this rehearsal recording more as a bonus disc to go with this wonderful package looking at Elvis' August 1972 engagement. It is certainly fascinating to listen to, though the audio quality suits loud-speakers over headphones here - it is after all an 'Audience recording'.
However this is the disc that all hard-core Elvis collectors need to own.
New this season were 'My Way', 'What Now My Love' and 'Fever' while 'Burning Love' had only been performed twice in concert before.

Other real surprises that are rehearsed are...
- 'My Babe' Elvis rarely returned to this great blues song after August 1969 and it would only be performed on the Opening Night this August 72 season - and that was for the last time ever.
- 'True Love Travels On A Gravel Road' Elvis never did try it after the one-off in 1969.
- 'Faded Love' only sung a handful of times live in 1973 and never on stage this season.
- 'I'm Leavin' revisited a lot in 1973 and 1974 but not performed at all in 1972.
- 'Blueberry Hill' again not performed live on stage until two years later in 1974.
With this official confirmation of what Elvis did rehearse on-stage in the showroom it seems all the more disappointing that he didn't vary his set-list more often.
The recording however starts with the familiar 'You Don't Have To Say You Love Me' before 'Until It's Time For You To Go', which was introduced to Elvis' set-list early in the same year. The fairly routine run-through of 'You Don't Have To Say You Love Me' ends with Elvis noting that "It sounds tinny up here, but they are working on it".
Otherwise he jokes about just waking up and laughs with the band about the song's intro. Elvis certainly sounds happy to be there rehearsing, rather than being forced to.
In 'Until It's Time For You To Go' Elvis messes with the lyrics singing "We'll find a space in your teeth that we planned" but otherwise it is a fairly serious version as he tries to blend his vocal with the harmonies of the backing-vocals. "Lord, Lord, Lord, Lord" Elvis notes at the end and it's a nice touch - a cute rehearsal.
The familiar 'You've Lost That Loving Feeling' is another serious, quality rehearsal sounding similar to the live on-stage version.
'Burning Love' - There are a few false starts as they try and find the right tempo. It's a great rehearsal version with a long "hunka-hunka" ending and Elvis making Bill Baize really work for his money with that high falsetto. The ending is reprised with Elvis noting, "On the road we could never find an ending for it".
Although performed twice during the 'On Tour' filming, 'Burning Love' was only released as a single in August (a few days before this rehearsal) but wouldn't get to the top of the charts until October 1972. So Elvis never performed it during this Las Vegas season and would only add it to his set-list in November 1972.
'What Now My Love' – This is a serious rehearsal and is the one new song that Elvis really wanted to impress with. Performed at every show of this season and regularly throughout 1973.
"Take it from the top again" says Elvis after the first run-through. Elvis works through the song getting the blend of vocals and orchestra just right. "It could be softer on the first bridge, louder on the second" he suggests and "I don't want Kathy to be too strong". Never recorded in the studio it's a shame that this song was never professionally recorded without an audience as these are very fine versions. Afterwards Elvis jokes, "We left out Polk Salad Annie, she's still out in Louisiana" and also about adjusting the lighting.

Let's try 'My Babe' suggests Elvis. Only performed on stage a handful of times since Elvis first 69 Vegas season it's a enthusiastic attempt if taken at a slightly too fast tempo. It does however feature a cool James Burton guitar solo which was sadly missed in the only live performance on Opening Night.
With the guitar solos this rehearsal runs a full 3 minutes so it is one of the longest versions of the song released.

'For The Good Times' is another serious straightforward rehearsal but with a lovely gentle feel. Sadly not performed on this Aug 12th Dinner Show but sung at the Midnight show that evening (as on the Summer Festival FTD) At a slower tempo than the MSG version we know this has a great feeling to it.
'True Love Travels On A Gravel Road' Not the same version as released on the 'Stage Rehearsal' FTD from the rehearsal the night before. It falls apart immediately before restarting. Taken nice and slowly with Elvis' vocal working perfectly with the J.D. Sumner & the Stamps backing-vocals. "Down through the years we've had hard times and tears, and we'll stay together no matter how strong the wind blows" is sung with a lovely emotional delicacy here. At a slightly lesser audio quality than the version on 'Stage Rehearsal' but still great to have. Three years after recording the song Elvis appears to be rehearsing it every night yet still doesn't try it in front of an audience. What a shame.
'Fever' – A very sparse, fabulous rehearsal with only finger clicks and Jerry Scheff walking bass. Had this been a professional recording this would be the first release of Elvis singing this classic since the original 1960 'Elvis Is Back' session! A real shame this wasn't recorded by RCA.
'Blueberry Hill' - More like a jam than a real rehearsal, as Elvis kicks straight into it from Fever. "You forgot to take your pill", sings Elvis and he certainly doesn't have the lyrics prepared but as we all know Elvis loved surprising the band with these old favourites at times.
'Little Sister/Get Back' is a straight forward rehearsal. Elvis performed it multiple times during this Vegas 1972 season but not at the dinner show. It was featured from the August 11 Midnight show on 'Summer Festival'.
'I'll Remember You' Featured at Madison Square Garden but still a relatively new on-stage song. Initially the rehearsal breaks down after the first verse when the band stops playing and Elvis has to restart. Only performed once at the January 26 1972 Opening Show in Vegas this would have been new to this orchestra and there is some discussion before the beautiful second version. Afterwards Elvis and the orchestra violins continued to practice to get the start perfected.
'American Trilogy' a very fine and serious version as performed in concert. Elvis blows the seriousness by singing "Now shi.t....Hush little baby, don't you cry" but otherwise it's perfect. Sadly we have no 'On Tour' rehearsal version and so this is the only "studio" type version (without a live audience) that has been released.
'Something' Elvis would bring this song back for the Aloha Special but otherwise he only performed once in 1972 and not at this season. He tells the band "I'm just going through these things. We've already got too many. I'm just trying to pick out the best ones."
This version features an overloud Kathy Westmoreland. The version on 'Stage Rehearsal' is the near-perfect multi-track rehearsal.
'Faded Love' starts with some joking around "Faded Sex" suggests Elvis! It kicks off with some ripping Glen Hardin piano, "Smart Alec!" jokes Elvis. This version is less of a country version and more of a pop version with some nice funky bass. This is fun. The only official live version we have is on the 'Taking Tahoe Tonight' FTD from 1973.
'You Gave Me a Mountain' While not everybody's favourite Elvis song this version is less bombastic in rehearsal and so is interesting to hear. It would be good to have had as a professional RCA recording. For some reason Elvis only added the song to his setlist towards the end of this season, with none officially released.
'I'm Leaving' follows and it's another beautiful rehearsal although not in as good audio quality as the 1974 rehearsals ('Sunset to Vegas'). While performed extensively on-stage in 1971 Elvis never sang it in concert in 1972 and only returned to it in 1973.
'My Way' Another new song Elvis wanted to rehearse. "Did you drink a lot last night, Glen?" jokes at the beginning as they negotiate a few false starts. Elvis tried two rehearsal versions of this and with the light piano arrangement they are delightful to eavesdrop on.
It is a lovely and delicate version, a nice rehearsal, just Elvis and the piano. It would have been fantastic had this been professionally recorded.
The first attempt without the usual violins is beautiful, giving a very different and more fragile feel to the 'My Way' lyric.
When the orchestra truly kicks you realise that "Sometimes less is more!"A real shame that a lighter arrangement wasn't tried occasionally.
"Sounds pretty good" says Elvis as he keeps trying to help the orchestra finds their way.
On the second version Elvis and Glen Hardin again work hard on the intro with Elvis at times humming rather than singing. This is a nice touch as Elvis finally drifts into the picture with.. "Regrets I've had a few".
With only hours to go to the Opening Night Show the CD ends with a cute Elvis quip, "By twenty-to-nine and ten o'clock I WILL have this show together somehow!"
A marvellous end to this rehearsal – and what a shame it wasn't professionally recorded. However this is "Elvis history" and overall it is fascinating listening but would have been stunning had it been in better quality.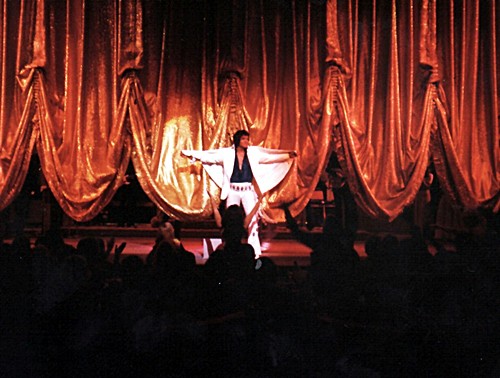 More power to FTD that they are still discovering and releasing these songs. 1972 was still part of Elvis' golden years on stage and why everything wasn't professionally recorded by Bill Porter or Felton Jarvis is a mystery (tape wasn't that expensive!).
However discovering these tapes forty years later gives Elvis fans hope that one day maybe some more better quality versions will be found, even some new session material.
Overall Verdict
A lot of care and plenty of research has gone into this new FTD release - created by true Elvis fans for Elvis collectors. August 1972 was a great period with Elvis out of those typical jumpsuits and looking cool in his two-piece suits. With the fabulous audio remaster of this fine August 12 Dinner Show, along with the fascinating rehearsal disc, this is what the FTD label is all about.
Not forgetting the informative booklet and essay, this is GREAT value for money - two CDs for the price of one - and another excellent FTD release. A must for Elvis collectors.
Review by Piers Beagley.
-Copyright EIN February 2013
EIN Website content © Copyright the Elvis Information Network.