'Elvis 02 London Exhibition'
EIN review by Piers Beagley
Elvis Rocks London With a King-Sized display: 37 years after his death, the King of Rock and Roll has what many stars would kill for – a nine-month gig at the O2 arena in London.
A fascinating exhibition charting his rise from dirt-poor Memphis schoolboy to the world's greatest music icon runs for nine months until the end of August 2015.
The biggest-ever Elvis show in Europe features more than 300 items from the Presley family's archive and it is the first time they have left his Graceland home. The exhibition recreates Graceland's dazzling interiors while home movie footage, clips of his shows and his music play throughout.
The exhibition is a big media push by EPE - in this spotlight EIN presents its own review plus a look at the other mainstream media reviews about this major European Elvis exhibition...

The ELVIS O2 exhibition has now been

extended until January 10, 2016,

instead of closing as planned in August 2015, to ensure that fans can celebrate Elvis' birthday on January 8. Since opening in December last year, the exhibition has received rave reviews from fans and the media alike, and has been one of the most popular music and pop culture exhibitions ever to open in the UK.
---
EIN's Piers Beagley was in London in May 2015 and checked out the exhibition. Here is his review.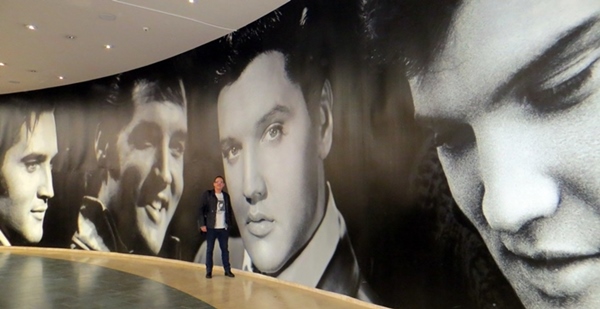 The exhibition entrance hall - What a GREAT start!
Having visited Graceland several times the lure of being able to see more than 300 of Elvis' personal belongings in a less tour-group-timed environment was an opportunity not to be missed.
I also brought along my good friend Alison who is less of an intense Elvis fan to help get a better general overall impression of the exhibition.
The display is sorted into 10 different rooms focusing on Elvis' fabulous career from his very early beginnings in Tupelo, through to Memphis, the start of Elvis Mania, his Army Years, Hollywood, the 68 Special, his later concert years and the lovely section dedicated purely to Graceland.
In each room relevant Elvis music helps create the right atmosphere along with various grabs from interviews, recording sessions and suchlike.
To be honest I was expecting something a little more tacky but, surprisingly, a lot of thought and attention has been put in to the display and what has been chosen to be exhibited.
Elvis' incredible trajectory from the poor, southern, two-room shack family to the world's greatest superstar is sensitively portrayed. The exhibition starts with a short introductory video cleverly asking "Do you know who I am?" and ends with a stunning compilation of the most important performances of his career.

In the early sections photographs of Tupelo, his school reports, teenage employment applications etc touchingly demonstrate Elvis' humble beginnings.
For the general public this would be quite an eye-opener while for Elvis fanatics his early possessions such as school colouring crayons are fascinating to see.
The best part of the exhibition is that unlike Graceland there is no pressure at all from the continuous crowds and you can linger for as long as you want over each delicious item.

Unlike in Graceland I also really appreciate it when a personal possession is displayed alongside a photograph that puts it in a historical context.

And you learn something new everyday. WOW - Elvis sure had big feet - and big shoes! Shoe size 11D apparently, even as a youngster.
And while certain iconic items are only being displayed for a shorter period of time how fantastic it is see something like Elvis' Gold Lamé suit or his 1968 leather comeback suit and be able to examine it closely and linger over it without any pressure from the next tour-group.
The use of Elvis' guitar and blue seat from the Comeback Special (did Elvis really sit on this particular chair – how would anyone know?) along with his Black Velvet suit is a particularly effective display and demonstrates the real kick forward in musical creativity and pop relevance that Elvis managed after the rather despairing Hollywood mid-60s years.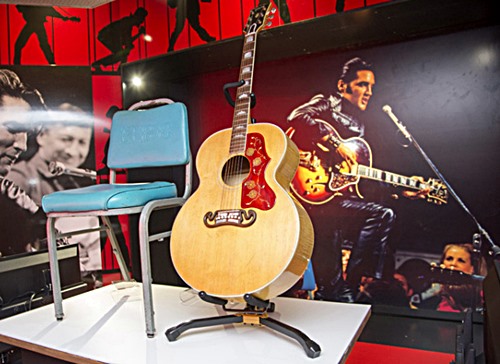 One large hall features more personal items from Graceland including the fascinating and inspirational 'The Penalty Of Leadership' essay that hung in Elvis' office, his well-worn personal gold telephone from his bedroom and some of his personal record collection. His beautiful and loved Jailhouse Rock red-striped shirt is also on display.
It is quite emotional to observe Elvis' bedroom record player together with the last record he ever played – an LP by The Stamps. (If only record players could talk, what stories it would tell!)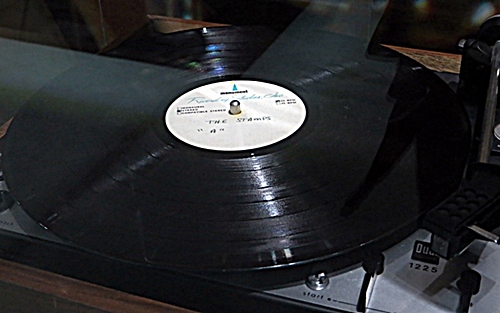 There are some truly iconic pieces as well such as Elvis' diamond encrusted fabulous TCB ring, his watch, necklaces even a couple of cars.
I had forgotten or never knew that Elvis so liked the red MG sports car that he drove in the movie Blue Hawaii that he personally bought it for himself from the film company.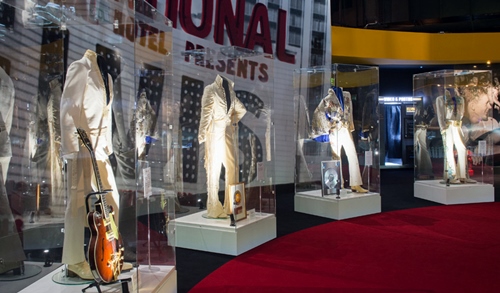 The final major display is the Concert Years.

This features six of Elvis' iconic jumpsuits including his On Tour lion-head suit, the Pearl TTWII suit and Elvis' later 'King of Spades' jumpsuit. The later looks spectacular up-close.

The overall impact of the room is quite stunning. However my one complaint is that unlike elsewhere in the exhibition there are no photographs of Elvis wearing the actual jumpsuits to go along with each display. This is a real shame as they would give more of an impact.

This seventies room also features plenty of Elvis' personal items including a copy of the fascinating letter he wrote to Richard Nixon. It certainly is a fascinating read.
Some keen fans have pointed out that there are a few "fake" items in the exhibition or at least some mistakes. It is true - and rather obviously – that some of Elvis' "Original Albums" displayed are the later "reprocessed stereo" versions and I agree that Elvis' personal TCB necklace does not look like an original. However since it is tucked away in a corner display I suspect that EPE archivists are probably aware of this. Personally I found that none of these minor issues take away from the overall impact of this rather superior exhibition.
A delightful and humble telegram from Elvis to Col Parker explaining that he wanted to be treated "in the same way as any other serviceman - without fanfare or ceremony" returning to his hometown after being in the army.
As you leave the exhibition there is a theatre that shows a 30 min compilation of Elvis' greatest performances from throughout his career. The film is sensitively edited and leaves you with the true sense of the astounding and glorious life that Elvis lived. It also can't help but make you feel sad that such an awe-inspiring life was cut short all too soon.
There is no doubt that some viewers will shed a few tears for our marvelous hero as they leave the exhibition.
It is great to know that this exhibition has been successful enough for its run to be extended until January 2016.
Afterwards I talked with several of the exhibition staff. They had some wonderful stories about the visitors to the exhibition.

Overall there have been amazed by the emotion that everybody shows towards Elvis, saying how often fans come out in tears from viewing the final movie and want to talk about how much Elvis meant to them personally in their lives.

Several of the visitors also talked about how they knew Elvis or had met him at some time. One Scottish woman had worked for Col Parker and met Elvis over 20 times while another had worked briefly in Graceland!

The staff while not fantastic Elvis fans themselves commented that they had never worked at an exhibition that was obviously so emotionally important to so many people who visited it.
At a cost of £20 the exhibition is certainly not cheap - and the fact that you have to pay a booking fee even if you turn up on the day is particularly annoying. However it was easy to spend over 2 1/2 hours engrossed in Elvis' life and since you can pay the same for a movie ticket in London I thought it worth the cost. (please see EIN reader's tip below!)
The exhibition staff noted that they get around 500 visitors a day and usually triple that at the weekend. However you can get the exhibition almost to yourself on a weekday late in the afternoon. I visited late on Monday afternoon and there was hardly anyone else there.
Overall Verdict: If you live in England and will never have a chance to get yourself to Graceland, I highly recommend this O2 Elvis exhibition. And while of course it is astounding to see Elvis' possessions displayed in his very own home I also really appreciated the lack of crowds and the chance to take as much time as I wanted examining every item in detail. It is certainly worth a visit if you are in London and it was also comforting to know that my "less-intense-Elvis-fan" friend truly enjoyed it and also felt that spending less than two and half hours there was almost a rush!
Review by Piers Beagley.
- Copyright Text & Images EIN July 2015
EIN Website content © Copyright the Elvis Information Network.
---
EIN reader's tip from Dave C
Great review of the show. I have been up four times and plan to go again on 5 th September for a special evening event arranged by Essential Elvis..
Here's a tip for any older visitor over 60 or thereabouts! There are special tickets available at £12 plus £2.50 booking fee - no evidence is required you just gotta look old.
With so many older Elvis fans attending the exhibition the staff are very flexible with the "reduced price pensioner" tickets! It may be worth asking.
By the way they are selling the auction catalogue for August 13th in Graceland if any one feels especially flush.
Elvis Rocks London With a King-Sized display: 37 years after his death, the King of Rock and Roll has what many stars would kill for – a nine-month gig at the O2 arena in London. A fascinating exhibition charting his rise from dirt-poor Memphis schoolboy to the world's greatest music icon opens on Friday and runs until the end of August.
The biggest-ever Elvis show in Europe features more than 300 items from the Presley family's archive and it is the first time they have left his Graceland home.
It features everything from Elvis' favourite statue of Jesus to his 16-carat diamond ring, army fatigues, Aloha & other jumpsuits, his first demo records and gleaming Harley-Davidson motorbike.
The exhibition recreates Graceland's dazzling interiors while home movie footage, clips of his shows and his music play throughout.
Entering through a section dedicated to his childhood, ­visitors see Elvis's school report card. He was very "industrious" but got poor marks for "reliability".

A section on his army service features his uniform, kit trunk and the bongos his girlfriend Priscilla – later his wife – gave him for Christmas after they met in 1959 at a military base in Germany.
Elvis's devotion to her and their daughter Lisa-Marie is clear from family snap-shots and gifts he showered on them.
Fans will love the gold-plated phone Elvis kept on his bedside table, the keys to Graceland and the pool table on which he played against The Beatles.
(Above: The relative size & amazing impact of the exhibition)

Other highlights are the black leather suit from his 1968 Comeback Special and sunglasses and rings with the TCB logo and lightning flash Priscilla designed in 1970.
It stood for "Taking Care of ­Business in a flash" and was a badge of honour for Elvis's inner circle, dubbed the Memphis Mafia.
One bizarre but fascinating exhibit is a rambling five-page letter Elvis wrote to President Richard Nixon, pleading to be made an agent of the Federal Bureau of Narcotics.
Priscilla, 69, chairwoman of EPE the family's $300million empire said, "We are more than happy to let them leave Graceland for a short time to give people a peek behind the scenes of the real Elvis."
Tickets for the exhibition are on sale now - visit ElvisAtTheO2.com.
---
Elvis London O2 Exhibition UK Telegraph Review
"Elvis Presley is a cultural monument as significant as the Elgin marbles". When it comes to Elvis Presley I am with the late Dowager Duchess of Devonshire: he was without doubt "the greatest entertainer ever to walk on a stage". So I rushed eagerly to the press viewing of "Elvis at the O2", the biggest display of Presleiana ever mounted in Europe.
I accept that goggling at Elvis's stuff is not for everyone, but if you are an enthusiast, and there are plenty of us, it was both exciting and moving.
In each room the King's music was playing, and however many times you have seen the snarling, sneering opening number of the '68 comeback special ("If you're looking for Trouble…") it is worth being reminded of just how powerful it is. It is impossible, nevertheless, to grasp how earth-shattering it must have seemed to audiences at the time: they had grown accustomed to the saccharine 1960s movie version of Elvis – unthreatening, middle-of-the-road, podgy – and suddenly the raw and gritty Elvis of the 1950s Sun recordings came hurtling into people's living rooms.
The curators don't try to sell Elvis to you. They assume you already accept the doctrine that he is the King of Rock and Roll and their intention is to convey a sense of the private Elvis, through his belongings. On display is a mixture of the outlandish and the very mundane, with a fair sprinkling of tat.
Nearly all the clothes come into the outlandish category – these are garish costumes, designed to look good at a distance or on film.

The famous concert jumpsuits are like this. They start as fairly simple variations on the theme of a karate suit and as each year passes post-1970 they become ever more rhinestone encrusted and bulky.

(Earlier garments – the gold lame jacket from the 1950s and the black leather outfit from the '68 NBC Special – are coming later.)
Mind you, even Elvis's day-to-day clothes are over-the-top. His nylon shirts have loud floral patterns. A powder blue suit flaunts vast lapels (trimmed in navy suede) the size of aircraft wings. The jewellery too is oversized. Here is an 11.5 carat solitaire diamond on top of a ring so bulky that it might have been made for a giant's finger. And there are the pieces of kit that most ordinary people do without: like the two Harley Davidson golf buggies in which he liked to tool around the garden with Lisa Marie.
The mundane bits and pieces are equally fascinating. I saw Elvis's school report for '43/'44 from East Tupelo High School – Grade 3 – sponsored by Glasgow's Drug Store ("We make our own ice cream"); his social security card (golden of course); the keys to Graceland; his scratched personal microphone with "EP1" written on it in marker pen.
A cabinet holds a selection of the King's cash cards: his American Express poignantly expired "05/78" – 10 months after he died. There's one of his wristwatches, a triangular Hamilton.
The upper floor of Graceland itself has never been opened to the public. It was Elvis's private sanctuary, says Angie Marchese, the director of the archive, and so is preserved as if its famous occupant has just left.
Some of the contents of the King's bedroom are on display at the O2. His reading matter included The Prophet, Scientific Unarmed Combat, The Warren Report and a book on Churchill. He had a statue of Jesus of the Sacred Heart – not what you would expect to find in the home of someone from the Southern Baptist tradition. But Elvis was nothing if not ecumenical. ("I don't want to get left out of Heaven on a technicality," he joked.)
His Dual record player is there too: on it, an acetate recording by his gospel backing singers The Stamps. This record was on the turntable on August 16 1977.

As for tat, there are the white straw-style boaters Col Parker had made for the 1970 Las Vegas "Elvis summer festival", souvenir menus from dinner shows in Vegas or Lake Tahoe, and invitations to the opening night of the first Vegas season in 1969: how sought-after those must have been.

The RSVP card is to be filled in as applicable and reads: "I will ___ be accompanied by my Lady."

Weirdest item? Probably the letter Elvis wrote – or scrawled in a uncertain hand – to Richard Nixon on American Airlines stationery begging the president to grant him a DEA badge (he did).

This was a cabinet of curiosities, soberly curated by the Graceland archive team. There was no talking down to the visitor, nothing interactive, no "multi-media presentations" – not even any headsets. Just the exhibits and some discreet labels.
To me that is entirely proper, since Elvis Presley has transcended both his era and his musical genre to become a cultural and historical monument. The preservation of his archive is a serious business. And there is a lot of it because Vernon, Elvis's dad, never threw anything away.
As Angie Marchese explained, thousands of Elvis's belongings, including a million documents, are now being catalogued and preserved in climate-controlled warehouses. It is right that all these artefacts will be preserved for future generations – just as if they were the Elgin marbles.
Go HERE to original UK Telegraph review.
---
February 2015 -

Elvis London Exhibition Smash Success: Strictly Elvis UK / The Elvis Travel Service report that the O2 exhibition is a great success with over 57,000 tickets sold so far.
"Elvis and Egypt are both linked by a number of different things. Memphis, Elvis beloved city where he lived, was named after the city of the same name in Egypt. Both places are served by huge rivers - the Nile in Egypt, the mighty Mississippi in Memphis. And both even feature Pyramids as part of their impressive skylines.
And of course they have both home of kings - The King of Rock and Roll in the case of Memphis and in Egypt the Pharaohs who ruled over the country in ancient times. Of all the Pharaohs the most famous is arguably Tutankhamun; 'The Boy King'. And there's a link between him and Elvis too. In 2007 the O2 Arena in London played host to a record-breaking exhibit of Tutankhamun's treasures......well record breaking up until now!
We've learned the fantastic news that to date, with over 57,000 tickets sold, the Elvis at the O2 exhibit has already smashed ticket sales - and it's not even finishing until August!!
It just proves that it doesn't matter who you are, even a King who ruled over a whole civilisation - you'll never be bigger than the true King; Elvis Presley!
If you haven't been as yet then don't miss out on this awesome exhibit (it's like a little slice of Graceland in the UK)"
(News, Source;BrianQuinn/StrictlyElvisUK/TheElvisTravelService)
---
February 2015-Elvis' black leather suit Unveiled in London Exhibition: The key items at the London O2 Elvis exhibition are being alternated as the exhibition continues. This week Elvis' NBC TV Special black leather suit has been added. It a short video clip Graceland curator Angie Marchese unveils and talks about the black leather suit worn by Elvis Presley during the 1968 Comeback Special before it goes on show at Elvis at The O2: The Exhibition of His Life. The suit will be on display for a limited time of two months before being returned to Memphis.

Go HERE for the video clip

(News, Source;BrianQuinn/ElvisInfoNet)
---
November 2014 -

Priscilla Talks About London 02 Exhibition: Speaking from her home in Los Angeles it's clear that Priscilla is delighted with her latest idea to bring Elvis to life in Britain.


"Elvis wasn't putting on any pretence, he never did. What you saw with him is what you got. Not everyone knows that, people know his music but they don't necessarily know the real Elvis, I want the world to know he was a lovely, loyal man. You don't get that with so many musicians or celebrities these days, they don't value their fans, so I want to share with the world what he was really like."

She noted.
Next month an exhibition to celebrate his life will come to London's O2 Arena. It will be the first time Presley's most treasured possessions have left Graceland.
As well as give the British public an enormously exciting experience, and the opportunity to view some precious unseen exhibits, Priscilla wants to explain Elvis' legacy. Show is fans he was a real person, not someone who just simply sang on a stage.
"I'm very, very excited as we have been wanting to do this for some time. It is a peak behind the scenes of the real Elvis, Elvis the father, son, friend, dad. Elvis was just so very loyal and that will come across, he was someone who could be trusted, someone who people could rely on, the trust factor was very important to him, he was wonderful.
Another thing that was so special to him was the fact that he graduated from high school, he was the first person in his family to ever do that. Things like that people don't necessarily know but that's the kind of thing that I remember so fondly about him."
"I'm very excited about it, we have been wanting to bring an
Elvis exhibition to England for some time. Some of these exhibits haven't been seen before, Elvis will be so happy, he always thought this British fans were so supportive, he had a special love for them. He took nothing for granted. Elvis even made a scrapbook himself, filled with pictures of the fans, he never forgot them. He felt very attached to Britain."

Specific items leaving Memphis for the first of its kind London exhibition include:

TCB" (Taking Care of Business) ring, 16 total karats with a centre solitaire of 11.5 karats
American Eagle jumpsuit from "Elvis: Aloha From Hawaii"
Red 1960 MG Roadster from the film "Blue Hawaii"
Elvis' personal wallet

Priscilla will be visiting the O2 to see her ex-husband's possessions out in their full glory. She is starring in the Snow White and the Seven Dwarves pantomime in Manchester so will make a trip to London. Lisa-Marie too has a scheduled a time to see it too.

Tickets for the exhibition are on sale now - visit

ElvisAtTheO2.com.
---
The Inside Story of London's Elvis Exhibition
Leicester rocker Nic Wastell was contacted ABG to help stage London's Elvis exhibition.
Graceland was my first stop. I flew to Memphis to meet the team that looks after Elvis's personal possessions. The people there are fantastic and include distant relatives of the King and the leading authorities on all things Elvis in the world – which for a music fan like me was a real treat.
I lined up the O2 in London, but we only had four months to do it. And the space is huge (the equivalent of two Olympic swimming pools).
Then things started to get slightly surreal. Elvis still has magic powers it seems, as all kinds of people, from press agents to concert promoters, TV companies, radio stations, cinema beam back companies, newspapers, record companies all started to get in touch.
Now, having tried for over 30 years to generate interest in my own band (Chrome Molly) with people like this and generally being ignored, it felt a bit strange to suddenly find myself fending off journalists from the BBC, Sky and ITV on a daily basis.
At Graceland, they have only 10 per cent of his stuff on show and the rest is stored in a 70,000sq ft warehouse.

It is the size of a football pitch. Filling the space will be no problem, I am told. Graceland's Angie Marchese is the curator of the exhibition and it has been her job to whittle down the one million documents – yep, one million – 300,000 photographs and hundreds of outfits, dozens of cars and so on, into a selection that can give our visitors an insight into what Elvis was all about.
Another challenge was to get the best of Graceland over to the UK without lessening the offering over there (they get 600,000 visitors a year).
The most popular things in Graceland are:
• Elvis' black leather suit from the 1968 comeback special.
• The Gold Lame suit
• And my favourite, the pink Cadillac that Elvis gave to his mum and dad.
It has been decided that all of these things can visit our exhibition in the UK but for a limited time and, also, one at a time.

There is a ton of technical and boring stuff that needs to be done – arranging builders, lighting, sound, glass cases, permits, tickets, website, advertising campaigns, press, PR, guide book, merchandise to be selected (we are getting hundreds of gift items from the Graceland shop over), a CD to be pressed (for the exhibition) and tunes to be selected for an end of show "live" experience which makes the
exhibition something different to what has been before.
There is talk of a big celebrity party on December 15, which Priscilla will attend (hopefully me as well) and – I wish I could tell you more, but I can't... Nic Wastell is the bassist in Leicester band Chrome Molly.
Source;The Leicester Mercury
---
| | |
| --- | --- |
| "ELVIS At The O2" London Exhibition: Britain will get personal insight into the life of Elvis Presley, the King of Rock 'n' Roll, through the largest Elvis retrospective ever mounted in Europe, Elvis at The O2: The Exhibition of His Life. Opening at The O2, London on December 12, the exhibition will showcase over 300 artefacts direct from the Presley family's treasured Graceland Archives, some of which have never been exhibited outside of Graceland in Memphis. It will run for nine months. | |
| | |
| --- | --- |
| The Exhibition chronicles the rise of the rock 'n' roll icon and how Elvis impacted popular culture around the world through his music, movies and personal style. From his humble beginnings to his meteoric rise to fame, the exhibition will explore Elvis mania that first swept America and then the world, ground-breaking recording sessions, record-breaking concert tours, his military service, Hollywood film career and influence on fashion. Most importantly, visitors will get an intimate peek behind the | |
gates of Graceland and come to know the man who strived to be the best possible, father, son and friend.
Over 300 artefacts presented in Elvis at The O2: The Exhibition of His Life will include automobiles, personal items, historical documents, iconic stage costumes, guitars, gold and platinum records, and photography, in addition to dazzling audio and video presentations. Even the famous pool table Elvis played on with The Beatles will be on display.
Specific items leaving Memphis for the first of its kind London exhibition include:
TCB" (Taking Care of Business) ring, 16 total karats with a centre solitaire of 11.5 karats
American Eagle jumpsuit from "Elvis: Aloha From Hawaii"
Red 1960 MG Roadster from the film "Blue Hawaii"
Elvis' personal wallet containing photos of a young Lisa Marie Presley
Elvis' personal keys to Graceland
Some artefacts will only be on display for a limited period of time during the nine month run, giving the exhibition narrative a fresh and exciting story worth seeing on multiple occasions. Artefacts scheduled to be on display for a limited period of time over the course of the exhibition include:
1955 Pink Cadillac Fleetwood used for touring and eventually given to his mother
Elvis' gold lame outfit worn on stage in 1957
Black leather suit from the "1968 Comeback Special"
Exhibition coordinator Nic Wastell says: "What we will be presenting is as much of Graceland as will fit into The O2. There has never been anything like this for Elvis before. No exhibition mounted previously has ever been so revealing of the man and the star."

As a companion the largest Elvis themed retail outlet ever assembled in Europe will serve as a marketplace for a large variety of Elvis and Graceland merchandise, including a broad selection of Elvis Presley CDs and boxsets including an exclusive Limited Edition 2-CD keepsake collection, "The Music From Elvis At The O2," made specifically for this Exhibition and only available with ticket purchase or at the O2 Exhibition retail outlet.
Tickets for the general public are on sale
For more information about the exhibition & tickets visit ElvisAtTheO2.com.
---
Spotlight compiled by Piers Beagley - who will visit the exhibition in 2015.
-Copyright EIN December 2014
EIN Website content © Copyright the Elvis Information Network.
---
---
EIN Website content © Copyright the Elvis Information Network.
Elvis Presley, Elvis and Graceland are trademarks of Elvis Presley Enterprises.
The Elvis Information Network has been running since 1986 and is an EPE officially recognised Elvis fan club.